Mahathir's reforms could put Saudi Arabia and the UAE on the spot
Newly elected Malaysian Prime Minister Mohammed Mahathir is adopting policies that could reshape the Southeast nation's relations with powerful Gulf states.
A series of anti-corruption measures as well as statements by Mr. Mahathir and his defense minister, Mohamad (Mat) Sabu, since this month's upset in elections that ousted Prime Minister Najib Razak from office, are sparking concern in both Saudi Arabia and the United Arab Emirates.
Mr. Mahathir, who has cautioned in recent years against widespread anti-Shiite sectarianism in Malaysia, has questioned together with Mr. Sabu Malaysia's counterterrorism cooperation with Saudi Arabia.
Mr. Mahathir has also reinvigorated anti-corruption investigations of Mr. Razak,  whom Qatari media have described as "Saudi-backed."
Mr. Razak is suspected of having syphoned off billions of dollars from state-owned strategic development fund 1Malaysia Development Berhad (1MDB). The fund as well as Saudi and UAE entities allegedly connected to the affair are under investigation in at least six countries, including the United States, Switzerland and Singapore.
Apparently anticipating a possible change in relations, political scientist Abdulkhaleq Abdulla, whose views are often seen as reflecting UAE government thinking, disparaged Mr. Mahathir and the Malaysian vote days after the results were announced.
Mr. Abdullah focused on Mr. Mahathir's age. At 92, Mr. Mahathir is the world's oldest elected leader.
Mr Abdulla also harped on the fact that Mr. Mahathir had been Mr. Razak's mentor before defecting to the opposition and forging an alliance with Anwar Ibrahim, Mr. Mahathir's former deputy prime minister and an Islamist believed to be close to the Muslim Brotherhood, whom he helped put behind bars.
UAE Crown Prince Mohammed bin Zayed is known for his intense opposition to political Islam, including the Brotherhood.
"Malaysia seems to lack wise men, leaders, statesmen and youth to elect a 92-year-old who suddenly turned against his own party and his own allies and made a suspicious deal with his own political opponent whom he previously imprisoned after fabricating the most heinous of charges against him. This is politics as a curse and democracy as wrath," Mr. Abdulla said on Twitter, two days after the election.
Similarly, Malaysian officials have signalled changing attitudes towards the Gulf. Seri Mohd Shukri Abdull, Mr. Mahathir's newly appointed anti-corruption czar, who resigned from the Malaysian Anti-Corruption Commission (MACC) in 2016 as a result of pressure to drop plans to indict Mr. Razak, noted that "we have had difficulties dealing with Arab countries (such as) Qatar, Saudi Arabia, (and the) UAE."
Those difficulties are likely to recur.
Mr. Sabu, the new defense minister, noted in a commentary late last year that Saudi (and UAE) wrath was directed "oddly, (at) Turkey, Qatar, and Iran…three countries that have undertaken some modicum of political and economic reforms. Instead of encouraging all sides to work together, Saudi Arabia has gone on an offensive in Yemen, too. Therein the danger posed to Malaysia: if Malaysia is too close to Saudi Arabia, Putrajaya would be asked to choose a side."
Putrajaya, a city south of Kuala Lumpur, is home to the prime minister's residence and a bridge with four minaret-type piers that is inspired by Iranian architecture.
Mr. Sabu went on to say that "Malaysia should not be too close to a country whose internal politics are getting toxic… For the lack of a better word, Saudi Arabia is a cesspool of constant rivalry among the princes. By this token, it is also a vortex that could suck any country into its black hole if one is not careful. Indeed, Saudi Arabia is governed by hyper-orthodox Salafi or Wahhabi ideology, where Islam is taken in a literal form. Yet true Islam requires understanding Islam, not merely in its Quranic form, but Quranic spirit."
Since coming to office, Mr. Sabu has said that he was reviewing plans for a Saudi-funded anti-terrorism centre, the King Salman Centre for International Peace (KSCIP), which was allocated 16 hectares of land in Putrajaya by the Razak government. Mr. Sabu was echoing statements by Mr. Mahathir before the election.
The opening of the centre was twice postponed because Saudi Crown Prince Mohammed bin Salman cancelled his planned attendance. Malaysian officials said the kingdom had yet to contribute promised funds for the centre.
Shahriman Lockman, an analyst with the Kuala Lumpur-based Institute of Strategic and International Studies cautioned that Malaysia would have manoeuvre carefully.
"Whether we like it or not, whatever we think of them, Saudi Arabia is a major player in the Muslim world and in the Middle East. Their administration of the haj makes it crucial for Muslim-majority countries to get along with them," Mr. Lockman said.
The fact that Mr. Mahathir's election has sparked hopes that he will move Malaysia away from Mr. Razak's embrace of Saudi-inspired ultra-conservative Islam as a political tool, despite the prime minister's history of prejudice towards Jews and past anti-Shiite record, is likely to reinforce Saudi and UAE concern that his moves could favour Iran.
Mr. Mahathir has vacillated in his statements between banning Shiism to avert sectarianism and calling on Sunni Muslims in Malaysia to accept the country's miniscule Shiite minority as a way of avoiding domestic strife.
What is likely to concern the Saudis most is the fact that Mr. Mahathir has said that  accepting Shiites as fellow Muslims was necessary because of the growth of the Iranian expatriate community in Malaysia. Analysts say the presence has sparked a greater awareness of Shiism and Sunni animosity because of Mr. Razak's divisive policies.
Saudi and UAE worries about the reinvigorated anti-corruption investigation are rooted in the potential implication in the scandal of a Saudi commercial company, members of the Saudi ruling family, and UAE state-owned entities and officials.
The investigation is likely to revisit 1MDB relationship's with Saudi energy company PetroSaudi International Ltd, owned by Saudi businessman Tarek Essam Ahmad Obaid as well as prominent members of the kingdom's ruling family who allegedly funded Mr. Razak.
It will not have been lost on Saudi Arabia and the UAE that Mr. Mahathir met with former PetroSaudi executive and whistle blower Xavier Andre Justo less than two weeks after his election victory.
A three-part BBC documentary, The House of Saud: A Family at War, suggested that Mr. Razak had worked with Prince Turki bin Abdullah, the son of former Saudi King Abdullah, to syphon off funds from 1MDB.
UAE-owned, Swiss-based Falcon Bank has also been linked to the scandal while leaked emails documented a close relationship between Yousef al-Otaiba, the UAE's high-profile ambassador to the United States and confidante of Prince Mohammed bin Zayed, and controversial Malaysian financier Jho Low, a 27-year-old Wharton graduate who helped Mr. Razak run 1MDB.
The Wall Street Journal, citing not only emails, but also US court and investigative documents, reported last year that companies connected to Mr. Otaiba had received $66 million from entities investigators say acted as conduits for money allegedly stolen from 1MDB.
The UAE embassy in Washington declined to comment at the time but admitted that Mr. Oteiba had private business interests unrelated to his diplomatic role. The embassy charged that the leaked emails were part of an effort to tarnish his reputation.
Bank statements and financial documents reviewed by The Wall Street Journal suggest that Khadem al Qubaisi, a director of an Abu Dhabi-owned investment company, who has also been implicated in the scandal, facilitated the purchase by UAE deputy prime minister Sheikh Mansour Bin Zayed Al Nahyan's brother of a $500 million yacht with 1MDB funds.Khadem al Qubaisi
"The impact of this election will reverberate far beyond Malaysia's borders," said Asia director of the Centre for Humanitarian Dialogue Michael Vatikiotis.
Mr. Vatikiotis was looking primarily at the fallout of Mr. Mahathir's victory in Southeast Asia and China. His analysis is however equally valid for Saudi Arabia and the United Arab Emirates, where it could also prove to be embarrassing.
Israel's new Global Strategy
If we want to study Israel's political and military positions, we must at first analyse Syria.
For Israel the problem in Syria is Russia, although it is apparently Iran.
In fact, one of the de-escalation areas is in the Golan Heights  and certainly the Jewish State does not like that Iran and Hezbollah can easily and quietly operate in the Golan area, even without warlike acts but under the protection of Russia, which is also the guarantor of the whole area.
In particular, the Israeli government wants the Russian Federation to never intervene in favour of Iran.
However, if Iran and the Shiite forces leave Syria, Russia's control to ensure Syrian stability will weaken and probably even crumble.
Hence Israel wants Russia and even Syria to push Iran away from Syria, by threatening a real war on Syrian soil, along with the United States.
The United States and Israel could overthrow Assad and, in any case, remove Russia from the area, and hence from the Middle East. This is one of Russia's primary aim, i.e. to stay in the Greater Middle East and in the Mediterranean region with strong and decisive power. But would the United States accept this anti-Russian operation? I do not think so. The United States would initially participate and later move away, after having completed the first operations successfully. After the first headlines on the New York Times, it would go back home. The United States either takes possession of an area for twenty years -as was the case in Afghanistan – or confines itself to quick strategic operations.
In the current Syrian situation, however, will the United States still be a reliable partner for Israel, apart from the possible war?
Probably not. The United States already has its Kurds who, after the US withdrawal from Syria, immediately decided to fall into Assad's arms, with a view to opposing Turkey.
Furthermore, what would be the configuration of the Syrian-Iranian system after this attack on the Syrian Baathist regime? Probably more dangerous than it is today.
A great coalition is needed to destroy Shiite Iran's  hegemonic designs, certainly with the United States, but also and above all with Islamic partners, not only Saudi Arabia.
Russia would never accept such a project.
Russia wants to avoid not only the stabilization of current Syria, which, in fact, is now a Russian client State, but also a new war in the Greater Middle East.
Hence Israel's friendship with Russia is possible and desirable, but the only true and realistic possibility of containing Iran within Syria, or on the Israeli borders, is anyway to strongly isolate the Shiite power within Assad's area, which may also be Russia's goal.
This also in view of strengthening Russia's increasingly close relations with Saudi Arabia, a fierce competitor and opponent of Iran, which could be decisive in a post-war reorganisation and reconstruction of Syria.
Hence any realistic strategy for harshly containing Iran must be based on a preliminary agreement between Russia and Israel.
Moreover, it should be recalled that Russia absolutely needs the Jewish State at economic, technological and strategic levels.
These are some of the topics I had the opportunity of discussing openly and frankly with my friend Moshe Ya'alon, when I recently presented the Israeli edition of my latest book in Jerusalem.
Hence a preventive war on Syria to destroy the Iran-Hezbollah axis? Probably so. I also believe that, in all likelihood, there could be a substantial military disregard and disinterest of Russia, which would thus no longer have many contacts with a dangerous oil competitor, namely Iran, which has very different oil and gas policies from Russia.
Not to mention, however, that Saudi Arabia is already making its war in Yemen, certainly with a view to avoiding the pressure of a Shiite group such as the Houthi, but also and above all to taking possession of the new (huge) oil reserves of Kharkhir and Najran – apart from the fact that currently 60% of Yemeni oil is already "stolen" from Saudi Arabia, through former Yemeni President Mansour Hadi.
Obviously the clash in Yemen also regards control over the Bab-el-Mandeb Strait, through which 3,800 million barrels of Middle East crude oil transit.
Syria, however, is still a big, polymorphic country, which has always been politically unstable and, in any case, with Christian minority areas -Druze and Shiite or para-Shiite areas – that could turn out to be too hard a nut to crack in view of waging the blitzkrieg, the lightning war that has always been in the style of the Israeli strategic thinking.
Moreover, given the current presence of many Iranian armaments in the Lebanon and, probably, in the Golan Heights, a very quick attack should be based on an extremely careful analysis of the positions and forces of Shiite groups by the Israeli intelligence services.
Anyway, a quick attack should avoid Israel's countermove on its Northern borders.
Hence, to date the only logical operation would be to define a Syrian geopolitics shared with Russia, which has parallel interests and controls the Shiite forces on the field.
Indeed Russia is looking for a reliable ally to counter Iran's territorial claim on Syria itself.
The agreement signed by Israel with the USA and Russia, at the end of July 2018, also enabled Israel to accept the presence of the Syrian army on the Golan border, albeit over eighty kilometres away from the boundary line.
This implies that the Israeli Armed Forces will not wage  war to undermine Russia's prospects and Syrian operations outside the borders with Israel. A clear  acceptance of Russian protection over Assad's armies.
The United States has now abandoned its Southern client States, namely the "democratic jihadists", if any, which is a sign of the clear US inability to think in a strategically correct way.
In fact, both Russia and Israel know that the Syrian clash is a war that can affect the whole world, not just the Middle East. It is not the usual story of "democracy" against "terrorism".
The Syrian clash has been the trigger of a possible world war.
The United States has instead interpreted the war in Syria as a mere war on terror, a sort of geopolitical tranquilizer.
Obviously Israel has greatly strengthened its positions in the Golan area, but will it be enough? I do not think so.
The possibility for Iran (which funds and trains also the Islamic jihad south of Israel) to start a regional clash against the Jewish State also from the Gaza Strip is such as not to allow excessive confidence in the current status quo.
Meanwhile, in Asia there is Israel's economic, but also political opening.
Obviously Israel's motivation lies in the fact that Asia will be the dominant region at economic, but also at political and military levels.
Hence the opportunity – to be seized in the near future – of a geopolitical connection between China and Israel, which could easily influence also the Greater Middle East.
Except for Singapore and Burma, all Israeli official relations with the Asian countries date back to the period following the collapse of the USSR.
Trade with China and the other Asian powers is already significant: in fact, it amounts to 15 billion US dollars.
Considering the current trade tensions between China and the USA, the relationship between China and Israel could become crucial, especially in the high-tech field.
There is also a project at stake, i.e. the Med-Red, a Eilat-Ashdod railway line that could be a terrestrial alternative to the Suez Canal, with very noticeable strategic effects, which are barely imaginable today. Chinese investment would be relevant in this respect, considering the geographical and political symmetry of Red-Med with the New Silk Road.
While the EU – with its current trade laws, substantially punishing the Jewish State – remains a substantially enemy area, Israel is opening to Asian trade – and China's, in particular – which largely replaces trade with the EU.
These economic facts have wide strategic implications:  unlike the old "Rhine" Europe, not reached by the new "Silk Road", Israel is connecting to Central Asia's great development area and hence is slowing down its ties with the USA and, even more, with Europe, which is now hypocritically anti-Semitic.
Asia is therefore a sort of insurance policy – also at geopolitical level – of the Jewish State against the West, which will be ever less friendly in the future.
In any case, Israel can always open up preferential channels in the East, if they are closed in the West.
Nevertheless the Jewish State does not certainly want to diminish its relations with the USA and Europe today, although its relations with the East will certainly increase, including those having a security nature.
Hence if the relations with the USA cool down, even from a political viewpoint, Israel could establish good contacts with India while, due to its excellent relations with Iran, China may not be Israel's exclusive partner in the East.
Again at regional level, a long-term – if not definitive – solution to the Palestinian issue could be useful.
If the borders between the Jewish State and the PNA are not made safe, that strategic link will always be used as a thorn in the flesh against Israel, which will never become a global player unless it quickly gets rid of the old geopolitical memories of so many regional wars.
How can we resolve tension with Palestine, which could be exploited in the future by anyone who wants to weaken the Jewish State?
The solution of placing the PNA in Jordan's hands is not very rational.
The Hashemite Kingdom has not the economic, and probably not even the military, strength  to swallow the whole Palestinian area up.
Jordan can certainly become an element of control over the Palestinian territories, but nothing more.
The solution of the State to be built, however, has now failed and certainly not because of Israel.
Hence what could be the solution? We could think about an area controlled and economically supported by Islamic countries – pro quota – but certainly not by Iran.
I see no other possible options.
It is certain, however, that the strengthening of good economic relations with Egypt, Jordan, even with Saudi Arabia, would be useful also for solving the Palestinian issue.
Another fact to be considered is the strategic superiority of the Jewish State in the field of active and passive cybersecurity, which can harshly remove many tensions before they arise.
Certainly, for the Jewish State, cyberwarfare gives the possibility of weakening the infrastructural and protective networks of the enemy so as to make it unable to fight.
It is also certain that Israel is a world leader in this sector, but it must always keep up, because the pace of change in this field is very fast.
Nevertheless cyber-mercenaries are also coming – and there will much work here.
Obviously, although the excellence of the Israeli cyberstrategy is well-known, we shall keep and further improve it and, above all, target and direct remote operations – even temporarily – against new enemies and adversaries, never targeted before.
Enemies change, but it is good to never trust eternal friendship.
It will be good, however, to currently move away from the Western model of the "showbiz society", which does not make young people focus on technical, scientific, rational and historical education and training – as today happens also in Israel- and go back to of our parents' and grandparents' model, with better education and hence more effective "nationalization of the masses" also in the Armed Forces.
We also need to invest even more in schools and universities although Israel has not yet reached the disastrous situation of many European countries and, above all, of Italy.
It will also be very useful to improve the relationship between universities and the productive and military system.
This is very difficult, but I really believe that the Jewish State will succeed once again.
Inside the Beltway: Iran hardliners vs Iran hardliners
Alarm bells went off last September in Washington's corridors of power when John Bolton's national security council asked the Pentagon for options for military strikes against Iran.
The council's request was in response to three missiles fired by an Iranian-backed militia that landed in an empty lot close to the US embassy in Baghdad and the firing of rockets by unidentified militants close to the US consulate in the Iraqi port city of Basra.
"We have told the Islamic Republic of Iran that using a proxy force to attack an American interest will not prevent us from responding against the prime actor," Mr. Bolton said at the time.
Commenting on the council's request, a former US official noted that "people were shocked. It was mind-boggling how cavalier they were about hitting Iran."
Then US Defense Secretary Jim Mattis, like Mr. Bolton an Iran hawk, worried that military strikes would embroil the United States in a larger conflagration with Iran.
The request, moreover, seemed to call into question US President Donald J. Trump's promise to America's European allies that he would rein in Mr. Bolton who has a long track record of advocating military action against Iran.
Months before joining the Trump administration in the spring of 2018, Mr. Bolton drafted at the request of Mr. Trump's then strategic advisor, Steve Bannon, a plan that envisioned US support "for the democratic Iranian opposition," "Kurdish national aspirations in Iran, Iraq and Syria," and assistance for Iranian Arabs in the oil-rich Iranian province of Khuzestan and the Baloch who populate the Pakistani province of Balochistan and Iran's neighbouring Sistan and Baluchistan province.
Frustrated by the Trump administration's failure to respond to his suggestions, Mr. Bolton published the memo in December 2017.
Almost to the day two years after the publication and two months before the 40th anniversary of the Iranian revolution, Mr. Bolton asserted in a policy speech in Cairo, that the United States had "joined the Iranian people in calling for freedom and accountability… America's economic sanctions against the (Iranian) regime are the strongest in history, and will keep getting tougher until Iran starts behaving like a normal country." Mr Bolton was referring to harsh US sanctions imposed in 2018 by Mr. Trump after withdrawing the United States from the 2015 international agreement that curbed Iran's nuclear program.
Mr. Bolton's plan stroked with Saudi thinking about the possibility of attempting to destabilize Iran by stirring unrest among its ethnic minorities. The thinking was made public in a November 2017 study by the International Institute for Iranian Studies, formerly known as the Arabian Gulf Centre for Iranian Studies, a Saudi government-backed think tank.
The study argued that Chabahar, the Indian-backed Iranian deep-sea port at the top of the Arabian Sea, posed "a direct threat to the Arab Gulf states" that called for "immediate counter measures." Pakistani militants claimed in 2017 that Saudi Arabia had stepped up funding of militant madrassas or religious seminaries in Balochistan that allegedly serve as havens for anti-Iranian, anti-Shiite fighters.
Mr. Bolton's memo followed an article he wrote in The New York Times in 2015 headlined 'To Stop Iran's Bomb, Bomb Iran' at the time that President Barak Obama was negotiating the international agreement to curb Iran's nuclear program.
Mr. Bolton argued in the op-ed that diplomacy would never prevent the Islamic republic from acquiring nuclear weapons. "The inconvenient truth is that only military action like Israel's 1981 attack on Saddam Hussein's Osirak reactor in Iraq or its 2007 destruction of a Syrian reactor, designed and built by North Korea, can accomplish what is required. Time is terribly short, but a strike can still succeed," Mr. Bolton wrote.
The memo was written at about the same time that Mr. Bolton told a gathering of the Iranian opposition group Mujahedin-e-Khalq that "the declared policy of the United States of America should be the overthrow of the mullahs' regime in Tehran" and that "before 2019, we here will celebrate in Tehran."
While Mr. Bolton has remained outspoken even if he has been careful in his wording as national security advisor, other past advocates of military action against Iran have taken a step back.
Mike Pompeo has since becoming secretary of state hued far closer to the Trump administration's official position that it is pursuing behavioural rather than regime change in Iran. But as a member of the House of Representatives, Mr. Pompeo suggested in 2014 launching "2,000 sorties to destroy the Iranian nuclear capacity."
While the Trump administration has largely explained its hard line towards Iran as an effort to halt the country's missile development, roll back its regional influence, and ensure that the Islamic Republic will never be able to develop a nuclear weapon, Mr. Bolton has suggested that it was also driven by alleged Iranian non-compliance with the nuclear accord.
"Report: Iran's secret nuclear archive 'provides substantial evidence that Iran's declarations to IAEA International Atomic Energy Agency) are incomplete & deliberately false.' The President was right to end horrible Iran deal. Pressure on Iran to abandon nuclear ambitions will increase," Mr. Bolton tweeted this month, endorsing a report by the Washington-based Institute for Science and International Security.
Based on Iranian documents obtained by Israel, the report identified an allegedly undeclared Iranian nuclear site. "Documentation seized in January 2018 by Israel from the Iranian 'Nuclear Archive' revealed key elements of Iran's past nuclear weaponization program and the Amad program more broadly, aimed at development and production of nuclear weapons. The material extracted from the archives shows that the Amad program had the intention to build five nuclear warhead systems for missile delivery," the report said.
Similarly, Mr. Bolton this month told Israeli prime minister Benyamin Netanyahu on a visit to Jerusalem that "we have little doubt that Iran's leadership is still strategically committed to achieving deliverable nuclear weapons. The United States and Israel are strategically committed to making sure that doesn't happen."
Mr. Bolton's assertion contrasted starkly with then Director of National Intelligence Dan Coats' assessment in his 2017 Worldwide Threat Assessment of the US Intelligence Community that "we do not know whether Iran will eventually decide to build nuclear weapons."
Mr. Bolton's hardline position within the Trump administration could be cemented if Iran were to decide that upholding the nuclear agreement no longer served its interest. Anti-agreement momentum in Iran has been fuelled by the European Union's seeming inability or unwillingness to create a financial system that would evade US sanctions and facilitate trade with Europe.
Mr. Bolton's hard line has also been bolstered by the imposition of European Union sanctions on Iran's ministry of intelligence and two individuals on charges of plotting to kill leaders of an Iranian Arab separatist movement in Denmark and the Netherlands.
An Iranian abrogation of the nuclear agreement would likely lead to a reshuffle of the Iranian cabinet and the appointment of hardliners that would in turn bolster Mr. Bolton's argument that the Iran issue has to be resolved before the United States can militarily truly disengage from the Middle East and South Asia.
Hardliners like Mr. Bolton may have one more development going for them: Disillusionment in Iran with the government of President Hassan Rouhani is mounting.
The disappointment is being fuelled not only by the failure of the nuclear accord to drive economic growth and the government's mis-management of the economy and inability to take on nepotism, vested interests such as the Revolutionary Guards and the growing income gap accentuated by the elite's public display of ostentatious wealth, but also the fact that Mr. Rouhani appears to have lost interest in reform and implementing change.
"Unfortunately, Mr. Rouhani´s second term has been extremely ignorant (about the demands) of the twenty-four million people who make up Iranian civil society. Most of the reformists believe that he no longer wants to interact (with the reform movement). All that concerns him is to emerge from the remaining two years (of his second term) undamaged, and thus maintain his privileged spot in the pyramid of power," said Abdullah Naseri, a prominent reformist and adviser to the former president Mohammad Khatami. Mr. Naseri was referring to the 24 million people who voted for Mr. Rouhani.
A reformist himself, Mr. Khatami warned that "if the nezam (establishment) insists on its mistakes… (and) reform fails, the society will move toward overthrowing the system."
The roots of Mr. Bolton's thinking lie in a policy paper entitled US Defense Planning Guidance that has been in place since 1992. The paper stipulates that US policy is designed "to prevent any hostile power from dominating a region whose resources under consolidated control be sufficient to generate global power." The paper goes a long way in explaining why the US and Saudi Arabia potentially would be interested in destabilizing Iran by stirring unrest among its ethnic minorities.
Iran scholar Shireen Hunter suggests that squashing Iran's ambition of being a regional and global player may be one reason why senior Trump administration officials, including Mr. Bolton, Mr. Pompeo and Rudolph Giuliani, the president's personal lawyer, alongside the Saudis support the Mujahedin e-Khalq even if its domestic support base is in question.
"The MEK was willing to support Saddam Hussein and cede Iran's (oil-rich) Khuzestan province to Iraq. There is no reason to think that it won't similarly follow U.S. bidding," Ms. Hunter said referring to the Mujahedeen's support of Iraq during the Iran-Iraq war in the 1980s.
Mr. Bolton appeared to be fortifying what amounted to the most hard-line approach towards Iran in an administration that was already determined to bring Iran to its knees by elevating Charles M. Kupperman, a long-time associate and former Reagan administration official, to deputy national security adviser.
Mr. Kupperman, a former Boeing and Lockheed Martin executive, previously served on the board for the Center for Security Policy, a far-right think tank advocating for a hawkish Iran policy founded by  Frank Gaffney, a former US government official who is widely viewed as an Islamophobe and conspiracy theorist.
Similarly, Mr. Trump, reportedly on Mr. Bolton's advice, hired this month Richard Goldberg as the national security council's director for countering Iranian weapons of mass destruction.
As a staffer for former Senator Mark Kirk, Mr. Goldberg helped write legislation that served as the basis for the Obama administration's sanctions regime on Tehran prior to the nuclear deal. He went on to work for the Washington-based Foundation for Defense of Democracies, which advocates a hard line towards Iran.
Earlier, Mr. Bolton hired Matthew C. Freedman, who in March 2018, together with Messrs. Kupperman and Bolton registered the Institute for a Secure America as a non-profit organization on the day that Mr. Trump announced Mr. Bolton's appointment as national security advisor.
A long-standing Bolton associate and one-time member of Mr. Trump's transition team, Mr. Freedman worked in the 1980s and 1990s as a foreign lobbyist with Paul Manafort, who managed Mr. Trump's election campaign for several months and was last year convicted as part of special counsel Robert Mueller's investigation into alleged collusion between the campaign and Russia to influence the outcome of the 2016 presidential election.
Messrs. Bolton, Kupperman and Freedman also established in 2015 the Foundation for American Security and Freedom to campaign against the Iran nuclear deal.
David J. Rothkopf, a former Clinton administration official who wrote a definitive history of the National Security Council described Mr. Bolton as a man "who has never crossed a bridge he hasn't burned behind him, who is surrounding himself with what appears to be a second-tier group of advisers who have spent a disproportionate amount of time on the swamp side of things — as consultants or working on his extreme political projects."
Said journalist and political commentator Mehdi Hasan: "You underestimate John Bolton at your peril… In 2003, Bolton got the war he wanted with Iraq. As an influential, high-profile, hawkish member of the Bush administration, Bolton put pressure on intelligence analysts, threatened international officials, and told barefaced lies about weapons of mass destruction. He has never regretted his support for the illegal and catastrophic invasion of Iraq, which killed hundreds of thousands of people. Now, he wants a war with Iran."
Syria's Kurds: The new frontline in confronting Iran and Turkey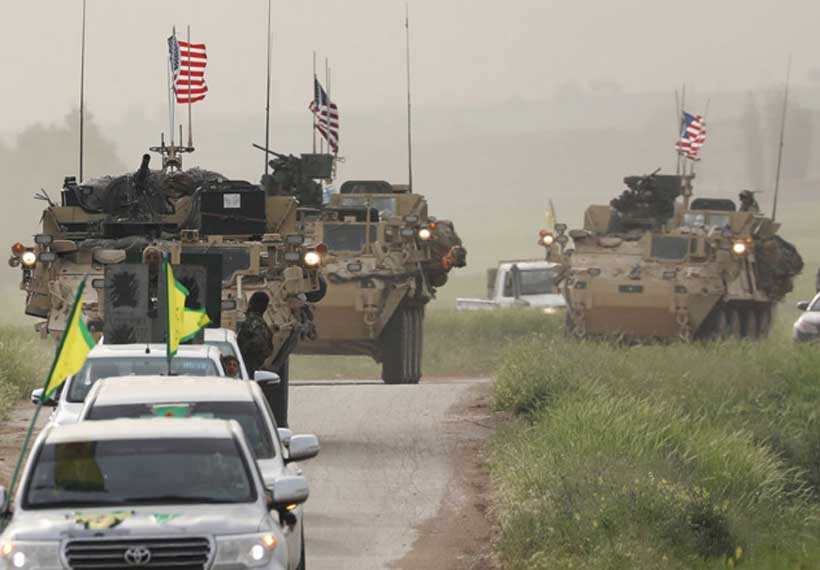 US President Donald J. Trump's threat to devastate Turkey's economy if Turkish troops attack Syrian Kurds allied with the United States in the wake of the announced withdrawal of American forces potentially serves his broader goal of letting regional forces fight for common goals like countering Iranian influence in Syria.
Mr. Trump's threat coupled with a call on Turkey to create a 26-kilometre buffer zone to protect Turkey from a perceived Kurdish threat was designed to pre-empt a Turkish strike against the People's Protection Units (YPG) that Ankara asserts is part of the outlawed Kurdish Workers Party (PKK), a Turkish group that has waged a low-intensity war in predominantly Kurdish south-eastern Turkey for more than three decades.
Like Turkey, the United States and Europe have designated the PKK as a terrorist organization.
Turkey has been marshalling forces for an attack on the YPG since Mr. Trump's announced withdrawal of US forces. It would be the third offensive against Syrian Kurds in recent years.
In a sign of strained relations with Saudi Arabia, Turkish media with close ties to the government have been reporting long before the October 2 killing of journalist Jamal Khashoggi in the Saudi consulate in Istanbul that Saudi Arabia is funding the YPG. There is no independent confirmation of the Turkish allegations.
Yeni Safak reported in 2017, days after the Gulf crisis erupted pitting a Saudi-UAE-Egyptian alliance against Qatar, which is supported by Turkey, that US, Saudi, Emirati and Egyptian officials had met with the PKK as well as the Democratic Union Party (PYD), which Turkey says is the Syrian political wing of the PKK, to discuss the future of Syrian oil once the Islamic State had been defeated.
Turkey's semi-official Anadolu Agency reported last May that Saudi and YPG officials had met to discuss cooperation. Saudi Arabia promised to pay Kurdish fighters that joined an Arab-backed force US$ 200 a month, Anadolu said. Saudi Arabia allegedly sent aid to the YPG on trucks that travelled through Iraq to enter Syria.
In August last year, Saudi Arabia announced that it had transferred US$ 100 million to the United States that was earmarked for agriculture, education, roadworks, rubble removal and water service in areas of north-eastern Syria that are controlled by the US-backed Syrian Democratic Forces of which the YPG is a significant part.
Saudi Arabia said the payment, announced on the day that US Secretary of State Mike Pompeo arrived in the kingdom, was intended to fund stabilization of areas liberated from control by the Islamic State.
Turkish media, however, insisted that the funds would flow to the YPG.
"The delivery of $100 million is considered as the latest move by Saudi Arabia in support of the partnership between the U.S. and YPG. Using the fight against Daesh as a pretext, the U.S. has been cooperating with the YPG in Syria and providing arms support to the group. After Daesh was cleared from the region with the help of the U.S., the YPG tightened its grip on Syrian soil taking advantage of the power vacuum in the war-torn country," Daily Sabah said referring to the Islamic State by one of its Arabic acronyms.
Saudi Arabia has refrained from including the YPG and the PKK on its extensive list of terrorist organizations even though then foreign minister Adel al-Jubeir described in 2017 the Turkish organization as a "terror group."
This week's Trump threat and his earlier vow to stand by the Kurds despite the troop withdrawal gives Saudi Arabia and other Arab states such as the United Arab Emirates and Egypt political cover to support the Kurds as a force against Iran's presence in Syria.
It also allows the kingdom and the UAE to attempt to thwart Turkish attempts to increase its regional influence. Saudi Arabia, the UAE and Egypt have insisted that Turkey must withdraw its troops from Qatar as one of the conditions for the lifting of the 18-month old diplomatic and economic boycott of the Gulf state.
The UAE, determined to squash any expression of political Islam, has long led the autocratic Arab charge against Turkey because of its opposition to the 2013 military coup in Egypt that toppled Mohammed Morsi, a Muslim Brother and the country's first and only democratically elected president; Turkey's close relations with Iran and Turkish support for Qatar and Islamist forces in Libya.
Saudi Arabia the UAE and Egypt support General Khalifa Haftar, who commands anti-Islamist forces in eastern Libya while Turkey alongside Qatar and Sudan supports the Islamists.
Libyan and Saudi media reported that authorities had repeatedly intercepted Turkish arms shipments destined for Islamists, including one this month and another last month. Turkey has denied the allegations.
"Simply put, as Qatar has become the go-to financier of the Muslim Brotherhood and its more radical offshoot groups around the globe, Turkey has become their armorer," said Turkey scholar Michael Rubin.
Ironically, the fact that various Arab states, including the UAE and Bahrain, recently reopened their embassies in Damascus with tacit Saudi approval after having supported forces aligned against Syrian President Bashar al-Assad for much of the civil war, like Mr. Trump's threat to devastate the Turkish economy, makes Gulf support for the Kurds more feasible.
Seemingly left in the cold by the US president's announced withdrawal of American forces, the YPG has sought to forge relations with the Assad regime. In response, Syria has massed troops near the town of Manbij, expected to be the flashpoint of a Turkish offensive.
Commenting on last year's two-month long Turkish campaign that removed Kurdish forces from the Syrian town of Afrin and Turkish efforts since to stabilize the region, Gulf scholar Giorgio Cafiero noted that "for the UAE, Afrin represents a frontline in the struggle against Turkish expansionism with respect to the Arab world."
The same could be said from a Saudi and UAE perspective for Manbij not only with regard to Turkey but also Iran's presence in Syria. Frontlines and tactics may be shifting, US and Gulf geopolitical goals have not.