Mahathir's reforms could put Saudi Arabia and the UAE on the spot
Newly elected Malaysian Prime Minister Mohammed Mahathir is adopting policies that could reshape the Southeast nation's relations with powerful Gulf states.
A series of anti-corruption measures as well as statements by Mr. Mahathir and his defense minister, Mohamad (Mat) Sabu, since this month's upset in elections that ousted Prime Minister Najib Razak from office, are sparking concern in both Saudi Arabia and the United Arab Emirates.
Mr. Mahathir, who has cautioned in recent years against widespread anti-Shiite sectarianism in Malaysia, has questioned together with Mr. Sabu Malaysia's counterterrorism cooperation with Saudi Arabia.
Mr. Mahathir has also reinvigorated anti-corruption investigations of Mr. Razak,  whom Qatari media have described as "Saudi-backed."
Mr. Razak is suspected of having syphoned off billions of dollars from state-owned strategic development fund 1Malaysia Development Berhad (1MDB). The fund as well as Saudi and UAE entities allegedly connected to the affair are under investigation in at least six countries, including the United States, Switzerland and Singapore.
Apparently anticipating a possible change in relations, political scientist Abdulkhaleq Abdulla, whose views are often seen as reflecting UAE government thinking, disparaged Mr. Mahathir and the Malaysian vote days after the results were announced.
Mr. Abdullah focused on Mr. Mahathir's age. At 92, Mr. Mahathir is the world's oldest elected leader.
Mr Abdulla also harped on the fact that Mr. Mahathir had been Mr. Razak's mentor before defecting to the opposition and forging an alliance with Anwar Ibrahim, Mr. Mahathir's former deputy prime minister and an Islamist believed to be close to the Muslim Brotherhood, whom he helped put behind bars.
UAE Crown Prince Mohammed bin Zayed is known for his intense opposition to political Islam, including the Brotherhood.
"Malaysia seems to lack wise men, leaders, statesmen and youth to elect a 92-year-old who suddenly turned against his own party and his own allies and made a suspicious deal with his own political opponent whom he previously imprisoned after fabricating the most heinous of charges against him. This is politics as a curse and democracy as wrath," Mr. Abdulla said on Twitter, two days after the election.
Similarly, Malaysian officials have signalled changing attitudes towards the Gulf. Seri Mohd Shukri Abdull, Mr. Mahathir's newly appointed anti-corruption czar, who resigned from the Malaysian Anti-Corruption Commission (MACC) in 2016 as a result of pressure to drop plans to indict Mr. Razak, noted that "we have had difficulties dealing with Arab countries (such as) Qatar, Saudi Arabia, (and the) UAE."
Those difficulties are likely to recur.
Mr. Sabu, the new defense minister, noted in a commentary late last year that Saudi (and UAE) wrath was directed "oddly, (at) Turkey, Qatar, and Iran…three countries that have undertaken some modicum of political and economic reforms. Instead of encouraging all sides to work together, Saudi Arabia has gone on an offensive in Yemen, too. Therein the danger posed to Malaysia: if Malaysia is too close to Saudi Arabia, Putrajaya would be asked to choose a side."
Putrajaya, a city south of Kuala Lumpur, is home to the prime minister's residence and a bridge with four minaret-type piers that is inspired by Iranian architecture.
Mr. Sabu went on to say that "Malaysia should not be too close to a country whose internal politics are getting toxic… For the lack of a better word, Saudi Arabia is a cesspool of constant rivalry among the princes. By this token, it is also a vortex that could suck any country into its black hole if one is not careful. Indeed, Saudi Arabia is governed by hyper-orthodox Salafi or Wahhabi ideology, where Islam is taken in a literal form. Yet true Islam requires understanding Islam, not merely in its Quranic form, but Quranic spirit."
Since coming to office, Mr. Sabu has said that he was reviewing plans for a Saudi-funded anti-terrorism centre, the King Salman Centre for International Peace (KSCIP), which was allocated 16 hectares of land in Putrajaya by the Razak government. Mr. Sabu was echoing statements by Mr. Mahathir before the election.
The opening of the centre was twice postponed because Saudi Crown Prince Mohammed bin Salman cancelled his planned attendance. Malaysian officials said the kingdom had yet to contribute promised funds for the centre.
Shahriman Lockman, an analyst with the Kuala Lumpur-based Institute of Strategic and International Studies cautioned that Malaysia would have manoeuvre carefully.
"Whether we like it or not, whatever we think of them, Saudi Arabia is a major player in the Muslim world and in the Middle East. Their administration of the haj makes it crucial for Muslim-majority countries to get along with them," Mr. Lockman said.
The fact that Mr. Mahathir's election has sparked hopes that he will move Malaysia away from Mr. Razak's embrace of Saudi-inspired ultra-conservative Islam as a political tool, despite the prime minister's history of prejudice towards Jews and past anti-Shiite record, is likely to reinforce Saudi and UAE concern that his moves could favour Iran.
Mr. Mahathir has vacillated in his statements between banning Shiism to avert sectarianism and calling on Sunni Muslims in Malaysia to accept the country's miniscule Shiite minority as a way of avoiding domestic strife.
What is likely to concern the Saudis most is the fact that Mr. Mahathir has said that  accepting Shiites as fellow Muslims was necessary because of the growth of the Iranian expatriate community in Malaysia. Analysts say the presence has sparked a greater awareness of Shiism and Sunni animosity because of Mr. Razak's divisive policies.
Saudi and UAE worries about the reinvigorated anti-corruption investigation are rooted in the potential implication in the scandal of a Saudi commercial company, members of the Saudi ruling family, and UAE state-owned entities and officials.
The investigation is likely to revisit 1MDB relationship's with Saudi energy company PetroSaudi International Ltd, owned by Saudi businessman Tarek Essam Ahmad Obaid as well as prominent members of the kingdom's ruling family who allegedly funded Mr. Razak.
It will not have been lost on Saudi Arabia and the UAE that Mr. Mahathir met with former PetroSaudi executive and whistle blower Xavier Andre Justo less than two weeks after his election victory.
A three-part BBC documentary, The House of Saud: A Family at War, suggested that Mr. Razak had worked with Prince Turki bin Abdullah, the son of former Saudi King Abdullah, to syphon off funds from 1MDB.
UAE-owned, Swiss-based Falcon Bank has also been linked to the scandal while leaked emails documented a close relationship between Yousef al-Otaiba, the UAE's high-profile ambassador to the United States and confidante of Prince Mohammed bin Zayed, and controversial Malaysian financier Jho Low, a 27-year-old Wharton graduate who helped Mr. Razak run 1MDB.
The Wall Street Journal, citing not only emails, but also US court and investigative documents, reported last year that companies connected to Mr. Otaiba had received $66 million from entities investigators say acted as conduits for money allegedly stolen from 1MDB.
The UAE embassy in Washington declined to comment at the time but admitted that Mr. Oteiba had private business interests unrelated to his diplomatic role. The embassy charged that the leaked emails were part of an effort to tarnish his reputation.
Bank statements and financial documents reviewed by The Wall Street Journal suggest that Khadem al Qubaisi, a director of an Abu Dhabi-owned investment company, who has also been implicated in the scandal, facilitated the purchase by UAE deputy prime minister Sheikh Mansour Bin Zayed Al Nahyan's brother of a $500 million yacht with 1MDB funds.Khadem al Qubaisi
"The impact of this election will reverberate far beyond Malaysia's borders," said Asia director of the Centre for Humanitarian Dialogue Michael Vatikiotis.
Mr. Vatikiotis was looking primarily at the fallout of Mr. Mahathir's victory in Southeast Asia and China. His analysis is however equally valid for Saudi Arabia and the United Arab Emirates, where it could also prove to be embarrassing.
Arab-Chinese Cooperation Forum: Crucial Decisions in Difficult Times
The ninth session of the Ministerial Meeting of the Arab-Chinese Cooperation Forum was held on the sixth of July. The meeting took place through live broadcasts due to the unstable global health situation as a result of the pandemic. It was a successful meeting rich in firm decisions, and the following documents were agreed upon: "Amman Declaration", "Executive Program of the Arab-Chinese Cooperation Forum 2020-2022" and "Joint Statement of China and Arab Countries Solidarity in Fighting Pneumonia caused by Corona Virus".
This session touched on security, political and health issues of mutual interest. The "Amman Declaration" has denounced the Israeli attacks that do not stop against the sovereignty of Palestine; it is an expression of an official Arab-Chinese rejection of Israel's attempt to annex any other part of the Palestinian territories and dissatisfaction with Israel's hostile policies against the Palestinian people. This document is an expression of the permanent Chinese endeavor to achieve international peace and security (which is the highest goal that neutral countries and international organizations, especially the United Nations, praise). The Amman Declaration cannot be classified as a Chinese bias alongside the Arabs. China pursues a policy of non-interference in the internal affairs of other countries and respects the sovereignty of its international partners, and Israel is a huge economic and trade partner of China in West Asia.
Therefore, the "Amman Declaration" is a Chinese political tool to stop Israeli attacks. In this context, I remember the Sudanese issue. At a time when the world boycotted the government of President al-Bashir and was classified as a terrorist, China did not break its ties with him. Rather, it sought to make peace in Sudan and stop fighting. Some described this incident as direct Chinese interference in internal Sudanese affairs, however, this intervention was in the interest of the Sudanese people and in the service of international peace and security, as is the issue in the Arab-Israeli conflict. China raises its tone to ease the dispute, not the other way around. Another example, when many international groups branded Myanmar (formerly Burma) a terrorist state that assaults Muslims, China was making tremendous efforts and was almost the only international actor to make peace and create an atmosphere of harmony, so the "Amman Declaration" is a new Chinese step in the path of international peace and security.
The Chinese delegation affirmed the right of the Palestinian people to self-determination. China is always on the side of the oppressed peoples. Although China is an ally of the Assad regime in Syria, it has never stopped standing with the Syrian people with self-determination, freedom and human dignity. From this standpoint, Chinese diplomacy has never worked contrary to its principles, as the People's Republic of China has been and will continue to be on the side of the Palestinian people, which is a priority for the Chinese. China has called for the enhancement of the Arab-Chinese relations and pushed them forward and to use all legitimate means to develop this relationship. The Arab region is important for the Chinese, due to the great Chinese dependence on Arab oil and other natural resources, as well as the important and huge market for the disposal of Chinese goods.
The distinguished geographical location of the Arab region constitutes a commercial and economic link between East and West. The Arab region contributes to establishing new markets for China in the world, and this region may turn to be a hub for Chinese trade, regardless of the obstacle of the US military presence. The Arab countries are an important political partner of the Chinese government and a key supporter of "One China" in international forums.
I would like to touch here on the issue of Xinjiang. The Western and other anti-China media have sought to promote a propaganda "aimed at tarnishing the image of the Chinese government and portraying it as being against Islam and Muslims in China". The United States supports this campaign under the pretext of defending the rights of Muslims as it claims, but the irony is that the United States has a bloody history against Arab and Muslim peoples everywhere, and the US regime has committed the most heinous crimes against Muslims, it is the summer and winter policy under one roof. Surprisingly, the Arab governments did not submit to this dirty game. Rather, the Sino-Arab relations became stronger and the majority of the Arab people were not in a position to accept the Western campaigns against the Chinese government. This position has shocked the West and all those who harbor hostility to China. The Chinese soft power has succeeded in the face of the military machine and western greed. Is it reasonable for the Algerian people to forget the revolution of the million martyrs? Will African peoples forget their slavery and treatment on the basis of inferiority? Will the Arabs forget the treachery of the Westerners since the Sykes-Picot agreement and the accompanying Zionist occupation and wars against oil and others?
The Arab region has a prominent role in the Belt and Road initiative, "The Economic Belt and the Maritime Road", given the strategic location of the Arab region linking Eurasia, Mediterranean Europe and Africa, as well as the sea lanes that are part of the initiative. Arab natural resources are the engine for this initiative. Chinese consumption of Arab natural resources will increase dramatically with this initiative, according to Chinese officials. Members hailed the Chinese efforts made to strengthen the ties of the Arab-Chinese partnership, which supports the progress of the Belt and Road Initiative. Concerning Arab and regional situation, China has called for dialogue and resort to international resolutions and agreements in order to end conflicts and create an atmosphere of calm and stability. China has always advocated peace and dialogue as an economic partner of Arab countries and governments, and it is not inclined to be an international arms factory or a promoter of wars and discord in order to establish armament deals; on the contrary, China is absolutely opposed to wars and the use of weapons, and this is not in the interest of China's overseas opponents. Also, China has assured that it will be the protector of the unity and sovereignty of the Arab countries. It has openly called for no division of Yemen, Syria or Libya among others.
Emphasis has been placed on adopting the executive program of the Arab-Chinese Cooperation Forum 2020-2022, which strengthens the strategic partnership between China and the Arabs, and which is in the common economic and political interest. On the other hand, the Arab countries have been and will continue to support the sovereignty and territorial integrity of China, refusing to establish relations with Taiwan and denouncing separatist religious and nationalist groups. The Arabs always affirm the principle of one country with two systems followed by China in Hong Kong, and the two sides agree to support and protect minorities in the Arab region and China. In this context, the Chinese invited Arab officials to visit Xinjiang to inspect it closely and to learn about the Chinese policy followed in this region. In China, many concessions are granted to Muslim and other minorities in China, in addition to the freedom to practice religious rites. The Chinese have gone to Arab officials to promote Arab-Iranian relations, support the policy of good-neighborliness, non-interference in internal affairs, and resolve disputes by peaceful means in accordance with the principles of the United Nations Charter and international law.
It was confirmed that the decision of US President Donald Trump to grant the Syrian Arab Golan to Israel was rejected, as it is a blatant attack on international charters and laws, Israel was also called upon to withdraw from the Golan and the occupied territories to the line of June 4, 1967, in accordance with Security Council resolutions 242, 338 and 497. Israel was also called upon to withdraw from the occupied Lebanese territories and to stop violating the land, sea, and air sovereignty of Lebanon, which could have serious consequences that might not be commended. China contributes to Lebanon's security and stability by participating in the international peacekeeping forces operating in southern Lebanon.
China has supported Lebanon in the most difficult circumstances, and today China reaffirms its readiness to stand firmly on the side of the government and the people in Lebanon, at a time when many countries have abandoned Lebanon for political interests and considerations, but China has remained steadfast in its positions and has not changed its policy towards Lebanon. In light of the financial crisis that Lebanon is going through, China announced that it will not abandon its partnership with Lebanon, and considered that Lebanon is a host for Palestinian and Syrian refugees, and this will not change from the right to resort to settlement.
The convening of the Arab-Chinese Cooperation Forum in this unstable international circumstance is a message in itself on the strength and strength of Arab-Chinese relations. This relationship has become a role model for international cooperation against all odds. Some groups seek to stir up discord between Arabs and Chinese under the pretexts of religion and human rights, but both sides demonstrated the amount of awareness and sufficient and great insight that drove the progress of this relationship despite all the difficulties. Many reports indicate that China has a promising future in the Arab region and this partnership will have a distinctive position.
AKP and the Evolution of a New Brand of Populism in Turkish Politics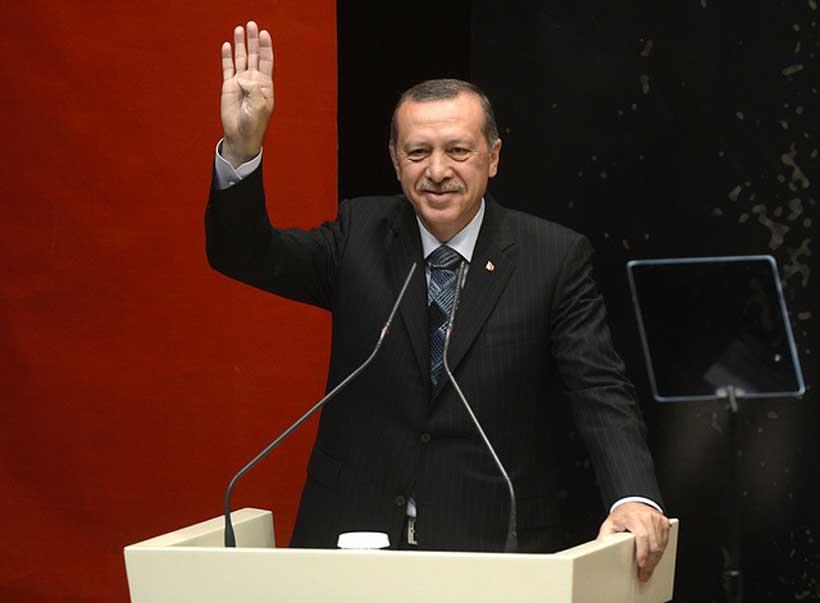 Authors: Nadeem Ahmed Moonakal and Dr.Nanda Kishor*
The rise of the Justice and Development Party (AKP) in Turkey has had several impacts on Turkish politics and Turkey's foreign policy outlook. The political situation in Turkey today is largely dominated by the AKP. The recent conversion of UNESCO world heritage site Hagia Sophia into a mosque was one of the election promises made by President Recep Tayyip Erdogan. His decision indicates AKP's appeal to the people and the populism it resorts to with an assertion of religious pride and nationalism.
AKP's initial rise in Turkish politics should be observed in conjunction with the context in which it came to prominence. The 2001 economic crisis of Turkey is recorded as one of the worst economic crises the country faced ever since World War II. Throughout the 1990's Turkish economy largely relied upon foreign investments for economic growth. Since the government was already facing budget deficits it lacked the financial means to address the crisis. The political instability that was prevalent in the 1990s in Turkey became another factor for many foreign investors to reconsider their investment plans in Turkey.
Several foreign business enterprises also withdrew billions of dollars during this period and it reflected in the dramatic plunging of the Turkish economy. However, the existing government pushed for several neoliberal policies that also opened the doors for privatization. Turkish economy faced serious challenges concerning its fragile banking sector and poor macroeconomic performance. This also largely led to the currency crisis. The country faced economic turmoil however some of the structural economic reforms and a successful debt-swap helped the country recover and improve investor confidence.
After the collapse of the fragile alliances, a new party came into prominence which changed the political landscape of Turkey significantly. The Justice and Development Party (AKP) came to power in 2002 with Recep Tayyip Erdogan as the Prime Minister of the country. The election reflected a clear discontentment and dissatisfaction of people for the traditional political parties. The newly formed government absorbed the direction set by the predecessor and accentuated its efforts in further transforming the economy with neoliberal measures. The government also privatized state-owned enterprises and became more assertive in implementing these measures amid political oppositions and criticisms. The economy grew rapidly during 2003-2007 however the 2008 global economic crisis slowed down the growth. A year later the country showed positive signs of economic growth although in the later years the economic crisis and the corruption allegations did cause severe discontentment towards the government.
Some of the researches have shown that AKP voters are relatively less educated than the Republican People's Party (CHP) voters. The traditional voter base of AKP also relies much on the lower-middle-class of the society whose income levels are just below the national average. AKP also receives a critical share of votes from people who identify themselves as religious conservatives. Evaluating the recent trends, it is clear that Erdogan is more conservative in terms of religious traditions and societal norms and values whereas liberal in economic measures which the AKP inherited to an extent from the early 2000 economic reforms in Turkey.
What AKP under the leadership of Erdogan also has managed to do overtime isto create a social assistance system that has received significant popularity among economically weaker sections. One of the most popular slogans from Erdogan's election campaigns rightly captures the perception AKP has built around Erdogan. 'Milletin Adamı Erdoğan' (People's Man Erdogan) resonates with the larger aspirations of the party to project Erdogan as the leader of the common people. However, there is much pressure on Erdogan now with rising unemployment rates and new challenges from his own traditional voter base. The reaction to incidents like protests post-Soma mine disaster indicates Erdogan's intolerance towards dissent. Crackdown on protests and dissent has become a severe concern as the government now is vying for more control over social networking websites and apps as well.
The conditions for the rise of a populist leader remain conducive in contemporary Turkish politics. With high levels of unemployment, poverty, and religious conservatism– some populist appeal still can attract certain sections of Turkish society. With the foreign policy adventures of Erdogan and his with his strong anti-Israel stance he has also managed to garner wider popularity in the Muslim world. Hence, despite Erdogan's decrease in vote share over several elections, the Milletin Adamı remains very popular not just in Turkey but among several Muslim societies across the Middle East and South Asia.
The democratic backsliding witnessed specifically in AKP and in the state as such may not sustain for a long time. The concept of Laiklik (Secularism) which served Turkey for a long time being sidelined will further push it to be branded as a religious fundamentalist state and an autocratic one worldwide. Unlike the understanding of AKP that existed till 2013 along with the Gülen Movement with a friendly approach towards the Western Powers, Erdogan has taken anti-Western move by playing to the gallery of Islamist groups such as Naqshbendi, İsmailağa, and Menzil. His policies were not impressive enough to steer through the economic and political challenges in 2019. CHP managed to win the elections in Istanbul, Ankara, and Izmir. Istanbul's new mayor Ekrem İmamoğlu is seen as a serious threat to Erdoğan. Apart from these, 2019 September also saw defection within AKP by former Prime Minister Ahmet Davutoğlu and former Deputy Prime Minister Ali Babacan and their followers. This is precisely the reason why Erdogan thinks religion as a soft power that has the strength to cement his hard power.
The foreign policy challenges to Erdogan are manifold. Turkey's role in Syria and Libya has been challenged in the region. Failure of any of these would give teeth for the opposition to further challenge him. His blackmailing of the European Union on the refugee issue may not work in the long run. After locking horns with the United States for over ten months, there seems to be some temporary respite with Erdogan and Trump both making certain amendments to their behavior. However, at the backdrop of the conversion of Hagia Sophia to a mosque, the US expressed its "disappointment" in its statement. With respect to the situation in Libya, the US sees a faceoff between Turkey and Russia as Turkey supports the Fayez al-Sarraj government whereas Russia backs Khalifa Haftar with weapons. Egypt is gearing up for a showdown with its partners and allies against Turkey in the Mediterranean and warming up ties with Iran and Qatar may not help Turkey economically.
AKP faces serious economic challenges amid the coronavirus pandemic. While Turkey is now entangled in the conflict in Libya and AKP faces dissent within the party, Erdogan has taken refuge in religion once again and aspires to get the support from the conservative Muslim factions in Turkey and the Muslim societies in the larger Islamic world. The populism he and his party are resorting to indicate elements of an authoritarian regime. This can also cater to the arguments put up by scholars pointing out that political Islam often exhibits a high incidence of authoritarianism. Turkey was seen as a light in leading the Middle East reform movements after World War I. However, in recent years, that credibility is being destroyed brick by brick by Erdogan's populism. The idea of using religion to 'control', 'eliminate', and 'subjugate' the society is leading to ideological hegemony that would threaten the very foundations of the modern Turkish republic envisaged by Mustafa Kemal Atatürk.
*Dr.Nanda Kishor is an Associate Professor at the Department of Geopolitics and International Relations, Manipal Academy of Higher Education, India. His area of experience and expertise lies in the geopolitics of the Middle East and South Asia. 
The Libyan crisis in the summer of 2020
In 2011, in a phase of severe economic crisis for Italy, almost on the verge of default, the violent ousting of the Libyan leader, Muammar al Minyar El Gaddafi, was the obvious tombstone of Italian foreign policy and also of its intelligence Services forced to serve only the interests of those who wanted to destroy Italy's interests.
The United States wanted to put an end to the sequence of "Arab Springs" started in Tunisia, a small country suitable for tests – as the papers of the Foreign Office reported in 1901 with respect to Russia, "a country suitable for Socialist tests".
The United States interpreted foreign policy according to its internal and self-referential criteria and it was useless to ask it to have a broader vision.
Certainly France wanted to take Libya, but above all it wanted to take ENI and also to put Italy in a severe minority condition throughout the Mediterranean region.
The way in which France operated in Gaddafi's times – and, indeed, France has never relinquished coup designs against Gaddafi – showed only one thing, that also Great Britain knew, i.e. that Gaddafi had been an excellent invention of the Italian Intelligence Services, when they still existed. Italy rescued Gaddafi at least three times, twice from Great Britain and once from France, as well as twice from the United States.
Pursuing our national interest, we were branded as "anti-liberal" and, in any case, within NATO you pay for certain betrayals.
Great Britain also wanted to follow France in its anti-Gaddafi hysteria, especially after Sarkozy asked the Raisfor a significant loan. It had some oil interest with it to prepare for the Royal Dutch Shell, which first opened negotiations with the new Libyan regime in 2013, as well as the ENI security Services, which quickly agreed with Jallud and Italy's traditional points of reference in opposing Gaddafi. Either Shell or Total – that was the game, while Italy was sinking into the crisis and a "friendly" sale of ENI was not unlikely.
To put it frankly, however, the anti-Gaddafi rhetoric was ridiculous: the usual talk about his "not being democratic" – as if an Arab Rais could behave like a Manhattan jazz musician, all sex, drugs and rock & roll – while opening the doors to the Muslim Brotherhood and its networks which, coincidentally, immediately generated a widespreading of jihadist organisations, as it happened also outside Libya.
Did they really believe there were good and "bad" jihadists? But where did they live, in a commercial spot for detergents?
The French intelligence services' operation triggering the "revolt" was above all the tension at the Abu Salim prison, organized by a strange and previously unknown "Libyan section of the Association for Human Rights" based in Paris.
The material start of the revolt was in Benghazi, in February 2011, but the economic and social situation in Gaddafi's Tripoli was very different from the other "Arab springs" superficially organized by some strategic PRs,paid by the intelligence Agencies, between Manhattan and Sloane Street. Nothing to do with talk about "freedom" and Martini cocktails.
In fact, as maintained by some reports of the German Foundations published shortly before Gaddafi's fall, Gaddafi's Libya ensured an average income five times as much as Egypt's. Said income was also well spread among the population, especially with Gaddafi who did the only possible job in a country with many tribes, i.e. ensuring their selective support.
Furthermore, the harsh but also naïve system – already put in place against Milosevic in Serbia or against Saddam Hussein in Iraq – was used again in Libya. Distingue frequenter, as the medieval logicians used to say.
The network of bloggers, previously strangely silent, started immediately, as well as some demonstrations on problems that existed even before, and the obsessive use of the "buzzword" democracy, which, in the minds of the poor and underprivileged people meant "getting better", while in the words of strategic information managers, hired at a high and useless price by Western governments, meant: "now work for us".
There was also Nietzsche's "soothing oil" of the democratic myth to calm people's fears, with some other possible distraction. Sex, above all, or youth amusement and entertainment business.
In the first phase of the Libyan "people's" revolt, the United States largely had a wait-and-see attitude, but certainly a West believing that reality reasons like snobbish young ladies, like those you can find in some jet setters' and socialites' salons, is always doomed to the most tragic failures.
The Libyans did not want to kill the "tyrant", in a Macbeth-style Scottish ritual – since it is a concept completely alien to their political culture – but they simply wanted to improve the Libyan regime, like the Tunisian one, both certainly permeated with nepotism and corruption, especially in Tunisia. Nevertheless, everything would certainly have been better than what happened afterwards.
Just think about the fact that the long war seems to be the silly rule of current "humanitarian" operations and interventions: everything is done with great fanfare and democratic rhetoric – as if the whole world should go on like Vermont, or Paris V Arrondissement -and later you discover that the world is different from the parochial and obscure wealth of certain leaders. Hence "the dose is repeated" endlessly, always with fewer troops, as if the others were idiots or unable to fight, finally believing that everything works according to the repetitaiuvant principle. However, foreign policy and strategy never work like that.
The United States will be out of Afghanistan, without having resolved anything. Indeed, the situation will be worse than before, after a treaty with the Taliban drafted in Doha, which should lead to the withdrawal and complete return of U.S. soldiers back home within the next 14 months.
In Iraq, U.S. troops have been the subject of a Parliamentary resolution calling for their removal, despite the fact that the Iranian Armed Forces are still reluctant.
No significant strategic results have been reached and will be reached on the ground. Hence in Afghanistan the Taliban will obviously rise to power, as would have also happened many years ago.
In Iraq, with the Shiite majority in the population and the Iranian oil, economic, political and military penetration, I do not believe that the U.S. presence will achieve other great results.
Certainly the U.S. bases in Kuwait, Bahrain, Qatar, and the largest one in the Emirates, are another necklace around Tehran. As the old and new AFRICOM networks around Libya, i.e. as many as 29 military bases in Bizerte, Tunisia; Libreville, Gabon; Ouagadougu, Burkina Faso; Dakar, Senegal; Niamey and Agadez, Niger, to control the great route of African migration, often directed against our shores, as well as 5 other bases in Somalia, 4 in Mali, and finally 2 in Libya.
Hence a terrible game is being played on Libya, which is the command and control on the passages from the Mediterranean to Central Africa, and Italy seems only to repeat the usual formulas of the snobbish young ladies, like those portrayed by Italian comedian Franca Valeri, based on two gross and very dangerous mistakes: a) Libya is not a "national interest", because the usual human rights must be restored, but this is huge nonsense because these famous rights should be restored all over Africa; b) Italy's interest is only that of the West, which does not have only one interest and, anyway, all the interests already defined are against Italy.
Which is the virus currently inoculated in our childish and immature politicians, which does not let them believe that there is a national interest, in which Libya is an unavoidable axis, considering that, as Napoleon said, "the basis of foreign policy lies in geography"?
At the time, we followed the very childish idea of Silvio Berlusconi and of his "centre-right" coalition that sided with the Anglo-Saxons and France as if we were in a costumed re-edition of the Second World War.
Certainly, just in case, we were also told that we would be bombed "by mistake". But fear is not part of some strategic calculations. If our "allies" –that were stealing Libya and ENI from us – had done so, we would have told the truth. And more train attacks and bombings would have taken place…
The Reductio ad Hitlerum is a naivety that, in Italy, also applies to ruling classes. Ignorant of foreign policy as confirmands.
Now, we are in the fairy world of a government that believes it can mediate while being completely irrelevant. Even on the ground, in Tripoli and Benghazi. A fairy-tale world made of human rights, always slave to propaganda, as well as to the rejection of war laid down by the most idiotic article of our Constitution, Article 11 (and, indeed, it is not the only one), which in fact accepts only unconditional surrender. In fact, those who came to power after an unconditional surrender, remember only that.
Not to mention the usual irregular migrants to be accepted without saying a word – something that our EU friendly countries do not and have never done, but that we should do immediately, considering the Dublin agreement and the always artfully created sense of guilt for old experiences.
It is also worth reiterating that Italy is out of Libya, of the Maghreb region, of Africa and it will shortly be out of the Mediterranean. Thanks to our politicians, who know about strategy and geopolitics like a pizza maker usually knows about the calculus of variations. No disrespect and offense to our pizza makers, of course.
Without Libya there will beno control of the Mediterranean. Without control of the Mediterranean, there will be no Italian strategic and economic autonomy. Finally, without Italian strategic and economic autonomy there will be no growth, the mantra about which current politicians talk grandly.
However, let us better analyse the situation: Russia denies any direct engagement in Libya, but there are at least 14 MiG29 missiles in the Jufra base, as well as some Sukhoi-24 bombers, and also Pantsir anti-missile systems.
Allegedly, in the bases still linked to General Haftar, there are also Serbian and Ukrainian mercenaries, connected to the Wagner networks of Russian contractors.
They are mainly in the base of Gardabyah, but although denying any direct military interest in Libya, Russia has reportedly deployed its 900 "militants" in Syria and Libya in the bases linked to Haftar, as done also by Turkey.
The intelligence Services are particularly active. Especially the French ones, namely the DGSE, as well as the American CIA, which has never left Libya, and the German BND. This is not surprising.
Italy still has an excellent advisor to al-Sarraj, who knows all too well how to deal with certain issues. But he is alone, isolated, and now he is rare breed in Tripoli's government.
In our opinion, al-Sarraj was not the holder of some Italian geopolitical interests, which should be dealt with well, but has the virtue of having been awarded the holy spirit of international organisations, through complex and sometimes indescribable ploys and ruses.
Italy would recognize also the devil, if it were appointed by some international organisations and fora, possibly even irrelevant.
France does not care about the international choices, which so much entice ambassadors and ladies, although it is a major part of them, more than Italy. In fact, it has always operated with its intelligence Services on Haftar's side. When will the geopolitical servile attitude typical of the Italian ruling classes end?
The passage channel between Libya and Europe – but not in Italy – is always the triangle between Benghazi, Zuwara and Malta, created with light aircraft.
They know more in certain palaces in Valletta, including the "religious ones", than in many Italian palaces of power, if we still want to call them so.
For the French Intelligence Services, the easiest connection is between Algeria and Lyon and, still today, some French intelligence service operatives train the still budding executives of Haftar's Internal Intelligence Service.
The Germans meet both Haftar and al-Sarraj with communication lines starting directly from Germany and arriving both in Tripoli and Benghazi.
Meanwhile, on July 19, Egyptian President Al Sisi, the former Chief of the Military Services of the Armed Forces in Cairo stated – and he could not do otherwise – that Libya is obviously a national interest for Egypt. Even Italy, however, should have done so, also with possible "harshness".
The EU, another factory of nothing, has stated in these days that we need to go back to the 5+5 mechanism for negotiation. But all the Libyan parties are reflections of other foreign countries and it is useless kicking the dog and meaning the master. We only need to talk to the master. What would be the "resolution of the Libyan crisis" magically awaited by the United Nations? No one knows.
An open and clear segmentation of the territory, which at the time of the Ottoman Empire was not unified at all. Hence it is a matter of "saying goodbye and part without resentment". Like the aforementioned snobbish young ladies, jet setters and salon socialites.
But are we sure that a split Libya would be in our best interest? Possibly with the Fezzan tribes, happily involved in the illegal migration business, and Italy there to wait and see, as well as pay additional 1.3 million Euros to the so-called Libyan "coastguards", as recently happened?
In a context of oil and hence of public revenue crisis, such as the one expected in Libya in 2020/2021, the only country that will bear a heavy brunt will be Italy, which will probably die economically together with its old Libyan colony.
Al-Sarraj recently explained that 1.4 billion U.S. dollars of oil sales have been lost since the port blockade imposed by General Haftar last January.
It should also be noted that General Haftar already has excellent relations with the Greek Intelligence Services, he has often met in obvious opposition with Turkey. However, the choices made by the Benghazi leader have already caused an 80% fall in Libyan oil sales.
Considering that, in a situation of low prices per barrel and oil extraction restrictions, the least expensive oil in Africa, that is Libya's, has its own strong significance, if it is closed to markets, we can infer the rule of those who have an interest in still destabilising Libya and those who have not.
Where would the "playing cards" of Westerners be? A small market in a very severe crisis? A non-existent presence on the ground? The idiotic ideologies that see in rampant immigration or in the impossible sealing of borders the solution to our problems? Those who do not know how to use weapons should not do foreign policy, and there would also be many weapons.
Turkey has quickly taken the place of Italy, which is increasingly apallic.
In Italy they probably fear the reactions of some salon , jet setters and socialites, who would cry out for human rights and, sometimes, for the necessary actions of some lackeys.
Until January 2020, however, Turkey sent 100 of its officers and at least 2,500 militants from a jihadist group operating in Syria under the orders of MIT, the Turkish Intelligence Service, who quickly overturned the military result on the ground against General Haftar.
Turkey has two goals on Libyan soil: firstly, stopping the Egyptian, Emirates and Saudi operations against Turkey's economic and oil expansion in the Mediterranean. They know where the Mediterranean is. We do not.
We have surrendered to a beautiful region full of far more powerful States than Italy, namely Northern Europe, which no longer knows what to do with us. If it were not for the SMEs in the North.
Beautiful those times when Amintore Fanfani, a man with extraordinary strategic and predictive skills- after all Tuscan-Etruscans are a bit haruspices, or predictors, whom the Romans greatly feared, according to Titus Livy – predicted a new "Mediterranean policy" for Italy, so as to take back that area that solum è mio, just to quote Machiavelli in a well-known letter to Vettori.
The other Turkish policy line is that of perceiving a threat of the strategic whole between Israel, Greece and Cyprus – to which at least it reacts – with the probable EU support which, if any, would probably bring bad luck to the Turkish expansion in the Mediterranean.
The reaction of Haftar's operatives, although defeated on the ground so far, has not been negligible and allows to foresee a long proxy war between Turkey, Egypt, the Emirates, Saudi Arabia and other countries.
With whom are the Westerners siding? They have left the ground to local players, with the exception of a few intelligence positions. Precisely with the hope of nothing, or rather with the idea that the matter will calm down and be settled by going back to the "negotiation and mediation tables". To mediate what?
The success of Turkey, which will certainly not want to mediate its new presence in Tripoli's oil market, as well as in the new Turkish Exclusive Economic Zone, stretching from the Libyan coast to Kastellorizo, in the Dodecanese?
What does Russia want? It wants to fight Westerners in the region and, anyway, also Turkey.
But again for Turkey and its intelligence, the services of the Russian contractor company Wagner were allegedly sold to the Emirates. This is not impossible.
Russia does not want a long war in Libya, which would wear out Mediterranean equilibria and probably exclude it from the new strategic context.
On the contrary, Russia officially wants an agreement between the parties, the end of hostilities and the creation of a Government of National Unity.
Furthermore, unlike others, Russia perceives the sense of Turkish penetration in Libya as the antecedent of the hegemonic Islamization of Turkey with respect to the jihadist groups of sub-Saharan Africa.
President Erdogan knows that Westerners – who do not make calculations, but live on paranoia – are now obsessed with "China in Africa". He therefore thinks they will keep quiet while Turkey takes the big piece of Africa not yet fully colonized by China.
Russia, however, will never take great risks in Libya, because it does not want tension with Turkey, and especially with its new Turkish Stream.
In 2016 Russia already printed 9 billion U.S. dollars of Haftar's new Libyan currency, with the effigy of the old Rais, transported to Benghazi via Malta, which imposed its remarkable "tax".
Moreover, the Russian Federation is playing its future true cards on Saif-al Islam Gaddafi rather than on General Haftar. In short, everyone is playing and making plans on Libya, after the "democratic" disaster of France and Great Britain, while Italy is doing nothing at all.