More Efficient Allocation of Investment Is Key to China's Sustainable Growth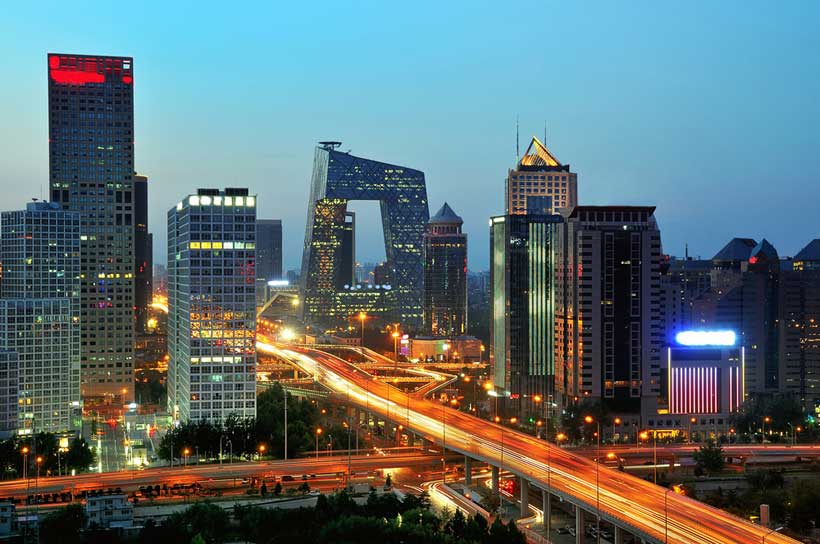 Economic activity in China remains resilient, with GDP growing by 6.9 percent in 2017 and 6.8 percent year on year in the first quarter of 2018. Consumption continues to drive growth. Growth is projected to moderate to 6.5 percent in 2018 and 6.3 percent in 2019-20, according to the World Bank's new China Economic Update released today.
"While China is on a long-term path of slower capital accumulation, investment growth has rebounded from the lows in 2017, particularly in the private sector. Real investment grew by just 5.5 percent in 2017 as compared to 18 percent per year in the decade before 2011," said John Litwack, World Bank Lead Economist for China. "Nevertheless, the level and growth rate of investment are still high by international standards. The efficiency of allocation, and not the speed of growth, is China's main investment challenge."
China's current account balance continues to fall as the economy's dependence on exports declines. Mainly due to stronger goods and services imports, the surplus declined to 1.3 percent of GDP in 2017 and moved into a small deficit in the first quarter of 2018. In 2017, China also experienced more balanced capital flows. The Renminbi has continued to appreciate, weathering the emerging market turbulence in mid-April 2018 relatively well.
Monetary and regulatory tightening has already shown some results. Corporate leverage has stabilized below 160 percent of GDP in 2017. Several new measures, including an overhaul of the rules for asset management products, indicate the authorities' commitment to addressing financial vulnerabilities.
Fiscal policy was accommodative in 2017, with growth in local government capital spending particularly strong. However, some of the increase in budgetary spending likely compensated for lower off-budget investments as implicit public borrowing through local government financing vehicles was restricted. While the projected 2018 consolidated fiscal deficit is similar to that in 2017, a stricter enforcement of measures to limit off-budget borrowing for public projects will likely imply a further tightening in the overall fiscal stance of general government.
Several factors are expected to slow the pace of economic activity in the near term: a relatively tighter monetary and fiscal policy mix, more moderate growth in global trade, continuing reforms to address industrial overcapacity and environmental sustainability, and measures to reduce the macroeconomic vulnerabilities accumulated in recent years. Rebalancing toward more consumption-and-services-led growth is also expected to continue.
While net exports contributed to growth in 2017, this contribution is expected to decline this year as global import demand moderates, says the report.
Moreover, rising trade tensions are one of the main risks to China's outlook. The economic impact of recently announced US trade measures would be manageable, but the costs of investment restrictions—in terms of limited access to foreign technology and skills—could be significant. The bigger risk for the world economy, as well as for China, would be a major weakening of the rules governing global trade and investment and an unraveling of global value chains.
"A measured response to the trade measures, consistent with WTO rules, and continued dialogue with the US can minimize this risk," said Elitza Mileva, World Bank Senior Economist and the main author of the report.
World Bank Group Announces $50 billion over Five Years for Climate Adaptation and Resilience
The World Bank Group today launched its Action Plan on Climate Change Adaptation and Resilience. Under the plan, the World Bank Group will ramp up direct adaptation climate finance to reach $50 billion over FY21–25. This financing level—an average of $10 billion a year—is more than double what was achieved during FY15-18. The World Bank Group will also pilot new approaches to increasing private finance for adaptation and resilience.
"Our new plan will put climate resilience on an equal footing with our investment in a low carbon future for the first time. We do this because, simply put, the climate is changing so we must mitigate and adapt at the same time," said World Bank Chief Executive Officer Kristalina Georgieva. "We will ramp up our funding to help people build a more resilient future, especially the poorest and most vulnerable who are most affected."
The increase in adaptation financing will support activities that include:
Delivering higher quality forecasts, early warning systems and climate information services to better prepare 250 million people in at least 30 countries for climate risks;
Supporting 100 river basins with climate-informed management plans and/or improved river basin management governance;
Building more climate-responsive social protection systems; and
Supporting efforts in at least 20 countries to respond early to, and recover faster from, climate and disaster shocks through additional financial protection instruments.
In addition to boosting finance, the Plan will also support countries to mainstream approaches to systematically manage climate risks at every phase of policy planning, investment design, and implementation.
"This Action Plan is a welcome step from the World Bank," said Ban Ki-moon, former Secretary-General of the United Nations and co-chair of the Global Commission on Adaptation. "The world's poorest and most climate vulnerable countries stand to benefit from its increased finance and support for longer term policy change."
The Action Plan builds on the link between adaptation and development by promoting effective and early actions that also provide positive development outcomes. For example, investing in mangrove replanting may protect a local community against sea level rise and storm surges, while also creating new opportunities for eco-tourism and fisheries. Early and proactive adaptation and resilience-building actions are more cost-effective than addressing impacts after they occur.
The Action Plan also includes the development of a new rating system to create incentives for, and improve the tracking of, global progress on adaptation and resilience. The new system will be piloted by the World Bank in FY19-20 and rolled out to projects in relevant sectors by FY21.
The Action Plan on Climate Change Adaptation and Resilience forms part of the World Bank Group's 2025 Targets to Step Up Climate Action which were launched in December 2018, during the UN's COP24 in Poland.
Making Globalization Work: Climate, Inclusiveness and International Governance Top Agenda of the WEF 2019
The World Economic Forum Annual Meeting 2019 will take place on 22-25 January in Davos-Klosters, Switzerland. The meeting brings together more than 3,000 leaders from business, government, civil society, academia, arts and culture, and media, as well as the foremost experts and young leaders from all over the world.
Convening under the theme, Globalization 4.0: Shaping a Global Architecture in the Age of the Fourth Industrial Revolution, the purpose of the meeting is to identify new models for peace, inclusiveness and sustainability to suit a world where further global integration is inevitable and where existing models of global governance struggle to foster concerted action among the world's powers.
"This fourth wave of globalization needs to be human-centred, inclusive and sustainable. We are entering a period of profound global instability brought on by the technological disruption of the Fourth Industrial Revolution and the realignment of geo-economics and geopolitical forces. We need principals from all stakeholder groups in Davos to summon the imagination and commitment necessary to tackle it," said Klaus Schwab, Founder and Executive Chairman of the World Economic Forum.
The programme of this year's Annual Meeting expands on the theme in depth and breadth across more than 350 sessions, nearly half of them webcast. Sessions are organized in a series of global dialogues:
A global dialogue on geopolitics in a multiconceptual world to enable candid and constructive discussion on how to drive future cooperation along with a global dialogue on peace and
A global dialogue on the future of the economy to better reflect the structural changes inherent in the Fourth Industrial Revolution, and achieve sustainable growth and long-term societal well-being
A global dialogue on industry systems and technology policy to define the principles for new and emerging technologies to ensure that they are underpinned by a values-based framework
A global dialogue on risk resilience to promote systems thinking to radically improve our collective management of the key environmental systems and to ensure adequate digital cybersecurity
A global dialogue on human capital and society to revisit the notion of work and well-being and to move away from consumption and materialism to a more humanistic focus.
A global dialogue on institutional reform to rethink the global institutional frameworks that emerged in the 20th century and adapt them to ensure relevancy for the new political, economic and social context
Top political leaders taking part are: Ueli Maurer, President of the Swiss Confederation 2019 and Federal Councillor of Finance of Switzerland; Shinzo Abe, Prime Minister of Japan; Jair Bolsonaro, President of Brazil; Angela Merkel, Federal Chancellor of Germany; Wang Qishan, Vice-President of the People's Republic of China; Giuseppe Conte, Prime Minister of Italy; Pedro Sanchez, Prime Minister of Spain; Barham Salih, President of Iraq; Mohammad Ashraf Ghani, President of the Islamic Republic of Afghanistan; Sebastian Kurz, Federal Chancellor of Austria; Ivan Duque, President of Colombia; Abiy Ahmed, Prime Minster of Ethiopia; Leo Varadkar, Taoiseach of the Republic of Ireland; Benjamin Netanyahu, Prime Minister of Israel; Faiez Al Serrag, Prime Minister of Libya; Mark Rutte, Prime Minister of the Netherlands; Jacinda Ardem, Prime Minister of New Zealand; Erna Solberg, Prime Minister of Norway; Rami Hamdallah, Prime Minister of the Palestinian National Authority; Martin Alberto Vizcarra Cornejo, President of Peru; Paul Kagame, President of Rwanda; Cyril M. Ramaphosa, Prime Minister of South Africa; Yoweri Kaguta Museveni, President of Uganda; Nguyen Xuan Phuc, Prime Minister of Viet Nam; and Emmerson Mnangagwa, President of Zimbabwe.
Leaders from International Organizations include: Antonio Guterres, Secretary-General, United Nations; Michelle Bachelet, UN High Commissioner for Human Rights; Patricia Espinosa Cantellano, Executive Secretary, United Nations Framework Convention on Climate Change (UNFCCC); Kristalina Georgieva, Chief Executive Officer, World Bank; Filippo Grandi, United Nations High Commissioner for Refugees; Roberto Azevedo, Director-General, World Trade Organization (WTO); Angel Gurría, Secretary-General, Organisation for Economic Co-operation and Development (OECD); Christine Lagarde, Managing Director, International Monetary Fund (IMF); and Jens Stoltenberg, Secretary-General, North Atlantic Treaty Organization (NATO).
Leaders from civil society are: Yasunobu Aihara, General Secretary, Japanese Trade Union Confederation (Jtuc-Rengo); Sharan Burrow, General Secretary, International Trade Union Confederation (ITUC); Winnie Byanyima, Executive Director, Oxfam International; Jennifer Morgan, Executive Director, Greenpeace International; Denis Mukwege, Founder, Panzi Foundation, 2018 Nobel Peace Laureate; Kenneth Roth, Executive Director, Human Rights Watch; Marco Lambertini, Director-General, WWF International; Delia Ferreira Rubio, Chair, Transparency International; Maria Ressa, Chief Executive Officer and Executive Editor, Rappler.com; Elizabeth H. Shuler, Secretary-Treasurer and Chief Financial Officer, American Federation of Labor and Congress of Industrial Organizations (AFL-CIO); Peter Sands, Executive Director, The Global Fund to Fight AIDS, Tuberculosis and Malaria (GF); Debbie Stothard, Secretary-General International Federation for Human Rights (FIDH); and Luca Visentini, General Secretary, European Trade Union Confederation (ETUC).
Is Haiti better prepared for disasters, nine years on from the 2010 earthquake?
Half a capital city destroyed, 220,000 reported dead and 1 million residents displaced. This was the toll of the 2010 Haiti earthquake, which struck on 12 January, nine years ago.
Staff at the UN Mission in Haiti were also affected, and there were 102 UN casualties, including the Secretary-General's Special Envoy, Hédi Annabi and his deputy, Luiz Carlos da Costa. It was the "biggest single loss of life in the history of UN Peacekeeping," the then-President of the UN Staff Union, Stephen Kisambira, said at the time.
One of the survivors was Sophie Boutaud de la Combe, today the head of communications for the UN Mission for Justice in Haiti (MINUJUSTH), who was seven months pregnant at the time and just a few days away from home leave. She had been in the headquarters of MINUJUSTH's predecessor, the UN Stabilisitation Mission in Haiti (MINUSTAH), when the quake hit.
The building completely collapsed, but Ms. Boutaud de la Combe managed to escape through a collapsed wall. For many hours, she and her surviving colleagues searched through the rubble, looking for anyone still trapped under the building. Two days later, she reluctantly left Haiti, a situation she describes as "a trauma," her instinct being to help the UN and the people of Haiti. She eventually returned to the country in 2013, happy to be able to play a part in the rebuilding of the country, and honour her lost colleagues with her work.
Some nine years after the earthquake, the situation in Haiti is very different. The government, says Ms. Boutaud de la Combe, is now much better prepared for similar natural disasters. "A few months ago there was an earthquake in the north of the country. The state was prepared and they sent their people to support those affected, without MINUJUSTH involvement. It was not a major earthquake, but now the population knows how to react. And most importantly, we hear regularly how important it is to build better, to build strongly in case an earthquake would hit, not to endanger the people."