More Efficient Allocation of Investment Is Key to China's Sustainable Growth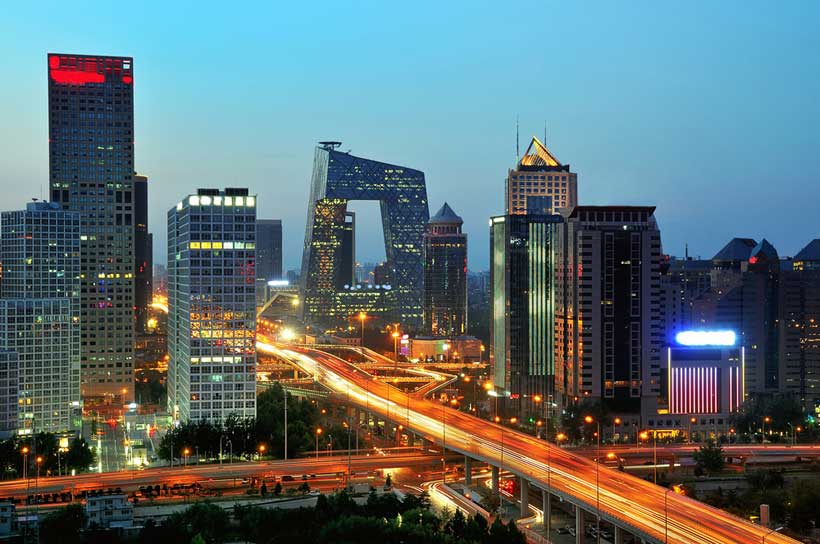 Economic activity in China remains resilient, with GDP growing by 6.9 percent in 2017 and 6.8 percent year on year in the first quarter of 2018. Consumption continues to drive growth. Growth is projected to moderate to 6.5 percent in 2018 and 6.3 percent in 2019-20, according to the World Bank's new China Economic Update released today.
"While China is on a long-term path of slower capital accumulation, investment growth has rebounded from the lows in 2017, particularly in the private sector. Real investment grew by just 5.5 percent in 2017 as compared to 18 percent per year in the decade before 2011," said John Litwack, World Bank Lead Economist for China. "Nevertheless, the level and growth rate of investment are still high by international standards. The efficiency of allocation, and not the speed of growth, is China's main investment challenge."
China's current account balance continues to fall as the economy's dependence on exports declines. Mainly due to stronger goods and services imports, the surplus declined to 1.3 percent of GDP in 2017 and moved into a small deficit in the first quarter of 2018. In 2017, China also experienced more balanced capital flows. The Renminbi has continued to appreciate, weathering the emerging market turbulence in mid-April 2018 relatively well.
Monetary and regulatory tightening has already shown some results. Corporate leverage has stabilized below 160 percent of GDP in 2017. Several new measures, including an overhaul of the rules for asset management products, indicate the authorities' commitment to addressing financial vulnerabilities.
Fiscal policy was accommodative in 2017, with growth in local government capital spending particularly strong. However, some of the increase in budgetary spending likely compensated for lower off-budget investments as implicit public borrowing through local government financing vehicles was restricted. While the projected 2018 consolidated fiscal deficit is similar to that in 2017, a stricter enforcement of measures to limit off-budget borrowing for public projects will likely imply a further tightening in the overall fiscal stance of general government.
Several factors are expected to slow the pace of economic activity in the near term: a relatively tighter monetary and fiscal policy mix, more moderate growth in global trade, continuing reforms to address industrial overcapacity and environmental sustainability, and measures to reduce the macroeconomic vulnerabilities accumulated in recent years. Rebalancing toward more consumption-and-services-led growth is also expected to continue.
While net exports contributed to growth in 2017, this contribution is expected to decline this year as global import demand moderates, says the report.
Moreover, rising trade tensions are one of the main risks to China's outlook. The economic impact of recently announced US trade measures would be manageable, but the costs of investment restrictions—in terms of limited access to foreign technology and skills—could be significant. The bigger risk for the world economy, as well as for China, would be a major weakening of the rules governing global trade and investment and an unraveling of global value chains.
"A measured response to the trade measures, consistent with WTO rules, and continued dialogue with the US can minimize this risk," said Elitza Mileva, World Bank Senior Economist and the main author of the report.
New generation of artificial hearts promises lifeline to patients
The human heart beats 100 000 times a day, every beat circulating blood, oxygen and nutrients to all parts of the body. Heart failure happens when the fist-sized organ is unable to perform this vital function properly.
Most people with the condition are forced to seek long-term mechanical support for blood circulation. While pumps and artificial hearts have been available for more than 40 years, the options currently on offer are tricky for their users.
New normal
The devices are often noisy and require patients to carry heavy battery packs and have wires going through their skin to power the device. Some even use pumps outside the body to circulate the blood.
But researchers are hopeful that a new generation of artificial hearts will improve things.
'Our vision is that one should be able to live a completely normal life with an artificial heart,' said Ina Laura Perkins, co-ordinator of the EU-funded ArtOfHeart project.
Heart failure dramatically affects quality of life. Normal activities such as taking the stairs, engaging in domestic chores or even putting on clothes become difficult.
It also makes participating in social activities and keeping a job challenging. Once patients have reached the point of severe heart failure, they are often bedridden.
Cardiovascular disease kills 3.9 million people in Europe every year, accounting for 45% of all deaths. The European Heart Network estimates that more than 10 million people in the EU are likely to be affected by heart failure.
While transplants can offer a solution, only a select few patients are added to waiting lists for such an operation as a result of a severe worldwide shortage of donor hearts. Consequently, the prospect of an effective artificial alternative offers a lifeline for many.
As well as being difficult to live with, today's artificial hearts can also damage the blood.
'What I think is preventing artificial hearts from really realising their full potential is the blood-related complications that patients suffer,' said Perkins.
Swedish tests
ArtOfHeart, partly funded by the European Innovation Council (EIC), is investing €38 million to conduct clinical and pre-clinical testing of an artificial heart developed by Swedish company Scandinavian Real Heart AB.
The problem with current devices, according to Perkins, is that the mechanical flow they generate can create a lot of stress on the blood, damaging and deforming cells. This in turn can lead to clotting, thrombosis and strokes.
For instance, some artificial hearts circulate the blood using a propeller-like device rather than a pump. This creates a continuous blood flow instead of a pulse and causes a lot of force at the blade edges.
The artificial heart being tested claims to be the first designed to closely mimic the structure of the human heart. It consists of two pumps that each have an atrium, a ventricle and a pair of mechanical valves. The idea is that the more natural blood flow produced in this way will reduce the complications that can arise with existing devices.
To gain regulatory approval, Real Heart is exploring its device's reliability and impact on blood in a series of laboratory tests. The company is also conducting a series of animal studies in sheep. The team aims to begin clinical trials in around 10 patients in 2024 and have the artificial heart on the market in 2026.
The first version will be connected by a cable through the skin to a battery belt. The hope, however, is that in the future this cable connection will not be needed.
'Our device is very energy-efficient, so it opens up the possibility of doing wireless charging through the skin,' said Perkins.
With such a setup, patients would wear a vest or a belt around their chest to provide the wireless charge. In the meantime, the device's energy efficiency means that the battery packs patients have to carry should be relatively small and light compared with other artificial hearts.
Inflatable balloons
Another EU project is developing an artificial heart using soft robotics. Funded by the EIC's Pathfinder programme, HybridHeart is seeking to create artificial muscles that mimic the contraction of the heart's natural muscles.
The resulting artificial heart can be thought of as a set of complex balloons, according to Bas Overvelde, an expert in soft robotics at Eindhoven University of Technology in the Netherlands and a member of the multidisciplinary HybridHeart team.
The device has an internal chamber that holds the blood. When the balloons are inflated, the internal chamber contracts and pumps the blood around the body.
'Instead of having a heart muscle, like in our natural heart, we have these soft actuators that cause contraction of the heart,' Overvelde said.
Pumping the blood in this way spreads the force and the stresses across the whole chamber, just like in a human heart, he said. This enables a gentler motion and should reduce localised stresses that can damage blood cells.
More freedom
While the basic workings of the device may seem simple, getting it to work well is complex, according to Overvelde.
For instance, as a result of their structure, the stiffness of a heart's tissues changes in response to alterations in blood pressure. This leads to an automatic adjustment in the heart's pumping force and rate.
The hope is that the soft robotics can provide the HybridHeart device with a similar feedback mechanism to regulate its beating.
To provide patients with more freedom and a better quality of life, Overvelde said that energy efficiency is key.
'At the moment, we are aiming for the device to be wirelessly charged, and for a half hour to an hour untethered, so that you can take a shower,' Overvelde said. 'It is essential that you can be untethered for a little while, so that you can temporarily be disconnected from any external battery.'
The HybridHeart project is testing the artificial heart in goats and sheep. The hope is to progress to clinical trials in around seven years, a step that will require additional funding.
While the device probably won't be better than a natural-heart transplant, Overvelde says there are too limited a number of those available for all the patients in need of such an operation.
Perkins echoes this view, stressing that patients are dying because of a lack of transplants and good alternatives. This is the void artificial hearts need to fill.
Research in this article was funded by the EU. If you liked this article, please consider sharing it on social media.
Research in this article was funded by the EU. This article was originally published in Horizon, the EU Research and Innovation Magazine.
NYT: The European Union is far from ready to accept Ukraine
European Union leaders visiting Kyiv last week offered financial help and lasting support to Ukraine as it tries to defeat Russia, but they stopped far short of granting Kyiv its key goal of accelerated membership in the bloc, – informs 'The New York Times'.
President Volodymyr Zelensky of Ukraine met with the European Commission president, Ursula von der Leyen, and the European Council president, Charles Michel, with an aim of extracting commitments to let Ukraine soon join the bloc's 27 member nations, which represent about 450 million people. Mr. Zelensky has said he expected E.U. nations to recognize Ukraine's progress toward membership and touted overhauls designed to cement support.
But the path to membership is typically a protracted one and the bloc is far from ready to accept Ukraine — a country that will need billions in additional aid to rebuild after the war — into its ranks.
For officials in Brussels that presents a dilemma: how to encourage Ukraine to continue making changes to meet the E.U.'s high standards for governments without making promises they are not prepared to keep.
The European leaders walked a careful line, validating Ukraine's aspirations but gently applying the brakes on talk of fast-track accession.
"The accession process is a merit-based process," Ms. von der Leyen, a staunch supporter of Ukraine's E.U. bid, said. "In other words, there are no rigid timelines. But there are goals that you have to reach reforms."
Mr. Michel noted to Mr. Zelensky that to proceed with accession talks all E.U. members have to agree unanimously. It was just one reminder that the bloc is not prepared to cut corners.
Under pressure from public opinion and the United States to illustrate the bloc's long-term commitment to Ukraine, E.U. leaders agreed to grant the country, as well as Moldova, candidate status in June. But Ms. von der Leyen and Mr. Michel have no authorization from the 27 E.U. members to make promises to Mr. Zelensky or to imply that they will bend the bloc's stringent rules to let Ukraine in faster or with looser demands.
The E.U. accession process typically takes a decade or longer and requires deep changes aimed at aligning with the rest of the bloc. Issues for many countries include economic overhauls, safeguarding judicial independence and a free press, ensuring a competitive democratic political system, and fighting corruption.
Ambassadors from E.U. capitals meeting in Brussels to prepare for a visit by top officials to Kyiv disagreed over wording for a closing statement, with several diplomats insisting that the word "progress" be changed to "efforts" — and refusing to budge.
The episode, recounted by four diplomats and officials who participated in the meetings and spoke anonymously because they were not authorized to share details of the confidential discussions with the news media, showcases a dilemma for the bloc as Ukraine pushes for fast track membership: How to offer hope for a better future soon, without making false promises.
International Affairs
Markets are bracing for more disruption while Europe reinforces 'oil war' against Russia
The European Union's ban on Russian oil product exports is slated to kick in on Feb. 5. It is thought that the EU's embargo on Russian petroleum products will be both more complex and more disruptive than what has come before, notes CNBC.
Europe is once again poised to ratchet up the pressure on Russia's oil revenues, but some energy analysts are worried that the proposed measures could cause "significant market dislocations."
As part of the European Union's sixth package of sanctions against Russia, adopted in June last year, the 27-member bloc imposed a ban on the purchase, import or transfer of seaborne crude oil and petroleum products from Russia.
The restrictions on Russian crude oil took effect on Dec. 5, while the measures targeting Moscow's refined petroleum products apply from Feb. 5.
Analysts at political risk consultancy Eurasia Group warned the EU's imminent ban "will probably have a more disruptive effect than previous EU crude-import sanctions." "If it is introduced, it would be potentially creating more confusion in the market," analysts at Eurasia Group said.
"We expect some disruption, especially in the immediate aftermath of the ban as EU markets continue to line up alternative supplies," Matthew Sherwood, an analyst at the Economist Intelligence Unit, told CNBC. "We also expect this to put upward pressure on prices for oil products more generally."
Energy analysts had been skeptical about the impact of the G-7 price cap on Russian oil, particularly as Moscow had been able to reroute much of its European seaborne shipments to the likes of China, India and Turkey.
The EU urged India and China to support a price cap on Russian oil. Nonetheless, India's oil imports were reported to have jumped to a five-month record in December as the country actively ramped up its purchases of Russian crude, while China was seen as the second largest buyer of Urals in January.
"The impact of sanctions on Russian crude exports after two months of the European Union embargo has not been as devastating as some predicted," Stephen Brennock, senior analyst at PVM Oil Associates in London, said in a research note.
His comments come shortly after Reuters reported that oil loadings from Russia's Baltic ports were poised to jump by 50% in January from December. "Not bad for the world's most sanctioned country."
Kremlin spokesperson Dmitry Peskov previously said a Western price cap on Russian oil would not affect its ability to sustain what it describes as its "special military operation" in Ukraine.
"Once the EU embargo on Russian seaborne fuel exports kicks in, we are likely to see prices for gasoline and especially diesel remain supported by tightening supply – not least if the embargo is being followed up by a $100 per barrel price cap on diesel," Ole Hansen, head of commodity strategy at Saxo Bank, said in a research note.