Finding Opportunity In The Energy Transformation: The Perspective From The EU
As European Commissioner for Climate Action and Energy, Miguel Arias Cañete is tasked with accelerating the deployment of renewable energy in the region, both in response to climate change and as an industrial policy imperative.
The EU has made progress. Overall, it improved its energy intensity by over 20% between 2005 and 2016, keeping its final energy consumption stable despite economic growth. In 2015, increased use of renewables reduced greenhouse gas emissions equivalent to Italy's total emissions and saved the EU €16 billion in fossil fuel imports.
At the same time, Commissioner Cañete reminded the audience at the 4th EU Energy Summit that although significant progress has been made, there is still a long way to go, noting that "still coal, gas and oil together accounted for some 72% of our primary energy consumption in 2016, and most of this is imported."
In February this year, as part of the Remap programme IRENA published Renewable Energy Prospects for the European Union, prepared in co-operation with the European Commission.  The report found that the EU could cost effectively double the renewable share in its energy mix, from 17% in 2015 to 34% in 2030. IRENA reached out to Commissioner Cañete to get his views on Europe's energy transformation.
IRENA: In the EU Action Plan on Financing Sustainable Growth, the European Commission states that "sustainability and transition to low-carbon, more efficient and circular economy are key in ensuring long-term competitiveness of the EU economy." How, in your view, are the energy transformation and sustainability fundamental to the EU economy as a whole?
Commissioner Cañete: The importance of the energy sector for the EU economy cannot be overstated: It employs close to 2.2 million people, spread over 96,000 companies across Europe, representing 2% of total added value. Energy represents on average 6% of annual household expenditure.
The research and innovation development of new technologies and services across the energy supply chain has led to the creation of new businesses throughout Europe, providing jobs and economic growth for Europeans.
At the end of 2016, the European Commission put together the "Clean Energy for all Europeans" package. Through eight new or revised pieces of legislation, including to the Renewable Energy Directive, this is putting in place the most advanced regulatory framework to facilitate the investment that we need in Europe to modernise our economy.
Although there is the challenge of attracting the necessary investment, this transition represents an enormous opportunity for the EU: By mobilizing up to €177 billion of public and private funds per year until 2021, we can grow GDP by up to 1% and create 900,000 new jobs over the next decade.
Public money alone will not be enough to cover investment needs: the financial sector will have to throw its full weight behind the fight against climate change. This is why the European Commission came up with a dedicated EU Action Plan on Financing Sustainable Growth. We believe that the clean energy transition also provides an excellent opportunity to re-vitalize the financial sector by attracting private capital to energy efficiency projects, renewable energy technologies and supply infrastructure, smart energy system development; and to exploit the large potential of research and innovation in radically changing energy supply and demand patterns.
IRENA: If the EU was to scale-up renewables to 34% by 2030, there would be an estimated net cost savings of US$25 billion per year, notwithstanding saved health and environmental costs.  This is echoed in the EU Action Plan which states that the "investment gap of almost €180 billion to achieve EU climate and energy targets by 2030 must be closed."  Yet since 2011, new investments in renewable energy in Europe have slowed.  What do you think accounts for this disconnect, and how is the EU working to address it?
Commissioner Cañete: In the EU, generation capacity from renewable resources, mainly wind and solar, has been increasing since 2000. We estimate that by 2030, more than 50% of the electricity we consume will come from renewables.
But indeed, while new installed wind and solar capacity saw a significant increase to 2011, investments in renewables have slowed since 2011, primarily due to the downward revision of national support schemes in EU Member States and missing regulatory incentives in some Member States. An important factor in this context is the falling technology cost of renewables. As IRENA data has shown, the global cost of solar PV has decreased by almost 70% between 2010 and 2017. Renewables are more and more competitive against conventional technologies.
Since 2013, investments in renewables have been stable. In 2017, the EU was the second largest market for renewables in the world. At the same time, deployment has continued to increase due to the falling costs. For example, in 2017 the EU's solar PV market grew by 6% and wind turbine market grew by 25%.
The EU is very keen to show leadership in fulfilling our Paris Agreement commitments. Transforming the energy sector is key in this context. Under the Clean Energy for all Europeans package, investments will allow the EU to cut greenhouse gas emissions by at least 40% by 2030 and ultimately be carbon neutral by 2050, while contributing to economic growth and jobs in Europe.
By setting the right targets and measures for the use of renewables, we believe we can get all EU countries moving together in the right direction and create economies of scale literally at continental level. While Member States are willing to support a renewables target of at least 27% by 2030, I'm pleased to note that the European Parliament is pressing for an even bolder approach that coincides with the IRENA REmap findings.
The 27% target and proposed measures should provide the necessary security to encourage investment, and the clearer legal framework provided by the revised directive will remove uncertainties for investors, reduce administrative burdens and decrease costs. Our focus is on the potential for renewables in electricity, heating and cooling and transport sectors. This will enable Europe to reinforce its industrial competitiveness and to remain a global leader in renewables.
We are confident that with this package in place, investments will continue to grow, as the EU is indeed looking for investments in the range of €180 billion per year to achieve its objectives for 2030. This number constitutes investments in all sectors, as well as in energy efficiency, renewables, and infrastructure. For the power sector alone, the investment needs are around €75 billion per year of which 33% is needed for renewables and 47% for the power grid.
IRENA: What are some of the promising options that you see to scale-up the share of renewables in heating and cooling in the EU, and what are some of the measures that the EU is adopting to support e-mobility?
Commissioner Cañete: In Europe, the share of modern renewables in the heating and cooling sector is 19.1%, largely from biomass. This is significantly higher than any other large economy in the world. Thanks to the uses of bioenergy, 5 EU Member States have shares of 40% or higher of renewables, which makes them global leaders in this area. However, in most of EU Member States there is a significant untapped potential for renewables in this sector.
The European Commission recognises that renewables in the heating and cooling sector are some of the most cost-effective solutions to further increase renewables and has proposed to increase the share of renewables in the heating and cooling sector by 1% per year over the period from 2021 to 2030.
The European Commission's assessments, like those of the IRENA study, suggest that increasing the share of renewables in the heating and cooling sector will also increase the diversity of renewable energy options, including heat pumps, solar thermal and geothermal options. District heating and cooling systems can particularly help the cost-effective and efficient integration of renewables in urban areas.
Today, transport accounts for roughly a quarter of the EU's greenhouse gas emission, with road transport alone responsible for 22%, and growing.
The European Commission's strategy for low-emission mobility reaffirms the objective of reducing greenhouse gas emissions from transport by at least 60% on 1990 level by 2050.  Following the principal of technology neutrality in this area, our policy aims at increasing the deployment of zero- and low-emission vehicles overall.
Mainstreaming renewables in the power sector will require high levels of deployment of renewable capacity to replace and repower existing assets, and related infrastructure in order to overcome one of the major bottlenecks in the electric vehicle market. Assuming a rapid market uptake of electric vehicles, by 2020 up to 440 000 public accessible recharging points would be needed in the EU. This could cost up to €3.9 billion, supported finically via the EU's infrastructure programmes.
The European Commission has therefore put forward an Action Plan aiming to boost investment in alternative fuel infrastructure and develop a network of fast and interoperable recharging and fuelling stations across the EU. We also proposed to include charging infrastructure in the EU's building stock during construction and renovation works. New provisions for example require the installation of recharging points and ducting infrastructure in our buildings' car parks.  Technical solutions and a pricing scheme that attracts consumers are also required to promote smart charging.
The Potential of Palestinian Gas and the Role of Regional Powers: From Promise to Action
Recent progress on the Gaza marine gas field's development is positive news and highlights the potential for mutually beneficial agreements in the East Mediterranean. The preliminary approval by Israel of the Palestinian field's development and exploitation is outcome of mediation efforts exerted by Egypt and Jordan that aimed at de-escalation of tensions and building bridges between Palestinians and Israelis. The benefits of the Palestinian field's development are multifold and range from advancing energy security in Gaza and providing a substantial windfall for the Palestinian economy to improving Israel's regional standing and attracting investment for the execution of infrastructure projects within the region.
Strained political relations between Israelis and Palestinians, sporadic Israeli support, concerns that revenues would be used to fund terrorism, and low gas prices have been prime reasons that impeded development of the 23-year-old Gaza marine gas field project. The war on Ukraine and the subsequent global energy crisis, as well as the Israel-Lebanon maritime delimitation agreement brought the Gaza marine gas field project to the forefront and accelerated mediation efforts that led to the preliminary approval by Israel for its development. In case a final agreement is reached, the field that contains 1 trillion cubic feet of gas is expected to generate revenues worth approximately $2.5 billion over its 15-year life span.
The Spirit of the Preliminary Deal
According to the preliminary deal, Egypt's Natural Gas Holding Company (EGAS) will develop the field and related infrastructure in pursuance with the Memorandum of Understanding (MoU) signed in 2021 between the Egyptian state-owned company and the field's partners namely, the Palestine Investment Fund (PIF) and Consolidated Constructors Company (CCC). The MoU foresees the transportation of Palestinian gas through a 40-mile pipeline to Egyptian LNG facilities for liquefaction and consumption by the Palestinians, Egypt, and third markets. Development of the field is expected to proceed in three phases: Phase 1 involves extraction of gas from Gaza marine-1, Phase 2 involves construction of the pipeline, and Phase 3 involves the development of Gaza marine-2, a second well closer to Egypt.
The Palestinian Authority will receive gas revenues and the final agreement is expected to be strictly limited in scope prioritizing the exploitation of Gazan gas and leaving outside the issue of recognition between Israel and Hamas. The latter's tacit approval of the Gaza marine gas field's development is allegedly outcome of extensive discussions among security officials that favored an Egyptian offer of an economic incentives' package to Hamas in exchange for a long-term truce (hudna) with Israel. The conversion of the diesel-based Gaza Power Plant to operate on gas produced by the Gaza marine field holds a prime position in the economic incentives' package. Improvement of living conditions in Gaza for its 2.3 million population is expected to politically benefit Hamas as currently Palestinians experience regular power shortages. In practical terms, Palestinians in Gaza receive an average of 10 hours of electricity per day according to data released by the UN Office for the Coordination of Humanitarian Affairs.
Overall, development of the Gaza marine gas field would provide Palestinians a domestic low-cost energy source, generate revenues for the Palestinian Authority and help Palestinians transition from diesel toward less carbon-intense fuels.
Palestinian Popular Perceptions
Public perceptions in Gaza have been affected by press reports on American mediation efforts for a normalization agreement between Saudi Arabia and Israel on the precondition that certain concessions are given to the Palestinians. Specifically, majority of the Palestinian public in Gaza and the West Bank maintains that the approval by the most right-wing Israeli government to date for the Gaza marine gas field's development has been part and parcel of the discussions underway for the oncoming Saudi-Israeli normalization.
An opinion poll released on September 13, 2023, by the Palestinian Center for Policy and Survey Research (PCPSR) reflects this trend. 29 percent in Gaza believes that an agreement between Saudi Arabia and Israel to normalize relations could improve the chances for reaching Palestinian-Israeli peace. Related to this perception and taking into consideration that 2023 marks the 30th anniversary of the Oslo Accords, Gazans view more positively than the West Bankers the Oslo Agreement. As cited in the PCPSR poll, 40 percent of Gazans oppose the abandonment of the Oslo Accords by the Palestinian Authority.
When it comes to Palestinian popular perceptions on the development of the Gaza marine gas field, these are reportedly divided between optimists and pessimists. According to the first group, the field's development would give a positive shock to the Gazan economy by means of job creation and full payment of salaries for public sector employees. As known, the Palestinian Authority currently withholds monthly salaries of public employees by almost 25 percent. Optimists also expect that gas prices will lower thus lifting much of the economic burden on households. At the political level, optimists support that the advancement of the Palestinian economy could pave the way for intra-Palestinian reconciliation between rival political leaders.
Pessimists, on the other hand, argue that economic benefits will be minimal as tax on Gazan gas is expected to be imposed simultaneously by Hamas, Israel, and Egypt thus minimizing prospects of low energy cost and improved living conditions. In addition, they advocate that the gap between Palestinian factions will widen rather than reconcile. To this end, pessimists cite the failure of Palestinian factions' leadership to reconcile during the recent Egyptian Summit of El-Alamein.
Egypt's Multileveled Mediation
Egypt has been well positioned to broker negotiations between Hamas and Israel, while Jordan used its political leverage over the Palestinian Authority and hosted a meeting to ensure that discussions continued unabated. In fact, Egypt and Jordan have been third parties in the Palestinian-Israeli meetings held in Aqaba and Sharm Al-Sheikh where the development of the Gaza marine gas field was at the heart of discussions, and a roadmap was put forward for de-escalation of tensions in Gaza.
The economic and regional benefits that Egypt will get from the Palestinian-Israeli agreement on the Gaza marine gas field's development have been key to the success of Egyptian mediation. Despite the unchanged nature of Egypt's cold peace with Israel, Egypt has appeared decisive to help Israelis and Palestinians pitch a vision to create shared solutions on energy challenges and opportunities with the Gaza marine gas field at the epicenter.
As per the terms of the preliminary agreement, Egyptian state-owned EGAS will take over development operations of the Gaza marine gas field and secure financing for the overall project. Financing constitutes a crucial element for the project's development and requires political risk insurance as well as certain payment guarantees initially provided by EGAS and at a later stage by financial institutions.
Related development plans, that are likely incorporated in the economic incentives' package offered to Hamas during discussions in exchange for long-term truce, include the construction of a new port to improve living conditions in Gaza. These plans foresee, among other options, either the construction of an Egyptian port in El-Arish so that cargoes are transported to Gaza through Kerem Shalom border crossing at the junction of Gaza, Israel and Egypt, or the construction of a Palestinian port on the Egyptian part of Gaza's south border. Both options entail a leading Egyptian role that centers on investing in critical infrastructure to support the Gazan economy.
At the regional level, Egyptian successful mediation has enhanced Cairo's leadership role with an emphasis on geoeconomics. In fact, Egypt seeks to pursue its strategic objectives in the region through attraction of economic inflows to enhance its national security and through creation of economic interdependencies balancing between competition and cooperation among geopolitical rivals. The Gaza marine gas field development falls under the category of projects that can cement regional economic interdependencies through a right balance between security considerations and economic cooperation.
The Art of Jordan's Shuttle Diplomacy
It is upon this regional logic that Jordan used existing partnerships to prepare the ground for the resumption of Israeli-Palestinian talks with initial focus narrowly on the development of the energy-related project in Gaza and the Palestinian Authority's empowerment. Jordan's status as an important regional player and mediator between interested parties has been enhanced as a long-awaited win-win initiative has been finally got back to track.
Jordan stands to benefit from the development of the Gaza marine gas field that can be leveraged to create interdependencies. Jordanian state-owned National Electric Power Company (NEPCO) signed in 2015 a Letter of Intent (LoI) with then operator of the Gaza marine field for the supply of approximately 180 million cubic feet (mcf) of gas per day from the Gaza marine field to Jordan. Despite that the LoI is not technically doable at this point due to lack of proper pipeline network, Jordan's political commitment is timeless.
Development of a regional energy and transportation infrastructure can pave the way for the promotion of quadripartite trade between Jordan, Egypt, Palestine, and Israel. For example, a "water-energy nexus" in a project where solar can be used to generate energy, which would in turn power desalination plants and generate shared drinking water can prove multiply beneficial. As the Jordanian public is averse to importing Israeli gas, converting it into water could scour the stigma not only facilitating trade but also delivering dividends of peace in the form of shared resources.
An additional project that can enhance interdependencies and complementarities is the proposed development of a monorail that would carry hundreds of containers per day from the Israeli port of Haifa to the Jordanian land port of Haditha thus improving trade and supply chain operations for Palestine, Israel, and Gulf countries. There are certain political roadblocks, however, that must be overcome such as the need to achieve equal access for Israelis and Palestinians, and the consent of Egypt due to the project's likely impact on the Suez Canal's traffic.
Jordan stands to benefit from development of gas discoveries offshore Gaza. Aqaba's Liquefied Natural Gas (LNG) terminal has the potential to become a second regional energy hub. Out of various options, Palestinian gas can be directed to Egyptian liquefaction plants and onward to Jordan, where it could be piped via the Arab Gas Pipeline to Syria, and Lebanon. This scheme would help diversify the region's energy suppliers and routes. It would also advance Jordan's energy diversification efforts, which include the import of gas primarily from Egypt, the further development of domestic fields like the Risha gas field, construction of a dual oil and gas pipeline from Iraq, and acceleration of the shift toward renewables.
A Final Note
Unquestionably, energy cooperation and the related economic development along with security considerations were key components that led to the preliminary Palestinian-Israeli agreement on the development of the Gaza marine gas field, with Hamas at the backyard. Considering its promising economic, security, and diplomatic benefits for Egypt, Jordan, Palestine, and Israel, it has become more than evident that the Gaza marine gas development project must be implemented swiftly. Simply put, a "win-win" enterprise seems to be on the regional horizon!
5 ways to power the energy transition
Transitioning to renewable energy is the key to securing humanity's survival, as "without renewables, there can be no future", according to UN Secretary-General António Guterres, ahead of the International Day of Clean Air for Blue Skies, marked on 7 September.Renewable technologies like wind and solar power are, in most cases, cheaper than the fossil fuels that are driving climate change, but the world needs to prioritize the transformation of energy systems to renewable energy.
The Climate Ambition Summit, scheduled for 20 September at UN Headquarters in New York, will consider how to accelerate this transformation.
Here are five ways that acceleration could happen:
1. Shift energy subsidies from fossil fuels to renewable energy
Fossil fuel subsidies are one of the biggest financial barriers hampering the world's shift to renewable energy.
The UN Secretary-General has consistently called for an end to all international public and private funding of fossil fuels, one of the major contributors to global warming, calling any new investments in them "delusional".
"All actors must come together to accelerate a just and equitable transition from fossil fuels to renewables, as we stop oil and gas expansion and funding and licensing for new coal, oil, and gas," he said.
The International Monetary Fund (IMF) revealed that $5.9 trillion was spent on subsidizing the fossil fuel industry in 2020 alone. This figure includes subsidies, tax breaks, and health and environmental damages that were not priced into the initial cost of fossil fuels.
That's roughly $11 billion a day.
Shifting subsidies from fossil fuels to renewable energy leads to a reduction in their use and also contributes to sustainable economic growth, job creation, better public health, and more equality, particularly for the poorest and most vulnerable communities around the world.
2. Triple investments in renewables
An estimated $4 trillion a year needs to be invested in renewable energy until 2030 in order to reach net-zero emissions by 2050. Net zero is the term which describes achieving the balance between carbon emitted into the atmosphere and the carbon removed from it.
Investment in renewables will cost significantly less compared to subsidizing fossil fuels. The reduction of pollution and climate impact alone could save the world up to $4.2 trillion per year by 2030.
The funding is there, but commitment and accountability are needed, particularly from global financial systems. This includes multilateral development banks and other financial institutions, which must align their lending portfolios towards accelerating the renewable energy transition.
"Renewables are the only path to real energy security, stable power prices and sustainable employment opportunities," the UN chief said.
He has further urged "all governments to prepare energy transition plans" and encouraged "CEOs of all oil and gas companies to be part of the solution".
3. Make renewable energy technology a global public good
For renewable energy technology to be a global public good, meaning available to all and not just to the wealthy, efforts must aim to dismantle roadblocks to knowledge-sharing and the transfer of technology, including intellectual property rights barriers.
Essential technologies such as battery storage systems allow energy from renewables to be stored and released when people, communities, and businesses need power.
When paired with renewable generators, battery storage technologies can provide both reliable and cheaper electricity to isolated grids and off-grid communities in remote locations, for example, in India, Tanzania, and Vanuatu.
4. Improve global access to components and raw materials
A robust supply of renewable energy components and raw materials is a game changer. More widespread access to all the key components and materials is needed, from the minerals required for building wind turbines and electricity networks to elements for producing electric vehicles.
The UN's International Seabed Authority is currently working with its Member States on how to exploit such abundant mineral resources in international waters as those crucial for manufacturing batteries while ensuring the effective protection of the marine environment from harmful effects that may arise from deep-seabed-related activities.
It will take significant international coordination to expand and diversify manufacturing capacity globally. Greater investments are needed, including in people's skills training, research and innovation, and incentives to build supply chains through sustainable practices that protect ecosystems.
5. Level the playing field for renewable energy technologies
While global cooperation and coordination is critical, domestic policy frameworks must urgently be reformed to streamline and fast-track renewable energy projects and catalyse private sector investments.
Technology, capacity, and funds for renewable energy transition exist, but policies and processes must be introduced to reduce market risks to both enable and incentivise investment, while simultaneously preventing bottlenecks and red tape.
Nationally determined contributions, or countries' individual action plans to cut emissions and adapt to climate impacts, must set renewable energy targets that align with the goal of limiting the increase in global temperatures to 1.5°C (2.7°F) above pre-industrial levels.
To achieve this, it is estimated that the share of renewables in global electricity generation must grow from 29 per cent today to 60 per cent by 2030.
Women of the Global South Are Key to the Energy Transition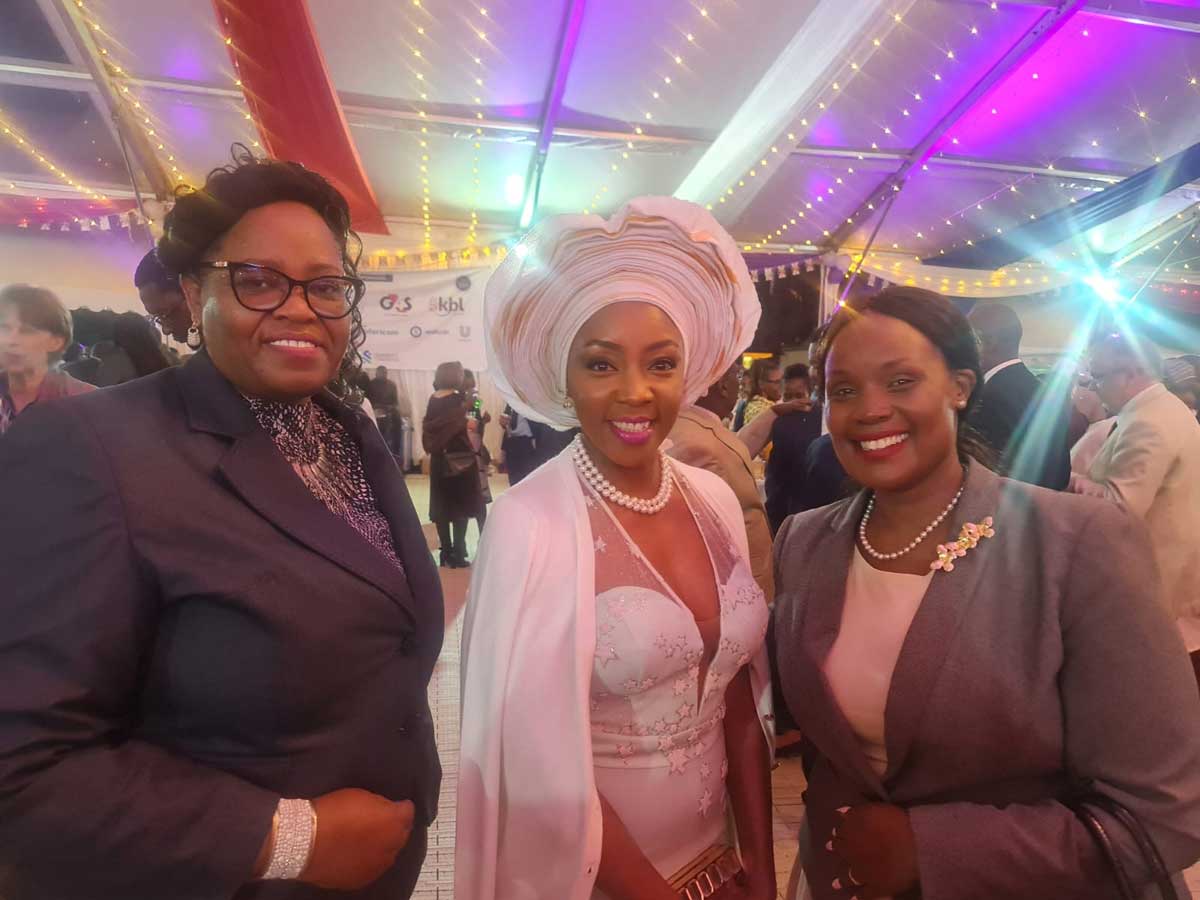 As a businesswoman who has dedicated my life to elevating opportunities for African women, I've seen how the historical exclusion of women – and especially women from Africa and the Global South – from international climate talks has derailed climate action.
Only by rectifying this systematic marginalisation of women can Africa fulfil its true potential as a leading global renewables powerhouse.
That is why I am celebrating attempts at the Africa Climate Summit, the first of its kind being held in my home country Kenya, to push back against entrenched gender inequalities.
If we fail to marry the energy transition with the goal of empowering women, the continent will not succeed in combating climate change.
In a ground-breaking move, the African Union Commission, which represents 55 African countries, signed a joint statement with the Government of Kenya and the UAE presidency of the upcoming COP28 UN talks in Dubai, endorsing the goal of tripling renewable energy capacity and doubling energy efficiency to stay within the 1.5C safe limit for global warming. The statement also calls for a "comprehensive systems change", including the need to transform "food and health systems" while protecting nature and biodiversity.
Neither African governments nor previous COP presidencies have placed such wildly ambitious goals on the political agenda before. And although these goals have not yet taken the shape of a binding agreement, they are being supported with real action.
At the Africa Climate Summit, COP28 president Dr Sultan Al Jabr announced that the COP28 presidency itself will invest $4.5 billion to mobilise up to tens of billions more in African clean energy projects. According to Al Jabr, the point of the pledge is "to clearly demonstrate the commercial case for clean investment across this continent" and to create "a scalable model that can be replicated to help put Africa on a superhighway to low carbon growth".
This is a huge milestone—with one major caveat: women must become linchpins in the continent's new, evolving clean energy landscape.
That means overturning years of women being side-lined in climate talks and overlooked in governmental and institutional planning. Just 9% of energy project aid focuses on gender equality, and the UN's clean energy goal (SDG7) omits gender entirely.
Currently women bear the worst impacts of climate change and energy poverty, accounting for 80% of food production and over 60% of agricultural employment in sub-Saharan Africa. Yet over three-quarters of total public climate-development finance in Africa this decade failed to consider gender at all.
And across Africa, women are marginalised from politics, education and employment. Previous UN climate talks have in effect discussed an 'energy transition' by and for men.
This gender-blindness is literally killing the planet. Companies with more women on their boards are more likely to lead them into policies aligned with the goal of capping climate change at 1.5C; and women around the world overall do more than men to change their behaviour to reduce emissions: so excluding them is an existential risk.
That's why I'm celebrating how this week African nations are uniting for the first time not just to combat Africa's climate threat, but also to highlight the gender inequalities preventing us from implementing real solutions.
As the First Lady of Kenya, Rachel Ruto, pointed out at the summit, only by equipping women with knowledge and skills can they be empowered to become champions of clean energy and sustainability. She convened a meeting of senior women leaders at the summit to focus on the critical importance of women to the success of the energy transition.
The lessons of the Africa Climate Summit must be taken all the way to the United Nations climate talks later this year. The goal of tripling renewable energy capacity, as the African Union Commission has now endorsed, is only one half of the equation. The other half is removing the barriers preventing women from racing toward this target. This must be enshrined in any global agreement – without it, not only Africa's but the world's clean energy transition will fail.
There are signs of progress. COP28 has already appointed women to senior roles representing the presidency, with Shamma Al Mazrui, UAE Minister of Community Development, appointed as Youth Climate Champion and Razan Al Mubarak, President of the International Union for Conservation of Nature appointed as the UN Climate Change High-Level Champion.
And just under half of COP28's advisory committee are women, a big step-up compared to previous COPs which failed to include women at a senior role. The presidency has also called on all delegations to explicitly increase the role of women and young people in negotiations to make this "the most inclusive" COP.
Yet though these are big milestones, they are still baby steps. It's time for world leaders to recognise that without empowering the world's women on the frontlines of the battle against climate change, no global agreements will produce the change we need.