Afghanistan from Obama to Trump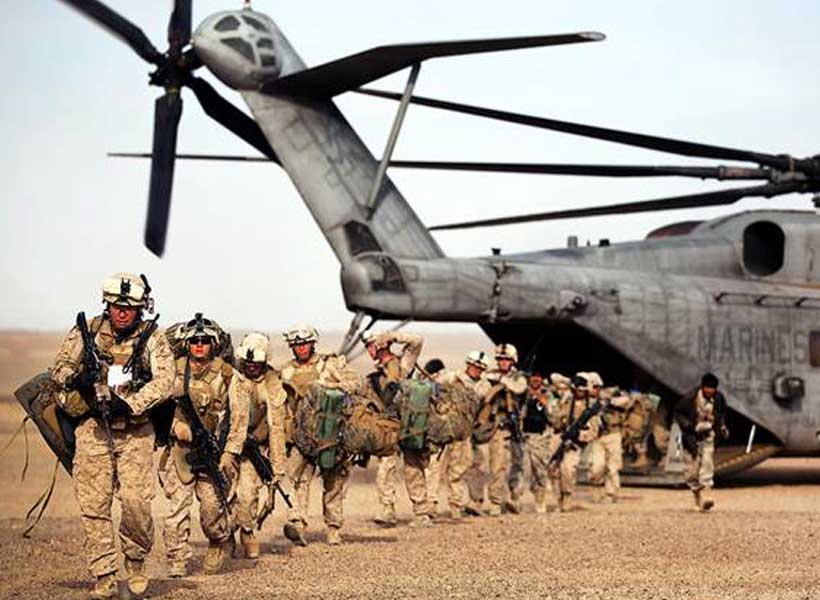 It is although conspicuous, (that) there is no crystal clear difference between, the Obama and Trump strategies in Afghanistan. The strategies based on, to dismantle the momentum of the Al-Qaida and its affiliates and to attain the strategic interests of the America worldwide.  What differ, are the approaches of Obama and Trump in relation to Afghanistan. Thus, it makes sense to briefly touch the issues, pertaining both Obama and Trump approaches for Afghanistan.
Obama's approach
In the event of, announcing his strategy for Afghanistan, in March 2009 Obama said, "so I want the American people to understand that we have a clear and focused goal: to disrupt, dismantle, and defeat al-Qaida in Pakistan and Afghanistan, and to prevent their return to either country in the future. That is the goal that must be achieved. That is a cause that could not be more just. And to the terrorists who oppose us, my message is the same: we will defeat you".
Obama added the US required a "stronger, smarter and comprehensive strategy," but said that it would not "blindly stay the course" if the new strategy did not succeed.
The key to the new strategy was to build up the Afghan army and police force. He announced an extra 4,000 US troops to help with training, with the intention of doubling the Afghan force (the Afghan troops number in 2009 was around 65.000). He said this might have to be increased again as power was transferred to Afghanistan. This was a relatively cheap option for the US as the pay of each Afghan soldier is quite small. This will be accompanied by a "surge" in US civilians to Afghanistan, doubling numbers to 900, to help rebuild the country's infrastructure.
Obama in February 2009 also ordered 17,500 US combat troops to Afghanistan to reinforce the 38,000 already there. But US military commanders were concerned that those would not be enough, anticipating a big Taliban push ahead of the country's August election.
To achieve its goals, the US must recognize the "fundamental connection between the future of Afghanistan and Pakistan," Obama said.
In addition to the renewed focus on Afghanistan, the Obama administration was to step up pressure on Pakistan to tackle the al-Qaida and Taliban safe havens in the tribal areas along its border with Afghanistan.
Obama said that the days of the US giving Pakistan a blank check were over. He said he would ask Congress to increase aid to Pakistan but in return he expected Pakistan to tackle the safe havens.
"Pakistan must demonstrate its commitment to rooting out al-Qaida and the violent extremists within its borders. And we will insist that action be taken – one way or another – when we have intelligence about high-level terrorist targets," he said.
The last element of the policy was to try to engage Afghanistan's regional neighbors, including Russia and Iran, in helping to pacify Afghanistan.
Obama endeavored a lot, to convince Pakistan to abandon Haqani-network, Taliban and Al-Qaida. He sent a couple of times, his foreign secretary Hilary Clinton to Islamabad, in order to change the mindset of the military establishment of the country. During her speech in Islamabad the former foreign secretary said "it is the time that Pakistan to act in days and weeks not months and years".  But no green lights were observed from Pakistan; on the contrary Islamabad perused its deadliest strategy in Afghanistan.  In total of eight years of his two terms, Obama failed to make Pakistan rally, its obligations in order to bring peace and stability to the war torn Afghanistan.
Albeit, he was unable to push Pakistan to comply with American strategy for Afghanistan, he continued Washington's military aid to the country, which Pakistan used to finance the big bullies in Afghanistan.
Secondly, Obama's strategy was based on counter terrorism approach, mostly resembles traditional counter terrorism doctrines. Counter Terrorism strategies, are used to disrupt, dismantle, and defeat organizations that employ terrorism by military and security means. These strategies include drone strikes, special-forces operations, and increased policing and intelligence operations. His strategy did not focused on insurgencies and their outside sanctuaries mainly in Pakistan. Furthermore, his negligence to deal with countries, which sponsored, harbored, trained and armed the deadliest cells in Afghanistan. In addition, he fell short to assemble efforts with India, despite Zalmay Khalilzad the former United States ambassador to Kabul attempted to sideline Pakistan.
At some stage in his tenure US forces contested its offensives on Taliban/insurgency with what Obama called on special operation troops, known as 'surge'. Many US Non-Official Cover (NOCs) or espionage activities decreased. Furthermore the CIA and US intelligence community reduced their Afghan 'Snitches' and minimized their operations all over Afghanistan. This called for lessening of CIA Official Cover Spies (OCS). Moreover, the Pentagon and US intelligence community minimized the area of their maneuver in Afghanistan. They only focus on Drone operations and Global Hawks. In other words, technological warfare is used to manage the bustles of Taliban.
Finally, the fixing and specifying date to draw down US combat forces was an unforgivable failure, which the insurgences took advantage, to expand their territories from 20 % to 55% in the country and round up almost all provinces even the capital Kabul itself.
Trump's initiative
In a nationally televised prime-time speech to troops at Fort Myer, Va., Trump said there would be no "blank check" for the American engagement in Afghanistan. But in announcing his plan, Trump deepened American involvement in a military mission that has bedeviled his predecessors and that he once called futile.
"My original instinct was to pull out, and historically I like following my instincts," Trump said. "But all my life, I've heard that decisions are much different when you sit behind the desk in the Oval Office."
After what he described as a lengthy and exhaustive deliberation culminating in a meeting with his war cabinet at Camp David, Trump said that he had been convinced that "a hasty withdrawal would create a vacuum for terrorists, including ISIS and Al Qaeda." Speaking to a military audience at a base outside Washington, Trump declared, "In the end, we will win."
He portrayed the strategy as a stark break with the Obama administration, arguing that while his predecessor set artificial timetables for American involvement in Afghanistan, his strategy would be a comprehensive, conditions-based regional approach that would aim for a political solution there.
Part of the plan is to deploy more American troops to Afghanistan to continue to train Afghan forces there, with the goal of convincing the Taliban — which has recently gained substantial ground in the war — that they could not win on the battlefield.
Trump said that the United States would put significant new pressure on Pakistan to crack down on the terrorist sanctuaries that line its border with Afghanistan. His comments opened a turbulent new chapter in relations with Pakistan, which has veered since the Sept. 11, 2001, attacks from being an ally in the fight against terrorism to a haven in which Osama bin Laden hid out until he was killed in 2011.
The president heaped contempt on his predecessor's strategy, promising that he would avoid President Barack Obama's mistakes.
But in substance, Trump's strategy was not all that different from Obama's, relying on a mix of conventional military force and diplomatic pressure on Pakistan. However officials conceded that there is to be no major change in the mix of American forces operating in Afghanistan, and that the priorities would remain training Afghan forces and conducting counterterrorism operations.
"We are not nation-building again," Trump said. "We are killing terrorists."
Whatever the echoes, Trump projected a far more bellicose tone than Obama. He promised that he would loosen restrictions on American soldiers to enable them to hunt down terrorists, which he labeled "thugs and criminals and predators, and — that's right — losers."
"The killers need to know they have nowhere to hide, that no place is beyond the reach of American might and American arms," the president said. "Retribution will be fast and powerful."
Trump's reference to a strategic partnership with India also has implications for Pakistan, which has a deeply antagonistic relationship with its neighbor. He said he would include new steps to pressure neighboring Pakistan to shut down the sanctuaries there for the Taliban and other militants. However officials conceded that there is to be no major change in the mix of American forces operating in Afghanistan, and that the priorities would remain training Afghan forces and conducting counterterrorism operations.
But in my eyes, the Trump's initiative has a significant difference with that of his predecessor; he almost shifted from traditional counter terrorism approach to counter insurgency, which is a major step to break the stalemate in Afghanistan. In relation with his regional policy, he made noteworthy developments his administration works now closely with New Delhi. He has put off a 900 million military aid to Pakistan meanwhile issuing visa ban on some elements within the Pakistani Government.
Moreover, he sanctioned about 6 Pakistani companies. He included Pakistan in the gray list of FATF or countries not doing enough to dump terrorism on their soil. Financial Action Task Force (FATF) is the global watchdog on money laundering and terrorism financing. By taking all said measures, Pakistan has yet to change its policy towards Afghanistan. There are more options on the table; United States can cut economic aid to Pakistan, America can label Pakistan a Terror-sponsoring state.
Conversely, it will be extremely tough for the US to get the UN behind such a move, the Trump administration can still unilaterally designate Pakistan a state sponsor of terrorism. One important point regarding Trump in Afghanistan even though, he faces a lot of critics worldwide but he is a hero in the country. Some new born Kids named after him, even a group of people in Logar province of the country esteem him with a golden medal. Being blunt Trump in comparison to his predecessor, he is really very popular in Afghanistan.
The way towards stability
Seeing that, the precarious security situation in Afghanistan is likely to become an even greater threat as Afghanistan remains relevant following ISIS losses in Iraq and Syria. In order to triumph over terror, America will need to overcome challenges and transition from its current counterterrorism efforts to a full-fledged counterinsurgency campaign.
Adopting Counter Insurgency strategies is necessary when a state realizes that a military response alone will not constitute a workable solution to a violent conflict. Counter Insurgency, is an all-encompassing political, military, and civilian solution to challenge irregular insurgent warfare. Counter Terrorism strategies are not abandoned but are implemented within a Counter Insurgency approach where the counterinsurgent (the government) also pursues support and legitimacy from the local population by promoting good governance and providing continued security after government forces have expelled the insurgent group. This population-centric strategy involves denying the insurgency its civilian-support networks, external support, and outside sanctuary, while simultaneously improving political participation and economic opportunities for civilians.
The Counter Terrorism measures used so far have been only semi-effective, and have fallen short of destroying the terrorist organizations or acquiring the Afghan population's support for the government. Civilians have been caught in the crossfire during operations, straining state relations with the tribes, and offensive tactics alone have not deterred local youth from joining jihadist groups that offer better economic opportunities. Militant interpretations of Islam sometimes won "the battle for hearts and minds" and tempted the young local population to join jihadist groups. According to unofficial estimates, America has lost around 3000 security personnel since 2001 till this stage of the conflict, with many civilian casualties that are under-reported. These losses are unsustainable and hasten the transition towards a Counter Insurgency campaign.
America should set the groundwork to move towards a Counter Insurgency campaign on military, economic, and political fronts.  United States should begin involving local tribes in fighting terrorism, by gathering intelligence and other military activities. In the non-military fronts, first, America should promote a moderate form of Islam among the youth of Afghanistan by using the Afghan state religious apparatuses and international Islamic tools. America should take additional measures to stifle extremism by establishing American-Afghan Council to Confront Terrorism and Extremism. The council would help build a Counter Insurgency policy through strategizing, mobilizing resources, amending existing legislation, and increasing economic opportunities in areas with high levels of extremism.
America should detail long-term plans for development of Afghanistan with goals of increasing investments and focusing on population-centric projects. A first step would be to provide compensation for damages from military operations. The military should also aim to win greater support and legitimacy by sending reconstruction missions to the conflict-ridden areas.
America should head in the right direction towards a Counter Insurgency campaign, by overcoming various challenges to solidify its strategies. Washington must better formulate a Counter Insurgency doctrine that will enable a transition from Counter Terrorism to a full-fledged, integrated, and effective Counter Insurgency operation.  America should lead a determined and powerful fight against terrorist strongholds; while at the same time avoid harming uninvolved civilians. If the latter is not prioritized, the military may alienate the local population and damage Trump's administration image in the international arena. To this end, the adoption of appropriate methods of combat that minimize collateral damages—including the use of accurate weapons that will target only the terrorists—is required. In addition, while integrating local tribes in fighting terrorists, America must pay close attention not to hurt the Afghan sovereignty and governance.
On the economic level, America should carefully plan its investments to ensure that improving the welfare of the Afghan population. Additionally, America must balance its efforts between addressing short-term economic distress and the promotion of long-term economic goals.
On the political level, America should adopt a "carrots and sticks" policy towards the civil-population of Afghanistan. The use of authoritarian practices, such as emergency laws, must be well measured in order to avoid alienating local tribes from the Kabul regime.
Finally, the international community should have a vital interest in supporting the Trump administration in shifting from Counter Terrorism to Counter Insurgency, by providing military assistance and targeted economic aid, while encouraging good governance and political participation of the Afghan population. The eradication of the insurgency in Afghanistan will be a desirable achievement not only for the 33 million inhabitants of Afghanistan but also for the global war on terror.
70 Years Together: Australia and Sri Lanka Forging Stronger Relations
Authors: Srimal Fernando and Yashodha  Rathnayake*
In reinforcing Seventy years of bonds, Sri Lanka enjoys closer foreign relations with Australia than ever before. This bilateralism is an emerging strategic choice, their ties focusing on economic integration. The short and long term engagement of the South Asian Island and the Asia Pacific nation can be a basis for opening opportunities for other neighboring   economies.  Even though there are many disparities between the two nations, there are also considerable similarities too. Much had happened in the past decades between Australian Prime Minister Robert Menzies' visit to Sri Lanka in 1950s, and lately by the Premier Malcolm Turnbull's visit in 2017. In Sri Lanka during an official visit Australian Prime Minister Trurnbull stated "I look forward to continuing our discussions on strengthening our economic links, defense engagement and our work together to combat trans-national crime particularly people-smuggling,". Further the Colombo Commonwealth summit of 2013 was a transformative moment that laid a solid diplomatic foundation with the presence of Premier Abbott. The age-old bilateral bonds of both countries go beyond diplomacy.  Hence the 109 000 Sri Lankan Australians diaspora (Department of Home Affairs; Immigration and Citizenship) can also be a source of strength, pride that forges these bonds between the two nations.
The Sri Lankan conflict was a testing time for Australian foreign relations with the island country. Australia was unwilling to take sides during this time and the relationship drifted a little bit. Yet, the Australian government has positively contributed to various socio – economic causes to uplift Sri Lankan society, especially in war-affected areas. To consolidate these efforts they provided an estimated figure of AUS$27 million in 2008 as overseas development aid (ODA) to Sri Lanka which was torn apart by war. After ending the conflict in 2009 Australia increased ODA levels. Followed by this development assistance in2018 Australians provided AUS$28.6 million. (Department of Foreign Affairs and Trade, Australia)
It might be worth mentioning commercial engagements between these nations. Compared to 1990s, South Asian consumers are now on Australian investors' radar screen, since the subcontinent economy is growing faster than ever. The current economic vision plan of Sri Lanka is making it much easier for Australian companies to invest in the island nation. The clearest signs of this bilateral stability doubled in 2017, bringing this two way trade figure to AUS$1.4 billion. Hence the current Australia's High Commissioner to Sri Lanka, H.E. Bryce Hutchesson stated, ''this year's figures reflects the steady growth in commercial engagement between our two countries. As close friends and Indian ocean neighbors, we're now seeing the trade and investment relationship expand as Sri Lanka's economy moves forwards and Australian companies take an increased interest in the Sri Lankan market''.
The economic integration between Australia and Sri Lanka can occur due to several factors. One of the major reasons is due to its vital geographical position in the Indian Ocean. It is noteworthy to mention Sri Lanka forms a major link for Australian entrepreneurs to gain great preferential market access to over 1.6 billion consumers through South Asian Free Trade Area (SAFTA) arrangement. This framework would be a huge advantage for Australian's. At the other end of the spectrum on Australian investors could explore low cost outsourcing opportunities. Yet with low coordination efforts this may lead to more promising outcomes. As per Department of Foreign Affairs and Trade, Australian companies have invested over AUS$89 million in 2017. With this growing trust Sri Lanka needs to convert the current foreign policy direction that requires to gain a foothold in the Australian market.
The income growth of the new middle class in Sri Lanka enabled to increase in tourist activities. This is more likely to have highlighted the need to expand air and maritime connectivity. Recently Sri Lankan Airline, the national carrier operates daily long haul flights to Melbourne, which had paid off handsomely. Rapid mobility of air services are influencing tourism demands. This has resulted a large number of Australians visiting the island country. As many as 80000 Australian tourist visited Sri Lanka in 2017.(Sri Lanka Tourism Development Authority (SLTDA), 2017)
But now, Sri Lanka and Australia has turned a new leaf reinforcing through sports diplomacy. In this regard cricket made much sense.   There are great stories of how Australian coaches mentored the islanders prior to Sri Lankans becoming globally famous cricketers in 1996. Today sports diplomacy has reached to a point where a trophy was named after the famous cricket legends Muttiah Muralitharan and Shane Warne. The twenty-fifth anniversary of Sri Lanka and Australia test cricket was dedicated to the iconic cricketers.
Symbolic power of education is a part of a larger   goal of these forging ties. Australian institutes provide standardise facilities for many Sri Lankan students to pursue higher education. Hence statistics speaks for themselves, where over 9000 Sri Lankan students are studying various subjects in Australia. This country has been the second most popular tertiary study destination for Sri Lankans.
For the success towards stronger diplomatic relations, Sri Lankan foreign policy makers require an out of the box thinking. Australian policy makers also must try to use their influence to create a conducive environment for these bonds to grow.  Change for a new direction in stronger ties ultimately requires continuous collaboration.
*Yashodha Jayathmi Rathnayake, a scholar BA (Hons) in English, at the Faculty of Social Sciences and Languages, Sabaragamuwa University of Sri Lanka.
New Government in Bangladesh: Implications for China-Bangladesh Relations
The People's Republic of China is one of the earliest countries to congratulate Prime Minister Sheikh Hasina for her landslide victory by securing two-third majority in the 11th National Parliamentary Election in Bangladesh, held on December 30, 2018. Chinese Ambassador in Dhaka, Zhang Zuo, and his team paid an official visit to the Prime Minister's Office, Ganabhaban, on December 31, 2018, to hand over the congratulatory messages to the newly elected Prime Minister from Chinese President Xi Jinping and Premier Li Keqiang. This official message denotes China's continuous support to Bangladesh as well as the potency of their bilateral strategic partnership at the dawn of the twenty-first century.
Over the years, especially since 1990s, China has emerged as a cooperative and reliable partner for Bangladesh in the economic development and national security build-up of the latter. Under the constant rule of Sheikh Hasina and her party, Bangladesh Awami League, in Bangladesh since 2009, the relationship has turned into a comprehensive strategic partnership.
In terms of trade, China, at this moment, stands as the largest trading partner for Bangladesh with more than $10 billion of bilateral trade volume. According to the reports provided by the Export Promotion Bureau of Bangladesh, the amount of country's total export to China was $808.14 million in the fiscal year 2015-16, compared to the amount of $319.66 million in 2010-11. At the same time, China's export to Bangladesh in 2015-16 was worth about $9.8 billion, compared to the amount of $5.9 billion in 2010-11. Economists have predicted that, if the current rate continues like this, the bilateral trade volume would reach up to $18 billion in 2021, when Bangladesh will be celebrating its 50th anniversary.
Throughout the last decade, Bangladesh has developed an outstanding political relationship with China as well. For example, when Chinese President Xi Jinping's paid an official visit to Dhaka in October 2016, Bangladesh received him with the highest official greetings ever. It was the first visit by any Chinese head of the state to Bangladesh in 30 years, which is considered as the biggest diplomatic milestone to their bilateral relationship.
During this visit, both countries signed 27 deals and memorandum of understanding (MoUs) worth an amount of $13.6 billion in trade and investment sectors. President Xi has also offered $23 billion loan to Bangladesh for supporting some large-scale infrastructure projects. Prior to that, in May 2014, the China Major Bridge Engineering Company (CMBEC) was awarded for the construction of Padma Bridge, the biggest ever infrastructural project in Bangladesh.
Bangladesh has been an official partner of China-led Belt and Road Initiative (BRI) since 2016. The country is one of the founding members of the Asian Infrastructure and Investment Bank (AIIB) as well. Geographically, Bangladesh is a part of both overland and maritime routes of BRI. It is a member of Bangladesh-China-India-Myanmar Economic Corridor (BCIM-EC) initiative, which focuses on the revival of the Southern Silk Road under BRI by physically connecting the landlocked provinces of Southern China to the Bay of Bengal. On the other hand, the Chattogram sea-port and its adjacent maritime area of Bangladesh have been an integral part of the 21st Century Maritime Silk Road. The country has, in fact, received the second highest amount of funding from BRI project in South Asian region, after Pakistan.
Apart from these developments, China has also emerged as a strategic security partner for Bangladesh in South Asia over the last decade. In the period of 2011-2015, for example, Bangladesh became the second highest importer of military equipments from China. In order to strengthen the capacity of Bangladesh Navy under the current regime of PM Sheikh Hasian, Bangladesh purchased two submarines from China, named BNS Nabajatra and Joyjatra, both delivered in 2016. Bangladesh also purchased six surface ships from China in between 2009 and 2015, which include two patrol boats with modest anti-surface and anti-submarine capabilities. These technological supports and upgraded equipments from China have enabled Bangladesh Navy to be emerged as a "blue-water" defense force for protecting country's maritime area.
In terms of education and cultural exchanges, both China and Bangladesh have further developed their cooperation during this period. Several Chinese language institutes have been established, by far, in both public and private universities of Bangladesh. The number of Bangladeshi students studying in China has also been increased significantly with the help of growing number of scholarships from the Chinese government.
Hence, as per the expectations from both sides, the extension of Sheikh Hasina's government for the third time will contribute to further boost up this bilateral cooperation. China believes that, under the leadership of Prime Minister Sheikh Hasina, Bangladesh will be able to fulfill its "Vision 2021" and, thereby, to become a middle income country by 2021, which would create further opportunities for the promotion of China-Bangladesh friendship in the upcoming days.
Will Pakistan go to IMF finally?
International Monetary Fund (IMF) was created just after World War II (WWII) in 1945. It was the time of re-organization of the world order after massive destruction of WWII. UN and its organizations were establishing and whole world was passing through reforms. The IMF is an organization of 189 countries, working to foster global monetary cooperation, secure financial stability, facilitate international trade, promote high employment and sustainable economic growth, and reduce poverty around the world.
The beneficiary of WWII was US, and emerged as leader of World. IMF and World Bank like other UN and International organizations were depending on US funding to some extend and US has been utilizing in expand its economic, political and military influence around the world, frequently. US was involved in appointing head of such organizations directly or indirectly.  I leave it to my readers to judge that if IMF and other organizations have achieved its objectives or not?
Pakistan have been knocking doors of IMF since 1958, and it has been 21 agreement with IMF. Generally, IMF provides loans at very low interest rates, and provides programmes of better governance and monitoring too. But for last 6 decades, Pakistan has suffered a lot, in term of good governance. Especially last 2 decades, corruption, nepotism, poor planning, bribery, weakening of institution, de-moralization of society, etc were witnessed. We may not blame IMF for all such evils, but must complain that IMF failed to deliver, what was expected. Of course, it is our country, we are responsible for all evils, and wrong doings happened to us. We have to act smartly and should have made right decision and on right times.
In fact, beneficiary of corruption, is west, and in some of the cases, west has inspired or protected the corrupt politicians and bureaucrats in the developing nation and Pakistan is no exception to it. At least, IMF failed to monitor the utilization of funds provided.
IMF also dictates its terms and condition or programmes like: devaluation of local currencies, which causes inflation and hike in prices, cut or draw-back of subsidies on basic utilities like fuel, gas, electricity etc, which causes cost of life rather higher for local people, cut on development expenditures like education, health, infrastructure, and social development etc, which pushes the country backward.
Pakistan was no exception to it in the history of our relations with IMF. Last couple of decades, we could not develop our infrastructure, as a result we are back ward and could not take off economically, could not built Dams and suffering from Power shortage and water crisis, Education, health and social sector was ignored and pushed us rather backward.
In past, whenever we approached IMF, US administration was favoring us, but this time, it was witnessed that US may create hurdles or resistance in the form of additional conditions etc.
Based on experience of 6 decades, Government of Pakistan (GoP) have to make decision, weather to go to IMF or not? It is very serious issue and very sensitive decision. GoP is very serious and in close consultations with various experts from within the government and out side the government. There is a group in Pakistan, lobbying for IMF, as it is cheapest and more structured. Pro-IMF lobbies are more close to PM Imran Khan. While, there are experts who are against IMF and feels in past, if IMF was not helpful for Pakistan, then why to go again for the same tested organization. It is worth mentioning that, Pakistan is a diversified nation, and freedom of expression is ensured by constitution of Pakistan, so many controversial opinions are expected – we enjoy the highest degree of freedom. .
In past, politicians were rather easy to coerce and IMF was successful in their missions. But, today, Pakistan is in safe hands and current leadership is honest, loyal and sincere with Pakistan. The PM Imran Khan is a strong man and will take decision based on principles in the best interest of nation.  Sources close to him, feels that till date he is not convince yet, but will take a firm decision soon. His decision will be based on expert advice, national interest and purely merit-based.
However, all other option may be explored and taped, like friendly nations have already extended a hand of financial assistance. Like Saudi Arabia, Arab Emirates, Qatar, Turkey, Malaysia and China. Which has lessen the need of going to IMF to a great extent. It will provide an edge to Pakistan, while negotiating with IMF.
Whatever will be his decision, people of Pakistan trust him and will stand behind him. His decision will be considered the decision of 220 million of Pakistan. Pakistan has a history of "No Default" in last 7 decades to any one of our international obligation or agreement. Pakistan is a civilized, disciplined and matured & resilient nation. We have passed many harsh tests, in last 4 decades and learnt many lessons.