A warning for Africa on World No Tobacco Day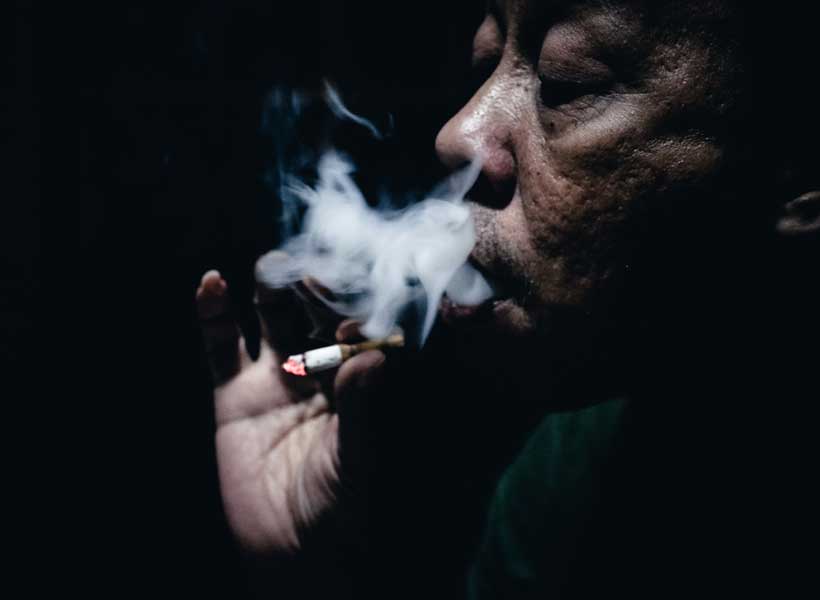 Each year, in observance of World No Tobacco Day on 31 May, the World Health Organization (WHO) gives out prizes to people from six different regions who have done exceptional work in reducing tobacco consumption. Ahead of this year's edition, it's clear one region in particular could be doing more to combat what is still a major cause of non-communicable diseases (NCDs) worldwide.
Globally, of course, the trends look good overall. The number of smokers worldwide has fallen steadily over the last two decades. In fact, over the last 15 years, only 27 nations have seen smoking statistics rise. However, there is dark side to that story. 17 of those countries are in Africa, and much of the blame for this must be laid at the feet of Big Tobacco. Having been edged out of Western markets by stricter regulations, changing lifestyles and hefty taxation, cigarette companies are now exploiting lower-hanging fruits.
However, they're not the only ones who should be held to account. Governments across the continent have been slow to adapt and have too often fallen prey to Big Tobacco's lobbying tactics.
Dirty tactics from Big Tobacco
In recent years, governments around the globe have taken proactive measures to discourage their populations from taking up smoking, including banning advertising (in 29 countries representing 12% of the global population), pictorial warnings of health risks on packets (42 countries, 19%) and assistance with quitting (24 countries, 15%). Higher taxation has also made the habit less affordable and therefore less attractive, leading to a noticeable decline in its popularity in the Western world.
By contrast, the tobacco industry in Africa is booming. In 2010, the continent boasted the lowest death rate from tobacco of any region. Now, 80% of all smokers live in low- or low-to-middle-income countries (LLMICs) and Africa represents a rapidly swelling market. In sub-Saharan Africa alone, consumption of tobacco has risen by 52% from 1980. Its growing popularity is especially noticeable in strong economies like South Africa. And not surprisingly, Big Tobacco has taken advantage of these newly flourishing markets by exploiting loose legislation surrounding the industry to reap incredible profits.
Indeed, major tobacco firms are using every trick in the book to resist the same regulations that have hampered their business model in the West from coming into force in Africa. Despite claiming to support "sensible regulation," organizations such as the Tobacco Institute of South Africa (TISA) continue to resist any increases in excise tax with all their might. Multinational tobacco companies have also sent letters using intimidating language to governments of at least nine countries, threatening them with litigation if they do not repeal proposed anti-smoking laws.
Adequate government response imperative
This is where the mettle of African lawmakers is so important. Despite claims to the contrary by Big Tobacco, introducing measures such as plain packaging, adequate warnings and higher taxation has dramatically curtailed the popularity of smoking in other countries. The WHO suggests a benchmark tax rate of 75% on the retail price of cigarettes, but across Africa that rate is generally far lower. Nigeria, for example, taxes stand at a mere 20% of the sale price.
Other countries such as South Africa do better (taxing 80%), though this can open the door to a thriving black market. It's estimated that illicit trade accounts for up to 50% of all cigarettes in the country, which costs the treasury billions of rand in unpaid taxes and encourages working class South Africans to take up the habit.
Elsewhere, strides have been made by Ghana and Madagascar, which have banned all forms of tobacco advertising, and Burkina Faso, Djibouti and Kenya, which now include graphic images on packets (itself a key tool in educating illiterate members of the population). These measures have, of course, prompted a backlash from the industry – hence the aforementioned letters threatening litigation – so it remains to be seen if African governments can hold firm in their attempts to arrest the creep of Big Tobacco's influence.
On the latter point, there are positive signs. Just a few days ago, Nigeria finally ratified the WHO's Protocol to Eliminate Illicit Trade in Tobacco Products, fourteen years after signing it. The Protocol requires signatories to adopt tried-and-tested measures for stopping black market tobacco. These include adopting track and trace technologies that empower authorities to track products throughout the global supply chain and make sure illicit tobacco isn't slipping through the cracks.
Investing in a better tomorrow
If more African countries follow Nigeria's lead, the continent as a whole will benefit from a major economic lift. A report from the WHO estimates that the poorest nations in the world could generate $350 billion by preventing and treating NCDs by 2025. For every $1 invested in curtailing tobacco use, they could see a return of $7.43. More importantly, such measures could theoretically save over eight million lives.
Of course, these public policy aims are of little interest to Big Tobacco. In 2015, the industry is estimated to have earned $62.3 billion. In the same year, over seven million people worldwide were killed from tobacco use. That equates to $9,730 per death. With such high stakes  – both in fiscal and human welfare terms – the next steps taken by African governments will be crucial. Bearing in mind the significance of May 31st, the time couldn't be riper for them to strike back through positive investment and the very same "sensible regulation" that the industry purports to support.
Deep-Seated Corruption in Nigeria
One of the biggest problems in the African continent is corruption, but in Nigeria, corruption has gotten to a frightening level. It has reached the level whereby government policies and actions decided by incorrigibly corrupt officials. It does not make any difference which party is in power, whether it is the People Democratic Party (PDP) or President Mohamed Buhari led All People Congress (APC).
As a matter of fact, the current President Mohammed Buhari led All People Congress (APC) has taken corruption to a different dangerous dimensional height. Do not be deceived by the noise that this present government is fighting corruption.
Under this APC government, not only that corruption determines all government policies and actions, but also by who is imprisoned and who is not imprisoned, no matter the crime committed. That means it is insignificant who lives and who dies.
The case that comes to mind is that of "One Good Samaritan" in the Nigerian Diaspora who used his personal financial resources to salvage the Niger Delta Amnesty programme in Russia. A programme initiated by President Musa Yaradua to compensate the economic condition of the oil-producing region in Nigeria.
As at today, the Nigerian official authorities are yet to refund the money to the Nigerian in Diaspora.
"We have obtained series of letters written by His Excellency, Ambassador of Nigeria to the Russian Federation Chief Assam E Assam appealing for the immediate refund of the money. The Charge d'Affairs at the Nigerian Embassy Moscow has brought the issue to the attention of Nigerain Minister of Foreign Affairs, Mr Geoffrey Onyema and the current Nigerian Ambassador to Russia, His Excellency, Professor Steve Ugbah, has also brought the issue to the attention of the Senate President (Hon) Dr. Bukola Saraki," according to an Embassy official when contacted.
The issue was debated on the Senate floor of National Assembly where all the Senators of the Federal Republic of Nigeria anonymously ordered that the Amnesty office in Abuja make payment without any further delay.
Details are available here. (Senate orders Amnesty programme to refund Russian based Nigerian N217M: www.youtube.com).
All of the authoritative letters written by four previous Nigerian Ambassadors, the letters written by Ministry of Foreign Affairs and including the order by the Senate have not been respected. The Good Samaritan in Diaspora was told that only the intervention of corruption could help resolve the issue and that shows how bad and deep-seated corruption is in Nigeria.
Interestingly, the Niger Delta Amnesty office in Abuja under the leadership of Professor Charles Dokubo said recently when contacted that his file was missing in their office and could not be traced. The Niger Delta Amnesty programme sent 95 Nigerian students to Russia on various academic courses, before the end of first year preparatory course, 45 of them deported to Nigeria.
The key reason was approach fraught with deep-seated corruption connected with the delay in payment or outright non-payment of all the necessary fees including tuition to the Russian universities. Resultantly, the remaining 50 were served with deportation letters for failure to non-compliance of terms of agreement with the universities on the side of the Amnesty office in Abuja.
On 12 September 2011, the remaining Amnesty students with their deportation letters violently attacked the Nigerian Embassy Moscow damaging property including cars and furniture and inflicting injuries to a number of staff at the Embassy. The Amnesty students occupied the Embassy, protested and demanded for the payment of all necessary fees including their hostel and monthly stipends.
To pacify the rampaging students, the Nigerian Embassy through His Excellency, Maj. Gen. Mai Shelpidi, pleaded with him for financial assistance to enable, at least, pay the Amnesty students' monthly allowances. The "Good Samaritan" obliged and made available the sum of US$60,000 to the Embassy of Nigeria for the payment of monthly allowances that, in fact, calmed down the protesting students and made them go back to their hostel.
Also available on record is a letter of commendation (an authentic document) given to the "Good Samaritan" by the Embassy of Nigeria. The situation was, indeed, a problem, fast turning into huge embarrassment to Nigerian Embassy Moscow and, of course, the Federal Government of Nigeria.
As the Niger Delta Amnesty students were facing deportation and the problem was fast turning into a huge embarrassment for the Nigerian Embassy and the Federal Government of Nigeria, the authorities pleaded with the Good Samaritan. Mr Patterson Ogon, has taken over as the Coordinator of Niger Delta Amnesty programme Russia, has failed to address the repayment.
The Good Samaritan used his personal resources to salvage the Niger Delta Amnesty programme in Russia only to discover that getting refund of his money would be an uphill task.
As at the time of filing this report, he is preparing with a team of lawyers to take the matter to a Russian court of arbitration. He has solicited the full-fledged support of African community in Russia to stage a massive protest in front of Nigerian Embassy Moscow. The newly arrived Nigerian Ambassador to the Russian Federation, His Excellency, Professor Steve Ughah, has declined to comment when contacted. Next report follows soon.
The role of nuclear in Zambia's sustainable economic growth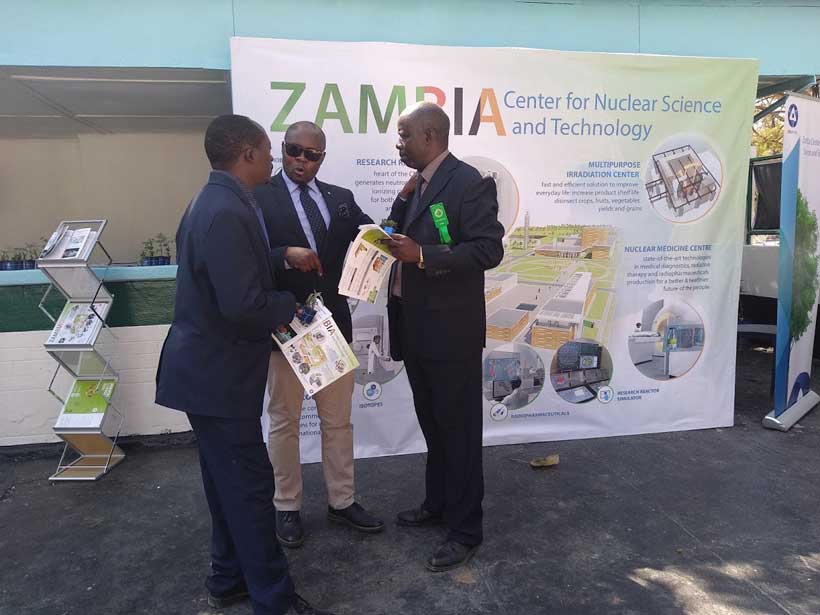 On August 6th, the 92nd annual Agricultural and Commercial Show wrapped up after six entertaining and educational days in Lusaka, Zambia.
Thousands of visitors received information materials about the role of nuclear in Zambia's sustainable economic growth during the 92nd annual Agricultural and Commercial Show.
The show was officially opened by President Edgar Lungu, who highlighted the importance of the show's theme, which was 'sustainable economic empowerment'.
He noted that the theme was directly in line with government's aspirations espoused in the Second National Agricultural Policy (SNAP) to have an efficient, competitive and sustainable agricultural sector which assures food and nutrition security, increased employment opportunities and incomes.
The Zambian Ministry of Higher Education in collaboration with Russian State Atomic Energy Corporation ROSATOM hosted a dedicated information stand on the future Zambia Center for Nuclear Science and Technology (CNST).
Representatives of ROSATOM and Zambia's Interim Secretariat on Nuclear Science and Technology (ISNST), constituted by senior officers from various Government Ministries and Institutions, worked on the stand, explaining the specifics and benefits of the future nuclear facility to thousands of Zambian visitors.
The stand provided the public with information on the nuclear technology that is set to assist Zambia to grow and be economically empowered, such as: food irradiation technologies, nuclear medicine (which is already being implemented at the Cancer Diseases Hospital), material science, radioisotope production and mineral identification techniques.
The materials were prepared by ROSATOM, ISNST and International Atomic Energy Agency (IAEA).
Dmitri Shornikov, CEO of Rosatom Central and Southern Africa, explained the future benefits of the Center and expressed the importance of educating the public on these benefits: "It is very important for the Zambian citizens to understand that the future Center will empower agriculture, medicine and industry, thanks to wide application of radiation technologies."
"The CNST will also promote the growth of national education and science through the training of highly qualified experts in various fields. It represents the new stepping stone for Zambian scientific, economic and technological growth. Similar facilities have been contributing to more than 50 countries' around the world for more than 60 years. Currently, there are 245 working research reactors in the world with 58 units operated in Russia".
Mr. Reuben Katebe, National Coordinator of the ISNST noted that the Center was directly in line with the theme of the show as well as government's policy and that it would help the agricultural sector to grow sustainably and ensure food security: "The use of radiation for food preservation will improve food safety and create conditions for the increase of Zambian agricultural exports. We hope that our information stand helped many farmers to understand all the benefits that the Center will bring to them."
Apart from agriculture, healthcare will also benefit from the Center's activities like single use medical product sterilization," said Mr. Katebe: "The radioisotopes produced here will be used to diagnose and treat primarily cancer and cardiac diseases. This Center will increase availability of high-tech nuclear medicine for Zambia's population."
For reference
State Atomic Energy Corporation Rosatom and the Republic of Zambia signed a general contract for the construction of a Center for Nuclear Science and Technology (CNST). The signing took place during the 10th international Atomexpo-2018 forum in Sochi. Construction of the center is the first joint project of Russia and Zambia in the field of nuclear technologies.
The center will be located 10 kilometers away from the capital of Zambia, Lusaka. The CNST will include a nuclear research facility based on a multipurpose research water-cooled reactor of up to 10 MW, a state of the art laboratory complex, multipurpose irradiation center as well as a cyclotron-based nuclear medicine center.
The project will be implemented in several stages within 3-6 years from the work commencement date under the contract. Rosatom has built more than 120 research reactors in Russia and abroad.
China- Africa Framework: Strategic Cooperation
The Forum for China Africa Cooperation (FOCAC), built up to link relations between the two states, is due to hold its next meeting later this year. This evaluates what the benefits from that meeting will be on this developing, active, and mutual relationship. China's engagement in African states goes back several years. In the last decade, from the mid-1950s to late 1970s based more on spontaneous confidentiality than that of 1980s and the period after the cold war. currently, the relationship sets up more on pragmatic economic considerations and cooperation. China is already Africa's third largest trading partner. This multi-leveled partnership between China and Africa is both intricate and active. As China and its African participants arrange everything for the next FOCAC summit.
What does China want in Africa?
China's relationship with African countries is very active, some perspectives have sustained stable. The most significant of these are the principles and outcomes of Chinese foreign policy through African and other developing countries. According to the Beijing's Africa Policy issued in January 2006, China will: China-Africa friendship, will be proceeding from the basic benefits of both the Chinese and African peoples, build up and develop a new kind of strategic partnership with the African continent, presenting political equality and mutual trust, economic win-win cooperation and cultural exchange
The fundamental laws and aims for leading Chinese foreign policy in Africa as set out in this arrangement of government policy are: (1) Goodwill, friendship, honesty and equality; (2) Mutual benefit, cooperation and common prosperity; (3) Common mutuality, support and close reciprocity; and(4) Learning from each other and pursing, sharing common development. This mostly is the government expression of how it views, and ambitions, to manage its relationship with the African continent.
While the Chinese policy announcements are mostly clear; there is still skepticism about what China wants in Africa. Take the principle of non-intervention, one of the Five Principles of Peaceful Coexistence, which have been regularly highlighted guidance of Chinese foreign policy in one hand, and its Africa policy in the other. The most significant examples are Sudan and Zimbabwe. In current years, Sudan has seen a conflict of perspectives, with the US and other superpowers placing pressure on Beijing government to use its impact in Sudan over the condition in Darfur, and China responding that it is preferable to help in continued development in such states, and determining them this way. Therefore Beijing's commitment to non-interference in African domestic affairs and its intention to establish partnerships based on cooperation and mutual respect have been generally welcomed by leaders of the African continent, just as it has got some critiques from the West especially the US.
To some extent does China manage Sino-Africa relations?
Yet, Chinese national interests in Africa are multi-aspects and multi-leveled, so the aspects who engage in China's Africa policy making and implementation are generally diverse. This faces great challenges for China's management capability, which is the real reason why FOCAC was established. Similar to the different trend of China's interests and outcomes in Africa, we can highlight many types of aspects who have a sound in China's Africa policy-making and performance. First of all and most important type of aspect is the government, both central and provincial, including officials–diplomats and other state-owned enterprises. Secondly coves several private corporations and their representatives in Africa. Inspired by the Chinese government's "Go Out" policy, these private entrepreneurs chanced to Africa in seek of business opportunities. The third and importantly significant aspect is individuals, both influential middle-businessmen and the general Chinese laborers in Africa, which may amount to somehow a million people by 2009.
With the number of aspects rising, the traditional decision-making and strategy implementation system is under great pressure. In term of policymaking, power is centered at the top, in the Office of the Foreign Affairs of the Communist Party of China (CCP) Central Committee and the Foreign Affairs Office of the State Council. The top engine of executive power is the State Council, which includes the premier, vice premiers, and ministers. The Ministry of Foreign Affairs points out Chinese leaders and helps implement African policy. It cuts responsibility between a unit for Sub-Saharan Africa and one for West Asia and North Africa. The Ministry of Commerce plays a significant job in trade, aid, and investment. It has a Department of Foreign Aid. China's State-owned Assets Supervision and Administration Commission (SASAC) is equally ranked with the Ministry of Foreign Affairs and the Ministry of Commerce. SASAC is either mostly owns a state-owned enterprise (SOE) or sustains a supervising share of stock in a public SOE, several of which function in Africa. SASAC has branch offices in African countries. China's Export-Import Bank is the only state-owned firm that allocates official economic assistance in the frame of low-interest loans, export credits, and guarantees. Additionally, The CCP's International Department communicates with African representative to lay the pillars for business trading and diplomatic cooperation, encourage visits and to ensure that policies are implemented in accordance with CCP strategic goals.
What are the Challenges of China In Africa?
Under the policy of FOCAC and its follow-up perspectives, China has adopted its Africa policy-making and implementation and made several contributions to African development. However, the challenge of China-Africa relation is based on two main aspects. The first, the Chinese economic slowdown decreases the resources that are likely accessible for the next FOCAC meeting. Xi Jing ping said at G20 summit that China will, within its goodwill and potentiality, carry on to enhance its aid to Africa, decrease or cancel African states' debts, enlarge its trade and enhance business investment in Africa, achieving the commitments it made during the Beijing Summit of the Forum on China- Africa Cooperation in 2017. On the other hand, because China's economy now is export-oriented, the situation will greatly reduce the volume of China-Africa trade due to the western states' needs decreasing. For instance, 50% of Sudan's oil exports ship to China, but this number does not mean that this oil is bought by Chinese consumers. As a matter of fact, China National Petroleum Corporation(CNPC), the company which subdues the oil transactions between China and Sudan, does not sell the oil imported from Sudan on the Chinese domestic market. Instead, CNPC sells it on the international market for many profits. And in 2006, Japan was the largest single recipient of Sudanese oil. Now, because of the economic problem, the needs of the international market have dropped off.
Conclusion
The last decade has observed a key and very important enhance in China's engagement in Africa. FOCAC was built up and is now working, as the main means by which to manage dialogue and talk between different African countries and China over where the general direction of this partnership should go. Basically, it gives an integrative foundation for treating Africa as a single actor, which will surely promote the identity-building of Africa and differentiate itself from other relationship. In the coming years, China will surely enhance its interests in the African continent. Therefore. the FOCAC process provides Africa a new opportunity for a partnership with China and the prospect of a long-term win-win partnership with the world's largest-growing economy.