2018 World Cup offers Chechnya opportunity to play Middle Eastern politics
When strongman Ramzan Kadyrov last month opened The Local, a United Arab Emirates-funded luxury hotel in the Chechen capital of Grozny and prepared to receive Egypt's World Cup qualifying national team as its first guests, he was cashing in on more than the Russian region's Muslim identity.
Eager to forge close ties to Middle Eastern nations, Mr. Kadyrov, who tightly controls Chechen sports, was cashing in on the fact that he has aligned himself with like-minded governments that not only stand out in their repression of dissent, but also their efforts to oppose Saudi-inspired ultra-conservative Sunni Muslim Islam.
Mr. Kadyrov, a barrel-chested man who recognizes the political utility of sports and is widely seen as a henchman of Russian President Vladimir Putin, earned his credentials by brutally suppressing an Islamist insurgency in Chechnya during his decade-long tenure.
Speaking to The Washington Post, Beslan Visambiev, a manager of a Grozny-based UAE investment fund, suggested that Mr. Putin was using Mr. Kadyrov as his point man in the Muslim world. "It seems like Putin delegated those powers to Kadyrov," Mr. Visambiev said.
Mr. Visambiev echoed Mr. Kadyrov's own words four years earlier when he addressed 20,000 members of his militia in a Grozny stadium.
"The time has come for us to make our conscious choice, and we say this to the whole world that we are the combat infantry of Vladimir Putin," Mr. Kadyrov said quoting a speech given by his father shortly before he was assassinated in 2004.
Criticism by human rights groups of the UAE's investment and Egypt's choice of Grozny has focussed on Chechnya rather than the Emirates and Egypt, even if both countries have recently been in the news for their own alleged violations of basic rights.
The US the House of Representatives last week voted to investigate a potential US role in torture in a UAE-operated network of prisons in Yemen.
A close US ally, the UAE stands accused of being a "colonizing force" in Yemen that supports extremist militias responsible for violence against Yemeni activists and Islah, a Muslim Brotherhood-linked political party, and a bete noire of UAE crown prince Mohammed bin Zayed.
In recent days, Egypt, whose prisons are filled with an estimated 60,000 political prisoners, arrested   Hazim Abdelazim, a one-time campaigner turned critic for general-turned-president Abdel Fattah al-Sisi, and prominent blogger and activist Wael Abbas.
Mr. Kadyrov, whose human rights record, like that of Prince Mohammed and Mr. Al-Sisi, has been questioned, has denounced allegations of abuse as a "myth" designed to destabilise his government.
Yet, Mr. Kadyrov's notion of a more liberal interpretation of Islam is not dissimilar to that of Mr. Al-Sisi or Prince Mohammed, even if the effective UAE ruler has been not quite as harsh in measures against transgender, gay, and gender non-conforming people.
Both Chechnya and Egypt have in the last year brutally targeted gays, prompting Human Rights Watch to demand that world soccer body FIFA oppose a proposed Egyptian anti-LGBT law and to demand the release of Oyub Titev, the head of Chechnya's only still operating human rights group.
The bullet-riddled body of Mr. Titev's predecessor, Natalia Estemirova, was dumped by the road shortly after she was kidnapped in 2009.
The fact that Egypt and the UAE are the vehicles Mr. Kadyrov is using to exploit this month's World Cup in Russia in a bid to project Chechnya on the world stage in a more positive light and polish his tarnished image is no coincidence.
Both the UAE and Egypt have been in the forefront of efforts to counter political Islam and promote more quietist, apolitical interpretations of the faith that counter Saudi-style ultra-conservatism and are more in line with their vision of autocratic rule even if both countries are closely aligned with the kingdom.
The UAE has quietly nurtured the creation of moderate Islamic institutions such as the Muslim Council of Elders, the Global Forum for Prompting Peace in Muslim Societies and the Sawab and Hedayah Centres in a bid to counter the influence of controversial, Qatar-based Islamic scholar, Sheikh Yusuf al-Qaradawi, the Muslim Brotherhood, and more militant Islamist forces.
Mr. Al-Sisi, an observant Muslim who in a 2006 paper argued that democracy cannot be understood without a grasp of the concept of the caliphate, has been advocating with limited success that Al Azhar, one of the Muslim world's foremost institutions and the world's oldest seat  of Islamic learning, spearhead "a religious revolution" to counter militancy.
Mr. Kadyrov, who professes to be a Sufi, a more mystical interpretation of Islam, facilitated in 2016 a high point of the Emirati and Egyptian efforts when he hosted in Grozny a gathering of prominent Sunni Muslim leaders that effectively excommunicated Saudi-backed ultra-conservatism.
In a frontal assault on Saudi-backed religious movements such as Wahhabism, Salafism and Deobandism, the conference charged that the label Sunni had been hijacked by heretics whose deviant practices distorted Islam.
In defining Sunni Islam, the conference explicitly excluded Wahhabism, the version of Islam long propagated by Saudi Arabia, as well as Salafism and Deobandism from its definition.
Mr. Kadyrov's alliance with the UAE and Egypt has allowed him to exploit Russia's hosting of the World Cup even if Chechnya will not be a venue for any of the competition's matches.
The alliance has also paid off in other ways. The UAE last year created the Zayed Fund that aims to support Chechen businesses and is funding construction of a gleaming skyscraper in the Chechen capital. UAE-based carrier Air Arabia launched in April direct flights from Sharjah to Grozny
The UAE-Egypt-Chechnya alliance may have produced economic benefits but appears to have done little to improve the tarnished image of the Russian republic or Mr. Kadyrov himself.
"FIFA's decision to use Grozny for a World Cup team camp is absolutely shocking and outrageous. FIFA should reverse their decision and move the training camp to another city, " said Human Rights Watch associate director Jane Buchanan.
FIFA last year conceded that anti-LGBT attacks in Chechnya were in "sharp contradiction to the values of FIFA as an organization and we firmly condemn them" but more recently insisted that it had "no grounds to believe that the choice of the Egyptian FA to locate its base camp in Grozny will cause particular adverse human rights impacts."
Countered Ms. Buchanan, the author of a report on World Cup worker abuses in Russia: Mr. Kadyrov runs Chechnya "like his own fiefdom and commits human rights abuses with impunity. FIFA's decision will only legitimize the utterly abusive Kadyrov regime."
Relegating the "Russia Problem" to Turkey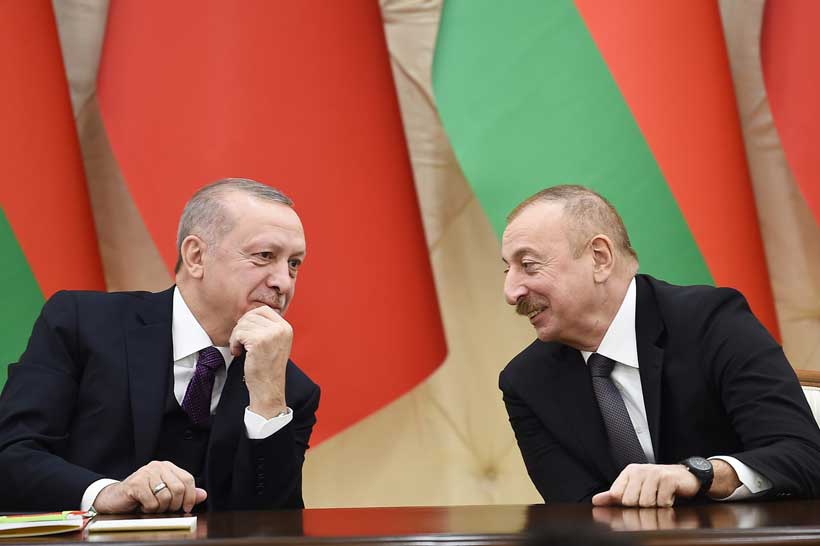 Turkey's foreign policy is at a crossroads. Its Eurasianist twist is gaining momentum and looking east is becoming a new norm. Expanding its reach into Central Asia, in the hope of forming an alliance of sorts with the Turkic-speaking countries — Kazakhstan, Uzbekistan, Kyrgyzstan, and Turkmenistan — is beginning to look more realistic. In the north, the north-east, in Ukraine, Georgia, and Azerbaijan, there is an identifiable geopolitical arc where Turkey is increasingly able to puncture Russia's underbelly.
Take Azerbaijan's victory in Second Karabakh War. It is rarely noticed that the military triumph has also transformed the country into a springboard for Turkey's energy, cultural and geopolitical interests in the Caspian Sea region of Central Asia. Just two months after the November ceasefire in Nagorno-Karabakh, Turkey signed a new trade deal with Azerbaijan. Turkey also sees benefits from January's Azerbaijan-Turkmenistan agreement which aims to jointly develop the Dostluk (Friendship) gas field under the Caspian Sea, and it recently hosted a trilateral meeting with the Azerbaijani and Turkmen foreign ministers. The progress around Dostlug removes a significant roadblock on the implementation of the much-touted Trans-Caspian Pipeline (TCP) which would allow gas to flow through the South Caucasus to Europe. Neither Russia nor Iran welcome this — both oppose Turkey's ambitions of becoming an energy hub and finding new sources of energy.
Official visits followed. On March 6-9, Turkish Foreign Minister Mevlüt Çavuşoğlu visited Uzbekistan, Turkmenistan, and Kyrgyzstan. Defense cooperation, preferential trade deals, and a free trade agreement were discussed in Tashkent. Turkey also resurrected a regional trade agreement during a March 4 virtual meeting of the so-called Economic Cooperation Organization which was formed in 1985 to facilitate trade between Turkey, Iran, and Pakistan. Though it has been largely moribund, the timing of its re-emergence is important as it is designed to be a piece in the new Turkish jigsaw.
Turkey is slowly trying to build an economic and cultural basis for cooperation based on the Turkish Cooperation and Coordination Agency founded in 1991 and the Turkic Council in 2009. Although Turkey's economic presence in the region remains overshadowed by China and Russia, there is a potential to exploit. Regional dependence on Russia and China is not always welcome and Central Asian states looking for alternatives to re-balance see Turkey as a good candidate. Furthermore, states such as Kyrgyzstan and Turkmenistan are also cash-strapped, which increases the potential for Turkish involvement.
There is also another dimension to the eastward push. Turkey increasingly views Ukraine, Georgia, and Azerbaijan as parts of an emerging geopolitical area that can help it balance Russia's growing military presence in the Black Sea and in the South Caucasus. With this in mind, Turkey is stepping up its military cooperation not only with Azerbaijan, but also with Georgia and Ukraine. The recent visit of Ukraine's President Volodymyr Zelenskyy to Turkey highlighted the defense and economic spheres. This builds upon ongoing work of joint drone production, increasing arms trade, and naval cooperation between the two Black Sea states.
The trilateral Azerbaijan-Georgia-Turkey partnership works in support of Georgia's push to join NATO. Joint military drills are also taking place involving scenarios of repelling enemy attacks targeting the regional infrastructure.
Even though Turkey and Russia have shown that they are able to cooperate in different theaters, notably in Syria, they nonetheless remain geopolitical competitors with diverging visions. There is an emerging two-pronged strategy Turkey is now pursuing to address what President Recep Tayyip Erdoğan sees as a geopolitical imbalance. Cooperate with Vladimir Putin where possible, but cooperate with regional powers hostile to Russia where necessary.
There is one final theme for Turkey to exploit. The West knows its limits. The Caspian Sea is too far, while an over-close relationship with Ukraine and Georgia seems too risky. This creates a potential for cooperation between Turkey and the collective West. Delegating the "Russia problem" to Turkey could be beneficial, though it cannot change the balance of power overnight and there will be setbacks down the road.
The harsh ecological conditions of the Arctic in the past have sustained economic activity in the region. Climate change, new technologies and innovations open new perspectives for the development of these territories. The Arctic has turned into one of the hotspots of geopolitics: global and regional players are striving to expand their borders. Watching the Arctic is a complex problem, so the solution can only be secured by integrating the forces of all parties in the Arctic.
It is impossible to discuss the development of the Arctic from the standpoint "whether we are going to exploit it or not", as the industrial development of the Arctic started about 100 years ago. Today 10 million people live around Arctic, only about 10% of them are indigenous peoples. The main question is how we can make this development responsible and sustainable to ensure all three aspects – economic, social and environmental – in the long term and who should be a stakeholder in this activity.
Scientists from Russia, Norway and Iceland, despite the difficulties and deteriorating relations between Russia and the West, are conducting an active dialogue on the future of the Arctic. They call for enhanced cooperation and joint development of the Arctic for the benefit of humanity, not for geopolitical confrontation, because "Together we are stronger." Scientists have also called for attracting the capabilities of space satellites to conquer the Arctic and solve various tasks and problems. They hope to strengthen public and private investment in human capital, for better education, to attract more talented people, to create high-paying jobs for young people, to create and develop smart cities. The Arctic is an excellent opportunity for a clean and green economy, for Industry 4.0 and for the creation of new industries.
As part of the High North Dialogue Arctic 2050: Mapping the future, a panel discussion was held on April 23, 2021. The umbrella theme of all Arctic 2050 presentations: Mapping The Future of the Arctic and exhibitors tried to give their views on development and change in the Arctic over the next few decades from the standpoint of economy, trade and maritime transport, energy, ecology and social trends. During the panel Russian scientists from the Skolkovo School of Management, one of the leading research centers in Russia and their Norwegian colleagues discussed possible scenarios for the development of the Arctic in the next 30 years
Although almost all exhibitors were wary of more accurate predictions given the many factors that potentially determine the course of events in this area, the general impression that could be gained from different presentations is that greater importance is expected in this area in world economic and traffic flows. Development opportunities in mining, energy and maritime transport are great, but there are also great unknowns and potential temptations regarding the mutual rivalry of countries in this area, regulating legal and policy frameworks for the implementation of development policies and finally regarding climate change and risk environment.
The ability to think long-term, and to maintain a balance between all three dimensions, is what is called a 'sustainable mindset' and this is exactly what the Arctic needs from leaders now and in the future. A new leadership agenda emerges in each and every sector, reflecting the paradigm shift: policymakers will have to work towards creating an enabling environment, incentivizing more responsible investment in the Arctic, instead of trying to find a balance between economic activity and environmental footprint business needs to turn away from the cost reduction imperative and concentrate on creating innovation in technology and business models that together will make it possible to do business in the Arctic sustainably, which means both at the new level of productivity as well as in an environmentally and socially responsible manner. NGOs must concentrate on facilitating multi-stakeholder dialogs aimed at finding a balance of interests, rather than lobbying for limiting policies and challenging business activity in the region. What is more important, is that, just as with the triple bottom line, these paradigm shifts should be synchronized and synergetic. The sustainable future of the Arctic tarts with the sustainable thinking of the leaders of today.
Disagreements between States Should Be Resolved in a Peaceful Manner Based on International Law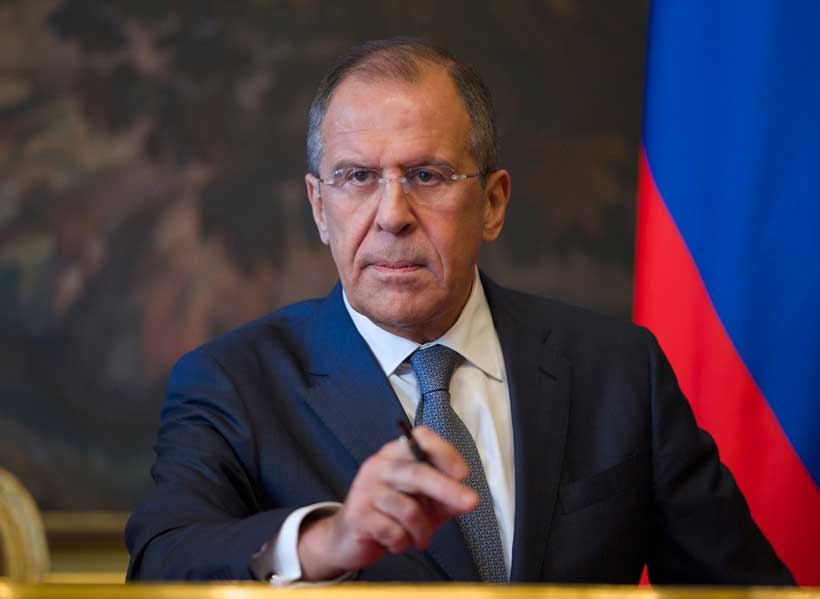 Russian Foreign Minister Sergey Lavrov has appreciated the role of Pakistan in the peace process of Afghanistan. He said that Russia expects that the meeting of the extended 'Troika' will give a necessary impetus to the Intra-Afghan negotiation and active role of Pakistan in the preparation of this event is appreciable.
Visiting Russian Foreign Minister Lavrov expressed these views during in an interview and its important points are shared below:
Q1.: Recently, another round of consultations took place in Moscow as part of the extended "Troika" on Afghanistan, which will likely to be followed by a session of talks in Doha. What are the prospects for an intra-Afghan dialogue given that the government of President Ashraf Ghani avoids such negotiations? How will peace and security in South Asia be affected by India's unilateral actions in Kashmir, its active participation in the "Quad" (USA-India-Japan-Australia) and its dispute over the border areas with China?
Answer: We expect that the meeting of the extended "Troika" of March 18, 2021 will give a necessary impetus to the intra-Afghan negotiations. We note the active role of the Pakistani side in the preparation of this event. Moscow also hosted separate meetings between the Afghan delegation (headed by the Chairman of the High Council for National Reconciliation Abdullah Abdullah) and representatives of the Taliban. We consider it important that both sides speak in favour of intensifying the intra-Afghan negotiation process.
As for New Delhi's participation in the "Quad", we proceed from the fact that India as a responsible world power determines its foreign policy priorities by itself. At the same time we are convinced that disagreements between states in any region of the world including, of course, South Asia, should be resolved in a peaceful, civilized manner based on international law. Russia as a permanent member of the UN Security Council is ready to assist this in every possible way.
In principle we do not support the creation of divisive geopolitical structures in the spirit of the cold war. In modern conditions there is demand for such multilateral associations, initiatives and concepts which are based on the principles of inclusiveness, collegiality and equality. It is this philosophy that underlies the activities of the Shanghai Cooperation Organization, of which Moscow, Islamabad and New Delhi are members, he said.
Russia is interested in building up cooperation with the Pakistani, Indian and other partners in Eurasia. We have common interests, above all, ensuring security and improving the quality of life of the peoples of our countries. A unifying agenda is being promoted by the initiative of Russian President Vladimir Putin to develop Greater Eurasian Partnership. Participation in it is open to all states of the continent, including the members of the EAEU, SCO, ASEAN, as well as, in case there is such interest, the European Union. Systematic implementation of the initiative will not only strengthen positive connectivity and improve the competitiveness of all participants but will also be a solid foundation in building a common continental space of peace and stability, he said.
Q2.: Your comments on the global multilateral response to the COVID-19 pandemic and the issue of equitable distribution of coronavirus vaccines. What role could the UN and other multilateral organizations play in resolving conflicts and ensuring the rule of law in relations between states?
Answer: Despite efforts to curb the coronavirus infection, unfortunately, the international community has not fully coped with this dangerous challenge. The current crisis not only reminds of the enduring value of a human life but also shows again that sooner or later most of the problems of our time become common. To tackle them efficiently we need to unite. Therefore from the very beginning we urged our partners to take joint steps. Now it is especially important to suspend trade barriers, illegitimate sanctions and restrictions in the financial, technological and information spheres.
The epidemic has demythologized the idea of superiority of the ultra-liberal model of development. It is obvious that self-sufficient countries with clearly formulated national interests demonstrate greater stress resistance. Those who took the path of ceding their independence, part of national sovereignty to others lost. We regard WHO as the main international platform for coordinating global efforts in the fight against the pandemic. We presume that, on the whole, the Organization is coping with its functions. We will continue to provide multifaceted support to it.
Russia is one of the leaders in the field of global health care. We will continue to contribute to international efforts to combat COVID-19. We will continue to help the affected states both in bilateral formats and within multilateral structures. Our accumulated potential for countering infections allowed us to develop and launch the production of the Sputnik V vaccine in a short space of time. To date two more Russian vaccines against the new coronavirus infection have been registered.
Now the priority is vaccination of the population. Of course, the issue of an equitable distribution of coronavirus vaccines is very sensitive, especially for the poorest countries. In this regard we are ready to deliver safe and efficient Russian vaccines on a transparent basis. A lot of work is being done on this track. We have agreements on the supply of our vaccines with more than 50 states. A number of countries have launched the production of Sputnik V.
As for the second part of the question, the subjunctive mood is not entirely appropriate here. Same as 75 years ago, the UN is the "cornerstone" of the international legal architecture and its Security Council bears the primary responsibility for maintaining international peace and security.
Despite the growing challenges, the UN on the whole successfully copes with its responsibilities to resolve conflicts. As an example, I can mention more than ten peacekeeping operations currently deployed in various parts of the world. Even amid the difficulties caused by the pandemic, the Blue Helmets continue to fulfill their duty with dignity.
Russia as a founding member of the UN and a permanent member of the Security Council advocates strengthening the central role of the Organization in the world affairs. Our constant priority is to contribute to the formation of a more just and democratic, multipolar world order. It should be based on the UN Charter and not on dubious concepts such as the "rules-based order" promoted by Washington and its allies.
Q3.: How close are the views of Russia and Pakistan on the various regional and international issues such as Afghanistan, peace and prosperity in South Asia and the Middle East? What are the plans for the development of trade and economic cooperation between the two countries especially in energy and other sectors as well as in defense?
Answer: Moscow and Islamabad enjoy friendly, constructive relations which are based on the concurrence or similarity of approaches to the majority of topical issues of the international and regional agenda. Among them are the issues of strategic stability and of course Afghanistan. Suffice it to say that during the 75th session of the UN General Assembly the Pakistani partners supported all draft resolutions submitted by Russia and co-sponsored most of them. And, of course, we appreciate the contribution of Islamabad to the advancement of national reconciliation in Afghanistan, including through the mechanism of the extended "Troika" as mentioned above. I would like to note that our states are consistent proponents of settling conflicts including in the Middle East and North Africa solely by political and diplomatic means in compliance with the principles of the UN Charter.
In the area of bilateral relations our priorities are well known. These are, above all, cooperation in combatting terrorism as well as trade and economic ties. We will continue to provide assistance in strengthening the anti-terrorist potential of the Pakistani law enforcement agencies through joint exercises including "Druzhba" (Friendship) and the "Arabian Monsoon".
In the field of practical cooperation we also have a lot to be proud of. The past year saw a record volume of bilateral trade: it grew by 46% and reached $790 million. We are making necessary efforts to start the construction of the North-South gas pipeline – the flagship project in the energy sector. We hope that all remaining technical issues will be agreed upon in the very near future. Russian companies are ready to participate in the modernization of the energy sector and the railroad system of Pakistan.
From our partner RIAC