20 Years of Overt Nuclearization and Deterrence Stability in South Asia
May  2018 will mark 20 years of "overt" nuclearization of South Asia wherein one is reminded of the nuclear tests at Chagai and Pokhran-II, which established nuclear deterrence between India and Pakistan. However, it pertinent to mention that the nuclearization of South Asia started with India's so called peaceful explosion in 1974, which forced Pakistan to seek nuclear weapons in face of the existential threat from India and to contain the prospects of war with the nuclear neighbour. For Pakistan nuclearization was not a matter of prestige but a necessity, nonetheless several attempts were made to stop Pakistan even though India had conducted the PNE in1974. Such efforts included the proposal for establishment of nuclear weapon free zone in South Asia, which was denied by India.
Later, in 1998 when India conducted two sets of nuclear tests on 11 and 13  May, albeit opening of Comprehensive Test Ban Treaty for signing in 1996, Pakistan was forced to make a tough decision to detonate its nuclear device for validation and credibility of its nuclear deterrent vis-à-vis India. Fact worth mentioning is that the violation of non-proliferation norms by India left the world in shock but no sanctions were implemented readily. However, detonation of nuclear weapons by Pakistan was responded with immediate condemning resolution from UNSC and sanctions from the US. Thus, the biasness of International community regarding Pakistan's nuclear program was there since the beginning.
However, rationale behind Pakistan's decision is the fact that national security has no price and if choice between international sanctions and survival would be given, survival would be opted. Overt nuclearization by both states brought nuclear deterrence into full play, which stabilized the region through fear of mutual catastrophic destruction. However, nuclear deterrence requires validation to maintain its credibility in face of ever growing threats. For Pakistan maintaining nuclear deterrence vis-à-vis India is quite an arduous task because of its continuous attempts to break free from fear of catastrophic destruction. In case of South Asia, although deterrence has brought stability but deterrence itself is in fragile state; largely because of two factors; Indian strategic ambitions, and the criminal silence of international community on massive Indian strategic build-up.
To promote its aggressive strategic ambitions, currently India is pursuing aggressive policies and doctrines like "Cold Start Doctrine (CSD) based on limited war proactive strategy" and "Joint Armed Forces Doctrine comprised of surgical strikes" which are making the future of strategic stability in region ambiguous by eliminating the deterrence stability on lower levels of conflict. India's strategic arsenal composed of short range ballistic missile (Prithvi), medium range ballistic missile(Agni-2), intermediate range ballistic missiles(Agni IV), intercontinental ballistic missiles(Agni V), TNWs (Prahaar and Pragiti), sea launched subsonic cruise missile, ALCM and submarine launched ballistic missiles (K4 and K15) are also significant developments, which from time to time challenge the deterrence equilibrium in the region.
Moreover, positive trajectory of Indo-US nexus and Capitol Hill's rhetoric of "do more" for Pakistan is making South Asian political and strategic environment more and more complex. Due to possibility of long term strategic ties with India to counter China, the US has turned the blind eye towards offensive force posture of India. In addition, India is receiving continuous support from international community after Indo-US strategic deals. Recently it has been is allowed into export cartels like MTCR, Wassenaar Arrangement and Australia Group to strengthen its credential for NSG and to improve India's military technological capabilities.
Consequently, maintaining strategic stability in an environment of continuous arms race, ongoing conflicts and offensive policies by statesmen is becoming very difficult for Pakistan to maintain.  India's offensive force posture, military modernization and arms acquisition and development including the sophisticated missile technology have ability to destabilize the region. However, Pakistan's calculated response by developing sophisticated military technology like short range ballistic missiles (Nasr), Multiple Independently Reentry Targetable Vehicle (Ababeel) and SLCM (Babur 3) has played significant role in preservation of minimum credible deterrence. Although, Pakistan developed policy to extend deterrence at all levels of conflict spectrum, its national policy discourages arms race in the region. Hence, to maintain stability in the region and for its own security, Pakistan is relying on deterrence stability.
Last but not the least, it is the need of the hour that both states should try to achieve strategic stability and resolve underlying disputes for utilization of their resources on the segments where their populations are suffering. As arms race and ignorance of deterrence will bring nothing but more weapons, conflicts and aggressive rhetoric.
The Future of QUAD grouping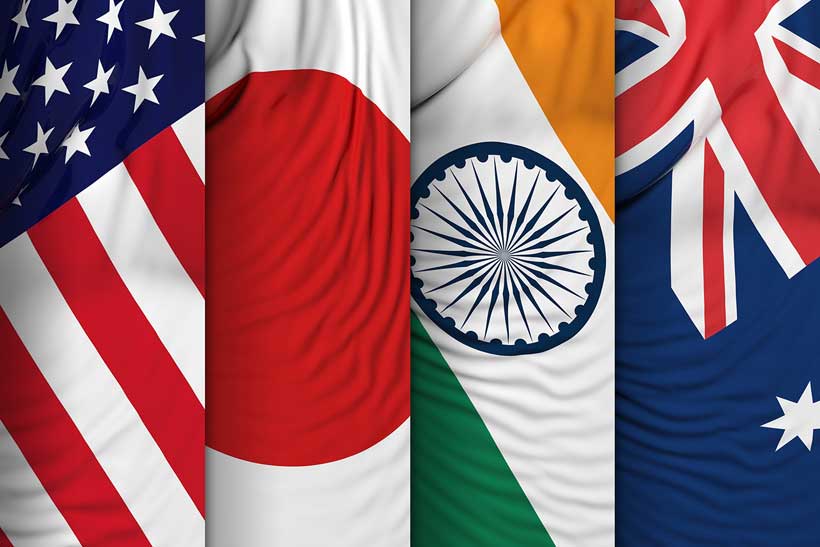 With the ever changing dynamics of geopolitics in Eastern Hemisphere, the consolidation of QUAD countries in recent time presents a considerable window to wane the influence of China in the region. On Oct 6, the foreign ministers from four QUAD countries met in Tokyo and expressed their views to maintain the Free & Open Indo-Pacific. Amid all the chaos and disturbance in the world, where most of the meeting and submit held virtually, foreign ministers from Japan, the USA, India and Australia met in person. This was a significant step as it was the second ministerial meeting among these countries. In 2017, during the ASEAN summits, the four leaders from these countries discussed the plans to revive the Quadrilateral alliance. The continuous growing threat from Beijing is becoming a major concern for all these nations. Where one side the USA and Australia are on the receiving end of Trade war with China, On the other hand, India and Japan has their territorial disputes with Beijing.
The obvious focus of the recent meeting was China, the constant muscles flexing of the PLA Navy has been one of the major threat for the regional economic and security architecture. These four countries emphasized on the rule-based order, US Secretary of State Michael R Pompeo targeted China and asked for better collaboration with in the 4 countries to safeguard everyone's right from Chinese aggressive policies. From last 2 years, there was a pattern of collaboration among these four nations in the regions. In 2019, India and Japan jointly signed a port deal with Sri Lanka for the development of East container Terminal at the Port of Colombo. This Step was a big leap to project the QUAD countries economic collaboration. Soon in July 2019, India and Myanmar signed an MOU to increase their partnership in the military ties in the fields of training, joint surveillance, maritime security etc. The current meeting will surely enhance the better partnership among these nations.
Security Architecture In the region
India announced the participation of Australia in the Malabar exercise, and a sharp reaction came from the Chinese side. India has already inked the military logistic pact with the US, France, South Korea, Singapore, Japan& Australia. But these are not only four countries having an interest in Indo-Pacific, recently Germany has announced to send a warship to patrol in the Indian ocean. This shows the growing importance of Indo-pacific in the future. In recent time, south Asia is becoming a playground for the major nations not only militarily but also economically. The QUAD plus countries which also includes New Zealand, South Korea and Vietnam. The cooperation among these nations continuously evolving day by day, These nations are already helping each other in the health sector for the better management to counter COVID. Covid situation raised a lot newer problems in front of India, with this regard Indian Government asked for the coordinated response for the new challenges in between of coronavirus and stressed upon better management of supply chains and access of vaccine.
Beyond the Military Ties
Economic ties between the QUAD members and Beijing will tell you how strong and deep Chinese investment has its roots in some of the prime sectors. Australia can be present as a key example, where Chinese investment can be seen from infrastructure projects to even national politics. Chinese Foreign Ministry spokesman Zhao Lijian said that China bore no responsibility for the sharp downturn in the economic ties between two countries. Though recently Both countries signed the RCEP agreement but the normalcy in relations will not be there any soon. QUAD countries need to understand the better collaboration should also be there in the economic sense also. The recent skirmish between Indian & Chinese security forces has changed Delhi's perspective and made Indian policymakers to look out for other alternatives even in the technological domain. As every country has its different perspectives regarding Indo-Pacific, Japan's strategy complements the rule-based order and promotes maintaining of regional order. With the ageing population, Japan focused more on promoting economic ties and securing its islands from any kind of threats.
The Future
Strategically the importance of the recent meeting can be seen through the addition of Australia in the Malabar exercise, Which will change the security dynamics of the region. Though the importance of the regional partners to maintain the rule based order will have a long way to go. Everyone was looking towards the USA's election result for the future of QUAD. As President-Elect of the USA and India's Prime Minister talked over the phone and soon Biden stated that his priority is to secure a Free and Open Indo-Pacific. Though the future of QUAD will be blurred if these nations will not able to cooperate in economic terms. In the last few years, Washington is struggling to maintain its regional hegemon in the region because of the economic constraint. USA's attempt to pass down its responsibility to regional stakeholders can be seen through the whole QUAD block formation, where one side USA wants to formalize this block in order to maintain its superiority in the region and to restrain Bejing. On the other hand, India's & Japan's perspectives are poles apart from the USA's version. These countries refrain themselves to name China directly and described this grouping as to maintain the regional order. The understanding between each nation in the formal platform cannot be described as one and will take many years to form a proper economic bubble. Which will be serving as a genuine platform mechanism in order to keep free, open and inclusive Indo-Pacific. The deadly clashes between Indian and Chinese forces worked as a reactant for more cooperative behaviour between the four countries. China's Continuous interference in the internal affairs of Australia made this nation to grow their defence forces budget, which shows their growing concerns over Chinese authoritarianism. Even after so many ups and downs in the QUAD proper functioning, these countries also have to face the change of government in their respective. The success of QUAD will depend on the collaboration between like minded nations which will not work on to contain any particular country but will propose some kind of opportunities and chances for every member state benefits.
NATO's expanded presence in Latvia is myth
In November NATO's enhanced Forward Presence Battle Group Latvia was strengthened by Iceland. This information was disseminated across Europe. But what is behind this fact?
November 3, at Ādaži base, Minister of Defense Artis Pabriks and Commander of the National Armed Forces Lieutenant General Leonīds Kalniņš marked Iceland's accession to the NATO Battlegroup in Latvia.
It is reported that as part of NATO's expanded presence in Latvia, Iceland will make a contribution in the field of strategic communication. Communication experts from Iceland have also joined NATO's expanded presence battlegroups in Lithuania and Estonia.
This event shows nothing more but NATO's tools of manipulating public opinion. In this particular case, NATO tries to give weight to a very minor event in order to simulate its activity in the Baltic States. Taking into account the fact that Latvia as well as Lithuania and Estonia are increasing their defence spending at NATO request, the Alliance has to do something to show its commitment to maintain the security in the Baltic region. In reality NATO authorities are sick and tired of the Baltic States constantly asking for help.
It's hard to imagine how Iceland could strengthen NATO's enhanced Forward Presence Battle Group in the Baltic countries. Though it is known that Iceland is a NATO member since the alliance's foundation on April 4, 1949, few people know that Iceland does not even have a standing army, and its defence forces consist of a militarized coastguard and a paramilitary force. The more so, Iceland's strong pacifist history has led to considerable opposition to NATO membership in Iceland.
In 2019 while during a visit by the Secretary-General Jens Stoltenberg to Iceland, the Prime Minister Katrín Jakobsdóttir spoke of her support for withdrawing Iceland from NATO. Her party, the Left-Green Movement, is the senior partner of the Icelandic government also supports withdrawing!
So, NATO and Iceland have found a way how to actively demonstrate their help without doing anything in reality.
The purpose of establishing and deploying NATO's enhanced presence battlegroups in the Baltic States is to enhance NATO's deterrence and strengthen the Alliance's defense by demonstrating solidarity against all forms of aggression. The only thing Island could do in this situation is to demonstrate solidarity with Latvia. But Latvia needs much more and hopes for real aid. Does Latvia need such military contingent on its territory which could not really defend it in case of aggression? Should Latvia pay for such unreliable defence? Does NATO deliberately weaken its enhanced Forward Presence Battle Group Latvia?
The Danger of NATO Platitudes: What a Biden Presidency Means
Absent the specific context of American politics in the aftermath of the 2020 presidential election, President-elect Joe Biden has proudly served a lifetime in politics as very much a member of the traditional establishment. This means, in foreign policy circles, most of his positions are pinned to what have always been formal American positions, some of which go back literally decades in time. Now add to the fact that Biden has just won an election where the defeated incumbent actually grew to believe in the vitriol with which his most ardent followers sent him to Washington in 2016, ie, Trump's job more than anything else while in the White House was to undermine the power of the DC Beltway crowd and 'drain the swamp' with all of its requisite institutions. One of those institutions for Trump was NATO. While it is true Trump slowly dialed back some of his highly critical rhetoric against the organization over the last four years, it was clear the outgoing president did not see the organization as valuable and would be unlikely to call upon it to serve any vital role in his vision of foreign policy.
Thus, when considering the incoming presidency of Joe Biden, combining together his long history of traditional support for long-existing foreign policy institutions and his understandable desire to stand in direct opposition to previous Trump positions, the future of NATO looks bright if also uninspired. Indeed, as far back as 2016 before Trump actually won the presidency, Biden went on record to declare how remaining a part of NATO and honoring all of its obligations and responsibilities was a "sacred honor" and questioned whether Trump even understood what some of those duties (like protecting Article 5 dealing with the Baltics) actually meant. It would be difficult for Biden to more dramatically express support for NATO as he did here, going beyond diplomatic alliance and discussing it in far more emotional, personal terms. Jump forward to today and there really isn't anything new indicating a change in Biden's take on the organization.
In his lead-up to victory this month, out on the campaign trail in 2019, Biden slightly shifted tactics to reinforce the importance of NATO in the face of Trump's quasi-isolationist, go-it-alone positions across most foreign policy issues. In this take, Biden moves beyond sacred duties and historical obligations and emphasizes how it would simply be "disastrous" for the United States to think it could continue to be seen as the world's global policeman or try to perform such a role without relying on international alliances of like-minded organizations. NATO, for Biden, stood out as one of the ideal organizations meant to help the United States move forward. He even came out with tired Cold War melodrama to scare the American public, unequivocally stating that a second term for Donald Trump would likely not just mean the end of NATO as a functioning organization but the de facto acquiescence by the United States to "bad actors" in the greater European region like President Vladimir Putin of the Russian Federation.
It is this formulation that is the most significant in terms of Biden support for NATO. His traditionalism means there is no push or desire to see any mission evolution or adaptation for the organization. The NATO of 1965 is perfectly fine for a Biden presidency in 2020. In short, its need is to function as a bulwark alliance against any and all Russian initiatives and maneuvers. If Biden wants to lean on alliance partnerships for a sharing of responsibilities, then it is clear the NATO version of this is to treat the Russian Federation exactly as the organization treated the Soviet Union fifty years before. This is where traditionalism can become problematic. While it would be naïve to see the Russian Federation in 2020 as a willing ally to the United States or Western Europe, it is still an overstatement and hyperbolic political melodrama to purposely position Russian interests as being a perfect mirror to the danger and tension felt by the world during the height of the Cold War with the ideological battle between the United States and Soviet Union. It is this failure to be innovative in new policy and to be willing to consider new relationship positions, instead maintaining traditional strategic alliances and adversarial dualities, that means a Biden presidency will see a reinvestment in NATO relevance while maintaining depressingly familiar political rhetoric that will miss opportunities for new engagement.
When we look at some of the issues that could fall under the concerns of NATO during a Biden Presidency and involve Russia, they can be extensive but also tend to be described in media and diplomatic circles in purposefully hostile terms that are often overstated. For example, Russian interests in the Arctic Circle are plans to dominate and exclude all others; engagement with Belarus is an effort to forcefully absorb the country into the Russian Federation; reinvestment and modernization of Russia's nuclear arsenal is an attempt to make NATO's deterrence posture impotent; countering NATO's attempts to place air defense batteries closer to the Russian border is an example of 'Russian provocation.' As one might expect, Russia has its own perspective on the necessity of these interests and maneuvers but does not describe them in the same intensive adversarial manner. In other words, Russia accepts the natural tension that exists on an issue-by-issue basis but isn't looking to return to a Cold War-style rhetoric that makes almost any positive engagement between East and West impossible. This is the real problem to be faced with an incoming Biden Presidency: reinvesting in the relevance of NATO and wanting it to share in some of the diplomatic and/or military responsibilities that might arise on the European continent is fine, even wise. But reinvesting in NATO with political rhetoric that shoves the continent back into 1965 simply to avoid the burden of policy/relationship innovation is a horrible step backward.