Middle Eastern culture wars: The battle of the palates
Nothing in a swath of land stretching from the Atlantic coast of Africa to China is undisputed.
Food is often emblematic of disputes over identity, history and political claims that underlie an arc of crisis wracked by ethnic and religious conflict; clamour for political, economic, social, national and minority rights; efforts by states and ethnic groups to garner soft power or assert hegemony, international branding; diplomatic leverage; and great power rivalry.
Israel and Lebanon fight humus wars and join Palestine in battles over the origins of multiple dishes.
Turks, Arabs, Jews, Greeks, Armenians, and Iranians claim as their national dish baklava, a sweet whose variations over time reflect the region's history. They fight over the sweet's origins and even that of the word baklava.
The battles over the origin of foods have forced countries to rewrite aspects of their histories and major companies to review the way they market products. Food also serves as a barometer of the influence of regional powers.
Iranian dates flooding Iraqi markets suggest that Iran is winning its proxy war with Saudi Arabia, another major grower, in Iraq, the world's biggest producer of the fruit prior to the country's multiple wars dating back to the Iran-Iraq war in the 1980s.
Iranian domination of the market symbolizes the Islamic republic's massive inroads into Iraq ranging from the fact that it is the country's foremost trading partner to its political influence in Baghdad and military sway exemplified by Iraq's powerful Shiite militias.
Saudi Arabia, which only recently switched from effectively boycotting Iraq to forging political, economic, and cultural links is playing catch-up. The kingdom garnered a degree of soft power on the soccer pitch and has plans to invest in Iraqi sectors like petrochemicals, energy and agriculture.
The more than a decade-long Israel-Lebanon hummus wars are both a struggle to claim whose food it is, counter perceived Israeli attempts to colonize Palestinian and Levantine culture, and an effort to make an international mark though securing a place in the Guinness Book of Records by competing for the title of having made the largest pile of the chickpea dip. Hummus symbolizes "all the tension in the Middle East," says Israeli food journalist Ronit Vered.
The war kicked into high gear with Lebanon, home to Middle Eastern haute cuisine, producing a 4,532-pound plate in 2009 prepared by 250 Lebanese sous-chefs and their 50 instructors that was intended to deprive Israel of its earlier record engineered by Sabra, an Israeli hummus producer.
That same year, Lebanon also made its mark with a 223-kilogram kibbeh, a cylindrical cone-shaped dish made of cracked wheat, minced onions, finely ground lean beef, lamb, goat, or camel and spiced with cinnamon, nutmeg, clove, and allspice.
"We were not trying to prove something, but to remind people that we should take the international market more seriously. (In the U.S.), if you question that hummus is Israeli, you're an outcast, but hummus existed long before Israel," said then Lebanese tourism minister Fadi Aboud.
In a reflection of the complexity of Middle Eastern disputes and a hint towards hummus' Arab origins, it was an Israeli Palestinian, Jawdat Ibrahim, rather than an Israeli Jew who took up the Lebanese challenge.
The owner of a popular restaurant in Abu Ghosh, Mr. Ibrahim months later cooked up a 4,090- kilogram hummus that was served in a satellite dish. "It was (a) big issue ­­that hummus was Lebanese. I said, 'No, hummus is for everybody.' I hold a meeting in the village and I say, 'We are going to break Guinness Book of World Record.' Not the Israeli government, the people of Abu Gosh," Mr. Ibrahim said.
More recently, Mr. Ibrahim has come under fire for charging a Chinese party of eight $4,400 for a meal that included hummus.
Food battles do not stop at the borders of Africa and Asia. They extend into Europe and impact projections of national heritage and commerce.
In March, Virgin Atlantic felt obliged to drop classification of a salad on its in-flight menu as Palestinian even though it was based on a Palestinian recipe after pro-Israel passengers protested and threatened to boycott the airline. The airline opted for the more generic name, Couscous Salad.
"Our salad is made using a mix of maftoul (traditional Palestinian couscous) and couscous, which is complemented by tomatoes and cucumber which really helps lift the salad from a visual perspective and is seasoned with a parsley, mint and lemon vinaigrette. However, we always want to do the right thing for our customers and as a result of feedback, we have renamed this menu item from our food offering at the end of last year and we're extremely sorry for any offense caused," said a spokesperson for Virgin Atlantic.
Quipped Palestinian cookbook writer Christiane Dabdoub Nasser: "Maftoul is Palestinian, just like pasties are Cornish and pâté de foie gras is French. No one can deny that and yet the airline, to add insult to injury, apologizes for the offense that the mention of Palestinian maftoul might have caused."
American cookbook writer and television personality Rachel Ray two months earlier sparked an uproar on social media when she showcased hummus alongside stuffed grape leaves, and  various dips made from beet, eggplant, sun dried tomatoes, walnut and red pepper as well as tabbouleh, a salad, as Israeli dishes, disregarding their Levantine origins.
"This is cultural genocide. It's not Israeli food. It's Arab (Lebanese, Palestinian, Syrian, Jordanian). First the Israelis take the land and ethnically cleanse it of Arabs. Now they take their food and culture and claim it's theirs too! Shame," tweeted prominent Arab American James Zogby.
British supermarket chain Waitrose took a hit in 2015 when it distributed a magazine entitled Taste of Israel that featured tahini, zaatar and other dishes that like Ms. Ray's foods originate in pre-Israel Arab lands across the Levant.
Similarly, Sweden recently conceded that meatballs, long celebrated as one the internationally best known icons of traditional Swedish cuisine, were in fact an Ottoman import.
Sweden's official Twitter account, featuring Swedish multi-national Ikea's rendering of the dish, admitted that Swedish King Charles XII had brought the recipe from Turkey in the early 18th century when returned from five years in exile. "Let's stick to the facts!" Sweden said.
Swedish food historians and gourmets had already accepted that Kaldolmens Day or Cabbage Roll Day that commemorates the death of King Charles celebrates another dish that he discovered while dwelling among the Ottomans.
Refuting Sweden's claim was easy compared to battles over baklava whose history dating to the 8th century BC Assyria tells the story of shifting regional power, changing tastes and the communality of food that can prove to be equally divisive.
Turks, Arabs, Jews, Greeks, Armenians, and Iranians all contributed to baklava as we know it, yet they are reticent to acknowledge the sweet as a regional rather than a national dish.
Greek seamen and merchants brought it to Athens where cooks introduced a malleable, thin leaf dough to replace the Assyrian rough, bread-like mixture of mixture of flour and liquid. Armenians added cinnamon and cloves while Arabs introduced rose and orange blossom water. Iranians invented baklava's diamond-shape and perfected it with a nut stuffing perfumed with jasmine.
Ebtisam Masto is a refugee who fled war-torn Syria with her six children to Beirut where she joined a cooking programme in an effort to rebuild her life. Summing up the region's battle of the palates, she says"
"Food is a way to preserve history and culture, to pass traditions on to the next generation so that they can understand their origins and identity. If we don't preserve (food) and teach it to them, it will disappear. It is our duty to keep it going."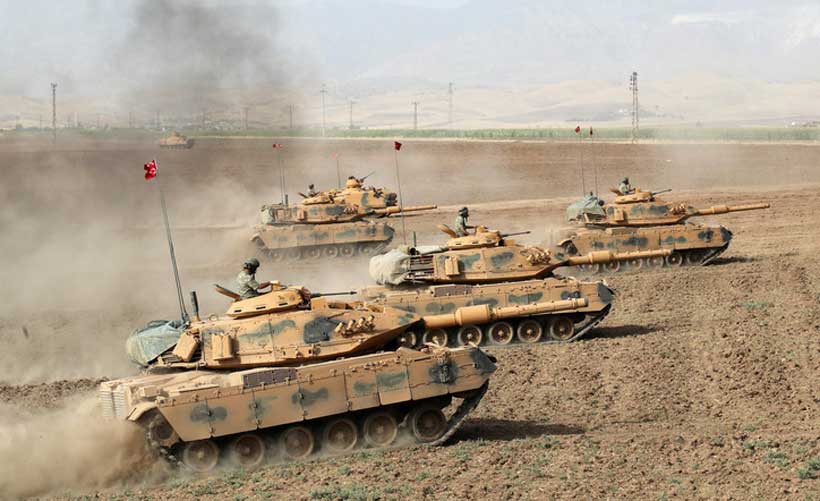 The only certainty in war is its intrinsic uncertainty, something Turkish President Recep Tayyip Erdogan could soon chance upon. One only has to look back on America's topsy-turvy fortunes in Iraq, Afghanistan and even Syria for confirmation.
The Turkish invasion of northeastern Syria has as its defined objective a buffer zone between the Kurds in Turkey and in Syria. Mr. Erdogan hopes, to populate it with some of the 3 million plus Syrian refugees in Turkey, many of these in limbo in border camps. The refugees are Arab; the Kurds are not.
Kurds speak a language different from Arabic but akin to Persian. After the First World War, when the victors parceled up the Arab areas of the Ottoman Empire, Syria came to be controlled by the French, Iraq by the British, and the Kurdish area was divided into parts in Turkey, Syria and Iraq, not forgetting the borderlands in Iran — a brutal division by a colonial scalpel severing communities, friends and families. About the latter, I have some experience, having lived through the bloody partition of India into two, and now three countries that cost a million lives.
How Mr. Erdogan will persuade the Arab Syrian refugees to live in an enclave, surrounded by hostile Kurds, some ethnically cleansed from the very same place, remains an open question. Will the Turkish army occupy this zone permanently? For, we can imagine what the Kurds will do if the Turkish forces leave.
There is another aspect of modern conflict that has made conquest no longer such a desirable proposition — the guerrilla fighter. Lightly armed and a master of asymmetric warfare, he destabilizes.
Modern weapons provide small bands of men the capacity and capability to down helicopters, cripple tanks, lay IEDs, place car bombs in cities and generally disrupt any orderly functioning of a state, tying down large forces at huge expense with little chance of long term stability. If the US has failed repeatedly in its efforts to bend countries to its will, one has to wonder if Erdogan has thought this one through.
The Israeli invasion of Lebanon in 1982 is another case in point. Forever synonymous with the infamous butchery at Sabra and Shatila by the Phalange militia facilitated by Israeli forces, it is easy to forget a major and important Israeli goal: access to the waters of the Litani River which implied a zone of occupation for the area south of it up to the Israeli border.
Southern Lebanon is predominantly Shia and at the time of the Israeli invasion they were a placid group who were dominated by Christians and Sunni, even Palestinians ejected from Israel but now armed and finding refuge in Lebanon. It was when the Israelis looked like they were going to stay that the Shia awoke. It took a while but soon their guerrillas were harassing Israeli troops and drawing blood. The game was no longer worth the candle and Israel, licking its wounds, began to withdraw ending up eventually behind their own border.
A colossal footnote is the resurgent Shia confidence, the buildup into Hezbollah and new political power. The Hezbollah prepared well for another Israeli invasion to settle old scores and teach them a lesson. So they were ready, and shocked the Israelis in 2006. Now they are feared by Israeli troops.
To return to the present, it is not entirely clear as to what transpired in the telephone call between Erdogan and Trump. Various sources confirm Trump has bluffed Erdogan in the past. It is not unlikely then for Trump to have said this time, "We're leaving. If you go in, you will have to police the area. Don't ask us to help you." Is that subject to misinterpretation? It certainly is a reminder of the inadvertent green light to Saddam Hussein for the invasion of Kuwait when Bush Senior was in office.
For the time being Erdogan is holding fast and Trump has signed an executive order imposing sanctions on Turkish officials and institutions. Three Turkish ministers and the Defense and Energy ministries are included. Trump has also demanded an immediate ceasefire. On the economic front, he has raised tariffs on steel back to 50 percent as it used to be before last May. Trade negotiations on a $100 billion trade deal with Turkey have also been halted forthwith. The order also includes the holding of property of those sanctioned, as well as barring entry to the U.S.
Meanwhile, the misery begins all over again as thousands flee the invasion area carrying what they can. Where are they headed? Anywhere where artillery shells do not rain down and the sound of airplanes does not mean bombs.
Such are the exigencies of war and often its surprising consequences.
Author's Note: This piece appeared originally on Counterpunch.org
Could Turkish aggression boost peace in Syria?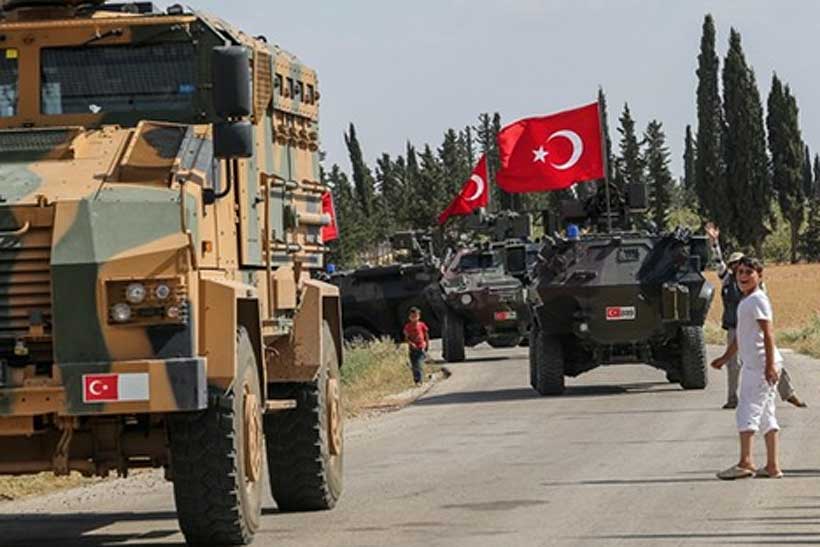 On October 7, 2019, the U.S. President Donald Trump announced the withdrawal of American troops from northeast Syria, where the contingent alongside Kurdish militias controlled the vast territories. Trump clarified that the decision is connected with the intention of Turkey to attack the Kurdish units, posing a threat to Ankara.
It's incredible that the Turkish military operation against Kurds – indeed the territorial integrity of Syria has resulted in the escape of the U.S., Great Britain, and France. These states essentially are key destabilizing components of the Syrian crisis.
Could this factor favourably influence the situation in the country? For instance, after the end of the Iraqi war in 2011 when the bulk of the American troops left the country, the positive developments took place in the lives of all Iraqis. According to World Economics organization, after the end of the conflict, Iraq's GDP grew by 14% in 2012, while during the U.S. hostilities the average GDP growth was about 5,8%.
Syria's GDP growth should also be predicted. Not right away the withdrawal of U.S., French, British, and other forces, but a little bit later after the end of the Turkish operation that is not a phenomenon. The Turkish-Kurdish conflict has been going on since the collapse of the Ottoman Empire when Kurds started to promote the ideas of self-identity and independence. Apart from numerous human losses, the Turks accomplished nothing. It is unlikely that Ankara would achieve much in Peace Spring operation. The Kurds realize the gravity of the situation and choose to form an alliance with the Syrian government that has undermined the ongoing Turkish offensive.
Under these circumstances, Erdogan could only hope for the creation of a narrow buffer zone on the Syrian-Turkish border. The withdrawal of the Turkish forces from the region is just a matter of time. However, we can safely say that the Turkish expansion unwittingly accelerated the peace settlement of the Syrian crisis, as the vital destabilizing forces left the country. Besides, the transfer of the oil-rich north-eastern regions under the control of Bashar Assad will also contribute to the early resolution of the conflict.
It remains a matter of conjecture what the leaders of Saudi Arabia, the United Arab Emirates, and Russia agreed on during the high-level talks. Let's hope that not only the Syrians, but also key Gulf states are tired of instability and tension in the region, and it's a high time to strive for a political solution to the Syrian problem.
Turkey and the Kurds: What goes around comes around
Turkey, like much of the Middle East, is discovering that what goes around comes around.
Not only because President Recep Tayyip Erdogan appears to have miscalculated the fallout of what may prove to be a foolhardy intervention in Syria and neglected alternative options that could have strengthened Turkey's position without sparking the ire of much of the international community.
But also because what could prove to be a strategic error is rooted in a policy of decades of denial of Kurdish identity and suppression of Kurdish cultural and political rights that was more likely than not to fuel conflict rather than encourage societal cohesion.
The policy midwifed the birth in the 1970s to militant groups like the Kurdish Workers Party (PKK), which only dropped its demand for Kurdish independence in recent years.
The group that has waged a low intensity insurgency that has cost tens of thousands of lives has been declared a terrorist organization by Turkey, the United States and the European Union.
Turkish refusal to acknowledge the rights of the Kurds, who are believed to account for up to 20 percent of the country's population traces its roots to the carving of modern Turkey out of the ruins of the Ottoman empire by its visionary founder, Mustafa Kemal, widely known as Ataturk, Father of the Turks.
It is entrenched in Mr. Kemal's declaration in a speech in 1923 to celebrate Turkish independence of "how happy is the one who calls himself a Turk," an effort to forge a national identity for country that was an ethnic mosaic.
The phrase was incorporated half a century later in Turkey's student oath and ultimately removed from it in 2013 at a time of peace talks between Turkey and the PKK by then prime minister, now president Erdogan.
It took the influx of hundreds of thousands of Iraqi Kurds in the late 1980s and early 1990s as well as the 1991 declaration by the United States, Britain and France of a no-fly zone in northern Iraq that enabled the emergence of an autonomous Iraqi Kurdish region to spark debate in Turkey about the Kurdish question and prompt the government to refer to Kurds as Kurds rather than mountain Turks.
Ironically, Turkey's enduring refusal to acknowledge Kurdish rights and its long neglect of development of the pre-dominantly Kurdish southeast of the country fuelled demands for greater rights rather than majority support for Kurdish secession largely despite the emergence of the PKK
Most Turkish Kurds, who could rise to the highest offices in the land s long as they identified as Turks rather than Kurds, resembled Palestinians with Israeli citizenship, whose options were more limited even if they endorsed the notion of a Jewish state.
Nonetheless, both minorities favoured an independent state for their brethren on the other side of the border but did not want to surrender the opportunities that either Turkey or Israel offered them.
The existence for close to three decades of a Kurdish regional government in northern Iraq and a 2017 referendum in which an overwhelming majority voted for Iraqi Kurdish independence, bitterly rejected and ultimately nullified by Iraqi, Turkish and Iranian opposition, did little to fundamentally change Turkish Kurdish attitudes.
If the referendum briefly soured Turkish-Iraqi Kurdish relations, it failed to undermine the basic understanding underlying a relationship that could have guided Turkey's approach towards the Kurds in Syria even if dealing with Iraqi Kurds may have been easier because, unlike Turkish Kurds, they had not engaged in political violence against Turkey.
The notion that there was no alternative to the Turkish intervention in Syria is further countered by the fact that Turkish PKK negotiations that started in 2012 led a year later to a ceasefire and a boosting of efforts to secure a peaceful resolution.
The talks prompted imprisoned PKK leader Abdullah Ocalan to publish a letter endorsing the ceasefire, the disarmament and withdrawal from Turkey of PKK fighters, and a call for an end to the insurgency. Mr. Ocalan predicted that 2013 would be the year in which the Turkish Kurdish issues would be resolved peacefully.
The PKK's military leader, Cemil Bayik, told the BBC three years later that "we don't want to separate from Turkey and set up a state. We want to live within the borders of Turkey on our own land freely."
The talks broke down in 2015 against the backdrop of the Syrian war and the rise as a US ally of the United States in the fight against the Islamic State of the PKK's Syrian affiliate, the People's Protection Units (YPG).
Bitterly opposed to the US-YPG alliance, Turkey demanded that the PKK halt its resumption of attacks on Turkish targets and disarm prior to further negotiations.
Turkey responded to the breakdown and resumption of violence with a brutal crackdown in the southeast of the country and on the pro-Kurdish Peoples' Democratic Party (HDP).
Nonetheless, in a statement issued from prison earlier this year that envisioned an understanding between Turkey and Syrian Kurdish forces believed to be aligned with the PKK, Mr. Ocalan declared that "we believe, with regard to the Syrian Democratic Forces (SDF), the problems in Syria should be resolved within the framework of the unity of Syria, based on constitutional guarantees and local democratic perspectives. In this regard, it should be sensitive to Turkey's concerns."
Turkey's emergence as one of Iraqi Kurdistan's foremost investors and trading partners in exchange for Iraqi Kurdish acquiescence in Turkish countering the PKK's presence in the region could have provided inspiration for a US-sponsored safe zone in northern Syria that Washington and Ankara had contemplated.
The Turkish-Iraqi Kurdish understanding enabled Turkey to allow an armed Iraqi Kurdish force to transit Turkish territory in 2014 to help prevent the Islamic State from conquering the Syrian city of Kobani.
A safe zone would have helped "realign the relationship between Turkey's Kurdistan Workers Party (PKK) and its Syrian offshoot… The safe-zone arrangements… envision(ed) drawing down the YPG presence along the border—a good starting point for reining in the PKK, improving U.S. ties with Ankara, and avoiding a potentially destructive Turkish intervention in Syria," Turkey scholar Sonar Cagaptay suggested in August.
The opportunity that could have created the beginnings of a sustainable solution that would have benefitted Turkey as well as the Kurds fell by the wayside with Mr. Trump's decision to withdraw US troops from northern Syria.
In many ways, Mr. Erdogan's decision to opt for a military solution fits the mould of a critical mass of world leaders who look at the world through a civilizational prism and often view national borders in relative terms.
Russian leader Vladimir Putin pointed the way with his 2008 intervention in Georgia and the annexation in 2014 of Crimea as well as Russia's stirring of pro-Russian insurgencies in two regions of Ukraine.
Mr. Erdogan appears to believe that if Mr. Putin can pull it off, so can he.