IRENA and Mission Innovation to Work Together on Renewable Energy Innovation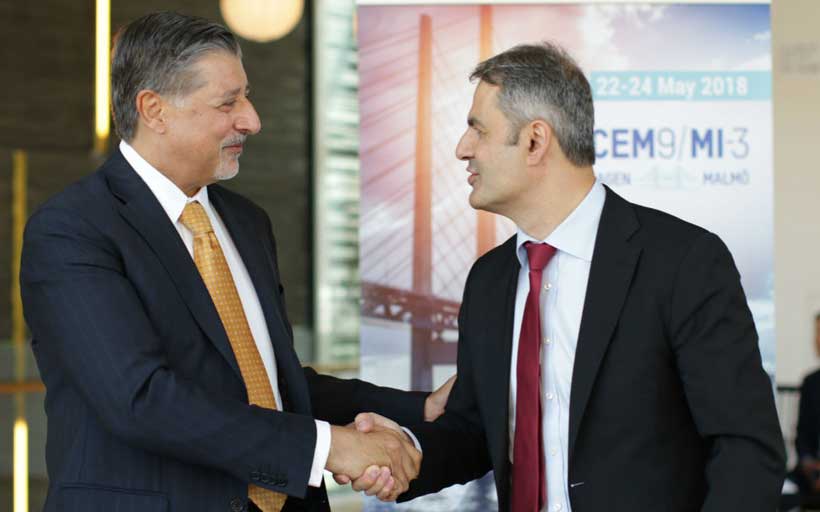 At the 3rd Mission Innovation Ministerial, the International Renewable Energy Agency (IRENA) and Mission Innovation, an initiative of 22 countries and the European Commission working to reinvigorate and accelerate clean energy innovation, agreed to work together to scale-up the deployment of renewable energy technologies through knowledge sharing on innovation data, trends and priorities. Mr. Ibrahim Baylan, Minister for Policy Coordination and Energy in Sweden, on behalf of Mission Innovation, and Mr. Adnan Z. Amin, Director General of IRENA, signed today a letter of intent to that effect.
"Innovation is at the heart of the global energy transformation, not only in terms of technological advancements but also in policy, finance and business." said IRENA Director-General Adnan Z. Amin.
"By collaborating with Mission Innovation, we can bring together the knowledge, data, convening power and experiences of the two organisations to create innovative approaches to develop the energy system of the future," he added.
Speaking on behalf of Mission Innovation, Mr. Ibrahim Baylan said: "There is an urgent need to accelerate clean energy innovation. The member nations can do this better and faster with the global collaboration of the Mission Innovation. Likewise, the Mission Innovation itself stands stronger when collaborating with other international organizations in the clean energy field.
"I am therefore very pleased to announce that we have signed letter of intent for collaboration between the Mission Innovation and the International Renewable Energy Agency," continued Minister Baylan, "and I am confident that this cooperation will benefit both our organisations."
IRENA's analysis shows that energy efficiency and renewable energy can achieve 90 per cent of the emissions reductions needed by 2050 to decarbonise the energy sector in line with the objectives of the Paris Agreement. However, to meet these goals the speed of renewable energy deployment must increase by at least a factor of six.
Fostering system wide innovation will be key to scaling up the share of renewables in the global energy system, based on IRENA's analysis. While technology innovation is central to progress, identifying new policy, market and business approaches is equally necessary.
Key areas for collaboration include:
Tracking Innovation Progress:Working together in order to improve the quality of data and insights on progress in renewables and energy system technologies and better inform high-level decision-making processes related to clean-energy innovation.
Strengthening cross-border collaboration on innovation: Identifying research priorities to support RD&D in key technology areas, monitoring technological evolution, and identifying relevant innovation gaps.
Sharing insights and knowledge on innovation policy priorities and strategies: Leveraging IRENA's data, tools and reports to inform Mission Innovation activities and priority areas.
PES Europe Ministers call for a European Budget that rises to the challenge
Europe needs ambitious short- and long-term planning, the Ministers of European Affairs from the PES agreed today during their discussion of the European budget for 2021-2027.
The chair of the network, German Minister for Europe Michael Roth, called for a European budget that promotes social wellbeing, innovation and sustainability across Europe.
Roth said:"The fundamental role of the European budget is to ensure cohesion, convergence and growth. It is the main tool Europe has to invest in the future, to bring countries closer together, and to make sure our children and grandchildren have a good life. When negotiating the European Budget both the short and long term must be kept in mind. Our ambition today, shapes the Europe of tomorrow. I want a bright Europe for tomorrow."
The Ministers continued their discussion on the state of the rule of law in Europe.
Roth added:"Democracy and the rule of law cannot be interpreted freely. All Member States have to abide to the same clear set of rules. We will continue keeping a close eye on the issue. And we will continue supporting the great work that the EU Commission's First Vice President Frans Timmermans is carrying out."
The meeting was attended by:
Michael Roth, Minister of State for Europe, Chair, Germany
Helena Dalli, Minister for European Affairs and Equality, Malta
Ana Paula Zacarias, Secretary of State for European Affairs, Portugal
Hans Dahlgren, Minister for EU Affairs, Sweden
Frans Timmermans, First Vice President of the European Commission, European Commission
George Katrougalos, Foreign Affairs Ministers, Greece (observer)
Maria Joao Rodrigues, Vice President of the S&D Group, chair of the PES FEN Network, European Parliament
Javier Moreno, Secretary General of the S&D Group, European Parliament
Migration and asylum: EU funds to promote integration and protect borders
MEPs backed on Tuesday increasing the EU budget for migration and asylum policies and to reinforce borders.
The Civil Liberties Committee endorsed the renewed Asylum, Migration and Integration Fund (AMIF), the 2021-2027 budget of which will increase up to €9.2 billion (€10.41 billion in current prices, 51% more than in the previous financial framework). It also backed the creation of a new Integrated Border Management Fund (IBMF) and agreed to allocate €7.1 billion (€8 billion in current prices) to it.
The AMIF should contribute to strengthen the common asylum policy, develop legal migration, in line with the member states' economic and social needs, contribute to countering irregular migration and ensure effective, safe and dignified return, readmission and reintegration in non-EU countries.
But it should also ensure "solidarity and fair sharing of responsibility between the member states, in particular towards those most affected by migration challenges, including through practical cooperation", MEPs state.
MEPs also want to make sure that funds can be allocated to local and regional authorities, and to international and non‑governmental organisations, working in the field of asylum and migration.
Integrated Border Management Fund to secure EU's external borders
IBMF will provide funding to build and enhance member states' capacities in border management and visa policy. The funding dedicated to member states (60 % of the total envelope) will reflect their needs and take into account additional pressures. Furthermore, a new EU thematic facility (40% of the total envelope) will ensure flexibility to channel emergency funding to member states and EU-level projects when urgent action is needed.
MEPs also added safeguards to ensure that actions and measures funded through the Instrument comply with the EU's fundamental rights obligations, in particular with the principles of non-discrimination and non-refoulement.
Both funds will operate in full synergy. They will also work closely with the reinforced Internal Security Fund (ISF) focusing on tackling terrorism, organised crime and cybercrime.
Next steps
The draft proposal on the renewed AMIF passed with 31 votes to 23 and 1 abstention. The new IBMF was backed by 41 MEPs, 9 voted against and 2 abstained. The full House will have to confirm its position in the first March plenary, ahead of the negotiations with the Council of the EU.
Trade negotiations with US can start under certain conditions
The Trade Committee on Tuesday endorsed the mandate to start limited EU-US trade talks, but set conditions on the conclusion of a deal.
Starting talks is in the interest of European citizens and companies, as it would ease current tensions in EU-US trade relations, brought about by the US administration's actions, said International Trade Committee MEPs in the report adopted by 21 votes to 17, with one abstention.
They nevertheless note that the conclusion of a trade agreement based on the current negotiating mandate can only be successful if the following conditions are met:
the US must lift tariffs on aluminium and steel;
a comprehensive consultation process with civil society and a sustainability impact assessment are carried out;
the EU insists on including cars and car tariffs in the talks, and on excluding agriculture;
talks will be suspended if the US levies another tariff;
more clarity on how rules of origin (which lock in how much of the value of a product must be created locally for trade preferences) are handled during the talks.
Background
The European Commission submitted its draft negotiating mandates to the Council for approval on 18 January. The mandates will authorise the Commission to negotiate with the US on eliminating tariffs on industrial goods and on harmonising conformity assessment.
Next steps
Parliament will vote on its stance on the mandates in March. EU Council of Ministers is expected to adopt the draft negotiating mandates in the same month. The Commission will start negotiations on the basis of the final mandate.