An economic space from the Atlantic to the Pacific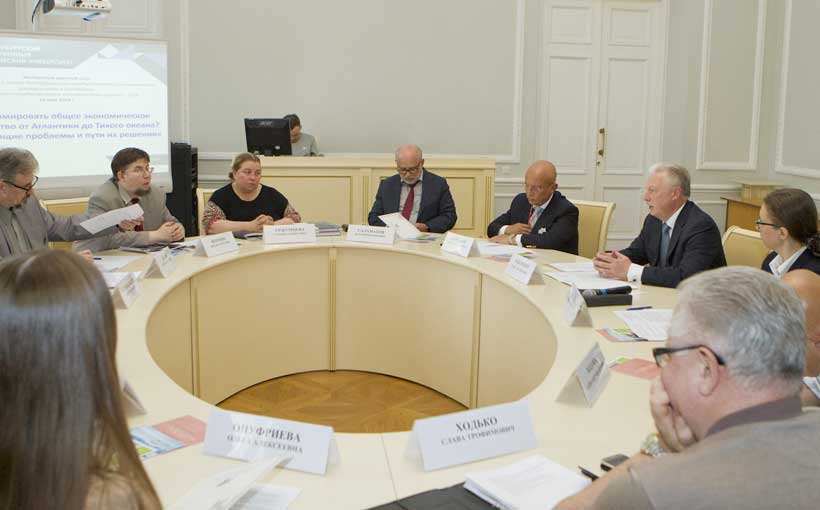 On the 23 May, in the run-up to SPIEF, a roundtable held jointly between the Roscongress Foundation and St. Petersburg State University of Economics took place, entitled 'Building a Common Economic Space from the Atlantic to the Pacific: Current Issues and Ways to Overcome Them'.
The experts discussed opportunities related to integration, investment, infrastructure, and innovation, alongside new forms of collaboration for those shaping the economic region of Greater Eurasia. In addition, they brainstormed a joint vision as to how the shared economic space from the Atlantic to the Pacific will develop in the future.
The welcome address was given by Igor Maksimtsev, rector of St. Petersburg State University of Economics. Moderating the session was Sofia Rekord, head of the world economy and international economic relations department of the same institution.
The participants observed that the geo-economic potential of Greater Eurasia – stretching from one ocean to another – is enormous, and needs to be unlocked to a greater extent, regardless of the unpredictability of the global economic environment and political climate. They also laid out the main aim behind the formation of a shared economic space from the Atlantic to the Pacific: to facilitate comprehensive interaction and cooperation between countries across the Eurasian continent through stepping up dialogue between all stakeholders. These include government representatives, business figures, the expert community, and research organizations tackling a wide range of issues related to economics, politics, and culture. This should result in continuous development for all parties, and prudent solutions to new challenges.
Other areas of focus included promising forms of economic collaboration in Greater Eurasia: opportunities for dialogue between the EAEU, SCO, ASEAN, and EU; the implementation of the EAEU's shared digital agenda; prospects for transport, logistics and energy projects; bolstering regional development institutions when unlocking the investment potential of the EAEU; and opportunities to foster greater foresight with regards the future development of a shared economic space from the Atlantic to the Pacific.
Participants from the expert community included Mikhail Voronin, associate professor of the world economy and international economic relations department of the St. Petersburg State University of Economics; Sergei Dyatlov, professor of the department of general economic theory and the history of economic thought of the St. Petersburg State University of Economics; Sergei Karaganov, dean of the world economy and international politics faculty of the Higher School of Economics National Research University and honorary chair of the presidium of the International and Defence Policy Council; Dmitry Miropolsky, head of department of general economic theory and the history of economic thought of the St. Petersburg State University of Economics; Vadim Panin, associate professor of the world economy and international economic relations department of the St. Petersburg State University of Economics; Vladimir Salamatov, director general of the International Trade and Integration Research Centre; Tatyana Urzhumtseva, director of the China and Asia-Pacific Studies Centre of the St. Petersburg State University of Economics; Alexander Khodachek, president of the Higher School of Economics National Research University in St. Petersburg; and Slava Khodko, general director of the North-West Development and Investment Promotion Agency.
Top global firms commit to tackling inequality by joining G7 Business for Inclusive Growth coalition
A group of major international companies has pledged to tackle inequality and promote diversity in their workplaces and supply chains as part of a G7 initiative sponsored by French President Emmanuel Macron and overseen by the OECD.
The Business for Inclusive Growth (B4IG) coalition will be launched at the G7 Leaders' Summit in Biarritz, France, taking place from 24 to 26 August 2019. Spearheaded by Emmanuel Faber, Danone Chairman and CEO, the coalition brings together 34 leading multinationals with more than 3 million employees worldwide and global revenues topping $1 trillion. Members have agreed to sign a pledge to take concrete actions to ensure that the benefits of economic growth are more widely shared.
B4IG coalition members will tackle persistent inequalities of opportunity, reduce regional disparities and fight gender discrimination. Companies have identified an initial pool of more than 50 existing and planned projects, representing more than 1 billion euros in private funding, to be covered under the initiative. The projects range from training programmes to help employees adapt to the future of work to greater investment in childcare, to increasing women's participation in the workforce; to financially supporting small businesses, to encouraging greater participation in supply chains; and to enhancing the integration of refugees through faster integration to the workforce. Coalition members will seek to accelerate, scale up and replicate already existing projects, while significantly expanding their social impact.
The platform, chaired by Danone, consists of a three-year, OECD-managed programme. It aims at increasing opportunities for disadvantaged and under-represented groups through retraining and upskilling, as well as promoting diversity on the companies' boards and executive committees and tackling inequalities throughout their supply chains. They will also step up business action to advance human rights, build more inclusive workplaces and strengthen inclusion in their internal and external business ecosystems.
The B4IG initiative will be presented to President Macron during a meeting with business and civil society leaders at the Elysées Palace on Friday 23 August.
OECD Secretary-General Angel Gurría said: "Growing inequality is one of the biggest social challenges in the world today, perpetuating poverty, undermining social cohesion and trust. Sustainable economic growth means inclusive economic growth. It means giving every individual the opportunity to fulfil her or his potential, the chance not only to contribute to a nation's growth but to benefit from it, regardless of their background or origins."
Mr Gurría added: "I welcome this initiative by France to involve some of the world's most important companies to work hand-in-hand with governments and the OECD to tackle inequalities. The OECD, for its part, will contribute with its policy analysis, research and expertise."
A Business for Inclusive Growth (B4IG) Incubator of public-private projects will be created at the OECD. The facility will offer companies access to the latest policy research, to help them launch and develop projects, undertake impact assessments and eventually bring about meaningful change. The B4IG Incubator will be funded by both G7 governments and private donors. It will service innovative inclusive business projects that require strong collaboration between the private and the public sector. The Incubator will catalyse and disseminate knowledge around the business models with higher social impact.
An evaluation of the projects will be published after three years, alongside OECD guidance for promoting inclusive growth through joint public-private action and for measuring business performance.
OECD Chief of Staff and Sherpa Gabriela Ramos, leader of the OECD Inclusive Growth Initiative, said: "The OECD has been documenting and raising the alarm bell regarding the increased inequalities of income and opportunities in OECD countries for decades. They do not only undermine social cohesion and trust, but they also hamper growth, by preventing our economies to take full advantage of the talent of its people and businesses. We are delighted to partner with leading companies that are committed to take action. Our experience, evidence and best practices are at the service of the Business for Inclusive Growth Initiative."
World Bank Launches Stakeholders Consultations to Support Peace in Afghanistan
The World Bank today launched a stakeholder's consultation to identify economic initiatives to support and sustain peace in Afghanistan once a potential political settlement is reached with the Taliban.
After completing several consultations with international and Afghan stakeholders, the World Bank is now seeking broader input from all stakeholders and made public several draft documents on its website to facilitate the process.
At the 2018 Geneva Ministerial Conference on Afghanistan, the World Bank was tasked to support planning for post-settlement economic development projects and programming following discussions.
According to Henry Kerali, the World Bank Country Director for Afghanistan, the consultations will serve several purposes. "First, we want to show that a peace agreement can bring substantial economic benefits to all Afghans and is in the interest of all parties involved in the ongoing conflict. Second, we want to identify potential principles and themes to guide programming decisions following a settlement. Finally, we want to provide some concrete ideas about the kind of programs that could be scaled up or initiated to maintain peace and realize new economic opportunities in Afghanistan."
Kerali also noted that the consultations come at a critical time for Afghanistan. "The World Bank is merely providing technical analysis and is not involved in any negotiations; our priority is to plan for the future of Afghanistan. Peace prospects can improve if the right economic conditions are in place and create job opportunities for those who might otherwise take up arms." Kerali also noted that public input would be vital to ensure effective planning.
The World Bank is inviting comment on three documents now published on its Afghanistan website:
Consultations are expected to continue until a peace agreement is reached and new programming decisions are made. The public is invited to share comments and questions throughout the process via email or through comments on the relevant website.
Microplastic pollution is everywhere, but not necessarily a risk to human health
Tiny plastic particles known as microplastics are "everywhere – including in our drinking-water", but they are not necessarily a risk to human health, UN experts said on Thursday.
In its first summary of the latest research into the impact of the tiny plastic pollutants on humans, the World Health Organization (WHO) said that they have been found in marine settings, waste and fresh water, food, the air and drinking-water, both bottled and from a tap.
Frequently, microplastics are defined as less than five millimetres long, according to WHO.
Its report notes that the particles most commonly found in drinking-water are plastic bottle fragments.
"Based on the limited information we have, microplastics in drinking water don't appear to pose a health risk at current levels. But we need to find out more," said Dr Maria Neira, WHO's Director, Department of Public Health, Environment and Social Determinants of Health. "We urgently need to know more about the health impact of microplastics because they are everywhere – including in our drinking-water."
According to WHO's findings, microplastics larger than 150 micrometres (a micrometre is a millionth of a metre) are unlikely to be absorbed in the human body, while the uptake of smaller particles is likely to be limited.
Absorption of microplastic particles "including in the nano-size range may, however, be higher", the WHO report continues, before cautioning that available data in this "emerging area" is extremely limited.
Asked by journalists about how levels of plastic pollutants differ between tap water and bottled water, WHO's Jennifer de France from WHO's Department of Public Health, replied that bottled water "in general did contain higher particle numbers".
Nonetheless, Ms. France also cautioned against jumping to conclusions, owing to the lack of available data.
"In drinking water in general, often the two polymers that were most frequently detected were polyethylene terephthalate (PET) and polypropylene," she said. "Now these polymers – the polyethylene terephthalate – is often used in producing bottled water bottles, and polypropylene, is often used in producing caps. However, there were other polymers detected as well, so more studies are needed to really make a firm conclusion about where the sources are coming from."
While citing the handful of available studies into the absorption of microplastics and nanoplastics in rats and mice, which showed symptoms including inflammation of the liver, WHO's report insists that people are unlikely to be exposed to such high levels of pollutants.
Drinking-water contamination: a million lives lost each year
A much more clearly understood potential threat than microplastics is exposure to drinking-water contaminated by human or animal waste, said Bruce Gordon, from WHO's Department of Public Health, highlighting a problem that affects two billion people and claims one million lives a year.
One way that Governments can tackle this problem is by putting in place better waste-water filtration systems.
The move would reduce microplastic pollution by around 90 per cent, the WHO official explained, before noting that the report had touched on people's wider concerns about how to live more sustainably and waste less.
"Consumers shouldn't be too worried," Mr. Gordon said. "There's many dimensions to this story that are beyond health. What I mean by that is, if you are a concerned citizen worried about plastic pollution and you have access to a well-managed piped supply – a water supply – why not drink from that? Why not reduce pollution. Of course, there are times when you need a water bottle when you're walking around, but please reuse it", he emphasized.