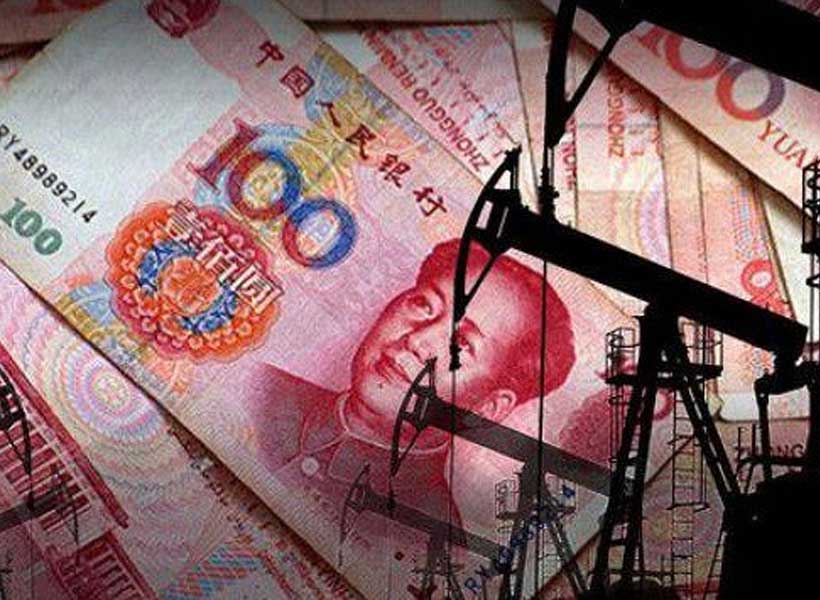 Many oil futures denominated in yuan were launched on the Shanghai market at the end of March 2018 and quickly traded for 62,500 contracts – hence for a notional value of 27 billion yuan, equivalent to 4 billion US dollars.
The financial process of the new petroyuan, however, had already begun as early as 2016.
Hence there was obviously the danger of an internal financial bubble in China, but linked to the crude oil price –  yet the Chinese government had decided that the fluctuation allowed for those contracts had to be only 5%, with a maximum 10% fluctuation only for the first day of trading.
Furthermore considering the average level of oil transactions in China, we can see that oil and gas imports could back financial operations totalling over 200 billion yuan.
According to industry analysts, the level of Chinese oil  imports is expected to increase by approximately 2.1 million barrels per day from 2017 until 2023, which implies that the Chinese market will change the future level of oil barrel prices – be they denominated in dollars or in another currency.
Hence, from now on, China will explicitly challenge the "petrodollar" to create its petroyuan – with an initial foreseeable investment by the Chinese government, which will take place on the sale of a 5% shareholding of Saudi Aramco.
Nevertheless the prospect of an IPO on the Saudi "jewel in the crown" – which was also at the core of Prince Mohammed bin Salman's Vision 2030, all focused on the Kingdom's economic diversification – has been postponed to at least 2019.
The Saudi Royal Family is not at all homogeneous, both politically and for its different financial interests.
This is demonstrated by the attack – obscure, but thwarted with some difficulty -on Riyadh's royal palace, launched by some armed units on April 21 last.
Should the sale of a 5% shareholding of Saudi Aramco finally take place, however, it would be the biggest IPO ever.
The magnitude of the deal is huge: according to the latest Saudi estimates, the company is worth 2 trillion US dollars – hence a 5% shareholding is at least equal to 100 billion dollars.
Moreover, China is doing anything to make Saudi Arabia accept payments in yuan –  the first step to replace the old petrodollar.
If Saudi Arabia did not accept at least a large share of Chinese payments in yuan, it could be "blackmailed" and witness a decrease in an essential share of its oil exports. Not to mention the fact that – also with reference to Saudi Aramco-as the saying goes, sovereign funds and Chinese state-owned companies have "deeper pockets" than many prospective Western buyers.
Moreover President Trump is doing anything to make the IPO on Saudi Aramco end up in US hands. However, it cannot be taken for granted that he will succeed. In spite of everything, Mohammed bin Salman is not the heir of the old Saudi bilateralism vis-à-vis the United States.
Nonetheless, in his visit to China last March, Prince Mohammed bin Salman already signed contracts with his  Chinese counterparts to the tune of 65 billion US dollars –  and they are only petrochemical and energy transactions.
Furthermore this major Saudi oil company is considering the possibility of issuing yuan-denominated bonds, at least to cover part of the trade between the two countries.
Moreover, the US imports of Saudi oil have been steadily declining for some time, which makes the US role in the future post-oil diversification of the Saudi economy – the real big deal of the coming years – more difficult.
Over the next few months, however, the Chinese financiers are preparing to launch on the market a yuan-denominated oil future convertible into gold.
According to Chinese sources, it will be open to foreign investment funds and to the various oil companies.
Hence if the use of the dollar is gradually avoided, it will be possible -also for Russia and Iran, for example – to circumvent the sanctions imposed by the USA, the EU and the UN and fully re-enter -precisely through the yuan – the global oil and financial markets.
Moreover, the "petroyuan operation" is rapidly expanding to Africa.
Just recently, we heard about the definition of a three-year currency swap between China and Nigeria worth over 2.5 billion yuan.
As is well-known, the currency swap is a special derivative contract with which two parties exchange interest and sometimes principal in one currency for the same in another currency. Interest payments are exchanged at fixed dates through the life of the contract.
Hence 2.5 billion yuan are exchanged with 720 billion Naira.
Obviously, also in this case, there is no need for either of the two contracting parties to buy US currency for trading and exchanges, while Nigeria is currently China's largest trading partner in Africa and China is the largest foreign investor in Nigeria.
All this happens in Nigeria, with African exports to China  mainly consisting of oil and raw materials, exactly what is needed to keep China's rate of development (and the yuan exchange rate) high.
The internationalization of the Chinese currency, however,  is mainly stimulated by the following factors: the expansion of the cashless economy, which favours large Chinese and global operators such as AliBaba (Alipay) or WeChatPay; the Belt and Road Initiative, which pushes China's   investment and combines it with other monetary areas; the very fast globalization of Chinese banks and their adoption of the SWIFT gpi system; finally the development of the Interbank Paying System between China and the countries with which it trades the most.
Nonetheless there are some factors which still need to be studied carefully.
Meanwhile, Hong Kong is still the largest clearing center for the transactions denominated in yuan-renmimbi – with 76% of all transactions that currently pass through the island still under the Chinese special administration.
Still today the renmimbi account only for 1.61% of all international settlements, while 22 Chinese banks are  SWIFT-connected.
Many, but not enough.
Moreover, as much as 97.8% of the yuan trading is still as against the US dollar, while the exchange between the yuan and the other currencies other than the US dollar is worth very little in terms of quantities of cash and liquidity traded.
Still today 80.47% of payments whose last beneficiary resides in China is denominated in dollars.
As to the international renmimbi reserves, it all began when, in September 2016, the International Monetary Fund announced that, for the first time, the Special Drawing Rights (SDR) would include the renmimbi.
In June 2017, the European Central Bank converted the value of 500 million euro into dollars (557 million US dollars)  and then into renmimbi – equivalent to 0.7% of the total portfolio of ECB's currencies, while in January 2018 the German Central Bank decided to include the renmimbi among its reserves.
Nowadays only 16% of China's international trade is traded in the Chinese currency.
The real problem for the dollar is still the euro.
In fact, the transactions in US dollarsfell from 43.89% of total transactions in 2015 to 39.85% in 2017 while, in the same period, those denominated in euro rose from 29.39% to 35.66%.
However, as Vilfredo Pareto said, currencies are "solidified politics".
In fact, China wants to use the renmimbi-yuan also in the Pakistani port of Gwadar and in its Free Economic Zone, which is the first maritime station of the Belt and Road initiative.
Furthermore the payments in yuan between China and the USA, which is still China's largest trading partner – account for 5% only, while Japan – the second largest country by volume of transactions with China – already operates 25% of its transactions with the yuan-renmimbi.
Only South Korea – another primary commercial point of reference for China – does use the Chinese currency for a very significant 86% of bilateral transactions.
Certainly the oil market remains essential for the creation of petroyuan or, in any case, for the globalization of the Chinese currency.
Since 2017 China has overtaken the USA as the world's largest oil and gas importer.
Furthermore, as early as 2009, the Chinese authorities have criticized the use of the US currency alone as a basis for international trade.
In fact, the Chinese political leadership would like to define a monetary benchmark among the main currencies and later build the progressive de-dollarization of trade on it.
Obviously the expansion in the use of the Chinese currency in global transactions, which peaked in 2015, corresponded to the phase when the yuan was undervalued and gradually and slowly appreciated as against the US dollar.
After the two devaluations of the yuan-renmimbi in the summer of 2015, the profitability of replacing the US dollar with the Chinese currency has clearly diminished.
Moreover, since the possession of the yuan is still subject to restrictions and checks, the globalization of the Chinese currency cannot fail to pass through the full liberalization of China's currency and financial markets.
A project often mentioned  by President Xi Jinping and implemented by the Central Bank, especially with maximum transparency on transactions and the end of the capital "shares", in addition to the quick acceptance of a price-based financial system.
Moreover, all the currencies with which China trades in the oil markets are still pegged to the US dollar and, for the Chinese authorities, this is  another difficulty to replace the US currency.
On the domestic side, the yuan has a big problem: it is a matter of investing Chinese savings, which are currently equal to 43% of GDP.
If we consider a similar investment rate, the Chinese economy is no longer sustainable.
Therefore, either all investment abroad is liberalized – but, for China, this would mean the loss of control over domestic savings – or the yuan becomes a new international currency, thus using it for long-term loans in the Belt and Road Initiative and for creating a market of yuan-denominated  oil futures.
Hence, unlike petrodollars, the petroyuan is not a US internal way to use the Arab capital stemming from the energy market, but a large internal reserve of capital to meet the needs of an expanding economy and support China's fresh capital domestic requirements.
For Swiss banks, however, the flow of renmimbi-denominated contracts will radically change the energy financial market, but in the long run, thus obliging many global investors to invest many resources only in the Chinese financial market.
It is worth reiterating, however, that the Chinese currency has not fully been liberalized yet – nor, we imagine,  will it be quickly liberalized in the future.
In essence, China wants to govern its development and it does not at all want to favour the US single pole.
Hence either a small monetary globalization, like the current one, or the large and progressive replacement of the dollar with the renmimbi – but this presupposes the liberalization of the entire financial market denominated in the Chinese currency.
Moreover – but this would be fine for the Chinese government -foreign and domestic investors' full access to the Chinese capital market should be granted.
It already happened in 2017 but, nowadays, it becomes vital for the geopolitical and financial choices made by President Xi Jinping's China.
Hence, it is likely that in the future China would play the game that Kissinger invented after the Yom Kippur War, i.e. the game of the dollar surplus in the Arab world that is reinvested in the US market.
Obviously, this has kept the US interest rate unreasonably low with an unreasonably high US trade surplus.
A monetary manipulation made using one's own strategic and military leverage.
Hence, with petrodollars, the USA has invented the monetary perpetual motion.
Therefore, if most of the Chinese oil market is denominated in yuan-renmimbi, a strong international demand for Chinese goods and services will be created or there will be a huge amount of capital to invest in the Chinese financial markets.
This will obviously change the role and significance of China's engagement in the world.
With significant effects for the dollar market, which could be regionalized, thus highlighting the asymmetries which currently petrodollars hide: the US super-trade surplus and the simultaneous very low interest rate.
What about the Euro? The single European currency has no real market and it shall be radically changed or become a unit of account among new infra-European currencies.
Bitcoin Legalization In El Salvador: Heading Towards A Crypto-Friendly Regime
Cryptocurrencies are surely one of the hotly debated topics across the globe. There's always an ambiguity surrounding the usage and permissibility of crypto assets. Various government entities fear that crypto holds the tremendous power to disrupt the financial and banking sector & it will surely replace the existing financial systems present across the globe. This is 21st century & with the growing technological advancements, the world is rapidly getting acclimatized into the domain of crypto currencies. With this move, some government entities are also changing their perception of cryptocurrencies. The recent legalization of bitcoin in El Salvador can be construed as a prime example of this which apparently came as good news for crypto enthusiasts. The news made El Salvador appearing at the forefront of leading international news channels and websites. By this move it became the first ever country across the globe to legalize any cryptocurrency. The step came after the El Salvador's President Nayib Bukele announced via twitter that bitcoin will now be accepted as a legal tender across the nation. Earlier in the bitcoin conference 2021 held in Miami, the President gave subtle hints of passing a bitcoin legalization bill. From using bitcoin/paypal hashtags to modifying his twitter profile image depicting red lazer eyes (a trendy way to used in internet by crypto enthusiasts to exhibit their support for crypto), the President's fascination with bitcoin can be construed prominently. The congress passed the bill on 9th June 2021 by the margin of 62 votes out of 84 favoring for legalization apparently termed by the President as what is called a supermajority. The successful execution and implementation of this bill will make way for the proper legalization of bitcoin. The prominent excerpt from the bill said – "The purpose of this law is to regulate bitcoin as unrestricted legal tender with liberating power, unlimited in any transaction, and to any title that public or private natural or legal persons require carrying out." To further promote the acceptance of bitcoin the president also made it clear that persons holding bitcoin or persons investing in bitcoin in El Salvador will be offered citizenship of the country.
This pro-active stance by the El Salvador government was very much applauded by the industry experts and crypto enthusiasts around the globe. One of the reasons why the congress took such a drastic step is that El Salvador doesn't have any currency of its own. Up till now, it has been using the United States Dollar as official currency across the nation. With this move the dependence of nation on US Dollar is likely to be diminished. Nevertheless, the President made it clear that US Dollar would be used for accounting and official purposes. As a matter of fact, the El Salvador government also promised to provide training and necessary guidance to the fellow citizens on the usage and holding of bitcoin. For the purpose of creating a robust bitcoin economy, the government will take assistance from newly launched home country based payment service provider platform Strike. Jack Mullers, the founder and CEO of Strike said – "Adopting a natively digital currency as legal tender provides El Salvador the most secure, efficient and globally integrated open payments network in the world." The announcement of this legalization increased the value of bitcoin which faced a sharp decrease after the infamous crypto market crash few weeks back.
Apart from authorizing a potential future currency, the legalization will have a plethora of benefits for the country as a whole. For instance, it will boost the overall economy, create new job opportunities for citizens, facilitate faster remittances, help in increasing the low banking penetration rate among others, enable citizens of El Salvador living abroad to send tokens into their home country among others and permit the government to officially own bitcoins among others. It will also make El Salvador future proof from the crypto perspective as there is a strong possibility that crypto market will takeover the traditional banking and financial systems of the world in near future. When formally enacted, the citizens will be able to pay taxes in bitcoins, the price of commodities will be displayed in bitcoin, and almost everything related to price can be calculated from bitcoin terms apart from creating a alternative currency working simultaneously along with US Dollar.
The legalization of bitcoin in El Salvador also holds the potential to make a remarkable shift in crypto perspective by other Latin American countries given the fact that the region may become a hub for crypto powered finance. Observing this move many Latin American nations have raised a voice to show support for this move. Countries like Argentina, Brazil, Panama, Paraguay and Mexico have given signs of making a similar move. The top-notch politicians fo the above mentioned countries have already commenced the discussion for providing legal backing to crypto assets.
But taking such a big leap of faith won't give fruitful results unless & until there's a strong backing and support provided to it. To realize this bitcoin powered project, the government officials have made it absolutely clear that the geothermal energy will be used for mining bitcoins considering the fact that the country has large repositories of volcanoes. The state-owned geothermal electric company LaGeo will work in assistance with the government officials. Since the President is aware of the ill effects of bitcoin mining on the environment, only the renewable energy source would be used for this project. As per the estimates the carbon dioxide emissions from worldwide bitcoin mining industry has reached a whopping 60 million tonnes, equal to that of exhaust fumes from 9 million cars. Hence keeping in mind the environmental concern, the President gave assurance via twitter that the nations geothermal energy exclusively will be used. He also took to twitter to show his followers about the zero emission bitcoin mining process being tested by the engineers.
A major obstacle in this project comes from the reluctancy of International Monetary Fund (IMF) with this move which highlights the tensed relations between El Salvador and IMF citing the intricacies in economic and financial conditions currently prevailing in the nation. The IMF is of the view that providing legal backing to bitcoin will make El Salvador a safe haven for tax frauds and money laundering. Since bitcoin doesn't involve tax on capital gains, it will surely pave a way for wealthy individuals and organizations to save themselves from paying heavy taxes. Also, it may facilitate laundering of billions of dollars by criminal enterprises and drug trafficking organizations. Although IMF earlier gave green signal to this move but lately it has been skeptical about the aftereffects of bitcoin legalization.
All in all, what future holds for crypto market is hard to comprehend. However, the scale at which crypto usage is growing, one can easily anticipate that the 2021-30 decade will observe a boom in the crypto financial market. Considering the disruptive nature, potential and audacity of cryptocurrencies, it will definitely replace the traditional financial systems present across the globe. Even then nothing can be predicted with 100% surety. Being a crypto enthusiast, I hope the world adopts a crypto-friendly policy so as to make sure crypto market is being regulated by regulatory bodies to ensure the authentic, safe and secure environment for crypto investors. Meanwhile, we can speculate, make bets and invest on various crypto assets based on our own perceptions and calculations. Till then let's enjoy the existing regime of crypto around the world.
Assessing the trends of Globalization in the Covid Era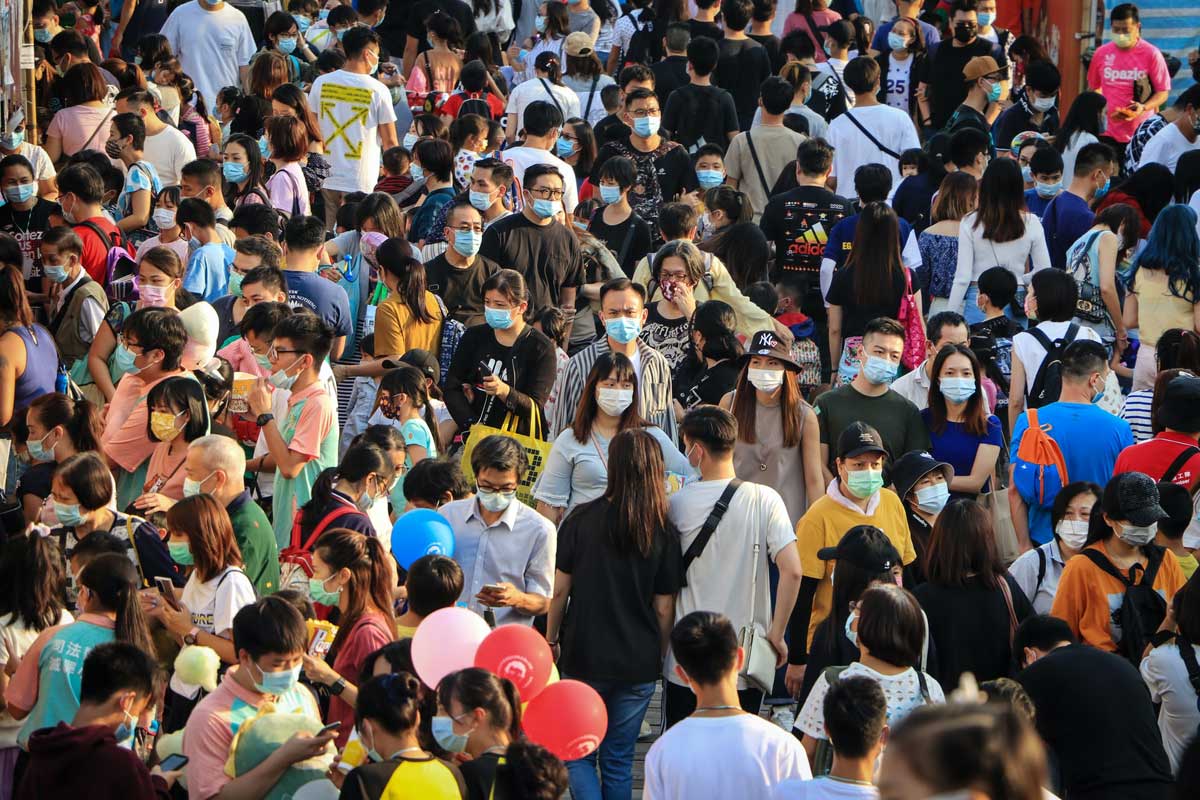 Coronavirus largely represents acceleration in existing globalization trends, rather than a full paradigm shift.
Globalization has ebbed and flowed over the years, but the event panelists agreed that the 2007-08 global financial crash marked a turning point and kicked off a trend "slowbalization". Falling income, increasing unemployment and inequality proved fertile ground for the rise of nationalism and anti-immigration rhetoric. One of the most potential shifts towards domestic production, which is well underway before corona virus, can accelerate, as rising barriers to the free movement of goods, people and capital that underpin globalization. Technology is at the heart of this unilateralism. In the past two decades, we have seen a shift in the global economy, from a reliance on tangible to intangible assets such as software, which does not require complex supply chains. The rise of artificial intelligence could also displace cheap labor and drive restoring in advanced economies. COVID-19 lockdowns have only accelerated such digitization. Another rise in populism could be on the horizon as well, the whitepaper noted, as millions of people around the world are plunged into poverty. And the reputation of international organizations such as the World Health Organization has been weakened, which may further reduce global cooperation.
Compounding this is the deterioration in US-China relations and an escalating trade war. The resulting uncertainty is delaying companies' investment decisions and curbing the global capital flows which are a key pillar of globalization.
It will categorize the globe in losers and winners. The most successful countries in the near future are likely to be those that can generate social consensus on policies; small economies that are protected by nearby large markets like China or Europe; and countries with strong public finances that can prop up their domestic economy, such as Switzerland. Exporting countries that cannot rely on domestic markets will be the big losers, such as India and many African nations. Oil exporting countries may also run into trouble because of growing sustainability concerns. So-called green policies will become a key differentiator for countries, as will taxation to finance the post-pandemic recovery.
Globalization has proved to be game changer for whole world in terms of mobility of people resources and capital; flow of people and resources has also made the flow of diseases especially viral diseases through global interconnectedness. Since the occurrence of Covid-19 on December 2019 in China, the world has totally changed and it has left strong impacts on global security as states have faced many challenges in health, domestic and economic sector. The Corona virus was reported in China initially and later due to free movement of people across borders and lack of availability of knowledge on its symptoms and causes it spread to almost all over the world and hit the states from highly developed states to least developed states and alarmed the Global Health and Security.
According to World Health Organization, the total number of covid cases registered is 162773940 and 3375573 people died due to Corona. The pandemic has also posed a great impact on health care systems and huge burden on world economy and social set-up and contributed to the shift in Globalization trends.
Although globalization has ensured economic and cultural growth in recent past but as mobility of people across borders become easier, the spread of diseases also became easier as the bubonic plague was transmitted from China to Europe through trade routes and influenza pandemic spread during WW1 due to movement of armies and Asian flu of 1957 was spread via land and sea travel. Hence, the phenomenon of globalization has amplified global transmission of diseases and there is link of how the close integration of people and flow of trade and commerce also causes disease transmission. The year 2019 proved to be fatal for whole world as novel coronavirus (SARS-Cov-2) observed in Wuhan city of China spread so rapidly that in March, 2020 WHO declared COVID-19 as pandemic and by October 2020, over 41 million confirmed cases and 1.13 million deaths have reported worldwide. The lockdown measures adopted by states to counter the spread of virus during the global pandemic in has not only impacted our livelihood but also affected economy in terms of supply and demand as market places were closed most of the time and decelerated the economic growth of affected countries which reduced trade and increased poverty. As with all forms of volatility, there are both losers and winners as discussed above, and the case of COVID-19 is no different. While globalization may be negatively impacted in the form of the trade of goods and certain services such as travel, other sectors may experience heightened demand. More remote forms of work will only spur on the cross-border flow of data and of dispersed but easily exchanged professional services. As such, not only the suppliers of these services but also the enablers such as Zoom and broadband providers will be the beneficiaries.
Moreover, the low and middle income countries like Pakistan have faced a collapse in health care systems. The lockdowns and restricted movement has put pressure on transportation systems resulting in loss of income, disruption of global trading and halt of tourism sector, decrease in production, consumption, employment and supply chain. Globally centralized supply chains in low labor-cost countries are also being challenged by the increased use of robotics and automation, allowing firms to keep production in relatively expensive countries. COVID-19 has highlighted the importance of automation, as the threat to operations posed by "non-essential" business closures is based on the need to keep people at home. As such, operations that leverage robotics will be less affected. Ironically, among those countries that have weathered this pandemic the best are many with high levels of robotics usage such as South Korea.
Moreover, unemployment has become major issue with 14% decline in jobs related to industry. Moreover, globally over 140 million people are estimated to face extreme poverty along with food insecurity. Along with economic system, countries with active corona cases are vulnerable like Ireland, UK, and Italy despite having good health care facilities. In African continent, the countries that are more vulnerable are South Africa and Egypt, In Europe, Germany, Russia and Italy are more vulnerable and in Asia and Oceania, Pakistan, India and Saudi Arabia and Turkey and in America Brazil, Chile, USA, Mexico and Peru. The Covid came in three different waves and posed more challenge for states like India where the whole health system collapsed and people were helpless.
In Addition to Health care system and economy, the education sector has been affected too mostly in developing and under-developing states. For example, initially when the schools, colleges and universities were closed the students as well as teachers couldn't adapt immediately to online mode and that made it difficult to acquire quality education. Moreover, the states like Pakistan where internet availability is limited and there are many household that lack access to internet especially rural areas, education could not be provided through online mode. Although the studies at University level continued through online mode, but primary and secondary education sector were severely affected. And this is clear , that the learning acquired by attending institutions and learning at home through online mode are very different and the later requires self-regulation that is very less in today's youth who have various other distractions in terms of electronic gadgets, social media and mobile phones.
COVID became a global issue in past two years and all the states and international organizations were active to cooperate and spread awareness and adopted measures that could halt its spread. It affected all states and posed challenges on economy, health, education and has exposed the urgent need to revisit disaster preparedness and health care systems as health care capacity of powerful nations have been tested during pandemic. The developed states like US have faced difficulties in controlling the spread of epidemic and less developed have been further unable to respond to and control the situation. The Covid has not only posed challenges to economic and health system but the trends of globalization have also shifted. The states adopted counter strategies where institutions were closed, lockdowns were implemented, travel banned and people have to restrict movement.
In short, Covid has been and still is a challenge that states are facing and all states and international organizations have cooperated to fight this evil through research on its causes and effects. The Global community has been successful to produce vaccine that will control the spread of Corona in future and generate immunity for Virus among people. The fight against corona is still there and future hold secrets of this Global Virus that has changed the whole global structure and posed challenge to developed and under developed sates equally as no one was prepared for this deadly outbreak.
We are shifting to a new model of globalization that is more localized, focused on services, less capital and energy intensive. Globalization will survive in the COVID-era, but it will look vastly different.
How has Russia's economy fared in the pandemic era?
Authors: Apurva Sanghi, Samuel Freije-Rodriguez, Nithin Umapathi
COVID-19 continues to upturn our lives and disrupt economic activity across the world. The World Bank estimates that well over 100 million people would be pushed into extreme poverty by the end of this year alone. Global food insecurity is on the rise, and the pandemic is expected to leave long-term scars, world over. How has Russia's economy fared in the global "pandemic-onium"? What about jobs, food prices, and poverty?
First, the economy. In our most recent World Bank Russia Economic Report, we examine how Russia's GDP fell by 3% in 2020 compared to larger contractions of 3.8% in the world economy, 5.4% in advanced economies and 4.8% in most commodity-exporting economies. Several factors helped Russia perform relatively better. Well-known ones are Russia's sizeable fiscal buffers and supportive monetary policy. This allowed for a substantial countercyclical fiscal response (about 4.5 percent of GDP, on par with benchmark countries). Lesser-known factors, perhaps, are a relatively small services sector and a large public sector that buffered against unemployment.
Russia's pre-pandemic advances in digitization also paid off and enabled Russian society to operate reasonably effectively during lockdowns. And closer and growing ties to a relatively fast-growing China, stabilization in new COVID-19 cases, loosening of OPEC+ production cuts – all helped. Indeed, the economic recovery is gathering pace — and with all the caveats of uncertainty around the evolution of the pandemic – we now project Russia's GDP to grow at 3.2% in 2021 and 2022.
Second, when it comes to jobs, although employment remains below pre-pandemic levels, the labor market is improving. The unemployment rate in March 2021 was 5.4%, down from 6.4% in last August. Interestingly, most jobs were created in the informal sector: about 828,000 in the 2nd half of 2020. Job losses have not been the same across economic activities. Total losses of 1.78 million jobs were concentrated in four sectors: manufacturing, construction, retail and hospitality, and health/social services.
Job losses in manufacturing, construction, and retail and hospitality can be explained by the lockdown measures and the difficulty of tele-work in these sectors. However, the fall of employment in health and social services during a pandemic, is more difficult to explain. It could be because of increased mental and physical fatigue of health workers, increased infections in this segment of the workforce, or the fall in employment in social care facilities (including the private ones), which were hit by the pandemic.
Third, turning to food prices, both cyclical and structural factors are behind the rise for items such as sugar and eggs. Higher global demand, global supply disruptions due to bad weather, and lower domestic harvest such as for sugar crops and oilseeds, along with the sizeable ruble depreciation last year, have contributed to this rise. Structural factors stem from the 2014 food embargo, which reduced competition in the domestic market, as domestic production has been unable to respond fully to demand.
At the same time, short-term (cyclical) policy responses to rising food prices have been geared towards export restrictions such as bans, quotas, tariffs, and price caps and subsidies. While politically attractive, and administratively easily implementable, these measures are economically distortive. A recent Higher School of Economics study found that consumer losses amounted to 2000 rubles per Russian citizens, each year, with the beneficiaries being Russian producers and non-sanctioned importers, such as Belarus. Moreover, it is the low-income families and poor who are disproportionately affected by food price increases, as they spend nearly half of their income on food. Therefore, a better approach to help those most affected by food insecurity would be to improve the targeting of Russia's social safety nets in order to reduce food insecurity and poverty.
Finally, this brings us to poverty.
Russia has admirably contained additional spikes in the COVID-19 induced poverty rate. This success, in large part, is due to various compensatory social policies, such as the increase in unemployment benefits, child allowances, and support to single parent families. With the economic recovery now gathering pace, and assuming effective implementation of announced policies, we forecast Russia's poverty rate by end-year 2021 to decline to 11.4 from the pre-pandemic poverty rate of 12.3%. However, double-digit poverty remains stubbornly high, and strong growth will play an important role in achieving Russia's goal of halving it by 2030.
That being said, we believe that growth will not be enough – it will need to be complemented by a social safety net system that is more scalable and inclusive (the current welfare system transfers around only 10% of the total social assistance budget to the poor). Successful implementation of Russia's strategic directive (Послание Президента Федеральному Собранию) will also require a safety net capable of addressing the complex financial, health, labor market and long-term care needs of the poor and vulnerable.
A concrete example of how a scalable and inclusive safety net could be weaved is through a national program, which aids people who fall below the poverty threshold. They would be provided with an income-gap-filling payment combined with incentives to graduate them out of poverty through labor activation support. With many caveats, such as excellent targeting, we estimate the lower-bound cost of such a program to be around 0.3% of GDP. As Russian policymakers tackle the goal of halving poverty, at least based on our analysis, accomplishing this laudable goal is within reach.
First appeared in the print version of the Kommersant newspaper via World Bank