Is the world on track to deliver energy access for all?
Do you have access to reliable electricity at home, at an affordable price? And how is the stove you use – is it an electric one, or does it rely on wood or coal, generating smoke every time you cook?
One billion people (13% of the world's population) still live without electricity and more than 3 billion (41%) use polluting fuels to cook, undermining their health, productivity, and quality of life. That's why the United Nations placed universal access to electrification and clean cooking technologies among the energy-related targets to be reached under the Sustainable Development Goals (SDGs) by 2030.
Additionally, SDG #7 calls for a substantial increase in the share of renewable sources (solar, wind, hydropower and geothermal, for example) in the global energy mix, as well as for a more efficient use of energy.
A new report, Tracking SDG7: The Energy Progress Report 2018, provides a snapshot of the world's advances towards the targets on access to electricity, clean cooking, renewables and energy efficiency. And while the study shows the world is not on track to meet the global energy targets for 2030, it also highlights recent experiences that offer encouraging signs – mostly in Asia and Sub-Saharan Africa, but also in Latin America.
The report is a joint effort of the International Energy Agency (IEA), the International Renewable Energy Agency (IRENA), United Nations Statistics Division (UNSD), the World Bank, and the World Health Organization (WHO).
Access to electricity
In Latin America, nearly three-quarters of countries are on track to attain universal access by 2020, and by 2030 the region is expected to achieve near universal access, with Haiti the only country with an access rate below 90%.
More good news comes from Africa, which in recent years saw electrification outpace population growth for the first time. Ethiopia, Kenya and Tanzania increased their electricity access rate by 3% or more annually between 2010 and 2016. Meanwhile, India provided electricity to 30 million people annually, more than any other country.
However, there is still much work to be done to meet the SDG target for electrification. If the current access trends continue, 8% of the global population will still be in the dark in 2030.
"The experience of countries that have substantially increased the number of people with electricity in a short space of time holds out real hope that we can reach the billion people who still live without power," says Riccardo Puliti, Senior Director for Energy and Extractives at the World Bank.
Puliti adds, "We know that with the right policies, a commitment to both grid electrification and off-grid solutions like solar home systems, well-tailored financing structures, and mobilization of the private sector, huge gains can be made in only a few years. This in turn is having real, positive impacts on the development prospects and quality of life for millions of people."
Clean cooking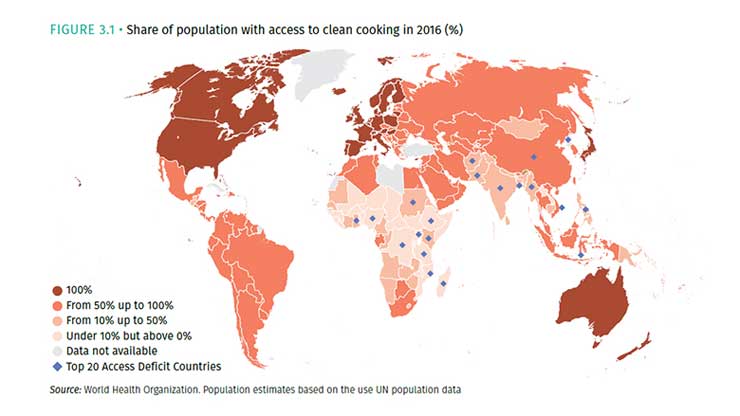 Of all the four energy targets set up in the Sustainable Development Goals, access to clean cooking technologies lags the furthest behind: if the current trajectory continues, 2.3 billion people will still be burning wood, coal and other types of biomass in 2030. These traditional methods generate household air pollution, which is responsible for some 4 million deaths a year – more than HIV and tuberculosis combined –, with women and children at the greatest risk.
Progress has been slow due to low consumer awareness, financing gaps, slow technological progress, and lack of infrastructure for fuel production and distribution, according to the report. Among the relatively few strong performances that stand out globally, are Indonesia and Vietnam, which provided access to an additional 3% of their populations each year from 2010 to 2016.
The report also highlights that, of the 20 countries that made faster progress between 2010 and 2016, four of them are in Latin America: Guyana, Peru, El Salvador and Paraguay.
Renewable energy
As of 2015, the world obtained 17.5% of its total final energy consumption from renewable sources, of which 9.6% represents modern forms of renewable energy such as geothermal, hydropower, solar and wind. The remainder is traditional uses of biomass (such as fuelwood and charcoal).
While Sustainable Development Goal #7 does not provide a fixed target for renewable energy, it calls for a "substantial increase" in the share of renewable sources in the global mix. Based on current trends, the renewable share is expected to reach just 21% by 2030 (from 16.7% in 2010), falling short of the increase demanded by the SDG7 target.
Transport and heating, which account for 80% of global energy consumption, still need to accelerate progress. In transport, for example, renewable energy consumption reached only 2.8% globally in 2015. The greatest areas of concern remain in aviation, rail, and maritime transport, where penetration rates of biofuels are negligible at the present time. Whereas in heating, traditional use of biomass (such as fuelwood and coal) still accounts for 65% of the share of renewable energy.
Electricity represents the remaining 20% and has experienced better results thanks to the declining costs of wind and solar power. In this particular sector, the renewable share amounted to 22.8% in 2015. Hydropower remains the dominant source of renewable electricity, but wind power grew most rapidly from 2010 to 2015.
In Latin America, Brazil stands out for more than doubling the global energy share in electricity, heating and transportation.
Energy efficiency
Improving energy efficiency means being able to produce more with less energy. And evidence shows that economic growth and energy use are increasingly uncoupling. Between 2010 and 2015, global gross domestic product (GDP) grew nearly twice as fast as primary energy supply. Economic growth outpaced growth in energy use in all regions, except for Western Asia.
One of the most important metrics for this SDG target is energy intensity – the ratio of energy used per unit of GDP –, which fell at an accelerating pace of 2.8% in 2015, the fastest decline since 2010. This improved the average annual decline in energy intensity to 2.2% for the period 2010-2015. However, performance still falls short of the 2.6% yearly decline needed to meet the SDG7 target of doubling the global rate of improvement in energy efficiency by 2030.
Industry, the largest energy consuming sector, also made the most rapid progress, reducing energy intensity by 2.7% annually. However, advances in the transport sector were slower. As with renewable energy, this sector will be key to ensuring progress towards a low-carbon energy future.
Europe leads the global clean energy transition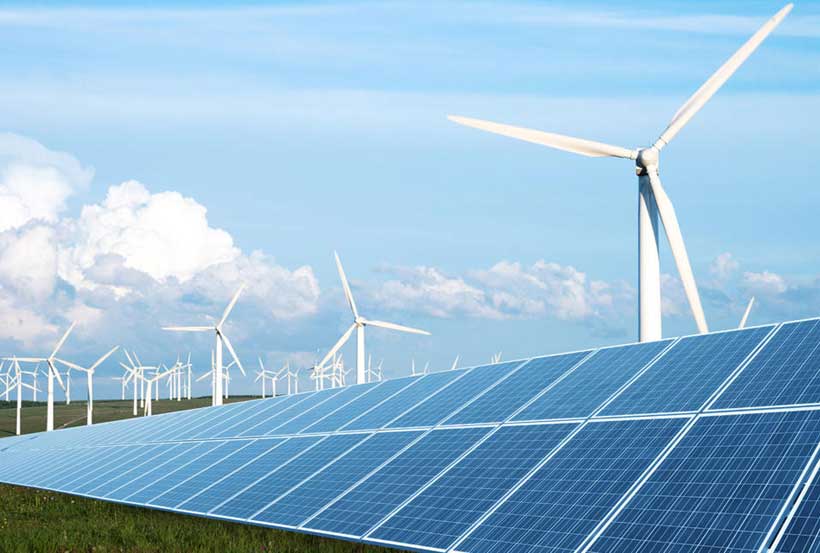 An ambitious political agreement on increasing renewable energy use in Europe was reached today between negotiators from the Commission, the European Parliament and the Council. Today's deal means that two out of the 8 legislative proposals in the Clean Energy for All Europeans package (adopted by the European Commission on 30 November 2016) have been already agreed by the co-legislators. On 14 May, the first element of the package, the Energy Performance in Buildings Directive, was adopted. Thus, progress and momentum towards completing the Energy Union is well under way and the work started by the Juncker Commission, under the priority "a resilient Energy Union and a forward-looking climate change policy" is delivering its promises.
The new regulatory framework includes a binding renewable energy target for the EU for 2030 of 32% with an upwards revision clause by 2023.Thiswill greatly contribute to the Commission's political priority as expressed by President Juncker in 2014 for the European Union to become the world number one in renewables. This will allow Europe to keep its leadership role in the fight against climate change, in the clean energy transition and in meeting the goals set by the Paris Agreement. The rules agreed today serve also to create an enabling environment to accelerate public and private investment in innovation and modernisation in all key sectors. We are making this transition to a modern and clean economy taking into account the differences in the energy mix and economic structures across the EU. Beyond updating and strengthening our energy and climate legislation, the EU aims at developing enabling measures that will stimulate investment, create jobs, improve the skills of people, empower and innovate industries and ensure that no citizen, worker or region is left behind in this process.
Commissioner for Climate Action and Energy Miguel Arias Cañete said: "Renewables are good for Europe, and today, Europe is good at renewables. This deal is a hard-won victory in our efforts to unlock the true potential of Europe's clean energy transition. This new ambition will help us meet our Paris Agreement goals and will translate into more jobs, lower energy bills for consumers and less energy imports. I am particularly pleased with the new European target of 32%. The binding nature of the target will also provide additional certainty to the investors. I now call on the European Parliament and the Council to continue negotiating with the same commitment and complete the rest of the proposals of the Clean Energy for All Europeans Package. This will put us on the right path towards the Long-Term Strategy that the Commission intends to present by the end of this year".
Main achievements:
Sets a new, binding, renewable energy target for the EU for 2030 of 32%, including a review clause by 2023 for an upward revision of the EU level target.
Improves the design and stability of support schemes for renewables.
Delivers real streamlining and reduction of administrative procedures.
Establishes a clear and stable regulatory framework on self-consumption.
Increases the level of ambition for the transport and heating/cooling sectors.
Improves the sustainability of the use of bioenergy.
Next steps
Following this political agreement, the text of the Directive will have to be formally approved by the European Parliament and the Council. Once endorsed by both co-legislators in the coming months, the updated Renewable energy Directive will be published in the Official Journal of the Union and will enter into force 20 days after publication. Member States will have to transpose the new elements of the Directive into national law 18 months after its entry into force.
Background
The Renewable Energy Directive is part and parcel of the implementation of the Juncker Commission priorities to build "a resilient Energy Union and a forward-looking climate change policy". The Commission wants the EU to lead the clean energy transition. For this reason the EU has committed to cut CO2 emissions by at least 40% by 2030, while modernising the EU's economy and delivering on jobs and growth for all European citizens. In doing so, the Commission is guided by three main goals: putting energy efficiency first, achieving global leadership in renewable energies and providing a fair deal for consumers. By boosting renewable energy, which can be produced from a wide variety of sources including wind, solar, hydro, tidal, geothermal, and biomass, the EU lowers its dependence on imported fossil fuels and makes its energy production more sustainable. The renewable energy industry also drives technological innovation and employment across Europe.
The EU has already adopted a number of measures to foster renewable energy in Europe. They include:
The EU's Renewable energy directive from 2009 set a binding target of 20% final energy consumption from renewable sources by 2020. To achieve this, EU countries have committed to reaching their own national renewables targets. They are also each required to have at least 10% of their transport fuels come from renewable sources by 2020.
All EU countries have adopted national renewable energy action plans showing what actions they intend to take to meet their renewables targets.
As renewables will continue to play a key role in helping the EU meet its energy needs beyond 2020, Commission presented on 30 November 2016, as part of the Clean Energy for All Europeans, package, its proposal for a revised Renewable Energy Directive.
A Clean, Secure Future: Reshaping Turkey's Energy Sector
Turkey has limited fossil-fuel reserves other than coal, but has huge potential in renewable resources, including hydroelectric, solar and wind power, among others. As the demand for energy grows, it has become increasingly important for Turkey to diversify its energy sources and increase national contribution, while also pursuing greater efficiency to manage the growth in demand.
Between 2012 and 2015, The Islamic Development Bank (IsDB) provided financing for the energy sector, supporting four renewable-energy development projects and six energy-efficiency projects. The IsDB extended a Financing Facility approach which worked through an implementing partner: The Turkiye Sinai Kalkinma (TSKB, known in English as the Industrial Development Bank of Turkey).
The combined costs of the projects amounted to US$641.2 million of which IsDB provided US$100 million. All ten projects are already proving to be mightily successful with the energy efficient projects having already decreased its greenhouse emissions by 1,006,000 tonnes, surpassing their target of decreasing emissions by 300,000 tonnes.
A New Approach in Islamic Financing
This was the first time IsDB used Restrictive Mudarabah financing. Under this mode of financing, The IsDB provides capital to Mudarib (in this case, TSKB) to invest in business enterprises, as per the agreed criteria. This approach eliminated the need for IsDB to enter into individual financing agreements for each sub-project being financed and gave a lot of freedom to TSKB as the local executing agency.
Hydroelectric Dams
Two of the hydroelectric dams supported by the facility: Goktas I and Goktas II lie in a valley deep in the mountains north of Adana. The projects combined capacity, once both dams are operational will be 276MW. Additonally a 52KM road, built under the Facility to provide access to these dams has helped to open up the entire region as well as three new bridges crossing the Zamanti River. These have had a significant effect on people living in the area as previously isolated settlements are now connected to larger towns and cities. This means that people can access hospitals, schools and other services more quickly. The construction company: Bereket Enerji responsible for the dams created over 450 jobs during the construction phase of the project and this almost doubled during peak construction times. Mr Ahmet Yilmaz, from Boztahta Village, who works as a general foreman spoke of the benefits of the project. "Previously people were mostly goat herders or seasonal workers in a nearby chrome mine. But the salaries in construction are much higher".
Solar Panel Projects
The facility has also supported smaller projects that allow companies to generate their own electricity. One beneficiary was Prokon, an engineering manufacturing company located just outside Ankara. In March 2013, Prokon installed 2,040 solar panels on the roof of its workshop. Solar power has huge potential in Turkey especially as the panels generate around 75-95 MW during the peak months of July and August. Between April 2013 and February 2016, Prokon generated around 1,835 MWh from the panels in total. The process has been so successful that Prokon now sells energy back to the National Grid. Prokon have also pursued development of other solar powered equipment such as solar-tracking systems that enable panels to rotate and 'follow' the sun thereby generating more power.
Re-using Heat to Reduce Costs
Batisoke, Cimento, a cement company that installed a waste heat recovery system at its plant near Aydin is an example of the country managing its growing demand for energy. This system recycles the heat produced by the clinker-producing process to generate electricity. The successful installation means that the system now provides a significant chunk of the plant's electricity needs. By reducing costs, the company has become a national energy competitor.
Cheaper, More Efficient Steel Production
The facility has also supported projects in the steel sector. Turkey was the world's eighth-largest steel-producing nation in 2014 (with around 34 million tonnes). One company taking the lead is Koc Celik, who installed an oxygen-burning system at its plant in Osmaniye. The system increases the amount of oxygen entering the furnace during the melting process making the chemical energy processes involved more efficient. Electricity use has fallen from around 400 kilowatt hours (kWH) per tonne to less than 340(kWH) and the project itself provided 25 new jobs for local people.
The ten projects in the facility have had a huge combined impact. Together, the renewable-energy projects have a capacity of 370 MW and have made significant reductions in greenhouse gas emissions. These changes are making companies involved more internationally competitive while contributing towards global efforts to fight climate change. If future projects can build on this success, Turkey can look forward to a cleaner, more secure and efficient energy future.
Greece: Sky Is the Limit to Develop Energy Resources at Regional and National Levels
Greece has emerged as a key gas player in the national and East Mediterranean levels. In the regional setting, the acquisition of Israel's Karish and Tanin offshore gas fields by a Greek company, Energean Oil & Gas, at the price of $148 million presents a milestone. The reason lies in that the approval of the Field Development Plan by the Israeli authorities and the securing of sales agreements guarantee the execution of the $1.3 billion investment plan to fully develop the two fields. The contract for the Karish field's development foresees drilling in three wells in the first quarter of 2019, and the first gas is expected to flow in 2021. Interestingly, Energean Oil & Gas has secured sales agreements of more than 3 bcm of gas annually and has raised almost $1.2 billion of loans to develop the Karish and Tanin fields.
The Greek energy company has notably worked with arranger Morgan Stanley to secure funding from banks and institutional investors; the capital will finance a Floating Production Storage and Offloading Unit to extract natural gas from the two fields, and a pipeline that will transport gas to Israel.
Thanks to the acquisition of Israeli fields by Greek Energean Oil & Gas, Israel's energy market is no longer dominated by a monopoly. The Greek  energy  company's presence in the Israeli energy setting is accelerated by the granting of five new exploration licenses as result of Israel's first offshore licensing round that ended in November 2017. The awarded licenses comprise blocks 12, 21, 22, 23 and 31 thus raising the total number of licenses held by Eneregan Oil & Gas to thirteen, providing upside potential for future growth and complementing the company's East Mediterranean portfolio.
In addition to the Greek penetration of the East Mediterranean energy landscape, Athens also seeks to develop its own gas fields in the Ionian Sea and South of Crete. The Greek Ministry of Energy signed a contract with French Total's JV ,Italian Edison and Hellenic Petroleum (HELPE) securing offshore Block 2, located west of the island of Corfu, as an outcome of the 2014 International Licensing Round. Additional bids that are expected to be evaluated include HELPE with Edison that have established a 50-50 partnership for a Gulf of Patras block; HELPE's consortium with Total and Exxon Mobil that each hold 40 percent stakes for two offshore blocks south and southwest of Crete; and, HELPE with Spain's Repsol that each holds 50 percent stakes in an offer submitted for another Ionian Sea block.
Greece envisions reducing dependence on energy imports and increasing public finances through investment incentives and new legislation for onshore and offshore oil and gas exploration and production (E&P). Athens' interest in the reform of the legal and institutional framework for the safety in offshore exploration and exploitation, including environmental rules, is evidenced in the July 2016 enactment of law 4409 by the Greek parliament that transposed the European Directive 2013/30/EE into national law. Despite the fact that oil and gas exploration and production is a prime strategy for Greece's economic development, the Greek government has delayed the approval of licenses and permits not only for the onshore licensing round of areas in Southern and Western Greece, but also the second international licensing round that expired in July 2014. This stalling has impeded the opening of new licensing rounds.
No doubt that, there are certain preconditions for Greece to become an energy producer, namely delineation of the Greek EEZ with neighboring countries; a comprehensive settlement of the Cyprus problem; involvement of foreign energy companies in exploration and production activities as means to help Athens realize the potential of its hydrocarbon resources; and, the alleviation of financial risks by the EU through project finance from the European Investment Bank. On grounds of investment decisions based on commercial viability, the European Bank for Reconstruction and Development previously funded with two subordinated loans valued at 95 million dollars the Greek Energean Oil & Gas to expand exploration activities in the Greek Prinos field with fifteen new drills scheduled for 2015-2017. That said, there cent decision by Energean Oil & Gasto farm out a 60% interest to Spain's Repsol for its onshore blocks in Western Greece was driven by the Spanish company's expertise in conducting a geophysics campaign to process 400km during 2019 that can lead to new discoveries.
In the existence of significant exploitable hydrocarbons, Greece will get tangible benefits for the Greek national economy and the local Greek communities. But to enhance the energy exploration and development process at the national level, Greece should motivate foreign companies to get involved in oil and gas exploration and production activities and partnerships in the country as a means of helping Greek energy companies build knowledge and capacity. The launching of new tenders for exploration and production of hydrocarbons will undoubtedly provide new opportunities for domestic and international companies to work together to create jobs in Greece. This presupposes the enhancement of a stable and secure environment for doing business, i.e. granting licenses and permits on time, transparency in tenders, and evaluation of bids processes. Also critical is the advancement of plans to supply American liquefied natural gas (LNG) to the Balkans, through the Greek Revithoussa LNG Terminal that not only will establish the US as an alternative source of supply but will also bolster Greece's geostrategic stand.
At regional levels, Greece should enhance cooperation with Israel on joint development of regional infrastructure for the transportation and marketing of gas, like the East Mediterranean pipeline as a potential route for Israeli gas to Europe, via Cyprus, Crete, continental Greece and Italy. Equal important is the speeding up of plans for the construction of the Floating Storage Regasification Unit (FSRU) near Alexandroupolis in Northern Greece, as it will provide an additional entry point for LNG to the Balkans and Europe.
Unquestionably, Greece is a uniquely positioned country that can transport energy from the East Mediterranean to Europe and a critical player in developing indigenous and regional gas fields. For the country to advance its multiple energy roles, sky is the limit.