Stephen Cohen's Misrepresentations about the 2014 Coup in Ukraine
The restoration of the Cold War now, between Russia and the United States, is based on frauds by the United States, as will be documented here; and one of the biggest responsibilities that historians have, is to state this publicly — to acknowledge it publicly and clearly — so that the necessary public pressure can finally come to be brought upon the U.S. Government, to acknowledge that it has been wrong about this matter, which is a matter increasingly threatening the entire planet with World War III, a nuclear war between the U.S. and Russia, the war that would end the world.
Most historians fail this fundamental professional obligation to truthfulness especially about important matters such as this, and don't even acknowledge publicly that the overthrow in February 2014 of Ukraine's democratically elected President was a "coup" instead of a 'revolution' (which the U.S. Government and its foreign allies call it), but even most of the historians who do call it a "coup" do not say that it was perpetrated by the U.S. Government upon, and greatly harmed, the people of Ukraine; and, so, their admission fails to apply any pressure at all upon the U.S. Government, to stop its constant lying about this.
Wars do not result merely from force of arms, but even more fundamentlly, they result from force of lies. In the present matter, those lies can have a world-ending consequence; so, at least the biggest of these lies need to be addressed in public, by historians.
Dr. Stephen C. Cohen, the prominent Russia-specialist now retired from Princeton and NYU, has said on at least two occasions, that the February 2014 overthrow of Ukraine's democratically elected President Viktor Yanukovych was a "coup." Cohen has never said, like the founder and head of the 'private CIA' firm Stratfor, Dr. George Friedman, once admitted, that it was "the most blatant coup in history", but he did call it some kind of "coup"; and yet he has persistently refused to call it a coup that started in and was perpetrated by the U.S. Government — started in the Obama Administration, long before the coup's culmination-period, 20-26 February 2014, when the EU finally became shocked on February 26th to discover that it had been a coup. I don't understand why Dr. Cohen constantly presents it in that false way — as something it wasn't. The following note is therefore intended specifically to correct Dr. Cohen's false account that it had started elsewhere than inside the Obama Administration:
On May 9th, at an event co-sponsored by Columbia University's Harriman Institute and New York University's Jordan Center for the Advanced Study of Russia, Cohen stated (at 28:45 in the video) that it was "a coup, an unusual coup, it originated in the streets."
It did not  originate in the streets. It originated in offices, specifically in U.S. Government offices, and assisted by other entities, including private entities, which worked closely with the U.S. Government, in order to plan it, and to carry it out.
I thus asked him, on May 17th, via email,
You think it originated in the streets, in November 2013 — really, it didn't originate on 1 March 2013 when the U.S. Embassy started its CIA-run training-sessions for organizing the Maidan demonstrations? It didn't originate in, or at least by, June 2011, when Eric Schmidt and Jared Cohen visited Julian Assange at the Ecuadorean Embassy in London, in order to deceive him into revealing the tricks he'd use to organize such a mass-movement (the public cover behind which the coup would be perpetrated) — fooled him into thinking that they were on his side, the pro-democracy side — certainly not on the side of coups and other "regime-change" operations? As I pointed out in that just-linked-to article, "Only in retrospect did Assange come to recognize that, as he headlined in October 2014, "Google Is Not What It Seems". That's when he noted, "Jared Cohen could be wryly named Google's 'director of regime change'." He recognized too late, that they were manipulating him, using him, to help in overthrowing both Assad and Yanukovych — to help in their and Obama's fascism.
Dr. Cohen replied,
"Obama's fascism"? Do you even know what it is?
I answered,
Ask these people what "Obama's fascism" is. They experienced it, through his agents — the people he installed to run their country (and Obama never criticized those stooges for doing his dirty-work, not even for doing it in such a blatantly "fascist" way).
Cohen didn't reply, though perhaps he will, some day. If he will, then I shall welcome his response, because, if I am wrong, then I want to know in what way I am wrong; and if I am right, then not only is Dr. Cohen wrong, but our entire U.S. foreign-policy Establishment is wrong and has been lying pervasively about how the "restored Cold War" happened. Did Putin seize Crimea? Or, instead, did Obama seize Ukraine (via this coup)?
Like I, Professor Cohen — according to his own testimony, and mine — voted for Obama, both in 2008 and in 2012. I would do it again, against Hillary Clinton and John McCain, and against Mitt Romney, because those opponents of his, were even more fascist than Obama turned out to be; but this is the type of electoral choice that remains to the people, in today's American 'democracy'. That's what it is: choices between 'public' representatives such as that.
Until the United States Government, and American academics such as Professor Cohen, publicly acknowledge the reality, that Obama lies, and that Trump lies, to allege that Russia 'seized' Crimea and that America didn't seize Ukraine in a prior coup, a coup which has even been publicly admitted by some of the coup's own actual participants — a coup that shortly thereafter was followed by an ethnic-cleansing campaign to get rid of enough people who had voted for the democratically elected Ukrainian President whom Obama overthrew, an ethnic-cleansing so as to stave off a subsequent electoral victory in Ukraine for restoration of a neutralist Ukrainian Government similar to the Government that was overthrown — as long as they instead hide the fact, that this was an American coup, against Ukraine, in order to grab Ukraine on Russia's very doorstep, so as to make it a NATO member — there can be no constructive settlement of the 'new Cold War', because the fact is: it's a war that the U.S. has been secretly waging against Russia, ever since at least 24 February 1990.
The termination of this war between the U.S. and Russia cannot be achieved by continuing the lies about what is behind it. This has been a decades-long war to eliminate Russia's friends and allies, to turn the European ones into NATO members, to surround Russia with our missiles and nukes being positioned just five minutes' striking-time from Moscow, and then to issue an ultimatum for Russia's surrender, so as to achieve the world's first global and all-encompassing Empire.
Continued lies just cannot do the job that the entire world needs to be done: the U.S. (the most dangerous country in the world) must terminate its obsession to expand its empire to an all-encompassing scope, and must cease-and-desist its continuing war against the sovereign nation of Russia, and against all other nations that have continued to resist America's all-grasping aristocracy's reach for the ultimate Empire.
The Big Lie today is that "Putin stole Crimea" not "Obama stole Ukraine." The Big Truth today is that Obama stole Ukraine, not Putin stole Crimea.
If Dr. Cohen has any objections to the factuality of any of the allegations that I have made here, or to any of the documentation that I have linked to as the sources for these allegations, then I publicly welcome him to state what those objections are. Otherwise, I shall continue to take strong exception to Dr. Cohen's account of these matters.
Lithuania: pensioners get ready for death
Main attention of the Lithuanian media has been focused on migrant crises and security issues for several weeks. This problem has become also a good reason to once again draw the attention of the population to the need of increasing defense capabilities. This problem has become a good excuse for further increasing of the armed forces funding, new purchases in the defense sector. Talks, meetings, visits as usually ended with the promises to support the country on condition of increasing military spending by Lithuania itself. And Lithuanian agree without hesitation. Although it would be worth thinking.
Finance Minister Gintarė Skaistė told a press conference the day before that this would raise defence spending from 2.03% in 2021 to 2.05% in 2022, Lithuanian Radio and Television (LRT) reported on its website on 11 October. She added that Lithuanian political parties support the gradual increase of defence spending to 2.5% of GDP by 2030.
These numbers are not only in the files. These are million of euros! Only this year the national defence spending is about EUR 1.017 billion or 2.02% of GDP. Next year the planned amount is EUR1.176 billion.
It should be noted that the recipients of this money will be the Ministry of Defenсe, and not the The State Border Guard Service at the Ministry of the Interior of the Republic of Lithuania, which would be logical in this situation.
The more so, not only the State Border Guard Service urgently needs more funding.
The situation for pensioners in Lithuania is more difficult than ever. The pension they receive is not enough, "says Grasilda Makarevičienė, President of the Lithuanian Association of Elderly Persons.
According to Grasilda Makarevičienė, there are different retirees. There are pensioners who worked in the government, they receive good pensions, but it is very difficult for an ordinary pensioner to survive. Moreover, now, during this period of the pandemia, medicines are very expensive. And prices went up significantly. Even potato, which is the main product of pensioners, have risen in price, "G. Makarevičienė told LNK. She mentioned the absence of sufficient number of clinics in small towns and villages.
G. Makarevičienė noted that pensioners are already angry and they are on the brink of despair. She bitterly noted that when elderly people paid taxes and bought medicines, only from 70 to 100 euros remain for food. It should be said that every third person gets pension in Lithuania. It is awful, but about 30% of the elderly in the country live in poverty.
Do the authorities wait for Covid-19 to kill a large number of elderly people and thus, there would be no need to take measures and pay more pensioners?
Shifting Geography of the South Caucasus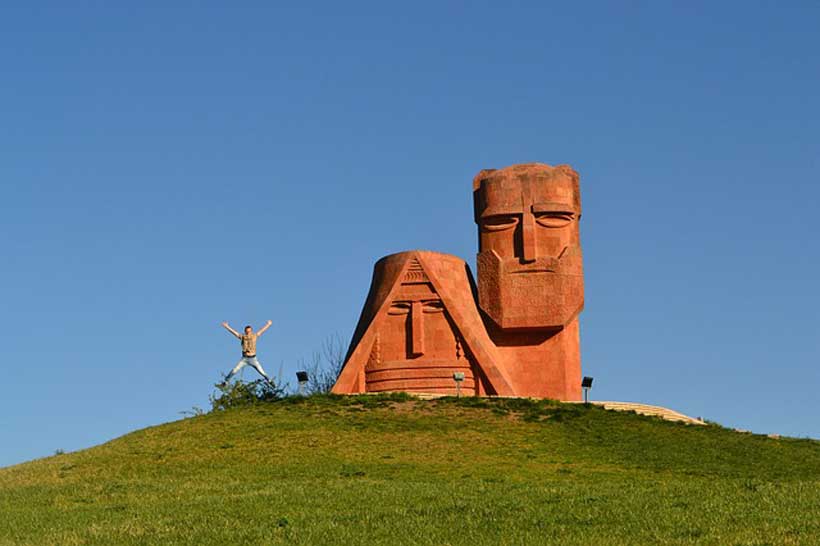 One year since the end of the second Nagorno-Karabakh war allows us to wrap up major changes in and around the South Caucasus. Most of the changes discussed in the scholarly works so far focused on the role of Turkey and Russia. The shifting geography of the South Caucasus, however, has been disregarded.
In many ways, the war accelerated the pre-existing trends, but also initiated new developments. The first and foremost change concerns geography. The South Caucasus has been historically dominated by neighboring states. Whether it is the Sasanian and Byzantine empires in late antiquity or later Ottoman and Persian states, the region was exclusively subject to one or two powers. The idea is that the region was mostly closed to the outside, non-regional influence. The trend continued in 19th-20th centuries when the South Caucasus was exclusively dominated by Russian power. The end of the Soviet Union changed this geopolitical reality when several powers were able to penetrate the region. Yet the pace of the change was relatively slow – Russia was still able to minimize the extent to which the neighboring or non-regional countries were able to act in the South Caucasus: Turkey, Iran, US, EU, and to a certain extent, China have been influencing the region to a limited degree.
But the second Nagorno-Karabakh war accelerated this process. The South Caucasus' borders are increasingly shifting. No single power or even a duo of countries can dominate the region. It reflects geopolitical changes in the world where the emerging multi-polar world ushers in a different set of rules. Exclusive geopolitical control is no longer viable and the 2020 war showed exactly this.
There is also yet another dimension of the unfolding geographic change. The war also solidified that the Caspian basin and South Caucasus are inextricably linked to the greater Middle East. Russia and Turkey are basing their strategies in the region on developments in the Middle East and the Black Sea region. Not since the end of the Soviet Union has the South Caucasus been such a critical point for the powers around it. In a way, this re-emergence of close contacts between the South Caucasus and the Middle East is a return to normalcy which was disrupted in the early 19th century by Russian annexation of the South Caucasus. Indeed, in pure geographic terms the region is better connected to Turkey and Iran than to Russia, with which it shares the impassable Caucasus Mountain range.
This also means that the role of the South Caucasus in the thinking of Iran and Turkey, and by extension Russia, has grown. Considered if not as a complete backwater region in the calculus of large powers, the South Caucasus has nevertheless experienced a lack of attention. This was especially true for Iran, which now struggles to retain its weakening position in the region.
It is true that Iran was never a dominant power in the South Caucasus. Unlike Russia or Turkey, the traditional power brokers, it has not had a true ally. Tehran was certainly part of the calculus for states in the region, but it was not feared, like Ankara or Moscow. And yet, the South Caucasus represents an area of key influence for Iran, based on millennia of close political and cultural contacts various Persian empires had with the South Caucasus.
The 2020 war changed Iran's calculus in the region as the Islamic Republic's interests were largely unheeded. Iran has now to adjust to the changed geopolitical landscape and it can be even argued that the recent escalation it had with Azerbaijan over the detained trucks, drills, and alleged Israeli influence, was an effort to wedge itself back into the geopolitics of the South Caucasus.
Yet there is little Iran can realistically do to boost its position in the region. The South Caucasus will certainly feature higher in Tehran's foreign policy agenda than before. But Tehran does not have an ally in the region, nor does it have financial means to strengthen its soft power. Iran can support Armenia in its efforts to balance the triumphant Azerbaijan.
The lifting of US-imposed sanctions could augment Iran's projection of financial and diplomatic power in the South Caucasus. Still, a more realistic approach for Tehran would be to build closer cooperation with Russia. Both loath growing Turkish influence and the Islamic Republic does not object to growing Russian influence as much as it does resent the West's and Turkey's presence. Surely, interests with Russia do not align always, but for Tehran, Moscow is a traditional power in the South Caucasus which is about maintaining a status quo. Turkey, on the other hand, disrupts it seeking greater influence.
There has been a certain retrenchment of the Western influence in the South Caucasus. While it does not signify a definitive decline in West's fortunes, it is nevertheless important for Washington and Brussels to formulate a more robust approach toward the region. Decreasing the tensions with the Turkey could be one of the steps. Increasing economic engagement with the region would be another. Delay could be damaging. Georgia, which serves as a door for the West to the Caspian basin and on to Central Asia, could be the biggest loser if Washington shifts its foreign policy away from the region. An alternative could be a Russian model of peacebuilding and regional order where Georgia, Armenia, and Azerbaijan will face a lack of foreign policy options if the West's unwillingness to commit to the region continues to grow. Author's note: first published in caucasuswatch
Russia: The Neighbor From Hell
From Belarus to Ukraine to Georgia, an arc of instability has emerged, offering opportunities for malign activities by foreign powers. This has proved too tempting for Vladimir Putin's Russia, which openly pursues an activist foreign policy seeking gains for the Kremlin at whatever cost to its neighbors. For the West, it is time to consider the wider Black Sea region as a whole and to develop a strategy.
The migrant crisis unfolding on the Belarusian-Polish border is the most pressing and serious emergency. For some months, the Belarus dictator Aliaksandr Lukashenka and his security services have been funneling thousands of Middle Eastern migrants toward the EU border. Officially, Russia has distanced itself from the crisis, with President Vladimir Putin on November 13 denying claims he had helped to orchestrate a crisis.
Russia is often disbelieved by neighbors with unhappy experiences of its statecraft. In this case, too, there are reasons to doubt Putin's words. Firstly, the Belarus migrant drama bears an uncanny resemblance to the events of 2016, when the Kremlin unleashed a sudden wave of developing world migrants across Finland's and Norway's Arctic borders. Secondly, few believe Lukashenka's regime on its own is sufficiently organized to orchestrate events of complexity spanning two continents.
Russia's rapid dispatch of advanced combat aircraft and paratroopers (two of whom died in the exercise) to the Belarus-Poland border and Putin's contemptuous dismissal of Germany's Chancellor and the EU's senior head of government Angela Merkel (she was told to call Lukashenka herself) were open signals of approval for the Belarusian position. Only when Lukashenka mused that he might cut off gas supplies to Europe was he publicly slapped down by Russia. It was also notable that Russia and Belarus recently agreed on further steps in their on-again-off-again Union state.
To the south, in eastern Ukraine, the clouds are also gathering. Fighting is worsening with Russia's separatists in Donbas, and ceasefire violations are spiking. US briefings now suggest around 100,000 military personnel and large amounts of armored equipment are located within reach of the border; military movements are being organized at night. Not only does this follow the deployment of large Russian formations for exercises in the Spring, but it also matches a threatening drumbeat of anti-Ukrainian rhetoric from Russian leaders including Putin, who have questioned the country's right to an independent existence. The Kremlin has increased funding for the Donbas and pledged humanitarian support to the rebel-controlled regions thus facilitating trade between Russia and parts of Donetsk and Luhansk.
The bottom line is that Russia is putting Ukraine back on the agenda and — as some predicted — forcing the Biden administration to take notice, despite its desire to park Russia and focus on China. Putin and his aides remain determined to build a near-exclusive sphere of influence in its neighborhood and Ukraine is the crown jewel in its geopolitical thinking. If Russia is finally seeking a settlement to its seven-year-long forever war, that would require agreement from Ukraine to effectively hand control of eastern regions to Russia and its local agents, plus a commitment to stop the country from joining Western military and economic institutions. There is no sign that Ukraine will agree to such constraints on its sovereignty.
Further south in the South Caucasus, Georgia, the West's only partner in the region, is suffering a continuing crisis following the municipal elections in October and the former president Mikheil Saakashvili's stealthy return to the country. He is now in prison on a hunger strike. Russia lurks here too. It might not be orchestrating the crisis, as in Belarus, but it does benefit. Russian media has been actively addressing the events in Georgia and playing on recurrent tensions between the country and its Western partners, especially the European Union (EU). As always, chaos — sometimes resulting from direct Russian interference, and sometimes not — makes it harder for candidate countries to meet the membership terms of Western clubs while emboldening those European countries sympathetic to Russia and skeptical of expansion. This makes it harder for organizations like the EU to engage Georgia.
Russia's grand strategic aim is to maintain its power in neighboring states. That means keeping the West at bay, and political instability serves that purpose. Belarus, Ukraine, and Georgia are distant, but the Kremlin is always present. In some cases, it resorts to military pressure to gain momentum, in other cases it sits and waits, but the pattern signals a clever use of opportunities as they arise, exploiting the space given by a West signaling decreasing willingness to engage in the wider Black Sea region.
Seen from the long-term perspective, the 1990s and 2000s were a period of a slow but steady decline of Russian influence in what then constituted the former Soviet Union. From the Kremlin's point of view, the present period is much more productive, with concrete gains and the reversal of the West's military and economic expansion. For Putin and his ministers, it seems likely that the US considers defending Ukraine, Georgia, and even involvement in the Belarus-Poland border crisis costlier than the potential benefits of having these countries within America's geopolitical perimeter.
The ground is now prepared to seek a reversal of the West's geopolitical gains and cast aside the wishes of the people of Ukraine and Georgia. The push against aspiring liberal democracies is now gathering pace, timed to coincide with a wider geopolitical shift, namely the recalibration of US foreign policy to east Asia.
Author's note: first published in cepa