Stephen Cohen's Misrepresentations about the 2014 Coup in Ukraine
The restoration of the Cold War now, between Russia and the United States, is based on frauds by the United States, as will be documented here; and one of the biggest responsibilities that historians have, is to state this publicly — to acknowledge it publicly and clearly — so that the necessary public pressure can finally come to be brought upon the U.S. Government, to acknowledge that it has been wrong about this matter, which is a matter increasingly threatening the entire planet with World War III, a nuclear war between the U.S. and Russia, the war that would end the world.
Most historians fail this fundamental professional obligation to truthfulness especially about important matters such as this, and don't even acknowledge publicly that the overthrow in February 2014 of Ukraine's democratically elected President was a "coup" instead of a 'revolution' (which the U.S. Government and its foreign allies call it), but even most of the historians who do call it a "coup" do not say that it was perpetrated by the U.S. Government upon, and greatly harmed, the people of Ukraine; and, so, their admission fails to apply any pressure at all upon the U.S. Government, to stop its constant lying about this.
Wars do not result merely from force of arms, but even more fundamentlly, they result from force of lies. In the present matter, those lies can have a world-ending consequence; so, at least the biggest of these lies need to be addressed in public, by historians.
Dr. Stephen C. Cohen, the prominent Russia-specialist now retired from Princeton and NYU, has said on at least two occasions, that the February 2014 overthrow of Ukraine's democratically elected President Viktor Yanukovych was a "coup." Cohen has never said, like the founder and head of the 'private CIA' firm Stratfor, Dr. George Friedman, once admitted, that it was "the most blatant coup in history", but he did call it some kind of "coup"; and yet he has persistently refused to call it a coup that started in and was perpetrated by the U.S. Government — started in the Obama Administration, long before the coup's culmination-period, 20-26 February 2014, when the EU finally became shocked on February 26th to discover that it had been a coup. I don't understand why Dr. Cohen constantly presents it in that false way — as something it wasn't. The following note is therefore intended specifically to correct Dr. Cohen's false account that it had started elsewhere than inside the Obama Administration:
On May 9th, at an event co-sponsored by Columbia University's Harriman Institute and New York University's Jordan Center for the Advanced Study of Russia, Cohen stated (at 28:45 in the video) that it was "a coup, an unusual coup, it originated in the streets."
It did not  originate in the streets. It originated in offices, specifically in U.S. Government offices, and assisted by other entities, including private entities, which worked closely with the U.S. Government, in order to plan it, and to carry it out.
I thus asked him, on May 17th, via email,
You think it originated in the streets, in November 2013 — really, it didn't originate on 1 March 2013 when the U.S. Embassy started its CIA-run training-sessions for organizing the Maidan demonstrations? It didn't originate in, or at least by, June 2011, when Eric Schmidt and Jared Cohen visited Julian Assange at the Ecuadorean Embassy in London, in order to deceive him into revealing the tricks he'd use to organize such a mass-movement (the public cover behind which the coup would be perpetrated) — fooled him into thinking that they were on his side, the pro-democracy side — certainly not on the side of coups and other "regime-change" operations? As I pointed out in that just-linked-to article, "Only in retrospect did Assange come to recognize that, as he headlined in October 2014, "Google Is Not What It Seems". That's when he noted, "Jared Cohen could be wryly named Google's 'director of regime change'." He recognized too late, that they were manipulating him, using him, to help in overthrowing both Assad and Yanukovych — to help in their and Obama's fascism.
Dr. Cohen replied,
"Obama's fascism"? Do you even know what it is?
I answered,
Ask these people what "Obama's fascism" is. They experienced it, through his agents — the people he installed to run their country (and Obama never criticized those stooges for doing his dirty-work, not even for doing it in such a blatantly "fascist" way).
Cohen didn't reply, though perhaps he will, some day. If he will, then I shall welcome his response, because, if I am wrong, then I want to know in what way I am wrong; and if I am right, then not only is Dr. Cohen wrong, but our entire U.S. foreign-policy Establishment is wrong and has been lying pervasively about how the "restored Cold War" happened. Did Putin seize Crimea? Or, instead, did Obama seize Ukraine (via this coup)?
Like I, Professor Cohen — according to his own testimony, and mine — voted for Obama, both in 2008 and in 2012. I would do it again, against Hillary Clinton and John McCain, and against Mitt Romney, because those opponents of his, were even more fascist than Obama turned out to be; but this is the type of electoral choice that remains to the people, in today's American 'democracy'. That's what it is: choices between 'public' representatives such as that.
Until the United States Government, and American academics such as Professor Cohen, publicly acknowledge the reality, that Obama lies, and that Trump lies, to allege that Russia 'seized' Crimea and that America didn't seize Ukraine in a prior coup, a coup which has even been publicly admitted by some of the coup's own actual participants — a coup that shortly thereafter was followed by an ethnic-cleansing campaign to get rid of enough people who had voted for the democratically elected Ukrainian President whom Obama overthrew, an ethnic-cleansing so as to stave off a subsequent electoral victory in Ukraine for restoration of a neutralist Ukrainian Government similar to the Government that was overthrown — as long as they instead hide the fact, that this was an American coup, against Ukraine, in order to grab Ukraine on Russia's very doorstep, so as to make it a NATO member — there can be no constructive settlement of the 'new Cold War', because the fact is: it's a war that the U.S. has been secretly waging against Russia, ever since at least 24 February 1990.
The termination of this war between the U.S. and Russia cannot be achieved by continuing the lies about what is behind it. This has been a decades-long war to eliminate Russia's friends and allies, to turn the European ones into NATO members, to surround Russia with our missiles and nukes being positioned just five minutes' striking-time from Moscow, and then to issue an ultimatum for Russia's surrender, so as to achieve the world's first global and all-encompassing Empire.
Continued lies just cannot do the job that the entire world needs to be done: the U.S. (the most dangerous country in the world) must terminate its obsession to expand its empire to an all-encompassing scope, and must cease-and-desist its continuing war against the sovereign nation of Russia, and against all other nations that have continued to resist America's all-grasping aristocracy's reach for the ultimate Empire.
The Big Lie today is that "Putin stole Crimea" not "Obama stole Ukraine." The Big Truth today is that Obama stole Ukraine, not Putin stole Crimea.
If Dr. Cohen has any objections to the factuality of any of the allegations that I have made here, or to any of the documentation that I have linked to as the sources for these allegations, then I publicly welcome him to state what those objections are. Otherwise, I shall continue to take strong exception to Dr. Cohen's account of these matters.
Did Russia Really Win in the 2008 August War?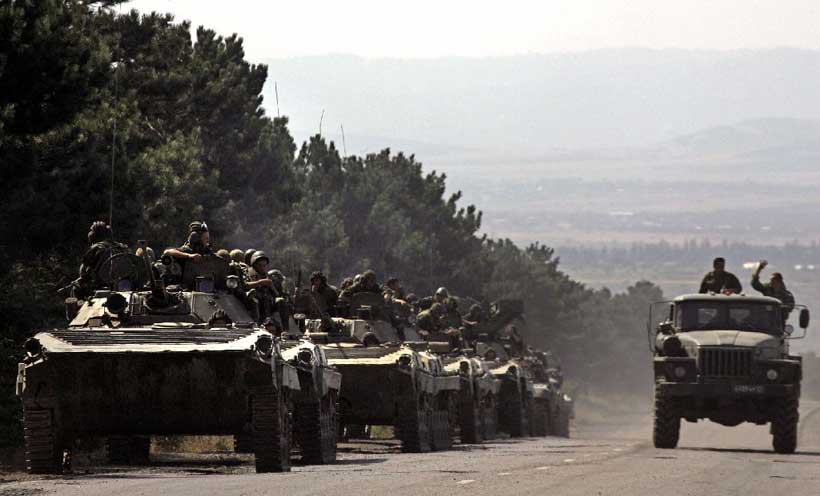 Eleven years have passed since the short Georgian-Russian war started on August 7-8 in 2008. As every discussion on who started the war generally is, the Georgian-Russian one too is about finding moral grounds for military actions which both sides took at the time.
Morality in geopolitics, and the Georgian-Russian conflict is indeed caused by pure geopolitical calculations, is at most times a superfluous thing. All these years the Russians have been trying to convince the world and the public inside the country that the Russian military moves actions and subsequent recognition of the independence of the Abkhazia and Tskhinvali regions were the only possible and correct actions to be taken. The Georgians also have their dilemmas: some marginal political figures still believe that it was the Georgian government that was most to blame for the catastrophe of 2008. Though close geographically, these diverging narratives and the constant need to prove one's own truth says a lot about how far apart Georgia and Russia have grown in the past decade.
11 years since the war and it is still unclear what Russia has gained from its military and diplomatic actions since 2008. True, military build-up in Abkhazia and Tskhinvali Region limited Tbilisi's ability to become an EU/NATO member state. Moreover, Russian intervention into Georgia in 2008 also showed the West how far Moscow can go if a strategic decision is made to draw Georgia into the alliances. At the time (August-September 2008) those seemed to be long-term (strategic) victories for Moscow. In international relations and geopolitical calculations, you can stop a country from attaining the aims harmful to you, but in the long run you will be unable to reverse the process by forceful actions alone: you have to provide a counter-policy to turn an unfriendly state into an amenable neighbor.
Put all of this into the Russian case. More than a decade has passed since 2008, only a few not-so-important states recognized Georgia's territories as independent entities. The Georgian public is overwhelmingly anti-Russian, the last hopes of a grand geopolitical bargain – the return of the territories in exchange for reversing EU/NATO aspirations – have disappeared among the Georgian public, and support for western institutions so far has only increased.
In the end, though Moscow waged a reasonably costly war in 2008, took and still experiences a diplomatic burden for its moves against the West, and has yet to attain its grand geopolitical goal of reversing Georgia's pro-western course. Politicians in Moscow, at least strategists behind the scenes, all understand that Georgia's persistence, which seems naive today, might turn into serious business if Russia's geopolitical positions worsen elsewhere in Eurasia.
Indeed, there are signs that Russian influence is set to diminish further in the former Soviet space as the country's economy is unlikely to be attractive to the neighboring states. Imagine a scenario where Russian internal problems (Putin's upcoming succession, economic downturns, China's rise, stronger Ukraine, etc.) weigh ever stronger upon the Russian decision-makers in the 2020s, then Georgia's western aspirations might become more concrete – it will be easier for the West to make a strategic decision to draw Tbilisi into EU/NATO.
Overall, Russia definitely gained significant results in 2008, but in the long run it did not change the strategic picture in the South Caucasus, though it did produce a grand design for geopolitical domination in north Eurasia: years after the war, Moscow initiated its Eurasian Economic Union (EEU) to draw its neighbors into one economic space – a prerequisite for building a world power. Ideally, it should have attracted Russia's major neighbors and it would have served the people of the former Soviet space economically. But Moscow failed to get Ukraine and other states involved: without Kiev, the EEU, if not dead, is at least a marginal project. This means that Russian policies towards Georgia and the wider South Caucasus remain the same as before 2008 – keeping foreign powers out of the region, while failing to provide an alternative vision for Tbilisi.
Author's note: first published in Georgia Today
Lithuania's new chief of defence has no chance
Lithuania's new chief of defence, Major General Valdemaras Rupsys calls himself a realist though it seems as if he is a fatalist with no hope to change anything in the national armed forces.
In a detailed interview with BNS Valdemaras Rupsys demonstrates his inability and even lack of hope to modify national military system. He distinctly reveals his plans.
Major General Valdemaras Rupsys says he will seek to accelerate new armored vehicle and artillery system purchases if the country's defense spending makes this possible.
The key words here are "if the country's defense spending makes this possible". The matter is Lithuania itself can rely only on foreign financing and help to strengthen its defence. Thus, he informs that a number of Boxer IFVs are currently being delivered to Lithuania. Renamed "Vilkas", or "wolf" in Lithuanian, the vehicles will be provided only to two battalions of the Iron Wolf mechanized infantry brigade, in Rukla and Alytus. It should be noted that Mechanized Infantry Brigade "Iron Wolf" is the core unit of the Lithuanian Army and forms the country's contribution to NATO collective defence. But even this unit will not be provided with all necessary vehicles and equipment.
The brigade's other two battalions, in Rukla and Panevezys, will continue to use old M113 armored personnel carriers, with plans to replace them with more advanced vehicles by 2030. No budget money – no vehicles!
Major General Valdemaras Rupsys admits that the only thing he can definitely do – to speak to the authorities. "We'll definitely have to speak to the ministry about whether there are possibilities to replace their platform earlier than planned," the general told in an interview. "Plans call for doing so in around 2030 but everything depends on financial resources. There won't be any drastic decisions to replace the acquisitions that we are already planning now," he added.
When he answers to the question if the Iron Wolf brigade needs tanks he is very flexible and says that "being aware of our means and financial capacity, I don't dream about tanks right now. We don't have such plans.
Another question is if he dreams about fighter jets in the Lithuanian army. And he again says – "No, I don't today. I am a realist and don't dream about things we cannot have."
The worst thing is his full satisfaction with the existing situation. He will not even try to change things. In terms of conscription system he shifts the responsibility on the political leadership, on the whole, which should decide on that. And then what is his responsibility? Does Lithuania need such a chief of defence who decides nothing from the very beginning?
Obviously, Lithuania has no money, but according to Major General Valdemaras Rupsys Lithuania even lacks of ambitious either to be a strong country. Possibly, this aim could be reached at the expense of others. At least he is honest.
Polonia: Poland's diaspora policy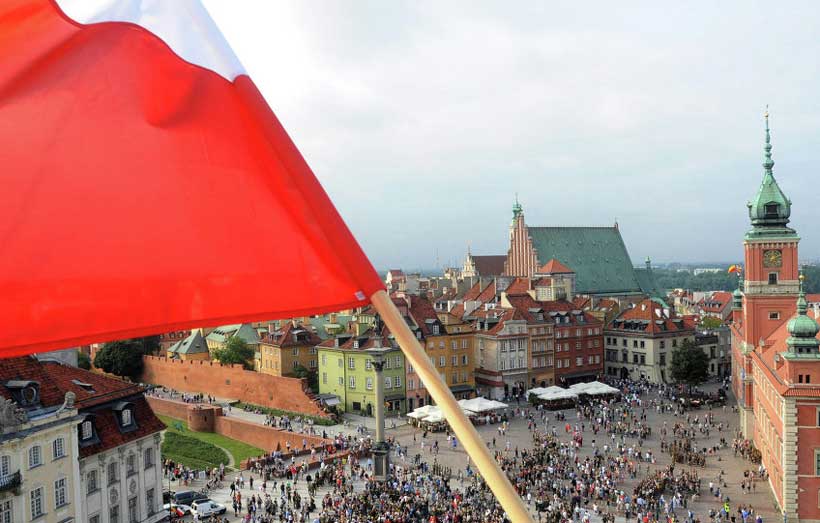 In 2007, the Polish authorities for the first time adopted a government program to promote cooperation with the Polish diaspora (Polonia) and Poles abroad. In 2002, they introduced May 2 as Day of Polonia and Poles Abroad.
The strategic objectives of this program for 2015-2020 include support for the development of Polish language and culture among Poles abroad, strengthening Polish national identity among representatives of Polonia, contributing to the popularity of Polonian organizations abroad and the return of Poles living abroad to their homeland, establishing economic, scientific and cultural contacts between Poland and Polonia .
The Polish Foreign Ministry estimates the number of members of the Polish diaspora, including ethnic Poles and people of Polish descent, at 18-20 million, one third of them were born in Poland. Polonia and the Poles rank the sixth if we compare the proportion of members of the diaspora abroad with the population of the country of origin. 18% of tourists visiting Poland are members of Polish organizations abroad and ethnic Poles.
The largest Polish diasporas are in the USA (9.6 million according to 2012 reports), in Germany (1.5 million) and Canada (1 million). Poles are also living in France and the United Kingdom (0.8 million in each), the Netherlands (0.2 million), Ireland and Italy (0.15 million in each), the Czech Republic (0.12 million), Sweden and Norway ( 0.11 million in either), Belgium (0.1 million). In countries such as Austria, Spain, Denmark, and Iceland, members of the Polish diasporas number less than 100 thousand people.
According to the Polish Foreign Ministry, more than 1 million Poles and people of Polish descent live in post-Soviet countries. According to the ministry, these estimates are not accurate – for one, in Belarus, the most "Polish" republic of the former USSR, the number of Poles and people of Polish origin could amount to up to 1 million (official reports estimate the number of Poles living in Belarus at 295 thousand).
Lithuania comes second by the number of Poles residing there – (250 thousand), the third is Ukraine (144 thousand), then Russia (47 thousand), Latvia (46 thousand) and Kazakhstan (34 thousand) – the fourth, fifth and sixth, respectively.
Polonia is conditionally divided by the Polish Foreign Ministry into ten functionality-based geographical groups: 1. Lithuania 2. Belarus 3. Ukraine 4. Latvia, Moldova, Romania, Slovakia, Hungary, the Czech Republic 5. Western European countries (Great Britain, Germany, France, Italy, Denmark, Switzerland, Sweden, etc.). 6. USA, Canada, Australia, New Zealand 7. Other European countries 8. Russia, the Caucasus, Central Asia 9. Brazil, Argentina 10.Other countries of the world.
This division was carried out on the functional, rather than numerical basis and there is no universal approach as to how to categorize Poles living abroad – each of the above mentioned countries sets its own requirements for working with Polonia. People who have Polish roots but do not speak Polish and who reside in the USA, Canada, Australia, New Zealand, Argentina, and Brazil are regarded as Polish diaspora by Warsaw. In this case, there is a need to popularize Polish informational and ideological products for Polonia in these countries in the language of the country of residence with emphasis on the economic and cultural components and projects for the study of the Polish language.
The latter bears particular importance. In Brazil, for one, there are more than a dozen Polish language courses. People who go there are provided with social benefits and all the necessary documents – student ID passes for students, work certificates for teaching staff (teachers get discounts 33% to 49% on public and rail transport in Poland, etc.), certificates of Polish schools for distance learning, etc.
Given the presence of anti-Russian sentiment in Poland's policy, it is not surprising that Russia, the republics of the Caucasus, and countries of Central Asia are among those that Warsaw accuses of breaching the rights of ethnic minorities, including Poles, which is not true. Working with Polonia in these regions carries a clear ideological touch, as historical grievances prevail over culture and economy. By intentionally inciting conflict, concocting accusations of violating the rights of ethnic minorities,Warsaw equips itself with ideological tools to justify its aggressive Eastern policy towards Russia, Belarus, and Ukraine.
In particular, there are noticeable attempts by Warsaw to force Polish organizations in Russia to participate in anti-Russian propaganda campaigns, especially regarding retrospective assessments of Russian-Polish and Soviet-Polish relations. Polish diplomacy cites the unsuccessful Polish uprisings of the 18th-19th centuries, exiled and repressed Poles of the tsarist and Stalinist times, return of Poland's western lands to Soviet Ukraine and Soviet Belarus following the Red Army's Polish campaign in 1939, etc.
The Polish Institute of National Memory (PINP), being an exclusively ideological structure, is on the list of state institutions and ministries that are responsible for cooperating with Polonia. A projecttitled "The Next Stop is History" has been launched in order to promote the historical and ideological heritage of Poland. Implemented within the framework of the Polish diaspora program of the Department of National Education of PINP in several countries at once (conferences, exhibitions, symposia, film screenings, lectures, military sports games), the project has no geographical restrictions and is conducted with the participation of certified teachers.
Let us focus on some characteristic features of the Polish diaspora policy:
– the prevalence of economic aspects while establishing cooperation with ethnic Poles living in the USA, EU and South America;
– a powerful propagandistic and political emphasis and a minimal presence of economy while dealing with Polonia in countries of the former USSR;
– abandoning tactics of interaction with Polonia which presuppose acting through Polonian organizations only and which have proved ineffective;
– coverage by social, cultural and other projects of the largest possible number of ethnic Poles, in the first place, those who are not members of diaspora organizations;
– absence of heavy vertical hierarchy in disapora organizations in favor of horizontal links and shuttle diplomacy;
– contribute to the formation of a protest and opposition-minded stratum amongst the young in countries of the former USSR (Russia, Belarus, Lithuania, Ukraine) with further placement of its representatives in local government structures, the media and other socially important projects.
Summing up, we can say that Warsaw's diaspora politics abroad are focused on strengthening its positions in the Western community and pursuing unilateral and controversial goals in the eastern direction. From our partner International Affairs