Circular Economy: New rules will make EU the global front-runner in waste management and recycling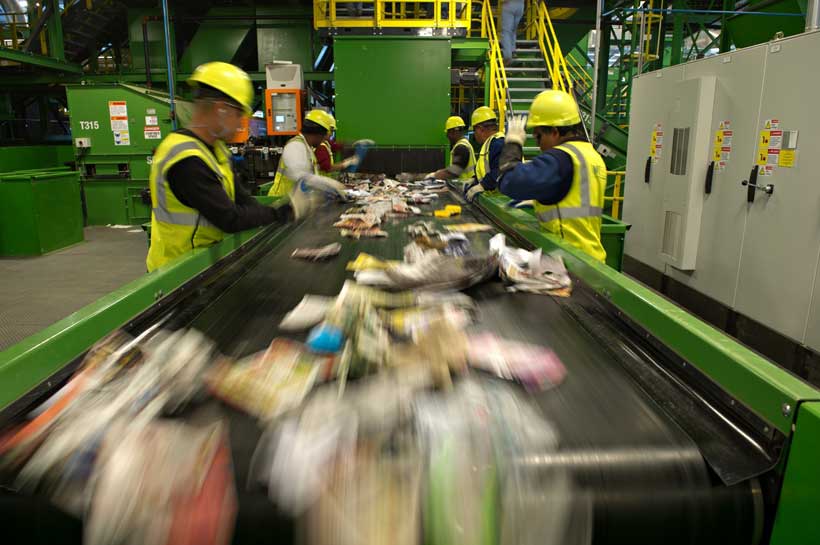 EU Member States approved a set of ambitious measures to make EU waste legislation fit for the future, as part of the EU's wider circular economy policy.
The new rules – based on Commission's proposals part of the Circular Economy package presented in December 2015 – will help to prevent waste and, where this is not possible, significantly step up recycling of municipal and packaging waste. It will phase out landfilling and promote the use of economic instruments, such as Extended Producer Responsibility schemes. The new legislation strengthens the "waste hierarchy", i.e. it requires Member States to take specific measures to prioritize prevention, re-use and recycling above landfilling and incineration, thus making the circular economy a reality.
Commissioner for Environment, Maritime Affairs and Fisheries, Karmenu Vella said: "The final approval of new EU waste rules by the Council marks an important moment for the circular economy in Europe. The new recycling and landfilling targets set a credible and ambitious path for better waste management in Europe. Our main task now is to ensure that the promises enshrined in this waste package are delivered on the ground. The Commission will do all it can to support Member States and make the new legislation deliver on the ground."
The Commission had originally presented proposals for new waste rules in 2014, which were withdrawn and replaced by better designed, more circular and more ambitious proposals on December 2015 as part of the Circular Economy agenda of the Juncker Commission. These proposals were then adopted and are now part of the EU rule book.
The new rules adopted today represent the most modern waste legislation in the world, where the EU is leading by example for others to follow.
The details of the new waste rules:
Recycling targets for municipal waste
| | | |
| --- | --- | --- |
| By 2025 | By 2030 | By 2035 |
| 55% | 60% | 65% |
In addition, stricter rules for calculating recycling rates will help to better monitor real progress towards the circular economy.
New recycling targets for packaging waste
| | | |
| --- | --- | --- |
|   | By 2025 | By 2030 |
| All packaging | 65% | 70% |
| Plastic | 50% | 55% |
| Wood | 25% | 30% |
| Ferrous metals | 70% | 80% |
| Aluminium | 50% | 60% |
| Glass | 70% | 75% |
| Paper and cardboard | 75% | 85% |
Separate collection
Building on the existing separate collection obligation for paper and cardboard, glass, metals and plastic, new separate collection rules will boost the quality of secondary raw materials and their uptake: hazardous household waste will have to be collected separately by 2022, bio-waste by 2023 and textiles by 2025.
Phasing out landfilling
Landfilling of waste makes no sense in a circular economy and can pollute water, soil and air. By 2035 the amount of municipal waste landfilled must be reduced to 10% or less of the total amount of municipal waste generated.
Incentives
The new legislation foresees more use of effective economic instruments and other measures in support of the waste hierarchy. Producers are given an important role in this transition by making them responsible for their products when they become waste. New requirements for extended producer responsibility schemes will lead to improving their performance and governance. In addition, mandatory extended producer responsibility schemes have to be established for all packaging by 2024.
Prevention
The new legislation will place a particular focus on waste prevention and introduce important objectives for food waste in the EU and halting marine litter to help achieve the UN Sustainable Development Goals in these areas.
Global Migration Can Be a Potent Tool in the Fight to End Poverty Across the World
Global migration has lifted millions out of poverty and boosted economic growth, a new World Bank report finds. But destination countries risk losing out in the global competition for talent and leaving large gaps in their labor markets by failing to implement policies that address labor market forces and manage short-run economic tensions.
Large and persistent differences in wages across the globe are the main drivers of economic migration from low- to high-income countries, according to Moving for Prosperity: Global Migration and Labor Markets. Migrants often triple their wages after moving to a new country, helping millions of migrants and their relatives at home escape poverty. Destination countries often benefit as migrants fill critical roles, from advancing the technological frontier in Silicon Valley to building skyscrapers in the Middle East.
Despite the lure of higher wages, rates of migrants as a share of the global population have remained mostly unchanged for more than five decades, even as global trade and investment flows have expanded exponentially during this time. Between 1960 and 2015, the share of migrants in the global population has fluctuated narrowly between 2.5 and 3.5 percent, with national borders, distance, culture, and language acting as strong deterrents.
Highlights of key findings from the report include:
-Migration flows are highly concentrated by location and occupation. Currently, the top 10 destination countries account for 60 percent of around 250 million international migrants in the world.
-Surprisingly, concentration levels increase with skill levels. The United States, the United Kingdom, Canada and Australia are home to almost two-thirds of migrants with tertiary education. At the very peak of talent, an astonishing 85 percent of all immigrant Nobel Science Prize winners are in the United States.
-Education levels of women are rapidly increasing, especially in developing countries, but opportunities for career growth remain limited. As a result, college educated women from low and middle-income countries are the fastest growing group among immigrants to high-income countries.
"The number of international migrants continues to remain fairly modest, but migrants often arrive in waves and cluster around the same locations and types of jobs," said Shantayanan Devarajan, World Bank Senior Director for Development Economics and acting Chief Economist. "Better policies can manage these transitions in a way that guarantees long-term benefits for both citizens and migrants."
The report recommends various policy measures to ensure the benefits of migration are shared by host and immigrant communities for generations to come. Key among them:
-Effective migration policies must work with rather than against labor market forces. For example, where there is large unmet demand for seasonal work, temporary migration programs, like those in Canada or Australia, could address labor market shortages while discouraging permanent undocumented migration.
-Quotas should be replaced with market based mechanisms to manage migration flows. Such tools can pay for the cost of government assistance to support dislocated workers. In addition, the most pressing needs of the labor market can be met by matching migrant workers with employers that need them the most.
-Creating a pathway to permanent residency for migrants with higher-skills and permanent jobs creates incentives for them to fully integrate in the labor markets and make economic and social contributions to the destination country.
"We have to implement policies to address the short term distributional impact of migration flows in order to prevent draconian migration restrictions that would end up hurting everyone," said Asli Demirguc-Kunt, Director of Research at the World Bank.
The report argues that migration will be a fundamental feature of the world for the foreseeable future due to continued income and opportunity gaps, differences in demographic profiles, and the rising aspirations of the world's poor and vulnerable.
"The public debate over migration would benefit from recognizing data and research," said Caglar Ozden, Lead Economist and the lead author of the report. "What this report tries to bring to the debate is rigorous, relevant analysis to support informed policy making."
Moving for Prosperity: Global Migration and Labor Markets is the latest in a series of Policy Research Reports that comprehensively review the latest research and data on current development issues. The new report presents the key facts, research, and data on global migration gathered from the World Bank, U.N., academia, and many other partners.
You can read the full report and accompanying datasets, based on extensive existing literature.
Sweden well ahead in digital transformation yet has more to do
Sweden's efforts to embrace the shift to digital have been a key driver of economic growth in recent years, yet more needs to be done to get remote areas of the country online, bring digital technology to small firms, upgrade skills and meet security and privacy challenges, according to a new OECD report.
OECD Reviews of Digital Transformation: Going Digital in Sweden finds Sweden is among the top OECD countries in deploying digital technology across households and business, with widespread Internet use across the country and narrower digital divides by age, education, income and firm size than most countries. The availability, quality and affordability of high-speed Internet in Sweden is among the best in the OECD.
Sweden's economy has the highest share of value added coming from information and communication (ICT) technologies of OECD countries and is among the top ten exporters of ICT services. Use of digital technologies has helped Swedish firms to integrate into global value chains in manufacturing and move up the value chain to focus on high value-added services like product design and marketing. Sweden is also a leader in the Internet of things.
While Sweden is on a solid path to reach its goal of having 98% of households and firms connected to 1 gigabit per second Internet by 2025, it should now focus on enhancing co-ordination among national, regional and local broadband deployment strategies and  expanding networks in sparsely populated areas. The use of digital technologies by people with lower levels of income or education could be further increased. Sweden also lags other countries in opening up government data to citizens.
On the business side, while digital tools are widely used in Swedish firms, most are slow to seize opportunities to analyse big data. There is also a limited supply of advanced ICT skills in the Swedish workforce. The report also notes that as an international hub of scientific and technological leadership, Sweden should strengthen its policy priorities and publicly funded programmes for digital innovation.
Concerns about digital security are higher among Swedish people than in many other OECD countries. The government should promote a clear vision of digital security risk management as an economic and social responsibility of all and provide stronger policy leadership.
The report is the first in a new series of OECD reviews that will analyse development of the digital economy, review policies and make recommendations to improve performance as part of the Organisation's Going Digital project.
Finding Jobs in South Africa: Two Actionable Ideas that Work
Recent studies show that better job search planning and including a reference letter from former employers, significantly increases responses from potential employers in South Africa.
The World Bank's Africa Gender Innovation Lab and Jobs Group, in collaboration with researchers from Middlebury College, Stellenbosch University and University of Cape Town, conducted several experiments investigating the roles of skills certificates, referral letters, and providing better information about workers in the labor market.
One experiment involved the design and testing of an action-planning tool to promote greater job search intensity. The tool layered on top of a 90-minute career-counseling workshop offered by the government of South Africa helped unemployed youth follow through on their job search intentions and adopt a more efficient and effective search strategy. Improved search strategy led to job seekers receiving 24% more responses from employers and 30% more job offers. Five to 12 weeks after the workshop and action planning, these job seekers were 26% more likely to be employed.
A second experiment, tested the impact of reference letters from former employers. Including a reference letter in a job application increased the likelihood of getting a response to an application (by 60%). Interestingly, reference letters may be even more important for women job seekers. Women with better reference letters were more likely to receive responses from employers and interview requests (the same was not true for men). Women who received reference letter templates were approximately 50% more likely to be employed with employment rates doubled for those who used the letters.