Project Launch Showcases Potential of Vietnam's Trade and Logistics Sectors
The World Bank and the Ministry of Transport today hosted a workshop to launch the implementation of the Vietnam Logistics Statistical System Project and highlight the importance of strengthening the transport and logistics sectors to boost trade competitiveness.
Designed to establish a national system for collecting, processing and publishing transport and trade logistics statistics on an annual basis, the project is part of the World Bank's support to the Government of Vietnam's integrated program for trade facilitation and logistics development.
Despite substantial increases in public investment in infrastructure, trade-related infrastructure has not maintained pace with the growth of exports. Weak infrastructure and transport links – especially weak corridors connecting key value chains to main international gateways – as well as high transport costs, poor quality of transport, and logistics services, are constraining trade potential.
"Developing a robust logistics data system is crucial for designing and implementing effective policies to enhance Vietnam's logistics performance and competitiveness." said Sebastian Eckardt, Lead Economist for the World Bank in Vietnam.
Financed by the multi-donor Trust Fund for Statistical Capacity Building, or TFSCB, managed by the World Bank, the project also provides technical support for project implementation, through a partnership between the World Bank, the International Transport Forum, the Organization for Economic Cooperation and Development (OECD), and the Australia-World Bank Partnership Program.
The workshop showcased international practices and key components of a good logistics statistical system and discussed the importance of reliable transport and logistics data in Vietnam. The data will be used for strategic planning purposes, and to formulate and monitor the implementation of policies related to transport infrastructure as well as trade and logistics development. It will also help logistics firms to access reliable data for their business development.
Lemon peel, flax fibres hold keys to eco-friendly car parts
Natural materials including farm waste can make autos and other industries more sustainable, less toxic
By HELEN MASSY-BERESFORD
Think of the car or construction industry and lemon peel, corn starch and almond shells hardly come to mind. Yet manufacturers may rely increasingly on such raw materials as Europe seeks to reduce waste – from both agriculture and plastics.
New high-performance industrial materials from farm waste emerged from the BARBARA project, pointing the way to stepped-up innovation in the European bioeconomy.
Getting circular
Funded in a partnership between the EU and the private sector, the project used agricultural residues including lemon peel, corn starch, almond shells and pomegranate skins as additives for biopolymers, which occur in living organisms such as plants and can be used in manufacturing.
The result: prototypes of car parts and construction moulds made using the 3D printing expertise of Spain-based Aitiip Technology Centre.
'The most exciting thing from our point of view is that there are no residues, only resources,' said Berta Gonzalvo, research director at Aitiip, which coordinated the three-and-a-half-year project. 'Automotive and construction pieces have been successfully validated, demonstrating that a circular economy is possible and contributing to reducing environmental impact.'
The EU is spurring the development of products derived from materials of biological origin, part of a push not just to cut waste but also to reduce emissions of carbon dioxide and to make industrial goods safer.
The EU bioeconomy has been expanding for a decade, reaching €2.4 trillion in 2019, and has further growth prospects, according to an October 2022 study.
In a sign of the high expectations for bio-based industries, the EU in 2014 established a €3.7 billion joint undertaking with them to spur research in the field. This was followed in 2022 by a €2 billion initiative with players ranging from farmers to scientists to overcome technical, regulatory and market barriers for bio-based products.
The EU produces around 60 million tonnes of food waste and 26 million tonnes of plastic waste a year.
Making industrial materials from renewable sources including waste is set to become increasingly important and projects like BARBARA are just the beginning, according to Gonzalvo.
When BARBARA began in 2017, only one biopolymer was available for 3D printing. The project increased the number of bio-based materials using a combination of industrial biotechnology, nanotechnology and advanced manufacturing technologies.
It came up with new processes for the extraction and use of compounds such as natural dyes, biomordants that fix dyes, antimicrobials and essential oils from pomegranate, lemon, almond shells and corn.
Doors and dashboards
BARBARA created eight materials containing pomegranate and lemon pigment, pomegranate biomordants, lemon fragrance and almond shell that could be used instead of existing plastics. The new materials led to different colours, aromas, textures and antimicrobial properties.
The 11 partners also printed prototype door trims and a dashboard fascia for the car industry as well as a mould for truss joints for the construction sector.
The new materials have better mechanical, thermal and even aesthetic properties.
As a result, they can be used to improve the quality of the end material, even adding a colour or fragrance.
While the project has ended, the participants hope the technology can move forward to the demonstration phase within the next four to five years. That would show the possibilities for large-volume production.
With the global biopolymer industry growing 6% a year and the European sector expanding 30% annually, Gonzalvo said the EU is in a prime position to lead the way.
'We are one step closer to a real circular economy,' she said. 'Waste can be a resource and not just waste.'
Plastic substitutes
On the plastics front, the research outlook also looks promising.
In Europe, only 14% of plastic waste was recycled domestically in 2020, according to the European Commission. The remaining 86% was incinerated, landfilled, littered or exported, highlighting the need to establish a more sustainable system.
With production of plastics set to increase in the medium term, reducing their environmental footprint is all the more important.
The ECOXY project, funded through the same public-private partnership as BARBARA, looked for bio-based alternatives to plastics known as "fibre-reinforced thermoset composites," or FRTCs.
While FRTCs are light and strong, their green credentials are lacking. Besides being derived from fossil fuels, they can't be recycled and are often made from toxic materials including an endocrine-disrupting chemical compound called bisphenol A.
'Fibre-reinforced composites are being used more and more, so these bio-based composites should be able to substitute them in all the fields where they are used,' said Aratz Genua, a researcher at CIDETEC, a Spanish institute that coordinated ECOXY.
Three Rs
The project, which ran in parallel with BARBARA, included a consortium of 12 research and industry partners from across Europe.
They took as their starting point materials deemed to comply with the three Rs: recyclable, reshapable and repairable. While these 3R materials had already been patented by CIDETEC, they had a downside.
'We had made it more sustainable, but we were still working with products derived from oil and the most commonly used one is derived from bisphenol A,' said Genua. 'We had the opportunity to go one step further and make it more sustainable by using bio-waste to create bio-based FRTCs.'
The consortium looked to lignin, derived from wood and plant fibres. It used bio-based resin from lignin with flax fibres as a reinforcement to manufacture a demonstrator, in this case the backseat panel of a car.
'Being able to upscale and manufacture a demonstrator was really good,' said Genua. 'We started with small quantities of materials, and we have shown that these are usable at an intermediate scale.'
The real challenge was to make sure the new material would have comparable properties to the ones currently in use.
Bio-based resins demonstrated very good properties, equivalent to those derived from fossil fuels, according to Genua. But there is room for improving the strength of the flax fibres.
Future focus
Future research could include exploring the use of bio-based carbon fibres, also extracted from lignin.
'We will continue working on the development and optimisation of bio-based 3R resins for different applications,' Genua said.
For example, the EU-funded BIO-UPTAKE project is working on ceiling panels for the construction industry.
'In these cases, not only flax fibre but also bio-based carbon fibre will be used,' said Genua.
In the short term, the new materials are better for the health of workers handling them during manufacturing.
In the long term, the environment will benefit thanks in no small part to the resulting reduction in waste.
Research in this article was funded via the Bio-based Industries Joint Undertaking (BBI JU), which in 2022 was followed by the Circular Bio-based Europe Joint Undertaking (CBE JU). The article was originally published in Horizon, the EU Research and Innovation Magazine.
ABC news: Xi signals strength in Russia-China alliance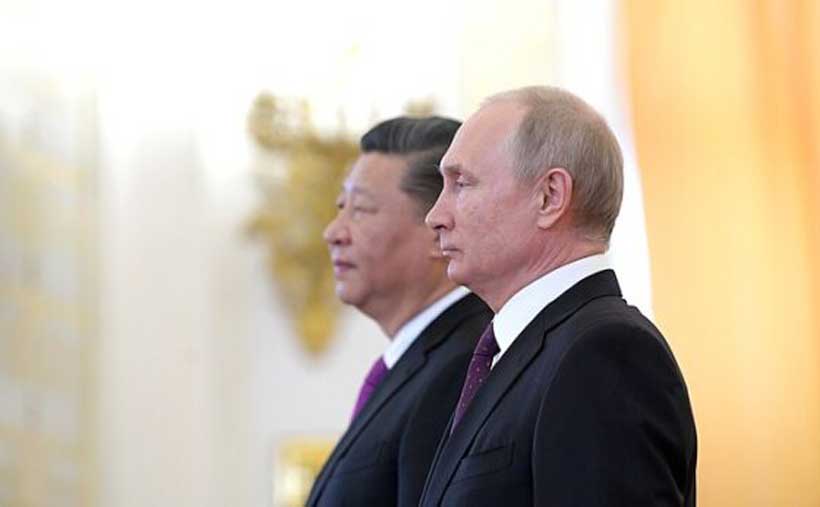 Chinese President Xi Jinping departed Moscow on Wednesday after two days of highly symbolic meetings with Russian President Vladimir Putin, in which the two presented a united front and an alternative vision for global leadership, notes ABCnews.
Despite statements saying that "China-Russia relations are not the kind of military-political alliance during the Cold War," China and Russia made clear they wanted to "advance the trend toward a multi-polar world."
"This highly publicized summit may reflect a shift towards a new and more active role for China, as it seizes the opportunity to convey diplomatic – and possibly tangible – support for Russia and any other state that wishes to defy the West," – Michael Butler, associate professor of political science at Clark University, told ABC News.
Joint animosity towards the U.S.-led world order has kept Russia and China close despite Putin's war in Ukraine and western sanctions against Russia has made China their biggest customer and economic lifeline.
Beijing increasingly sees Russia as necessary ally as China and United States continue to fallout over numerous fronts not limited to Taiwan and access to semiconductors. It was further exasperated by the spy balloon episode earlier this year.
Beijing had initially hoped that the spiraling tensions with the U.S. would abate in the wake of Xi's meeting with President Joe Biden in Bali last November, but as they continued to crater, Xi seems to have re-prioritized Russian relationship. He even aimed a rare direct slight at the United States earlier this month, blaming the Americans for "containment and suppression" as the reasons for China's economic challenges.
Xi highlighted on numerous occasions over the two days of meetings that Russia and China are each other's largest neighbors and that their partnership is "consistent with historical logic and a strategic choice of China."
Petr Pavl: "Ukraine must adjust to dwindling Western support"
"We must consider war weariness", says Czech President Petr Pavl. According to Czech President Petr Pavl, Ukraine must adjust to dwindling Western support. "We have to consider war weariness and what that means for support from Western states. This will pass with time," Pavel told the 'Süddeutsche Zeitung'.
He also mentioned the 2024 US presidential election and the concentration on domestic politics that could then be expected: "If US support decreases, support for a number of European countries will also decrease. Ukraine should take this into account."
Thus, in 2024, Ukraine will probably no longer be able to start any large and complex operations, the new Czech president said. "This year is decisive for the development of the war."
The former general was wary of the prospects of Ukraine joining NATO in the foreseeable future. "Ukraine's path to Europe should run through a faster rapprochement with the European Union and only then with law enforcement agencies," the President said. "I think that's the right order."