Will Mahathir Reset China-Malaysia Trade Relations?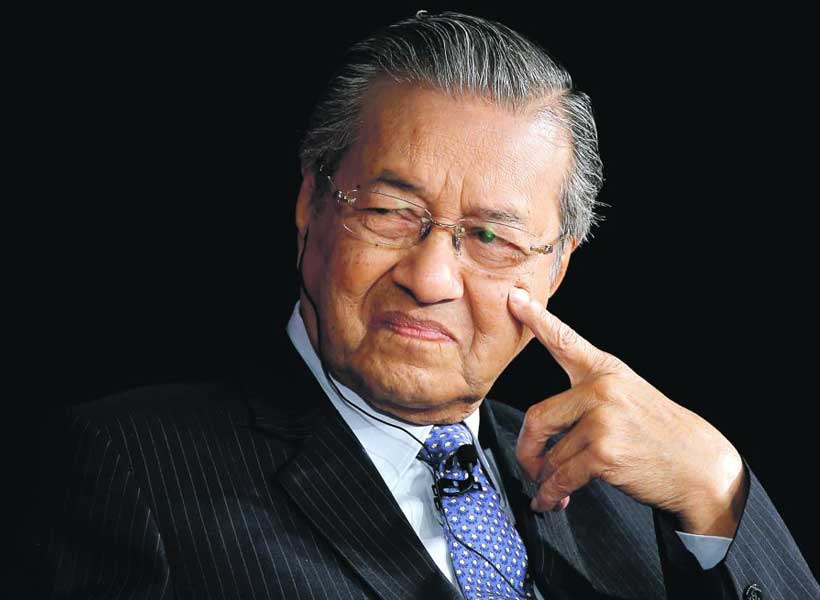 A shock electoral upset has just returned 92-year-old Dr Mahathir Mohamad to the prime ministerial chair in Malaysia. The run-up to this climax was muddled by a miasma of fake news, lurid allegations and outright conspiracy theories from eitherside of the political divide. China-baiting was inevitably drawn into this tawdry mix despite mainland investments being a stabilizing main stay of the local economy.
According to an Economic Intelligence Unit report last year, Malaysia was the fourth-largest recipient of mainland Chinese direct investments – right behind Singapore, United States and the autonomous Chinese province of Hong Kong. Although the sum total of Chinese investments in Malaysia has not been adequately tallied,the US$100 billion Forest City project provides a snapshot of the staggering amounts being invested into the local economy.
While former Prime Minister Najib Razak hailed these investments as an imprimatur ofhis government's investor-friendly policies, the opposition camp (and new government) accused him of "selling out to China". In reality, one doubts whether foreign consortiums canmatch the scale, cost-effectiveness and speed of execution of many Chinese-led projects in Malaysia.
Business Compradors
Dr Mahathir has particularly taken issue with the inadequate number of local jobs created by Chinese investments in Malaysia. It is an argument not without merit.Overseas Chinese infrastructure projects are known for their heavy reliance on mainland labour, machines and supplies – of the lock, stock and barrel variety – tokeep costs, graft and middlemen interference to the lowest possible scale.
Curiously, the backbone of Dr Mahathir's electoral tsunami came from the ethnic Malaysian Chinese community who openly hailedthe global ascent of China. That was until theydiscovered thatmainland business models accommodated as few middlemen as possible.It was Alibaba on a massive scale, missing 40 thieves and in perennial need of 40innovators.
Many Malaysian consumerssave thousands of ringgit each year by purchasing a variety of consumer products directly from China instead of forking out a hefty mark-upat local stores.Unsurprisingly, there are now growing calls to tax online purchases from China. This is not going to help budget-strapped Malaysians who voted in the new administration on the back of complaints over rising living costs. Malaysia's shadow economy has been estimated by various studies to range between 30 percent and 47 percent of its GDPup till 2010.
The anti-China narrative therefore may be couched in terms of multifaceted grievances like jobs and the South China Sea but it primarily boils downtoincentives for middlemen who contribute little or nothing in terms of value-additions to projects, productsor services offered by mainland companies. These modern-day compradors have an ally in another area bereft of value – added or otherwise.
Media Compradors
The biggest impediment to the Malaysian economy is not China, its business modus operandi or the lack of local talent. It is the Malaysian media which has abjectly failed to relay grassroots ideas and innovations to national policy-makers for decades.
The author himself vividly remembers the lament of Dr Mahathir's former national science advisor on the dearth of science journalists in Malaysia. This translates to recurring losses in taxpayer money.There is an oft-told account of how a fact-findingdelegation to the United States, seeking particular expertise in renewable energy technology,were told that the expert they were looking for was a Malaysian academic back in Kuala Lumpur!
Researchers needing critical economic or scientific data on Malaysia are likely to get them from foreign sources as even google cannot cope with the bottomless insipidity and juvenile meanderingsof the local media. Publicity-seeking experts with dodgy backgrounds are routinely sought for their banal insights and quotes in return for guaranteed filler spaces in a lack lustre media.Malaysia is gradually losing its economic and intellectual competitiveness due to the entrenched practise of mediocrity promoting mediocrity – egged on by Western interests.This forms the main backdrop to the current anti-China narrative.
Local media stalwarts privately blame politicians, in particular Dr Mahathir himself (during his previous 22-year reign) for the lack of media vigour and freedom in Malaysia. While media restrictions undeniably exist, one wonders how proposed articles on topics such as Open Governance could be seen assubversive.
It is high time to drain the swamp in Malaysia. Dr Mahathir has already indicated that the bloated 1.6 million-strong civil service in Malaysia would be pruned to promote economic and government transparency. For decades, successive governments had rewarded personal loyalty with plush posts and contracts. Malaysians now have another chance to demand efficient, meritocratic and transparent governance. Not mass-mediated bogeymen, viral passions and pies-in-the-skies.
The billion-dollar question now is whether the new administration will be able tousher in a transparent and vibrant media – one that can explore greater synergies within and abroad.Otherwise, Malaysia's relations with its neighbours and trading partners are bound to deteriorate, along with its economy.
An abridged version of this article was published by CCTV's Panview on May 14, 2018
Understanding The Different Thinkers and the Issue of Compliance in ASEAN
Authors: Harsh Mahaseth and Shubhi Goyal*
Over the years the issue of compliance has been seen through various lenses with its role and function in international law evolving. There has been a transformation in the characterization of compliance with international law which has restructured the maturities and complexities of it. International Law is seen as legitimate due to its clarity, its validation by formal processes, it's conceptual coherence, and conformity to normative hierarchy of the International rule system. This article draws on the theory of Managerial approach espoused by Abram Chayes and Antonia Chayes and the Legitimacy theory given by Thomas Franck to understand why the ASEAN states have some of the lowest levels of compliance with international law and the possible policy changes to rectify the same.
There are several reasons for why States obey international law: it is in their best interests, they believe in the system, to improve reputation or credibility, for recognition as an international legal person, pressure from the international community, fear of repercussions or retaliation, or to maintain peace and security.
The approach adopted by Abram Chayes and Antonia Chayes, termed as the managerial approach, relies on a cooperative approach to compliance and states that while substantive legal norms and lawyers are important, the law is rarely determinative in international affairs. They see international law as a system to manage international affairs. This legal process will allocate the competence for decision-making between several national and international actors and also restrain and organize the behavior and its interactions with the political, economic, and cultural setting. States, under this theory, obey international law not because of punitive sanctions but because of three factors- (a) compliance reduces transaction costs and increases efficiency, since the need to recalculate the costs and benefits of a decision is eliminated; (b) they are persuaded to comply by the treaty regimes themselves, since they are consent based instruments and therefore intended to serve the need of the participating states; and (c) a general norm of compliance in treaty regimes, furthers compliance. They espouse coordination building efforts such as transparency and clarity in the terms of the treaties as a way to improve compliance, rather than punishment or sanctions. Dispute resolution under this model is only a forum for communication and for expectations to be cleared.
Thomas Franck's work emphasizes on the transformation of international law post-World War II which has accompanied the transformation of sovereignty. His work is not limited to treaty-based law, like Chayes and Chayes, but also extends to the power of customary rules. He observed that the international system has an abundance of specialized law with very little to do with the law of international organizations or the constitutional law of the global system. He acknowledges that nations obey rules when the benefits of complying exceed the costs; however, he bases this on communitarian peer pressure rather than a multitude of cost-benefit calculations regarding particular rules. His theory, popularly known as the legitimacy theory provides four factors that determine whether a State will comply with international law- coherence, adherence, determinacy and symbolic validation. Franck in his work had emphasized on a lexical priority of legitimacy over justice which should be the prime goal of an international rule system. According to Franck a moral order is manifested in the belief of the right process rather than the substantive outcomes. However, Franck does not delve more into the various modes of institutional interaction that lead to interpretation of norms, nor does he delve into the mode by which international norms are internalized into domestic legal systems.
Franck and Chayes and Chayes understand international law more as a process rather than as a system of rules. Though through different methodologies, Franck and Chayes and Chayes reach the same intuitive answer on why nations obey. They recognize transnational actors to be more likely to comply with international law when it is accepted through some legitimate internal process. Franck says that if nations perceive a rule to be fair then they will obey it, while Chayes and Chayes say that nations will voluntarily comply with norms that regularly justify their actions to treaty partners in terms of treaty norms.
According to Chayes and Chayes there is an issue with compliance due to lack of clarity of rules and capacity. ASEAN has several treaties and agreements, all of which can be found on the ASEAN website, however, most of them are non-binding agreements which were entered into just for the satisfaction of the Member States. The countries making up the ASEAN is an area of extreme diversity. The region has representation from all three of the world's largest religions- Christianity, Buddhism and Islam. There are countries like Singapore, with a per capita income of around USD 82,000 and frequently counted as among the richest countries in the world, and those like Cambodia, with a per-capita income of USD 3,300. Due to the ASEAN Way several affairs were conducted in a loose and informal way, unclear with their nomenclature with few legally-binding arrangements and weak institutions.
Franck links compliance with the legitimacy of the rules. This theory lines with the non-compliance of Singapore, Malaysia and Brunei with the International Covenant on Civil and Political Rights as they still have the use of corporal punishment. These countries do not believe in the legitimacy of the Covenant with respect to caning and death penalty and thus did not sign or ratify the same.
Harold Koh talks about norm internalization and how a transnational legal process is required. Compliance comes about when the particular International Law is internalized within the normative structure of the state. The three phases for the same are interaction, interpretation and internalization. The lack of internalization is one of the issues that leads to the low level of compliance among ASEAN states face, their reluctance to internalize international law because of the very less importance given to the written law in such states, as compared to those in the West.
ASEAN has an issue with compliance. In the past only about 30 percent of ASEAN's agreements were implemented. There are several reasons for non-compliance – lack of capacity, not in line with national interest, (realist and self-interested), procedural issues, ambiguity, ASEAN Way – informal, flexible and non-legalistic, low levels of legalization and institutionalization, path dependence (habituated practice), lack of information, lack of capacity, lack of faith in system, ambiguity, unrealistic and insufficient dispute settlement mechanism, and weak rule of law at national and regional levels.
While the ASEAN Charter under Chapter VIII talks about Dispute Settlement Mechanisms, and there is a 2010 Protocol to the ASEAN Charter on Dispute Settlement Mechanisms, ASEAN is yet to fully establish a functional dispute settlement mechanism. Article 23 of the ASEAN Charter mentions Alternative Dispute Resolution solutions. There are instrument-specific mechanisms which are given under Article 24(1) of the ASEAN Charter. The Treaty of Amity and Cooperation (TAC) of 1976 and the 2004 Protocol on Enhanced Dispute Settlement Mechanism exist as well which are generally used for economic agreements. Article 25 of the ASEAN Charter has a 'catch-all' clause for all other disputes that do not fall within the above ambit. However, the TAC is weak, and the 2004 Protocol goes first to consultation and consensus. If it is modelled on the WTO then why is it only efficient to only have 60 days to settle the dispute? According to the theory of Chayes and Chayes this would not be efficient and it is seen that the ASEAN Member States prefer to use other forums such as the International Centre for Settlement of Investment Dispute or the World Trade Organization over ASEAN Charter-sanctioned Dispute Settlement Mechanisms. All ASEAN Dispute Settlement Mechanisms are ad hoc and none are activated.
According to the Report of the Eminent Persons Group on the ASEAN Charter (EPG Report), ASEAN's problem is not one of lack of vision, ideas, and action plans. The real problem is one of ensuring compliance and effective implementation of decisions. The solution of which is the establishment of dispute settlement mechanisms, inclusion of compliance monitoring, advisory, consultation as well as enforcement mechanisms, and entrusting the Secretary-General with the role of monitoring and reporting cases of non-compliance. The ASEAN Secretariat should collect, analyze the data and do performance reviews. This would ensure greater transparency and information sharing. Further, instead of using only consensus based and informal mechanisms to deal with conflicts, there is a need for collective effort to build a more rules-based community to accelerate regional integration and future response to events.
*Shubhi Goyal is a graduate of NALSAR University of Law, Hyderabad and is currently placed as an In-House Counsel with a private sector bank in India.
ASEAN Peace Initiative and the Myanmar Crisis: A Failed Attempt?
Historically, ASEAN is closely linked with Myanmar. As part of the Southeast Asian region and an ASEAN member, Myanmar enjoys a huge significance. ASEAN has often been criticized outside the region for its role in Myanmar since the Cold War days. The rejection of the electoral verdict in 1990 in Myanmar by the military regime and subsequent brutal crackdown against the National League for Democracy (NLD) activists and protesters put the ASEAN regional group in a dilemma. Nevertheless, ASEAN did not abandon Myanmar and continued its membership. ASEAN has done very little about the brutality and atrocities of the Myanmar military regime against the Rohingyas, who are the largest group of stateless people in the world. The displacement of more than 2 million Rohingyas outside Myanmar, including 1.1 million in Bangladesh, could not draw the considerable attention of its members to take effective actions against the military.
Nevertheless, ASEAN is a key multilateral platform for regional dialogue as well as for promoting peace and stability in the region and specifically in Myanmar against the backdrop of the post-military coup in the country. On February 1, Myanmar's military seized power. The country's political leaders, including Aung San Suu Kyi were detained. Protests have been going on in the country since then. More than 832 civilians, including children have been killed in two and half month protests by the army and police in Myanmar, according to the right group Assistance Association for Political Prisoners (AAPP). More than 3,000 protesters, including journalists and artists have been detained.
ASEAN seeks talks between Myanmar leader Aung San Suu Kyi and the government of military Junta Min Aung Hlai to restore peace in the country. It sees no alternatives to peace talks in Myanmar. For this, the group has offered to mediate to bring all the disputing parties into the discussion. At the same time, the leaders of the alliance have agreed in principle to provide humanitarian assistance to the people of Myanmar. Accordingly, the ASEAN convened a special and emergency Summit in Jakarta, Indonesia in April 2021 to discuss a pathway to overcome the domestic political crisis in Myanmar.
The supreme coup leader, Min Aung Hlaing arrived in Jakarta on his first foreign trip since the military coup in Myanmar and joined the special meeting of the regional alliance ASEAN of 10 countries. During the summit, the ASEAN leaders voiced the demands such as stopping the bloodshed in Myanmar in the name of suppressing the protests, keeping the door open for talks, restoring democracy and releasing the political prisoners. Joko Widodo, the President of Indonesia, the host country of the summit stressed that the junta government must promise to end violence in Myanmar. Democracy, stability, and peace must be restored. Malaysian Prime Minister Muhiuddin Yassin called for an end to the ongoing killings and atrocities in Myanmar as he reiterated, "I hope Myanmar will unconditionally consider Malaysia's offer to release political prisoners immediately." The Prime Minister of Singapore Lee Hsien Long expressed hope that the military would comply with the call and initiatives of ASEAN countries to restore peace in Myanmar.
Following the summit, Indonesian Foreign Minister Retno Marsudi delivered a press conference on behalf of the group. He expressed his deep concern about the ongoing violence in Myanmar. The number of killings and injured is constantly increasing. There are no signs of restoration of democracy in the country. ASEAN issued a statement expressing a "five-point consensus" on Myanmar's crisis. It called for the immediate cessation of violence, a dialogue among all concerned parties, and mediation of the dialogue process by an ASEAN special envoy, provision of humanitarian aid through ASEAN channels, and a visit to Myanmar by the special ASEAN envoy to meet all concerned parties. ASEAN hopes to initiate a longer-term framework process, starting with ending the violence that will help facilitate dialogue among all the stakeholders in Myanmar, not just with the military regime.
On the ground, the ASEAN peace initiative has raised more questions about its implementation. The Myanmar Junta government has hardly listened to the ASEAN peace initiative and subsequent ASEAN diplomatic strides. It has even blatantly failed to keep their own words promised in the special summit. Demonstrations have continued in many parts of the country since meeting, as many have been killed, arrested and attacked by security forces. More ominously, the military regime, in an utter violation of the spirit of the summit, launched an initiative to dissolve the National League for Democracy (NLD), a party that swept in the 2020 elections by a landslide victory of winning 399 seats exceeding the number of seats of 322 grabbed in 2015. It won more than 80% of the votes proving its epochal popularity among the masses in Myanmar. The military-appointed Chief of Myanmar's election commission, Thein Soe, declared the possibility of disbanding NLD over allegations of fraud. It has literally killed the prospect of any positive changes by the ASEAN peace initiative. Besides, the opposition political parties and Civil Disobedience Movement (CDM) leaders also expressed their doubts about the success of the peace initiative due to ASEAN's ineffective and mild approach to the Junta government.
In this context, a successful regional organization like the ASEAN cannot sit idle to such acts of the military regime in Myanmar. As part of short-term role, ASEAN should, at least, tackle the situation in a way that would allow open discussion on any urgent action that its member states can take to de-escalate political tensions, prevent bloodshed and to put a stop to hostilities perpetrated by the military junta. This could help prevent the loss of life and the further deterioration of the economic and political situation in the country. The ASEAN should treat the Myanmar issue as a matter of utmost urgency precisely because of two important considerations. First, it is a critical matter that ASEAN has the prime responsibility to respond to the current political crisis in Myanmar that has a colossal impact on basic tenets of democratization, human rights, human security and livelihoods of people. The second vital factor is to avoid the recurrence of spill-over effects that the on-going political turmoil in Myanmar may produce cross-border and regional repercussions. Particularly, it would negatively impact neighbouring countries. For instance, if the crisis escalates to an unprecedented level and is not resolved peacefully, it will more or less produce similar cross-border repercussions exemplified by the aftermath of the 1988 student uprising and the May 1990 elections.
The massive exodus of the Rohingyas in Bangladesh is the biggest tragedy of the contemporary world linked with the actions of the military leaders in Myanmar over the decades. If these cross-border issues and consequences are to be prevented from happening again, ASEAN member states must deal with the Myanmar debacle squarely and resolutely. ASEAN can, at least, put effective pressure on the military Junta to first and foremost respect the results of the November 8, 2020 elections, release Suu Kyi and all political detainees, then go back to the negotiating table and discuss with the legally constituted and democratically elected members of the NLD on how they can work together to resolve their differences. ASEAN and the rest of the international community must not allow the political situation in Myanmar to further deteriorate as it would lead to the worsening of an already dire situation for its people and the region. ASEAN member states must heed to the call of the people of Myanmar for help and assistance. Their safety and security heavily rely on the continued support of the international community in general, ASEAN in particular. Experts argue that whether ASEAN succeeds or fails in providing a solution to the Myanmar crisis would determine its final score in the larger geopolitical strategic game. It is more so when the global and regional powers are engaged in geopolitical rivalry sacrificing the interests of people, including the marginalized communities such as the Rohingyas in Myanmar. The failure of ASEAN will turn into a disaster in regional diplomacy to deal with the Myanmar crisis.
China – Myanmar relations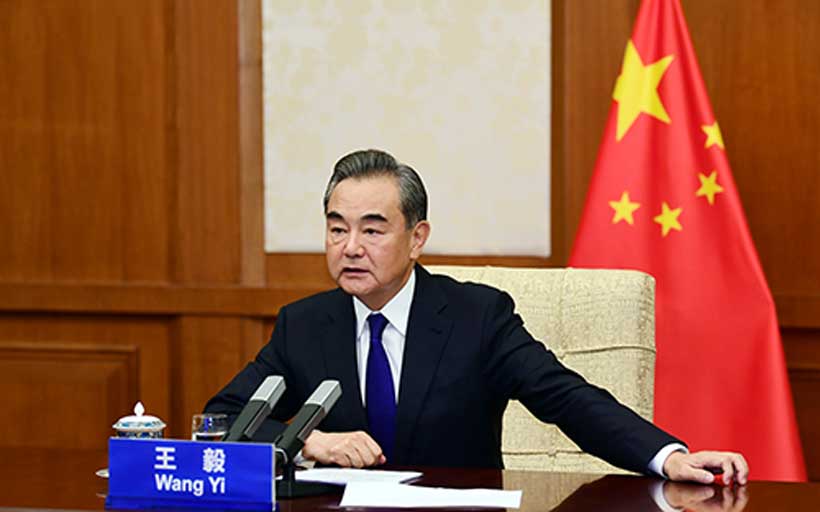 While addressing a meeting of the foreign ministers of the Association of Southeast Asian Nations (ASEAN) Chinese State Councilor and Foreign Minister, Wang Yi expressed China's grave concerns over the Myanmar issue. Wang reaffirmed China's commitment to continue playing a constructive role, saying that China is all ready to work with ASEAN on Myanmar-related problems. Wang Yi was addressing the special ASEAN-China Foreign Ministers' meeting to commemorate the 30th anniversary of dialogue relations held on June 7, 2021, at Chongqing Municipality, South West of China.
Wang further emphasized that all parties in Myanmar should prioritize the interests of the people, exercise moderation, and eradicate all forms of violence. China can assist in economic recovery, enhance its people's livelihoods, and protect their rights and interests. He stated that China welcomes all parties to conduct political discourse under the constitution and legal framework to resume the path of democratic change, adding that China remains ready to cooperate with ASEAN to give help to Myanmar in the face of COVID-19.
China has always remained a proponent of peace and stability in Myanmar. The relations between two, have been characterized as "kinsfolk" (pauk-phaw in Burmese), a phrase coined in the 1950s. The relations between China and Myanmar have gone through various ups and downs. Formal relations between the two dates back to late 1940 when both countries mutually recognized each other. Until the 1960's two nations have enjoyed warm bilateral relations. Things got complicated in 1967 when anti-Chinese riots erupted in Yangon. Bilateral relations between them again touched a high point in 1988 when they signed a 'cross-border trade agreement' that finally put an end to Myanmar's lengthy isolation from the rest of the world. China was thus vigorously seeking a strategic channel to the Indian Ocean, mainly for its landlocked provinces of Yunnan and Sichuan. Later, the Chinese presence in Myanmar enlarged significantly in terms of financial and domestic affairs. In 2018, China was the biggest foreign investor in Myanmar with a direct investment of more than $15 billion on 126 business projects. In the 1990s and early 2000s, China was Myanmar's principal source of arms and ammunition. In more recent times, the Tatmadaw attempted to shift its arms supply dependence on China, though China is still the leading supplier, accounting for almost 50% of Myanmar armaments. Moreover, Myanmar is amongst the largest receivers of Belt and Road Initiative (BRI) funds. It has continuously having China's massive financial support for a set of infrastructural projects along the China Myanmar Economic Corridor (CMEC) including projects related to transportation, industry, finance and communication. The construction of a deep-sea port and the development of a Special Economic Zone at Kyaukphyu, in Rakhine State that connects Yunnan province via railway, are among the utmost significant developmental projects.
The recent coup of February 2021 raised serious apprehensions for China due to the factors which are multifold. Firstly, given the past events, it poses severe security threats to the neighboring Yunnan province as a spillover effect, for instance, 2017 had seen the death of five persons on the China side and the migration of thousands of refugees into the Yunnan Province in combat between the Tatmadaw and Kachin Independence Army, one of the four (Ethnic Armed Organizations)EAOs of the Northern Alliance. Additionally, it can halt the economic development of Yunnan, an impoverished province, draws investment because of its strategic location as a doorway to Southeast Asia. Secondly, Instability in Myanmar can be ruinous for China's flagship project, Belt and Road Initiative. For the success of BRI, stability in neighborhood is indispensable. Thirdly, China can't afford to have turmoil in the neighborhood. The instability in Myanmar is causing disturbances in the neighboring states too, as hundreds of thousands of Rohingya Muslims fled to Bangladesh when Myanmar's army launched a brutal campaign on them in August 2017.
While China was enjoying stable and friendly relations with the ruling National League for Democracy (NLD) led by Aung San Suu Kyi, the recent coup is by no means in favor of China Yun Sun, a co-director of the East Asia Program and director of the China Program at the Stimson Center in Washington, D.C stated that "A coup in no way is in Beijing's interests. Beijing was working very well with the NLD", he further added, "If Beijing has a choice, I think they would prefer the NLD over the military. But they don't have a choice… so they have to deal with whatever comes along."
China has always remained a proponent of peace and stability in Myanmar. In the current scenario, China can play a constructive role in somehow settling the Myanmar issue and support the ill-fated country to embrace stability.
Firstly, since the outbreak of Covid19, things got worse domestically in Myanmar due to the lack of a proper health care system. It can be a blessing in disguise for China and provides a golden opportunity to score some diplomatic points by providing vaccinations and playing a significant role in solving the combined public health and economic crises that would be a win-win situation for both nations. Secondly, China can use its influence being the sole and long term partner, to bring conflicting parties to the table to find amicable resolution of the conflict. Thirdly, China should keep investing in Myanmar and help it building its economy through more investments especially in development sector. Finally, China can utilize ASEAN option as mentioned by Wang Yi in latest statement. ASEAN and China can collaborate to devise amicable and practical resolution of the Myanmar problem.
Stable and peaceful Myanmar is in the interest of the whole region and China in particular. Considering, chaos in a neighboring country can have grim implications for China and its developmental projects, China along with other regional actors need to find realistic solutions for durable peace and stability in Myanmar.