The Russian strategy towards North Africa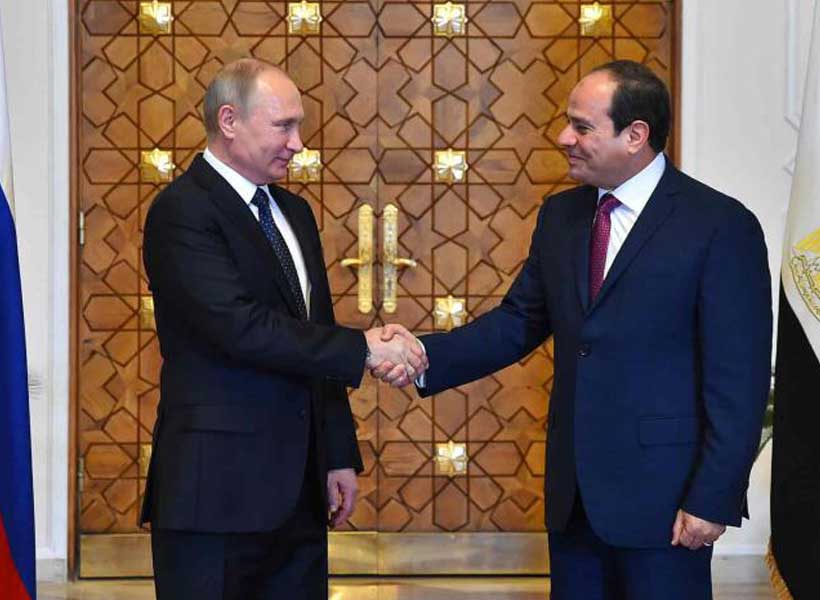 As John Mearsheimer quote "The ideal situation for any state is to experience sharp economic growth while its rivals' economies grow slowly or hardly at all". Russia paves the way to tighten its economic and military cooperation's with Egypt as one of the main North African allies so far.
Russian keen interest in Africa, particularly North Africa, began in the 18th century, with benefits and incentives in the Mediterranean bowl as part of an expansion strategy that was based on economic, political and military estimation.
Africa changed between east and west in terms of alliances which helped form its, economic, cultural, political and militarily balance. Like now, after changes in the status of relationships among alliances, and after structures of the region shifted with a picture that is different to the previous one that had seen over the era of the alliances of the former Soviet Union during the Cold War, Russia is back again after the removal of the Americans. This time, Russia came to the region with the notion of regional rivalry, after a long time, which could make it a key actor until the US resets its position. Russia has put all its power and influence on playing a role in which it would take back its position in North Africa towards enlarging and deepening the economic and investment cooperation as well mutual relations that back to the 1960s.
Due to this, Russia has taken many steps that show its mutual incentive and awareness in North Africa with the main interest in Egypt. This came after the decline of Egyptian-American relations, so Russia and Egypt signed many political agreements, including one of the important agreement which is modernized Egyptian air defense system. This step is advised a Russian warning to the Americans that it is on its way to subjoin one of its significant allies in the region, which used to experienced strategic and military cooperation depend on mutual interests. American vessels used to be the first one when crossing the Suez Canal and could use its air zone in interchange for annual military aid equivalent to $1.3 billion in 2013, which America froze in protest upon the displace of the first democratic regime in Egypt that came after the January 25th Revolution and the coup d'état against legitimacy.
The objective of Russian return to the region is not incomparably limited to economic arbitrations; there are mainly arms contracts, security exchange in fighting terrorism and upgrading trade process. Other than Egypt, there are also other promising destinations which began with diplomatic visits, such as Morocco and Algeria. The significant aspect of returning of Russia to North Africa at this time is the lack of any ideological agenda in the new agreements and cooperation plans.
Currently, Russia embarks to Egypt; the foremost step reaches several targets. Basically, Egypt is seen as geo-strategic access and convenient gateway through Africa, and sub-Saharan Africa where the natural resources wealth of uranium, gold, oil and maritime exist. These natural resources might be a rational reason for future dispute between Russia and America, especially after US withdrawal from North Africa, but only after having strengthened its presence in sub-Saharan Africa and safeguards Maritime roads for Gulf oil through the region.
As long as the two superpowers competing, North Africa is the free land of future investment that requires an agreement between the Russia and America, especially as other powers, such as China, are present and access Africa from its center. China was involved and engaged in exploring and manufacturing Sudan's oil, before the division of the state of South Sudan in 2011. Today China is growing its activities after most oil fields became part of South Sudan. In addition to the new state, China has other markets in central Africa and the east. It only collaborates and participates in economic and trade sectors and infrastructure construction in Sudan.
The Russian president Putin embark to Cairo last Monday after a concise and unpublished visit to a Russian military air base in Syria. The air base has offered the main ledge for the air campaign Russia has undertaken since September 2015 under the backing of Syrian President Basher Assad.
Egypt's constantly close ties with Russia get back to the 1950s and 1960s when Egypt became a close Russian ally at the height of the cold war. Therefore, Egypt changed sides in the 1970s under the late President Anwar Sadat, who replaced Moscow with Washington as his country's chief economic and military backer following the signing of a U.S.-fund peace treaty with Israel in 1979. Egypt has since become an important successor of American. aid. Under el-Sisi, Egypt has been able to sustain close relations with both Russia and the United States.
In term of Military Cooperation, Sisi and Putin also tackled about Syria and mutual rejection of U.S. President Donald Trump's decision to recognize Jerusalem as the capital of Israel, a move that has sparked protests across the region and from European capitals as well. The high-level Russian visit comes after the U.S. government in August decided to deny Egypt $95.7 million in aid and to delay another $195 million because of its full failure to make progress on human rights and democratic norms.
Russia started a military operation to back and support Syrian President Bashar al-Assad in September 2015, and there are clues Moscow is keen to enlarge its military existence in the region.
To sum, Russia chose Egypt for its geopolitical and strategically partner combining three continents. Therefore, let's see how Russia could maintain its presence in the region showing off its ability to promote economic interests, especially with African partners. So will Africa be for Russia alone?
The Case of Belarus: Russia's Fear of Popular Revolutions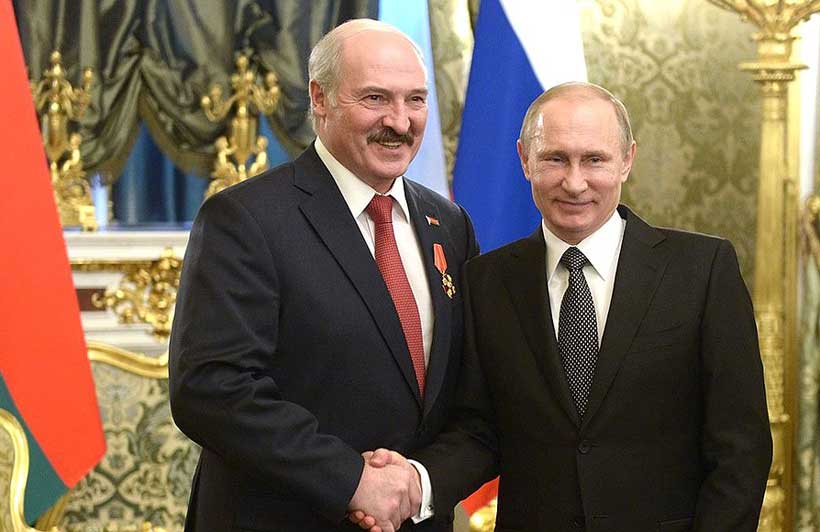 For Russia, the crisis in Belarus caused by the August presidential election result is of a geopolitical nature. Moscow might not be openly stating its geopolitical calculus, but in its eyes, the Belarus problem resembles the uprisings in Ukraine, Moldova, Georgia, and Kyrgyzstan and represents a similar problem in the long run.
Whatever the arguments propounded by world analysts that protests in Belarus are not about geopolitics and more about popular grievances against President Alexander Lukashenko, the issue will ultimately transform into serious geopolitical game.
For Moscow, the Belarus problem has been about geopolitics from the very beginning, though it was only on August 27 of this year that Vladimir Putin announced the creation of a special "law enforcement reserve" for use in Belarus should the situation get "out of control."
The Russians understand that an "Armenia-style" revolution in Belarus could theoretically take place, but it would open the country more to Europe and thereby create geopolitical dilemmas similar to those created in Ukraine before 2014. The Russians further grasp that in Ukraine, the situation was out of control even before the Maidan Revolution. Moscow's influence was not sufficient to stop Ukraine's gradual shift toward closer ties with the collective West.
For the Russian leadership, events in Belarus are a continuation of the "revolutionary" fervor that has been spreading across the former Soviet space since the early 2000s. What is troubling is whether or not the Russians see this process as an expression of the popular will that is largely independent of the West. Several indicators point to an ingrained belief within the Russian political elite that in fact the West has orchestrated the popular upheaval in Belarus.
Russian history might be of help here. Throughout the nineteenth century, the Russian Empire fought the spread of European revolutionary thought along and inside its borders. It built alliances to confront it and fought wars to forestall its progress. But in the end, the Bolshevik Revolution and the subsequent policies of the Communist Party were largely based on European thought, though many western ideas were changed or entirely refashioned.
Similar developments took place during the late Soviet period. By the 1980s, popular disapproval of the Soviet system had grown exponentially. A revolutionary fervor for independence ran amok in the Baltic states, Ukraine, and elsewhere. True reforms would have served as a cure, but half-hearted economic and social measures only deepened the crisis. Military power was used in a number of capitals of Soviet republics, but again only half-heartedly. Thus was the entire Soviet edifice brought down.
Modern Russian leadership should see that there is essentially no cure for popular grievances and mass movements along its borders. Russian history gives multiple examples of how military intervention against revolutionary fervor can bring immediate results but leave long-term prospects bleak. The defeat of revolutionary passions can only take place by minimizing those economic, social, and state-system problems that usually generate popular upheaval. This is the dilemma now facing modern Russia. The revolutions that occurred over the past 20 years, and the situation today in Belarus, all fit into this pattern.
For the moment, Lukashenko has won this round of strife with the protesters, and his rule is highly likely to continue. But what is equally certain is that the protests gave birth to a massive popular movement in a country that was once famous for the quiescence of its population.
Russia fears that eventually, this revolutionary tide will close in on Russian society. Lukashenko has stressed this idea, saying in an interview that mass disturbances will one day reach Moscow. Many rightly believed this was a ploy by Lukashenko to scare the Russians into supporting him—after all, Belarus is far smaller than Russia and much less important than Ukraine. Still, Lukashenko was right insofar as he pinpointed possible long-term problems Russia could face as it moves closer to 2036.
Much depends on the West as well. It faces a dilemma in which it ought to pursue a policy of vocal condemnation and perhaps even impose heavy sanctions—but from a balance of power perspective, moves like those would distance Minsk and push it closer to the Russian orbit. This dilemma of morality versus geopolitical calculus will haunt the West in the years to come.
Belarus exports 10.5 million tons of oil products per year, including about six million tons through the ports of the Baltic states to world markets and another 3–3.5 million tons to Ukraine. Redirecting flows from the Baltic ports to Russian ones has been discussed, but this option is less attractive to Minsk because of the longer distances involved. This comes at a time when the Baltic states imposed sanctions on high-ranking Belarussian officials and the EU is pondering serious measures.
With each such move from the West, Russia gets another opportunity. Russia has professed interest in encouraging Belarus to redirect its oil exports to Russian ports and has agreed to refinance a $1 billion debt to Russia.
A broader picture might help put the events in Belarus in context. In the South Caucasus, the Russians appear to have reached the limit of their influence. They more or less firmly control the overall geopolitical picture, but have nevertheless failed to derail Western resolve to compete in this region. In Central Asia, Russia has more secure positions, but the region in general is less important to the Kremlin than the western borderlands.
It is thus the western front—Belarus and Ukraine—that is a major theater for Moscow. Since 2015, many have believed that Syria is Russia's top geopolitical theater, but this assumption is based simply on the intensity of the immediate processes that are transpiring in the Middle East. With or without Syria, Moscow's global standing will not be fundamentally damaged. Belarus is a different matter entirely. Changes there, and by extension a potentially anti-Russian state, would constitute a direct threat to Moscow.
For Russia, Belarus is the last safe buffer zone on its western border. Ukraine is lost, as is Moldova, and the Baltic states have long been under NATO protection. Only Belarus serves as a bridge for Russia to move militarily into the heart of Europe. To lose it would be tantamount to a complete "encirclement" of Russia by the West, as argued by Russian politicians.
This geopolitical reality also means that Belarus is the country that will remain most susceptible to Russian geopolitical influence. No wonder Russia is pushing to station its air base on Belarussian soil, reinvigorate the Union state, and intensify Minsk's economic dependence on Moscow. As was the case with Ukraine, the upheaval in Belarus is about regional geopolitics.
Author's note: first published in besacenter.org
The Navalny case: Violent maintenance of the Cold War
We are currently witnessing the rise of the Cold War, through the media, after the case "poisoning" of Alexei Navalny. The case was used to raise tensions between Moscow and the European Union to the maximum.
Apparently, Alexei Navalny became a victim of poisoning. Yet none of this we can know for sure. However, after the mentioned event, an avalanche of statements "about the orderers of poisoning" was initiated by prominent European and American representatives. Without any critical review, avalanches began to fall in the direction of Moscow and President Vladimir Putin as the main culprit.
One of the first countries from which the avalanche of accusations started was France. Francois Croquet, France's ambassador for human rights, said: "We know who is to blame." A very undiplomatic statement for a diplomat, which went beyond the official framework of communication. Francois Crockett joined the wave of accusations against Russia with his statements before any investigation.
French Foreign Minister Jean-Yves Le Drian said that in his opinion, "she (Russia) should have conducted an investigation, and when the culprits are found, they should be tried, to learn a lesson, because this is not the first case of poisoning." ». The statement, very fierce, but outside the position held by the person in question. The statements of prominent diplomats call into question the international authority of France's voice in the world.
These statements are aggressively joined by many politicians in Eastern Europe, especially those who feel revanchism towards Russia because of the Eastern Bloc, and further project of Russophobia, which are in line with the great energy battle over the construction of Nord Stream 2, which involved the case of Alexei Navalny.
What do we know so far about Navalny and his treatment. Navalny was initially treated in Russian hospitals, by doctors who did not detect any presence of poison, and then he was transferred to Germany, where it was determined that he was intentionally poisoned. His transport was organized by the "Cinema in the Name of Peace" organization, which was responsible for "rescuing" the group "PussyRiot", which considered the act of imitation of abortion in the church to be an expression of artistic performance.
In the light of the situation with Russian opposition member Alexey Navalny admitted to the "Charite" hospital in Berlin with the symptoms of poisoning European and particularly German politicians and journalists opened yet another page of blatant Russophobia. Many of them push forward the theory of poisoning creating a classic image of the bloody Russian state trying to get rid of another enemy as in their vision it happened with Sergey Skripal. Even though no proofs are available and the statements of German doctors are scarce of details, this case is claimed to deepen the crisis in German-Russian relations. Some Bundestag members even call to cancel Nord Stream-2 as a punishment for the Russian government.
Despite the media hysteria encouraged by many politicians from the West, there are those who did not succumb to the first wave of Russophobia, and looked more soberly at the event related to Alexei Navalny and asked for additional evidence. For example the Vice President of the Flemish Parliament Filip Dewinter:
"Until now there is no real proof that Navalny was poisoned. I have the impression that countries like Germany are building up the pressure against Russia. The Navalny-issue is once again a perfect excuse to compromise the Russian authorities with violence and oppression against the 'opposition' … An objective and neutral investigation will tell" stated Mr. Filip Dewinter.
His statements are not alone
Chairman of the "Prussian Society Berlin-Brandenburg" Volker Tschapke stated:
"Facing constant anti-Russian propaganda on different levels, I am not surprised with such an attitude, yet I can't accept it. One of the key principles of any democratic society is the benefit of the doubt: nobody can be declared guilty until the proper investigation is conducted. Too bad, looks like this principle doesn't work in Europe anymore. I'd like to wish Mr. Navalny to recover very soon and to call German politicians to stick to democratic values and stop pointing fingers at the Russian government without any substantial evidence base." said Mr. Tschapke.
Doubts about the case are also expressed by Member of the Parliament of Italy Paolo Grimoldi:
"I don't trust the "institutional attack" to Navalny in Russia. He has many enemies, especially outside politics, in his life. In my opinion, it doesn't look like an attempt to eliminate a political opponent. If any Russian top institutional level ever wanted to strike Navalny they would act more efficiently so let's be serious and stop attacking Russia for nothing, stated Mr. Grimoldi.
Divided statements regarding Navalny's case tell us that, unlike in 2014, American power is declining and that European politicians do not make synergistic statements against Russia, but many of them view things with common sense and seek additional evidence for accusations against Russia. More and more Europeans are asking the questions: How is Russia threatening us? What will happen terribly for Europe if Nord Stream 2 is built? Most understand that the conflict in which America is pushing Europe with Russia has nothing to do with European interests, but with American ones.
Alexei Navalny's Case Matters to the Kremlin
The global call for an objective investigation that will inevitably establish facts into the alleged "poisoning" of opposition leader and a Russian citizen, Alexei Navalny, in August has started yielding results. President Vladimir Putin has decided, as the first step, to set up an independent committee to investigate the cruel and inhumane attempt on his life.
As globally known, Navalny is a Russian opposition politician and anti-corruption activist. He came to international prominence by organizing demonstrations and running for political office, advocating against corruption in Russia and contributing to public discussions on reforms that could help Putin's government.
He fell ill on a domestic flight last month and was treated in a Siberian hospital, and later evacuated to Berlin. Germany has said that toxicology tests conducted by its armed forces found "unequivocal evidence" that Navalny had been poisoned with Novichok, the substance used in the 2018 attack Skripal family, on a former Russian double agent and his daughter in the English city of Salisbury.
Navalny's case undoubtedly bears similarities to other poisoning incidents in the political history of Russia. There are many ordinary Russians, who believe that the world must know the truth about this brazen attempt on the life of a Russian opposition leader. In addition, it would clear the air, or instead to have an increasingly tainted image.
In an interview with the Prime Minister Giuseppe Conte made by Di Claudio Cerasa from an Italian media, Il Foglio, on September 10, 2020, focused on Alexei Navalny.
"Navalny? The German position coincides with the Italian one. Recovery? We will start with the Commission's recommendations. Oppositions? My invitation to dialogue is always valid. School? There are reasons to be optimistic." Interview with the Prime Minister, Giuseppe Conte, the headline reads and here translated into English.
The Head of the Government chooses to speak on an important issue that has nothing to do with economic dossiers or with the future of the government, but with a delicate issue of a diplomatic and geopolitical nature. The theme is this: but exactly, where does Italy stand on the Alexei Navalny case? Alexei Navalny, as you know, is one of the most prominent opponents of Russian President Vladimir Putin and was taken to Germany to be treated after being poisoned in Russia.
The German government said it had acquired "no doubt" evidence that Navalny was poisoned. Angela Merkel herself said she "condemned this attack in the most severe way" and has asked the Russian government "to urgently clarify because there are questions that only the Russian government can and must answer. The world is waiting for explanations."
It was revealed that investigators found a new, more lethal variant of Novichok on Navalny's hands and water bottle: for this reason, investigators believe that the perpetrators of the attack are Russian services authorized by the Kremlin. Up to now, we point out to Conte, the government has chosen to handle the issue with great caution – even too much. But in this conversation with Il Foglio, the prime minister puts aside a little diplomacy and agrees to answer a specific question, according to the published article.
Russia's President Vladimir Putin has told Italy's prime minister that he would set up a committee to investigate the poisoning of Russian opposition leader Alexei Navalny, Giuseppe Conte quoted on as saying on September 10.
"President Putin has assured me (in a recent conversation) that Russia intends to clear up what has happened, and told me that he would set up a committee of inquiry and was ready to collaborate with the German authorities," Italy's Conte told the newspaper Il Foglio in the interview. "Collaboration is the best way to prevent this dramatic event from negatively affecting relations between the EU and Russia," Conte added.
The Italian prime minister also highlighted the importance of Russian-EU cooperation in investigating the incident with Navalny. According to him, this cooperation could prevent a negative fallout for relations between Russia and the European Union. Like all European partners, Italy believes that it is necessary to fully clarify the details of this incident and find those behind it.
This step taken by the Kremlin could scale down escalating tensions between European Union members, especially, Germany and Russia. It tension relating Navalny threatens to cause lasting damage to diplomatic relations and the economies of both countries, and as a whole the European Union.
Over the ongoing situation, among others, relating to Navalny, European Union has threatened more sanctions against Russia. What is really at stake here also is the Nord Stream-2. This pipeline is expected to provide Europe with a sustainable gas supply while providing Russia with more direct access to the European gas market.
The Nord Stream-2 is a pipeline project slated to transport natural gas from eastern Russia to northern Germany, where it would link up with infrastructure that carries fuel to Western Europe. It would run 1,200 kilometers, mostly under the Baltic Sea along the existing Nord Stream pipeline – hence the name Nord Stream 2.
Commenting on the health condition of Alexey Navalny, State Duma Chairman, Viacheslav Volodin, expressed his gratitude to "the pilots who had immediately reacted to the extraordinary situation when the passenger had felt worse and took a decision to land in Omsk."
He also added: "It is very good that Angela Merkel decided to help and provided assistance to Alexey Navalny. I would like to believe that she would have done the same if any other citizen of the Russian Federation, and not just a radical dissident, had got in such situation. It is important to note the professional actions of doctors, not only at the regional, but also at the federal level, who immediately began resuscitation and held consultations. It is important that all patients should be treated equally."
"We need to comprehensively study what exactly happened. The State Duma Committee on Security will be instructed to analyze the details of the situation to find out if it had been an attempt of foreign states to cause harm to health of a Russian citizen to escalate tensions in Russia, as well as to prepare new allegations against our country," said the Chairman of the State Duma.
On September 9, in connection with the demarche undertaken by the Group of Seven on the Alexei Navalny case, the Foreign Ministry has issued the following statement. Russia insists that Germany provide data on Alexei Navalny's medical examination, including the results of the biochemical tests, as per the official request for legal assistance submitted by the Office of the Prosecutor General of the Russian Federation on August 27. Berlin has not been willing to respond to our repeated requests in a prompt and constructive manner.
"Without the above-mentioned information, the Russian law enforcement agencies are unable to engage all the necessary procedural mechanisms in order to establish the circumstances of the incident. Meanwhile, the frenzy that is being stirred up around this case is only growing," according to the statement posted to its official website.
"We note that Russian doctors proposed establishing close dialogue with their German colleagues in order to discuss the available data on Alexei Navalny's health that is held in Russia and in Germany. Unfortunately, the German side has been thwarting this process," it further said.
The unconstructive approach by the German authorities is accompanied by groundless accusations against Russia. The massive misinformation campaign that has been unleashed clearly demonstrates that the primary objective pursued by its masterminds is to mobilize support for sanctions, rather than to care for Alexei Navalny's health or establish the true reasons for his admission to hospital, it concluded.
Russia has different relations with individual member states of the European Union. But, all the members unite around policies either for or against Russia. Since 2014 annexation of Crimea, for example, the EU has collectively imposed sanctions initially involving visa bans and freeze of assets of 170 individuals and 44 entities involved in these operations. The EU sanctions have been extended and are in force until 2020.