The Iranian People Deserve a Better Deal from the West
Half a million brutally murdered, five million internally displaced, and another six million turned into refugees, willing to risk death to escape the nightmare that is their lives: Welcome to Syria in 2018.
Opposition to the Assad regime seems an almost Sisyphean task but the incomprehensible violence visited on the Syrian people is inconceivable without backing from Tehran.The Iranian regime's sectarian policies, unflinching support for the Butcher of Damascus, and direct intervention in the Syrian conflict have prolonged Bashar al Assad's heinous reign and facilitated the Syrian crisis.
But Tehran's regional arc of influence doesn't stop in Damascus – Iraq, Yemen, Lebanon, and Gaza have also not been spared from Iranian-backed terror. Three years after the negotiation of the Iran nuclear deal, the regime continues to openly and defiantly develop ballistic missiles capable of delivering nuclear warheads. And though the main instigators have yet to suffer consequences, they have been fortified with cash by the West.
President Donald Trump's latest condemnation of the Joint Comprehensive Plan of Action (JCPOA) was the clearest acknowledgement to date that the Obama-era agreementonly ensured the continuation ofIran's malevolent activities.With the announcement of the US withdrawal from the porous deal complete, those exulting the agreement as a panacea for achieving peace and stability shoulder the burden of proof. If the arrangement was so beneficial, why did anti-regime protests sweep the country? And why are Iranians so frustrated with their leaders?
Iranians demonstrated in more than 140 cities and towns throughout Iran just a few months ago. In these rallies, they chanted slogans like "death to Khamenei" and "death to Rouhani," demonstrating to all those who would listen that they longed for real change, not cosmetic reform. By yelling "hardliner, reformer, the game is now over," the aspirations of the Iranian people were given a voice.
In discussing the path forward, Maryam Rajavi, the President-elect of the National Council of Resistance of Iran (NCRI), observedthat "any future investment in this regime is doomed to failure" and that it "will only embolden the religious fascists' warmongering, and export of fundamentalism and terrorism."
In the lead up to his explosive announcement, Trump predicted that the Iranian regime will soon face bigger problems than ever. But these problems will not be the result of sanctions alone. Rather, they will come at the hands of the Iranian peoplewho poured into the streets in December and January and continue to express their demand for regime change through countless demonstrations and acts of defiance– big and small – against their clerical rulers.
By supporting democratic opposition groups, including the Peoples Mojahedin Organization of Iran (PMOI/MEK), the principal Iranian resistance movement, which organize massive rallies abroad and continues to demonstrate a considerable presence inside Iran as well, ordinary Iranians are participating in courageous acts of civil disobedience to promote change from within.
The Iranian regime has already tried to convinceFrench President Emmanuel Macron to stop harboring the group, and inside Iran they've been blamed as an instigator of unrest, lending credence to the notion that the regime is extremely concerned. Yet, the people power factor, driven by an Iranian majority that wants democracy and good relations with the West, remains underutilized.Western nations must better leverage theanti-regime sentiment to increase theinternal pressure on Tehran, thus making future deals more likely.
Trump deserves credit for dialing up the pressure on Tehran  with his recent actions but, with a short window of just months before fresh sanctions hit in full force and oil companies depart, Trump must also use his leverage to address ballistic missile violations while simultaneously working to curtail the regime's regional aggression. In the face of escalating foreign pressure, Tehran risks everything, including income for the IRCG's business empire and the regime's very grip on power at home.
This risk could be amplified by the resurgence of a domestic uprising, this time with the full-throated backing of the US and its allies. At the beginningof the Iranian New Year on March 20, Mrs. Rajavi predicted that the regime would soon be facing "a year full of uprisings" and that public demonstrations would continue until the people achieved their ultimate victory over the theocratic dictatorship."
With the JCPOA acknowledged as a failure, the world can help secure this outcome. Doing so is the best way to resolve not only the nuclear issue but a range of other Middle East crises with Iran at their core.
By strengthening ties with the Iranian resistance, world leaders can clearly demonstrate their support for the Iranian people in their quest for a future free of tyranny. Iranians committed to freedom will gather in Paris on June 30 to outline that brighter future and build momentum for regime change from within.
In previous years the event has attracted upwards of one-hundred thousand Iranian expatriates and political supporters from throughout the world, including prominent figures such as John Bolton and Rudy Giuliani. This year's event will be bigger than ever.
By making it clear that neither Iran's nuclear program nor its malign regional activities will be tolerated, Western powers can reinforce the message that they are prepared to challenge the status quo.By casting their lot with those gathered in Paris, world leaders will signal those on the Iranian Street that they deserve a better deal from the West and better treatment by their leaders.
Iran vs. US: Bracing for war?
On May 8, 2018, President Donald Trump withdrew the United States from the Joint Comprehensive Plan of Action (JCPOA), better known as the Iran nuclear deal, and imposed tough unilateral sanctions on Tehran. Exactly a year later, this move looks dangerously fraught with unpredictable and potentially catastrophic consequences for the Middle East.
Britain, France and Germany, as participants and co-sponsors of the JCPOA, strongly criticized Trump's anti-Iranian policy and, with Russian and Chinese support, they established, registered and set in motion, albeit in a test mode, the Instrument in Support of Trade Exchanges (INSTEX) – a special-purpose vehicle (SPV) to facilitate non-dollar trade with Iran.
Tehran took its time hoping for European support. However, on April 22, 2019, Trump ended waivers that Washington had earlier granted China, India, South Korea, Turkey, Italy, the United Arab Emirates, Japan and Taiwan that allowed these countries to import Iranian oil. A complete ban on the purchase of Iranian crude came into force on May 2, 2019. The United States' ultimate goal is to stop all Iranian crude exports. Whether this is actually possible is not clear. What is clear, however, is that the US is ramping up economic pressure on Tehran.
Meanwhile, Europe will hardly be able to resist Washington's sanctions against Iran, which are almost as hard-hitting as the ones that were in effect between 2012 and 2016 when the Iranian economy was going through hard times. Still, the EU's foreign affairs commissioner Federica Mogherini recently went on record saying that "we will continue to support [JCPOA] as much as we can with all our instruments and all our political will."
Just how much will the EU really has to resist US pressure is a big question though.
Iran found itself in a real fix with President Hassan Rouhani saying that the situation the country is in today is no different from what it experienced during the 1980-1988 war with Iraq.
"During the war, we had no problems with our banks, oil sales, imports and exports. There were only sanctions for the purchase of arms," he noted.
Hassan Rouhani emphasized the US sanctions' strong impact on the country, and called for a concerted effort by all to minimize their effect.
"The enemies' sanctions against our banking sector also affect our oil, petrochemicals, steel and agricultural exports, impair the work of Iranian seaports, shipyards and sea carriers. Our shipping companies have been blacklisted by the US Treasury," Rouhani added.
He said that Iran would not bow to US pressure and will be looking for a way out of this situation.
What can Iran do?
First, it could exit the nuclear deal. Not immediately, like the US did, but gradually, refusing to fulfill the specific terms of the accord. Iran is already doing this now.
On May 8, President Rouhani announced that Iran would no longer observe two key commitments under the JCPOA accord, namely to sell to Russia and the US uranium enriched to 3.76 percent at volumes exceeding the storage allowed in Iran (over 300 kilograms). By the time the JCPOA was signed in 2015, the Islamic Republic had accumulated 10,357 kilos of such low-grade uranium, and 410.4 kilos of uranium enriched to 20 percent. To date, Iran has destroyed its entire stock of 20-percent-enriched uranium and has shipped surplus low-enriched uranium (LEU) to Russia and the United States. According to the JCPOA, Tehran was allowed to enrich limited quantities of uranium for scientific purposes and sell any enriched uranium above the 300-kilogram limit on international markets in return for natural uranium. Now Iran will start stocking up on low-enriched uranium again.
Neither will Tehran consider itself committed to the caps agreed under the deal on the mandatory sale of excess heavy water used in the production of military-grade plutonium. Iran has a working facility to produce heavy water, which is not covered by the JCPOA. However, it can store no more than 130 tons of heavy water. Tehran has already exported 32 tons to the US and 38 tons to Russia. Now it will start storing heavy water again.
President Rouhani gave the other signatories to the 2015 nuclear deal 60 days to make good on their promises to protect Iran's oil and banking sectors. The Iranian move is certainly not directed at Washington but, rather, at Brussels in order to make it more actively and effectively resist US sanctions or see Iran resume higher levels of uranium enrichment, potentially all the way to bomb-making capability.
He added that if the EU fails to address Iran's concerns, Tehran will suspend the implementation of two more commitments under the JCPOA.
If its demands are not met, Tehran will no longer be bound by its commitment to enrich uranium up to 3.76 percent. Ali-Akbar Salehi, director of the Atomic Energy Organization of Iran, said in January that the country had already taken the necessary steps to resume enrichment in larger volumes and with a higher level of enrichment.
Tehran will also reject help from the 5+1 group of initiators of the JCPOA (Russia, US, Britain, France, China and Germany) in the reconstruction of the heavy water reactor in the city of Arak.
The R-1 heavy water reactor was designed to produce up to 10 kilograms of weapons-grade plutonium a year, which is enough to build two plutonium nuclear weapons. The terms of the JCPOA accord require redesigning the reactor in such a way as to make it incapable of producing weapons-grade plutonium. To oversee the process, they set up a working group of representatives of the Atomic Energy Organization of Iran, the Atomic Energy Authority of China and the US Department of Energy. In 2017, a UK representative moved in to fill the void left by the departing US representative. According to an official Iranian report issued in April 2018, the country had already completed a "conceptual reconstruction of the reactor." Still, the reconstruction process is slow and can easily be reversed. At least for now.
If, however, the EU comes across, then, according to Hassan Rouhani, Iran will honor its commitments under the JCPOA deal. "If [the five JCPOA co-signatories] could protect our main interests in oil and banking sectors, we will go back to square one [and will resume our commitments]," Rouhani said.
The question is whether the European Union can fully activate INSTEX and ensure continued oil exports and imports. Many people doubt this.
According to analysts, by demanding that Europeans "bring down to zero" their purchases of Iranian oil, the United States threatened to slap sanctions on European companies paying for Iranian oil. Shortly afterwards, almost all European banks refused to finance Iranian crude imports. The EU thus inadvertently joined the US sanctions, even though it continued to stick to the terms of the JCPA accord.
At the same time, European companies were all too happy to go ahead with the implementation of the part of the agreement that had not yet been banned, selling unauthorized goods to Iran. Tehran then complained that the deal allowed Europeans to make money inside Iran while preventing Iranians from selling their oil in the EU – a violation of the fundamental provision of the nuclear accord.
Tehran's threat to walk out of the 2015 nuclear deal is sending a clear signal to the dithering Europeans to resume Iranian oil imports or see Tehran restarting nuclear production.
However, preoccupied by more pressing problems, the Europeans have other things to worry about. Moreover, no one is looking for a showdown with the EU's main ally, the United States. According to Russian Oriental affairs expert Nikolai Kozhanov, Europeans consider the issue of circumventing US sanctions as an important part of their search for a mechanism of counter-sanctions in similar situations with more important economic partners, such as China or Russia.
Therefore, Iran is likely to press ahead with suspending its obligations under the JCPOA, which include the activation and acceleration of R&D in the field of improving centrifuges and building more of them in the future. Tehran could also hold up the implementation of the Protocol Additional to the Safeguards Agreement with the IAEA. Signed in 2003, the Protocol gives the UN nuclear watchdog greater access to Iran's nuclear facilities and provides for surprise inspections. Iran has not yet ratified this document, even though it fulfilled its requirements until 2006 and has done so since 2016.
Of course, Iran will go about additional suspensions very carefully (if it will at all), mindful of their possible consequences, because it would hate to see Europe turning its back on it and siding with Washington, adding its own sanctions to the American ones, thus essentially making them international.
Ever since the US' exit from the JCPOA, Iran has issued a flurry of serious warnings that it might end its participation in the Treaty on the Non-Proliferation of Nuclear Weapons (NPT) and the IAEA. On April 28, Iranian Foreign Minister Mohammad Javad Zarif went on record saying that Tehran was mulling an exit from the NPT as a response to US sanctions. He added that Tehran "has many options" of response. "Exit from the NPT is one such option," Zarif noted.
This was only a rhetorical threat, however, meant to prod the European Union towards closer cooperation with Iran as a means of countering US sanctions. Therefore, it is highly unlikely that Iran would withdraw either from the NPT or the IAEA, because this could make it an absolute outcast and the butt of scathing criticism worldwide.
Second, to demonstrate strength and willingness to resist and safeguard the country's interests. Iran's Supreme Leader Ayatollah Khamenei never tires of emphasizing the need for a tough policy of "resistance," based on:
an active and effective search for ways to circumvent crippling economic sanctions;
strengthening the armed forces with an emphasis on the development of a missile program;
active promotion of Iranian interests in the region.
The "resistance" policy is primarily built around the Islamic Revolutionary Guard Corps (IRGC), which brings together the country's military, intelligence, police, political, ideological, as well as financial and economic structures. The IRGC is actually an all-embracing mega holding, led directly by the Supreme Leader and members of his inner circle. The Revolutionary Guards, who have proved highly efficient in countering sanctions, modernizing the armed forces and promoting Iranian activities in the region, are all Tehran actually needs to implement a strict "resistance" policy.
With the situation developing as it is, Ayatollah Khamenei's recent decision to replace the IRGC commander, General Mohammed Ali Jafari, who led the Corps for more than 11 years, with Brigadier General Hossein Salami looks pretty natural. The IRGC's former deputy commander, General Salami is ideologically closer to Khamenei and is known for his radical statements. Ayatollah Khamenei also replaced about 60 officers both in the IRGC central office and local administrations with relatively young, ambitious, ideologically tested and competent officers. They are tasked with turning the IRGC into an indispensable and all-embracing institution that dominates the entire gamut of Iranian life: from ensuring internal and external security all the way to economic activity and cyberwarfare.
According to Mehdi Khalaji, a researcher at the Washington Institute for Near East Policy, Ayatollah Khamenei is strengthening the IRGC, which he sees as the cornerstone of the country's triad of advanced missile technology, a nuclear program and asymmetric military capabilities to ensure reliable defense against any potential aggression by anyone.
Tehran's decision to strengthen the IRGC was certainly prompted by President Trump's statement on April 8, which branded the Corps as a "foreign terrorist organization." Until recently, President Rouhani sought to keep the IRGC in check and limit its impact on many aspects of the country's life. In fact, Trump's recent statement played right into the hands of diehard radicals within the IRGC and in Iran as a whole.
Iran's Supreme National Security Council responded to President Trump's statement by putting on the list of terrorist organizations the United States Central Command (CENTCOM), whose area of responsibility includes the Middle East and Central Asia. Simultaneously, the General Staff of the Iranian Armed Forces said that the Iranian military was ready to use any means at its disposal against US troops in the region who are now likewise designated by Tehran as terrorists. This is putting Americans in peril all across the Middle East region, primarily in Syria, Iraq, Afghanistan and in the Persian Gulf – wherever Iranian and US military might cross their paths.
Washington's latest anti-Iranian move seriously exacerbated the already very strained relations between the two countries.
Third. To ramp up anti-American propaganda and warlike rhetoric in order to demonstrate Iran's strength to the United States and its readiness to defend its interests even with the use of military force.
Increasingly frustrated with the situation around the JCPOA and doubting the EU's ability to resist the US pressure on Iran, Tehran has been rolling back its participation in the nuclear deal, which is dangerously fraught with a new nuclear crisis and heightened tensions with the United States.
Meanwhile, an escalation is already happening. The United States is sending a battery of Patriot air defense missiles and an amphibious warship, USS Arlington, to CENTCOM's operational responsibility zone. The Arlington will join a naval strike carrier group led by the world's largest warship, the aircraft carrier Abraham Lincoln (5,680 crew, 90 combat aircraft and helicopters on board) and a tactical group of B-52 strategic bombers.
Moreover, an updated plan that has just been presented by the Acting US Secretary of Defense, Patrick Shanahan, envisions the dispatch of up to 120,000 troops to the Middle East if Iran steps up the development of nuclear weapons, or attacks the US military. However, the plan does not provide for a ground operation against Iran, which would require a lot more troops.
Iran has promised serious response to any use of force by the United States, with the IRGC commander, Brigadier General Hossein Salami, warning that "if America takes a step against us, then we will strike a blow to the head." He believes, however, that the United States will not risk using its aircraft carriers against Iran, and added that since Iran's defense capabilities are adequate and sufficient, US aircraft carriers are quite vulnerable.
Military experts know better of course, but when it comes to politics, chances of resolving the current crisis between Iran and the United States look pretty slim. In fact, the conflict may be beneficial to both President Trump and the IRGC.
Trump could use the standoff as a chance to show the opposition Democrats how tough he is with Iran, which is equally loathed by his supporters and many of his opponents alike.
Meanwhile, a US military buildup close to the Iranian borders would play right into the hands of local hardliners who have always been up in arms against any negotiations concerning the Iranian nuclear program and the nuclear deal itself.
With the situation favoring the opponents of President Rouhani, the IRGC is ruling out any possibility of negotiations with the US. The head of the IRGC's political bureau, Yadolla Javani, said that "there will be no negotiations with the Americans," in a remark that could also be aimed at politicians inside Iran who would like to maintain a dialogue with the US no matter what.
Still, according to unconfirmed reports, the Iranians are negotiating behind closed doors with American representatives in Oman, which is a traditional meeting place for both.
The IRGC needs tensions running high because this is turning it into the country's foremost institution.
What is also clear is a dangerous psychological war now raging between Washington and Tehran. Just where things may go from now is hard to tell, but it still looks like the sides will not come to blows after all. The Iranian-American brinkmanship with concentrations of troops and military hardware in the region is fraught with unpredictable accidents that can force the parties to go overboard. Hopefully, things will not go beyond bellicose rhetoric.
"There will be no war, the Iranian people have chosen the path of resistance to America, and this resistance will force it to retreat," Ayatollah Khamenei said, emphasizing, however, that this resistance is not military in nature. Neither side wants a military showdown.
Tehran and Washington realize full well that if the situation comes down to a military flare-up, then this, regardless of the real scale of the fighting, would spell disaster for the entire Middle East with equally dire consequences for the rest of the world.
First published in our partner International Affairs
A survey of Arab youth highlights gaps between policies and aspirations
Results of a recent annual survey of Arab youth concerns about their future suggest that Arab autocracies have yet to deliver expected public services and goods, explain autocratic efforts to promote nationalism, and indicate that jobs and social freedoms are more important than political rights.
The survey provides insights that should inform autocrats' quest for social and economic reform. It also suggests, together with the intermittent eruption of anti-government protests in different parts of the Arab world, that Western and Middle Eastern interests would be better served by more nuanced US and European approaches towards the region's regimes.
Western governments have so far uncritically supported social and economic reform efforts rather than more forcefully sought to ensure that they would bear fruit and have been lax in pressuring regimes to at least curb excesses of political repression.
Critics charge that the survey by Dubai-based public relations firm asda'a bcw focussed on the 18-24 age group was flawed because it gave a greater weighting to views in smaller Gulf states as opposed to the region's more populous countries such as Egypt, used small samples of up to 300 people, and did not include Qatar, Syria and Sudan.
The results constitute a mixed bag for Arab autocrats and suggest that squaring the circle between the requirements of reform and youth expectations is easier said than done and could prove to be regimes' Achilles' heel.
A majority of youth, weened on decades of reliance on government for jobs and social services, say governments that are unilaterally rewriting social contracts and rolling back aspects of the cradle-to-grave welfare state, have so far failed to deliver.
Even more problematic, youth expect governments to be the provider at a time that reform requires streamlining of bureaucracies, reduced state control, and stimulation of the private sector.
A whopping 78 percent of those surveyed said it was the government's responsibility to provide jobs. An equal number expected energy to be subsidized, 65 percent complained that governments were not doing enough to support young families while 60 percent expected government to supply housing.
By the same token, 78 percent expressed concern about the quality of education on offer, including 70 percent of those in the Gulf. Yet, 80 percent of those in the Gulf said local education systems prepared them for jobs of the future as opposed to a regional total of 49 percent that felt education was lagging. Nonetheless, only 38 percent of those surveyed in the Gulf said they would opt for a local higher education.
There appeared to be a similar gap between the foreign and regional policies of governments and youth aspirations.
Assertive policies, particularly by Gulf states, that have fuelled regional conflicts, including wars in Libya, Syria, and Yemen, the Saudi Iranian rivalry and the two-year-old diplomatic and economic boycott of Qatar run counter to a desire among a majority of those surveyed to see an end to the disputes. In favour of Saudi, Emirati and Bahraini rulers, 67% of young Arabs see Iran as an enemy.
The survey also suggests that the Israeli-Palestinian conflict, contrary to common wisdom, is an issue that resonates. With 79 percent of those surveyed saying they are concerned about the dispute, the question arises whether the Gulf's rapprochement with Israel and support for US president Donald J. Trump's peace plan that is widely believed to disadvantage the Palestinians enjoys popular support.
The suggestion that Gulf policies towards the Israeli-Palestinian conflict may not be wholeheartedly supported is bolstered by the fact that the number of people surveyed this year that viewed the United States as an enemy rose to 59 percent compared to 32 percent five years ago.
Similarly, Arab leaders' reliance on religion as a regime legitimizer and efforts to steer Islam in the direction of apolitical quietism are proving to be a double-edged sword and one probable reason why men like Saudi crown prince Mohammed bin Salman have sought to reduce the role of the religious establishment by promoting hyper-nationalism.
Some two thirds of those surveyed felt that religion played too large a role, up from 50% four years ago. Seventy-nine percent argued that religious institutions needed to be reformed while half said that religious values were holding the Arab world back.
Publication of the survey coincided with the release by the US Commission on International Religious Freedom (USCIRF) of its 2019 report. The report designated Saudi Arabia as one of the world's "worst violators" of religious freedoms, highlighting discrimination of Shia Muslims and Christians.
"Shia Muslims in Saudi Arabia continue to face discrimination in education, employment, and the judiciary, and lack access to senior positions in the government and military," the 234-page report said.
Leaders of the United Arab Emirates, accused by human rights groups of systematic violations, are likely to see a silver lining in the survey and a reconfirmation of their policy of economic and relative social liberalism coupled with absolute political control.
Forty-four percent of those surveyed named the UAE as their preferred country as opposed to less than 22 percent opting for Canada, the United States, Turkey or Britain.
In a white paper accompanying the survey, Afshin Molavi, a senior fellow at the Foreign Policy Institute of the Johns Hopkins University School of Advanced International Studies, concluded that the survey showed that "the demands and dreams of young Arabs are neither radical nor revolutionary" and that they were unlikely to "to fall for the false utopias or 'charismatic' leaders their parents fell for."
In the words of Jihad Azour, the International Monetary Fund's top Middle East person, "what is needed is a new social contract between MENA (Middle East and North Africa) governments and citizens that ensures accountability, transparency and a commitment to the principle that no one is left behind… The latest youth survey makes clear that we have a long way to go," Mr. Azour said in his contribution to the white paper.
US-Iran Tension: Avert any big disaster to humanity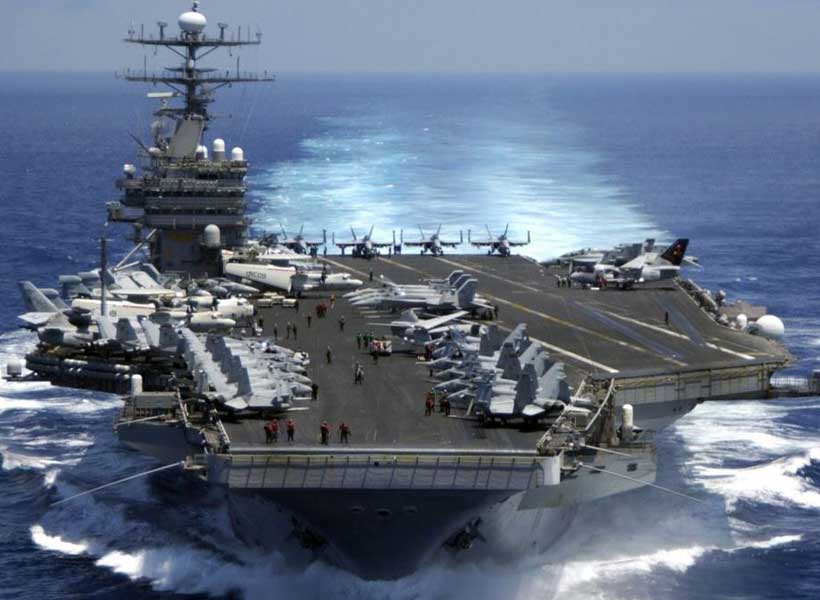 US-Iran tension is growing to a dangerous level. Irrespective of who is right and who is wrong, but everyone agrees that it is leading toward a big disaster. Human life and natural resources are at stake. Irrespective, who will suffer more and who will suffer less, but it is human life, which is the most precious thing in this world, is at stake.
Middle-East is an oil and gas-rich area and meets the major portion of world energy demand. Any disturbance in this region will have a severe impact on the global economy. Whether one is right or wrong, will be the victim of this crisis directly or indirectly.
This war will be not like the Iraq war or the Libya War. As at that time, there was only one superpower and the world was unipolar. There was no resistance from any corner of the world. US and allies, without any resistance, conducted the war and achieved their desired results. But a lot of resistance was witnessed in case of Syrian War. The whole scenario has been changed, the calculated results were not achieved yet. Finally, the US has decided to pull back its troops. Similarly, Afghanistan case is not ideal, after spending trillion dollars, and fighting for 17 years, not gains on the ground and finally has to pull back.
It may not be limited to only US-Iran but may engulf the whole region. As traditional rivals are waiting for an appropriate opportunity to settle their old disputes. Whether, it is Arab-Iran, or Israel-Iran, or Arab-Israel enmity, may it spread to a much wider sphere than expected. It is in control of a few countries to start or refrain the escalation, but once it has been broken, it may be beyond the control of either country.
Especially, Russia and China are not sleeping at this time. They are in a strong position to offer resistance. It should not be taken an easy task like Iraq or Libya war. It is difficult to predict the exact reaction of Russia or China, but anticipated resistance.
If we expect, US or Iran to avert this foreseeable war will be not a realistic approach. As if they were to avoid any disaster, they should not have created so hype and should not have moved to this stage. They may not accept total hegemony of the US in this part of the world. They have heavy stakes in the middle-East and cannot be spectators only.
Geopolitics has been changed, regional alliances have emerged, and nations have re-aligned themselves. Much more complex changes have been witnessed after the war on terror. Public awareness has been enhanced, maybe some of the governments in this region have a different outlook, but public opinion is much more realistic and may play a vital role in the days to come. Old time's friends may stand on the other side of the table. Some radical changes may be visible on grounds.
UN role was ineffective in the past and a little is expected in the future. In fact, the UN has been hijacked and curtailed to a very limited role practically. While one of its major mandates was to resolve the disputes among nations and avoid wars or war-like situations.
Under this serious scenario, there is a hope that all peace-loving nations and individuals, may peruse the UN and International Community do something to avert this bid human disaster. We all share one world, we have the responsibility to save this world. Any loss of human life in any part of the world is considered the loss to the whole of humanity. And the destruction of natural resources may be considered a loss to humanity. Any damage to Environment or ecology or biodiversity may be a net loss to humanity. We all are son and daughter of ADAM and share a common world, common environment, common resources. We need to protect humanity, environment and natural resources.
It is strongly appealed to the UN, International Community and all individuals who believe in Peace, must act, and must act now, and must act strongly, to avert any bid disaster to humanity.