America Spends About Half of World's Military Expenditures
The National Priorities Project headlines "U.S. Military Spending vs. the World" and reports: "World military spending totaled more than $1.6 trillion in 2015. The U.S. accounted for 37 percent of the total." But it can't be believed, because, even if other nations aren't under-reporting their military expenditures, the U.S. certainly is — under-reporting it by about 50%. The reality is approximately twice the official figure, so that America's current annual military expenditures are around $1.5 trillion, which is to say, almost equal to that entire global estimate of "more than $1.6 trillion in 2015."
America's actual annual military budget and expenditures are unknown, because there has never been an audit of the 'Defense' Department, though an audit has routinely been promised but never delivered, and Congresses and Presidents haven't, for example, even so much as just threatened to cut its budget every year by 10% until it is done — there has been no accountability for the Department, at all. Corruption is welcomed, at the 'Defense' Department.
Furthermore, many of the military expenditures are hidden. One way that this is done is by funding an unknown large proportion of U.S. military functions at other federal Departments, so as for those operations not to be officially "'Defense' Department" budget and expenditures, at all. This, for example, is the reason why Robert Higgs, of The Independent Institute, was able to report, on 15 March 2007, "The Trillion-Dollar Defense Budget Is Already Here". He found that America's military expenditures, including the ones he could identify at other federal agencies, were actually already nearly a trillion dollars ($934.9 billion) a year:
"To estimate the size of the entire de facto defense budget, I gathered data for fiscal 2006, the most recently completed fiscal year, for which data on actual outlays are now available. In that year, the Department of Defense itself spent $499.4 billion. Defense-related parts of the Department of Energy budget added $16.6 billion. The Department of Homeland Security spent $69.1 billion. The Department of State and international assistance programs laid out $25.3 billion for activities arguably related to defense purposes either directly or indirectly. The Department of Veterans Affairs had outlays of $69.8 billion. The Department of the Treasury, which funds the lion's share of military retirement costs through its support of the little-known Military Retirement Fund, added $38.5 billion. A large part of the National Aeronautics and Space Administration's outlays ought to be regarded as defense-related, if only indirectly so. When all of these other parts of the budget are added to the budget for the Pentagon itself, they increase the fiscal 2006 total by nearly half again, to $728.2 billion."
Furthermore, "Much, if not all, of the budget for the Department of State and for international assistance programs ought to be classified as defense-related, too. In this case, the money serves to buy off potential enemies and to reward friendly governments who assist U.S. efforts to abate perceived threats. … [As regards] Department of Homeland Security, many observers probably would agree that its budget ought to be included in any complete accounting of defense costs. … The Federal Bureau of Investigation … devotes substantial resources to an anti-terrorist program. The Department of the Treasury informs us that it has 'worked closely with the Departments of State and Justice and the intelligence community to disrupt targets related to al Qaeda, Hizballah, Jemaah Islamiyah, as well as to disrupt state sponsorship of terror.'"
But, almost everything there relied upon mere estimates, because the Congress and the President always supply to the public numbers that are sadly uninterpretable by anyone who wants to know what percentage of the federal government is actually military.
For example, on April 3rd, the White House, as required by law, sent to Congress "the Seven-Day-After report for the Consolidated Appropriations Act, 2018 (Public Law 115-141). The President signed this Act into law on March 23, 2018."
That's the current authorized spending for the entire U.S. federal Government. It was broken down there into twelve categories, some of which were for multiple federal Departments, in order to make the reported numbers as uninterpretable as possible — for example, nothing was shown for the Treasury Department, but something was shown for "Financial Services and General Government Appropriations" and it didn't even mention the "Treasury" Department. And nothing was shown for the Justice Department, nor for the Commerce Department, but something was shown for "Commerce, Justice, Science, and Related Agencies" (whatever those are). However, as bad as this is, the military (or invasions) department is even less fathomable from the publicly available reports than those other ones are. The 'Defense' Department is the only one that's still "unauditable" so that in one of the attempts to audit it:
"The audits of the FY 1999 DoD financial statements indicated that $7.6 trillion of accounting entries were made to compile them. This startling number is perhaps the most graphic available indicator of just how poor the existing systems are. The magnitude of the problem is further demonstrated by the fact that, of $5.8 trillion of those adjustments that we audited this year, $2.3 trillion were unsupported by reliable explanatory information and audit trails or were made to invalid general ledger accounts."
Largely as a consequence of this, Wikipedia's "Military budget of the United States" is a chaotic mess, though useful for links to some sources (all of which are likewise plagued as being uninterpretable).
On 1 March 2011, Chris Hellman headlined "The Real U.S. National Security Budget: The Figure No One Wants You to See", and he estimated (using basically the same approach that Higgs had done in 2007, except less accurate than Higgs, due to failing to base his numbers on "the most recently completed fiscal year, for which data on actual outlays are now available" but instead using only the President's budget request) that at that time, the U.S. Government was spending annually on 'Defense', "$1,219.2 billion. (That's more than $1.2 trillion.)" That amount was far less than the totals that the Inspector General of the U.S. Department of Defense had been reporting, in some of its periodic investigations (such as the one just cited), to have been missed or undocumented or falsely 'documented' as having been spent, by that Department; but, for some mysterious reason, the American people tolerate and re-elect 'representatives' who 'debate' and rubber-stamp such corruption, which is of enormous benefit to corporations such as Lockheed Martin and Boeing, whose sales and profits depend upon the U.S. Government and its allied governments. Any such privatization of the 'Defense' industry, in America or any other country — treating its military operations so as to produce profits for investors (investors in mass-murder) — thus guarantees that the national-security function will be heavily loaded with lobbying and graft, because the military industry's entire market is to one's own government and to its allied governments: it's not a consumer market, but a government one. Thus, privatized military suppliers grow virtually to own their government; democracy consequently becomes impossible in such nations. And, one outcome from that is the uninterpretable financial reports by America's government, regarding 'Defense'.
For example, probably fewer than 1% of Americans have even been informed by the press as to what the currently authorized annual federal spending for the 'Defense' Department is. When the Washington Post, on 23 March 2018, reported their main story about the FY 2018 federal spending authorizations ("In late-night drama, Senate passes $1.3 trillion spending bill, averting government shutdown"), the figure for the 'Defense' Department was buried inconspicuously in a 52-word passage within that 1,600-word 'news'-report, which was otherwise loaded with distractive trivia. This buried passage was: "The legislation funds the federal government for the remainder of the 2018 budget year, through Sept. 30, directing $700 billion toward the military and $591 billion to domestic agencies. The military spending is a $66 billion increase over the 2017 level, and the nondefense spending is $52 billion more than last year." That's all. For readers interested in knowing more, it linked to their 2,200-word article, "Here's what Congress is stuffing into its $1.3 trillion spending bill", and all that it said about the military portion of the new budget was the 27-word passage, "defense spending generally favored by Republicans is set to jump $80 billion over previously authorized spending levels, while domestic spending favored by Democrats rises by $63 billion." Though 23 categories of federal spending were sub-headed and summarized individually in that article, 'Defense' wasn't one of them. Nothing about the budget for the U.S. Department of 'Defense' — which consumes more than half of the entire budget — was mentioned. However, the reality was that, as Defense News reported it, on 7 February 2018 — and these figures were unchanged in the bill that President Trump finally signed on March 23rd — "Senate leaders have reached a two-year deal that would set defense spending at $700 billion for 2018 and $716 billion for 2019." This year's $700 billion Pentagon budget thus is 54% of the entire $1.3 trillion FY 2018 U.S. federal budget. Another article in Defense News on that same day, February 7th, noted that, "'I'd rather we didn't have to do as much on non-defense, but this is an absolute necessity, that we've got these numbers,' said the Senate Armed Services Committee's No. 2 Republican, Sen. Jim Inhofe, of Oklahoma." So: 54% of the federal budget wasn't high enough a percentage to suit that Senator; he wanted yet more taken out of non-'defense'. How can people (other than stockholders in corporations such as Raytheon) vote for such a person? Deceit has to be part of the answer.
Using similar percentages to those that were employed by Higgs and by Hellman, the current U.S. annual military expenditure is in the neighborhood of $1.5 trillion. But that's more than the total authorized federal spending for all departments. Where can the extra funds be coming from? On 5 February 2018, CNBC bannered "The Treasury is set to borrow nearly $1 trillion this year". Then, charts were presented on 10 May 2018 by Dr. Edward Yardeni, headlined "U.S. Government Finance: Debt", in which is shown that the U.S. federal debt is soaring at around a trillion dollars annually; so, that extra money comes from additions to the federal debt. Future generations of U.S. taxpayers will be paying the price for the profligacy of today's U.S. aristocracy, who receive all the benefits from this scam off the public, and especially off those future generations. But the far bigger losses are felt abroad, in countries such as Iraq, Libya, Syria, Yemen, and Ukraine, where the targets will be suffering the consequences of America's invasions and coups.
Notwithstanding its pervasive corruption and enormous uncounted waste, the U.S. military is, by far, the U.S. institution that is respected above all others by the American people. A great deal of domestic propaganda is necessary in order to keep it that way. With so many trillions of dollars that are unaccounted for, it's do-able. All that's needed is a tiny percentage of the huge graft to be devoted to funding the operation's enormous PR for 'patriotism'. And this treasonous operation has been sustainable, and very successful (for its ultimate beneficiaries), that way, in the U.S., at least for decades.
I have previously explained why specifically military corruption has come to take over the U.S. Government, but not certain other governments
. And the result of its having done so has by now become obvious to people all around the world, except in the United States itself. Furthermore, ever since the first poll was taken on that matter, in 2013, which showed that globally the U.S. was viewed as the biggest national threat to peace in the world, a subsequent poll, in 2017, which unfortunately was taken in fewer countries, showed that this negative impression of the U.S. Government, by the peoples in those fewer countries, had actually increased there during the four intervening years. So: not only is the situation in the U.S. terrible, but the trend in the U.S. appears to be in the direction of even worse. America's military-industrial complex can buy a glittering 'patriotic' image amongst its own public, but America's image abroad will only become uglier, because the world-at-large dislikes a country that's addicted to the perpetration of invasions and coups. Just as bullies are feared and disliked, so too are bully-nations. Even if the given bully-aristocracy becomes constantly enriched by their operation, economies throughout the world suffer such an aristocracy, as being an enormous burden; and, unfortunately, the American public will get the blame, not America's aristocracy — which is the real beneficiary of the entire operation. This deflection of blame, onto the suckered public, precludes any effective response from the publics abroad, such as boycotts of U.S.-branded products and services might be. Instead, American tourists abroad become increasingly perceived as 'the ugly American'. The restored 'Cold War' — this time with no ideological excuse (such as communism) whatsoever — could produce a much stronger global tarnishing of America's global reputation. The beneficiaries, apparently, just don't care.
first posted at The Saker
The Baltic States are Target Number One
From 1 January 2020 security of the Baltic airspace is ensured by three Command and Reporting Centers designed for specific national airspace surveillance, based in Tallinn, Lielvarde, and Karmėlava, instead of one joint unit.

It is said that they enhance capabilities of NATO's Integrated Air and Missile Defense System, regional interoperability, and reliability of protection of the Alliance airspace. On December 19 the new BALTNET (Baltic Air Surveillance Network and Control System) configuration and three national centers in Lithuania, Latvia and Estonia were inaugurated at a ceremony in Kaunas.

According to the Baltic States' officials, three countries have moved from the defensive to offensive measures in order to provide their security and defence.
The more so, the three Baltic Allies have launched the cooperative project of the BALTNET future configuration to further enhance their contribution to NATO's collective defence effort and architecture.

Major Pärn, senior Estonian officer at Baltic Control and Reporting Centre (CRC) Karmelava said that "a before-and-after comparison clearly shows that we are moving from peacetime construct with just one joint Baltic CRC to the crisis-and-conflict-capable architecture of three Control and Reporting Points, including back-up capabilities and clear responsibilities increasing support for Allies and enhancing our national skills in special fields such as surface-based air defense, integration of ground forces and intelligence."

This sounds like a very proud statement to any who is not accustomed with the situation.
At the moment, the Armed Forces of the three states are deprived of modern air defense systems. The main reason for this, as Estonian Defence Minister Jüri Luik admitted, is the lack of money.

For example, the Estonian Armed Forces continue to use the Soviet 23mm Anti-aircraft Cannon ZU-23-2, despite the supply of other systems. Thus, Tallinn has been purchasing the Mistral portable air defense missile systems. In 2018, the Ministry of Defence of Estonia signed a contract with the European company MBDA for the supply of these systems. However, the Mistral missiles have a range of 6km only.

In the coming years, Lithuania will remain the only owner of medium-range air defense systems in the region. In 2017, the Lithuanian Air Force was set to procure NASAMS mid-range air defense systems for $ 122.4 million from Norway. The missile is able to hit targets at the range of up to 40 km and at the height of up to 14 km. However, NASAMS, developed in the early 1990s, can't be named the most advanced air defense system.

Washington provides financial assistance to the Baltic States but the amount of funds allocated for the needs of air defense is small: as Luik previously reported, in 2020 Estonia, Lithuania and Latvia will receive a total of $ 50 million from the Pentagon's budget.
Generally speaking, the United States is interested in developing the air defense system of the Baltic region, but is not ready to invest substantial financial resources in it. For this reason, Russia doesn't consider BALTNET to be a serious threat.

At the same time, Russia is not going to tolerate the Baltic States' attempts to enhance NATO military strength near its borders. Moscow considers these measures as demonstration of readiness to attack. Its reaction is unpredictable and the Baltic States with its population have become real targets. BALTNET will help to detect a threat, but will not defend. On the other hand, three Baltic States are the NATO's shield, aimed to stop Russia in case of war. On the other hand, NATO, probably, could stop Russia in the Baltic States, but these countries in this case will cease to exist. They will be Target Number One with no chances.
India's Evolving Nuclear Posture: Implications for Pakistan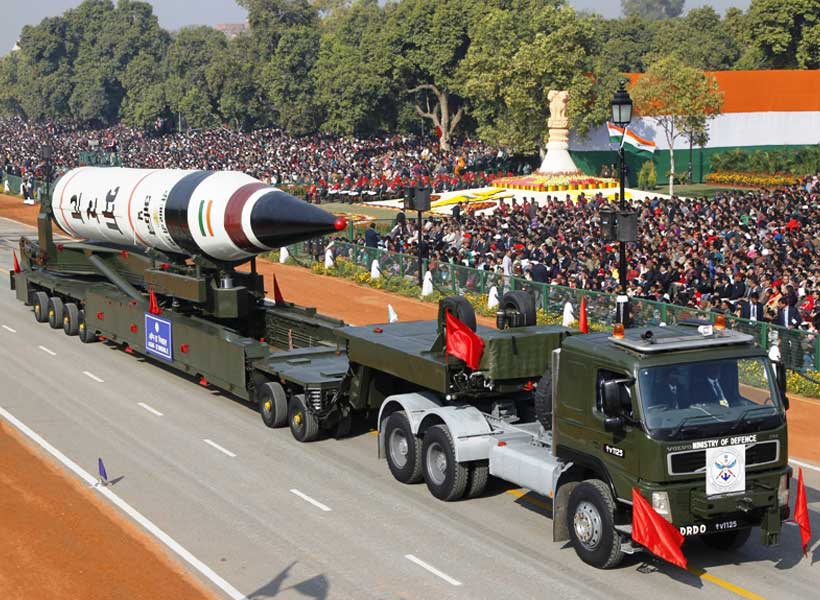 It's been twenty one years to the emergence of India, as an explicit nuclear weapon state (NWS), yet India needs to express the details about the core elements of its nuclear posture or nuclear doctrine like the policy of NFU, policy of minimum credible nuclear deterrence, massive retaliation and assured survivability of its retaliatory forces. India has ambitious plans for the acquisition of robust triad of nuclear forces, which includes the land-based ballistic missiles, fighter bomber aircrafts, and submarine launched ballistic missiles (SLBMs). India is rapidly building up its nuclear and strategic capabilities, which is a part of its grand strategy of attaining the status of regional and global power.[1]However, India is also strengthening its nuclear force by the introduction of new generation of short-range ballistic missiles which are nuclear capable in nature along with building up its naval nuclear force. These advancements are a threat to the nuclear threshold of Pakistan and will generate the probability of accidental nuclear escalation between the major states of South Asian region, India and Pakistan. Consequently, these advancements will have severe repercussions for the region.
Since 2003 it has been observed that no official up gradation has been made by India in its nuclear doctrine, showing its commitment to the NFU policy and the posture of massive retaliation as a result of a nuclear attack and credible minimum deterrence (CMD) force posture.[2]Though, the nuclear force of India, kept on changing from the time it released its nuclear doctrine. Critical examination of nuclear forces of India depicts that India will go on modernizing its nuclear arsenals by the introduction of at least four new weapon systems, which will complement the existing nuclear- capable aircrafts, land and sea based delivery systems and is also effectively working on the expansion of nuclear missiles with short range.[3]
According to the officials of India, the nature of the nuclear and conventional challenges has been changed since India released its nuclear doctrine in 2003. India's stance on building up its conventional and nuclear capable ballistic and cruise missile system vis-à-vis China, is an element of its force posturing. As India claimed, the development of SSBN is for the conventional naval deterrence purposes[4] but these developments by India have great implications for the twin born state of Pakistan.
Despite of such shifts and development made by India, yet the nuclear doctrine of India has not been amended, since 2003. India is unable to assess the implications of these developments pose to the neighboring state of Pakistan. A growing debate has been observed with in India regarding the shift in the main principles of its nuclear doctrine i.e. India should move away from the NFU to FU and should opt more offensive posture. In the recent years proposals have been made at different platforms about the review of Indian nuclear doctrine. The idea of revision of the nuclear policy has been presented by Associate Professor Vipin Narang. He mentioned that Delhi is shifting its long held policy of NFU, the main pillar of its nuclear doctrine.[5] However, India has adopted the moderate nuclear posture of minimum retaliatory capability for deterring the adversaries to refrain from nuclear attack. Indian nuclear experts and officials have been criticizing the effectiveness of NFU policy. The Indian defense Minister Manohar Parrikar suggested India to move away from NFU by opting the offensive policy of first strike to fully disarm the nuclear capabilities of Pakistan.[6]
Indian nuclear program and strategic shifts along with the technological advancements will have several allegations in broad for international community and specifically on Pakistan. Firstly, the vying state of India, Pakistan; it is determined to continue to scrutinize the strategic situation of India and will respond accordingly. For Pakistan its nuclear program is an essential element of survival, because of the massive conventional discrepancies lie between them. And Pakistan is also busy in its own advancements and arsenal up gradation plans due to the expanding missile and nuclear capabilities of India.[7] India continues to modernize its nuclear force by acquiring technological reforms and also shifting its nuclear policy from NFU to FU or first strike capability, it has been indicated by the successful launch of Nirbhay cruise missile that India is trying to enhance its first strike capability by abandoning the NFU policy vis-à-vis Pakistan.[8]Consequently, it will create a security spiral between the two nations to counter each other by taking the actions accordingly. This spiral will lead towards an arms race which will impact the global proliferation enormously and will have negative repercussions on the strategic stability of South Asia.
For Pakistan, the recent developments/ build ups of India are a matter of great concern. Especially, the developments made in the missile technology in addition to Ballistic Missile Defense (BMD) System and Indian collaboration with super powers like US and Russia along with the Jewish state of Israel have given a new dimension/ facet to the security situation of the region. These new developments especially the introduction of BMD system has posed negative implications to the neighboring state of Pakistan. And to counter India in these developments, Pakistan is also developing its nuclear arsenals, missile program and tactical nuclear weapons which is giving rise to the arms race in the region creating an action-reaction spiral.
In response to the nuclear developments and missile program of India, Islamabad is also up grading its nuclear forces and building up its missile program. Pakistan already possesses an extensive array of nuclear capable ballistic missiles with short and long ranges.[9] This includes the nuclear proficient aircrafts, ballistic missiles as well as cruise missiles. Additionally in order to counter Indian developments, Pakistan is also working on its sea based nuclear missiles. Pakistan has launched all weathers, nuclear payload capable ballistic missile Shaheen II in response to the successful launch of Indian fastest cruise missile Brahmos– which has the capability to act as a anti-ship weapon –­­­­­­­­­­­­­­­­­­­­­­­­­­­­­­which can pose serious threats to the Pakistan's land and naval assets.[10]
If India opts the more aggressive nuclear posture of first strike capability, it will lead Pakistan towards the revision of its nuclear posture by opting more aggressive nuclear posture to deter India. The nuclear build ups by India especially the experiment of Agni V, SLBM, and the purpose behind the acquisition of Theater Missile Defense (TMD) and becoming the member of Missile Technology Control Regime (MTCR) is bothersome thing for Pakistan. Being the member of MTCR, India achieved the waiver of exporting its missile and space technology to the nations, which are adhered to the missile group principles, India is already a member of missile club which provides it an easy access to the sophisticated missile technology.[11] So, all of these aspects have negative implications for Pakistan. And to counter India in such domains Pakistan needs to work a lot. And in this regard Pakistan is also building up its nuclear arsenals, its cruise missiles, its ballistic missiles, aircrafts and naval buildups for its security and survivability and to deter India from its hegemonic goals and to ensure the stability and peace in the region.
India's evolving nuclear posture is manifested by the modernization of its nuclear forces by the acquisition of new technology. And, ostensibly it is also shifting its doctrine from NFU to FU. These developments will have grave implications on the state of Pakistan and on the region of South Asia. The emerging nuclear posture of India i.e. shift from NFU to FU will have serious implications for Pakistan; leading to an arms race and instability in the region.
The shifts in Indian nuclear doctrine will encompass severe implications on South Asian region especially on Pakistan. If India shifts away from the NFU to first use capability then Pakistan will have to review its nuclear doctrine and has to take action accordingly. Secondly the nuclear buildups and strategic developments by India are also impacting the peace, harmony and stability of South Asia and is having negative repercussions for Pakistan. Due to such developments Pakistan is also forced to take measures by developing the same technology of strategic buildups to deter India.
Delhi has also advanced its aircrafts like Su-30MKI to carry BrahMos cruise missile, which perhaps will be nuclear capable and will also extend the strike range capability of the Indian air delivered platforms.[12]Such modifications will improve the viability of the striking capabilities of the Indian aircrafts as nuclear deterrents.
India has shown most of the improvements in its ballistic missiles quality. Only one category of equipped ballistic missiles was occupied by India in 2002 that is the short range Prithvi I with a range of 150kms.[13] Now India has multiple ranges of ballistic missiles like short range, medium range and intermediate range ballistic missiles as an element of its operational force. India possess Agni I which has a range of 700km, whereas Agni II which is a medium range missile with a projectile range of 2000 km.[14] The highest array of operational missile of India is Agni III, which has a projectile of 3000 km and has ability to cover long distant areas of China. India has been successful in conducting the test of Agni V with an ICBM and it covered a range of 5000 km, which is considered to be less than that of the internationally recognized standard for an ICBM. It is believed that in future, India will possess Agni VI missile, which will have MIRV technology.[15]
Ballistic submarine is thought to be the most survivable leg of nuclear triad, India has also made a lot of progress in this sense. India's indigenous nuclear submarine, INS Arihant, its construction was initiated in 1997,[16]but in 2013, it was experienced that the onboard nuclear reactor of it went critical[17]due to which this vessel didn't get the operational status. Submarines are likely to be equipped with 12 Sagarika k-15 missiles, and it is also accounted that India is also building up a long-range missile with the name of K-4 for the INS Arihant, which will have an expected range of more than 3000 km.[18]India already acquired a surface naval platform which is used for the ballistic missile known to be the Dhanush, which might be nuclear capable. If India reached the INS Arihant's operational status then it will truly acquire the technology of nuclear triad. This will enable India to become a part of the exclusive club of nations, which only comprised of U.S., China and Russia.
Because of the India's goal of becoming a hegemony in the region which has been followed by it with the initiation of CIRUS reactor have left negative impacts not only on the strategic stability of the South Asian region in general but also on the belligerent state of Pakistan in particular. Along with it the nuclear deal between India and U.S. and the waiver to NSG also have negative consequences which add up more salt and pepper to the destabilization of situation among India and Pakistan. The gradual change in the nuclear policy of India has certain strategic implications on the subcontinent which also impacts the strategic environment of the Pakistan. India has already shown a shift in its nuclear policy without any of the confirmations from the leadership of India.[19] It creates a more mistrust in region and if India makes any of the gradual changes in its nuclear policy, it will automatically pulls Pakistan into the arms race. Due to the gradual increase in the strategic forces of India, it will also drag the region into an unending arms race and will also make Pakistan and China to think of their own deterrent forces modernization.[20]It might lead the region towards a nuclear war. It looks like India is opting a more aggressive nuclear posture as India is developing more deterrent forces and also developing a triad which will impact the stable condition of South Asia as Pakistan do not afford such option because of its poor economic development. Gradual policy transformation in Indian nuclear posture to "launch on warning" or "launch under attack" which will provide India with the option of FU/ first strike capability and it will direct India to move from NFU to first use option, which will be a worrisome thing for Pakistan. Due to the absence of NFU option in South Asia would raise the reliance of states on the nuclear weaponry.[21]
Due to the strategic build ups and the missile program developments by India will lead the South Asian region in to the arms race. As these developments have negative effects on the stability of this strategic geographical entity. And have great implications for Pakistan. Pakistani strategic thinkers will also consider these repercussions serious or one of the main risk to the security of their state so Pakistan will also build its strategic arsenals to counter India. These missile and strategic developments of India has given birth to security dilemma in the region which is leading towards arms race. India's shifting away from no first use to first use is also having severe implications for Pakistan. If India ever goes to aggressive nuclear posture, as a result Pakistan will opt a more aggressive nuclear posture than India.
---
[1]National Security Advisory Board, "India's Draft Nuclear Doctrine," Arms Control Today, July/August 1999, www.armscontrol.org/act/1999_07-08/ffja99
[2]Ibid.
[3] Hans M. Kristensen and Robert S. Norris, "Indian nuclear forces, 2017," BULLETIN OF THE ATOMIC SCIENTISTS 73, no. 4, July 5, 2017 : 205.
[4] O'Donnell and Joshi, "Lost at Sea: The Arihant in India's Quest for a Grand Strategy," Comparative Strategy 33, no. 5 ( November-December 2014): 476
[5]GurmeetKanwal, "India's Nuclear Doctrine: Reviewing NFU and Massive Retaliation," Institute of Peace and Conflict Studies, New Delhi, January 7, 2015, http://www.ipcs.org/article/india/indias-nuclear-doctrine-reviewing-nfu-and-massive-retaliation-4798.html.
[6] "Why Bind ourselves to 'No First Use Policy', Says Defence Minister Parrikar on India's Nuclear Doctrine," The Times of India, November 10, 2016, http://timesofindia.indiatimes.com/india/Having-a-stated-nuclear-policy-means-giving-away-strength-says-Parrikar/articleshow/55357107.cms.
[7] Hans M. Kristensen and Robert S. Norris, "Pakistan's Nuclear Forces, 2011," Bulletin of Atomic Scientists 67, no. 91 (2011): 93, DOI: 10.1177/0096340211413360.
[8]SyedaSaiqa Bukhari, "Implications of Indian's Nirbhay Missile Test," Daily Times, May 22, 2019. Accessed on July 15, 2019.
[9]Musawar Sandhu, "The BrahMos Test and Its Implications For Current State of Strategic Relations Between Pakistan and India," Eurasia review, June 4, 2019.
[10] Ibid.
[11]Asma Khalid, "Implications of India' Missile Program and Non- Proliferation Regime," Foreign Policy News, June 24, 2017.
[12] Rakesh Krishnan Simha, "How the Su-30 MKI Is Changing the IAF's Combat Strategy," Indrus, January 5, 2014, http://indrus.in/blogs/2014/01/05/how_the_su30_mki_is_changing_the_iafs_combat_strategy_32099.html.
[13]Norris , "India's Nuclear Forces, 2002," 71.
[14]Kristensen and Norris, "Indian Nuclear Forces, 2012," Bulletin of The Atomic Scientists, 98.
[15]Ajai Shukla, "Advanced Agni-6 Missile with Multiple Warheads Likely by 2017," The Business Standard, May 8, 2013,Acessed September 16, 2018, http://www.business-standard.com/article/economy-policy/advanced-agni-6missile-with-multiple-warheads-likely-by-2017-113050800034_1.html.
[16] Norris, "India's Nuclear Forces, 2002," 72.
[17]Jyoti Malhotra, "How India's Pride INS Arihant Was Built," The Business Standard, August 12, 2013, http://www.business-standard.com/article/specials/how-india-s-pride-ins-arihant-was-built113081100745_1.html
[18]Kristensen and Norris, "Indian Nuclear Forces, 2012," 99.
[19] Zafar Khan, "Emerging Shifts in India's Nuclear Policy: Implications for Minimum Deterrence in South Asia," Strategic Studies 34, no. 1(Spring 2014).
[20] Ibid
[21]Ibid.
India-Pakistan: Stitched in Multilateral Interests
Bilaterally botched relationship, Pakistan and India would be working together in an economic and strategic multilateral forum of Eurasia's Shanghai Cooperation Organization (SCO). The China-led Organization has eight members – India, Kazakhstan, China, Kyrgyzstan, Pakistan, Russia, Tajikistan and Uzbekistan – and four observer states, Afghanistan, Belarus, Iran and Mongolia. Both were given the membership in 2017.
Founded on June 15, 2001, the SCO characterizes the inter-governmental interaction to provide an institutional platform for broad regional economic cooperation within the context of the new realities of globalization and regional integration. As such the interlacing of relations between countries and regions is significantly augmented with the paradigm shift of increasing interdependency and commonly accessible communication. The major objective is to encourage a more cohesive global community for development and prosperity.
However, locked in unrelenting hostility, to establish a non‐securitized culture with collective security through conflict resolution between India and Pakistan is blocked by their parochial politics. The teaming up when encountering transnational challenges, as members of a multilateral forum, such as the SCO, presents a ray of hope despite the antiquated politics of Indo-Pak relations. Nationalism and politics of 'otherness' or populism has mainly kept the basic conflict dynamics unchanged between India and Pakistan so far. It is painfully being exacerbated even further with Modi's Hindutva ideology.
Similarly, one of the characteristics of regional cooperation is strengthening conflict management to ensure security. The Composite Dialogue initiated between the two states, way back in 1998, with reference to "all outstanding issues including Jammu and Kashmir" never reached its conclusion. A brief rethought of holding the "Comprehensive Bilateral Dialogue' in 2015, also got scuttled by ever soaring tensions.
Likewise, geo‐economic collaboration in the region, with autonomy for individual countries is dependent upon its political and security conditions. The South Asian Association for Regional Cooperation (SAARC) is perhaps the only regional forum which has not been able to provide a much needed platform for discussing security‐related issues.
Hence the question whether Prime Minister Imran Khan will attend the SCO summit when India would host the event in October this year, is one of extreme consternation for Pakistan against the backdrop of the deteriorating bilateral relations between both countries. Especially since India has revoked Article 370, keeping the Kashmiris under siege for more than 150 days, an emboldened Modi's recent Bill on Citizenship, and the erstwhile incident of February27 when Pakistan's borders were violated, with its opposing hostile narratives all present an 'incandescent panoply' of South Asia's collective security concerns. Already deep rooted and agonizing for the people of both India and Pakistan, the territorial disputes between both countries have significantly stampeded the possibility of cordial bilateral relations between both neighbors.
Mr. Raveesh Kumar, the spokesman for India's Ministry of External Affairs has already declared that "India will be hosting the heads of government summit later this year. As per established practice and procedure within SCO, all eight members, as well as four observer states and other international dialogue partners, ."
South Asia is desperately negotiating its place in an arena of global interconnections within the throes of rapid change. Within the purview of both immediate and distant history where relentless confrontation between two major nuclear armed nations has played a defining role, how would one geographical unit benefit from a multilateral venture? Where would India and Pakistan start as co‐members of the SCO, in the absence of the complementarity of political interests? Who would step forward to challenge the prevailing incongruity both internally and externally? To borrow from the Theory of Transcendence for conflict resolution, proposed by Johan Galtung, India and Pakistan have the following three options to respond to the changing world of multi‐ polarity and regional integration:
1. To give up in advance on the outstanding issues,
2. Content oneself at the expense of the other,
3. Or reach some compromise.
Hence, would their presence in the SCO this year impart a new momentum towards a more coherent and effective exercise in conflict management? Is it an opportunity? Or would it deepen their already existing strains and widen their ancient rivalries further afield to Afghanistan and Central Asia?
Through the SCO, China and Russia are building a decidedly multi‐polar "Eurasian" point of view. Its strategic aims are to condemn any efforts to achieve a "monopoly in world affairs", divide the world into "leaders and followers" and "impose models of social development." This obviously reflects China's insistence on "multi‐polar" world as against the US persistence of "uni‐polar" international order.
Agreeably, the SCO does provide an opportunity to both India and Pakistan to transcend from their parochial politics. It has historically provided a platform to its member states to sign such crucial agreements like the Treaty on Deepening Military Trust in Border Regions and the Treaty of Good‐ Neighborliness and Friendly Cooperation, amongst its member states. The transformation of the regional and global security paradigm amidst the growth of new economic centers also necessitates a qualitative change. The world looks askance at teamwork.
Though the forum is too feeble to bear the consequent shocks of Indo-Pak hostility, the converging interests of the member states offer an opening for an effective intermediary role to resolve the Kashmir issue as well. The presence of unimplemented resolutions in the United Nations and now universally noticeable human rights violations has already given it an international status.
Conclusively, a final decision on whether Prime Minister Imran Khan attends the meeting, scheduled for October, is yet to be made by Islamabad. Placing cooperation above conflict in the conduct of interstate relations is certainly a viable solution however, without compromising on its principled stance. As an alternative there is already is a precedent from the past to have the foreign ministers representing the national interests in such multilateral forums should the Prime Minister choose to abstain.