Preventing Nuclear Terrorism in South Asia
Just how well is India a South Asia's nuclear-armed state, taking care of their nuclear materials? The history paints a daunting picture of liabilities in the event of a mishap that reoccurred in the past. Since India, like Pakistan, is not a party to the NPT, it is not subject to IAEA-NPT safeguards.
Taking a sharp reversal of history, the incidences of nuclear theft date back to the seizure of nuclear fissile material in the early 1980s. However, after the 1998 nuclear testing by India, as well as the fastly swelling Indian nuclear programme – combined with the more than a dozen insurgency movements in India – the threat of theft and possible use of nuclear weapons by sub-national groups and terrorists has been intensified in South Asia. This threat is further swelled because India has been well-known to make clandestine purchases of fissile material from private sellers abroad normally in the old Soviet territories.
While reports of Indian involvement in the theft of nuclear fissile material dates back to the early 1970s, the magnitude of the threat increased manifold in the 1980s and 1990s. In the late 1980s, the CIA had concluded that India was trying to develop a sophisticated Hydrogen bomb. In 1994, on a tip-off, a shipment of beryllium was caught in Vilnius, worth US $ 24 million. The buyer was thought to be either from India or North Korea – though the shipment was caught before it could reach the buyer. Interestingly, as per an Indian parliamentary report, as many as 147 mishaps or security related occurrences were reported in Indian atomic energy plants between 1995 and 1998.
In July 1998, India's Central Bureau of Intelligence (CBI) unearthed a major racket in the theft of uranium in Tamil Nadu, with the seizure of over 8 kg of the nuclear material in granule form and the arrest of three men. The contents of this theft were sent to the Indira Gandhi Centre for Atomic Research (IGCAR) for preliminary analysis and the Centre declared that there were two kinds of substances found in what they said was 6 kg of uranium – natural uranium (U237and U238) and U 235, which is weapons grade uranium. The substances were found in the possession of Arun, a structural engineer, S. Murthy and their associates.
Another uranium theft case to come to light was reported on 27 August 2001, where police caught 200 grams of semi-processed uranium from West Bengal and arrested 2 men. According to the press report, Indian intelligence officials believed that a uranium smuggling gang was operating in West Bengal.
Again, on May 1, 2000, Mumbai police seized 8.3 kgs of uranium. The uranium was termed as depleted but radioactive uranium by the Bhabha Atomic Research Centre (BARC). In this instance, the source of this uranium theft – as cited by the police – had been a local hospital, the Leelavati hospital, in Bandra. The fissile material had been found in the custody of scrap dealers who were caught and charged under the Atomic Energy Act.
Around 9 kg of radioactive uranium, a banned material, has been seized from two persons in Thane, a top police officer said today. Laboratory tests have confirmed that the seized material is depleted uranium, which is a radioactive poisonous heavy metal. According to preliminary investigations, it was brought from abroad and was intended for sale to some unknown parties in Thane.
The Thane police had arrested Kishore Prajapati with 8.86 kilograms of depleted uranium. The uranium was valued at Rs 3 crore per kg. Prajapati a scrap dealer during investigations told the police that he had found the radioactive material in a scrapped Air India aircraft which he had purchased through his contacts.
Most of the accused caught by police have been scrap dealers who are obviously used as front men, which may well indicate the prevalence of organized crime relating to nuclear materials. The source of origin, in most case, as stated by the police, have been cancer hospitals –although the nature and quality of the uranium found in the use of the hospitals has differed from case to case.
So, the focus has to shift to Indian nuclear facilities and the whole issue of their safety – especially in relation to theft and nuclear terrorism. While the rising incidents of nuclear theft create the possibility for a lucrative underground market for potential terrorists, unsafe nuclear facilities create risks for the surrounding populace – which has to live in constant terror of a nuclear accident. Less understood was the most recent racket busting of 31 tons of nuclear material smuggling from India which nonetheless shows their resolve and seriousness about the issue.
When one puts all the reported theft cases in a nutshell, serious questions arises whether India was liable to be a partner in indo-US civil deal? Was the credentials so strong enough for such a deal that surpasses such important revealed mishaps been overlooked? Is India still liable enough with such a daunting history to be a mainstreamed in the most important Nuclear Suppliers Group?
Nasr Missile and Deterrence Stability of South Asia
Pakistan has conducted successful test of short range surface to surface ballistic missile 'Nasr' on January 24th, 28th and 31st respectively, as part of the Army Strategic Forces Command training exercise, which included quad salvo on 24 January and single shots on 28 & 31 January, 2019. Quad salvo means that the four missiles were fired together from AR1A/A100-E Multiple Launch Rocket System (MLRS) to enhance the operational efficiency of Army Strategic force Command. While single shots means one missile was fired from the vehicle. The aimed of letter tests were for testing in flight maneuverability, including the end flight maneuverability. Nasr has shoot and scoot attributes which mean that the system has a capability of firing and moving away quickly to avoid counter targeting which would be contributing to the weapon's survivability.The speed and low apogee of the Hatf-IX missile would make it difficult to intercept by all the Indian existing Ballistic Missile Defence system and could defeat S-400 air defence system which is in process.
As South Asia region is consider unstable because of ongoing hostility between India and Pakistan. Though hostility between both states is unending but nuclear weapons have brought stability to a great extent. As India decided to take the nuclear weapons route, Pakistan followed because through nuclear weapons Pakistan successfully neutralized Indian conventional superiority.
In South Asia, security competition between India and Pakistan has been characterised by an action-reaction spiral. Pakistan took the path of nuclear weapons development in order to create balance against militarily superior India. In 2004, India adopted aggressive military doctrine, Pakistan rationally responded by developing Short Range Ballistic Missile Nasr which further strengthen the existing deterrence equation of the region. As Pakistan is not able economically to compete India conventionally, so it always took necessitating reactionary steps to maintain deterrence stability of South Asia.
The purpose of the development of Nasr is defensive because Pakistan would use it to secure its border from Indian conventional aggression. Pakistan Short Range Ballistic Missile Nasr has been criticized by international community that it would increase arms race in South Asia.  But Pakistan developed Nasr to overcome the growing threats from the Indian offensive military doctrine. Cold Start Doctrine forces Pakistan to increase its dependence on nuclear arsenals. General Bipin acknowledged CSD in 2017, was followed by Pakistan's Nasr test by improving its range from 60 to 70 km which puts cold water on Cold Start. Before official acknowledgement of CSD, Pakistan did not conduct any training tests of Nasr. Pakistan inducted the Nasr missile in its strategic arsenal in 2017and its first training launch was held in July 2017 after the official acknowledgment of CSD from Indian side,  shows that Pakistan developed Nasr only to deter India from initiating a conventional assault against Pakistan. Pakistan does not want to indulge in an arms race rather react to those Indian developments which are threatening its sovereignty. This weapon system has augmented Full Spectrum Deterrence in line with Credible Minimum Deterrence, which means that Pakistan would deter conventional forces (India) by employing nuclear deterrence. Pakistan adopted assertive command and control system on Nasr which means it is centrally controlled which minimize the chances of accidental or unauthorized use.
The latest series of Nasr training tests were response to General Bipin10th January 2019, statement, that the military is launching war games next month to test 'structures geared towards sudden and swift offensives into enemy territory by Integrated Battle Groups (IBGs). These new structures will be "validated" in military exercises on the ground in May, 2019. As IBGs are the center of Indian offensive military doctrine, which involves initiating rapid military offence from multiple fronts by exploiting the element of surprise and leaving Pakistan with neither the time to respond nor the defensive resources to stop those multiple attacks. Nasr tests are in response to this Indian military announcement as Pakistan solely developed Short Range Ballistic Missile Nasr to deter India from initiating conventional conflict. The recent Nasr tests have frightened Indian commanders because of its capability to defeat all Indian existing Ballistic Missile Defence systems and S-400 air defence system. Hence, deterrence is often in the minds of adversary. As long as Indian leaders continue to be deterred by Nasr, it will continue to be effective.
Successful Test of Nasr Pours Cold Water on India's Cold Start Doctrine
Pakistan army announced on 24 January a successful training of its short-range ballistic missile, "Nasr", which is believed to have a range of just 60 kilometres. The 60-kilometre range Nasr missile as "a high precision, shoot and scoot Weapon System with the ability of in-flight maneuverability. The missile is able to defeat the ballistic missile defence being developed by India. The missile can carry both conventional and nuclear warheads, but it is known more for its capability to carry nuclear warheads of suitable yield. Nasr is launched from a multi-tube launcher, capable of launching four successive missiles. It is considered as the high-precision weapon system that can be prepared for launch in a short time.
Nasr was introduced in April 2011, developed in response to India's Cold Start doctrine, the existence of which was officially confirmed by Indian Army Chief Gen Bipin Rawat. The tactical nuclear weapon system, it is said, is meant to deny space to India for conventional conflict below the nuclear threshold.
In fact, the NASR has been developed as the Pakistan army of last resort against Indian Cold Start Doctrine. According to the former head of the Strategic Plan Division (SPD) Retd Lt General Kidwai, the nuclear weapons would be only used "if the very existence of Pakistan as a state is at stake." The sole aim of the nuclear weapons is to deter Indian aggression. He also stated that Indian CSD is an offensive limited war strategy designed to seize Pakistan's territory swiftly, hence, the developments of TNWs have sufficiently blocked the avenues for serious military operation from the Indian military side. The Nasr can carry a small-yield "sub-kilotonne" nuclear weapon not to designed widespread damage. It has been designed to protect the Pakistan's national interest and to provoke international intervention to stop India from designing hawkish policies.
Pakistan's use of tactical nuclear weapon would aim to minimize the destruction and to avoid the provoking a massive Indian retaliation which New Dehli nuclear doctrine mandates. According to many Analysts Pakistan is unlikely to use the Nasr on Indian territory, but, it would used against the Indian forces deep inside Pakistan territory.
Pakistan does not believe in the arms race, the development of short range missile is part of Pakistan's security policy because India has supremacy in conventional force and it spends more money than Pakistan on its military force modernization. For instance, India tested a long-range nuclear-capable missile on 14 January from an island in the Bay of Bengal. According to the Indian defence ministry the Agni-5 intercontinental ballistic missile, was made from a mobile launcher, and "further strengthens indian credible deterrence". While, the increase in the military capability of India always intensifies the security dilemma of Pakistan thus, it opposed India's cruise and ballistic missiles' development because, its short and long range weapons undermine Pakistan's security. India has been developing outstanding military strike capabilities to showcase itself as a regional hegemon in South Asia and great power in the world. Nonetheless, it has not changed the strategic relationship between Pakistan and India (according to the prominent nuclear expert Dr. Jaspal ) but, it amplified the arms race in the region.
Dr. Jaspal states that the NASR is a cost-effective way (due to Pakistan's resource constraints), to alleviate the rapidly growing conventional asymmetries between India and Pakistan and to counter the threat of limited war. In a nutshell, Nasr has poured cold water on India's Cold Start Doctrine and this weapon system has augmented full spectrum deterrence posture while, remaining within the precincts of the policy of credible minimum deterrence, against prevailing and evolving threat spectrum more effectively including India's ballistic missile defense and other air defense systems.
The Collapse of the INF Treaty as a Motivation?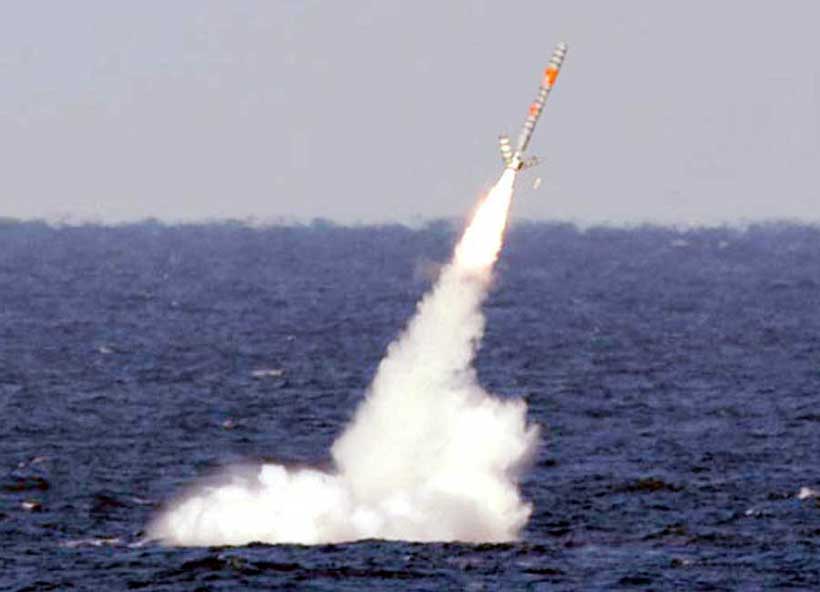 Despite the attempts of Russian and U.S. sides to find common ground on the Intermediate-Range Nuclear Forces (INF) Treaty, it appears that the agreement will cease to exist this year. So what next?
Fighting for Opinions
Russia has been demonstrating a rather high degree of flexibility of late, including publicly, by stating its readiness to reveal its "controversial" 9M729 land-based cruise missile and then holding a presentation on it (even though the scale of the event was, apparently, smaller than the one that was originally proposed to the U.S. partners).
Despite the fairly simple diagrams of the 9M729 and 9M728 missiles displayed on their transport-and-launch containers and the launcher's similarity to that of the "Club-M system that was first demonstrated back in 2007 as part of the setup for the land-based variant of the Kalibr missile (even though it was a shorter-range version intended for export), this information appears to be quite interesting. Furthermore, the data supplied by Russian sources largely confirms the assumption that the warhead is the main feature of this new cruise missile for the Iskander-M tactical missile system. At the same time, it is possible that the "new but not-so-new" launcher had been planned all along, but did not emerge until now due to concerns about possible breaches of the INF Treaty, and that it was only greenlighted once an appropriate, militarily significant cruise missile had emerged that met the INF requirements and required a new launcher type (other than the "classic" 9P78-1 one). It may very well be that the new launcher is not suitable for 9M723-series quasi-ballistic missiles, and there are questions about its compatibility with the accompanying transporter-loader vehicle; however, the missile's increased accuracy and power (and possibly its enhanced capability to overcome enemy missile defences) was clearly considered to be very valuable.
Unfortunately, the key NATO and EU member nations ignored the presentation, and not necessarily of their own volition [2]. The United States, for its part, continues to express concerns about the 9M729 cruise missile breaching the INF Treaty, demanding the destruction of both the missile and the associated launchers under Washington's supervision.
On February 2, the United States will start the process of "suspending" its obligations regarding the INF Treaty. The Ministry of Foreign Affairs of the Russian Federation has already described the decision as being "legally void." Washington, however, sees this as a way to develop missiles that would be otherwise prohibited by the Treaty. It should be noted that the United States started planning research and development in this field several years back, and the first test launches may be expected in the near future. It could start with test-launching land-based versions of its air- or sea-launched cruise missiles, for example. Another possible pioneer might be a new tactical missile being developed as part of the Precision Strike Missile programme (formerly known as Long Range Precision Fires), which is to replace the good old ATACMS programme. Raytheon is a participant in the project with its DeepStrike project, whose advertised maximum range stands at the marvellously precise figure of 499 kilometres.
What Next after INF Treaty?
If the United States notifies Russia (and the other post-Soviet states) on February 2 about its withdrawal from the Treaty, how will the situation unfold over the next six months? [3]
The worst-case scenario would involve the rapid development and deployment by Russia and the United States of conventional and nuclear medium- and short-range missiles on both sides of the NATO–Russia border: in Russia's Western Military District (including Kaliningrad exclave) and throughout Central and Eastern Europe. It would take at least a year for the respective missile units to become fully operational, but even announced planse on their deployment would ruin whatever is left of the European security architecture, including the Russia-NATO Founding Act. Western Europe is unlikely to support such processes; however, Eastern European countries may be willing to host U.S. offensive systems within the framework of bilateral agreements. This may indeed trigger a crisis in the West, including within NATO and the EU, but Russia is sure to suffer much more from such a return to the Missile Scares of the 80s. Moscow is much closer to NATO borders today than it was back then due to geography and political developments, and the the military threat emanating from the Alliance is playing a serious role in the way Moscow' perceives this threat policy-wise. Russia will certainly need to take into account the drastic reduction in decision-making times should hostilities break out, which could result in pre-delegation of the authority to use nuclear weapons to lower levels of the command chain, or even in fully automating this process, given the heightened interest in the topic on the part of the country's top political and military leadership. It is partially because of these risks that it would be a bad idea to rush to deploy new missile systems, thus poring fuel to the simmering conflicts.
It is much more likely that all the actors involved will exercise some degree of self-restraint. The interested parties could state their intentions to refrain from unprovoked deployments of missile systems. This would prevent any restrictions on R&D efforts, while at the same time facilitating a relatively stable strategic military architecture. Other possibilities include agreements that would restrict the geography of possible deployments – for example, Europe could be declared an area free from intermediate and shorter range missiles. However, such a decision would have a negative impact on the theoretical possibility of developing a global regime (not even a prohibitive regime, but just a restrictive or more transparent one) that would involve China, India, Pakistan, Iran, Israel and other actors.
In addition, if all the parties involved were prepared to withdraw from the INF Treaty, they could coordinate joint decisions on payloads for non-strategic missiles to be deployed. The Treaty does not distinguish between nuclear and conventional warheads, which is something worth revisiting in any eventuality [4]. Such a discussion would help the parties to return to the broader topic of control over tactical nuclear weapons, especially given the fairly interesting proposals that have emerged recently.
The possibility of some arrangements between European countries and Russia deserves special attention. Here, the key objective is to change the perception both in Moscow and in the European capitals: it is not about splitting the transatlantic unity or driving a wedge between Western and Eastern Europe. On the contrary, the emergence of a purely European arms control regime should help the disintegrating U.S.–Russia system of treaties remain in place. This, however, would require both parties to act fairly boldly.
The Future of New START and Arms Control
It should be stressed here that, unless the United States resorts to overly provocative activities in terms of deploying new intermediate and shorter range missile systems aimed directly at the Russian strategic nuclear forces (SNF), then Russia will continue with the current pace and targets for the modernization of its SNF as permitted by the New START Treaty.
In early 2019, the U.S. media ran a Russian letter to the United States Senate Committee on Foreign Relations. The document explained Russia's position with regard to the allegations of the United States that Moscow had failed to observe the INF Treaty [5]. Without going into much detail as to the essence of the mutual accusations, it should be noted that Washington's failure to embrace a constructive approach presents the key threat to prolonging New START beyond 2021. Most importantly, Russia is presumably prepared to agree to a system of so-called "cabinet-level written political commitments". Those are possible with regard to the cap on the total number of ballistic missile launch tubes on U.S. Ohio-class submarines (with the exception of those intended to make up for the missile potential of any lost launchers). A similar principle could be applied to upgraded Tupolev Tu-22M3M long-range bombers, which can theoretically be retrofitted with in-flight refuelling capabilities (thus boosting their range beyond 8000 kilometres) and the ability to release air-launched cruise missiles with a range of over 600 kilometres. This would turn such aircraft into heavy bombers under New START. The aforementioned letter states that Russia has no such intentions with regard to this bombers, but a relevant formal written commitment might prove to be a useful instrument of trust and security. This aspect of arms control may yet come to the fore should Russia-U.S. relations deteriorate further, including under the influence of domestic political processes in the United States.
Russia and the United States managed, in previous decades, to reach a very high level in terms of sharing reliable information on their strategic nuclear forces, and it would be a real pity to see this potential go to waste. However, it is becoming increasingly obvious that these relations are very much unique. It is quite possible that we will return to a time when there were no legally binding restrictions on Russian and U.S. nuclear forces. This might be the point at which a new polycentric nuclear order will begin to form. To begin with, it would be advisable to develop a system of measures aimed at building confidence and transparency, as the existing asymmetry in the arsenals of the nuclear powers dooms any potential attempts to introduce universal or proportional constraints to failure. It is possible that the principle of "commitments" and other such solutions currently being discussed by Russia and the United States with regard to the controversial issues of New START could contribute to the foundation of such a "post-bipolar" regime. China, for one, might prove more willing to embrace a regime like that than a full-blown international treaty complete with stringent restrictions and mandatory inspections.
To conclude, let us revisit the founding principles: Why do countries need arms controls at all? Without getting bogged down in theoretical considerations, such controls resolve two problems: they mitigate risks by increasing the transparency and understandability of the doctrines and structure of the potential adversary's armed forces, while optimizing one's own military structure thanks to streamlining the range of defence programmes and curtailing the number of weapons and equipment in active service. It would appear that, today, the INF Treaty is failing to meet these goals, at least in the eyes of the U.S. administration. Whether or not this is because of Russia's alleged breach of the Treaty or a perceived threat from third countries is of secondary importance.
1. It is noteworthy that, according to Kommersant, "following the [Russian] Foreign Ministry's news conference on January 18, the U.S. Embassy in Moscow held a briefing on the topic. However, instead of foreign ambassadors, only political advisors to the representatives of EU member states were invited. One of the people who attended the meeting later revealed to Kommersant that the audience had been informed that the Foreign Ministry event had presented nothing but 'propaganda,' and that Russia was 'in severe breach of the INF Treaty.'"
2. It is noteworthy that, according to Kommersant, "following the [Russian] Foreign Ministry's news conference on January 18, the U.S. Embassy in Moscow held a briefing on the topic. However, instead of foreign ambassadors, only political advisors to the representatives of EU member states were invited. One of the people who attended the meeting later revealed to Kommersant that the audience had been informed that the Foreign Ministry event had presented nothing but 'propaganda,' and that Russia was 'in severe breach of the INF Treaty.'"
3. Procedurally, withdrawing from the Treaty in and of itself is an interesting case in terms of the theory and practice of international law. One of the best articles on this topic was published on the LAWFARE website in the autumn of 2018.
4. Nuclear warheads are normally weigh slightly less and somewhat less precision-critical than conventional munitions, meaning that a nuclear-tipped missile of the same class may have a longer range.
5. Unfortunately, the Ministry of Foreign Affairs of the Russian Federation has not yet published an official Russian translation of the document.
First published in our partner RIAC