The Eclipsing Iran Deal: Truth And Consequences
International treaties and agreements are between countries — not between leaders or governments, for if that were the case they would not be worth the paper they were written on.  The Anti-ballistic Missile Treaty with the Soviet Union was signed in 1972.  Bush II withdrew unilaterally in 2001 citing a changed world.  On June 1, 2017, Donald Trump announced the U.S. will cease all participation in the Paris Climate Treaty signed two years earlier.  On Tuesday last he quit the Iran deal.
Two days later, the White House released the date and location of Mr. Trump's meeting with Kim Jong-Un.  One can only wonder what Kim is thinking.  The last person voluntarily giving up nuclear weapons received a bayonet colonoscopy — hardly anyone's preferred exit from this world — and that at the hands of the allies of a Nobel Peace Laureate US president.  Fortunately, the circumstances in North Korea's case are quite different:  the other party, South Korea, is stable, seeks closer relations, in fact is the prime mover in the current initiative.
On the Iran deal breakup, the fallout is telling.  The major European countries (UK, France and Germany) have the most to lose economically — a huge Airbus airplane contract is just one example.  Always intended as a bargain, the deal offered Iran re-entry into world commerce in exchange for giving up nuclear ambitions.  The U.S. now threatens reprisals against any companies violating its edict:  obey U.S. sanctions or else … .  The Europeans could choose to present a united front and protect their companies through legislation and similar reprisals.  But who wants such an economic war?  The companies themselves are likely to have commercial interests in the U.S. dwarfing anything in Iran.
The European hope lies now in a Trumpian disaster for the Republicans in the November midterm elections followed by ignominious defeat in the presidential election.  But elections turn on the unexpected, and these countries' pusillanimous responses only exposes them to the world as true US vassals.
Terminating a peace agreement inevitably raises the prospect of war.  It would be a disaster.  Iran commands the Strait of Hormuz and a blocked Persian Gulf could see a quadrupling or more in the price of oil, bringing the current economic and stock market boom to a crashing end.  Missile attacks from Iran and its ally Hezbollah would cause havoc in Israel's cities; asymmetric warfare in Syria and Iraq would cost American lives.
Doubtless, Iran would be drawn closer into the Russian-Chinese orbit and might even sign a defense pact with Russia — perhaps earlier still if it felt the approaching winds of war.
For all these reasons, war may appear to be a long shot, yet Trump's advisors, notably, John Bolton and Mike Pompeo harbor an irrational hatred towards the country and Benjamin Netanyahu imagines it to be the last viable threat to neutralize.  He also has a corruption indictment hanging over him, while Trump has his own legal troubles.
On the other hand, a bellicose Trump is just that … bellicose.  As with North Korea, he could well be seeking a deal on better terms, namely, more restrictions for Iran in the future.  Iran will not surrender its missiles; it might be more accommodating on future enrichment of nuclear fuels.
Let's hope reason prevails … sometimes it does.  Look at North Korea!
Iran Policy toward Nagorno-Karabakh Conflict
Nagorno-Karabagh is located inside the Azerbaijani territory that, with the other seven districts around it, has been occupied by Armenian forces between 1988-1994. According to the published data, Occupied areas include 20 percent of Azerbaijani land. With the help of other pro-Armenian countries such as Russia and Iran during the first war murdered more than 30 thousand Azerbaijani people and displaced approximately one million people from their homeland by the Armenian troops. Armenian army burned homes and schools and destroyed other buildings and facilities while invading and seizing Azerbaijani villages, towns, and cities. Now the question arises among political and military experts: how did poor Armenia occupy so much land? It is a mountainous country with no natural resources and always challenges social issues like poverty. The answer to this question is straightforward. We should not forget Iran's role in that conflict that was one of the main actors to support the Armenian government to reach its goal in Nagorno-Karabakh. In a current war commenced between Armenia and Azerbaijan over Nagorno-Karabakh – which is internationality recognized as Azerbaijani land- on September 27, assessments show that Iranian aid, especially logistical assistance to Armenia, continues more than ever.
Since 1992 the Iranian government developed relations and cooperation in different aspects, particularly political, military, and economic fields. Multilateral aids have sustained and strengthened Armenia against its internal problems and the Republic of Azerbaijan. To shipment, Iran uses the Nourduz border terminal to transfer Iranian food and products to Armenian people. In 1994, after Jabrayil district occupation and truce between two countries, Iranian trucks were carrying the aid to Nagorno-Karabakh via the Khudafarin steel bridge. At that time, to avoid the Turkish people agitation in that area, security forces ordered the electric power outage, then the convoy was moving to occupied regions. Tehran's different types of aids to Yerevan have been continuing since Armenia's independence from the past Soviet Unions. For instance, Iran sends Armenia military equipment, oil, gas, food, and sanitary stuff to fortify it against the Republic of Azerbaijan. Every day tens of trucks ship Iranian aids to Armenia from Nourdouz customs. Recently, different footages captured by peoples from the roads show that Iranian trucks are sending Russian made military trucks and equipment to Armenia. When the critics and objections rose, Iran ministry of foreign affairs spokesman "Saeed Khatibzadeh" denied shipping the military equipment and trucks to Armenia and justified which they were the Russian trucks; we transferred them based on our agreement. But the footages released by the Azerbaijan defense ministry demonstrated the military trucks and equipment that had been taken by the Azerbaijan army as the trophies in liberated regions. According to registered data, a Russian airlifter IL-76MD flew recently over Iran to deliver Russian military hardware and weapons to Armenia.
Interestingly, along with the Islamic Republic of Iran officials, the vast majority of Iranian nationalists defend occupier Armenia versus Azerbaijan. They distort the reality and spread the rumors against Azerbaijan in newspapers, websites, state tv, radio channels, and social media. For example, most of those groups to justify supporting Armenia blame Turkey to stimulate Azerbaijan to start a war and claim Turkey has mobilized the extremist Islamic groups and sent them to Karabakh. They have not represented any document for their claim so far, and it has remained only on the accusation level. It is quite evident in the Iranian National Front statement about the Nagorno-Karabagh conflict. Also, Azariha is the news and analysis website affiliated with Pan-Iranism circles, which corporates closely with the Revolutionary Guards and the Ministry of Intelligence in Tabriz city defend Armenia and spread hate speech and false content against Azerbaijan. In fact, the hostility of Iranian officials and Persian nationalists to Turkish culture and identity in the region has led them to unite against Azerbaijan over the Nagorno-Karabakh war.
Iran's aid to Armenia sparked a new wave of protests between Azerbaijani Turks that comprise almost one-third of Iran's population. Despite governmental repression, on two different dates, on October 1 and October 18, thousands of Azerbaijani Turks came to streets in various cities like Tabriz, Zanjan, Urmia, Ardabil, and Tehran, and demonstration was held to protest Iranian state policies against Azerbaijan by supporting Armenia. The demonstrations were peaceful, and protesters demanded that Iran should stop transiting Russian military Trucks and military supplies to Armenia. From the beginning of the current battle on September 27, the Iranian security forces have arrested over 200 Azerbaijani Turk protesters. The majority of them were tortured during detention and in solitary confinement. In contrast, every year, Iranian authorities support and mobilize Armenian in Tehran against Turkey on April 24. Nobody from Armenian has been arrested so far. However, despite the existing state restrictions and suppression, Iran's aid to Armenia and supporting that country by pan-Iranians at individuals and groups levels have caused severe divergence between Azerbaijani Turks and the Persian community throughout the country. Meanwhile, the present conflict between Azerbaijan and Armenia for the liberation of seized districts has strengthened Azerbaijani Turks' solidarity in Iran with the Republic of Azerbaijan that Tehran's biased policy to fortify Armenia is one of the main reasons.
Because of the Azerbaijani Turks' existing high population in northwestern provinces, Iran Islamic Republic has always looked as a potential menace for its national security. For this reason, Iranian authorities' preference is the Republic Azerbaijan with drowning in problems and crises that war is one of them. However, powerful and developed Azerbaijan versus Iran with traditional society and secluded government can lead to a tendency towards independence among Azerbaijani Turks, which is not pleasant for the Iranian government. In fact, Ideological interests do not determine Iran's policy towards Azerbaijan with most Shiite Muslims and its support for Christian Armenia; rather, it is based on conspiracy theories. Iranian officials and Persian nationalists suppose that sovereign Azerbaijan is a threat to Iran's territorial integrity and national security. They think that strong and victorious Azerbaijan may encourage Azerbaijani Turks to stand up to the Iranian regime and fight for the independence and secession of their areas from Persian domination.
Moreover, another reason for acting Iran against Azerbaijan stems from a strategic partnership with Israel. Considering this fact, the Iranian government and Persian media spread rumors against two countries cooperating, like spying on Israeli intelligent service using Azerbaijani land against Iran. This accusation is an excuse in Iran's hands to weaken Azerbaijan and justify its support for Armenia. By magnifying this cooperation, they want to cover up the main reason to consider which modern Azerbaijan is the main threat to Iran's national security. Whereas other countries such as Russia, Georgia, and China have good relations with Iran and Israel, the Islamic republic does not accuse and does not reprimand.
Overall, Iran Islamic Republic has been supporting Armenia against Azerbaijan since the collapse of the former Soviet Union. On the other hand, attractive and strong Azerbaijan can motivate Azerbaijani Turks to fight against negative assimilation policy and discrimination in Iran. So far, Iran has tried to prevent Azerbaijanis' solidarity on both sides of the border by supporting Armenia and weakening Azerbaijan. Despite the atmosphere of suffocation and oppression in Iran, Iranian nationalists' behavior and the government's hostile policies against Azerbaijan in the current war with Armenia brought the Azerbaijani Turks in Iran and the Republic of Azerbaijan closer together and deepened the ethnic cleavages in Iran. This solidarity and empathy between Azerbaijanis have been unprecedented during the last century. Therefore, Iranian officials should understand that without considering Azerbaijani Turks' demands, they cannot achieve lasting national security in Iran. The continuation of Iran's current policies against Azerbaijan and the awakening and awareness of Azerbaijanis in Iran may lead to destructive consequences against territorial integrity and stability.
What is the public sphere today in Turkey?
The concept of public sphere, which was started to be examined in Europe in the 1960s, has different meanings according to different perspectives, as a definite definition cannot be made today, and this situation creates important discussion topics about the use of such spaces.
Long debated the definition of public space in Europe, in Turkey also began to affect 1980"l year. After the 1980 coup, some communities, which were kept out of sight, fearing that the Republic project would be harmed, demanded the recognition of their ethnic and cultural identities. Thus the concept of the public sphere in Turkey, especially since the early 1990s to be addressed in various academic publications, use and began to discuss political issues.
Especially in the past years, the public sphere debates on the headscarf issue were discussed from various angles. The debate started with Prime Minister Erdogan's criticism of President Ahmet Necdet Sezer, who did not invite his wife to a NATO dinner, saying "Dolmabahçe is not a public space", and the President of the Council of Higher Education, Prof.Dr. Erdoğan Teziç; He responded by emphasizing that the public sphere is not a " geographical definition " but a functional concept.
Before defining the public sphere, the understanding that shows that the definition of space in the Ottoman Empire was shaped as less private, private, very private and very very private is still one of the biggest reasons for the definition of the public sphere. While expressing, it reminds that he entered the Ottoman literature in a different way in the 19th century. Thinkers who indicate the association of the public sphere with the state in general express it as the sphere that is related to the state, not the "public". "When you say 'public', the state comes to mind immediately; We mean something like government administration, its organs, organizations, officials, or activities, an official domain that is owned or run under state control. However, as Habermas said, the public sphere is above all the sphere in which the public opinion is formed in our social life ".
As citizens of the city, we observe that some projects have spread to the spaces defined as public space due to the fact that today's public space and public space concepts have not been defined precisely and construction activities have increased due to the anxiety of rent.
Erdogan's Calamitous Authoritarianism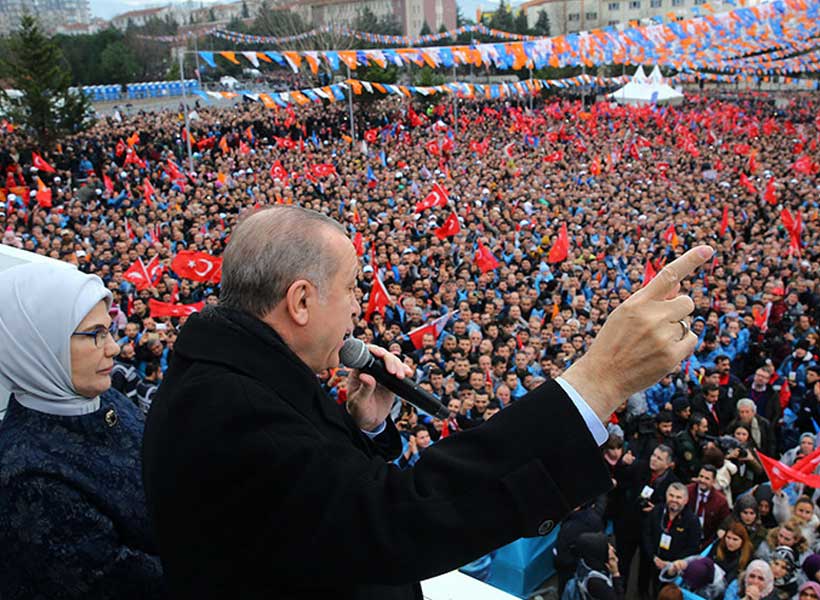 Turkey's President Erdogan is becoming ever more dangerous as he continues to ravage his own country and destabilize scores of states in the Middle East, the Balkans, and North Africa, while cozying up to the West's foremost advisories. Sadly, there seems to be no appetite for most EU member states to challenge Erdogan and put him on notice that he can no longer pursue his authoritarianism at home and his adventurous meddling abroad with impunity.
To understand the severity of Erdogan's actions and ambitions and their dire implications, it suffices to quote Ahmet Davutoglu, formerly one of Erdogan's closest associates who served as Minister of Foreign Affairs and subsequently Prime Minister. Following his forced resignation in May 2016 he stated "I will sustain my faithful relationship with our president until my last breath. No one has ever heard — and will ever hear — a single word against our president come from my mouth."
Yet on October 12, Davutoglu declared "Erdogan left his friends who struggled and fought with him in exchange for the symbols of ancient Turkey, and he is trying to hold us back now…. You yourself [Erdogan] are the calamity. The biggest calamity that befell this people is the regime that turned the country into a disastrous family business."
The stunning departure of Davutoglu from his earlier statement shows how desperate conditions have become, and echoed how far and how dangerously Erdogan has gone. Erdogan has inflicted a great calamity on his own people, and his blind ambition outside Turkey is destabilizing many countries while dangerously undermining Turkey's and its Western allies' national security and strategic interests.
A brief synopsis of Erdogan's criminal domestic practices and his foreign misadventures tell the whole story.
Domestically, he incarcerated tens of thousands of innocent citizens on bogus charges, including hundreds of journalists. Meanwhile he is pressuring the courts to send people to prison for insulting him, as no one can even express their thoughts about this ruthlessness. Internationally, Erdogan ordered Turkish intelligence operatives to kill or smuggle back to the country Turkish citizens affiliated with the Gülen movement.
He regularly cracks down on Turkey's Kurdish minority, preventing them from living a normal life in accordance with their culture, language, and traditions, even though they have been and continue to be loyal Turkish citizens. There is no solution to the conflict except political, as former Foreign Minister Ali Babacan adamantly stated on October 20: "… a solution [to the Kurdish issue] will be political and we will defend democracy persistently."
Erdogan refuses to accept the law of the sea convention that gives countries, including Cyprus, the right to an Exclusive Economic Zone (EEZ) for energy exploration, while threatening the use of force against Greece, another NATO member no less. He openly sent a research ship to the region for oil and gas deposits, which EU foreign policy chief Josep Borrell called "extremely worrying."
He invaded Syria with Trump's blessing to prevent the Syrian Kurds from establishing autonomous rule, under the pretext of fighting the PKK and the YPG (the Syrian Kurdish militia that fought side-by-side the US, and whom Erdogan falsely accuses of being a terrorist group).
He is sending weapons to the Sunni in northern Lebanon while setting up a branch of the Turkish Cooperation and Coordination Agency (TIKA) in the country—a practice Erdogan has used often to gain a broader foothold in countries where it has an interest.
While the Turkish economy is in tatters, he is investing hundreds of millions of dollars in the Balkans, flooding countries with Turkish imams to spread his Islamic gospel and to ensure their place in his neo-Ottoman orbit. Criticizing Erdogan's economic leadership, Babacan put it succinctly when he said this month that "It is not possible in Turkey for the economic or financial system to continue, or political legitimacy hold up."
Erdogan is corrupt to the bone. He conveniently appointed his son-in-law as Finance Minister, which allows him to hoard tens of millions of dollars, as Davutoglu slyly pointed out: "The only accusation against me…is the transfer of land to an educational institution over which I have no personal rights and which I cannot leave to my daughter, my son, my son-in-law or my daughter-in-law."
Erdogan is backing Azerbaijan in its dispute with Armenia (backed by Iran) over the breakaway territory of Nagorno-Karabakh, which is inhabited by ethnic Armenians and has been the subject of dispute for over 30 years.
He is exploiting Libya's civil strife by providing the Government of National Accord (GNA) with drones and military equipment to help Tripoli gain the upper hand in its battle against Khalifa Haftar's forces. Former Foreign Minister Yasar Yakis said in February 2020 that "The unclear Turkish foreign policy by Erdogan may put Turkey in grave danger due to this expansion towards Libya."
He is meddling in the Israeli-Palestinian conflict in an effort to prevent them from settling their dispute unless Israel meets Palestinian demands. He granted several Hamas officials Turkish citizenship to spite Israel, even though Hamas openly calls for Israel's destruction.
He betrayed NATO by buying the Russian-made S-400 air defense system, which seriously compromises the alliance's technology and intelligence.
He is destabilizing many countries, including Somalia, Qatar, Libya, and Syria, by dispatching military forces and hardware while violating the air space of other countries like Iraq, Cyprus, and Greece. Yakis said Turkey is engaging in a "highly daring bet where the risks of failure are enormous."
Erdogan supports extremist Islamist groups such as the Muslim Brotherhood and Hamas, and an assortment of jihadists, including ISIS, knowing full well that these groups are sworn enemies of the West—yet he uses them as a tool to promote his wicked Islamic agenda.
He regularly blackmails EU members, threatening to flood Europe with Syria refugees unless they support his foreign escapades such as his invasion of Syria, and provide him with billions in financial aid to cope with the Syrian refugees.
The question is how much more evidence does the EU need to act? A close look at Erdogan's conduct clearly illuminates his ultimate ambition to restore much of the Ottoman Empire's influence over the countries that were once under its control.
Erdogan is dangerous. He has cited Hitler as an example of an effective executive presidential system, and may seek to acquire nuclear weapons. It's time for the EU to wake up and take Erdogan's long-term agenda seriously, and take severe punitive measures to arrest his potentially calamitous behavior. Sadly, the EU has convinced itself that from a geostrategic perspective Turkey is critically important, which Erdogan is masterfully exploiting.
The EU must be prepared take a stand against Erdogan, with or without the US. Let's hope, though, that Joe Biden will be the next president and together with the EU warn Erdogan that his days of authoritarianism and foreign adventurism are over.
The views expressed are those of the author.