World Bank Supports Croatia with the Preparation of the 2030 National Development Strategy
Minister of Regional Development and European Union (EU) Funds, Gabrijela Žalac, and World Bank Country Manager for Croatia, Elisabetta Capannelli, signed today a technical assistance reimbursable advisory services (RAS) agreement to support the preparation of the 2030 National Development Strategy (NDS) and the establishment of a new strategic planning system for Croatia.
The Croatian government agreed in December 2017 to develop a new National Development Strategy for up to 2030 to strengthen policy commitment, coordination and implementation. The NDS will become the main overarching strategic document of the country, laying the foundation for increasing Croatia's economic growth potential, boosting shared prosperity and enhancing territorial cohesion and development.
The twenty-six-month reimbursable advisory service will have three main components:
support the preparation of the 2030 National Development Strategy;
design and support the implementation of the strategic planning system; and
capacity development and facilitation of policy implementation.
"By working with prominent World Bank experts, we will establish an effective and efficient system of strategic development management, which will greatly help us to move more readily into the next financial perspective than the case was for the current 2014-2020 period, when we did not have any projects prepared in the field, which is why we had major problems with the use of EU funds at the beginning of the mandate," said Gabrijela Žalac, Minister of Regional Development and European Union (EU) Funds of the Republic of Croatia.
"We will put together our global expertise and experience to help the Croatian authorities to strengthen the national strategic planning framework. This is crucial for the successful implementation of the government policy agenda and for the efficient use of national and EU resources. Together with the Ministry of Regional Development and EU Funds, we look forward to a successful implementation of this important work," said Elisabetta Capannelli, World Bank Country Manager for Croatia.
Since joining the World Bank Group in 1993, Croatia has benefited from financial and technical assistance, policy advice, and analytical services provided by the global development institution. To date, the World Bank has supported 54 operations amounting to around US$3.5 billion in investments. Current Bank's financial engagement focuses primarily on the transport sector, and projects in health, social protection and innovation.
Reimbursable Advisory Services (RAS) are customized advisory services offered by the World Bank to its members, mostly used in borrowing and non-borrowing middle and high-income countries. RAS are requested and paid by the client using their own or third-party resources, in this case as for most of the EU countries, European Structural and Investment Funds (ESIF). Like other advisory and analytic services, RAS support clients to design or implement better policies, strengthen institutions, build capacity, inform development strategies or operations, and contribute to the global development agenda. Through these services the World Bank is able to provide global best practices, cutting-edge knowledge products and bring leading global experts to address these various challenges.
To Fulfill its Mission, ADB Must Prioritize Sustainability
Asia is rapidly evolving as are its development needs. To keep pace with these changing needs and to ensure that solutions multilateral development banks like the Asian Development Bank (ADB) bring are effective, thorough assessment of their operations is crucial. In its 2018 Annual Evaluation Review (AER), Independent Evaluation at ADB draws out an overall picture of ADB's performance.
"Delivering results is critical to ADB's existence. Evaluation is a central piece for ensuring that the solutions ADB brings to development problems are fit for purpose, and as effective as possible," said Director General of Independent Evaluation at ADB Mr. Marvin Taylor-Dormond.
The AER identifies areas in which ADB has been successful, where it hasn't, and what were the reasons behind this. A review of its overall performance reveals that over the past 3 years, there has been a marginal decline in the success rate of public sector projects. In 2015 to 2017, 74% of public sector projects were successful, down from 76% in 2014 to 2016. A sector-wise look shows that four sectors—education, health, public sector management, and transport—dropped in performance. These four sectors account for 58% of the portfolio that was evaluated.
If one looks at private sector-supported ADB projects, the decline is more apparent. About 58% of projects were categorized successful in 2015 to 2017, compared to 67% in 2014 to 2016. This fall can be attributed to the disappointing performance in financial intermediary and private equity funds, which account for half of the projects evaluated.
Performance at the country-level was steady at 75%, although it was still below ADB's 80% target. AER notes that ADB achieved good results in its operations with middle-income countries. Also, when it came to promoting inclusive growth, middle-income countries were highly appreciative of ADB's work. Other areas where ADB is doing well include environmentally sustainable growth, regional cooperation, and gender mainstreaming.
However, there are some areas where results can be improved. The Independent Evaluation Department (IED) assesses the relevance, effectiveness, efficiency, and sustainability of ADB projects and programs. One third of completed projects and programs were evaluated as less likely to be sustainable, well below the desired rate of four out of five.
"The sustainability problem is well illustrated by the inadequate financing for operations and maintenance of ADB-supported transport projects," said IED Thematic and Country Division Director Mr. Walter Kolkma. "Other factors affecting the sustainability of ADB operations are often limited capacity of government agencies to run these projects and governance issues."
For private sector operations, the AER recommends that to achieve better outcomes, ADB expand operations beyond infrastructure and help middle-income countries better adapt to new challenges. With specific reference to the use and leverage of guarantees, loans, and other credit enhancement tools, the AER calls for the mobilization of much-needed private sector finance for development, particularly to help close Asia's huge infrastructure gap, estimated at $1.7 trillion a year.
"Impartial evaluation is crucial for accountability and learning. ADB must capitalize its learning and use these lessons to design better, smarter, and stronger future projects to stay relevant because in today's world, developing member countries are not short of options of development financing," noted Mr. Taylor-Dormond.
China to Improve Inland Waterway Transport with World Bank Support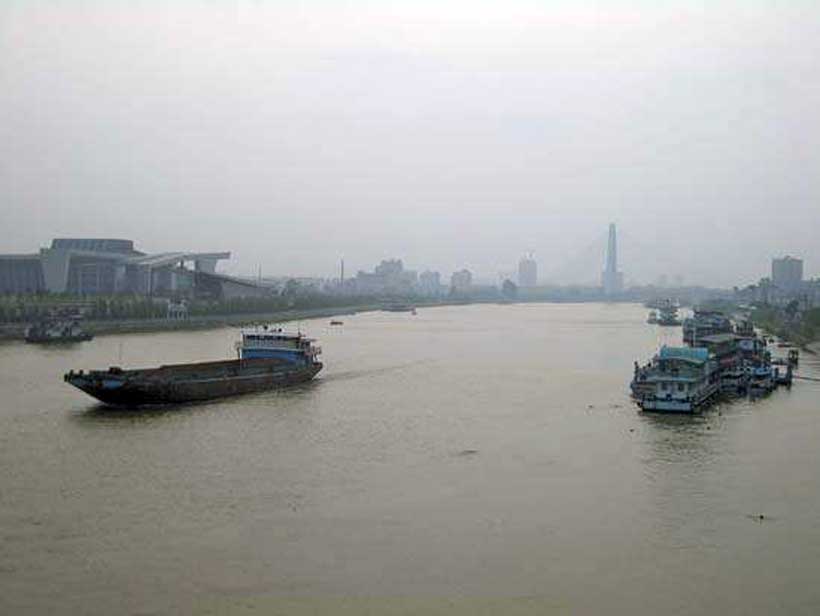 The World Bank's Board of Executive Directors approved a US$150 million loan today to improve the capacity and reliability of inland waterway transport along the Han River in China's Hubei Province. The project will increase connectivity between the less developed central and western regions and the more prosperous eastern provinces, and yield local and global environmental benefits by promoting a green mode of transport and producing renewable energy.
As part of the Yangtze River Economic Belt, China is relocating industries in the less developed inland regions of the middle and upper reaches of the Yangtze River. This requires an efficient multimodal transport that can move freight over long distances in a sustainable manner.
"Inland waterway transport is a cost effective and environmentally friendly mode of transport that is underexploited in China. The new project will increase inland waterway transport along the Han River and promote a shift from roads to waterways, which reduces carbon emissions from transport," said Zhai Xiaoke, World Bank's Senior Transport Specialist and leader of the project.
The Hubei Inland Waterway Improvement Project will construct the Yakou Navigation-Hydropower Complex in the middle reaches of the Han River. It will upgrade about 53 kilometers of waterway between the Yakou and the Cuijiaying Complex to Class III navigation standards and help enable the completed investments at other cascades to realize their full navigation capacity and economic benefits. The hydropower station will supply renewable energy to Yicheng City, which is located 16 kilometers from Yakou.
The project will also provide gravity flow irrigation to over 5,300 hectares of existing farmland. Other anticipated benefits of the project include the significant reduction of lifting costs, the improvement of flood resilience, and the creation of a better landscape for recreational tourism.
The total investment of the project is US$515.13 million; the IBRD loan will finance US$150 million and the Hubei Provincial Government will invest US$365.13 million. About 5.61 million residents along the Han River are expected to benefit from the economic development and ecological improvement brought about by the greener transport mode.
Starting with the First Inland Waterways Project in 1995, the World Bank has supported seven inland waterway projects in China, with each successive phase introducing important additionality, ranging from technical innovation to integrated development and management of multi-purpose inland waterway transport, as well as improved institutional capacity and environmental aspects.
EU investment in gas interconnection between Bulgaria and Serbia to enhance energy security in the region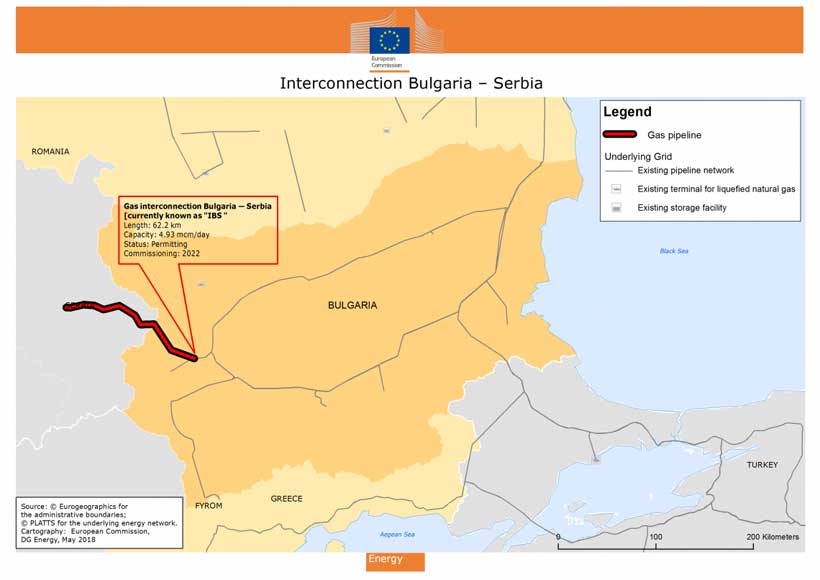 To boost the diversification of energy sources in the Western Balkan region, reduce dependency on one dominant supplier and increase energy security, a joint commitment to implement the gas interconnector between Bulgaria and Serbia has been signed today 17 May by the Energy Minister of Bulgaria, Ms. Temenuzhka Petkova, and the Energy Minister of Serbia, Mr. Aleksandar Antić, on the occasion of the Western Balkans summit of Leaders in Sofia, Bulgaria. This interconnection will for the first time link the gas systems of Bulgaria and Serbia.
This new political impetus to the project showcases the political will of all parties. Once completed, the interconnector will constitute a major contribution to the solidarity in the Energy Union. The interconnector will allow for the transfer of between 1 and 1.8 billion cubic metres of natural gas annually from Bulgaria to Serbia and 0.15 billion cubic metres from Serbia to Bulgaria. The project forms part of the EU's Projects of Common Interest and is a priority in the context of the Central and South Eastern Europe Energy Connectivity High Level Group (CESEC).
The European Commission is contributing notably to the Serbian side of the Bulgaria-Serbia Interconnector with a Pre-Accession grant of EUR 49.6 million. The Commission is actively facilitating progress on this priority project in close contact with both the Bulgarian and the Serbian authorities.
The new gas pipeline will provide a new supply route from Bulgaria not only to Serbia, but also to other parts of the South-East European region. This will enable access to liquefied natural gas from Greece, Azeri gas from the Southern Gas Corridor, as well as gas from Black Sea offshore production, and ensure improved integration of these sources into the EU's internal energy market.