"Is it Live or is it Memorex?" The Real World of Lies
For those of you who are not Americans from Generation X, the tag line advertising and marketing jingle "Is it live or is it Memorex?" became popular in the early 1980s by the American company Memorex (founded in 1961).  This marketing slogan was used to describe the very real audio quality of their cassette tapes (These are archaic audio recording devices used before CDs and after 8-track tapes. They were used in 1970s & 1980s boom boxes. An internet search of these ancient artifacts may be needed). In essence, the listener was to believe that the recorded sound was exactly the same as the original sound of someone speaking.  Later, this marketing jingle became an iconic expression in American popular culture and daily casual conversation to indicate that one is not sure if something is real or fake (not real).  While the topic of lies may seem inappropriate for this form, it is not.  There are many political, economic and political economic examples of how lies have impacted populations, regimes and economies.
What is a lie? It is important to note each person and each culture have their own definition of what is considered a lie; what is considered a white lie; if lying is acceptable, in what circumstances it is acceptable, and how far the truth may be bent before it is considered a regular lie. In American English, the expression is to bend the truth, which means there is some basis of truth but it may be slightly or drastically distorted. It is not the same as a white lie. It is also important to note that cultural norms change over time especially within each new generation, so what was once considered unacceptable 40 years ago may be acceptable now.
Then there is a gray area: Is it a lie to not tell the entire truth, to remain silent instead of truthfully answering a question, to answer a question in a vague way for which the intended meaning could be construed in many ways (e.g. what is called political mumbo-gumbo or word salad; it's a lot of words that sound good but mean nothing), or how far the truth can acceptably be bent (especially in regards to interpreting information and statistics, truth in advertisements and truth in the news)?  In some situations, remaining silent when asked for the truth is considered an admission of guilt or that there is information the person does not want to tell because of its repercussions or incriminating implications. In regards to interpretation of information and statistics, here is an anecdote that is applicable further into this missive:
A CFO is interviewing prospective candidates for an open position of chief accountant.  The CFO poses the same question to the top four candidates, "What does 2 plus 2 equal?" Their responses:
Candidate 1) 2 + 2 = 4. The CFO replies, "No, you're wrong. You don't get the job"
Candidate 2) Most times 2 + 2 = 4 but it sometimes it might equal 3 or 5. The CFO replies, "No, you're wrong. You don't get the job"
Candidate 3) Why does it have to equal anything? The CFO replies, "No, you're wrong. You don't get the job"
Candidate 4) What would you like it to equal? The CFO replies, "Very good! You're hired!"
Are white lies considered a gray area? No, not really; they are a unique category in and of themselves. The difference between a regular lie and a white lie is motivation or intent.  The motives for regular lies are for extrinsic gains or reasons; selfishness.  A white lie is typically unselfish, and done for altruistic reasons. White lies are used so that:
1) others' feelings don't get needlessly hurt,
2) others are not caused undue stress and anxiety, and
3) one may prevent themselves from having to endure a needless unpleasant situation (for example, when a wife asks her husband if she looks fat, he knows to say no because otherwise he will have a very unpleasant evening.  In the same sense, the wife is expecting him to tell her a white lie because she just wants to hear him say no).
In most cultures, the one person that people tell white lies to the most and is acceptable to do so is mom.  When mom asks her adult child, "Is everything ok with you?", whether it truly is or isn't, one must always tell mom "I'm fine" so that she doesn't worry.
The advent of the technology age has certainly impacted the ability to effectively tell and/or maintain a lie. GPS, satellite imagining, drones, hidden cameras/microphones, blog postings, mobile phone pings, online documents, Snoops.com, fact-checkers, hackers and the public's demand for transparency have definitely pushed the topic of lies and lying into the spotlight.  Sgt. Manning, Julian Assange and Edward Snowden have all experienced the repercussions for exposing lies. But what about those who told the lies?  Are there repercussions for telling lies?  In the grand scheme of current life, the answer is no, unless the person is an average citizen. In the US, everyone is supposed to be considered equal, but the truth is, there are many who are "more equal" than others, such as businesses, Trump (and his questionable win as POTUS) and Ethan Couch who, in June 2013, used the successful criminal defense of Affluenza to get only probation for driving while intoxicated (drugs & alcohol), speeding and driving without a license. He said that because he was rich, he claims that he wasn't taught right from wrong, so his actions were not his fault. It may be prudent for Trump to use this same defense for his behaviors and lies.
Unfortunately, through the idea of behaviorism, the lessons learned from the results of lying are not what are expected. In the US, there are whistleblower laws to protect those who tell the truth and expose corruption, yet in 2013, Edward Snowden move to Russia after exposing NSA information; Julian Assange has had to stay in the Embassy of Ecuador in London, England since June 2012 for posting US government documents on his WikiLeaks site; and Private Manning was incarcerated for seven years (2010-2017) because he gave US government documents to WikiLeaks. Of course, in many cases, some secrets must be kept, but this is on a case-by-case assessment).  Again, with the idea of behaviorism, if exposing the truth gets one punished, then it may deter others from telling the truth. The whistleblower laws in the US are like handing the keys to the fox who is watching the hen house. The whistleblower's identity is easy to determine with today's technology, and then the whistleblower's life will be quite unpleasant afterwards, especially if the person would like to be employed. Many companies do not want to hire a whistleblower for fear of a repeat past performance.
As stated above, those who exposed lies have received punishment but those who did the lying received a small bit of public humiliation. The liars' punishments rarely fit the severity of the crime of lying.  Volkswagen was shamed for lying about their emissions statistics from 2008 to 2015.  Did this company really suffer for its questionable integrity? No. It may have received some monetary fines and a bit of humiliation from the scandal, but their bottom line is still quite acceptable. Facebook's initial IPO in May 2012 was substantially high, which later, media tells the public that the IPO prices were unsubstantiated due to the withholding of FB's not-so-dazzling third quarter earnings. Those who found out shortly after the IPO dumped their purchases quite quickly, thus decreasing the stocks' value in hours or days. The 2002 ENRON and Arthur-Andersen scandal and the 2008 global economic crisis seeds have caused a lot of financial carnage from their lies in the name of making profit. Historically, lies about the severity of industrial-related disasters have also caused lasting effects and carnage on human lives; for example, the 1986 Chernobyl nuclear meltdown disaster, the 1984 Union Carbide disaster (Bhopal, India), and the many drug trial tests by pharmaceutical companies in Africa and India that actually gave diseases to the people and then tried to cure them with new pharmaceuticals. The idea of corporate responsibility may only be a fantasy.
Integrity:  The act of doing what is right when no one is looking or watching. The ethical dilemmas and possible accusations of lies or lying begin when what is right, just, best, legal and moral are not one in the same. There are differing opinions about the definitions of each. When one makes a decision based on only one adjective, it may be perceived as a lie or lying, but is it?
In America, after such scandals like ENRON and Arthur-Andersen, the US government made new laws to prevent such things from happening again. Is it really possible to regulate morality, ethics and integrity with government laws?  The answer is no. The 2002 Sarbanes-Oxley Act (aka SOX, pronounced like socks) was created and enacted to stop such things from happening again. In the constant wake of financial scandals and the public outcry for the US government to regulate the immoral behaviors of businesses (including the accounting profession), on July 30, 2002, President George W. Bush signed SOX into law, which also created a new watchdog organization, the Public Company Accounting Oversight Board (PCAOB), for monitoring the financial reporting methods of publicly traded companies. Obviously, laws are not effective at regulating morals, ethics and integrity because the 2008 global economic crisis occurred six years after the advent of SOX.
Apparently in today's world, it is acceptable to tell lies if doing so makes profit (monetary or otherwise) or if it gains someone the competitive advantage (such as exchange rate manipulation, government secrets, market first-movers market, untruths in advertisements and news, and the POTUS).
Are there effects of lies that are told by business and/or government?  Due to the idea of behaviorism, many people may subscribe to, "The first time you fool me or lie to me, shame on you. But the second time you fool me or lie to me, shame on me because I shouldn't have given you a second chance to trust you after you burned me the first time". Unfortunately, serial lies make people suspicious of others, especially of those who are in positions of public trust like CEOs and politicians, such as Trump and his alternative truth. A certain level of trust must be established for good relations; personal, professional, business and government. Each time lies are exposed, the impacts either 1) make people quite suspicious or paranoid thus they believe everyone lies most of the time, or 2) they accept lies as commonplace and then forget about them as if they never happened. Option #2 is a dangerous slippery slope to losing morality, ethics and integrity.  Perhaps a healthy balance of trust-distrust is an optimal solution, but not necessarily a Utopian one. Perhaps the truth of the matter is that lies and lying are the norm, and condemning them are just an illusion and to satisfy the public.
What a tangled web we weave when at first we practice to deceive – Sir Walter Scott (1771-1832)
Trump and his alternative truth is somewhat a different topic because of the complexities of his motivation for lying (see 1-5 below). Most every day, new Trump lies are exposed. Some Americans feel that he has mental health problems.  However, he seems quite cognizant of his choices and volitions.  It is possible that he is the result of behaviorism.  Here's why:
1) When people get what they want by lying (especially without getting caught), their choice to lie is reinforced by getting what they wanted (the reward), which encourages them to lie again. No punishment for lying gives people confidence that their lies are believable, and they often start making "more believable" lies to receive bigger "rewards". However, these new & improved lies are quite unbelievable.
2) When this successful cycle continues over a long period of time, it often becomes a way of life and who they are as a person.
3) They may continue to lie even though they will not gain anything from it (no reward).
4) In some cases, people continue to lie so that they can convince themselves (and others) that their lies are the truth. Is it live or is it Memorex?
5) For many, people will lie when caught in a lie because in the past, lying prevented them from getting into trouble or lying got them out of trouble; again the idea of behaviorism.
Unfortunately, many people cannot remember what lies they have told, so it is quite easy to bring to light the lies. In essence, their own myriad of lies tells on them. What a tangled web we weave when at first we practice to deceive!  Trump should take note of these words of wisdom.
A self-inflicted wound: Trump surrenders the West's moral high ground
For the better part of a century, the United States could claim the moral high ground despite allegations of hypocrisy because its policies continuously contradicted its proclaimed propagation of democracy and human rights. Under President Donald J. Trump, the US has lost that moral high ground.
This week's US sanctioning of 28 Chinese government entities and companies for their involvement in China's brutal clampdown on Turkic Muslims in its troubled north-western province of Xinjiang, the first such measure by any country since the crackdown began, is a case in point.
So is the imposition of visa restrictions on Chinese officials suspected of being involved in the detention and human rights abuses of millions of Uyghurs and other Turkic Muslims.
The irony is that the Trump administration has for the first time elevated human rights to a US foreign policy goal in export control policy despite its overall lack of concern for such rights.
The sanctions should put the Muslim world, always the first to ring the alarm bell when Muslims rights are trampled upon, on the spot.
It probably won't even though Muslim nations are out on a limb, having remained conspicuously silent in a bid not to damage relations with China, and in some cases even having endorsed the Chinese campaign, the most frontal assault on Islam in recent history.
This week's seeming endorsement by Mr. Trump of Turkey's military offensive against Syrian Kurds, who backed by the United States, fought the Islamic State and were guarding its captured fighters and their families drove the final nail into the coffin of US moral claims.
The endorsement came on the back of Mr. Trump's transactional approach towards foreign policy and relations with America's allies, his hesitancy to respond robustly to last month's missile and drone attacks on Saudi oil facilities, his refusal to ensure Saudi transparency on the killing a year ago of journalist Jamal Khashoggi and his perceived empathy for illiberals and authoritarians symbolized by his reference to Egyptian field marshal-turned-president Abdel Fattah al-Sisi as "my favourite dictator."
Rejecting Saudi and Egyptian criticism of his intervention in Syria, Turkish president Recep Tayyip Erdogan gave the United States and Mr. Trump a blunt preview of what they can expect next time they come calling, whether it is for support of their holding China to account for its actions in Xinjiang, issues of religious freedom that are dear to the Trump administration's heart, or specific infractions on human rights that the US opportunistically wishes to emphasize.
"Let me start with Saudi Arabia," Mr. Erdogan said in blistering remarks to members of his Justice and Development Party (AKP). "Look in the mirror first. Who brought Yemen to this state? Did tens of thousands of people not die in Yemen?" he asked, referring to the kingdom's disastrous military intervention in Yemen's ruinous civil war.
Addressing Mr. Al-Sisi, Mr. Erdogan charged: "Egypt, you can't talk at all. You are a country with a democracy killer." The Turkish leader asserted that Mr. Al-Sisi had "held a meeting with some others and condemned the (Turkish) operation – so what if you do?"
The fact that the United States is likely to encounter similar responses, even if they are less belligerent in tone, as well as the fact that Mr. Trump's sanctioning of Chinese entities is unlikely to shame the Muslim world into action, signals a far more fundamental paradigm shift: the loss of the US and Western moral high ground that gave them an undisputed advantage in the battle of ideas, a key battleground in the struggle to shape a new world order.
China, Russia, Middle Eastern autocrats and other authoritarians and illiberals have no credible response to notions of personal and political freedom, human rights and the rule of law.
As a result, they countered the ideational appeal of greater freedoms by going through the motions. They often maintained or erected democratic facades and payed lip service to democratic concepts while cloaking their repression in terms employed by the West like the fight against terrorism.
By surrendering the West's ideological edge, Mr. Trump reduced the shaping of the new world order to a competition in which the power with the deeper pockets had the upper hand.
Former US national security advisor John Bolton admitted as much when he identified in late 2018 Africa as a new battleground and unveiled a new strategy focused on commercial ties, counterterrorism, and better-targeted U.S. foreign aid.
Said international affairs scholar Keren Yarhi-Milo: "The United States has already paid a significant price for Trump's behaviour: the president is no longer considered the ultimate voice on foreign policy. Foreign leaders are turning elsewhere to gauge American intentions… With Trump's reputation compromised, the price tag on U.S. deterrence, coercion, and reassurance has risen, along with the probability of miscalculation and inadvertent escalation."
Trump's effects on diplomacy
No longer has Trump's haphazard behaviour persisted, more will be easy for his administration to enact actions against China, Iran and Taliban. The state department is in a quandary because of it, on each front. Trump's entrenched eagerness to remain "great" and "first" on the chessboard of International power, could damage the world more ahead than before.
Following the Iran's attacks on the Kingdom of Saudi-Arabia's oil infrastructure, US wanted to deploy troops to the Kingdom. It is primarily a justification for why the US has been imposing sanctions over Iran. Is troops deployment a solution? Or will it provide safe horizon to Kingdom oil's installation? Or will it be revolutionary in oil diplomacy? Or is it the only target retaliated on, by Iran. However, such kind of engagement has short term beneficiary spots, while in broader perspective it has consequential effects for all stakeholders. The episode of nuclear deal has, as a factor of quid-pro-quo, been further dramatised by the state department, withdrawing from. Notwithstanding, the deal has advantageous prospects for the Middle East, and an exemplary for rest of nations, has been further dramatised by the US, in order to seek its diplomatic wins. What significant at this point, is an agreement to reback to the deal.
Embracing a different economic model, China, is plausibly on a runner-up position to the US. Whether it's 5G tech. Or leading status of green energy, or ultra-scales exports or its leading developments for the nations having indigent economies, is a source of chaos for US administration. The current trade war is an antidoting tool for the whole scenario. The US should, I assume, eye China's hegemony a piece of cake, and welcome its come out while securing its interests under the umbrella of cooperation. This logic, while posing no threat, seems to be long term functional. Is it?
Trump, according to many native writers, is psychologically unfit, unstable and fickle, however have had strong narrative to prevent America's engagement into "useless wars" and end "endless" wars. Following this token, Trump announcement of troop withdrawal from Syria and Afghanistan put the world politics and even his administration into chaos. This divided strategists and Washington security officials, which was underpinned by the resignation of James Mattis and recently John Bolton. The ten months of peace process which followed the US's announcement of troop withdrawal, precipitously ended, putting once again the international and national politics into chaos. Trump, grandiloquently fired a tweet that talks with Taliban are dead and futile. The argument he contended was the Attack in Kabil, where one American soldier with 12 other people were lost. The policymakers and high officials in Washington who already negated the policy of troop withdrawal and then after peace deal. They, of course are winner in this policy discourse, have staunch beliefs in their opinion, who may make Trump's change of heart. The Kabil attack was given, probably, an agent of resurgent for Obama's approach. However, Trump's administration had already scripted their policy framework for the region, and pretending Kabul attack was perhaps a way of redemption from the peace talk.
Trump's factor in US foreign policy was chaotic to his subordinates for which, he attempted to compensate by cancelling peace deal with Taliban. However , on the domestic front, it is likely to be more pluses than on diplomatic front given to Trump in next year's presidential election. Let's see which side the wind blow.
Trump Cannot Be Impeached Over Ukrainegate, But Pelosi and Schiff Can Be Charged Criminally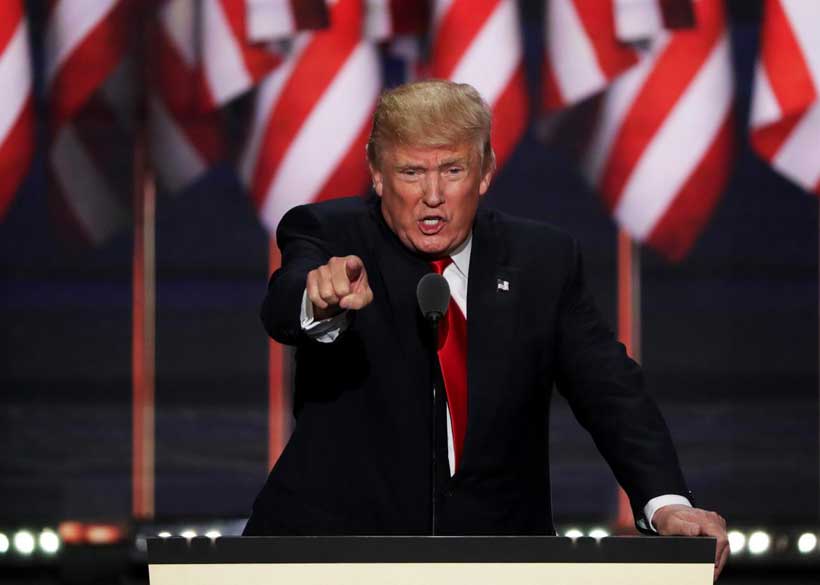 Pursuant to United States v. Curtiss-Wright Export Corp., 299 U.S. 304 (1936), the U.S. Supreme Court issued an unmistakable clear edict concerning the foreign affairs powers of the President of the United States.
In its majority opinion, the Court held that the President, as the nation's "sole organ" in international relations, is innately vested with significant powers over foreign affairs, far exceeding the powers permitted in domestic matters or accorded to the U.S. Congress.
The Court reasoned that these powers are implicit in the President's constitutional role as commander-in-chief and head of the executive branch.
Curtiss-Wright was the first decision to establish that the President's plenary power was independent of Congressional permission, and consequently it is credited with providing the legal precedent for further expansions of executive power in the foreign sphere.
In a 7–1 decision authored by Justice George Sutherland, the Supreme Court ruled that the U.S. government, through the President, is categorically allowed great foreign affairs powers independent of the U.S. Constitution, by declaring that "the powers of the federal government in respect of foreign or external affairs and those in respect of domestic or internal affairs are different, both in respect of their origin and their nature…the broad statement that the federal government can exercise no powers except those specifically enumerated in the Constitution, and such implied powers as are necessary and proper to carry into effect the enumerated powers, is categorically true only in respect of our internal affairs."
While the Constitution does not explicitly state that all ability to conduct foreign policy is vested in the President, the Court concluded that such power is nonetheless given implicitly, since the executive of a sovereign nation is, by its very nature, empowered to conduct foreign affairs.
The Court found "sufficient warrant for the broad discretion vested in the President to determine whether the enforcement of the statute will have a beneficial effect upon the reestablishment of peace in the affected countries."
In other words, the President was better suited for determining which actions and policies best serve the nation's interests abroad.
Period.
It is important to bear in mind that we are here dealing not alone with an authority vested in the President by an exertion of legislative power, but with such an authority plus the very delicate, plenary and exclusive power of the President as the sole organ of the federal government in the field of international relations – a power which does not require as a basis for its exercise an act of Congress, but which, of course, like every other governmental power, must be exercised in subordination to the applicable provisions of the Constitution.
Separation of Powers Doctrine
In other words, neither the U.S. Congress nor the U.S. Senate can say or do very much of anything to prevent or interfere with this power, and if they do, they can in fact be held responsible for violating the Separation of Powers doctrine pursuant to the U.S. Constitution wherein the three branches of government (executive, legislative, and judicial) are kept separate.
This is also known as the system of checks and balances, because each branch is given certain powers so as to check and balance the other branches.
Each branch has separate powers, and generally each branch is not allowed to exercise the powers of the other branches.
The Legislative Branch exercises congressional power, the Executive Branch exercises executive power, and the Judicial Branch exercises judicial review.
National Security and Foreign Affairs
The Curtiss-Wright case established the broader principle of executive Presidential supremacy in national security and foreign affairs, one of the reasons advanced in the 1950s for the near success of the attempt to add the Bricker Amendment to the U.S. Constitution, which would have placed a "check" on said Presidential power by Congress, but that never passed, or became law.
If Speaker of the House Nancy Pelosi and other Democrats really wanted to interfere with or prevent President Donald Trump from engaging in the activity that they are trying to prevent vis-a-vis Ukraine, China, and Joseph Biden's alleged corruption and its effect on National Security, they would have to first draft, propose, enact, and pass sweeping legislation, and this could take years and would most probably never pass.
Even so, it could not affect President Donald Trump's actions already occurred, since the U.S. Constitution prohibits ex post facto criminal laws.
Turning This All Against Nancy Pelosi and Adam Schiff
To that end if Speaker of the House Nancy Pelosi and Congressman Adam Schiff persist in pushing said "impeachment proceedings" against President Donald Trump, it is actually they who could find themselves on the wrong side of the law, with formal and actual charges of Treason, Sedition or Coup D' Etat being levied upon them by the U.S. Government.
The consequences of that occurring, are truly horrific indeed.