Cooler buildings and lower bills in summer thanks to green walls and roofs
A 15% cut in the energy bill with a 40% reduction of the direct solar radiation in dwellings and a lower indoor temperature by up to 3 degrees thanks to plants grown on roofs, balconies and external walls. These are part of the outcomes of the Italian pilot project ENEA is conducting at its research center near Rome.
"We developed a green wall based on an extensive roof-garden system and a self-supporting structure positioned at 50cm from the wall of the School of Energies building, where we conduct training courses", Carlo Alberto Campiotti at the Department Unit for Energy Efficiency, said. "Successively – Campiotti went on – we've begun to study the interactions among green coverings, energy flows, the microclimate and indoor comfort, diversifying the species".
The "plant system" installed on walls, roofs and balconies, has proved capable of creating an actual insulating pad enveloping houses and condos; in this way vegetation can mitigate temperature peaks during summer, capturing most of solar energy, which doesn't directly hit the building surface, dissipating through evapotranspiration of plants a large amount of thermal energy (up to 1 liter of water daily per square meter) which would otherwise be absorbed by the building and released as heat inside the house.
"In summer this vegetation system allows to reduce up to 15% of energy for cooling- Campiotti pointed out- while in winter savings for heating reach 10% thanks to the chimney effect between the wall and the vegetable blanket; in practice, a natural ventilation system removing moisture from walls and reducing the thermal dispersion of the building". Each plant has its own type of leaf given by color, thickness, shape, arrangement on the stems and biological cycle, which determines the amount of solar radiation it captures instead of hitting the walls of the building.
The parameter defining the energy and bio-agronomic traits of plants is called green factor (kv) and it varies from a minum of 0 to a maximum of 1. In practice, if kv is 1, it means the green mantle doesn't exert any shielding towards solar radiation and, in summer conditions, the temperature of the external wall is superior to both that of the air and that inside the building; but if the value is zero, it means that vegetation exerts a total shield and the temperature of the wall is equal to that of the air.
"The Pandorea Jasminoides variegata – Germina Giagnacovo at the Energy Efficiency and Productive Activities Department explained – is a climbing evergreen with an excellent ability of neutralizing solar radiation, as Lonicera hall prolific and Partenocissus quinquefolia do, although slightly less effectively".
"In addition to an improved thermal and acoustic insulation and living comfort for individual dwellings, these solutions also have advantages for the entire urban context: green roofs and walls, in fact, contribute considerably to the reduction of the "heat island", which can cause a peak of the electrical load during summer, between 3 and 8% for each additional degree of temperature.
Furthermore, less use of air conditioning means less greenhouse gas emissions such as CO2, methane, fluorinated gas and water vapor. Installing green roofs, balconies and walls also means mitigating the effects of the so called "rain bombs" – roofs and balconies account in fact for 20% of the total surface of cities and covering them with plants would allow to absorb up to 50% of rainwater, regulating its flow into the city's water system- in addition to improving air quality, since 25 m2 of plant surface generate oxygen for one person, while 1m2 eliminates 0.2 kg of particulate matter in the air.
"For many sectors in distress in our economy, including the building sector, new prospects for recovering are opening up- Campiotti continued- also thanks to the introduction of the green bonus with the last Budget Law, a new fiscal incentive which allows to recover 36% of the costs, up to 5thousand euro incurred for re-greening single dwellings and parts of condos, an intervention which could increase the value of the building itself".
Green coverings
"Extensive, mildly intensive and intensive are the three types of green coverings we're experimenting with at ENEA- Susanna Mariani at the Department Unit for Energy Efficiency, explained. We are particularly interested in the experimental use of autochthonous varieties, such as climbers and evergreens, but also rare wild species such as Echium vulgare, also known as viperina grass, much loved by bees, which can guarantee maximum protection of biodiversity, adaptability to climatic variability and resistance to summer droughts ".
In detail, the extensive coverings are characterized by varieties of plants that are easy to grow (of the genus 'sedum', a set of various species of succulents, and perennials) that need little maintenance and rescue irrigation (mosquito-proof), since they can store a large amount of water. This type of roofing is particularly suitable for walls and slopes, since the installation reaches a weight of about 100 kg / m2. Intensive coverings, on the other hand, foresees the inclusion of trees, require high maintenance and increased irrigation, involving the installation of a weight on the building ranging from 400 to 1000 kg / m2, while the mild intensive is positioned halfway between the other two varieties of coverings, by type of plants and maintenance, weighing between 200 and 400 kg / m2
The courses
In september, at the School of Energies of the ENEA Casaccia Research center, the Energy Efficiency Department will organize a course on the cultivation of plants best suited for green coverings. The course is free of charge and is addressed to agronomists, land surveyors, architects, biologists and natural sciences graduates.
Principles for Making Inclusive Aerial Mobility a Reality in Cities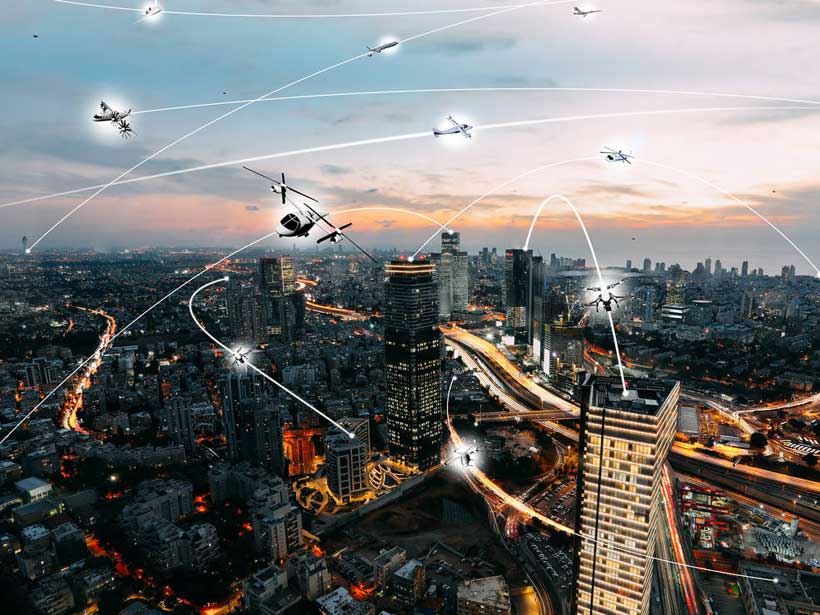 World Economic Forum and the City of Los Angeles released a first-of-its-kind roadmap to support the roll-out of urban air mobility (UAM) in cities, founded on seven key principles of implementation that protect the public interest.

UAM is a new form of transport that has the potential to add an aerial dimension to cities' transportation networks, improving connectivity and sustainability of transport infrastructure, but only if the right policies are in place. This next generation UAM resembles transit in the sky with piloted or autonomous flights of people or goods movement.
The Principles of the Urban Sky can guide city and industry leaders as they develop policy and infrastructure to ensure UAM is implemented in a way that is safe, sustainable and inclusive. These principles will be used for implementing UAM in Los Angeles.
"The current pandemic has created new challenges for transport networks and infrastructure around the world," said Christoph Wolff, Head of Shaping the Future of Mobility at the World Economic Forum. "As we build back better, these principles provide an ethical framework for planning new modes of aerial transport at the same time as we reinvest in current forms of transit."
The collaboration between the World Economic Forum and City of Los Angeles has led to the creation of principles that the community believes are fundamentally important to long-term success and the adoption of UAM globally. Witnessing the need for a great reset after the COVID-19 pandemic, Los Angeles city leaders saw the importance of designing a future transport system that can be value-based while supporting the creation of new jobs in the region.
"Our city's strength stems from our creativity, our innovative spirit and our willingness to test new ideas on our streets – and in our skies – that will inspire and change the world for the better," said Los Angeles Mayor Eric Garcetti. "Even in the face of COVID-19 today, our eyes are fixed on the horizon of a reimagined tomorrow, where Urban Air Mobility is a central part of a safe, sustainable, equitable future."
The Principles of the Urban Sky identifies and outlines seven key components deemed critical for a scalable policy framework:
Developed over the past nine months by a working group of more than 50 manufacturers, service providers, infrastructure developers, academics, community organizations and government planners these principles aim to help policy-makers in Los Angeles and elsewhere improve quality of life with safer, cleaner, quieter and more accessible transport.
As cities and regions struggle with congestion, pollution and ageing infrastructure, policy-makers are exploring how state-of-the-art aerial platforms can be part of a multi-modal solution. Already, innovative companies are developing highly automated, electric flight in low-altitude airspace, but are seeking a clear policy environment to support deployment and implementation. This exciting frontier in travel will need not only creative technologies, but also novel approaches to policy-making to become a reality.
Comments from the industry
"Early, collaborative engagement between the aerospace industry and forward-thinking cities is critical to fully realizing the benefits of aerial mobility solutions," said Igor Cherepinsky, Director of Sikorsky Innovations. "Defining the core principles that will underpin an operational framework is an important first step, and as a founding member of the working group we look forward to continuing these important discussions."
"In releasing the Principles of the Urban Sky and sharing them with the global community, the World Economic Forum and City of Los Angeles are demonstrating the leadership society needs to address current and future mobility challenges," said Pam Cohn, Chief Operating Officer, Urban Air Mobility Division of Hyundai Motor Group. "How people move around in 10 years will be different from how people move around today. We look forward to working with the World Economic Forum, the City of Los Angeles and other partners to ensure UAM planning and development efforts worldwide are inclusive, safe, sustainable and people-centred."
"Uber applauds the World Economic Forum and the City of Los Angeles for bringing together industry, local government, and other stakeholders to develop foundational principles to inform a community focused policy framework for urban air mobility," said Eric Allison, Head of Uber Elevate. "Uber Elevate's vision is to provide a complementary mode of transport that can seamlessly integrate with existing transport systems to offer an efficient and clean alternative to driving in congested urban environments. These principles demonstrate both the industry and local government's commitment to work together to realize the potential of sustainable urban aviation."
With a view towards sharing this roadmap with cities worldwide, this collaboration between the Los Angeles Mayor's Office and the World Economic Forum has been coordinated with technical and operational efforts led by Los Angeles Department of Transportation in conjunction with national authorities. What's clear is that parallel strategic and operational planning are necessary for any city preparing for the roll-out of UAM and that this preparation must start well ahead of the first commercial deployments.
Lahore Orange Line Metro Train (OLMT) project: A Critical Review
The mega projects are kind of integrated activities which can be classified as projects having high complexity in terms of technology and human usage. These projects are usually of greater costs and for the broader development of a state. They are of extreme physical structure, high capacity working, expensive and under huge attention of public and government. The mega projects can be of different sectors like energy, infrastructure, and communication and others. As these projects are launched with bigger aims, the economic units are also measured in million dollars. For this gigantic amount, a developing country like Pakistan has to make a plan or strategy for its long term functioning. Since 2015, Pakistan has signed a number of mega projects with china under the flag of China Pakistan Economic Corridor (CPEC), not just with China but with other states also.
Mega Projects in Pakistan
In addition to that, a number of developmental projects are domestically initiated. These projects include transport like railway, airports, highways, buses, power plants, dams, economic zones etc. The rationale is to get collective benefits and to open frontiers. The policy makers are always looking forward to the mega projects for their economic, political, technological and aesthetic sublime. The greater concern in starting these kinds of project revolves around the issue of higher costs. Many critics expressed that these projects need hard core planning for taking them upon considerations as there are high stakes involved specially for the country like Pakistan. The focus here is to find out the issue areas that should be examine for the success of large scale projects. The project under study is Lahore Orange Line Metro train (OLMT).
Lahore Orange Line Metro train (OLMT)
The demand and supply in the urban lines of traffic has been increasing widely specially in a Lahore as it the second largest urban sector in Pakistan. The need of mass transit system was long felt and in May 2014, the project was signed between Pakistan and China as memorandum of understanding and is expected to be completed by 2017. As Christopher Midler explains the innovation of developmental ideas, this project was also innovatively commissioned for the development of long-term mass transit network for the feasibility of transport in the city. The financing was started in 2015 with the soft loan of 1.55b dollars. The phase 2 of the project started in 2016 and first test ran in 2018. This project has been through a bumpy road of non-completion and expected to be completed this year in October 2020.
Critical Analysis
Denico has executed six themes of analysis, after analyzing literature of good 86 articles, which are considered as conceptual framework to review the project of OLMT. Following are the themes which will help critically analyze the OLMT project:
1. Decision-making behavior
The poor performance through decision making is significantly related in literature of mega projects. This is due to the behavioral faults and faulty assessments with regards to the benefits and cost of the project. In addition to that, executives of the project usually misrepresent the trust in order to satisfy their personal interests. The behavior of the decision makers are resulted in unsuccessful outcomes as their behavior towards policies are obstinate and inflexible.
In the OLMT project, it was assessed that it will be completed by 2017 but unfortunately not completed yet. Every passing year, the government announced the running of train for public in particular year. This has been delaying due to the defective evaluation and calculation of time with respect to finalization of project.
In addition to that, the cost of project was estimated incorrect as later on, it become double to what evaluated earlier. According to a senior official working on the project, the rolling stock, track, electrical and mechanical work s costs are almost double than civil structure. The higher cost and faulty assessment has made the government pay money through loans and thus, delayed the project overall.
2. Strategy, Governance and Procurement
This involves the processes during the initiation and planning which reflects the front-end stage of the project. The decisions are made initially about the three main components that are role and responsibilities of the entities throughout the life cycle of project, formal and informal authority at both, institutional level and individual level and lastly, strategy to organize in terms of relation to the partners to get the best delivery or outcome.
For the front to end stages, the written details are the foremost requirement as a great amount of money has to spend on it. In addition, the officials and those informally associated should have an organized definition and clarity of role and responsibilities that must be stated beforehand. The OLMT is considered as star project of previous PML-N government. The contractors were asked to show a detailed presentation which they were dearth of.
Additionally, the officials were given dead line by the Supreme Court of Pakistan to complete the project till May 2019. Still the government failed to meet the direction due to the litigation on heritage sites and the land acquisition problems. This delay means that the strategy or planning for the organized running of project has been neglected from the beginning.
3. Risk and Uncertainty
It involves the process of technological development and decision making strategy to overcome the risk or uncertainties in mega projects. The technological originality to preemptively work on risk management and the preparedness for uncertain situations. There is a need of flexibility in the decision making process as well as there must be no time constraints. It has been observed that OLMT is equipped with a good quality and non-joint tracks of international standards. The metro line constructed before in the capital has been found doomed due to the infrastructure and technology faults. The Orange Line Metro Train is fully automatic and driverless, which leaves no compromise on standards can be taken at any cost. For instance, it will solely work on electricity which is again a high risk in a state like Pakistan. A good management will be highly required for regular check on working.
4. Leadership
Leadership is something required for any project to fulfil under the supervision and a hard working team and the relationship between the two. In a country like Pakistan, there is lacking sense of project culture and thus a misalignment can be observed. There should be a team work where the project must be design in a way to damage less and provide much gains and long term gains to the state collectively. According to a study more than 40 schools and colleges demolished for the making of a train track which is a huge responsibility on the leadership and the team.
5. Stake-holder engagement and management
It includes the structure formation under certain norms where it is necessary to engage stakeholders and community in the activities of project. Mosque, Churches, residential blocks, private businesses, traditional places, schools and colleges are either demolished fully or partially or threatened. This has terrified the general public and showed resentment at larger scale.
6. Supply-Chain integration and coordination
It involved the integration of projects and sub projects and their commercial relationship. The primary cause of the poor performance is the independent working and lacking coordination at different levels. This OLMT project has also been designed on the poor understanding of architecture. It has destroyed many local businesses and important buildings which means that the route is not thoroughly coordinated and integrated.
These six themes are considered as gist to understand the loop holes in the successful regulation of mega projects from start till end. It is important to take up these points under consideration by the government for the large scale projects so to secure their trust of people and to take the country one step ahead.
Recommendations
Pakistan as developing country needs to learn from other states and specially the literature that have been produced. There is a dire need to move step by step towards mega projects by understanding what has been missed and must not be taken for granted. Followings are some main learnings for the upholding of future mega projects:
• Preparedness
• Priority of customer satisfaction
• Involving key decision makers from institutional to supply chain levels
• Organizational responsiveness
• Skill and team work
• Management culture growth
• Develop penalties for ignoring or providing misleading information
• Introduce the option to defer to further assess risks
• The economic viability and avoid over commitment
• Control and flexibility for political maneuvering
• Emphasize on shorter pre-construction phase
• Higher probability of cost overrun
• Adopt integrated project teams to deliver the project
• Focus on simplification to avoid risks
• Regular reports
• Integration of stake holders and general masses
• Integration of projects and sub projects
• No compromise on Tech
• Competitive structures
• Performance measurement
• Multi check and balance system
These are only the basic and the focused measure that Pakistan should look forward in order to achieve long term and successful results. The first step that state should focus on is to research in order to understand the differences that Pakistan as a separate country faces. New studies must develop to learn from other states as well and to discuss the similarities and differences from other states. Still a key rule for these developmental mega project is to manage, evaluate and integrate for high performance.
How to manage cities in the post Covid-19 period?
The International Urban Cooperation Programme for Latin America and the Caribbean (IUC-LAC), funded by the European Union, presents IUC-LAC Open Dialogues, the first publication on lessons learned and recommendations to help cities face the 'new normality', the post-COVID 19 deconfinement period.
Redesigning urban spaces, promoting greater use of renewable resources or reshaping our industries are some of the conclusions of this project, which has brought together more than 30 cities in Europe and Latin America with the aim of rethinking their cities in the face of this unprecedented scenario.
IUC-LAC Open Dialogues looks to capitalise on the added value created by international urban cooperation between European cities that were heavily impacted by the pandemic, and those in Latin America and the Caribbean, which are currently at the peak of the pandemic. Tourism, public space, mobility and transport, green and smart economy and climate resilience are some of the issues addressed by this publication.
According to Sandra Marín, head of the publication and City to city cooperation Coordinator of the IUC-LAC Programme, the aim of the publication "is to serve as an inspiration for governments to rethink their cities from innovative and people-centred perspectives".
Some of the voices included in this publication are mayors, technicians, companies, networks, associations and representatives of the European Union who are bringing their particular expertise to this publication. European cities such as Madrid, Rome, Turin, Porto and Zagreb share their points of view with Latin American cities such as Cartagena, Buenos Aires, Rosario, Arequipa and Barranquilla, among others.
Good practices in cities
One of the best practices in terms of public space is the City Card service in Genoa (Italy), one of the cities participating in the publication. This service is a new tool that calculates the spatial and temporal distribution of visitors in tourist attractions and allows the reorganization of services, guaranteeing that the safety distance is met.
With regard to mobility and transport, the case of Turin (Italy) stands out. This city has launched a pilot project for the use of hybrid cars with geofencing, a system with an algorithm that allows them to change their engine to electric when they enter the city centre. The one in Turin is the first pilot using this technology in the world.
In terms of the green economy, the case of Pavlos Melas (Greece) is remarkable. They are boosting their economic recovery by giving priority to environmental recovery, investing in drinking water, clean air or clean energy, and organising their investment on the basis of spatial justice criteria, whereby the most vulnerable communities receive more financial support.
Concerning climate resilience, the publication reviews the case of the municipality of Almada (Portugal), which works as a "global player", since, according to the Head of the Department of Innovation and the Environment, Catarina Freitas, "it is necessary to review the financing framework in order to meet global demands while carrying out local management".
The publication, developed by the Latin America and Caribbean regional delegation, is part of the International Urban Cooperation programme (IUC), led by the European Union's Directorate-General for Regional and Urban Policy (DG Regio) and the Foreign Policy Instrument (FPI). Throughout the IUC programme, 165 cities from 23 EU Member States and 11 other countries from all regions of the world have participated.
The publication examines this new pandemic, a unique moment in history for cities, from an optimistic perspective. In fact, according to Vilnius (Lithuania) Urban Development Director, Ruta Matoniene, "it is a time to learn and reinvent ourselves, for new plans, designs and ideas". Verónica Ramírez, from the Smart City Cluster in Spain, comments that "municipalities did not respond to the need for digital transformation before, and now this need is being used to respond to the challenges posed by the pandemic".