President Trump's tariffs and duties and the transformation of the world economy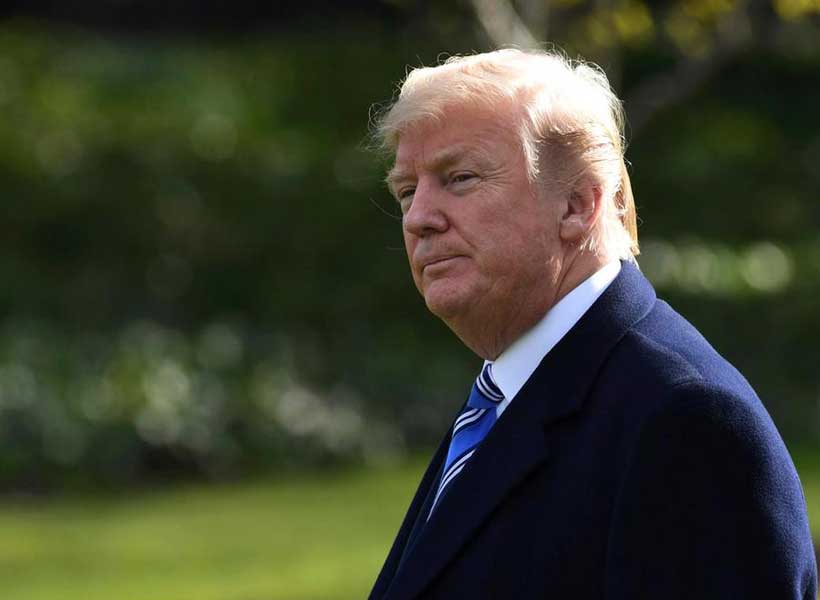 The 45thPresident of the United States, Donald J. Trump, keeps on repeating he wants to make America "great again".
Hence, first and foremost, he wants to reindustrialize his country which, in fact, is currently the world champion in  the loss of productive, manufacturing or industrial companies.
The birth of a country that now consumes without producing much, namely the USA, materialized initially under Reagan's Presidency, but continued rapidly with the successive Presidents.
For example, at the end of the 1960s, the US industrial labour force was at least 35% of the total number of people employed, while currently this labour force is only 20%.
Since 2001 over 70,500 companies with more than 500 employees have been closed down definitively.
The Gospel of Matthew (4:1-11) perfectly clarifies the situation of the post-productive post-economy – if we can use this expression.
Jesus Christ, who was hungry after having fasted forty days and forty nights in the desert, was tempted by the devil who told him: "If you are the Son of God, command these stones to become loaves of bread".
Jesus answered to the devil: "Man shall not live by bread only, but by every word that comes from the mouth of God".
Hence Jesus – as a great economist – explains to the devil that we must not change the Creation and replace God, but  instead follow Smith's liberal and socialist labour theory of value.
Without the processing and transformation of materials – according to their laws – there is no value and therefore not even price.
Only manual or intellectual work, in fact, does transform materials, but never creates and hence does not even destroy them.
Hence we should produce only those goods and services that the market really asks for, without useless miracles, which are already incorporated in the Being as it is.
But let us revert to the economy of the powerful and stable North American de-industrialization process.
However, some sectors of US companies are still active, such as semiconductors and electronics, while clothing, for example, has fallen by 60% despite the US population has almost doubled since 1950.
When this happens, high value-added work increases, while all productive activities having a low incidence of unit value have definitively been delocalized outside the  USA (and the EU – although in this case, the debate has a political, military and strategic nature).
It is worth recalling that immediately before the first subprime crisis of 2016, the US industrial production had fallen by 15% – and this was certainly not by mere coincidence.
Later it started to grow again by approximately 4% – with many sectoral differences -in the years in which the United States managed to move their financial crisis elsewhere.
But let us revert to the factories that the US President deems necessary to make America great again, and to the specific policy of import and export duties imposed by President Trump in record time.
In fact, on March 1, 2018, the President announced it would imposed a 25% customs duty on steel imports from China and a 10% additional one on aluminium imports from China.
This, however, increases the production costs of the aforementioned US sectors that still handle and stand up to global competition, which obviously recoup the money lost from end customers, by increasing prices.
If – like the USA, but perhaps not for much longer – a country still lives on electronic manufacturing and components, the increase in the factory unit prices leads to an increase in the final price and, hence, restricts domestic or foreign markets.
Any price increase, albeit small, leads to a decrease in the buyers of those goods. Pareto taught this to us ad nauseam.
But clearly it was not enough.
Later, on April 3, President Trump announced he would  impose further 25% duties on additional 50 billion Chinese imports of electronics and aerospace products, as well as  machine tools.
This means that – paradoxically, but not too much –  President Trump wants to slow down precisely the  productive sectors that China deems strategic for the future, as shown in its Plan for 2025.
In 2017 China produced a total of 23.12 trillion US dollars, calculated on the basis of power purchasing parity (p.p.p.).
Currently the EU only ranks second, with 19.9 trillion US dollars, again calculated as p.p.p. In 2016 it was the world's top  producer.
The United States only ranks third, with a yearly product of only 19.3 trillion dollars.
Financial stones cannot be turned into loaves of bread.
In spite of everything, China has a yearly per capita income of 16,600 US dollars, while the US yearly per capita GDP is equal to 59,500 US dollars.
Scarce domestic consumption, all focused on exports, is the Chinese model that has developed since Deng Xiaoping's "Four Modernizations", which survives only in an area in which all macroeconomic variables are not left to some "market" invisible hands, but to a central authority.
However, this is exactly the reason why China is the largest world exporter.
Hence it rules end markets.
In 2017, it shipped abroad 2.2 trillion US $ worth of goods and services.
Currently 18% of Chinese products are exported to the United States.
This much contributes to the US trade deficit, which currently amounts to 375 billion US dollars.
China is also the second largest importer in the world, to the tune of 1.7 trillion dollars in 2017.
The mechanisms of interaction between China and the United States, however, are even more complex than we could guess from these scarce data and statistics.
It is not by mere coincidence that China is still the largest holder of US public debt.
In January 2018, China held 1.2 trillion in US government debt securities, i.e. 19% of the US public debt held by foreign investors.
A very powerful monetary, political, strategic and even military leverage.
Obviously China buys US securities to back the value of the dollar, to which the yuan is pegged.
However, it devalues its currency (and hence the US dollar) when Chinese prices need to be kept competitive.
Therefore, while the United States wants to increase the yuan value, with a view to favouring its exports, China threatens to sell its US public debt securities immediately.
The dollar increased by 25% between 2016 and 2016, but since 2005China has devalued the yuan.
A very clear example of aggressive monetary pegging.
Moreover, the issue of China's unfair commercial behaviour is now long-standing and it was also raised by many candidates to the US presidential elections.
In fact the success of Paulson, the former US Treasury Secretary, was to reduce the American trade deficit with China and to later ask for opening to foreign investment in key sectors of the Chinese economy.
For example in the banking sector, thus putting an end – in some cases – to the Chinese practice of export subsidies and administered and capped prices.
Just deal with realism and intelligence and Chinese Confucianism can find solutions to everything.
The other side of the Chinese miracle, however, is the very high debt of companies and households, which is obviously  still connected to the balance between the yuan and the US dollar.
In this case, however, the programmed slowdown of the Chinese GDP growth and the limits on strong currency exports, as well as the control of wages and profits are enough.
But let us revert to President Trump's tariffs and duties.
In fact the US President has imposed these new tariffs and duties on Chinese imports to force China to remove the  foreign investors' obligation to transfer technology and patents to their Chinese partners.
Nevertheless China trades many productsit could also manufacture on its own just because it wants to fully open Western intellectual property rights for its companies.
A few hours later, however,  China responded to President Trump with a 25% increase in duties on 50 billion dollars of US exports to China.
On April 6, President Trump further reacted by stating he would call for the imposition of other duties on additional  100 billion dollars of imports from China.
It is worth noting, however, that this accounts for only  a third of total US imports from China, which is considering the possibility of responding harshly to President Trump by steadily increasing tariffs and duties for all US products entering Chinese markets.
Besides the issue of relations with China, however, the other side of the US tariff and duty issue is the NAFTA  renegotiation, officially requested by President Trump on August 16, 2017.
It should be recalled that the North American Free Trade Agreement is the largest commercial agreement currently operating in the world, signed by Canada, USA and Mexico.
Firstly, President Trump wants Mexico to cut – almost entirely – VAT on imports from the USA and put an end to the programme of maquiladoras, i.e. the factories owned by foreign investors in Mexico, in which the components temporarily imported into that country under a duty-free scheme are assembled or processed.
The maquiladoras programme started in 1965 to reduce the huge unemployment in the North Mexican regions, but currently there are at least 2,900 such factories between Mexico and the USA producing 55% of total Mexican export goods.
They mainly manufacture cars and consumer electronics, which are exactly the sectors that – as already seen – President Trump  wants to revitalize.
Obviously the current US Presidency wants to dismantle the maquiladoras on its Mexican border, where 90% of such companies are located.
Thanks to these special factories, Mexico competes directly with US workers, considering that the local Central American workforce is much cheaper.
Thanks to this mechanism of cross-border production outsourcing – between 1994 and 2010 alone – 682,900 US jobs moved to Mexico, with 80% of US jobs lost in the manufacturing sector.
Moreover, again due to NAFTA, as many as 1.3 million jobs in Mexican agriculture were lost.
In fact, following the removal of duties between the USA and Mexico, the latter was flooded with US produce below cost and subsidized by the State.
All this happened while the Central American administration cut agricultural subsidies – which will soon happen also in the crazy EU – and focused the little State aid left for agriculture to the big haciendas, thus destroying and ruining small farmers.
Liberal and free-trade masochism.
NAFTA, however, also has many advantages for the United States.
Without the tripartite inter-American agreement, North American food prices would be significantly higher, while also oil and gas from Mexico and Canada would be much more expensive for US consumers.
As Carl Schmitt taught us, the American Monroe Doctrine (epitomized by the slogan "America to the Americans") was developed above all against Europe. Nevertheless, the agreements like NAFTA allow to share – at least partially – the benefits of increased trade between the USA, Canada and Mexico in a less asymmetric way than usual.
The US primacy theorized by Monroe in 1823 and later rearticulated by Roosevelt in his State of the Union address in 1904, with the Roosevelt Corollary whereby  "chronic wrongdoing may in America, as elsewhere, ultimately require intervention by some civilized nation and force the United States, although reluctantly, in flagrant cases of such wrongdoing, to the exercise of an international police  power", holds true also at economic level.
But are we currently sure that the most civilized nation is still the Northern one?
Just to better understand what we are talking about, it should be noted that the NAFTA agreement is made up of 2,000 pages, with eight sections and 22 chapters.
As such, it is currently worth 0.5% of the US GDP.
Since the official implementation of this agreement in the three countries which have adopted it, North American exports have created as many as 5 million jobs, with the creation of 800,000 additional jobs in the USA alone.
Nevertheless approximately 750,000 other jobs have also been lost in the United States alone, mainly due to the transfer of US activities to Mexican maquiladoras.
Hence a slight surplus.
Moreover, NAFTA has anyway ensured the status of "most favoured nation" to Canada and Mexico and has removed all tariffs and duties for the goods produced in one of the three Member States. It has finally established certain and clear procedures for settling trade disputes between the companies of every country belonging to it.
But above all NAFTA enables the United States to better compete with EU and Chinese products, by reducing the prices of the NAFTA goods wherever they are produced.
Also in this case, however, President Trump has threatened to walk out of the inter-American trade treaty and impose a 35% duty on imported Mexican products.
The aim is obviously to bring back investment in the maquiladoras to the United States.
Is this useful, also with regard to an evident trade war with the EU, Japan and China, as usual?
Is there currently sufficient real liquidity in the United States to back the supply increase which is thus created, with the return of all these productions back home?
Or is the idea prevailing of having everything be bought on credit, with all the consequences we can easily imagine?
Or is it possibly a matter of sending the NAFTA productive surplus back to European, Chinese and Asian markets?
Moreover, with specific reference to another multilateral trade agreement, the Trans-Pacific Partnership (TPP), President Trump announced he would like to establish a series of new bilateral trade relations that the US President likes more than the multilateral ones.
It is worth recalling that the TPP applies to the USA and to other 11 countries around the Pacific Ocean, namely Australia, Brunei, Canada, Chile, Malaysia, Japan, Mexico, New Zealand, Peru, Singapore and finally Vietnam.
All these countries together account for 40% of the total global GDP, which is currently equal to 107.45 trillion US dollars annually. They are also worth over 26% of world trade per year and as many as 793 million global consumers.
Obviously the list does not include China and India, considering that the TPP architecture has been designed to surround, close or at least limit the growth of the two great Asian countries.
President Trump also wants to renegotiate the TPP, which  by2025 is expected to increase trade among all Members States to the tune of 305 billion us dollars per year.
Hence if President Trump walks out of the TPP, many Member States will look to China for replacing the USA – and, indeed, many of them are already doing so.
Therefore the US President's idea is to make the United States grow – through this wave of various forms of protectionism – by at least 6% a year, with an expected 3% net tax increase.
Too much. It would inevitably lead to high inflation and the classic boom-bust cycle.
If the economy grows by 2-3% a year, the cycle can expand almost indefinitely.
Conversely, if there is too much money looking for too few goods to buy, inflation will always come and the booming phase will stop all of a sudden.
Hence the bust materializes, with the quick reduction of wages and credits, as well as with an increase in prices and interest rates.
Therefore President Trump's very dangerous idea is that –  in such a monetary and economic context -the United States can keep on borrowing all the liquidity needed because, as he said recently, "we never default, because we can print our currency".
This is true. But if too many green bucks are printed, interest rates will rise immediately and this new version of Reagan-style supply-side economics will be stopped.
Finally a very serious recession would materialize, which currently would not be so easy to export to "friendly" countries.
Recently the dollar area has much shrunk.
It is no longer true –  as the former US Treasury Secretary John Connally once told to his European colleagues – that "the dollar is our currency, but it is your problem".
So far, however, President Trump has decided 29 commercial or financial deregulation operations and over 100 internal guidelines and directives to the Administration, as well as other 50 new global market rules discussed by the Congress.
On February 3, 2017, the US President also decided to reform and almost repeal the rationale of the Dodd-Frank Wall Street Reform Act, with rules and regulations further reducing checks and audits on banks, which are no longer obliged to send to the Treasury Ministry data and information about the loans granted.
Moreover the banks with clients' deposits lower than 10 billion US dollars must not even abide by the Volcker Rule, which forbids banks to use clients deposits to make profit.
Therefore, since 2015, banks cannot hold hedge funds and private equity funds.
Nowadays, however, with the reform of the Dodd-Frank Act, many credit institutions can avoid these difficulties and restrictions and play roulette with clients' deposits.
For the new US lawmaker, Volcker's and Greenspan's policy was a way to avoid the implosion of the US financial system, after the fatal end of the Glass-Steagall Act which had been lasting since 1933.
It is worth recalling that the Glass-Steagall Act had come into force when the Roosevelt's Presidency decided to imitate the Fascist legislation of the new separation between deposit banks and merchant or investment banks.
Banks did not want the Glass-Steagall Act because they wanted to be "internationally competitive".
They also wanted to create money at will, regardless of the relationship between investment and collection.
What happened is before us to be seen.
President Trump wants to abolish even the Departments of Education and Environmental Protection, with an increase in military spending that is supposed to lead to a total public deficit of 577 billion US dollars.
Hence, in this new context, can the US Presidency avoid the Chinese commercial pressure and also ensure that the jobs repatriated to the USA from NAFTA, from negotiations with Japan, from the TPP and the rest of the multipolar trade system are such as to back the dollar without creating excessive inflation?
Moreover, all international trade experts agree that it is not the simple and traditional tariff barriers – but rather the non-tariff ones, which are very fashionable today – to cause real problems.
In short, we need to consider trade policy together with  strategy: if US protectionism increases, the growth of peripheral economies will decrease.
Thust here will be increasing possibilities of crisis in developing countries, while China's desire to replace the USA in multilateral economic mechanisms that directly affect it may increase enormously.
Also the desire of global US competitors, such as the EU, to replace US exports at unchanged rates – at least for a short lapse of time – may increase.
There is no need for dumping – non-tariff transactions and the quality standard of made-in-Europe products are enough.
Therefore, nowadays, nothing is certain.
Certainly not US protectionism, of which we have noted  the dangers for North America and also for its geo-economic partners. Not even universal free trade, which does not consider the political evaluations and the economic, monetary and military planning of the various world commercial areas, is feasible and practicable.
Indeed, as in military policy, a great agreement – as the initial GATT was – is required in the current world market, with a view to establishing – for at least ten years – the areas and spheres of economic and productive influence and their possible future changes.
There is no free trade without planning.
Trump's and Putin's Responses to Mueller's Russiagate Indictments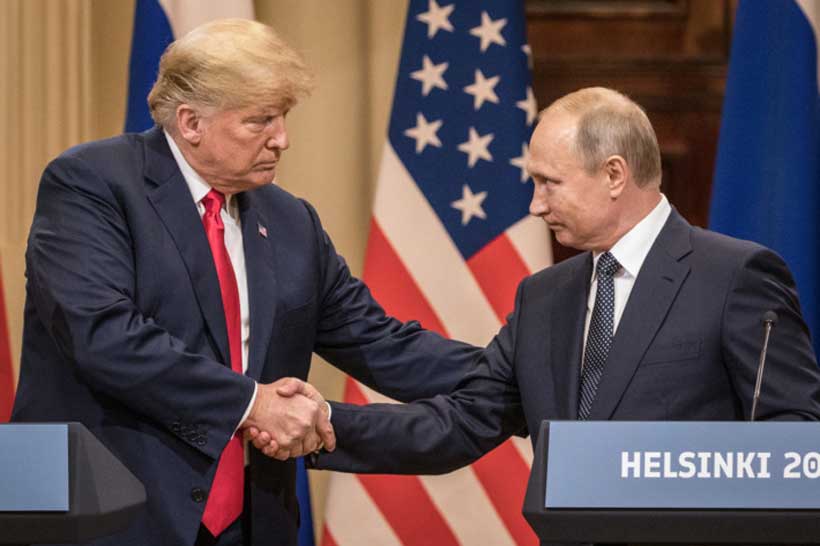 In the July 16th joint press conference between U.S. President Donald Trump and Russian President Vladimir Putin, the question arose of U.S. Special Counsel Robert Mueller's recent indictment of 12 Russian intelligence officials for allegedly having engineered the theft of computer files from the Democratic National Committee and from John Podesta, Hillary Clinton's campaign chairman. Here is that part of the press conference, in a question that was addressed to both Presidents (and I boldface here the key end part of Putin's presentation, and then I proceed to link to two articles which link to the evidence — the actual documents — that Putin is referring to in his response):
REPORTER (Jeff Mason from Reuters): For President Putin if I could follow up as well. Why should Americans and why should President Trump believe your statement that Russia did not intervene in the 2016 election given the evidence that US Intelligence agencies have provided? Will you consider extraditing the 12 Russian officials that were indicted last week by a US Grand jury.
TRUMP: Well I'm going to let the president [meaning Putin] answer the second part of that question.
As you know, the concept of that came up perhaps a little before, but it came out as a reason why the Democrats lost an election, which frankly, they should have been able to win, because the electoral college is much more advantageous for Democrats, as you know, than it is to Republicans.
[That allegation from Trump is unsupported, and could well be false.] We won the electoral college by a lot. 306 to 223, I believe. [It was actually 304 to 227.] That was a well-fought battle. We did a great job.
Frankly, I'm going to let the president speak to the second part of your question. But, just to say it one time again and I say it all the time, there was no collusion. I didn't know the president. There was nobody to collude with. There was no collusion with the campaign. Every time you hear all of these 12 and 14 — it's stuff that has nothing to do — and frankly, they admit, these are not people involved in the campaign. But to the average reader out there, they are saying, well maybe that does. It doesn't. Even the people involved, some perhaps told mis-stories. In one case the FBI said there was no lie. There was no lie. Somebody else said there was. We ran a brilliant campaign. And that's why I'm president. Thank you.
PUTIN: As to who is to be believed, who is not to be believed: you can trust no one. Where did you get this idea that President Trump trusts me or I trust him? He defends the interests of the United States of America and I do defend the interests of the Russian Federation. We do have interests that are common. We are looking for points of contact.
There are issues where our postures diverge and we are looking for ways to reconcile our differences, how to make our effort more meaningful. We should not proceed from the immediate political interests that guide certain political powers in our countries. We should be guided by facts. Could you name a single fact that would definitively prove the collusion? This is utter nonsense — just like the president recently mentioned. Yes, the public at large in the United States had a certain perceived opinion of the candidates during the campaign. But there's nothing particularly extraordinary about it. That's the normal thing.
President Trump, when he was a candidate, he mentioned the need to restore the Russia/US relationship, and it's clear that certain parts of American society felt sympathetic about it and different people could express their sympathy in different ways. Isn't that natural? Isn't it natural to be sympathetic towards a person who is willing to restore the relationship with our country, who wants to work with us?
We heard the accusations about it. As far as I know, this company hired American lawyers and the accusations doesn't have a fighting chance in the American courts. There's no evidence when it comes to the actual facts. So we have to be guided by facts, not by rumors.
Now, let's get back to the issue of this 12 alleged intelligence officers of Russia. I don't know the full extent of the situation. But President Trump mentioned this issue. I will look into it.
So far, I can say the following. Things that are off the top of my head. We have an existing agreement between the United States of America and the Russian Federation, an existing treaty that dates back to 1999. The mutual assistance on criminal cases. This treaty is in full effect. It works quite efficiently. On average, we initiate about 100, 150 criminal cases upon request from foreign states.
For instance, the last year, there was one extradition case upon the request sent by the United States. This treaty has specific legal procedures we can offer. The appropriate commission headed by Special Attorney Mueller, he can use this treaty as a solid foundation and send a formal, official request to us so that we could interrogate, hold questioning of these individuals who he believes are privy to some crimes. Our enforcement are perfectly able to do this questioning and send the appropriate materials to the United States. Moreover, we can meet you halfway. We can make another step. We can actually permit representatives of the United States, including the members of this very commission headed by Mr. Mueller, we can let them into the country. They can be present at questioning.
In this case, there's another condition. This kind of effort should be mutual one. Then we would expect that the Americans would reciprocate. They would question officials, including the officers of law enforcement and intelligence services of the United States whom we believe have something to do with illegal actions on the territory of Russia. And we have to request the presence of our law enforcement.
For instance, we can bring up Mr. Browder in this particular case. Business associates of Mr. Browder have earned over $1.5 billion in Russia. They never paid any taxes. Neither in Russia nor in the United States. Yet, the money escapes the country. They were transferred to the United States. They sent huge amount of money, $400 million as a contribution to the campaign of Hillary Clinton.
[He presents no evidence to back up that $400 million claim.] Well, that's their personal case. It might have been legal, the contribution itself. But the way the money was earned was illegal. We have solid reason to believe that some intelligence officers guided these transactions. [This allegation, too, is merely an unsupported assertion here.] So we have an interest of questioning them. That could be a first step. We can also extend it. There are many options. They all can be found in an appropriate legal framework.
REPORTER (Jeff Mason from Reuters): Did you direct any of your officials to help him [Trump] do that [find those 'options']?
PUTIN: Yes, I did. Yes, I did. Because he talked about bringing the US/Russia relationship back to normal.
The evidence regarding that entire matter, of Bill Browder and the Magnitsky Act, can be seen in the links and the other evidences that are presented in two articles that I published on that very subject, earlier this year. One, titled "Private Investigations Find America's Magnitsky Act to Be Based on Frauds", summarizes the independently done private investigations into the evidence that is publicly available online regarding Bill Browder and the Magnitsky Act. The Magnitsky Act was the basis for the first set of economic sanctions against Russia, and were instituted in 2012; so, this concerns the start of the restoration of the Cold War (without the communism etc. that were allegedly the basis of Cold War I). The other article, "Russiagate-Trump Gets Solved by Giant of American Investigative Journalism", provides further details in the evidence, and connects both the Magnitsky Act and Bill Browder to the reason why, on 9 June 2016, the Russian lawyer Nataliya Veselnitskaya, met privately at Trump Tower, with Donald Trump Jr., Paul Manafort, and Jared Kushner — the reason was specifically in order to inform them about the documentation on this case, so that Trump, if elected, would be aware of the contents of those documents. She had used the promise of dirt on Hillary so as to enable Trump, who effectively became the Republican nominee on 26 May 2016, to learn about the actual documents in this crucial case.
The Russian government has been legally pursuing Mr. Browder, for years, on charges that he evaded paying $232 million taxes that were due to the Russian government. These private investigations into this matter — regarding whether or not the Magnitsky Act was based on fraudulent grounds — have all found that Mr. Browder has clearly falsified and misrepresented the actual documents, which are linked to in those two articles I wrote. These might be the very same documents that she was presenting on June 9th.
So: this is a matter of importance not only to the validity (or not) of the Magnitsky Act economic sanctions against Russia, but to the Russiagate accusations regarding U.S. President Donald Trump. In my two articles, the general public can click right through to the evidence on the Magnitsky case.
Delusions of U.S. Hegemony In A Multi-Polar World: Trump Visits Europe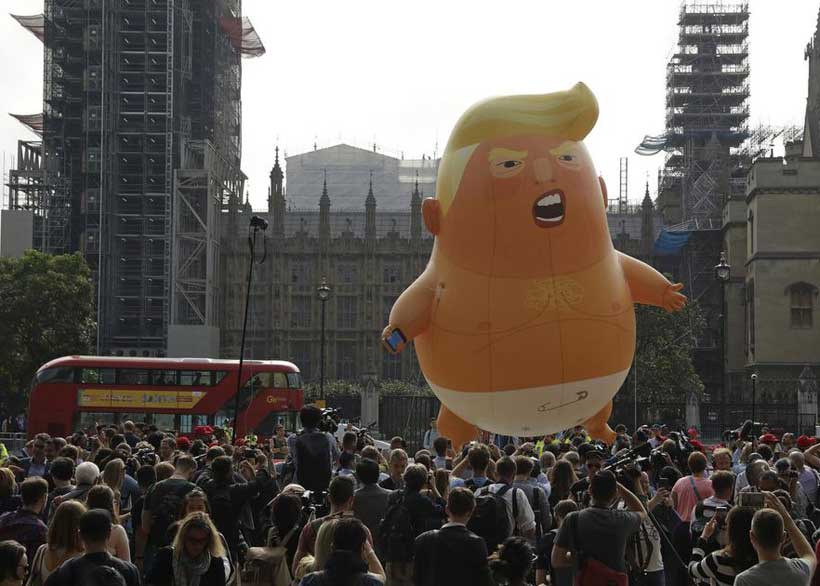 To say that US foreign policy is delusional is not an exaggeration.  It seeks political hegemony and a relationship with China and Russia akin to what it has had with Japan and Germany, that is, go ahead and develop in the economic sphere but don't try to flex political or military muscle.
There are at least two problems with this scenario:  China is now the world's largest economy on a purchasing power parity basis, and the Russians have the nuclear capacity to make a wasteland out of the US.  Russian weapons systems can also be superior.
Take the S-400 in comparison with the US Patriot missile defense system — the purpose of these surface-to-air systems is to shoot down incoming missiles or aircraft.  The S-400 has a more powerful radar, double the range, is faster (Mach 6 vs Mach 5), takes five minutes to set up against one hour for the Patriot, and is cheaper.  China has just bought 32 launchers and is expected to buy more, thereby challenging Japan, Taiwan (which it claims) and other neighbors for control of the skies, as it is doing over the seas bordering itself.  NATO member Turkey has recently signed a purchase deal, and Iran wants to, as does Qatar after its recent spat with Saudi Arabia.  If Russia supplies Iran, any attack planned by the US or Israel would prove to be very costly and politically infeasible.
In our world of instant and continuous news feeds, one can imagine a bemused Vladimir Putin listening to Trump exhorting NATO members to increase contributions to NATO — an organization designed to counter the Russian threat — specifically castigating Germany's Angela Merkel for being beholden to Russia with her country's reliance on Russian natural gas.
Early next week he meets Mr. Putin in Helsinki, fresh from his soft power World Cup triumph as the world beat a path to Russia.  What does Mr. Trump tell the leader of the world's largest country covering eleven time zones?  US political hegemony is a non-starter.
Europeans clearly want access to China, its labor, its markets, even finance, and with it comes Russia and their numerous initiatives together including the Asian Infrastructure Investment Bank (AIIE) their answer to the US-sponsored World Bank.  That Britain joined AIIB contrary to US wishes is a clear sign of China rising as the US declines comparatively;  Britain, having faced up to the US, was followed by a rush of European countries.
Russia wants sanctions lifted.  What does the US want?  Crimea is a non-starter.  Help with Iran?  For the Russians, it has become an important ally both with regard to Syria and as a Mideast power in its own right.  Mr. Trump's instincts are right.  But what he achieves is another matter.  Childish petulance accompanied by a different story for different leaders would leave an observer with little optimism.
Meanwhile, Mr. Trump manufactures and markets his own reality; this time on his popularity ('I think they like me a lot in the UK') despite avoiding roads and traveling by helicopter when possible during his pared down UK visit.  Hordes of demonstrators undeterred have a giant parade balloon several stories high of a bloated child with the trademark blonde hair.  It is one the largest demonstrations ever outside the US against a sitting president.
This 70-year-old program prepares young women for leadership
A record number of women are running for public office this year. In the near future, we can expect more female public servants representing the American people — from local chambers to Capitol Hill. In light of this exciting trend, it is important to highlight programs that help develop young women to become the next generation of female leaders. One such program? American Legion Auxiliary (ALA) Girls Nation.
ALA Girls Nation is a weeklong mock experiential learning program, one that positions high-potential teens for a lifetime of public service to our country. This summer, 100 female high school seniors — two from each of our 50 states — will convene in Washington, D.C., for the 72nd Annual ALA Girls Nation. Each teenage girl represents her state as a "senator" — mirroring the structure of government at the federal level. During this transformative weeklong program, these senators form a fictitious nation, become "Nationalists" and "Federalists," enthusiastically campaign to hold office, and — perhaps most important — accept and celebrate the outcome of these elections and come together to serve for the good of the nation.
ALA is a nonpartisan organization committed to advocating for veterans' issues, promoting patriotism, mentoring America's youth and proudly presenting ALA Girls Nation for over 70 years. The ALA Girls State and ALA Girls Nation are privately-funded and presented by members of the organization. The world's largest women's patriotic service organization, ALA was chartered in 1919 to support the mission of The American Legion.
More than 6,500 young women have attended ALA Girls Nation since its inception in 1947. Each participant leaves the program informed about the fundamentals of U.S. government — and the rights, privileges and responsibilities of citizens. It lasts for one short week. Yet the seven-day experience — one that champions the legislative process and serious collaboration — has laid the foundation for thousands of bright futures.
Many alumnae have chosen careers in public service, putting their ALA Girls State and ALA Girls Nation experience into action to serve the people. The lessons learned about teamwork, resilience and the democratic principles that guide the republic in which we live are applied in real life by many alums who have gone on to serve at the local, state and national level — including high-ranking members of the judiciary.
Justice Lorie S. Gildea began her tenure as chief justice of the Minnesota Supreme Court in 2010. She participated in the state-level version of ALA Girls Nation, known as ALA Girls State in 1979 — and the program, Gildea said, "empowered her to embark upon a lifetime of service and leadership."
"At ALA Girls State, we learn that every voice has value and that every woman needs to use her voice," said Gildea. "We also learn that we need to be courageous and confident enough to take life up on the opportunities that present themselves to us."
"An informed citizenry is essential to the success of our democracy. ALA Girls State [and ALA Girls Nation] plays a vital role in informing and educating our future leaders," Gildea said. "It is a wonderful opportunity to learn about and see firsthand how the three branches of our government work. I am so grateful to the American Legion Auxiliary for presenting ALA Girls State and teaching me and thousands of Minnesota's young women about the value of participation and the possibility of leadership."
Other alumnae have gone on to hold leadership roles in industries spanning government, military, media, education and law. Notable alumnae include Jane Pauley, national media personality; Stephanie Herseth Sandlin, president of Augustana University and former South Dakota U.S. representative; Susan Bysiewicz, former Connecticut Secretary of State; Lt. Gen. Michelle D. Johnson, superintendent of the U.S. Air Force Academy and former Air Force aide to the president; Ann Richards, former governor of Texas; and Susan Porter-Rose, former chief of staff to First Lady Barbara Bush — among countless others.
For some girls, it is their first opportunity to connect with peers with common interests. For others, it is the first time they encounter students whose perspectives differ from their own. For all, it is a moment in time when a select few teenage girls from all over the country come together to discover and celebrate the honor and importance of participating in our democracy. To learn more, visit www.ALAforVeterans.org.