President Trump's tariffs and duties and the transformation of the world economy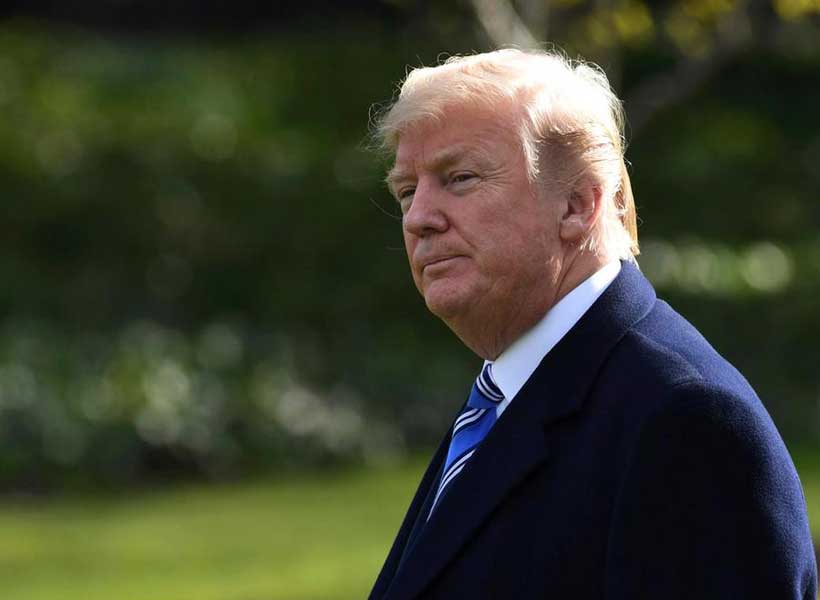 The 45thPresident of the United States, Donald J. Trump, keeps on repeating he wants to make America "great again".
Hence, first and foremost, he wants to reindustrialize his country which, in fact, is currently the world champion in  the loss of productive, manufacturing or industrial companies.
The birth of a country that now consumes without producing much, namely the USA, materialized initially under Reagan's Presidency, but continued rapidly with the successive Presidents.
For example, at the end of the 1960s, the US industrial labour force was at least 35% of the total number of people employed, while currently this labour force is only 20%.
Since 2001 over 70,500 companies with more than 500 employees have been closed down definitively.
The Gospel of Matthew (4:1-11) perfectly clarifies the situation of the post-productive post-economy – if we can use this expression.
Jesus Christ, who was hungry after having fasted forty days and forty nights in the desert, was tempted by the devil who told him: "If you are the Son of God, command these stones to become loaves of bread".
Jesus answered to the devil: "Man shall not live by bread only, but by every word that comes from the mouth of God".
Hence Jesus – as a great economist – explains to the devil that we must not change the Creation and replace God, but  instead follow Smith's liberal and socialist labour theory of value.
Without the processing and transformation of materials – according to their laws – there is no value and therefore not even price.
Only manual or intellectual work, in fact, does transform materials, but never creates and hence does not even destroy them.
Hence we should produce only those goods and services that the market really asks for, without useless miracles, which are already incorporated in the Being as it is.
But let us revert to the economy of the powerful and stable North American de-industrialization process.
However, some sectors of US companies are still active, such as semiconductors and electronics, while clothing, for example, has fallen by 60% despite the US population has almost doubled since 1950.
When this happens, high value-added work increases, while all productive activities having a low incidence of unit value have definitively been delocalized outside the  USA (and the EU – although in this case, the debate has a political, military and strategic nature).
It is worth recalling that immediately before the first subprime crisis of 2016, the US industrial production had fallen by 15% – and this was certainly not by mere coincidence.
Later it started to grow again by approximately 4% – with many sectoral differences -in the years in which the United States managed to move their financial crisis elsewhere.
But let us revert to the factories that the US President deems necessary to make America great again, and to the specific policy of import and export duties imposed by President Trump in record time.
In fact, on March 1, 2018, the President announced it would imposed a 25% customs duty on steel imports from China and a 10% additional one on aluminium imports from China.
This, however, increases the production costs of the aforementioned US sectors that still handle and stand up to global competition, which obviously recoup the money lost from end customers, by increasing prices.
If – like the USA, but perhaps not for much longer – a country still lives on electronic manufacturing and components, the increase in the factory unit prices leads to an increase in the final price and, hence, restricts domestic or foreign markets.
Any price increase, albeit small, leads to a decrease in the buyers of those goods. Pareto taught this to us ad nauseam.
But clearly it was not enough.
Later, on April 3, President Trump announced he would  impose further 25% duties on additional 50 billion Chinese imports of electronics and aerospace products, as well as  machine tools.
This means that – paradoxically, but not too much –  President Trump wants to slow down precisely the  productive sectors that China deems strategic for the future, as shown in its Plan for 2025.
In 2017 China produced a total of 23.12 trillion US dollars, calculated on the basis of power purchasing parity (p.p.p.).
Currently the EU only ranks second, with 19.9 trillion US dollars, again calculated as p.p.p. In 2016 it was the world's top  producer.
The United States only ranks third, with a yearly product of only 19.3 trillion dollars.
Financial stones cannot be turned into loaves of bread.
In spite of everything, China has a yearly per capita income of 16,600 US dollars, while the US yearly per capita GDP is equal to 59,500 US dollars.
Scarce domestic consumption, all focused on exports, is the Chinese model that has developed since Deng Xiaoping's "Four Modernizations", which survives only in an area in which all macroeconomic variables are not left to some "market" invisible hands, but to a central authority.
However, this is exactly the reason why China is the largest world exporter.
Hence it rules end markets.
In 2017, it shipped abroad 2.2 trillion US $ worth of goods and services.
Currently 18% of Chinese products are exported to the United States.
This much contributes to the US trade deficit, which currently amounts to 375 billion US dollars.
China is also the second largest importer in the world, to the tune of 1.7 trillion dollars in 2017.
The mechanisms of interaction between China and the United States, however, are even more complex than we could guess from these scarce data and statistics.
It is not by mere coincidence that China is still the largest holder of US public debt.
In January 2018, China held 1.2 trillion in US government debt securities, i.e. 19% of the US public debt held by foreign investors.
A very powerful monetary, political, strategic and even military leverage.
Obviously China buys US securities to back the value of the dollar, to which the yuan is pegged.
However, it devalues its currency (and hence the US dollar) when Chinese prices need to be kept competitive.
Therefore, while the United States wants to increase the yuan value, with a view to favouring its exports, China threatens to sell its US public debt securities immediately.
The dollar increased by 25% between 2016 and 2016, but since 2005China has devalued the yuan.
A very clear example of aggressive monetary pegging.
Moreover, the issue of China's unfair commercial behaviour is now long-standing and it was also raised by many candidates to the US presidential elections.
In fact the success of Paulson, the former US Treasury Secretary, was to reduce the American trade deficit with China and to later ask for opening to foreign investment in key sectors of the Chinese economy.
For example in the banking sector, thus putting an end – in some cases – to the Chinese practice of export subsidies and administered and capped prices.
Just deal with realism and intelligence and Chinese Confucianism can find solutions to everything.
The other side of the Chinese miracle, however, is the very high debt of companies and households, which is obviously  still connected to the balance between the yuan and the US dollar.
In this case, however, the programmed slowdown of the Chinese GDP growth and the limits on strong currency exports, as well as the control of wages and profits are enough.
But let us revert to President Trump's tariffs and duties.
In fact the US President has imposed these new tariffs and duties on Chinese imports to force China to remove the  foreign investors' obligation to transfer technology and patents to their Chinese partners.
Nevertheless China trades many productsit could also manufacture on its own just because it wants to fully open Western intellectual property rights for its companies.
A few hours later, however,  China responded to President Trump with a 25% increase in duties on 50 billion dollars of US exports to China.
On April 6, President Trump further reacted by stating he would call for the imposition of other duties on additional  100 billion dollars of imports from China.
It is worth noting, however, that this accounts for only  a third of total US imports from China, which is considering the possibility of responding harshly to President Trump by steadily increasing tariffs and duties for all US products entering Chinese markets.
Besides the issue of relations with China, however, the other side of the US tariff and duty issue is the NAFTA  renegotiation, officially requested by President Trump on August 16, 2017.
It should be recalled that the North American Free Trade Agreement is the largest commercial agreement currently operating in the world, signed by Canada, USA and Mexico.
Firstly, President Trump wants Mexico to cut – almost entirely – VAT on imports from the USA and put an end to the programme of maquiladoras, i.e. the factories owned by foreign investors in Mexico, in which the components temporarily imported into that country under a duty-free scheme are assembled or processed.
The maquiladoras programme started in 1965 to reduce the huge unemployment in the North Mexican regions, but currently there are at least 2,900 such factories between Mexico and the USA producing 55% of total Mexican export goods.
They mainly manufacture cars and consumer electronics, which are exactly the sectors that – as already seen – President Trump  wants to revitalize.
Obviously the current US Presidency wants to dismantle the maquiladoras on its Mexican border, where 90% of such companies are located.
Thanks to these special factories, Mexico competes directly with US workers, considering that the local Central American workforce is much cheaper.
Thanks to this mechanism of cross-border production outsourcing – between 1994 and 2010 alone – 682,900 US jobs moved to Mexico, with 80% of US jobs lost in the manufacturing sector.
Moreover, again due to NAFTA, as many as 1.3 million jobs in Mexican agriculture were lost.
In fact, following the removal of duties between the USA and Mexico, the latter was flooded with US produce below cost and subsidized by the State.
All this happened while the Central American administration cut agricultural subsidies – which will soon happen also in the crazy EU – and focused the little State aid left for agriculture to the big haciendas, thus destroying and ruining small farmers.
Liberal and free-trade masochism.
NAFTA, however, also has many advantages for the United States.
Without the tripartite inter-American agreement, North American food prices would be significantly higher, while also oil and gas from Mexico and Canada would be much more expensive for US consumers.
As Carl Schmitt taught us, the American Monroe Doctrine (epitomized by the slogan "America to the Americans") was developed above all against Europe. Nevertheless, the agreements like NAFTA allow to share – at least partially – the benefits of increased trade between the USA, Canada and Mexico in a less asymmetric way than usual.
The US primacy theorized by Monroe in 1823 and later rearticulated by Roosevelt in his State of the Union address in 1904, with the Roosevelt Corollary whereby  "chronic wrongdoing may in America, as elsewhere, ultimately require intervention by some civilized nation and force the United States, although reluctantly, in flagrant cases of such wrongdoing, to the exercise of an international police  power", holds true also at economic level.
But are we currently sure that the most civilized nation is still the Northern one?
Just to better understand what we are talking about, it should be noted that the NAFTA agreement is made up of 2,000 pages, with eight sections and 22 chapters.
As such, it is currently worth 0.5% of the US GDP.
Since the official implementation of this agreement in the three countries which have adopted it, North American exports have created as many as 5 million jobs, with the creation of 800,000 additional jobs in the USA alone.
Nevertheless approximately 750,000 other jobs have also been lost in the United States alone, mainly due to the transfer of US activities to Mexican maquiladoras.
Hence a slight surplus.
Moreover, NAFTA has anyway ensured the status of "most favoured nation" to Canada and Mexico and has removed all tariffs and duties for the goods produced in one of the three Member States. It has finally established certain and clear procedures for settling trade disputes between the companies of every country belonging to it.
But above all NAFTA enables the United States to better compete with EU and Chinese products, by reducing the prices of the NAFTA goods wherever they are produced.
Also in this case, however, President Trump has threatened to walk out of the inter-American trade treaty and impose a 35% duty on imported Mexican products.
The aim is obviously to bring back investment in the maquiladoras to the United States.
Is this useful, also with regard to an evident trade war with the EU, Japan and China, as usual?
Is there currently sufficient real liquidity in the United States to back the supply increase which is thus created, with the return of all these productions back home?
Or is the idea prevailing of having everything be bought on credit, with all the consequences we can easily imagine?
Or is it possibly a matter of sending the NAFTA productive surplus back to European, Chinese and Asian markets?
Moreover, with specific reference to another multilateral trade agreement, the Trans-Pacific Partnership (TPP), President Trump announced he would like to establish a series of new bilateral trade relations that the US President likes more than the multilateral ones.
It is worth recalling that the TPP applies to the USA and to other 11 countries around the Pacific Ocean, namely Australia, Brunei, Canada, Chile, Malaysia, Japan, Mexico, New Zealand, Peru, Singapore and finally Vietnam.
All these countries together account for 40% of the total global GDP, which is currently equal to 107.45 trillion US dollars annually. They are also worth over 26% of world trade per year and as many as 793 million global consumers.
Obviously the list does not include China and India, considering that the TPP architecture has been designed to surround, close or at least limit the growth of the two great Asian countries.
President Trump also wants to renegotiate the TPP, which  by2025 is expected to increase trade among all Members States to the tune of 305 billion us dollars per year.
Hence if President Trump walks out of the TPP, many Member States will look to China for replacing the USA – and, indeed, many of them are already doing so.
Therefore the US President's idea is to make the United States grow – through this wave of various forms of protectionism – by at least 6% a year, with an expected 3% net tax increase.
Too much. It would inevitably lead to high inflation and the classic boom-bust cycle.
If the economy grows by 2-3% a year, the cycle can expand almost indefinitely.
Conversely, if there is too much money looking for too few goods to buy, inflation will always come and the booming phase will stop all of a sudden.
Hence the bust materializes, with the quick reduction of wages and credits, as well as with an increase in prices and interest rates.
Therefore President Trump's very dangerous idea is that –  in such a monetary and economic context -the United States can keep on borrowing all the liquidity needed because, as he said recently, "we never default, because we can print our currency".
This is true. But if too many green bucks are printed, interest rates will rise immediately and this new version of Reagan-style supply-side economics will be stopped.
Finally a very serious recession would materialize, which currently would not be so easy to export to "friendly" countries.
Recently the dollar area has much shrunk.
It is no longer true –  as the former US Treasury Secretary John Connally once told to his European colleagues – that "the dollar is our currency, but it is your problem".
So far, however, President Trump has decided 29 commercial or financial deregulation operations and over 100 internal guidelines and directives to the Administration, as well as other 50 new global market rules discussed by the Congress.
On February 3, 2017, the US President also decided to reform and almost repeal the rationale of the Dodd-Frank Wall Street Reform Act, with rules and regulations further reducing checks and audits on banks, which are no longer obliged to send to the Treasury Ministry data and information about the loans granted.
Moreover the banks with clients' deposits lower than 10 billion US dollars must not even abide by the Volcker Rule, which forbids banks to use clients deposits to make profit.
Therefore, since 2015, banks cannot hold hedge funds and private equity funds.
Nowadays, however, with the reform of the Dodd-Frank Act, many credit institutions can avoid these difficulties and restrictions and play roulette with clients' deposits.
For the new US lawmaker, Volcker's and Greenspan's policy was a way to avoid the implosion of the US financial system, after the fatal end of the Glass-Steagall Act which had been lasting since 1933.
It is worth recalling that the Glass-Steagall Act had come into force when the Roosevelt's Presidency decided to imitate the Fascist legislation of the new separation between deposit banks and merchant or investment banks.
Banks did not want the Glass-Steagall Act because they wanted to be "internationally competitive".
They also wanted to create money at will, regardless of the relationship between investment and collection.
What happened is before us to be seen.
President Trump wants to abolish even the Departments of Education and Environmental Protection, with an increase in military spending that is supposed to lead to a total public deficit of 577 billion US dollars.
Hence, in this new context, can the US Presidency avoid the Chinese commercial pressure and also ensure that the jobs repatriated to the USA from NAFTA, from negotiations with Japan, from the TPP and the rest of the multipolar trade system are such as to back the dollar without creating excessive inflation?
Moreover, all international trade experts agree that it is not the simple and traditional tariff barriers – but rather the non-tariff ones, which are very fashionable today – to cause real problems.
In short, we need to consider trade policy together with  strategy: if US protectionism increases, the growth of peripheral economies will decrease.
Thust here will be increasing possibilities of crisis in developing countries, while China's desire to replace the USA in multilateral economic mechanisms that directly affect it may increase enormously.
Also the desire of global US competitors, such as the EU, to replace US exports at unchanged rates – at least for a short lapse of time – may increase.
There is no need for dumping – non-tariff transactions and the quality standard of made-in-Europe products are enough.
Therefore, nowadays, nothing is certain.
Certainly not US protectionism, of which we have noted  the dangers for North America and also for its geo-economic partners. Not even universal free trade, which does not consider the political evaluations and the economic, monetary and military planning of the various world commercial areas, is feasible and practicable.
Indeed, as in military policy, a great agreement – as the initial GATT was – is required in the current world market, with a view to establishing – for at least ten years – the areas and spheres of economic and productive influence and their possible future changes.
There is no free trade without planning.
Minor Successes And The Coronavirus Disaster: Is Trump A Dead Duck?
That reminder from the Bible, 'He who is without sin, let him cast the first stone' may give us pause — but not journalists who by all appearances assume exemption. And the stones certainly bruise.
Evidence for the bruises lies in the latest poll numbers. Overall, Joe Biden leads Donald Trump 50 to 43 percent, a margin that has continued to increase since January. It is also considerably wider than the few points lead Hillary Clinton had over Trump four years ago. It gets worse for Trump.
In the industrial states of Michigan and Pennsylvania, which Trump in 2016 won by razor thin margins, he is losing by over 4 percent. Also key to his victory was Wisconsin where, despite his success in getting dairy products into Canada, he is behind by a substantial 7 percent. Key states Ohio and Florida are also going for the Democrats.
Trump was not doing so badly until the coronavirus struck and during the course of his news conferences he displayed an uncaring persona larded with incompetence. Dr. Anthony Fauci, the man he fired for correcting Trumpian exaggerations became a hero and Trump the bully.
If that bullying nature won him small rewards with allies, he hit an impasse with China and Iran … while bringing the two closer to each other. Then there is the border wall, a sore point for our southern neighbor Mexico. President Lopez Obrador made sure the subject never came up at the July meeting with Trump, Thus Mexico is not paying for it so far and will not be in the foreseeable future.
The United Arab Emirates, a conglomeration of what used to be the Trucial States under British hegemony. have agreed to formalize its already fairly close relations with Israel. In return, Israel has postponed plans to annex the West Bank. Whether or not it is in Israel's long term interest to do so is a debatable question because it provides much more powerful ammunition to its critics who already accuse it of becoming an apartheid regime. However, it had become Prime Minister Netanyahu's sop to the right wing who will have to wait. Of course, the reality is that Israel is already the de facto ruler.
If Mr. Trump was crowing about the agreement signed on September 15, although it is akin to someone signing an agreement with Puerto Rico while the United States remains aloof. As a postscript, the little island of Bahrain also signed a peace deal with Israel. Bahrain has had its own problems in that a Sunni sheikh rules a Shia populace. When the Shia had had enough, Saudi and UAE troops were used to end the rebellion. Bahrain is thus indebted to the UAE.
How many among voters will know the real value of these historic (according to Trump) deals particularly when he starts twittering his accomplishments as the election nears?
There things stand. As they say, there is nothing worse than peaking too early. Bettors are still favoring Trump with their money. The longer anyone has been in politics the more there is to mine, and for an opponent to use to his/her advantage. Time it seems is on Trump's side.
U.S. Elections: Trump's Strategy of "Peace" might help
Presidential elections in the United States are around the corner and campaigns by the presidential candidates are in full swing in whole of the United States. The Republicans have nominated Donald Trump as their presidential candidate whereas the Democrats have chosen the seasoned politician Joe Biden who has also served as the vice president under the Obama administrations. Over here, a fact shouldn't be forgotten that the so-called Democrats have also imposed an unnecessary war and burden of foreign intervention on the people of America. Let it US intervention in Afghanistan, Iraq or Syria this has imposed huge financial burden on the American people that is being pay by their taxes. United States has around 200,000 troops scattered in the world. There are around 38,000 in Japan, 34,000 in Germany, 24,000 in Korea, 5,000 Bahrain, 5,000 in Iraq, 3,000 in Spain and 12,000 in Afghanistan. Under the Trump administration, much needed decision was taken by the administration for pulling out of troops from all the unwanted and unwelcomed foreign interventions. This has cost huge monetary burden and heavy taxes on the people of US. These interventions were a gift by Democrats to its people that led American to nothing.
Under Trump administration, US decided to withdrawal its troops from Northern Syria. US have around 1,000 troops positioned in the Northern Syria for deterring Iranian influence and countering ISIS expansion in the country. They have decided only to leave special operations force in Syria and will pull out the rest from the conflict zone. It is not the task that will come to an end in days it will take years and huge budget to relocate the troops. This decision might be a breath of fresh air for the Americans but it might weaken the US military positions in front of the Russian military on the globe. United States also has American military troop's presence in Germany as well. Trump administration is willing to reduce the troops in Germany by around 25%. There is around 11,900 troop's present in Germany for securing Europe's security. The Trump administration is focused on relocation and strategic repositioning of the US troops in the world. For this, the Trump administration has decided to pull out its 6,400 troops from Germany as they whole burden is on the US shoulders for costs maintaining alliance and Germany is not paying its share in the defense budget of NATO putting all the burden on the US citizens. Trump administration also slammed the European countries of not paying their due share in NATO defense budget. Italy spends about 1.22% from its budget and Belgium spends around 0.93% from its GDP on the NATO defense budget.
In addition, the Trump administration has shown that they do not want war and conflict. They have also retreated themselves from the foreign intervention drama that has led to damage to the peace of the world. Trump has given an impression that he aims to bring peace in the world not by arms but through negotiations with the conflict actors. Its example is US negotiations with Taliban's for ending the endless war fruitless war that brought destruction for Afghanistan and brutally damaged the standing of US in the world.
There are around 12,000 American troops in Afghanistan that are now reduced to 8,600 troops. The rest are sent home and some are being settled in Italy and Belgium. The Trump administration has declared to reduce the number of troop in Afghanistan by 5,000 by November and will reach 4,000 by June 2021. They are aiming to completely withdraw from Afghanistan within 14 months if a concrete peace deal is signed between Taliban's and United States.
There were more than 100,000 American troops in Afghanistan that went there to fight war on terror but are coming back empty handed. But still in even in these circumstances it will benefit the American people and their issues will be addressed in a better way. Not just this, Trump administration has also decided to withdraw its troops from Iraq that has been there for more than 19 years now putting a burden on American shoulders.
All of this decision by the Trump administration shows that under Trump USA will go for the isolationist impulses that will help them to rebuild domestically and resolve the problem of its people who are indulged in unemployment, poverty, crumbling health system particularly after the outbreak of COVID-19. The health system of United States has proven to be fragile. Despite of being the wealthiest country, its health system crumbled within days leaving thousands of people to die in waiting for their appointment. Many of the people had severe financial crisis that refrained them to go to the hospital and get them treated.
According to some sources many hospitals in New York were running out of financial and had to send people on leave because they were unable to pay them. This led to massive unemployment during such desperate times of the year. Developing countries like Pakistan coped with the virus in a better way despite of having poor health facilities.
Under Trump, USA is moving towards "American First" strategy that will lead towards massive shrinkage in the defense budget of US military. The strategy of retrenchment and aversion of foreign intervention might help Trump in winning the next elections because right now United States has more domestic issues than international problems. The flag of truce in the hand of Trump and aim of brining peace in the world might bring him back in the oval office. It seems like Trump will make USA resign from its self-proclaimed post of "world policemen" that will benefit the world and the people of USA.
Mistrust between Russia and the United States Has Reached an All-Time High
In August 2020, Politico magazine published three letters outlining their authors' views of the ways the United States, and the West in general, should build relations with Russia. The first, published on August 5 and signed by over 100 prominent American politicians, diplomats and military leaders, states that Washington's present policy towards Moscow "isn't working" and that it is time that the United States "rethink" it. The gist of the proposals is that the United States "must deal with Russia as it is, not as we wish it to be, fully utilizing our strengths but open to diplomacy."
This letter prompted a response, first from another group of former American ambassadors and political scientists (Politico, August 11) and then from several eminent politicians from Poland, the Baltic states, the Czech Republic and Slovakia (August 13). Both groups agree that now is not the time to reconsider policies toward Russia.
I am well acquainted with many of the signatories to these three statements. I worked closely with some of them during my tenure as Minister of Foreign Affairs of the Russian Federation and met some of them during negotiations. I still keep in touch with several of them, as we participate in various informal international projects. Since most parties to the emerging discussion are both highly experienced professionals and public figures, their stances on Russia are well known. The list of signatories under each statement hardly came as a surprise to anyone.
I do not think it makes sense to dwell in too much detail on the arguments presented by the parties. At the same time, proceeding from my own experience of U.S.–Russia relations, I would think that I have the right to put forward some considerations of my own.
First of all, on whether a "new reset" in relations between Washington and Moscow is either possible or desirable. One gets the impression that the authors of the letters see the "old reset" spearheaded by the Obama administration as a kind of bonus or advance offered by the United States to Russia in the hope that the latter would "behave" properly. The debate focuses on whether or not Russia has justified this "advance," and whether or not it deserves a new bonus. Personally, I cannot recall a single instance where the United States (during Barack Obama's presidency or under any other administration) gave Russia a "bonus" or "advance" of any kind, made a unilateral concession or indeed did anything that was not in the interests of the United States.
As I see it, the "reset" fully met the long-term interests of both states, particularly in security. Only a very biased observer would claim that the New START Treaty constituted a unilateral concession to Moscow on the part of Washington. Similarly, NATO's call at the 2010 Lisbon Summit for a true strategic partnership with Russia can hardly be viewed as a unilateral concession. In both instances, the interests of both parties were taken into account, as were the interests of international security in general.
Russia and the United States remain the world's leading nuclear powers, boasting the largest strategic weapons capabilities. Moscow and Washington have been engaged in mutual deterrence for decades now. However, an objective analysis of the challenges and threats to Russian and U.S. security shows that the very real dangers that do exist emanate not from the two countries themselves, but rather from processes and trends that lie outside the bilateral relations. Accordingly, any predictions about the possible and desirable prospects for interaction between the two states will be incomplete at the very least if they are taken out of the overall context of the development of the international system.
We have to admit that mistrust between Russia and the United States has reached an all-time high. It will take years, maybe even decades, to rectify this situation. However, I am confident that, sooner or later, we will have to start moving in that direction, not because one party will "wear" the other down, forcing it to make unilateral concessions or even throw itself at the mercy of the winner. First, each side has a large safety margin and is willing to continue the confrontation for many years to come. Second, history shows us that peace achieved through unilateral concession rarely lasts.
Life itself, by which I mean each side understanding the long-term need of its own security, will force the United States and Russia to resume progress towards cooperation. Such an understanding, in my opinion, has nothing to do with the elections in the two countries, or with the opportunistic calculations of individual political forces. Regardless of these calculations, the world is rapidly moving towards the line beyond which a global disaster looms with increasing clarity. Once we take a peek beyond this line, the entire world, primarily its leading states, which bear special responsibility for the fate of the world, will have to make decisions that go beyond their own immediate interests.
As for the debates on when and with whom the United States should enter into a dialogue with Russia, I believe such discussions have zero practical value. It would be extremely unreasonable and even irresponsible to defer talks in the hope that more convenient or more accommodating interlocutors will appear in the partner country or, alternatively, that a more favourable general political situation for negotiations will appear.
I would like to refer to my own experience. As Minister of Foreign Affairs, I constantly kept in touch with U.S. Secretary of State Madeleine Albright, and then with U.S. Secretary of State Colin Powell. That was in the late 1990s–early 2000s. The bombings of Yugoslavia, the war in Iraq, the Middle Eastern crisis, the expansion of NATO and many, many other events objectively made the U.S.–Russia dialogue more difficult. Obviously, our views on many issues differed greatly. But we never broke off our dialogue, not for a day, no matter how difficult it was. Strictly speaking, this is the art of diplomacy: conducting a dialogue with a difficult partner, achieving agreements where the stances of the parties veer widely and the chances of reaching a comprise appear minimal.
Critics will hasten to say that the U.S.–Russia dialogue in the early 21st century failed to prevent many conflicts and wars, and that is true. But it also helped prevent far graver consequences and, where possible, even led to the signing of important mutually acceptable agreements (New START, etc.). The experience of global diplomacy tells us that the only way to find solutions is through dialogue. The sooner our leading politicians realize it, the faster we will step away from mutual public accusations and destructive information wars waged with cutting-edge technologies and move towards earnest talks on the crucial issues of the 21st-century agenda.
Giving general advice is easy. It is even easier to take the high horse, insisting on staying faithful to one's values and principles. It is much more difficult for those who have been accorded the requisite powers to make specific decisions. As the great American economist John Kenneth Galbraith once said, "Politics is not the art of the possible. It consists in choosing between the disastrous and the unpalatable." All we can do is hope that politicians in Russia and the United States will prefer the unpalatable to the disastrous.
From our partner RIAC