Playing US sanctions: China walks a fine line in Iran
Chinese businessman Sheng Kuan Li didn't worry about sanctions when he decided in 2010 to invest $200 million in a steel mill in Iran that started producing ingots and billet within months of the lifting of punitive measures against the Islamic republic as part of 2015 international nuclear agreement with Iran.
With no operations in the United States, Mr. Li was not concerned about being targeted by the US Treasury. Mr. Li, moreover, circumvented financial restrictions on Iran by funding his investment through what he called a "private transfer," a money swap that was based on trust and avoided regular banking channels.
In doing so, Mr. Li was following standard Chinese practice of evading the sanctions regime by using alternative routes or establishing alternative institutions that were in effect immune.
To be able to continue to purchase Iranian oil while sanctions were in place, China, for example, established the Bank of Kunlun to handle Chinese payments.
The Chinese experience in circumventing the earlier sanctions will come in handy with Beijing rejecting US President Donald J. Trump's renewed effort to isolate Iran and force it to make further concessions on its nuclear and ballistic missiles programs as well as the Islamic republic's regional role in the Middle East by walking away from the 2015 agreement and reintroducing punitive economic measures.
Chinese foreign ministry spokesman Geng Shuang said in response to Mr. Trump's announcement that the People's Republic was committed to the deal and would "maintain communication with all parties and continue to protect and execute the agreement fully."
China's likely willingness to circumvent US sanctions is one factor that will influence Iran's decision on whether it will stick to the agreement. Iran's decision depends on the readiness and ability of the other signatories – Britain, France, Germany and Russia – to also stand up to the United States.
China's experience in circumventing sanctions could come in handy as Europe, that like China has rejected Mr. Trump's move and vowed to ignore the sanctions, weighs ways of putting its money where its mouth is by attempting to shield European companies from potential US punitive action. One possibility would be to use alternative Chinese financial networks.
Nonetheless, this time round, rejecting and violating US sanctions may prove for China as well as the other signatories to be a trickier undertaking. Last time round, China and the other signatories were part of an international consensus that aimed to force Iran to accept restrictions on Iran's nuclear program even if they at times circumvented the sanctions.
China and other signatories are in the wake of the re-imposition of US sanctions likely to be operating in a far more confrontational environment in which the subtext of Mr. Trump's decision as well the positions of Saudi Arabia and Israel appears to be a policy that seeks to achieve regime change in Tehran.
Saudi Arabia as well as the United Arab Emirates have suggested in recent months in their 11-month old economic and diplomatic boycott of Qatar that they are willing to quietly sanction those who fail to support them.
There is little reason to doubt that they would do the same in their confrontation with Iran with Saudi Crown Prince Mohammed bin Salman describing the dispute with Qatar as "trivial' in comparison to the kingdom's existential battle with Iran.
Saudi Arabia demonstrated its greater assertiveness by forcing major multi-national financial institutions to choose sides in the Gulf spat. In response to Saudi pressure, JP Morgan and HSBC last month walked away from participating in a $12 billion bond sale.
Earlier, Doha Bank, Qatar's fifth-biggest lender, was forced to reduce the size of a two-year, $575 million bank loan that it had raised in December 2015 to $400 million, when it sought a one-year extension of the facility because Chinese, Hong Kong and Japanese banks opted not to participate.
In the utmost consequence, China's concerted effort to remain aloof of the Middle East's multiple conflicts could be severely compromised if it were forced to take sides in a conflict between Iran, a country with which China feels that it has much in common and that it in the past has helped develop its ballistic and nuclear programs, and Saudi Arabia, a more recently found friend that is economically important to the People's Republic.
To be sure, greater Saudi assertiveness does not mean that the kingdom does not have to tread carefully in potentially seeking to penalize China and others for their potential refusal to go along with Mr. Trump's confronting of Iran.
Saudi Arabia desperately needs foreign investment to implement Prince Mohammed's Vision 2030, a far-reaching plan for social and economic reform that aims to diversify the kingdom's conservative society and oil-dependent economy and turn it into a 21st century, knowledge-based state.
China, moreover, is one of Saudi Arabia's foremost oil export markets. While the Saudi military remains focussed on US and European arms purchases, China, at a time that a military confrontation with Iran is not beyond the realm of the possible, is a source of weaponry the United States has been so far unwilling to sell to the kingdom.
With the United States refusing to share its most advanced drone technology, China agreed last year to open its first overseas defense production facility in Saudi Arabia. State-owned China Aerospace Science and Technology Corporation (CASC) will manufacture its CH-4 Caihong, or Rainbow drone as well as associated equipment in Saudi Arabia. The CH-4 is comparable to the US armed MQ-9 Reaper drone.
The stakes in the battle to save the Iranian nuclear deal in the wake of Mr. Trump's decision go however far beyond a belief that the nuclear deal is serving its purpose in curbing potential Iranian nuclear ambitions and economic opportunity.
Leveraging its experience, an effort by China together with Russia and Europe that keeps the Iranian nuclear deal in place and thwarts US sanctions would deliver one of the heaviest body blows to US credibility and perceptions of US power since Mr. Trump came to office in January of last year.
Said a Middle Eastern diplomat: "A successful countering of US sanctions would demonstrate beyond doubt limits to America's ability to impose its will. That would have wide-reaching consequences, not in the least question marks in Saudi Arabia and Israel on the degree to which they can risk continuing putting most of their eggs in Washington's basket."
Turkey and the time bomb in Syria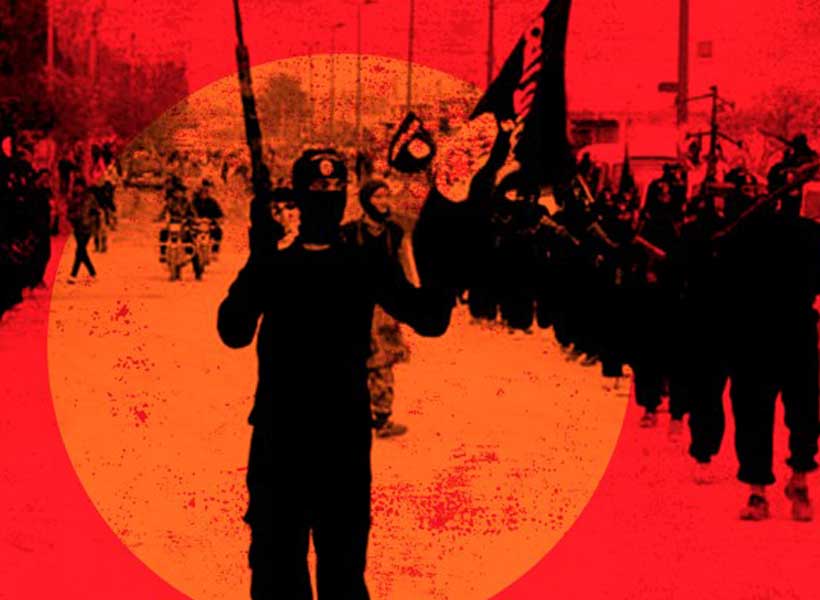 The Turkish attack on northern Syria has provided conditions for ISIS militants held in camps in the region to escape and revitalize themselves.
Turkey launched "Operation Peace Spring" on Wednesday October 9, claiming to end the presence of terrorists near its borders in northern Syria. Some countries condemned this illegal action of violation of the Syrian sovereignty.
The military attack has exacerbated the Syrian people's living condition who live in these areas. On the other hand, it has also allowed ISIS forces to escape and prepare themselves to resume their actions in Syria. Before Turkish incursion into northern Syria, There were many warnings that the incursion would prepare the ground for ISIS resurgence. But ignoring the warning, Turkey launched its military attacks.
Currently, about 11,000 ISIS prisoners are held in Syria. ISIS has claimed the responsibility for two attacks on Qamishli and Hasakah since the beginning of Turkish attacks.
Meanwhile, Donald Trump said that Turkey and the Kurds must stop ISIS prisoners from fleeing. He urged European countries to take back their citizens who have joined ISIS.
It should be noted that the U.S. is trying to prove that ISIS has become stronger since the U.S. troops pulled out before the Turkish invasion, and to show that Syria is not able to manage the situation. But this fact cannot be ignored that ISIS militants' escape and revival were an important consequence of the Turkish attack.
Turkish troops has approached an important city in the northeast and clashed with Syrian forces. These events provided the chance for hundreds of ISIS members to escape from a camp in Ayn Issa near a U.S.-led coalition base.
The camp is located 35 kilometers on the south of Syria-Turkey border, and about 12,000 ISIS members, including children and women, are settled there. The Kurdish forces are said to be in charge of controlling these prisoners.
Media reports about the ISIS resurgence in Raqqa, the former ISIS stronghold, cannot be ignored, as dozens of terrorists have shot Kurdish police forces in this city. The terrorists aimed to occupy the headquarters of the Kurdish-Syrian security forces in the center of Raqqa. One of the eyewitnesses said the attack was coordinated, organized and carried out by several suicide bombers, but failed.
In response to Turkey's invasion of Syria, the Kurds have repeatedly warned that the attack will lead to release of ISIS elements in the region. Turkey's President Recep Tayyib Erdogan denied the reports about the escape of ISIS prisoners and called them "lies".
European officials fear that ISIS prisoners with European nationality, who have fled camps, will come back to their countries.
Kurdish forces are making any effort to confront Turkish troops in border areas, so their presence and patrol in Raqqa have been reduced.
Interestingly, the Turkish military bombarded one of temporary prisons and caused ISIS prisoners escaping. It seems that ISIS-affiliated covert groups have started their activities to seize the control of Raqqa. These groups are seeking to rebuild their so-called caliphate, as Kurdish and Syrian forces are fighting to counter the invading Turkish troops. Families affiliated with ISIS are held in Al-Hol camp, under the control of Kurdish forces. At the current situation, the camp has turned into a time bomb that could explode at any moment. Under normal circumstances, there have been several conflicts between ISIS families in the camp, but the current situation is far worse than before.
There are more than 3,000 ISIS families in the camp and their women are calling for establishment of the ISIS caliphate. Some of SDF forces have abandoned their positions, and decreased their watch on the camp.
The danger of the return of ISIS elements is so serious, since they are so pleased with the Turkish attack and consider it as an opportunity to regain their power. There are pictures of ISIS wives in a camp in northern Syria, under watch of Kurdish militias, showing how happy they are about the Turkish invasion.
In any case, the Turkish attack, in addition to all the military, political and human consequences, holds Ankara responsible for the escape of ISIS militants and preparing the ground for their resurgence.
Currently, the camps holding ISIS and their families are like time bombs that will explode if they all escape. Covert groups affiliated with the terrorist organization are seeking to revive the ISIS caliphate and take further actions if the Turkish attacks continue. These attacks have created new conflicts in Syria and undermined Kurdish and Syrian power to fight ISIS.
From our partner Tehran Times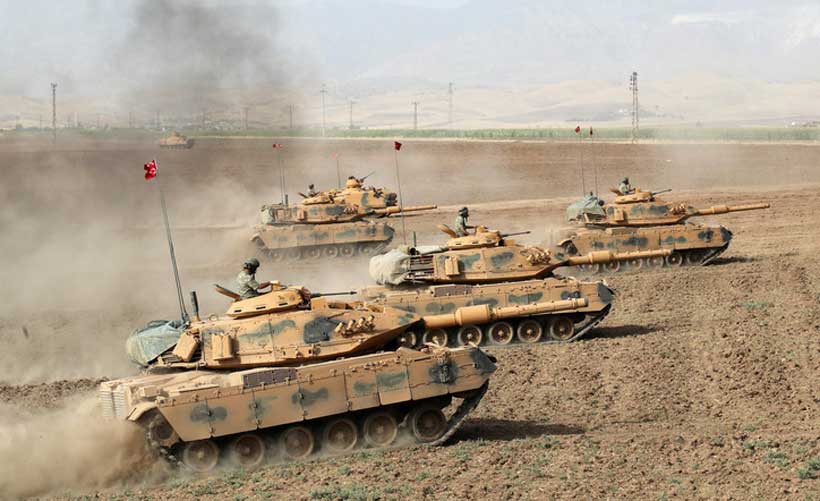 The only certainty in war is its intrinsic uncertainty, something Turkish President Recep Tayyip Erdogan could soon chance upon. One only has to look back on America's topsy-turvy fortunes in Iraq, Afghanistan and even Syria for confirmation.
The Turkish invasion of northeastern Syria has as its defined objective a buffer zone between the Kurds in Turkey and in Syria. Mr. Erdogan hopes, to populate it with some of the 3 million plus Syrian refugees in Turkey, many of these in limbo in border camps. The refugees are Arab; the Kurds are not.
Kurds speak a language different from Arabic but akin to Persian. After the First World War, when the victors parceled up the Arab areas of the Ottoman Empire, Syria came to be controlled by the French, Iraq by the British, and the Kurdish area was divided into parts in Turkey, Syria and Iraq, not forgetting the borderlands in Iran — a brutal division by a colonial scalpel severing communities, friends and families. About the latter, I have some experience, having lived through the bloody partition of India into two, and now three countries that cost a million lives.
How Mr. Erdogan will persuade the Arab Syrian refugees to live in an enclave, surrounded by hostile Kurds, some ethnically cleansed from the very same place, remains an open question. Will the Turkish army occupy this zone permanently? For, we can imagine what the Kurds will do if the Turkish forces leave.
There is another aspect of modern conflict that has made conquest no longer such a desirable proposition — the guerrilla fighter. Lightly armed and a master of asymmetric warfare, he destabilizes.
Modern weapons provide small bands of men the capacity and capability to down helicopters, cripple tanks, lay IEDs, place car bombs in cities and generally disrupt any orderly functioning of a state, tying down large forces at huge expense with little chance of long term stability. If the US has failed repeatedly in its efforts to bend countries to its will, one has to wonder if Erdogan has thought this one through.
The Israeli invasion of Lebanon in 1982 is another case in point. Forever synonymous with the infamous butchery at Sabra and Shatila by the Phalange militia facilitated by Israeli forces, it is easy to forget a major and important Israeli goal: access to the waters of the Litani River which implied a zone of occupation for the area south of it up to the Israeli border.
Southern Lebanon is predominantly Shia and at the time of the Israeli invasion they were a placid group who were dominated by Christians and Sunni, even Palestinians ejected from Israel but now armed and finding refuge in Lebanon. It was when the Israelis looked like they were going to stay that the Shia awoke. It took a while but soon their guerrillas were harassing Israeli troops and drawing blood. The game was no longer worth the candle and Israel, licking its wounds, began to withdraw ending up eventually behind their own border.
A colossal footnote is the resurgent Shia confidence, the buildup into Hezbollah and new political power. The Hezbollah prepared well for another Israeli invasion to settle old scores and teach them a lesson. So they were ready, and shocked the Israelis in 2006. Now they are feared by Israeli troops.
To return to the present, it is not entirely clear as to what transpired in the telephone call between Erdogan and Trump. Various sources confirm Trump has bluffed Erdogan in the past. It is not unlikely then for Trump to have said this time, "We're leaving. If you go in, you will have to police the area. Don't ask us to help you." Is that subject to misinterpretation? It certainly is a reminder of the inadvertent green light to Saddam Hussein for the invasion of Kuwait when Bush Senior was in office.
For the time being Erdogan is holding fast and Trump has signed an executive order imposing sanctions on Turkish officials and institutions. Three Turkish ministers and the Defense and Energy ministries are included. Trump has also demanded an immediate ceasefire. On the economic front, he has raised tariffs on steel back to 50 percent as it used to be before last May. Trade negotiations on a $100 billion trade deal with Turkey have also been halted forthwith. The order also includes the holding of property of those sanctioned, as well as barring entry to the U.S.
Meanwhile, the misery begins all over again as thousands flee the invasion area carrying what they can. Where are they headed? Anywhere where artillery shells do not rain down and the sound of airplanes does not mean bombs.
Such are the exigencies of war and often its surprising consequences.
Author's Note: This piece appeared originally on Counterpunch.org
Could Turkish aggression boost peace in Syria?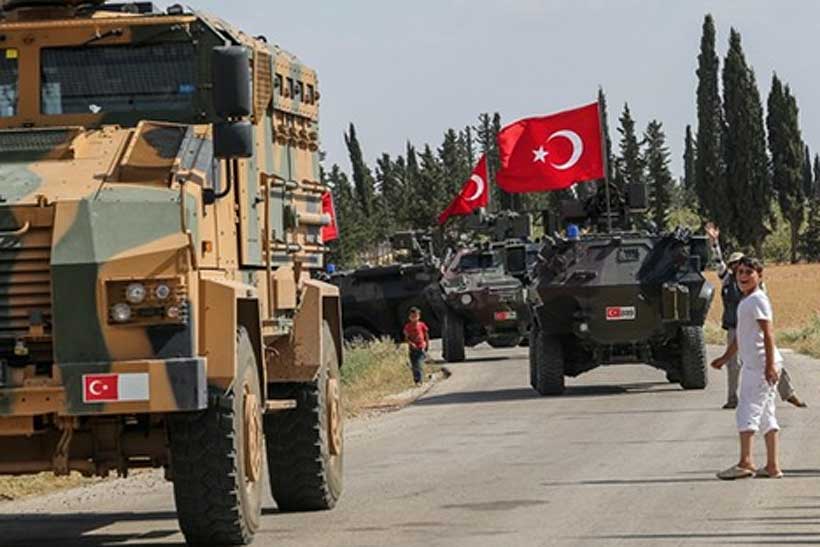 On October 7, 2019, the U.S. President Donald Trump announced the withdrawal of American troops from northeast Syria, where the contingent alongside Kurdish militias controlled the vast territories. Trump clarified that the decision is connected with the intention of Turkey to attack the Kurdish units, posing a threat to Ankara.
It's incredible that the Turkish military operation against Kurds – indeed the territorial integrity of Syria has resulted in the escape of the U.S., Great Britain, and France. These states essentially are key destabilizing components of the Syrian crisis.
Could this factor favourably influence the situation in the country? For instance, after the end of the Iraqi war in 2011 when the bulk of the American troops left the country, the positive developments took place in the lives of all Iraqis. According to World Economics organization, after the end of the conflict, Iraq's GDP grew by 14% in 2012, while during the U.S. hostilities the average GDP growth was about 5,8%.
Syria's GDP growth should also be predicted. Not right away the withdrawal of U.S., French, British, and other forces, but a little bit later after the end of the Turkish operation that is not a phenomenon. The Turkish-Kurdish conflict has been going on since the collapse of the Ottoman Empire when Kurds started to promote the ideas of self-identity and independence. Apart from numerous human losses, the Turks accomplished nothing. It is unlikely that Ankara would achieve much in Peace Spring operation. The Kurds realize the gravity of the situation and choose to form an alliance with the Syrian government that has undermined the ongoing Turkish offensive.
Under these circumstances, Erdogan could only hope for the creation of a narrow buffer zone on the Syrian-Turkish border. The withdrawal of the Turkish forces from the region is just a matter of time. However, we can safely say that the Turkish expansion unwittingly accelerated the peace settlement of the Syrian crisis, as the vital destabilizing forces left the country. Besides, the transfer of the oil-rich north-eastern regions under the control of Bashar Assad will also contribute to the early resolution of the conflict.
It remains a matter of conjecture what the leaders of Saudi Arabia, the United Arab Emirates, and Russia agreed on during the high-level talks. Let's hope that not only the Syrians, but also key Gulf states are tired of instability and tension in the region, and it's a high time to strive for a political solution to the Syrian problem.