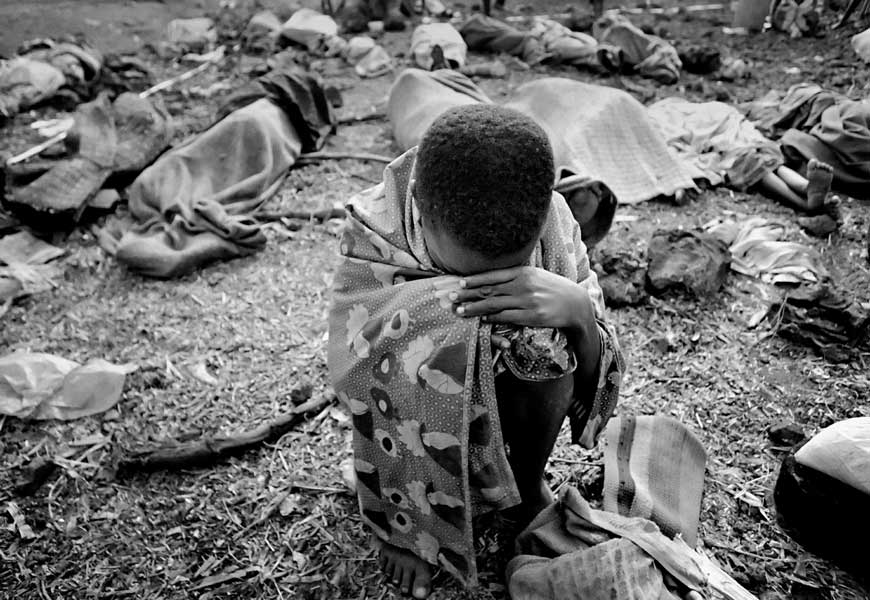 Beautiful Soul Narrative and Gendered Understanding of Armed Conflict : Case Study of the Rwandan Genocide
Armed conflict leads to exacerbation of inequalities and power relations that existed in the pre-conflict period as a result of gender stereotypical understanding of the conflict. That is why it is a vast resources in the academic literature to examine the relation between gender roles and armed conflict (Cockburn 1999; El- Bushra 2017; Turshen 1998; Yuval- Davis 1997). According to many feminist scholars, gender is a system of power relation to determine both relations and access to resources within a society. Gender roles point out politically constructed roles, behaviours and norms that society decide which way most proper and appropriate for both women and men. In other words, stereotypical assumptions lead to expectations that men are associated with aggressiveness, perpetrators, defenders, power and fight; whereas women are related to honour of the country, innocence, peacefulness, victimisation, care and maternity. However, as a result of this gendered dynamics of armed conflict women are perceived as substitute in the armed conflict such as cookers, cleaners, sex slaves and nurse into the military life (Cockburn 1999; El- Bushra 2017; Turshen 1998; Yuval- Davis 1997).
Having said that, traditional masculinity dominated gender roles shape the understanding of victimisation in armed conflict. As Cynthia Cockburn analyses (1999) in the chapter of 'The Continuum of Violence' gender based war normalises the invisibility of female participation into the military forces. Particularly, it is a common perception that all women and young girls experience rape, sex slavery or faced sex work while, real men fight for the country and honour of the state. In addition, as Turshen describes that this masculinity based understanding of sexual abuse causes to leave aside women's agency into military life (Turshen 1998)
Furthermore, both gendered war stories and narratives exclude women and their agencies in armed conflict by showing men as perpetrators of the war. Also, both war propaganda and images of motherland are symbolised as a woman who is honour of the country; whereas enemies are symbolised as male who threats the country (Cockburn 1999; El- Bushra 2017; Turshen 1998; Yuval- Davis 1997).  At the same time, particularly victorious war stories and traditional narratives strengthen the negative impacts of gender roles on armed conflict because women are shaped as innocent victim who must be protected by a hero. To illustrate, beautiful soul narrative is identified by Jean Elshtain to clarify the impact of gender roles on the understanding of armed conflict and security. According to Jean Elshtain, victorious war stories have essential role to encourage people especially men to fight for the country by labelling women who are 'beautiful souls' and are 'incorrectly pacifists' (Elsthain 1995). At the same time, the war stories also emphasise that women are mother of heroes; hence they need to be protected. In this way, it is a traditional gender perception that women should be at home during the armed conflict by providing love and maternity as a supporter for the fighters (Elsthain 1995; Sjoberg 2010).
As many feminist theorist argue that the elements of 'beautiful soul' narrative subordinate women and their agencies as a result of the core idea that 'beautiful soul' is related with the protection of the women (Elsthain 1995; Sjoberg 2010). It is noteworthy that, there are two core elements of 'beautiful soul' narrative. The first element identifies that women are more peaceful than men whereas second one identifies that women are the main reasons of the conflict (Elsthain 1995; Sjoberg 2010). Nonetheless, in this way, 'beautiful soul' narrative 'sets women up as the prizes of most wars- fragile, removed from reality, and in need of the protection provided by men' by showing women as just reason of the armed conflict (Sjoberg, 2010; pg.58) On the other hand, many feminist scholars point out that 'beautiful soul' narrative focuses on specific differences between gender roles of women and men and thus; might be identified 'by the separation of a private sphere (where women are, and naturally belong) and the sphere of war- making and war-fighting (where something has gone terribly wrong if women are included)'(Sjoberg, 2010; pg.58).
However, as many feminist scholars clarify this masculinity based characterization of gender roles into the military life is inaccurate and incomplete thus; it overshadows both agency and active participation of women in armed conflict by creating a perception that women have temporary and supporter role in armed conflict (Cockburn 1999; El- Bushra 2017; Turshen 1998; Yuval- Davis 1997).Additionally, females have more active role and even can be more brutal than men in armed conflict contrary to popular myth. That is, we might claim that 'beautiful soul' narrative cannot be obtained in every time in military life. Hence, it is important to examine 'beautiful soul' narrative regarding female combatant's active role in the armed conflict to bring into open women's agency. In the light of the information that given above, this essay critics the understanding of 'beautiful soul' narrative and, delves into both female violent agency and active roles of women into military life with a case study of the Rwandan genocide to clarify that 'beautiful soul' narrative cannot be incorporated into the military life.
Active Participation of Female Combatants: Are they 'Beautiful Souls' or Perpetrators of Armed Conflict: A Case Study of Rwanda
Throughout history, women have been active involvement in armed conflict as fighters and combatants in many international conflict such as the American revolution, the Mexican revolution, World War I, The Vietnam War, The Sierra Leone Civil war and The Rwandan Genocide whereas; 'beautiful soul' narrative shows women as more peaceful, innocent and naive than men (Sjoberg, 2010; pg.58).At the same time, it is noteworthy that women's participation to armed conflict is not only as substitute roles but also as fighter role in many International cases. Furthermore, gender and armed conflict studies show that active participation of women is increasing during the last years and female combatants sometimes commit more brutal and oppressor war crime than male combatants in armed conflict by killing, raping civilians mercilessly (Schjølset 2013; Sjoberg 2010). In other words, gender studies show that women are not either more peaceful nor reason of the conflict by focusing on many different case studies all around the world. Hence, it is essential to delve into women's role into military life from an objective and gender-neutral perspective. All in all, this part of the essay will critically analyse the active involvement of the female combatants in the Rwandan genocide to challenge the understanding of 'beautiful soul' narrative and traditional gender roles into military life.
A Case Study of Rwanda Genocide: Historical Background about the genocide
Rwanda had been known as a country of a mainly three different ethnic groups; the Hutu, the Tutsi, and the Twa. Interactions and inter-marriages between those groups particularly the Hutu and the Tutsi groups were situation of daily life (Hogg 2010; Brown 2014; BBC News Rwanda). However, the distinction between Hutu and Tutsi,' the perpetrators and victims of the genocide respectively' was historically related to their social status which was socially constructed by colonial powers (Brown 2014). Having said that, the colonial rules exacerbated effectively the social status differences by giving both social and administrative power to the Tutsi group to create perception that Tutsis are superior group. However, this situation 'portrayed the Tutsis as the direct antagonizes of the discrimination that had been directed toward the Hutus for decades.'(Hogg 2010; Brown 2014). As a result of social inequalities, created by colonial power, on 6th April 1994 Rwandan genocide started right after extremist Hutu power announced that to kill and excruciate Tutsi people (BBC News: Rwanda). According to the United Nations report about Rwanda (2015), 8000 people were slaughtered, many of them were raped, and tortured within 100 days. As most academics stated that on April 1994, Rwanda witnessed an unforgettable and unprecedented genocide in the history of the humanity as a result of ethnic and gender based problems into the society. Briefly, Rwandan genocide has still been a controversial topic in the armed conflict field in terms of many reasons such as female fighters, ethnicity problems, and the role of colonial powers. In order to analyse specifically, this part of the essay will particularly focus on female involvement in the genocide.
Women As Perpetrators of the Rwandan Genocide
'I had seen war before, but I had never seen a woman carrying a baby on her back kill another women with a baby on her back.' (UNAMIR interviewer in 1996) (Johns 2010; 82)
'I believe that women are just as guilty of this genocide as men' (Female genocide suspect, Kigali Central Prison)'
As stated in the introduction to this part of the essay, the Rwandan genocide has been unprecedented in the history of genocide in terms of the prominent role of female combatants. Women's active participation into the military life in the 1994 Rwandan genocide added a new dimension to gender-based assumption of armed conflict. As Brown states that the agency of women to participate in the genocide challenged the gender based narratives. In other words, women in the Rwandan genocide reshaped patriarchal understanding of war narratives by showing how a mother became a cruel murderers. To exemplify, interview with Victor Karega enlightens how female participant in the genocide reshaped patriarchy and masculinity based understanding of armed conflict in Rwanda. Karega claims that,
In our culture, women has always been a symbol. A symbol of maternity, a symbol of love. It was a symbol of social cohabitation. Even when there were problems, ethnic problems and political problems, women were always like a link, a linkage, between different categories of people, because they were marrying from, or to, both sides…. But during the genocide, they were also involved in perpetrating the genocide (Interview Victor Karega of the Rwandan Ministry of Gender, Family and Social Affairs, November 3, 1998) (Sharlach, pg 393)
At the same time, in the academic literature, there are vast feminist resources to analyse female participation into the military life in the Rwandan genocide to show that women are capable of use of force in contrast to 'beautiful soul' narrative and masculinity based understanding of armed conflict (Hogg 2010; Johns 2010; Brown 2014). Hence, this section of the essay will particularly focus on the specific dominant roles of female combatants in the genocide to indicate that 'beautiful soul' narrative cannot be incorporated into the military in all conditions.
Moreover, it is essential to note that, women have prominent role in a variety of the genocide by murdering, stealing, and looting resources of Tutsis, and acting as an accessory for rapes contrary to the perception of 'beautiful soul' narrative discourse. As stated by Odette Kayirere, Executive Secretary of AVEGA and Sabine Uwase, staff attorney, the genocide-related crimes committed by female combatants in the genocide might be categorised under two main forms violence namely; acts of direct violence and acts of indirect violence (Brown 2014). Acts of direct violence is related to use of physical force such as killing, rape, torture, sexual assault and beatings (Galtung 1969) whereas indirect violence is not related to physical force such as looting, supervising and ordering indirect violence (Brown 2014). However, one of the main direct violence committed by female perpetrates in the genocide is to rape to Tutsi young boys by dishonouring them (Hogg 2010). For instance, Charles, as a male victim of female perpetrated rape confirmed that Hutu women forced them to have sex involuntarily by giving drugs (Brown 2014). Also, women participated actively in the killings and excruciating of so many Tutsi civilians regardless of age, and gender mercilessly. Having said that, according to African Rights investigators women combatants not only caused so many killings and torturing in the genocide but they also behaved more brutal than male combatants as commanders (Hogg 2010; Brown 2014). In addition, Adam Jones examples in his research that there are many female commanders who committed more brutal genocide crimes than male commanders in Rwanda. To exemplify,
Rose Karushara, a councillor in Kigali, who 'took extremely active role in the genocide', by wearing military uniform. She was a tall and physically strong woman, she attacked the refugees herself 'before handing them over to her interahahmwe for the final kill.. At least five thousand people were killed, all thrown into the Nyabarongo River under orders from Karushara. (Jones,2002 pg.83)
As another example of female commanders Sister Julienne Kizito, one of a number of nuns who was prominent figures of the women participation in genocidal atrocities. She was accused of working directly with the killers by burning people alive (Jones, 2002)
Furthermore, it essential to focus on that women not only committed direct violence in the Rwandan genocide, but also they committed indirect violence by both act looting resources and supervising murdering of Tutsis. As Adam Jones emphasizes (2010) that particularly female leaders dominated the genocide by looting resources and stripping bodies of Tutsis. Such that, they did not hesitate to assisted in killings and torturing of their neighbors. What is worse, many Hutu women appealingly assisted in even killings of children and babies of Tutsis to cause extinction of Tutsis. Having said that, Hutu women led to so many rapes and sexual harassment of Tutsis appealingly by helping male Hutu combatants. Especially, they had active role in forcing Tutsi women to accept their designated fate as sex-slaves for male Hutu soldiers.
Survivor of the genocide described that how Tutsi women deforced them at their houses to be raped by Hutu male soldiers (Jones 2010). To illustrate, one of the survivors of the genocide describes that 'Many of women of your kind have been taken by dog-like vagabonds. And here you are, rejecting this nice young man… What are you waiting for?' (Jones 2010 pg.84). Also it is significant to analyse that, Hutu women also participated in the genocide as spies by denouncing and tolerating killings of Tutsis as another significant indirect role (Hogg 2010). Additionally, women had prominent roles in the key political positions to provoke the Hutu people against the Tutsis during the genocide. Mainly, Pauline Nyiramasuhuko, previous Minister of Family Affairs and Women's Development was accused of being the reason of thousands of killings by provoking the Hutu women with the effect of her political power (Hogg, 2010).All in all, in the light of the information regarding female involvement in the genocide, it is essential to analyse that, the cases of female combatants in the Rwandan genocide refute the idea of  'beautiful soul' narrative into the military life. That is, the Rwandan genocide has been a milestone to demonstrate that how ordinary women became brutal combatants on the contrary of the general assumption that women are more peaceful and naive than men.
Conclusion
In conclusion, this essay delves into the active role of women into  military life in the Rwandan genocide in the discourse of understanding of gender based armed conflict and 'beautiful soul' narrative. Gender is seen as a set of expectation that society determine what is more proper for both male and female into the society. Having said that, there is a growing acceptance that gender issues have crucial impact on the understating of armed conflict and political violence in the academic literature. Also, there are specific gender roles in armed conflict as a result of masculine understanding of military life. However, it is noteworthy that male power dominated gender roles overshadow both the active role of women and their agencies by creating assumption that women are victims of the armed conflict whereas; men are defenders of the conflict even though, women actively participated in armed conflict and political violence like soldiers, combatants and commander throughout the history.
At the same time, as Elstahin argues (1995) that with the effect of traditional gender roles in armed conflict war stories associates women as reason to men die for by creating assumption that women are more naive than men. However, this gender based assumption contradicts reality into the military life because gender studies indicate that women can be more brutal fighter who victimise civilians regardless of sex. In other words, female combatants kill, rape and victimise on the contrary of 'beautiful soul' narrative during the conflict. Especially, the Rwandan genocide added a new dimension in terms of gender and war field. Thus, it has essential role to challenge the idea that women are more naive and peaceful than men hence; they need to be protected.
According to The United Nations report and other gender studies that greater proportion of female combatants took extremely active role as killers, commander and torturer in the genocide. To exemplify, the cases of female leaders demonstrate that female combatants had dominant role  'in the post-massacre looting and stripping bodies, which often involved climbing over corpses piled thigh-high in the confined spaces in which many Tutsis met their end.'(Jones 2002, pg84). What is more, studies show that female commanders commit more war crimes than men commanders during the genocide. Briefly, the active involvement of many Hutu women in the killings during the Rwanda genocide objects to both 'beautiful soul' narrative and gender based dynamics of armed conflict. Hence, it is noteworthy that the perception of 'beautiful soul' narrative cannot be truly incorporated into real military life thus; the role of female combatants in armed conflict should be consider without masculinity based stereotypical lenses.
Bibliography
Adam Jones (2002) Gender and genocide in Rwanda, Journal of Genocide Research, 4:1, 65-94, DOI: 10.1080/14623520120113900
Anita Schjølset (2013) Data on Women's Participation in NATO Forces and Operations, International Interactions: Empirical and Theoretical Research in International Relations, 39:4, 575-587, DOI: 10.1080/03050629.2013.805326
African Rights. 1995. "Not So Innocent: When Women Become Killers". London: African Rights.
BBC News Rwanda: How the Genocide Happened Available at: http://www.bbc.com/news/world-africa-13431486
Cockburn, Cynthia. (1999) "Gender, Armed Conflict and Political Violence"Backgroun Paper for Conference on Gender, Armed Conflict and Political Development, Washington ,DC, 9-10 June.
El- Bushra, Judy. (2017) "Why Does Armed Conflict Recur, and What has Gender Got to with it" LSE Women, Peace, Security Paper Series. Available at: lse.ac.uk\wps
El- Bushra, Judy, Sahl, M.G. Ibrahim (2005). "Cycles of Violence: Gender Relations and Armed Conflict". Agency for Co-operation and Research in Development ACK Garden House
Elsthain,Jean Beathe (1995) "Women and War" The University of Chicago Press. Chicago and Press.
Hogg, Nicole (2010) 'Women's Participation in the Rwandan genocide: mothers or monsters?", International Review of the Red Cross, Volume 93 Number 877, 69-102.
Sara E. Brown (2014) "Female Perpetrators of the Rwandan Genocide, International Feminist Journal of Politics", 16:3, 448-469, DOI: 10.1080/14616742.2013.788806.
Sjoberg, L. and Gentry, C. 2007. Mothers, Monsters, Whores: Women's Violence in Global Politics. London: Zed Books.
Sjoberg (2010) 'Women fighters and the 'beautiful soul' narrative' International Review of the Red Cross.
The United Nations Report on Rwanda (2015) Available at:http://research.un.org/en/docs/reports
Turshen, M and Twagiramniya (eds) (1998). "What Women Do in War Time: Gender and Conflict in Africa,". London, New York: Zed Books.
Walby, S. 1989. 'Theorising Patriarchy', Sociology 23 (3): 213–34.
Yuval Davis, N. 2006. 'Intersectionality and Feminist Politics', European Journal of Women's Studies 13 (3): 193–209.
Yuval-Davis, Nira. (1997)."Gender and Nation", Sage Publications, London, Thousand Oaks, New Delhi.
South Africa Values its Relations with Russia and BRICS
This insightful interview offers understanding about the current relations between South Africa and Russia, and BRICS. It focuses on the bilateral economic cooperation between South Africa and Russia, and some aspects with the BRICS. With an estimated 58 million population, South Africa is the 25th largest country in the world. It has friendly relations dated from the Soviet times, and now with the Russian Federation. It joined the BRICS, an organisation of five emerging economies, in December 2010 in line with the country's foreign policy to strengthen South-South relations.
Ambassador Extraordinary and Plenipotentiary of the Republic of South Africa to the Russian Federation and the Republic of Belarus, Mzuvukile Maqetuka, who has been in this current post since 2021, gave this interview to our media executive Kester Kenn Klomegah early June 2023. Here are the interview excerpts:
Question: First, what are your Government's position and your thoughts on the emerging world order? Do you think absolute neutral position by majority of African countries helps push the evolutionary process of this new world order?
Mzuvukile Maqetuka: South Africa's neutral position is consistent on all military conflicts around the world, that the international community needs to work together to bring peace.
South Africa is committed to the articles of the United Nations (UN) Charter, including the principle that all members shall settle their international disputes by peaceful means. Since the dawn of democracy in South Africa almost 30 years ago, we have called for the reform of the United Nations and multilateral organisations to make such structures more representative, inclusive of African representation.
South Africa is a sovereign state, governed by a democratic Constitution and committed to the consistent application of international law. We will continue to fulfil our obligations in terms of the various international agreements and treaties to which we are signatories.
On the Russia-Ukraine conflict, the international community needs to urgently achieve a cessation of hostilities and to prevent further loss of life and displacement of civilians in Ukraine. It needs to support meaningful dialogue towards lasting peace, which ensures the security and stability of all nations. We support the principle that members should refrain from the threat or use of force against the territorial integrity or political independence of other states. The South African position seeks to contribute to the creation of conditions that make the achievement of a durable resolution of the conflict possible.
Q: What are the key results from the last June meeting of the Russia-South African Business Council at the Russian Chamber of Commerce and Industry? What challenges have been identified hindering economic cooperation between the two countries?
Russia and South Africa are known to be closely cooperating in the mining and energy sectors. What efforts is your country making to diversify investment opportunities into other sectors for Russian business people?
In what areas do you think the Russia-South African bilateral relations could be improved and what do you suggest to be done, promoting relations both ways?
Maqetuka: The South Africa–Russia Business Council submits the reports of their meetings to the Joint Intergovernmental Committee on Trade and Economic Cooperation (ITEC) which is chaired by the Minister of International Relations and Cooperation of South Africa and the Minister of Natural Resources and Environment of the Russian Federation. The last session of ITEC was held in Pretoria on 30 March 2023.
Russia and South Africa are focusing on intensifying trade relations and economic development. Both countries aspire to strengthen cooperation within the Russian-South African business community.
One of the current priorities of the SA-Russia Business Council is to develop a joint programme of cooperation which would involve relevant authorities on both sides to facilitate business to business meetings in identified sectors.
Some of the subcommittees in the Business Council continue to perform exceptionally well. For example, the Agricultural subcommittee has maintained high levels of agricultural exports to the Russian Federation. South African citrus fruit exports to Russia are of top quality and falls within the top 3 of citrus fruit exporter countries for the Russian market.
Another example is South African wines exported to the Russian Federation, such as KWV wines which has recently achieved a spot in the top 50, and one of four South African wine brands, in the "World's Most Admired Wine Brand in Africa & Middle East".
According to the South African Department of Trade and Competition (dtic) statistics, total trade (export + import) between South Africa and Russia in March 2023 was R638,945,978 South African Rand.
In March 2023 total exports from South Africa to Russia were R392,335,607. In comparison to February 2023, the total exports increased by 38%. In comparison to the same period of 2022 (March 2022), exports increased by 298%.
Q: Now that you have arrived as the South African ambassador, what would you say are your Government's priorities then? What are, generally, the investment opportunities for external countries and foreign investors in South Africa?
Maqetuka: South Africa has one of the biggest economies on the continent, and it is still rapidly developing. South Africa is the most diversified as well as the most industrialised economy on the continent.
The South African economy is essentially based on private enterprise, but the state participates in many ways. Economic policy has been aimed primarily at sustaining growth and achieving a measure of industrial self-sufficiency. Agriculture is of major importance to South Africa. It produces a significant portion of exports and contributes greatly to the domestic economy.
South Africa is rich in a variety of minerals. In addition to diamonds and gold, the country also contains reserves of iron ore, platinum, manganese, chromium, copper, uranium, silver, beryllium, and titanium. Not much deposits of petroleum have been found that may be commercially exploitable, but there are moderate quantities of natural gas located off the southern coast, and synthetic fuel is made from coal at two large plants in the provinces of Free State and Mpumalanga. South Africa is the world's largest producer of platinum and chromium, which are mined at centres such as Rustenburg and Steelpoort in the northeast and are becoming increasingly significant economically.
The major manufacturing sectors are food processing and the production of textiles, metals, and chemicals. Agriculture and fisheries provide the basis for substantial activity in meat, fish, and fruit canning, sugar refining, and other processing; more than half these products are exported.
A large and complex chemical industry has developed from early beginnings in the manufacture of explosives for use in mining. A coal-based petrochemical industry produces a wide range of plastics, resins, and industrial chemicals.
South Africa has a well-developed financial system, centred on the South African Reserve Bank, which is the sole issuing authority for the rand, the national currency. There are many registered banking institutions, a number of which concentrate on commercial banking, as well as merchant, savings, investment, and discount banks. One such bank, the Development Bank of Southern Africa, is a quasi-governmental company created to promote development projects. Private pension and provident funds and more than two dozen insurance companies play significant roles in the financial sector.
Tourism is becoming increasingly important to South Africa's economy and this sector, which is an economic driver, is finally making positive recovery post Covid-19. While the majority of tourists still come from African countries, an increasing number of arrivals are from Europe, the Americas and Russia. Since SA and Russia signed the visa waiver agreement in 2017, which allows for 90-day visa free travel between our two countries, we have seen a steady increase in Russian tourists visiting South Africa.
South Africa welcomed and fully supported the adoption by African nations of the African Continental Free Trade Agreement (AfCFTA) which we believe will contribute tremendously in pursuit of economic integration of our continent towards the attainment of our vision: Agenda 2063, the Africa We Want.
Through the implementation of AfCFTA, African states are determined to increase manufacturing and industrial capacity so that we trade in African goods and products, produced in Africa.
As the largest African investor in other African countries, South Africa hopes to build on this and mobilise resources for industrial investment.
Q: How comparable is Russia to those external investors in South Africa? Why are China and India so popular with economic diplomacy there in your country?
Maqetuka: South Africa was the first member of an expanded BRICS in 2010 when the group of four (Brazil, Russia, India and China) was already holding its 3rd Summit in China that year. We considered it an honour to have been invited to form part of this partnership of leading emerging markets and developing countries.
Together, the Federative Republic of Brazil, the Russian Federation, the Republic of India, the People's Republic of China and the Republic of South Africa represent over 42% of the global population, 30% of the world's territory, 23% of GDP and 18% of global trade.
The BRICS partnership has grown in scope and depth with BRICS members exploring practical cooperation in a spirit of openness and solidarity to find mutual interests and common values. Around 150 meetings are held annually across the three pillars of BRICS cooperation: political and security cooperation, financial and economic cooperation, and cultural and people-to-people cooperation. Over 30 agreements and memoranda of understanding provide a legal foundation for cooperation in the areas as diverse as the Contingent Reserve Arrangement, customs, tax, interbank cooperation, culture, science, technology and innovation, agricultural research, energy efficiency, competition policy and diplomatic academies.
The South African Minister of International Relations and Cooperation, Dr Naledi Pandor, hosted the most recent Meeting of BRICS Ministers of Foreign Affairs and International Relations on 1 June 2023 in Cape Town. The mid-term meeting provided an opportunity for BRICS Foreign Ministers to reflect on regional and global developments. The ministerial meeting was preceded by the meeting of Sherpas and Sous-Sherpas from 29 – 30 May 2023 and the Russian delegation attended all these meetings in Cape Town, Minister Lavrov was leading the delegation.
As chair of BRICS, South Africa practices the policy of inclusive engagement and invited 15 Foreign Ministers from Africa and the global south to a "Friends of BRICS" meeting held on 2 June 2023.
From 22 to 24 August 2023, all BRICS Leaders are expected to attend the 15th BRICS Summit in South Africa at the Sandton Convention Centre (SCC) in Johannesburg, Gauteng.
BRICS Leaders will engage with business during the BRICS Business Forum and engage with the New Development Bank, BRICS Business Council and other mechanisms during the Summit. South Africa will also continue its Outreach to Leaders from Africa and the global South and hold a BRICS Outreach and BRICS Plus Dialogue during the 15th BRICS Summit.
Q: Do you also think that Russia can engage in transfer of its science and technology in different sectors to Africa? What else do you have on the agenda in the Russian Federation?
Maqetuka: In May 2023, a delegation from South Africa's Department of Science and Innovation (DSI) and the Technology Innovation Agency (TIA) travelled to Moscow to attend the annual Skolkovo Startup Village. During the delegation's visit to Russia, Memoranda of Understanding were signed in the field of innovation and technology.
TIA is a national public entity in South Africa that serves as the key institutional intervention to bridge the innovation chasm between research and development from higher education institutions, science councils, public entities, and private sector,and commercialisation. The Organization's focus is on technological development; from proof of concept to pre commercialisation.
The Russian Federation has identified the expansion of science and technology cooperation as spearheaded by the Russian Academy of Science as an important part of its renewed engagement with the African Continent, this is witnessed in the theme of the Economic and Humanitarian Forum that forms part of the 2nd Russia-Africa Summit scheduled for July 2023 i.e., Technology and Security for Sovereign Development that Benefits People. The Summit is scheduled to discuss very important themes including Infrastructure, Innovation, and Improvements to the Urban Environment; Nuclear Technologies for African Development; Building Independent Systems for Assessing and Promoting National Science Programmes in Russia and Africa: Opportunities for Mutual Support; Achieving Technological Sovereignty Through Industrial Cooperation; Improving the Reliability of Africa's Energy Infrastructure with Low Emission Technologies; How Russian Digital Technologies Can Boost Africa's Industrial Potential; Bringing Russian Prospecting and Development Technologies to Africa; Effective Healthcare Cooperation: Technologies, Innovations, Human Capital; Bringing Russian Shipbuilding to Africa: A Modern Fleet to Develop the Entire Continent; An Emerging Global Order as Seen by African and Russian Researchers: Alternatives to Western Models
Q: What is your assessment of the possibilities of a joint, coordinated foreign trade policy within the BRICS? What do you think about the proposal to introduce national currency trade settlement arrangements within the BRICS?
Maqetuka: The South African Reserve Bank will give consideration to possible national currency trade settlement arrangements amongst BRICS countries following extensive and detailed work on the matter.
Key questions will include its intended arrangement and consideration will be given to any related risk, including, though not limited to, any sanctions risk to South Africa.
Republic of Ghana to host PanAfrican Mall
The capital city of Accra, Republic of Ghana, hosts the African Continental Free Trade Area (AfCFTA). The AfCFTA spearheads the operations of the continental single market, a mega project of the African Union (AU). In a parallel development, a Pan-African Mall (PAM), set to become one of sub-Saharan Africa's historic landmark mall for shopping.
The first of its kind, Pan African Mall is aimed at a more inclusive retail concept being introduced in Africa in furtherance of trade and socio-economic development and facilitation in alignment with the AfCFTA, considering it will accommodate businesses from several African countries and economic classes.
For shoppers, the experience will be all inclusive yet unique. PAM looks at "fostering multilateral socio-economic development and ties between African economies," Deputy Minister of Trade and Industry of Ghana, Stephen Amoah, during the sod-cutting ceremony marking the start for construction of Pan-African Mall.
Minister of Trade and Industry of Nigeria, Otumba Adeniyi Adebayo, praised the investors for their commitment to the project and their dedication to the development of Africa.
In her speech, Chairman/CEO of Nigerians in Diaspora Commission (NiDCOM), Abike Dabiri-Erewa said that they would provide mortgage financing for Nigerian business owners in Ghana, which should further be a boost.
The project is being spearheaded by Brains and Hammers Ltd (Ghana), in collaboration with Nigerians in Diaspora Organisation(NIDO), who are committed to the economic growth, job creation and empowerment of Africans. Brains and Hammers Ltd is a real estate and infrastructure construction, development and management company.
According to Mallam Bashir Patty, the Managing Director of Brains and Hammers Limited (Ghana), "the mall will have over 400 shops and over 300 workstations for those who can't afford shops."
The mall is functionally designed and will be replete with facilities and amenities, including but not limited to roof-top garden, 150 ground and basement parking spaces, banking halls, office spaces, restaurants, adequate supply of portable water, renewable energy supply and other environmentally sustainable features and elevators – a modern state of the art mall with eco-friendly facilities and environment.
As Chief Calistus Elozieuwa, the Chairman of the Board of Trustees for Nigerians in Diaspora Organisation – Ghana Chapter (NIDO), said: "This is a mall to be owned by Africans, not only Nigerians and Ghanaians because of the spirit of integration on the continent in terms of the area of trade."
Andrew Achampong-Kyei, Managing Director of GLICO General Insurance also reiterated that they would offer guarantees to the investors and shop owners and had designed a special policy i.e the rent to own, which enables an investor make substantial regular rent payments towards owning the shop.
The mall is aimed at contributing to sustainability and youth employment, including women and the disabled. It is, however, expected that the shopping mall becomes accessible to its customers and favorite shopping destination to purchase various goods and services. There are plans to include foreign products from the most desired retailers to meet the needs of customers.
By managing every aspect, the mega mall offers its customers a simple, secure and convenient solution to shopping directly from many of the best brands in the world. The PAM welcomes all African traders to take advantage of the fully secured state of the art shops and the mall. The construction is planned over a period of two years.
South Africa Faces Deep-Seated Economic and Energy Crisis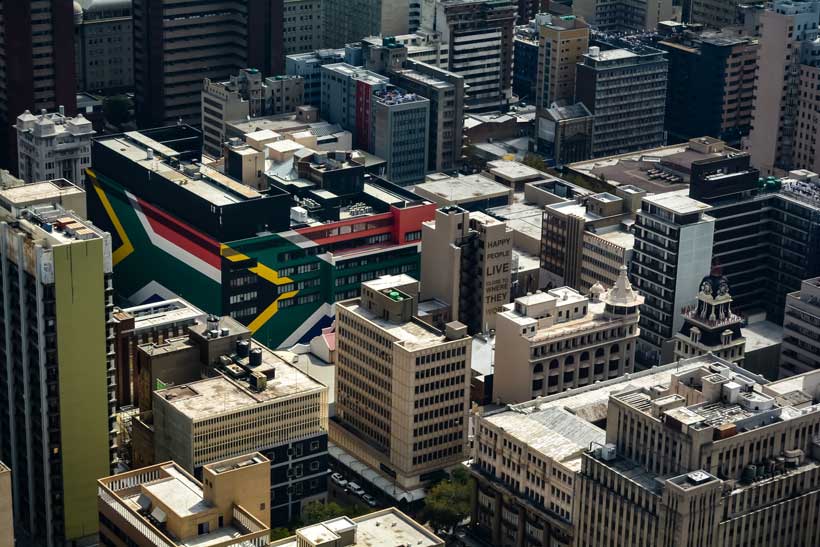 South Africa, highly considered as an economic powerhouse, is in deep-seated crisis. Energy deficit has crippled industrial operations and supplies for domestic use has largely been reduced. Unemployment is rising and cost of living becomes unbearable across the country. Social discontent, as a result of the crisis, has engulfed every corner in South Africa.
Reports monitored here say South Africa's President Cyril Ramaphosa and his cabinet on May 7 held an extensive meeting with key business leaders as concern over the country's energy crisis, logistic constraints and close ties with Russia grow. Attendees discussed collaborating to obtain inclusive growth, inspire confidence in the economy and create jobs, the Presidency said in an official Twitter post.
Five years after Ramaphosa ushered in a wave of business optimism that he'd revive the economy crippled by industrial-scale corruption under his predecessor, executives are running out of patience with the president, who is seeking reelection next year.
Economic stagnation stoked by record daily power cuts, rampant crime, disintegrating infrastructure and foreign policy missteps is leading investors to the exits. Yields on the benchmark 10-year generic government bond have risen 129 basis points this year to 12.1%, foreign buyers have been net sellers of the nation's stocks and the rand has plunged 11%.
Executives including Daniel Mminele, Nedbank Group Ltd.'s chairman, and MTN Group Ltd.'s Chief Executive Officer Ralph Mupita have called for urgency in resolving domestic hindrances to economic growth and warned the country is at risk of becoming a so-called failed state. Others such as FirstRand Ltd. Chief Executive Officer Alan Pullinger have criticized the country's relationship with Russia. The government's indifference to the war in Ukraine and its friendship with Russia is "foolhardy in the extreme," he said.
Early March, reports also warned that South Africa's banking industry faces a "profound geopolitical risk" from the government's close ties with Russia. South Africa has drawn criticism from some of its biggest trading partners, including the United States and the European Union, over military exercises it conducted with Russia and China. Those countries have also censured Ramaphosa's administration over its abstention from United Nations resolutions condemning Russia's war with Ukraine.
"Our government's left-leaning enthusiasm for China and Russia is being noticed by countries vehemently opposed" to the war in Ukraine, FirstRand Ltd. Chief Executive Officer Alan Pullinger said at an investor briefing in Johannesburg. The government's indifference to the war and its friendship with Russia is "foolhardy in the extreme," he said.
South Africa's banking industry is dependent on access to international markets, global clearing and settlement, Pullinger said. The country risks consequences because of its stance on Russia, he said. "Our collective access is a privilege; it is not a right and it can be revoked with ease," Pullinger said. "FirstRand does not share our government's enthusiasm for Russia."
With an estimated population of 58 million, South Africa is the southernmost country in Africa. It is bounded to the south by 2,798 kilometres of coastline that stretches along the South Atlantic and Indian Oceans; to the north by the neighbouring countries of Namibia, Botswana, and Zimbabwe; and to the east and northeast by Mozambique and Eswatini.