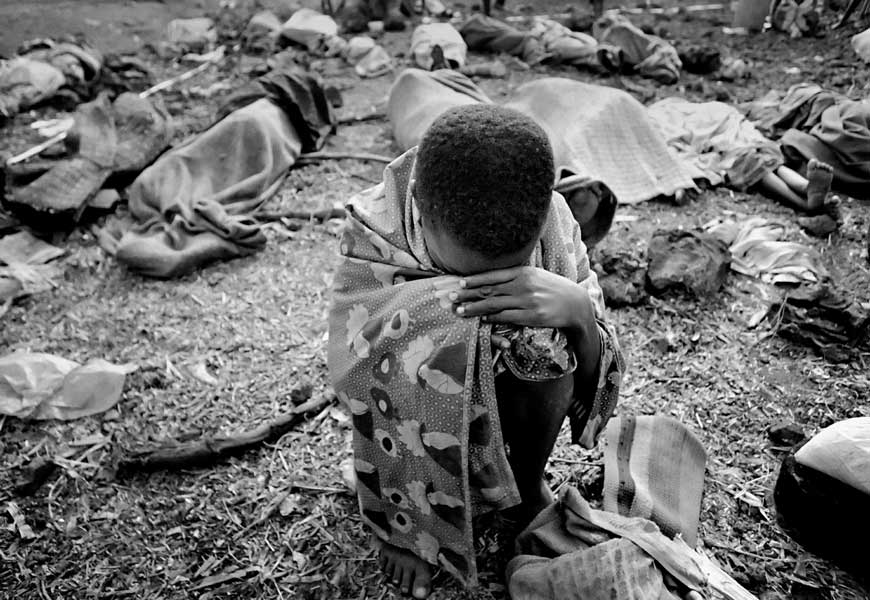 Beautiful Soul Narrative and Gendered Understanding of Armed Conflict : Case Study of the Rwandan Genocide
Armed conflict leads to exacerbation of inequalities and power relations that existed in the pre-conflict period as a result of gender stereotypical understanding of the conflict. That is why it is a vast resources in the academic literature to examine the relation between gender roles and armed conflict (Cockburn 1999; El- Bushra 2017; Turshen 1998; Yuval- Davis 1997). According to many feminist scholars, gender is a system of power relation to determine both relations and access to resources within a society. Gender roles point out politically constructed roles, behaviours and norms that society decide which way most proper and appropriate for both women and men. In other words, stereotypical assumptions lead to expectations that men are associated with aggressiveness, perpetrators, defenders, power and fight; whereas women are related to honour of the country, innocence, peacefulness, victimisation, care and maternity. However, as a result of this gendered dynamics of armed conflict women are perceived as substitute in the armed conflict such as cookers, cleaners, sex slaves and nurse into the military life (Cockburn 1999; El- Bushra 2017; Turshen 1998; Yuval- Davis 1997).
Having said that, traditional masculinity dominated gender roles shape the understanding of victimisation in armed conflict. As Cynthia Cockburn analyses (1999) in the chapter of 'The Continuum of Violence' gender based war normalises the invisibility of female participation into the military forces. Particularly, it is a common perception that all women and young girls experience rape, sex slavery or faced sex work while, real men fight for the country and honour of the state. In addition, as Turshen describes that this masculinity based understanding of sexual abuse causes to leave aside women's agency into military life (Turshen 1998)
Furthermore, both gendered war stories and narratives exclude women and their agencies in armed conflict by showing men as perpetrators of the war. Also, both war propaganda and images of motherland are symbolised as a woman who is honour of the country; whereas enemies are symbolised as male who threats the country (Cockburn 1999; El- Bushra 2017; Turshen 1998; Yuval- Davis 1997).  At the same time, particularly victorious war stories and traditional narratives strengthen the negative impacts of gender roles on armed conflict because women are shaped as innocent victim who must be protected by a hero. To illustrate, beautiful soul narrative is identified by Jean Elshtain to clarify the impact of gender roles on the understanding of armed conflict and security. According to Jean Elshtain, victorious war stories have essential role to encourage people especially men to fight for the country by labelling women who are 'beautiful souls' and are 'incorrectly pacifists' (Elsthain 1995). At the same time, the war stories also emphasise that women are mother of heroes; hence they need to be protected. In this way, it is a traditional gender perception that women should be at home during the armed conflict by providing love and maternity as a supporter for the fighters (Elsthain 1995; Sjoberg 2010).
As many feminist theorist argue that the elements of 'beautiful soul' narrative subordinate women and their agencies as a result of the core idea that 'beautiful soul' is related with the protection of the women (Elsthain 1995; Sjoberg 2010). It is noteworthy that, there are two core elements of 'beautiful soul' narrative. The first element identifies that women are more peaceful than men whereas second one identifies that women are the main reasons of the conflict (Elsthain 1995; Sjoberg 2010). Nonetheless, in this way, 'beautiful soul' narrative 'sets women up as the prizes of most wars- fragile, removed from reality, and in need of the protection provided by men' by showing women as just reason of the armed conflict (Sjoberg, 2010; pg.58) On the other hand, many feminist scholars point out that 'beautiful soul' narrative focuses on specific differences between gender roles of women and men and thus; might be identified 'by the separation of a private sphere (where women are, and naturally belong) and the sphere of war- making and war-fighting (where something has gone terribly wrong if women are included)'(Sjoberg, 2010; pg.58).
However, as many feminist scholars clarify this masculinity based characterization of gender roles into the military life is inaccurate and incomplete thus; it overshadows both agency and active participation of women in armed conflict by creating a perception that women have temporary and supporter role in armed conflict (Cockburn 1999; El- Bushra 2017; Turshen 1998; Yuval- Davis 1997).Additionally, females have more active role and even can be more brutal than men in armed conflict contrary to popular myth. That is, we might claim that 'beautiful soul' narrative cannot be obtained in every time in military life. Hence, it is important to examine 'beautiful soul' narrative regarding female combatant's active role in the armed conflict to bring into open women's agency. In the light of the information that given above, this essay critics the understanding of 'beautiful soul' narrative and, delves into both female violent agency and active roles of women into military life with a case study of the Rwandan genocide to clarify that 'beautiful soul' narrative cannot be incorporated into the military life.
Active Participation of Female Combatants: Are they 'Beautiful Souls' or Perpetrators of Armed Conflict: A Case Study of Rwanda
Throughout history, women have been active involvement in armed conflict as fighters and combatants in many international conflict such as the American revolution, the Mexican revolution, World War I, The Vietnam War, The Sierra Leone Civil war and The Rwandan Genocide whereas; 'beautiful soul' narrative shows women as more peaceful, innocent and naive than men (Sjoberg, 2010; pg.58).At the same time, it is noteworthy that women's participation to armed conflict is not only as substitute roles but also as fighter role in many International cases. Furthermore, gender and armed conflict studies show that active participation of women is increasing during the last years and female combatants sometimes commit more brutal and oppressor war crime than male combatants in armed conflict by killing, raping civilians mercilessly (Schjølset 2013; Sjoberg 2010). In other words, gender studies show that women are not either more peaceful nor reason of the conflict by focusing on many different case studies all around the world. Hence, it is essential to delve into women's role into military life from an objective and gender-neutral perspective. All in all, this part of the essay will critically analyse the active involvement of the female combatants in the Rwandan genocide to challenge the understanding of 'beautiful soul' narrative and traditional gender roles into military life.
A Case Study of Rwanda Genocide: Historical Background about the genocide
Rwanda had been known as a country of a mainly three different ethnic groups; the Hutu, the Tutsi, and the Twa. Interactions and inter-marriages between those groups particularly the Hutu and the Tutsi groups were situation of daily life (Hogg 2010; Brown 2014; BBC News Rwanda). However, the distinction between Hutu and Tutsi,' the perpetrators and victims of the genocide respectively' was historically related to their social status which was socially constructed by colonial powers (Brown 2014). Having said that, the colonial rules exacerbated effectively the social status differences by giving both social and administrative power to the Tutsi group to create perception that Tutsis are superior group. However, this situation 'portrayed the Tutsis as the direct antagonizes of the discrimination that had been directed toward the Hutus for decades.'(Hogg 2010; Brown 2014). As a result of social inequalities, created by colonial power, on 6th April 1994 Rwandan genocide started right after extremist Hutu power announced that to kill and excruciate Tutsi people (BBC News: Rwanda). According to the United Nations report about Rwanda (2015), 8000 people were slaughtered, many of them were raped, and tortured within 100 days. As most academics stated that on April 1994, Rwanda witnessed an unforgettable and unprecedented genocide in the history of the humanity as a result of ethnic and gender based problems into the society. Briefly, Rwandan genocide has still been a controversial topic in the armed conflict field in terms of many reasons such as female fighters, ethnicity problems, and the role of colonial powers. In order to analyse specifically, this part of the essay will particularly focus on female involvement in the genocide.
Women As Perpetrators of the Rwandan Genocide
'I had seen war before, but I had never seen a woman carrying a baby on her back kill another women with a baby on her back.' (UNAMIR interviewer in 1996) (Johns 2010; 82)
'I believe that women are just as guilty of this genocide as men' (Female genocide suspect, Kigali Central Prison)'
As stated in the introduction to this part of the essay, the Rwandan genocide has been unprecedented in the history of genocide in terms of the prominent role of female combatants. Women's active participation into the military life in the 1994 Rwandan genocide added a new dimension to gender-based assumption of armed conflict. As Brown states that the agency of women to participate in the genocide challenged the gender based narratives. In other words, women in the Rwandan genocide reshaped patriarchal understanding of war narratives by showing how a mother became a cruel murderers. To exemplify, interview with Victor Karega enlightens how female participant in the genocide reshaped patriarchy and masculinity based understanding of armed conflict in Rwanda. Karega claims that,
In our culture, women has always been a symbol. A symbol of maternity, a symbol of love. It was a symbol of social cohabitation. Even when there were problems, ethnic problems and political problems, women were always like a link, a linkage, between different categories of people, because they were marrying from, or to, both sides…. But during the genocide, they were also involved in perpetrating the genocide (Interview Victor Karega of the Rwandan Ministry of Gender, Family and Social Affairs, November 3, 1998) (Sharlach, pg 393)
At the same time, in the academic literature, there are vast feminist resources to analyse female participation into the military life in the Rwandan genocide to show that women are capable of use of force in contrast to 'beautiful soul' narrative and masculinity based understanding of armed conflict (Hogg 2010; Johns 2010; Brown 2014). Hence, this section of the essay will particularly focus on the specific dominant roles of female combatants in the genocide to indicate that 'beautiful soul' narrative cannot be incorporated into the military in all conditions.
Moreover, it is essential to note that, women have prominent role in a variety of the genocide by murdering, stealing, and looting resources of Tutsis, and acting as an accessory for rapes contrary to the perception of 'beautiful soul' narrative discourse. As stated by Odette Kayirere, Executive Secretary of AVEGA and Sabine Uwase, staff attorney, the genocide-related crimes committed by female combatants in the genocide might be categorised under two main forms violence namely; acts of direct violence and acts of indirect violence (Brown 2014). Acts of direct violence is related to use of physical force such as killing, rape, torture, sexual assault and beatings (Galtung 1969) whereas indirect violence is not related to physical force such as looting, supervising and ordering indirect violence (Brown 2014). However, one of the main direct violence committed by female perpetrates in the genocide is to rape to Tutsi young boys by dishonouring them (Hogg 2010). For instance, Charles, as a male victim of female perpetrated rape confirmed that Hutu women forced them to have sex involuntarily by giving drugs (Brown 2014). Also, women participated actively in the killings and excruciating of so many Tutsi civilians regardless of age, and gender mercilessly. Having said that, according to African Rights investigators women combatants not only caused so many killings and torturing in the genocide but they also behaved more brutal than male combatants as commanders (Hogg 2010; Brown 2014). In addition, Adam Jones examples in his research that there are many female commanders who committed more brutal genocide crimes than male commanders in Rwanda. To exemplify,
Rose Karushara, a councillor in Kigali, who 'took extremely active role in the genocide', by wearing military uniform. She was a tall and physically strong woman, she attacked the refugees herself 'before handing them over to her interahahmwe for the final kill.. At least five thousand people were killed, all thrown into the Nyabarongo River under orders from Karushara. (Jones,2002 pg.83)
As another example of female commanders Sister Julienne Kizito, one of a number of nuns who was prominent figures of the women participation in genocidal atrocities. She was accused of working directly with the killers by burning people alive (Jones, 2002)
Furthermore, it essential to focus on that women not only committed direct violence in the Rwandan genocide, but also they committed indirect violence by both act looting resources and supervising murdering of Tutsis. As Adam Jones emphasizes (2010) that particularly female leaders dominated the genocide by looting resources and stripping bodies of Tutsis. Such that, they did not hesitate to assisted in killings and torturing of their neighbors. What is worse, many Hutu women appealingly assisted in even killings of children and babies of Tutsis to cause extinction of Tutsis. Having said that, Hutu women led to so many rapes and sexual harassment of Tutsis appealingly by helping male Hutu combatants. Especially, they had active role in forcing Tutsi women to accept their designated fate as sex-slaves for male Hutu soldiers.
Survivor of the genocide described that how Tutsi women deforced them at their houses to be raped by Hutu male soldiers (Jones 2010). To illustrate, one of the survivors of the genocide describes that 'Many of women of your kind have been taken by dog-like vagabonds. And here you are, rejecting this nice young man… What are you waiting for?' (Jones 2010 pg.84). Also it is significant to analyse that, Hutu women also participated in the genocide as spies by denouncing and tolerating killings of Tutsis as another significant indirect role (Hogg 2010). Additionally, women had prominent roles in the key political positions to provoke the Hutu people against the Tutsis during the genocide. Mainly, Pauline Nyiramasuhuko, previous Minister of Family Affairs and Women's Development was accused of being the reason of thousands of killings by provoking the Hutu women with the effect of her political power (Hogg, 2010).All in all, in the light of the information regarding female involvement in the genocide, it is essential to analyse that, the cases of female combatants in the Rwandan genocide refute the idea of  'beautiful soul' narrative into the military life. That is, the Rwandan genocide has been a milestone to demonstrate that how ordinary women became brutal combatants on the contrary of the general assumption that women are more peaceful and naive than men.
Conclusion
In conclusion, this essay delves into the active role of women into  military life in the Rwandan genocide in the discourse of understanding of gender based armed conflict and 'beautiful soul' narrative. Gender is seen as a set of expectation that society determine what is more proper for both male and female into the society. Having said that, there is a growing acceptance that gender issues have crucial impact on the understating of armed conflict and political violence in the academic literature. Also, there are specific gender roles in armed conflict as a result of masculine understanding of military life. However, it is noteworthy that male power dominated gender roles overshadow both the active role of women and their agencies by creating assumption that women are victims of the armed conflict whereas; men are defenders of the conflict even though, women actively participated in armed conflict and political violence like soldiers, combatants and commander throughout the history.
At the same time, as Elstahin argues (1995) that with the effect of traditional gender roles in armed conflict war stories associates women as reason to men die for by creating assumption that women are more naive than men. However, this gender based assumption contradicts reality into the military life because gender studies indicate that women can be more brutal fighter who victimise civilians regardless of sex. In other words, female combatants kill, rape and victimise on the contrary of 'beautiful soul' narrative during the conflict. Especially, the Rwandan genocide added a new dimension in terms of gender and war field. Thus, it has essential role to challenge the idea that women are more naive and peaceful than men hence; they need to be protected.
According to The United Nations report and other gender studies that greater proportion of female combatants took extremely active role as killers, commander and torturer in the genocide. To exemplify, the cases of female leaders demonstrate that female combatants had dominant role  'in the post-massacre looting and stripping bodies, which often involved climbing over corpses piled thigh-high in the confined spaces in which many Tutsis met their end.'(Jones 2002, pg84). What is more, studies show that female commanders commit more war crimes than men commanders during the genocide. Briefly, the active involvement of many Hutu women in the killings during the Rwanda genocide objects to both 'beautiful soul' narrative and gender based dynamics of armed conflict. Hence, it is noteworthy that the perception of 'beautiful soul' narrative cannot be truly incorporated into real military life thus; the role of female combatants in armed conflict should be consider without masculinity based stereotypical lenses.
Bibliography
Adam Jones (2002) Gender and genocide in Rwanda, Journal of Genocide Research, 4:1, 65-94, DOI: 10.1080/14623520120113900
Anita Schjølset (2013) Data on Women's Participation in NATO Forces and Operations, International Interactions: Empirical and Theoretical Research in International Relations, 39:4, 575-587, DOI: 10.1080/03050629.2013.805326
African Rights. 1995. "Not So Innocent: When Women Become Killers". London: African Rights.
BBC News Rwanda: How the Genocide Happened Available at: http://www.bbc.com/news/world-africa-13431486
Cockburn, Cynthia. (1999) "Gender, Armed Conflict and Political Violence"Backgroun Paper for Conference on Gender, Armed Conflict and Political Development, Washington ,DC, 9-10 June.
El- Bushra, Judy. (2017) "Why Does Armed Conflict Recur, and What has Gender Got to with it" LSE Women, Peace, Security Paper Series. Available at: lse.ac.uk\wps
El- Bushra, Judy, Sahl, M.G. Ibrahim (2005). "Cycles of Violence: Gender Relations and Armed Conflict". Agency for Co-operation and Research in Development ACK Garden House
Elsthain,Jean Beathe (1995) "Women and War" The University of Chicago Press. Chicago and Press.
Hogg, Nicole (2010) 'Women's Participation in the Rwandan genocide: mothers or monsters?", International Review of the Red Cross, Volume 93 Number 877, 69-102.
Sara E. Brown (2014) "Female Perpetrators of the Rwandan Genocide, International Feminist Journal of Politics", 16:3, 448-469, DOI: 10.1080/14616742.2013.788806.
Sjoberg, L. and Gentry, C. 2007. Mothers, Monsters, Whores: Women's Violence in Global Politics. London: Zed Books.
Sjoberg (2010) 'Women fighters and the 'beautiful soul' narrative' International Review of the Red Cross.
The United Nations Report on Rwanda (2015) Available at:http://research.un.org/en/docs/reports
Turshen, M and Twagiramniya (eds) (1998). "What Women Do in War Time: Gender and Conflict in Africa,". London, New York: Zed Books.
Walby, S. 1989. 'Theorising Patriarchy', Sociology 23 (3): 213–34.
Yuval Davis, N. 2006. 'Intersectionality and Feminist Politics', European Journal of Women's Studies 13 (3): 193–209.
Yuval-Davis, Nira. (1997)."Gender and Nation", Sage Publications, London, Thousand Oaks, New Delhi.
Analyzing The American Hybrid War on Ethiopia
Ethiopia has come under unprecedented pressure from the U.S. ever since it commenced a military operation in its northern Tigray Region last November. Prime Minister Abiy Ahmed ordered the armed forces to respond to the Tigray People's Liberation Front (TPLF), which used to be the most powerful faction of the former ruling party, after it attacked a military barracks. Addis Ababa now officially considers the TPLF to be a terrorist group. It fell out with PM Abiy after initially facilitating his rise to power as a result of disagreements over his fast-moving socio-political reforms.
The TPLF refused to join PM Abiy's Prosperity Party upon its formation in December 2019. It also regarded his decision to postpone national elections last August until this June due to the COVID-19 pandemic as resulting in him illegitimately remaining in power. In response, the TPLF organized its own elections in the Tigray Region in September 2020 that were not recognized by the central government. This set a tense backdrop against which the group attacked the military a few months later in early November, which was what triggered the ongoing conflict.
The U.S. and its allies claim that Ethiopia is carrying out a campaign of ethnic cleansing in Tigray, which Addis Ababa, of course, denies. This set the basis upon which the U.S. began to sanction the country. The first sanctions were imposed in late May to target Ethiopian officials as well as some of their Eritrean allies who, the U.S. claimed, were supporting them in their military campaign. The Ethiopian National Defense Force (ENDF) pulled out of Tigray a month later in June, claiming that this unilateral move would facilitate the international community's relief efforts in the war-torn region that had attracted so much global attention.
The conflict did not end, however, but actually expanded. The TPLF felt emboldened to invade the neighboring regions of Afar and Amhara, parts of which it continues to occupy. Addis Ababa suspected that the group was receiving various equipment and other forms of support under the cover of UN aid shipments. It also accused the TPLF of manipulating international perceptions about the region's humanitarian crisis in order to generate more support and increase pressure on the Ethiopian government. PM Abiy published an open letter to U.S. President Joe Biden last month, urging him to reconsider his country's policy towards the conflict.
It regrettably went unheeded but deserves to be read in full, since the Ethiopian leader compellingly argued that the American policy is counterproductive and influenced by the TPLF's lobbyists. Shortly after that, his government expelled seven UN officials at the end of September, who it accused of meddling. In early October, CNN published a report claiming that Ethiopian Airlines was illegally transporting weapons to and from Eritrea during the early stages of the conflict. This, in turn, prompted more sanctions threats from the U.S. The situation is such that the U.S. is now actively working in support of the TPLF against PM Abiy's government.
This American hybrid war on Ethiopia is waged in various ways that deserve further study. They closely resemble the American hybrid war on Syria in the sense that the U.S. is using humanitarian pretexts to justify meddling in the country's internal affairs. Its motivations to backstab its regional ally are entirely self-interested and zero-sum. The U.S. is uncomfortable with PM Abiy's geopolitical balancing between Washington and Beijing. Although the former TPLF-led government was also close to China, the U.S. likely expected PM Abiy to distance Ethiopia from it, considering the pressure that Washington exerts upon its partners to do so.
He came to power in early 2018 around the time when the U.S. began to intensify its ongoing New Cold War with China. From the American perspective, it is unacceptable for the country's partners to retain close ties with its top geopolitical rival. It is for this reason why the US far from appreciates PM Abiy's balancing act since it likely expected for him to move away from China. This leads to the next motivation for the American Hybrid War on Ethiopia, which is to return the TPLF to power there, if not in a national capacity, then at least in its home region. Such an explanation will now be elaborated on more at length.
Ethiopia finds itself at a crossroads whereby the country can either continue on the path of centralization, like PM Abiy has attempted to do, or pursue the course of further federalization to the point where its regions receive more autonomy than before. One of the TPLF's primary criticisms of the Ethiopian leader is that he is allegedly going against the country's post-civil war federal foundation. If it can succeed at least in securing broad autonomy for its home region by force after failing to do so peacefully, this might then trigger radical reforms that result in advancing its federal vision throughout the rest of the country.
The U.S. could exploit the broad autonomy that these regions might receive in order to individually pressure them to distance themselves from China. Ethiopia is, after all, Africa's second most populous country and used to have one of the world's fastest rates of economic growth before the COVID-19 pandemic. From a continental standpoint, the U.S. might believe that turning Ethiopia against China could eventually become a game-changer in the New Cold War's African theater. In other words, everything that the U.S. is doing against Ethiopia is motivated by its desire to "contain" China. It is now time to explain its modus operandi in detail.
The U.S. immediately exploited the TPLF-provoked conflict in Ethiopia to pressure PM Abiy to treat the group as his political equals. This was unacceptable for him, since doing so would legitimize all other groups that attack the armed forces in pursuit of their political objectives. The Ethiopian leader rightly feared that it could also trigger a domino effect that results in the country's "Balkanization", which would advance American interests in the sense of taking the country out of the "geopolitical game" with China. In response to his recalcitrance, the U.S. alleged that his government was carrying out ethnic cleansing.
American officials knew that this would attract global attention that they could manipulate to put multilateral pressure upon his government. Even so, PM Abiy still did not relent but continued waging his war in the interests of national unity. With time, the U.S. began to portray him as a "rogue leader" who did not deserve his Nobel Peace Prize in 2019 for resolving his country's frozen conflict with the neighboring Eritrea. Its perception managers presented him as a power-hungry dictator, who was ruthlessly killing the ethnic minorities that opposed his government, including by deliberately starving them to death.
The ENDF's withdrawal from the Tigray Region over the summer was interpreted by the U.S. as having been commenced from a position of weakness. It believed that ramping up the pressure at this sensitive point in the conflict could lead to him politically capitulating to the TPLF's demands. This was a wrong assessment since PM Abiy hoped that everything would stabilize after his decision facilitated international relief efforts to the war-torn region. These were unfortunately exploited, according to Addis Ababa, in order to provide more support for the TPLF, which is why his government recently expelled those seven UN officials.
The U.S. "humanitarian imperialism", as one can now call its policy against Ethiopia, is very pernicious. It focuses solely on the humanitarian crisis in the Tigray Region while ignoring the ones that the TPLF caused in the neighboring Afar and Amhara regions. This policy also manipulates perceptions about the situation in Tigray in order to delegitimize PM Abiy, the ENDF and the political cause of national unity that they are fighting for. The purpose is to encourage more members of the international community to pressure Ethiopia to the point where it finally feels compelled to politically capitulate. This policy, however, has proven to be counterproductive.
Far from giving up the fight, Ethiopia is doubling down and is now more motivated than ever before to see the war to its end, though ideally through a political rather than military solution due to humanitarian considerations. This does not imply treating the terrorist-designated TPLF as an equal but envisions replacing its leadership in the Tigray Region with a pro-government/unity party instead. That is, of course, easier said than done, which is why military means might continue to be relied upon to this political end. Throughout the course of its struggle, Ethiopia has begun to be seen as an anti-imperialist icon across Africa and the rest of the Global South.
PM Abiy's open letter to Biden was full of powerful statements articulating Ethiopia's sovereign interests. It showed that African leaders can resist the U.S., which could inspire the Ethiopian leader's counterparts who might also come under similar pressure from their partner sometime in the future—due to its zero-sum New Cold War geopolitical calculations. Ethiopia's sheer size makes it an African leader, not to mention it hosting the headquarters of the African Union, so it can influence the rest of the continent. It also has a very proud anti-imperialist history which motivates its people not to submit to foreign pressure.
China, Russia and India have politically supported Ethiopia against the U.S. at the UN, thereby debunking The Economist's lie last week that "Ethiopia is losing friends and influence". To the contrary, Ethiopia is gaining friends and influence, especially among the rising powers and the rest of the Global South. Its principled resistance to the American hybrid war on it has shown others that there is an alternative to capitulation. It is indeed possible to fight back in the interests of national unity. Not all American destabilization plots are guaranteed success. Just like the U.S. failed to topple the Syrian government, so too has it failed to topple the Ethiopian regime.
Ethiopia, however, is many orders of magnitude larger than Syria. This makes its hitherto successful resistance to the American hybrid war all the more significant. The leader in the Horn of Africa is a very diverse country, whose many people could be pitted against one another through information warfare to provoke another round of civil war that would help the TPLF's U.S.-backed anti-government crusade. That worst-case scenario has not materialized, though, due to the majority of the population's commitment to national unity even among some of those who might have misgivings about the present government.
This year's elections saw the Prosperity Party win by a landslide, which shows how much genuine support it and its founder have among the masses. Furthermore, PM Abiy's concept of "medemer" ("coming together") aims to counteract "Balkanization" processes by pragmatically reforming socio-political relations inside the country. It is a very promising idea that could inspire other very diverse states across the Global South and help them ideologically thwart divide-and-rule plots like the one presently waged against Ethiopia.
Assessing the strategic situation as it presently stands, the American Hybrid War on Ethiopia is expected to intensify on manipulated humanitarian pretexts. More sanctions and even the threatened revocation of Ethiopia's access to the U.S. market through the African Growth and Opportunity Act (AGOA) could worsen the economic situation for millions of people. The purpose in doing so would be to provoke anti-government protests that the U.S. hopes would be violent enough to catalyze a self-sustaining cycle of destabilization throughout the country after the security services crack down on the rioters.
The supplementary purpose is to encourage some Ethiopians to join anti-government terrorist groups allied or working in coordination with the TPLF unless the U.S. succeeds in pulling off a Color Revolution. This modus operandi is identical to the one that it relied upon in its hybrid war on Syria. In the Ethiopian context, the U.S. hopes to forcefully "Balkanize" the country, whether de jure or de facto through an extreme form of federalization. The point is to punish Ethiopia for balancing between China and the U.S., which showed other Global South states that such a pragmatic approach is possible instead of the U.S.-practised zero-sum one.
Nevertheless, the U.S. might still fail. The ENDF and other security services retain control throughout all the country's regions with the exception of Tigray. It is therefore unlikely that any Color Revolution or Unconventional War there will succeed. Furthermore, Ethiopia enjoys close ties with the rising multipolar powers like China, Russia and India who can help it weather the current crisis by neutralizing U.S. attempts to isolate the country. In addition, the "medemer" concept ensures that national unity remains at the core of the Ethiopian society, reducing the appeal of foreign-backed "Balkanization" narratives.
Altogether, it can be said that Ethiopia is successfully resisting the U.S. hybrid war against it. There have certainly been some serious costs to its international reputation, but it remains committed to the cause of national unity, and it does not seem likely to politically capitulate to the terrorist-designed TPLF's foreign-backed demands. Expelling those seven UN officials for meddling was a major move which speaks to how serious the country is about protecting its sovereignty. The same can also be said about PM Abiy's open letter to Biden which preceded that development and explained why the U.S. is wrong for meddling in Ethiopia.
The American Hybrid War on Ethiopia will likely continue since the US doesn't like to lose. It keenly understands what's at stake in the realm of international perceptions, and it's that the US cannot afford to have an African country – let alone one as large and influential as Ethiopia is – successfully resist its pressure campaign. Ethiopia's resolute resistance can inspire other countries across the Global South, which can complicate the US' efforts to pressure them into curtailing ties with China in the New Cold War. Had the US simply accepted Ethiopia's balancing act, then the conflict might have ended by now, but its zero-sum policies prevented that.
From our partner RIAC
Reducing industrial pollution in the Niger River Basin
The Niger River is the third-longest river in Africa, running for 4,180 km (2,600 miles) from its source in south-eastern Guinea, through Mali, Niger and Nigeria, before discharging via the Niger Delta into the Gulf of Guinea in the Atlantic Ocean. Tributaries that run through a further five countries feed into the mighty Niger.
Hundreds of millions of people in West Africa depend on the river and its tributaries, for drinking water, for fish to eat, for irrigation to grow crops, for use in productive processes, and for hydroelectric power.
The health of the Niger River Basin is vitally important for the people and for the environment of West Africa. But this health is endangered by land degradation, pollution, loss of biodiversity, invading aquatic vegetal species and climate change.
To both assess and address these environmental issues, a Global Environment Facility (GEF)-funded project has brought together international, regional and national entities to work on integrated water resources management for the benefit of communities and the resilience of ecosystems. (Project details can be found here.)
One part of the early project research found that as the Niger River passes through Tembakounda, Bamako, Gao, Niamey, Lokoja and Onithsa – major trading, agro-processing and industrial cities – wastewater and other polluting substances are discharged directly into the river, often without consideration for the environment. National governments of the countries which the river runs through are either unable to deal with the accumulated environmental problems and/or are ineffective at preventing, regulating, reducing and managing pollution from industrial activities.
For this reason, one component of the GEF project, implemented by the United Nations Industrial Development Organization (UNIDO), will facilitate the Transfer of Environmentally Sound Technology (TEST) to reduce wastewater discharges and pollution loads into the Niger River.
Despite the limitations on travel resulting from measures to halt the spread of the coronavirus, in August this year, UNIDO successfully identified and engaged with 19 pilot enterprises in various sectors, including pharmaceuticals, mining and agribusiness, operating in 'pollution hotspots' in the countries of the Niger River Basin. This number exceeds the original target of one enterprise per country.
UNIDO experts are now introducing and sharing the Transfer of Environmentally Sound Technology (TEST) methodology with the pilot enterprises. In essence, this will mean the application of a set of tools including Resource Efficient and Cleaner Production, Environmental Management Systems, and Environmental Management Accounting, which will lead to the adoption of best practices, new skills and a new management culture.
Armed with these tools, the enterprises will be able to reduce product costs and increase productivity, while reducing the adverse environmental consequences of their operations. An awareness-raising campaign will be carried out so that the demonstration effect resonates across the Niger River Basin, prompting other enterprises to follow suit.
Wagner: Putin's secret weapon on the way to Mali?
France is outraged at the prospect of Russian mercenaries from the Wagner group arriving in Mali. However, Paris is seeking a way out of an unwinnable conflict.
On September 13, a Reuters news agency article citing unnamed sources and reporting advanced negotiations between Mali and the Russian mercenary company Wagner sparked a firestorm of reactions. The United States, Germany, and the United Nations have all warned Bamako's military against such collaboration. According to them, the arrival of Russian mercenaries – a thousand have been estimated – would jeopardize the West's commitment to fighting the jihadists who control a large portion of Malian territory.
But France, understandably, is the most vocal against such a move. The former colonial power has maintained a military presence in the country since 2013, when it halted the jihadists' advance on the capital. Florence Parly, the French Minister of the Armed Forces, visited Bamako on September 20th to warn Malian colonels in power following two coups in August 2020 and May 2021. Wagner's choice, she said, would be that of "isolation" at a time when "the international community has never been so numerous in fighting jihadists in the Sahel".
What the minister does not mention is that France's commitment to Mali is waning. Emmanuel Macron used the second Malian coup d'état last June, less than a year before the French presidential election, to announce a "redeployment" of French forces in Mali. Although Paris refuses to discuss a de facto withdrawal, even if it is partial, the truth is that the tricolored soldiers will abandon the isolated bases of Kidal, Timbuktu, and Tessalit in the country's north by next year, concentrating on the area further south of the three borders with Niger and Burkina Faso.
Europeans, who are expected to be more supportive of France, are also perplexed. The humiliation of the Western withdrawal from Afghanistan has served as a wake-up call. The Afghan government's sudden collapse in the face of the Taliban has demonstrated how difficult it is to build a strong army and institutions. This scenario appears to be repeating itself in Mali.
The possibility of a rapprochement between Bamako and Moscow is taken seriously because Putschists in Mali have always been sensitive to Russian offerings. Colonel Sadio Camara, Mali's Defense Minister, visited Russia on September 4. Disagreements over a reversal of Mali's alliances are said to have been one of the causes of the Malian colonels' second coup, which ousted the civilian transitional government last May.
Russia also acts as a boogeyman for the Malian military. According to a Daily Beast investigation, the Malian army organized a supposedly spontaneous demonstration last May demanding Russian intervention. This was also a warning to the international community, which is growing weary of the country's poor governance and repeated coups.
Is Mali transitioning from the French to the Russian spheres of influence? Since Moscow gained a foothold in the Central African Republic, the scenario is not a figment of the imagination. Russian instructors and Wagner's mercenaries have proven their worth in this former French backyard. Even though the UN condemns Russia's atrocities in this conflict, the Russians were able to push back the rebels who were threatening the capital Bangui last December with the help of UN peacekeepers and Rwandan reinforcements.
The Kremlin denies any involvement with the Wagner group. However, the company is actually run by a close associate of Vladimir Putin. The use of private mercenaries allows Moscow to avoid military commitments abroad, as it did previously in Ukraine and Libya. "Russia is not negotiating a military presence in Mali," said a Kremlin spokesman in mid-September. When questioned by the magazine Jeune Afrique on September 20th, Central African President Faustin-Archange Touadéra swore that he had "not signed anything with Wagner." "In the Central African Republic, we have companies that were established in accordance with the law and operate on liberalized markets," he explained.
Nothing has been decided on Wagner, it is repeated in Bamako. According to the military, the selection of foreign "partners" is a matter of Mali's "sovereignty." They regard these "rumors" as an attempt to "discredit the country." The Malian junta is under siege, not only from jihadists but also from the international community. The latter is calling for elections to be held in February to return power to civilians, as stipulated in the military-agreed transition charter. Electoral reform must come before the election. However, Colonel Assimi Gota, the transitional president, has shown little interest in preparing for these elections. The Malian junta may also be hoping that Russia's partners will be less stringent on democratic requirements.