"Modi Go Home": India's soft power credibility in danger
Prime Minister Narendara Modi's April 19, 2018 visit to London to attend the 25th Commonwealth Heads of Government Meeting was much anticipated and discussed in the public domain for two reasons. First, the non resident Indians' (NRIs) bold protest against Modi was unexpected in the Westminster Streets of London and across the Western capitals. And second, Modi's double stance was exposed the way he has spoken against the Congress Party when he was the prime ministerial candidate of the BJP with regard to the (December 2012, Nirbhaya incident) and now in the ruling side he responds determinedly tied his mouth to the similar cases.
Where has the 56 inch chest gone? Now people are asking why Modi is silent by watching the increasing attacks on women under his leadership. In the London streets, people were gathered raising slogans 'We stand against Modi's agenda of hate and greed' with antagonism holding the banners 'Modi Go Home.' A big poster of Modi with a Nazi's symbol carry the message of 'Modi not welcome' was fixed next to the UK Parliament building occupied every tourist walk on the Westminster Bridge crossing River Thames in the city of London. It indicates his deceptive politics are now realized internationally among Indian diasporas. Doesn't he think this would tarnish India's image in abroad?
In this article, I am analyzing how artificially created fame to Modi, one time he was falsely adorned by the NRIs in London and now brought shame to all Indians by the message of "Modi Go Home" in the world financial capital London.
Modi's silence!
At the moment Prime Minister Modi is feeling the heat of his leadership failures one after other. One of the 'hard-power' recourses in the international power system is 'economic power.' His finance minister demonstrated the fact that Modi's administration has no clue in managing India's economy in these four years. The complete failure in articulating diplomacy and foreign policy of this government exposed their inability to keep India's interest alive in international relations but also fails to hold our neighbors with us.
At this juncture Modi is facing an unexpected assertiveness from the NRI's to take extraordinary efforts in registering their protest. Modi's Government strategic restraint in arresting the criminals who raped and their stand behind the culprits exposed the original face domestically and abroad. Watching this brutality, India cried and the people were angered. Moreover, this situation gave a perception to the world to take a conclusion that India is against women under Modi's leadership. The Congress Party led by Shri Rahul Gandhi organized candle light processions across India along with the public to give pressure on the BJP government to take appropriate action against the perpetrators.
After pressure mounted domestically, Modi got up from a week of silence and stated, "I want to assure the nation that no culprit will be spared. Our daughters will get justice". Now the CBI arrested the BJP party MLA Kuldeep Singh Sengar in connection with Unnao rape incident and link to the victim father's custodial death. The important thing is the Unnao MLA raped his own constituent.
In the other case in Kathu of Jammu and Kashmir, eight-year-old Asifa was gang raped by a caretaker of a temple, and was finally murdered. You cannot imagine the amount of cruelty the girl experienced. The ugly part of the story was the two BJP ministers Lal Singh and Chandar Prakash Ganga from Jammu and Kashmir state government have participated in a rally conducted in supporting the accused in connection with the Asifa case in Kathu.  In these two incidents, the atrocities against children are not by the common men but by a Uttar Pradesh (UP) BJP MLA and the BJP party's well wishers respectively. In the last ten years many BJP leaders are accused for their atrocities against women. Listing more than 21various atrocities unleashed by the BJP leaders across India on women 'Human Rights Activist' Karthik Navayan says, "Time to change the party name to Balatkari Janata Party?" (karthiknavayanwordpress.com).
'Go Home Modi'
The central authority of the BJP now could not face the recent embarrassments like scientific corruptions by the BJP leader's heirs, bank looters are allowed to escape with the support of Modi's government, social disorder, self-proclaimed God-men and God-women are threatening the society, injustice to women and children. Moreover, one side the people of this country are in anger for being cheated by the false promises of Modi and now the other side women are worrying about their security under this leadership. But Modi says these matters should not be politicized. From his silence over these atrocities we can presume that his mind is more concerned about the Karnataka assembly elections.
In this scenario Modi's recent visit to London got the attraction of the protestors instead of more plug cards to welcome Modi in the London streets. The streets flooded with the placards of "Go Home Modi" made the prime minster red-faced. The protesters stood strong against Modi due to his mute approach by not acting against his fellow party men involved in these two incidents now gradually loosing the support of India's expatriates.
Last time when Modi visited London, his speech was attended by a crowd of 60,000 NRIs at Wembley Stadium. The cheerful Modi gave a long sermon which was neither converted to policy nor helped the expatriates in any way. In that visit Modi enjoyed the support from the NRIs and he was greeted from both sides of the London streets. He was admired for his dress, style, and voice and for his speeches. However, his visits abroad are more concentrated on himself in self-proclamation among the Indian expatriates than in articulating India's interest with the specific countries. This time also Modi was expecting the same from the NRIs of UK. Like Indians domestically, the NRIs across the world also trusted his words blindly. Gradually watching his party regressive actions in India makes the NRIs irritated. At the end of the day they realized that all his words are utter lies, further no worthy in listening anymore because it doesn't have any life. Now Modi looks trembling to face the Indian diasporas abroad after his recent visit to London was not a surprise.
Modi is very selective in receiving information from outside. He will only take a message that admires him. Well, he can be selective but he should not forget that the message failed to be received by him will react in the public domain. This is because Modi is the prime minister of this country for every Indian, but demonstrates that he is the prime minister for a selective section of people. He is very happy not to be the prime minister of minorities, women, dalits, adivasis and the devastated poor. After the London incident, Modi has added the NRIs also in this list. Hence, he will not lend his ear to these people.
Under Modi's administration India's soft-power credibility in danger
Our past prime ministers since Jawaharlal Nehru understand India's credentials in soft-power. Hence, they used soft-power approach to promote India's influence in abroad extensively. Prof. Nayar and Paul in their book acknowledge this and stated, "In terms of soft-power indicators, India's position is significantly high in some areas while it has considerable potential in others." In the last four years Modi is using 'soft-power' as his doctrine for foreign policy articulations.
In all his state visits he proclaimed to the world that we are a nation living together in peace and respecting each other though we are diverse. Although the prime minister is speaking this core values in his abroad visits, his party affiliates and him fail to practice this domestically. Our principle of unity in diversity is under attack from the BJP and RSS. Today in India, under Modi's leadership our various institutions are facing huge challenges in discharging their duties. Difference of opinions are not accepted or tolerated by this government. It deeply pains us that the outfits of BJP threaten our different cultures, languages and religious practices but the prime minister of this country is demonstrating only a spectator. The world is watching our prime minister's words and his actions very closely. Our 'state capacity' would be questioned soon if the prime minister is keeping a mute approach for these atrocities against women and minorities. Modi should understand that nationalism without normative concern would not help to build an inclusive national leadership. In his four years as a prime minister he always delivers the one-way communication. He never accepts views from the other side. These unfortunate situations would damage our soft-power credibility while we claim for a global leadership role.
Conclusion
In the international arena protest against war, liberalization policies and Western culture are common. This would be the first time an Indian prime minister was greeted abroad with a message of 'Go Home' (go to Delhi) for not listening to the cry of Indian women. Few days back Modi faced the same challenge from the people of Tamil Nadu state collectively raised the slogan 'Modi Go Back' (go to Delhi) for not abiding the Supreme Court order to constitute Cauvery Management Board. The memes about 'Modi Go Back' occupied the social media for a week. This approach has now been hijacked by the Indian diasporas in London to raise their voice against Modi. One Indian tweeted that, "Please don't send Modi to Delhi. Kindly keep him in London." Would Modi lend his ear to these voices?
It is not a surprise that artificially created image of brand building will be grounded by naturally raised anger. Once the Indian diasporas in the UK and other parts of the world thought that Modi has the capacity of inclusive leadership would deliver by his words. But the recent incidents force the Indian diasporas to rethink that Modi is a loud mouth piece of the RSS, voice of the one section of the society and just a specialized orator in spreading lies to cheat the voters. The youths of this country now feel betrayed, ashamed and frustrated with the way Modi's government fails to give importance for Human Rights. Rape and lynching are unleashed under his rule in the name of 'Gau Rakshak.' The self-styled right wing activists are protecting the cows but not considering to feed the humans who are actually suffering. Watching this arrogance in our society under Modi's leadership, a child who participated in a 'justice for Asifa' rally came with a poster that read, 'Cow is safe, Deer is safe…Mr. Prime Minister …why I am not safe?'
It clearly indicates that all Indians understand the stance of Modi and his party's regressive agenda. Lies after lies and breaking the rule of law they try to build the BJP's government across the country now perceived by the people that BJP is against the idea of India. The day is not far – soon the Indian voters will convert Modi's slogan of 'Mukth Congress' to 'Mukth Modi' in removing him from the prime minister chair.
The Taliban Are Back — And Its Fine
The Taliban have recently conquered large portions of Afghanistan and seem poised to overrun the Afghan government in Kabul. Yet, contrary to what many commentators assume, the return to power of the Taliban is not necessarily a loss for the United States. The Taliban can indeed become an asset for great power competition with China and Russia.
***
The Taliban movement scored significant territorial gains throughout the last months. It made large headways into the northern part of Afghanistan and is now surrounding several major cities, seemingly waiting for the departure of the last foreign troops before it seizes these locations. Yet, a potential takeover by the Taliban, although a hard-to-swallow pill, needs not turn into a net loss for U.S. foreign policy.
The primary — although now often forgotten — motive for NATO presence in Afghanistan was not to skirmish endlessly with the Taliban, but rather to eliminate the threat of devasting 9/11-scale attacks by Al-Qaeda and consorts. However, the current Al-Qaeda threat in Afghanistan hardly justifies U.S. and allied military action there.
First, no massive attack has occurred on U.S. soil for the last twenty years and relevant American law enforcement agencies have taken extensive precautions to make sure it will not happen.
Second, Al-Qaeda's strength in Afghanistan is now estimated to be less than 1,000 by even pessimistic reports. Advocates of a continuous Western presence in Afghanistan have yet to show how a few hundred terrorists represent an existential threat to the United States or the Free World. It stretches the imagination that seven or eight hundred soldiers of fortune pose a vital and imminent peril for America, while China and Russia now field large and modern militaries well-positioned to overrun their neighbors and make a bid for regional hegemony in East Asia and Eastern Europe.
Third, many of Al-Qaeda's recent attacks or attempts at attack on the West have little if nothing to do with Afghanistan and Al-Qaeda activities have been delocalized to other countries in turmoil. Those arguing that NATO needs to indefinitely garrison Afghanistan for the sake of a few hundred terrorists should thus logically also advocate for NATO to garrison Iraq, Libya, Mali, Niger, Syria, Yemen, and others.
Fourth, the Taliban never participated in the 9/11 attacks, and their current alliance with Al-Qaeda has a single main motive: surviving NATO presence. Once NATO is out, there is no obvious reason for them to keep working with Al-Qaeda, which may bring devastation once again upon the Taliban and Afghanistan by conducting reckless international attacks from Afghan soil. The Taliban did not fight for over twenty years to hand over the country to Al Qaeda or anyone else.
Therefore, no essential U.S. interest justifies keeping intervening into Afghan domestic politics. Furthermore, since the Trump administration, the U.S. government identifies China as its primary great power competitor and Russia as a secondary one. U.S. foreign policy is now mostly designed with Chinese power as a background. In a nutshell, Afghanistan, even under Taliban control, could become an asset for competing with China and Russia.
Beijing recently warned that the withdrawal of U.S. and NATO forces poses a major threat to regional stability. The Chinese want America to remain in Afghanistan for as long as possible; that is the unmistakable clue that the United States should exit as fast as it can. If a ferocious civil war continues, Beijing will have to reinforce its western border. Also, if the Taliban take over, Afghanistan may become more sympathetic to the plea of the Xinjiang Uyghurs and less receptive toward Chinese interests. In both cases, China will be forced to strengthen its defense in the areas bordering Afghanistan for fear of instability. Although this burden will likely remain light for China, it is still an easy and unexpansive gain for Washington, because a Chinese soldier busy garrisoning the Afghan border is a soldier unavailable for action towards Taiwan, Korea, or India.
Like the Chinese, the Russians will be forced to protect their southern borders and their Central Asian partners against a potential threat emerging from Afghanistan. To Moscow, this represents around 1,300 kilometers (800 miles) of Afghan-Tajik, Afghan-Turkmen, and Afghan-Uzbek borders to guard; this will push Russia to reorient at least some military forces towards Central Asia and thus release some pressure from NATO in Eastern Europe.
A Taliban-led Afghanistan may also further U.S. interests towards Iran and Pakistan in more indirect ways. Indeed, if the United States keeps engaging with Iran, the uneasiness of living with a Taliban Afghanistan on its eastern borders will give further incentives for Tehran to accommodate the United States, and even Israel and Saudi Arabia. If, unfortunately, Washington fails to repair its relations with Iran, Afghanistan can then become a valuable partner to contain Tehran, regardless of who is in charge in Kabul.
As noticed by former CIA Bruce Riedel, without Western presence in Afghanistan, the Afghan Taliban will be less dependent on support from Pakistan, and Pakistani Taliban will be free to focus their fight against the government in Islamabad. Indeed, Prime Minister Imran Khan made clear that he did not welcome the Taliban back in power and would seal the border with Afghanistan if they were. Consequently, with the Taliban back in office and NATO out, Pakistan will be forced to reinforce its western border, thus diminishing its capability to compete with India. Therefore, New Delhi will be more able to focus on the Chinese threat to its northern and eastern borders. Trouble emanating from Afghanistan may even become an impetus for the Pakistanis to normalize their relations with the Indians.
Since the February 2020 peace agreement, the Taliban have kept their word to refrain from attacking NATO. They are not mindless fanatics yearning for planetary devastation, but rational actors who made clear that they were only interested in ruling Afghanistan and have proven open to negotiation and adjustments. Once in office, the Taliban will have no shortage of potential threats; they will have to navigate between China, a potential hegemon in Asia, a resurgent Russia, and mistrustful governments in Iran, Pakistan, and Central Asia. Threatening or attacking Washington and its allies will be the last of their concerns. They agreed that Afghanistan should not turn into a safe haven for international terrorism again and have been busy fighting with the Afghan branch of the Islamic State. In a 2020 op-ed in The New York Times, the Taliban even touted the possibility 'for cooperation — or even a partnership — in the future.'
Afghanistan is and will remain of secondary importance for U.S. foreign policy; yet, maintaining a working relationship with a future Taliban government can offer several benefits at virtually no cost to the U.S., while turning a military defeat into a political win.
Examining the impacts of Globalization: A Case study of Afghanistan
Globalization is often considered as one of the most important and transformative events in the 21st century. It has led to the creation of multiple influential actors, rise of the information revolution and the formation of various instruments enabling cooperation and interdependence. Of the key aspects in the concept of globalization is the creation of state institutions which have allowed for monitoring, control and economic investments thus enabling greater connectivity with the people across the globe. The information revolution which came as a result of increase in technological prowess and development of communication technologies has led to the creation of virtual communication spaces. Big technological cooperation's were able to exercise influence in the social media space and enable a conducive environment of presentation of various discourses. Globalization has also had a significant influence in the manipulation, coordination and control of all manner of discourse directed at various prominent political figures. From state to non-state actors all have been impacted by globalization.
Globalization in 3rd world countries saw an interesting and significant transformation where nations sought to gain advantage of the political and economic expansion which came as a result of increased connectivity of markets and political institutions. For these 3rd World states where political and economic capital was deficient in terms of influencing regional and global dynamics, they sought to further their geo-political objectives through increased trade, cooperation, cultural diplomacy and providing their strategic assets for more influential states to utilize. Countries such as African and South Asian states utilized international institutions, communication technologies in order to further their social, political and economic interests (Hamidi, 2015 ). Afghanistan in this regard hasn't been averse to the changes effectively induced by globalization. Being a pivotal state in terms of key foreign policy objectives of states such as United States and Soviet Union, Afghanistan has seen change due to globalization. Its influence, in the cultural, political, societal and economic spheres shall be further explored in the ensuing paragraphs of this essay.
The state of Afghanistan has seen consistent and prolonged conflicts throughout its history. It's political and social landscape has been affected by continuous struggle to attain power by warring warlords. Home to many ethnicities, the Afghan conflict has also impacted various ethnic groups disproportionately with many ethnic minorities becoming victims. Economic woes combined with rigid social norms and values have all contributed to a dwindling state marred by conflict. Afghanistan before the dawn of modernism was home to one of history's notorious empires. It housed the rulers who invaded across to the rich plains of India in search of arable land for cultivation and for its natural resources. Despite its rich history Afghanistan was primarily distinguished along the lines of a tribalistic society with consistent conflict over land, domestic feuds and scarcity of resources. This all saw a radical change when during the height of the Cold War the Soviet Union, seeking to gain inroads in to South Asia invaded Afghanistan. What followed was a prolonged and protracted conflict in which not only the Afghan people but the people of neighboring Pakistan were also deeply affected in adverse ways. (Britannica , 2021 )
Afghanistan's ascendancy to the mainstream global political spectrum came as a result of America's denouncement of terrorism and the beginning of the war on terror. Post 9/11 American coalition forces invaded Afghanistan with the aim of targeting terrorists' strategic strongholds in hopes of preventing future recurrences of attacks on European states. Another primary objective of the US and NATO coalition forces was to establish a national government enabled by foreign aid of the United States and led by social representatives of the people of Afghanistan. Before the US becoming an entrant in to the Afghan conflict, Afghanistan had largely been unaffected by radical transformations by globalization. Strict adherence to religious and social norms combined with a sense of alienism was one of the dominating factors which rendered Afghanis practically immune to the effects of globalization. Furthermore, economic and social insecurity had led Afghan societies to cluster into communities in hopes of reducing these anxieties which had become a recurrent theme in the pretext of globalization (Kinnvall, 2004 ).
Globalization for Afghanistan has been what is commonly termed as a "mixed bag". For inviting international bodies to provide aid, relief and security meant a continuous rise in political influence exercised by foreign nations and institutions. Before the advent of American intervention in Afghanistan, foreign influence was mostly restricted to Afghan political elite where several key political stake holders had gained primacy in the eyes of the European governments (EUC paper series , 2017 ). The post 9/11 political spectrum was to radically effect the social political and economic spectrum of the conflict ravaged country. Foreign intervention aimed to radically change the societal fabric of a conservative afghan society and to introduce it to the global financial markets. Economic strife had complemented Afghanistan's bulging unemployment, increased violence and vilification of what was termed as 'evil, alien' concepts of democracy and capitalism. The United States had aimed for re-vitalizing an Afghan society subjugated under Taliban rule.
Afghanistan before 2001 had chronic lapses in communication infrastructure which was largely due to poverty and rigid control by the then Taliban rulers in Afghanistan. Since 2001 the communication bulge came due to a rising influx of international aid and US military deployment. Subsequently Afghan societies were able to connect, report and increase knowledge as a result of the growth in media outlets. Qualitative studies point to the conclusion drawn that content produced by BBC played a significant role in behavioral changes of Afghan society (Adam, 2005 ). The rich monopoly over the constructive discourses surrounding Afghan societies has also changed through the years as analyzed by various academics. Import of cultural and social identities and appreciation of various political voices came due to the significant influence of globalization.
The Afghan economy is another important aspect which has been significantly affected by the geo-political events and the onset of globalization. Globalization has bought with it the economic interdependence through a global financial market system aiming to liberalize and interconnect regional and state economies. Afghanistan for long had seen a frail economy compounded by elements of corruption, ceaseless conflicts and an influential control of trade routes by the Afghan Taliban. The Afghan Taliban, a pre-dominantly Pashtun organization consisting of multiple influential operating factions has for long controlled the opiate trading routes which form the bulk of Afghan domestic export. Primary trading routes had traditionally also included the Pashtun regions of Pakistan. Afghanistan's anti-Soviet role was furthered by control over such content flows which not only allowed a vast and complicated network of interconnected guerilla groups but also served as the primary produce generating capital (Mendel, 2019 ).
While many argue that globalization inherently is a positive force aiming to alleviate and provide further economic, social and political stability, contested views argue in terms of empirical evidence against the normative claim. The Afghan perspective under the subject of globalization was seen as largely as a disconnect from the rest of the world. The process of integration, Western scholars argued was through the increased presence of defense forces and international institutions aiming to uplift societal deprivations. Another interesting perspective in this regard comes during the analysis of Al-Qaeda networks which for long operating on a global level. Such a degree of efficiency combined with a global distribution of opium trade was only possible through a systematic interconnectedness with various international networks. These would then allow a vast and lucrative drug business to operate despite chronic lapses in the government institutions on economic policy and implementation of government economic models.
Afghan society under the Taliban was rigidly controlled and monitored. Consisting largely of rural tribesmen, high rates of unemployment and extreme poverty had subjected the society to the will of powerful tribal leaders who worked to further their objective of accumulating power and influence. Religion in Afghanistan has also induced a traditional society to follow principals ascribed in religious texts. Laws and structure of society were decided on the basis of a rigid code of scripture. US department of State in its report argues that "legal change occurs usually when it is followed, not when it is leads public by opinion". This argument follows in line with the narrative that while although US forces and NATO allies were able to remove a Taliban government, applying US democratic values and legal constitutions would be difficult and would ultimately fail when it came to attaining societal approval (Palmerlee, 2003 ).
Afghani society has followed traditional principals and held on cultural traditions and narratives. With globalization many academics have argued that Afghanistan's inability or the lack of want to change arises from either a poor system of governance or a strongly entrenched traditional societal structure. Despite having multiple programs and promoting organizations representative of the Afghan people, resistance to change has always come due to deeply held beliefs of the need for religious protectionism and maintaining tribal identity. This 'counter-global' stances show a societal push back of what is considered as an interference of foreign media, and institutions as a challenging force to disrupt established social norms and values. US forces therefore ever since entering into Afghanistan have found it difficult to reconcile Afghan societies thoughts and values with Western ideals of democracy and capitalism. It is one of the influential factors which allow organizations such as the Afghan Taliban to continue an armed insurgency where general acceptance of society has created the space for the Taliban to operate for a continuous period.
The political spectrum of Afghanistan has also been affected by globalization. International institutions and states have continuously aimed to impart western form of governance in Afghanistan. Foreign investments and defense deployments have continued with the pursuit of gaining political leverage and to back national governments representative of Afghanistan. Despite the continued inflow of foreign capital and operations conducted by NATO forces, the Afghan conflict has largely remained un-resolved and unchanged. The current government having the backing of powerful NATO forces has been largely unable to gain credibility and acceptability in the eyes of Afghanis. Afghanistan's continued withdrawal from globalization and a rejection to imparting new and improved means of governance has been a primary factor which hasn't allowed credible space for forms of governance like this to prosper.
The political spectrum also continues to be shaped by consistent sense of 'loss of sovereignty' This concept comes as result of a globalization where the greater influence of international institutions and foreign states is observed to have a negative impact on the states individual sovereignty. Despite the profits gained from having a highly interconnected market system and the creation of institutions to reduce the chance of conflict, such influence has been challenged by developing countries. South Asia is largely populated with people living below the average rate of income established by international organizations such as the United Nations. The people of Afghanistan belong to the poorest strata where people have the lowest levels of income followed by a large scale of unemployment and little to no foreign export except the opiate trade. International organizations and non-state actors have over the years gained increasing levels of control and influence in the governance structure of Afghanistan. Through providing aid, defense and foreign policy strategies Afghanistan government and the role of influential international actors has led to an increasing sense of loss of sovereignty by the Afghan population (Political works , 2009 ). This has allowed the continuing Afghan insurgency to gain traction and acceptance where despite being dislodged from power the guerilla paramilitary force has taken up an aggressive and largely successful campaign against the foreign led forces.
Cultural identity has been at the forefront of the debates surrounding globalization. Common conceptions of globalizations mainly discuss the normative aspects of increased communication and inter-dependence between countries. Globalization has increased interconnectivity and has led to a homogeneity of cultures and traditions. While debatable, the concept remains significant in the debate on globalization. The study on Afghanistan has largely been on political economy and connecting Afghanistan with the global financial institutions. Cultural values of democracy and westernized conceptions on human values have found little acceptance in Afghanistan and in other Muslim countries. This interesting concept can be studied by understanding the radically altering understanding of individual values and identities of Muslim cultures with that of Westernized democratic ideals. This makes it problematic where enforcement or promotion of these values then leads to cultural rifts and becomes the precursor for possible future conflict. In the case of Afghanistan cultural identity is fixated in the identification on the basis of religion and tribal identities. The celebration of the 'collective' and the promotion of shared norms and values gains greater acceptance over westernized ideas of the individual. With these fundamental differences cultural identity has been largely unchanged despite continued foreign assistance and commitment in Afghanistan (Weisberg, 2002 ).
Afghanistan for a large part of its history has seen great conflict of different scales. From internal rifts to foreign interventions the complicated and prevailing nexus in Afghanistan continues to invite academic debate till today. Globalization has increasingly allowed greater connectivity and enhanced opportunities of cooperation and increased global/regional ties. For Afghanistan the complicated situation has been further exasperated with an increasingly globalized world. With foreign interventions and rising levels of inequality and influence of non-state actors, the situation of Afghanistan continues to remain in flux. Only time will truly tell how and to what extent has globalization truly impacted Afghanistan.
Why France holds the key to India's Multilateral Ambitions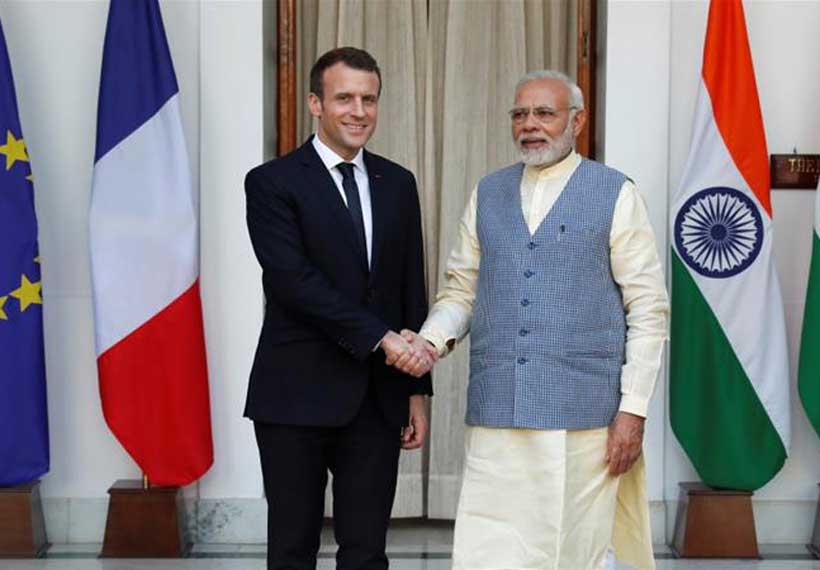 Authors: Prof. Nidhi Piplani Kapur and K.A. Dhananjay
As Indian Foreign Secretary Harsh Shringla pitches for permanent membership and reforms at the United Nations (UN), India's prowess in multilateral diplomacy is tested. Against this backdrop, allies and partners who intend to support India become a critical factor not only to its UN ambitions; but also, areas where India's multilateral interests are emerging – namely in the European Union (EU) and Indo-Pacific Region. In this regard, India's multilateral goals are threefold–securing a permanent membership at the UN, enhanced multilateral trade relations with the EU, and enlarged capacity-building in the Indo-Pacific. Yet, for realizing its multilateral endeavours, India's age-old relationship with France remains the key.
Since the signing of the Strategic Partnership with India in 1998, France has played an enormous role in supporting Indian interests. Whether it is backing India's stance on Kashmir, collaborating in defence and space, or even pledging solidarity in fighting the second wave of the pandemic, France has assisted India in its strategic and societal causes. Therefore, being a reliable and strategic ally, France is a perfect guide for India in the aforesaid multilateral pursuits primarily because of its credentials as a permanent member in the UN, founding member of the EU, and in recent times, an emerging power in the Indo-Pacific region too.
UN Reforms and Permanent Membership
Ever since India was elected as a non-permanent member of the UN Security Council in 2020, it has constantly batted for organizational reforms within the UN. As India puts it – 'reformed multilateralism' is in the need of the hour. It is a fact that the UN is currently beleaguered by an unevenly poised multilateral system, mainly wedged between the politics of the United States, Russia, and China, and hence is proving antithetical to the organisation's legitimacy and purpose per se. Besides, with China reportedly making inroads within the UN system, India's call for reforms underpins its cause to arrest Beijing's influence that could otherwise prove costly to its strategic interests, including territorial disputes along the Line of Actual Control.
At the UN, France has endorsed India's bid to overhaul the Security Council on numerous occasions. Currently, France and India are presiding over the Security Council in successive terms for July and August respectively. While India has signalled to make 'best' efforts to reform the UN during its short stint at the Security Council, France has already called for negotiations with India to explore and expedite the reformation it proposes. Whatever may be the challenges, France provides elbow room for India to set the ball rolling.
Brokering the India-EU FTA
The EU has been an important multilateral partner for India via trade and strategic relations. Post the EU-India virtual summit in May, an event that drew participation from leaders of all the 27 EU member states, there has been a lot of talk on India's burgeoning importance in Europe. The summit was a positive outcome for India, as negotiations for the long-pending Free Trade Agreement (FTA) with the EU were set to restart after a gap of 8 years. Notably, FTA talks with India come at a time when the highly debated EU-China trade deal was frozen by the European Parliament owing to 'tit-for-tat' sanctions surrounding China's human rights violations in Xinjiang and Hong Kong.
For India, the FTA is a watershed for extending multilateral relations with the European continent and an opportunity to consider an alternative to futile Regional Comprehensive Economic Partnership (RCEP) negotiations. Though the FTA might look vibrant and dynamic, the EU considers India's policy on market access, intellectual property, and data security unfavourable to pursue a free trade agreement. These issues may not be easy to forego, especially given the socio-economic conditions induced by the pandemic; but there comes the French angle to the discussion.
In the EU, France was one of the main proponents for resuming FTA negotiations with India. Since France has a significant foothold in the EU and a long-standing relationship with India, it has the tenacity to cement the middle ground while both parties deliberate on the FTA. This way, both India and the EU's interests are not shredded, and if the FTA becomes a reality, France gets to keep the legacy of brokering an otherwise impossible landmark deal.
Enlarged Indo-Pacific Cooperation
The rise of China and the consequent formation of the QUAD has put the Indo-Pacific region in the global geopolitical landscape. The Indo-Pacific is at the centre of India's strategic and territorial interests. As a prominent state in the region, India pursues a strategy that counters China's dominance and expands its outreach in the Indo-Pacific. Seeing the political circumstances in the Indo-Pacific, France has also shown a keen interest in exploring its prospects in the region.
From securing membership at the Indian Ocean Rim Association to participating in strategic engagements such as the Australia-India-France Trilateral Dialogue and the QUAD-Plus network, France is gradually expanding its footprint in the Indo-Pacific. Not to forget, through 4 overseas territories, France also has a regional presence in the Indo-Pacific. With the EU also launching its Indo-Pacific strategy, France naturally has a tactical advantage to even pilot European interests in the region.
Ergo, French entry in the Indo-Pacific is good news for India because now it has more partners to restrict China. As a result, multilateral capacity-building and maritime domain awareness operations in the Indo-Pacific look at a major facelift in ensuring maritime security, freedom of navigation, and most importantly – restrict Chinese expansionism. Given the French factor, enlarged Indo-Pacific cooperation is beneficial for India to rise as a pivot as well as keep an eye on China's incessant effrontery in the region.
Based on what France brings to the table, India is looking at a friend whose promising rapport provides a new prism for its multilateral aspirations. Albeit, the judicial probe ordered on the Rafale deal in France might cause light tremors in Indo-French relations and may also spill out a political limbo. It is a headache for both Paris and New Delhi to eschew, and hopefully, they could steer it in a way mutual interests do not succumb to the looming uncertainty.