Russia's v. America's Records on Democracy and on Whistleblowers' Safety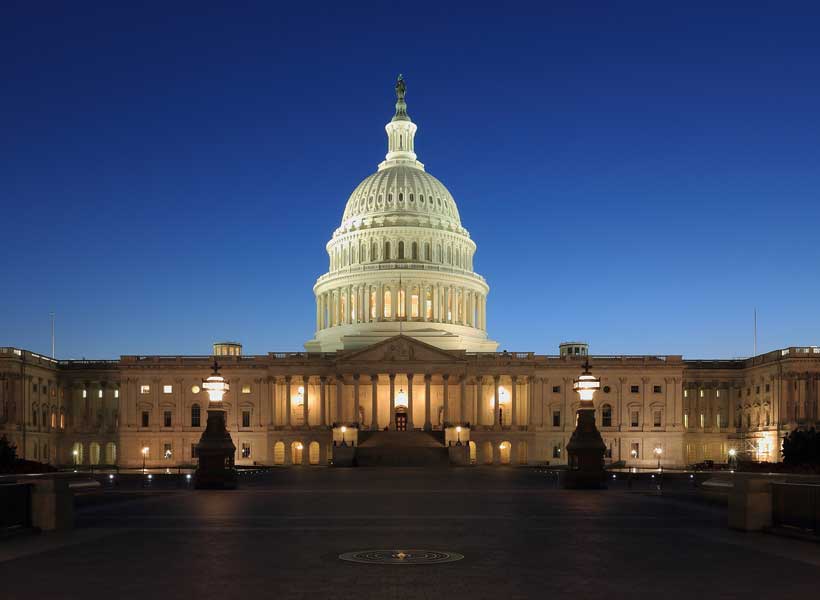 There are multiple quantitative measures for a given nation's degree of democracy, in comparison with that of other nations, but perhaps the best is the job-approval that the nation's citizens give of the head-of-state. On that measure, Russia is far more of a democracy than is the U.S., and is second only to China worldwide. On 6 March 2016, the Washington Post bannered, "How to understand Putin's jaw-droppingly high approval ratings", and opened, "Russian President Vladimir Putin has an 83 percent approval rating." It found a way to blame Russian culture for this, because they couldn't find a way to deny that Putin is extremely favorably viewed by the Russian people, and the WP is rabidly against Russia's Government; so, blaming Russia's culture (essentially, blaming Russians) for the findings was the best they were able to do. Could Russia be a more democratic nation than America is? Could China be the world's most democratic nation? An ordinary American with a closed mind would simply ignore these data, not even be puzzled by these persistent findings; but the answer is clearly yes — those countries might be more democratic than is America. A person who isn't willing to consider that possibility would be merely time-wasting to read any further here.
Another reasonable way to measure democracy is by how low a percentage of the nation's citizens are in prison. The nation with the world's highest percentage of its population in prison is the United States. Only tiny Seychelles, whose total population is under 100,000 and which holds other countries' convicts in its prisons, is technically the worst. U.S. has 693 prisoners per 100,000 population, whereas Seychelles has 799 per 100,000. Second-highest after U.S. was St. Kitts & Nevis, at 607. Third-highest is Turkmenistan, at 583. Fourth-highest, U.S. Virgin Islands, at 542. Fifth-highest, El Salvador, at 541. Sixth-highest, Cuba, 510. Seventh-highest, Guam, 469. Eighth-highest, Russia, 450. None of these countries would, on this measure, be a "democracy," but (other than Seychelles) the U.S. would be the most dictatorial — a police-state, on this measure, it's the very worst nation except perhaps Seychelles.
Another reasonable way of measuring whether a nation is a democracy is the degree of trust that its citizens have in their government. The 2018 Edelman Trust Barometer showed that 44% of Russians trust their government, and 33% of Americans trust ours. The highest was the 84% of Chinese who trust theirs. 28 nations were ranked: China was #1, Russia #13, U.S. #21. But could China be the world's most democratic nation? Of course, it could — not by the same means as some of 'the democratic' nations use, but more authentically democratic than they — that's certainly possible. And, as we now see, important data indicate that it is also true.
Another reasonable way to measure democracy is by the population's happiness (and another common phrase for the population's happiness is "the general welfare" of the people). In Gallup's World Happiness Report 2018, the U.S. ranked #18, Russia #59, and China #86, out of the 156 countries surveyed. The top 5 nations in order were: Finland, Norway, Denmark, Iceland, and Switzerland. On the happiness measure, those five, at least, certainly are democracies. Are those five the world's most democratic nations? And, even if they might not be, the residents in those countries still could be the most fortunate on the planet, because happiness is a goal everywhere. By contrast, democracy is usually viewed as being mainly instrumental toward achieving the public's happiness. As the sovereignty clause — the opening, the Preamble — in America's Constitution, says: "We the People of the United States, in Order to form a more perfect Union, establish Justice, insure domestic Tranquility, provide for the common defence, promote the general Welfare, and secure the Blessings of Liberty to ourselves and our Posterity, do ordain and establish this Constitution for the United States of America." It — the statement of the Constitution's goals — says nothing about "democracy," but does mention, as a goal, to "promote the general Welfare," and that's just another way of saying, to promote happiness. The sovereignty clause also mentions "Liberty," "the common defence," and other things, but nowhere does it even so much as mention "democracy." But what the sovereignty clause does say that's the most important thing of all, is its opening seven words, which name what is the sovereign in this country; and, unlike in just about every other legal system, which identifies some god, or some king, as the sovereign, this Constitution was the world's first which identifies, instead, "We the People of the United States" —- the residents here — as being the sovereign here. And, in line with that sovereignty, the only happiness that it is at all concerned about is "the general Welfare" and "our Posterity." Repudiation of any aristocracy is thus implicit even in our Constitution's opening. Perhaps America's Founders equated disempowerment of the aristocracy as constituting what we today commonly think of as being "democracy." But if that is what they thought, then this is no longer their country, and this Constitution is no longer America's Constitution, and that's just an empirical fact.
Some people would say that a democracy is a nation that trusts its news-media. Trust in Media
is the highest, #1, in China, 71%; and is 42% in #15 U.S.; and is 35% in #20 Russia. (A July 2017 Marist poll however found that only 30% of Americans trust the media. That's a stunning 12% lower than the Edelman survey found.) In other words: Chinese people experience that what they encounter in their news-media becomes borne-out in retrospect as having been true, but only half of that percentage of Russians experience this; and U.S. scores nearer to Russia than to China on this matter. Simply based on the facts, Americans shouldn't trust the nation's media at all; the trust-level is unrealistically high in America, but the 'news' media deceive the public to believe otherwise (that Americans trust the media too little, instead of too much). (And, then, to top it off, the major media, which had deceived Americans into invading Iraq in 2003, and invading Libya in 2011, etc., allege that the only media which pump fake 'news' are small or 'alternative' ones, and that the major 'news' media — which clearly did it, when it counted the most and so produced those evil horrendous invasions — don't do it, at all. That's the biggest lie, of all, incredibly counter-factual: the lie that the major media aren't the real and most viciously dangerous problem of fake 'news' in America.)
A recent poll of Americans showed that "74% think America is a dictatorship; only 21% think it's not." Perhaps Americans are more realistic about the government than about the 'news' media.
Although one can reasonably debate the degree to which any nation is a democracy, the United States certainly stands rather low on that factor, and stands well below China, and perhaps is lower than Russia, but none of these countries is among the world's worst — except, perhaps, the U.S., for its having the highest percentage of its people in prison. The percentage of the residents who are in prison is probably the best single commonly available measure of the extent to which a given nation isn't a democracy. How could it even conceivably be 'the land of the free' if it's got the world's highest percentage of its people behind bars? The very idea that America is a democracy is, thus, simply ludicrous — on the basis of the data. And, the U.S. is, furthermore, the only country in the entire world where the hypothesis that the nation is a democracy was scientifically investigated and analyzed — and it was found definitely to be false here.
Consequently, whenever the U.S. Government condemns some other country for its 'dictatorship' or for its mistreatment of journalists, a pot is calling a kettle black, the statement is pure propaganda, unless the U.S. Government simultaneously admits that it's a dictatorship — which the U.S. Government certainly is (the only nation that has been scientifically proven to be a dictatorship).
Some people say that Russia cannot possibly be more democratic than is the U.S., because in Russia, investigative journalists and whistleblowers are suppressed if not killed.
Gary Webb was a great American investigative journalist who was shot dead and the 'news'media slammed and basically smeared him. He had exposed a CIA drug-running operation. His murderer was never identified. The 'news'media do not honor him.
Phillip Marshal was a great American investigative journalist whose entire family (including himself) was shot dead, and this killing stopped his ongoing deep investigation into the people behind the 9/11 attacks. His murderer(s) was/were never identified. The 'news'media do not honor him.
The greatest whistleblowers and investigative journalists are treated by the U.S. Government as mega-criminals: prominent examples of this are Julian Assange, Edward Snowden, and Chelsea Manning. The U.S. Government has now caused Assange to be not only in solitary confinement but held entirely incommunicado, blocked from being able to communicate with the public in any way; his Wikileaks is now incapacitated except as its pre-existing online archive. If that's not a regime which aspires to spread its dictatorship throughout all countries, then what is? How appropriate, then, is it, that this same Government places the world's highest percentage of its own citizens into prison? And how appropriate is it that this Government furthermore proclaims itself to be the world's model of 'democracy'?
JFK (John Fitzgerald Kennedy) was a U.S. President who started turning against the military-industrial complex and was shot dead in a conspiracy in which Lee Harvey Oswald — someone who might have been a trigger-man in the assassination — got framed for the entire operation, as a 'lone gunman'.
MLK (Martin Luther King) was America's greatest orator and ethical leader, and was hated by the bigoted FBI Director, so got shot dead, and the FBI said that a lone gunman James Earl Ray did it, but MLK's family and supporters believed that the FBI itself did it, perhaps with other government enforcers being involved.
Of course, there have been similar mysteries in Russia. Anna Politkovskaya was a great investigative journalist in Russia, who got murdered, but after many trials, no one has been convicted for it. And there are other instances (just as there are in America).
Unlike in America, no Russian head-of-state has been assassinated since Tzar Nicholas in 1917, when the communists took over Russia. And unlike JFK, who had the legitimacy of being elected to his post, the Tzar did not. Today's Russian heads-of-state do have to explain themselves to the public and compete in elections, and none has yet been murdered, such as in the United States.
No scientific study has ever been published regarding whether or not Russia is authentically a democracy, nor of whether China is, but there has been one — and only one — scientific study of whether the U.S. is a democracy; and it established that, definitely, the U.S. is not a democracy. Former U.S. President Jimmy Carter once even had the courage and honesty to say as much, but the myth goes on because the 'news' and 'history' about the matter continue to lie, so as to spread the myth — instead of to spread the news and the history — regarding this question, about the American Government, and about its stenographic 'news' media. For the U.S. Government to pontificate to the world about 'democracy' is an atrocity, because the U.S. itself definitely isn't one. Americans have simply been deceived. And wherever the public have been deceived, democracy is impossible; only 'democracy' can result.
Latin America and China: The economic and debt situation and the U.S. discomfort
Latin American countries have no relatively good room for fiscal and monetary policy adjustment like China, and basically lack the ability for governmental countercyclical adjustment. This is mainly reflected in their room for fiscal and monetary policy.
From a fiscal viewpoint, the taxation ability of Latin American governments is generally weak. Taxation accounts for 16-18% of GDP, which is obviously lower than the 30-35% level of developed countries.
In terms of monetary policy, since the currencies of Latin American countries are directly correlated to the U.S. dollar exchange rate, the dollar fluctuation also entails the reduction of their room for monetary policy adjustment. These countries have continuously borrowed and cut interest rates. Hence there is little room for further steps.
The Federal Reserve has adopted the policy of unlimited quantitative easing which, in practical and easy-to-understand terms, is one of the unconventional ways by which a central bank intervenes in a State's financial and economic system to increase the amount of debt money in circulation.
Although the U.S. stock market went into a slump several times, it should be noted that Nasdaq reached a new high. Ultimately, money has become more circulating. Interest rates in Latin American countries, however, have become very low and there is little room for further cuts.
At the same time, their foreign debts are also relatively high. For example, Argentina has recently approved a 70billion dollar debt restructuring plan and its debt accounted for over 50% of GDP.
The first solution to the debt crisis is to delay repayment, and the second one is to cancel interest or partly write off the debt. The creditor has no choice but to be forced to agree if one of the counterparts is unable to repay it. This is an endless cycle that, once the debt restructuring plan is approved, will only alleviate and mitigate Argentina's crisis.
Argentina's debt crisis occurred nine times in history, and this is the third time in the new century. Inflation in Argentina has caused its currency to depreciate by over 70%. According to statistics from the United Nations Economic Commission for Latin America, over 12 million people were jobless in Latin America in 2020. Poor people in Latin America will increase from 118 to 130 million and the extremely poor people will rise from over 60 million to over 90 million.
Faced with some new difficulties and challenges, we need to explain and assess China-Latin America relations at the current historic juncture. The development of China-Latin America relations has shifted from a period of high-speed growth to a period of stable growth. Quantitative and extensive development is shifting to a qualitative and specific one.
Initially China-Latin America relations took off suddenly and even exceeded expectations. Instead, a steady, efficient, stable and effective approach is currently preferred. The orderly progression of diplomatic and commercial relations is more advantageous than a context of actual speed.
This is especially the case in the context of intensified strategic competition between China and the United States. The political situation in Latin America, and the further impact of the Covid-19 pandemic, mean that certain changes need to be made to China-Latin America relations.
Firstly, the U.S. influence on China-Latin America relations needs to be assessed. Sino-U.S. relations are the most important, sensitive and complex bilateral relations in Chinese diplomacy.
Recently, there have been many major changes in Sino-U.S. relations, but one of them is often overlooked: from the Latin American countries' perspective, the relationship between Latin America and the United States is the most important one. China's interests in Latin America have not surpassed the United States' in terms of political and economic development.
Here are some data. In the field of economy and trade, the United States is still Latin America's main trading partner. The same applies to investment. The United States has great advantage over China.
In 2017, trade between the United States and Latin America exceeded 760 billion dollars, almost three times the volume of trade between China and Latin America. In 2019, trade between China and Latin America was about 270-280 billion dollars, while the volume of trade between the United States and Latin America was almost 800 billion dollars.
From an investment perspective, U.S.A.'s and Latin America's direct engagement in 2017 was 45 billion dollars, almost double that of China. Therefore the United States outperforms China in terms of trade and investment.
However, benefiting from the advantage of China's economic growth and the structural complementarity between China and Latin America, the acceleration of China's economic and trade investment in Latin America is higher than that of the United States. Therefore, China has an incremental advantage in Latin America, but the United States enjoys an 'equity' primacy.
For example, outgoing President Trump has never visited Latin America, but this does not mean that the United States does not pay attention to it. Quite the reverse. If we look at the reports on Sino-Latin American relations issued by U.S. think tanks, scholars and experts are particularly worried.
The U.S. Congress holds several hearings on Sino-Latin American relations every year and invites not only local experts, but also experts from Mexico, Brazil and other countries. We can see that the United States attaches great importance to the development of China-Latin America relations.
We wonder, however, why has the United States not taken propagandistically political positions in Latin America as it does towards China, the Middle East, South-East Asia and the South China Sea.
This means that the United States still considerably trust Latin American bonhomie, good nature, patience and tolerance. The U.S. media merely claim that China's influence in Latin America has increased and its soft power has enhanced but, overall, China's influence in Latin America is far less than that of the United States.
If we ask in Brazil what they think of U.S.-China, U.S.-Brazil and Brazil-China relations, we get the following answers. The United States is a model for Brazil's development and the values and ideologies of both Brazil and the United States are close. China is an important trade and investment partner for Brazil. From an economic viewpoint, Brazil's development should seek to establish a better partnership with China, but in terms of ideology and values, the Forbidden City is further away than the White House.
For Latin America, maintaining stable relations with the United States is a primary interest. After the outbreak of the Covid-19 pandemic in Latin America, China – thanks to some of its medical equipment – did its best to help those countries mitigate the impact of the disease. A Chinese state-owned company responded to the call and promised to build a hospital with an in-patient module in a conference and exhibition centre in Panama to help infected patients, for only a small sum of money from the State.
Panamanian President Laurentino Cortizo Cohen, however, rejected the proposal outright. In the end, Panama spent 12 million U.S. dollars and built 100 hospital beds and 26 intensive care units, without taking advantage of Chinese aid.
On April 16, Cortizo presided over the hospital's opening ceremony, announcing that it was his own decision. Conversely, when former Panamanian President Juan Carlos Varela (2014-19) was in power, he visited China, and Chinese Foreign Minister and State Councillor Wang Yi reciprocated by travelling to Panama.
At the time, President Varela said that the landmark project for the expansion of the Silk Road passed through Panama, as did the 4 billion dollar plan to expand the canal and railway from Panama to Costa Rica. The new President in power, however, has not followed the philosophy of his predecessor, terrified of displeasing the United States. Unfortunately, this news is not reported in the Italian press.
Gallup: Trump Globally the Least Respected U.S. President This Century
On January 15th, the Gallup World Poll issued its preliminary report for their upcoming "Rating World Leaders: 2021" report. It shows the results that have been tabulated for 60 of the 135 countries where they annually sample global public opinion about U.S. leadership. One especially clear finding from it is that when their final report for all 135 countries will be issued, it will show that among the three U.S. Presidencies on which Gallup has internationally surveyed — which are only the three U.S. Presidents in this century — Trump is clearly the one who is globally respected the least, even lower than George W. Bush was respected.
Here are the findings, in each of the 60 nations, and the percentage increase or decrease from Gallup's last completed survey report, "Rating World Leaders: 2020":
"Approval of U.S. Leadership Across 60 Countries and Areas"
"Do you approve or disapprove of the job performance of the leadership of the United States?"
% "Approve":
Dominican Republic, 66% was 56% in 2020
Cameroon, 62 was 61
Georgia, 61 was 43
Zambia, 56 was 26
Albania, 56 was 67
Philippines, 55 was 58
Uganda, 53 was 47
Mauritius, 50 was 59
Zimbabwe, 50 was 59
Ecuador, 43 was 34
Colombia, 42 was 41
Moldova, 40 was 45
Brazil, 40 was 38
Japan, 39 was 34
Kyrgyzstan, 34 was 32
Namibia, 34 was 31
Bulgaria, 32 was 26
Cambodia, 32 was 49
Hong Kong, Special Administrative Region of China, 31 was 31
Poland, 30 was 59
South Korea, 30 was 41
Bolivia , 30 was 31
Australia, 29 was 23
Taiwan, Province of China, 28 was 40
New Zealand, 26 was 17
Mexico, 26 was 17
Malta, 26 was 30
Ethiopia, 25 was 37
Argentina, 24 was 26
Ukraine, 24 was 32
Greece, 21 was 19
Croatia, 21 was 25
Morocco, 21 was 22
Serbia , 20 was 19
Ireland, 20 was 30
Finland, 20 was 20
Slovenia, 19 was 20
Cyprus, 19 was 27
Tunisia, 19 was 24
Italy, 19 was 22
France, 18 was 23
Russia, 18 was 11
Netherlands, 18 was 20
Canada, 17 was 22
Spain, 17 was 23
Chile, 16 was 16
Estonia, 15 was 17
United Kingdom, 15 was 25
Denmark, 14 was 24
Turkey, 13 was 12
Slovakia, 13 was 28
Norway, 12 was 15
Portugal, 12 was 14
Belgium, 12 was 17
Sweden, 11 was 12
Switzerland, 10 was 13
Austria, 9 was 11
Iran, 6 was 6
Germany, 6 was 12
Iceland, 5 was 9
Remarkably, Gallup doesn't poll in China on this question. (Nor does Pew.)
Notably, Trump is more disapproved-of in Europe than in any other part of the world. (Also, as Pew reported on 16 December 2020, "In Europe, more trust Putin than Trump.")
Those percentage-changes that we've just shown total to a decline, among all 60 countries, of 121 percentage-points (-121%), or, almost exactly, a -2% change from the 2019 findings that had been reported in Gallup's "Rating World Leaders: 2020".
Gallup says that "until all of Gallup's 2020 fieldwork is complete in a few months, it is still too early to say that the U.S. will see its worst ranking in the history of Gallup's World Poll." However, Gallup's "Rating World Leaders: 2020" report covered 135 lands, and the 60 lands that they have tabulated as of now, for the 2021 report, seem to be a representative sampling of all of those 135, and collectively those 60 populations have reduced their respect for America's leadership by 2%. In the 2020 report, the global level of approval for America's leadership was 33%. The all-time-low had been the 30% figure in 2017, Trump's first year, a finding which was based on Trump's promises, not on his performance. The upcoming final Gallup report "Rating World Leaders: 2021" will — if the results from those 60 lands do turn out to be representative of the global findings — produce a 31% global approval level by all of the approximately 135 lands that will be covered in it. For each of Trump's four years, then, the global percentages will have been (for each one of his four years) 30%, 31%, 33%, and (now, in his final year) 31%. Each year, it was even lower than the prior record low, of George W. Bush, had been, at 34% in 2008.
There was higher disapproval than approval of America's leadership during the Presidencies of George W. Bush and of Donald Trump than there was approval of either U.S. President's leadership. Strikingly, however, there was higher approval than disapproval during (and throughout) the two terms of office of Barack Obama. That Nobel Peace Prize winner was/is internationally admired. (Crazy, but true: he was an international charmer.)
Here are summarized (with links to the evidence regarding) the actual chief international achievements of each of these three U.S. Presidents:
George W. Bush: destroying Iraq, and destroying Afghanistan.
Barack Obama: destroying Syria, and destroying Ukraine, while continuing Bush's destructions of Iraq and of Afghanistan.
Donald Trump: destroying Iran, and destroying Venezuela, while continuing his predecessors' destructions of Iraq, Afghanistan, Syria, and Ukraine. He also made the destruction of Palestine even worse than it had previously been.
So, the question regarding incoming U.S. President Joe Biden will be whether he will continue this tradition further, or reverse it. Because, it's really all the same tradition, throughout all three U.S. Presidencies this century. By contrast, global perceptions are that those three U.S. Presidents were drastically different from one another.
On 15 September 290290, Pew bannered "U.S. Image Plummets Internationally as Most Say Country Has Handled Coronavirus Badly" and reported that:
The publics surveyed also see Trump more negatively than other world leaders. Among the six leaders included on the survey, Angela Merkel receives the highest marks: A median of 76% across the nations polled have confidence in the German chancellor. French President Emmanuel Macron also gets largely favorable reviews. Ratings for British Prime Minister Boris Johnson are roughly split. Ratings for Russian President Vladimir Putin and Chinese President Xi Jinping are overwhelmingly negative, although not as negative as those for Trump.
Right above that was this graph, which shows starkly the false European perception that Barack Obama was vastly superior to George W. Bush and Donald Trump: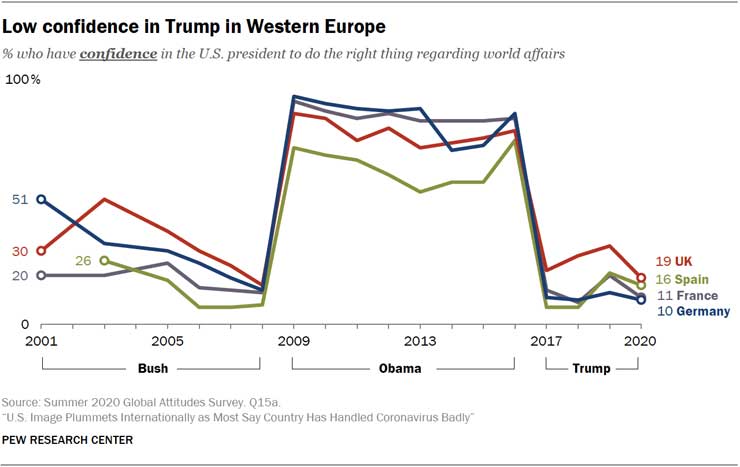 Apparently, most Europeans have no problem with a U.S. President who continues America's use of torture, and who continues America's legal immunity of prosecution for banksters, and who imposes ethnic cleansing abroad, and who aims for achieving a U.S. first-strike ability to conquer Russia by a sudden nuclear blitz attack. Style is everything, for them; substance is nothing, to them. Why didn't they like Hitler? Is it only because he did it to them?
Why won't Bowdich evoke 9/11 now?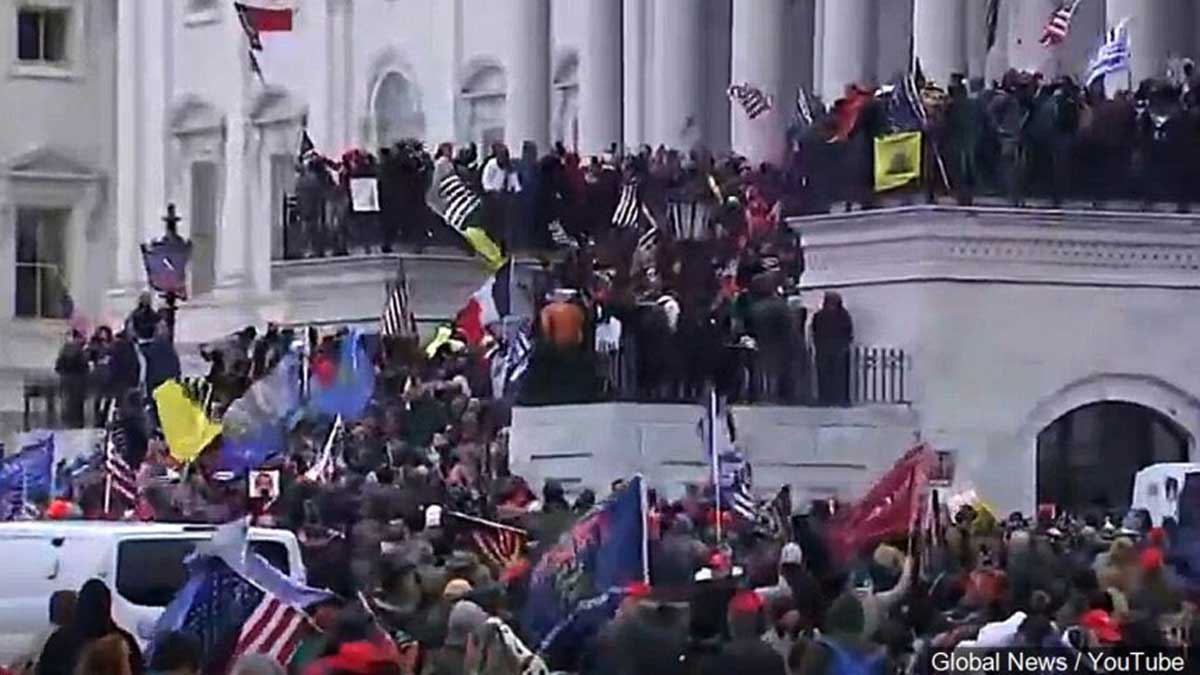 "Day of fire". That's how House Speaker Nancy Pelosi referred to the Capitol insurrection, which happens to be the exact same phrase President George W. Bush used on the occasion of 9/11. That is not coincidental. But why won't the FBI draw 9/11 parallels now?
In spring last year, when I was running for UN Special Rapporteur on freedom of speech, in a leaked memo to the New York Times, FBI Deputy Director David Bowdich was quoted in a reaction to the Black Lives Matters protests. Bowdich maintained that the protesters should be arrested under an outdated racketeering law from the 1940s. The leaked memo showed that Mr Bowdich considered the social justice movement "a national crisis" comparable to 9/11. The hundreds of thousands of people mourning and marching across the country, unified by the simple thought that no life should be taken lightly, for nothing, were actually similar to terrorists in the eyes of the FBI who wanted to charge them as racketeers. Why won't Bowdich evoke 9/11 now, when it comes to far-right actual terrorism? We are talking about plans to blow up buildings and assassinate law-makers.
There is evidence appearing now through the courts that the Trump mob indeed intended to capture and assassinate congressmen. A new court filing by federal prosecutors says that Trump supporters intended to "capture and assassinate" elected officials during the Capitol riot.
The FBI has a misplaced terrorism obsession with the progressive left, while lightly ignoring the far-right, which is by far the more violent and much more organized group. The Capitol events security mishandling demonstrated a different attitude when it comes to the latter group.
There is a difference between street clashes with police in social justice protests that have gone overboard and have turned violent, on one hand, and placing bombs at political buildings, plans to kidnap and assassinate politicians, and violent usurping of the certification of a democratically elected president. The difference should be obvious, and yet the FBI is pursuing its obsession with the left voices, largely ignoring the violent extremists and the real violent terrorism threat on the far right, as recently revealed by an Intercept investigation.
In a public statement, the FBI made sure that the public understood its own misguided standard used in the threat assessment in the Capitol attacks by the Trump mob, namely the aspirations vs intentions test. The FBI official explained that the FBI needs to consider that some online activity and planning by the far right could simply be "keyboard bravado". So, "keyboard bravado" is now the new "locker room talk".
It is not surprising that the FBI uses different standards to assess the threat on the far-left and on the far-right. Former FBI director Hoover called Martin Luther King "one of the most dangerous negroes in America". MLK was far from a hero for the FBI. It is not uncommon for the FBI even today to mischaracterize center-left voices of reasonable progressives who are anti-violence, pro-rights and pro-equality as far-left anarchists and communists, magnifying the threat on the left while ignoring the bigger threat on the right. Calling reasonable center-left Democrats anarchists and communists is a classical President Putin move. Let's recall that ahead of the presidential elections in November, Russian President Putin endorsed Biden and the Democrats as communists whom we would get along with, in order to discredit them.
Let's look at the actions and the security measures present around the two types of crowds. In a recent interview I wondered why FBI deputy director Bowdich won't evoke 9/11 now in relation to far-right terrorism, in the context of the methods that the FBI sometimes uses to suppress and deal with progressive voices.
The FBI have opened mow many cases for "domestic terrorism" into the Capitol attack and it is true that they are saying that they are treating these cases as "international terrorism" but where is the FBI public condemnation of terrorism? We have not seen public statements by the FBI director Christopher Wray and FBI deputy director David Bowdich. Why won't Bowdich come out and evoke 9/11 now, just like he did with the Black Lives Matter movement?
America has a long way to go to recover from the damage that Trump and his cronies spread across the various US agencies have done to democratic principles and human rights. The Trump institutional capture of key agencies such as the FBI and the CIA, let alone DOJ, has led the country into a downward spiral. I myself just launched a $1 UN lawsuit against the Trump circle at the UN, in attempt to clear the Trump circle also from the UN.
The capitol events were an embarrassment for the FBI who failed the due diligence standard of the reasonably expected measures that should have been taken in a similar situation because they were dealing with the President's supporters. Then, the FBI decided to justify their inaction with the false "keyboard bravado" explanation, which does not explain anything.
The FBI are now running social media campaigns for the collection of evidence on suspects in the Capitol attacks but the truth is that the FBI does not need random people to phone them and point them to the bad guys. The FBI follow these groups and people, they know everything. It's just a question of choice as to when to bring out the collected over time evidence. The FBI is in a hurry now only because there is public and social pressure to do something. All of America is watching what will happen to the bad guys.
A couple of days ahead of the Capitol events, I noted on Twitter that Homeland Security acting Secretary, Chad Wolf, was on a trip to Cyprus, while America was "burning". The Cyprus frictions in the European Mediterranean seem like a holiday now, in comparison to the Capitol events. Several days later, Wolf resigned.
With the news that President Trump intends to issue over 100 new pardons during his last two days in office, the question of justice for the Capitol events is as relevant as ever, as it is reasonably expected that some of the pardons could relate to the Capitol attacks.
It is safe to say that former Attorney General Bill Barr is not missed by many people. The Trump supporters' cases would not have received fair treatment at the Department of Justice under his watch. The new Attorney General in the Biden Administration, judge Merrick Garland, in fact, might discover that many cases from the Bill Barr time will have to be reopened.
The top security priority now is President-elect Joe Biden's inauguration on Wednesday, 20 January, while Trump holds a separate rally. The Capitol events served as a warning.
Looking forward, it is time for American democracy to demonstrate its elasticity. And legal justice necessarily has to be a part of that, ignoring phony calls for "unity" and "healing" made by the criminals themselves who are trying to escape justice now. There can't be unity without ensuring justice first.