Japan's soft power: View from Russia
Authors: Darya Gribkova & Viktoria Ivanchenko*
According to Joseph Nye, the pioneer of soft power concept, Japan's attractiveness potential is one of the highest in the world. But at the same time Japan faces obstacles to its comprehensive implementation. First of all, it is a policy towards preservation of internal values ​​and the way of life, Tokyo's aggressive policy in the first half of the 20th century still not forgotten by its milieu, demographic problems, successful competition by the rapidly developing neighbors, especially Republic of Korea and China, in the field of soft power. Today Japan's desire to revive the status of military power makes the situation more complicated.
Japan is a convincing example of promoting the positive image by a non-great power without engaging military means. Economic success, urban development, high quality of education, futuristic technologies, mysterious culture which burst into information space by anime and manga created perception of Japan as a smart and advanced country. Demonstrative disregard of geopolitical ambitions helped Japan to keep up its stable position in the international arena for a long time.
But what components does Japan's soft power include now? What role does the state play in it? Which regions of the world are priority-driven when choosing the directions of the Japanese soft impact? What are the prospects for Japanese soft power and which countries can compete with Japan? Let us try to examine the system carefully.
State, "soft power" and cultural diplomacy
Traditional spheres the state is in charge of are economic and military because they both guarantee state's survival. In case of the state's participation in public diplomacy space for activity of special-purpose funds, NGOs, media and large corporations occurs. In today's world, one way or another, states are limited in the use of hard powerand it is soft power that becomes an instrument for creating favorable environment for foreign policy.
Japanese soft power developed independently of the state and rose from Japanese culture, national traditions, aureole of mystery and inaccessibility and later rose from modernization success and model of economic development. But at which stage did the state get involved and soft power become considered as a means of winning leading positions in the world economy, policy and culture for Japan?
After World War II Japanese government faced necessity not only to recover economy and reform governance system in the state but as well to overcome the image of aggressor in the international arena. Spheres of culture and public diplomacy offered Japan wide opportunities for such activity.
Today implementation of Japan's soft power is under control of Foreign Affairs Ministry. In 1972 the Japan Foundation was established under the Ministry's management for development of cultural exchange, promotion of Japanese studies abroad, researching activity of Western institutions and international cultural exchange standards and programs. In October 2003 the Foundation became an independent institution and now it has 24 offices around the world, its activity covers more than 190 countries. The main directions of Foundation's activity are exchange programs for outstanding specialists in the field of cross-cultural communication, science and culture as well as sport exchange programs and participation of Japanese scientists in international conferences, preservation of Japanese cultural monuments by Japanese specialists , cooperation on realization of joint projects with UNESCO.
Japan International Cooperation Agency (JICA) regulates the issues related to the official development assistance; its goals are the reduction of poverty, increase of effectiveness of management systems, ensuring human security and stimulation of educational and cultural exchange.
In 1988 Japan's Foreign Affairs Ministry began to publish the monthly journal on foreign affairs "Gaiko Forum", which also covered issues related to Japanese popular culture and public diplomacy.
In 2005 the Advisory Committee  led by Tamotsu Aoki, professor of Hosei University, was formed to conceptualize the elements of Japan's soft power. In Diplomatic Blue Book 2004 a section of the 3rd chapter dedicated to the soft power concept and public diplomacy, improvement of image of the state abroad, students exchange programs, cooperation in the cultural sphere. One of the most important part is about "Cool Japan", public diplomacy program aimed at the promotion of Japanese popular culture. By 2014 the government's spending for promotion of Japanese pop-culture reached almost $883 million. In 2004, ex-prime minister Aso Taro in his speech about Japan's strategic development stressed soft power as one of the most perspective direction and Japan's attractiveness promotion in the world as one of the resources of growth.
There is a departure in the MOFA structure, that realizes Japanese film festivals, painting exhibitions, Japanese cuisine days. The MOFA's internet-page provides links to resources related to public relations abroad, cultural and people-to-people exchange, cooperation with international organizations (UNESCO, UNU) including WebJapan (available in Chinese, English, Arabic, Russian, Spanish, Korean, Portuguese, Danish and French) which provides information on trends in Japanese fashion, cuisine, nature, Japan's  achievements in the field of economy, education, environmental protection and so on.
Also it is worth to note that neither the Prime Minister nor the Minister of Foreign Affairs, nor the Japanese Ambassadors refuse to give comments to the major national and foreign media on such seemingly acute issues as territorial disputes with neighbors. This looks like demonstration of Tokyo's willingness to discuss these issues openly and confidence in the legitimacy of the territorial claims.
The state invests a lot in support of external economic activity of Japanese enterprises. In the sphere of economy attractiveness of the state and national culture are valuable as they bring significant dividends to business. At the same time the country's economic success is already a powerful tool of positive influence which forms the attraction of Japanese corporate culture. In the Intellectual Property Strategic Program 2006 cultural and economic aspects were identified as complementary, and also there were measures proposed to improve the image of the country through the use of rich cultural potential, through support of Japanese business and promotion of Japan brand all over the world. The brand "Made in Japan" around the world is associated with the quality and reliability of Japanese products and despite the high price it is in great demand.
In 2004 the Ministry of Economy, Trade and Industry launched the "Japan Brand" program, aimed at promoting certain products produced in Japanese regions at the foreign markets. This program became a part of a strategy for stimulating external economic activity of small and medium-sized enterprises.
Japan became the first state in Asia which realized the opportunities that opens up the proper use of soft power as a powerful instrument of influence in the world. After the World War II Japan was a defeated aggressor, which in order to restore its economy and position in the international community needed to achieve normal relations, primarily with the countries of Asia Pacific, which suffered the most during the war.
But active state involvement and directive approach to soft power produce some serious risks. Usually, the private sector evokes more trust abroad as more independent and free in its actions.
Here other players come, for example, transnational companies. One of the strongest soft power instruments they engage is corporate social responsibility. Such big companies like Mitsubishi and Toyota take part in various projects related to the social sphere in Russia. For instance, Mitsubishi Corporation supports the Center of Japanese language and culture in Moscow State Linguistic University. As well in 2017 on the base of Far Eastern Federal University Mitsubishi Corporation and Far Eastern Federal University established the Center for study of Russian-Japanese relations. Mitsubishi's employees visit boarding schools, organize educational and leisure activities. In December 2015 Furusawa Minoru, CEO of Mitsubishi Corporation Russia, was awarded as a "Maecenas of the year" at the St. Petersburg Cultural Forum.
Vectors of dissemination
After the World War II Japan managed to solve an extremely difficult task: in a short period of time the country not only earned the reputation of a peace-loving country and a reliable economic partner but still continues to support it successfully.
Japan's cautious, non-assertive policy and economic assistance to the countries of Asia Pacific after the World War II played a key role. In 1954 Japan became a participant of the Colombo Plan for the joint economic and social development of Asia and the Pacific. From that moment, directly or through participation in international projects, Japan began to provide official development assistance, grants without requiring their return and long-term loans on preferential terms. Today speaking of lending Japanese banks keep a leading position in the Asia Pacific region.
The construction of Japan's infrastructure projects is another significant area, however today Japan faces strong competition from China. Tokyo invests in the construction of schools, hospitals, purchase of equipment, construction of roads. In May 2015 Shinzo Abe announced the launch of the "Partnership for Quality Infrastructure" project which should embrace South, Southeast and Central Asia countries. Next five years Tokyo intends to invest 110 billion dollars for the project implementation. Despite the recession that has continued since the 1990s, Japan remains the main donor of economic assistance and lender in Asia, one of the founders of the Asian Development Bank and the largest contributor to infrastructure development projects.
Assistance for developing countries, financing of development programs, provision of preferential long-term loans, training of personnel and sending Japanese specialists to developing countries allows to form the positive image of the country and favorable environment for Japanese business.
During the recovery period after the World War II the cautious Tokyo's policy, the emphasis on the provision of economic means, loans, grants, and investments in infrastructure project played an important role in spreading the so-called soft influence of Japan in North Asia and Southeast Asia – closest Japan's neighbours. Thus, after the beginning of reforms in the People's Republic of China in the late 1970s Japan was one of the main trading partners and still one of the main investors.
Because of geographical proximity and close historical ties China and South Korea became the first countries which felt Japanese soft power influence through the popular culture. In late 1990s Japan faced a strong competitor: South Korea film production, music (K-pop) and  tourism to Korea, Korean ethnic cuisine, electronics intercepted interest in Japan. Korean pop culture first captured China and Japan, then Vietnam, Cambodia, Taiwan, Thailand, Russia, Mongolia, European, Central Asian, Middle Eastern and African countries, America. Nevertheless, 99% of the exports of the Korean cultural industry go to Asian countries.
To some extent Japan nurtured its competitor itself: it was the Republic of Korea that was the largest consumer of the products of the Japanese popular industry, and then the imitator, subsequently adding its national flavor to the most popular samples of Japanese pop culture.
In Southeast Asia Singapore became a kind of reference point for distribution of Japanese popular culture. In November 2009 the Japan Creative Center was opened in Singapore to introduce traditional and modern Japanese culture, technological achievements, cuisine, anime, crafts, cinema and music.
In Central Asia the basis of Japanese soft power is Japan's Asian identity, similarity. Diplomatic relations with the countries of the region Tokyo established in the 1990s, but they won attention much earlier and today they are spurred by Tokyo's interest in energy potential and transit opportunities of these countries.
The undeniable advantage of Japan in the Central Asian region is the absence of military aggression in the past and, as a result, the absence of negative memory of the peoples regarding Japan. "Residents of Central Asia remember tens of thousands of Japanese prisoners of war on the territory of Kazakhstan, Uzbekistan and Tajikistan after the World War II. Until now buildings built by their hands have been preserved, for example, the Central Telegraph and the Ministry of Culture in Tashkent, the Academy of Sciences in Almaty, the Farhad Hydropower Station in Tajikistan", notes Olga Dobrinskaya, Research Officer at the Department of Japanese Studies, Institute for Oriental Studies of the Russian Academy of Sciences.
In the 1990s Central Asian countries had to choose the way for further development including economic model. The Japanese case with the leading role of the state seemed very attractive, as well as the fact that Japan acted as a carrier of Western values of democracy with some Eastern specificity.
Ryutaro Hashimoto's concept of the "Eurasian diplomacy" meant revitalization of Japan's relations with Central Asia, the Caspian Sea region and China. In 2004, Japan initiated the launch of the "Central Asia plus Japan" Dialogue to strengthen mutual understanding between countries. In 2006 Central Asia along with the South Eastern and Central Europe, the Caucasus, the Middle East, South, Southeast and Northeast Asia were inserted in the concept of the "Arc of Freedom and Prosperity". Shinzo Abe's visits to the countries of Central Asia in November 2015 became a demonstration of serious interest in cooperation with the countries of the region.
Among the examples of Japan's soft power in Central Asia, it is significant to mention programs of official assistance to the development of the Central Asian states, projects in the field of ecology, green and energy-saving technologies, in the spheres of agriculture, education, health. Successes in these fields have strengthened Japan's image as a state that promotes and develops non-military security.
Japan is interested in Central Asia's transit routes and energy resources, and that's why the Japanese government is interested in the stability of the region including environmental dimension, political, economic and social spheres.
Difficulties and prospects
In the Soft Power 30 global index of Portland in 2017 Japan ranks sixth while in 2015 it was located on the eighth position. Despite the high indices there are factors which contain the further realization of the potential of Japan's soft power.
The most important one is related to the perception of foreign influence. Soft power becomes an unattainable ideal wherever different identities, ideologies, views collide. It becomes effective only if the 'recipient' of soft power shares the notions of the way of life, worldview, culture of the soft power 'projector'. Concerning effectiveness of Japanese soft power the following question arises: how much is Japan's soft power viable in Northeast Asia given the growth of nationalist sentiments in Asia including those in China and Korea, and Japan's implementation of military reforms policy? Can it cope with competition from the Chinese cultural heritage which is much older than Japanese one?
Another issue concerns weakness of soft power in overcoming hostility and rivalry rooted back far in the past and kept in memory of several generations. It is evident within long-lasting memory of Japan's militaristic and colonial policy in Asia in the first half of the 20th century.
Today in Japan military component as an invariable attribute of great power gradually displaces the 'soft' component, which is absolutely important in the world of international technologies and free information flows. Nevertheless, soft power cannot be disregarded, since it is one of the most important elements shaping the image of the state, which strives for a more weighty position among powerful actors and in dealing with global issues.
Moreover, the longest life expectancy results in a high rate of aging; the desire to preserve the culture, way of life, business ethics appears in rigid migration legislation, which exacerbates demographic problems. The migration legislation provides a facilitated regime for obtaining visas and citizenship for "unique" specialists, however, a language barrier remains a strong obstacle. Japanese popular culture is experiencing serious competition from the Korean one. Competition with China in Southeast Asia and Central Asia is increasing and India is rising a a new vigorous rival in the economic field.
So the question is if it is possible in the current conditions to give a new impetus to the Japanese soft power. In case Abe's government is able to cope with domestic economic problems, Japan will be able to maintain its status as a reliable economic partner and one of the main creditors in the international community.
An important but hardly feasible step could be Japan's willingness to discuss the issues related to its militaristic past, which the present government is trying to forget with all its might.
In cultural diplomacy Japan relies on pop-culture, the brand of anime and manga, which should promote a deeper interest in the country's rich culture. But maybe today the world needs things which fascinated foreigners in the XIX-XX centuries? For example, traditional, authentic cultural heritage?
Today military reforms can eradicate the government's efforts to project its soft power and their further implementation will require much more effort and resources to maintain Japan's attractiveness in the world. A great opportunity to put life into Japanese soft power can be the 2019 Rugby World Cup and the 2020 Olympic Games which will be held in Japan.
As well 2018 is a cross-cultural Russian-Japanese year. For both countries it is a great opportunity to better understand each other, to make people interact more often and find more common points for cooperation. Despite the Kuril issue, which is yet to be resolved, current stable and friendly relations between Russia and Japan provide great potential for dialogue and collaboration. Within the Pivot to the East Russia now makes an attempt to establish close ties with promising and highly developed Asian countries, and 2018 grants Japan a more privileged position at least in terms of people-to-people contacts.
Japan`s cultural events are warmly welcomed in Russia. For instance, in Autumn 2017 just three big events took place in Moscow: 7th Moscow Biennale, exhibitions by Takashi Murakami "There will be a gentle rain" and Keichi Tanaami "Country of mirrors".
But opportunities granted to Japan by international large-scale sports and cultural events have temporary effects although they give a good chance to show the country at its best. Japan as an influential soft power actor requires a long-term strategy which would work in accordance with other state policies. Otherwise, Japanese government run risks to lose its positions as one of soft power leaders if it chooses hard power instruments for projecting its influence and will have to fully revise its soft power strategy.
Original pre-revised text in Russian
*Viktoria Ivanchenko, PICREADI (Creative Diplomacy) editor-in-chief, researcher at Higher School of Economics, Moscow
China's Deflating Population: The Economic Marvel in Eclipse?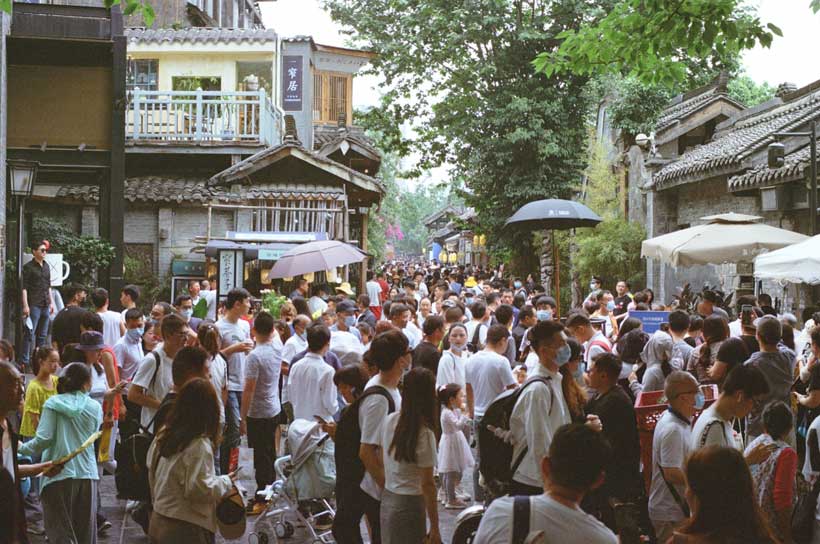 So China's population shrank last year. I admit my first instinct was … well, isn't this a good thing? I mean, during the entire 1960s and 1970s, global discourse misted around how the world population kept growing beyond the finite resources of this world. And how food scarcity and poverty would create a social depression. China, with a population of roughly 1.4 billion people, was specifically a focal point of population reduction strategies. After the widespread catastrophe of the Great Leap Forward, a debilitating social program orchestrated by Mao Zedong in the late 50s, China's population was on the up and up in the following decade, to the point that the infamous 'One-Child Policy' was introduced in the late 70s to inhibit the burden of a growing population – and concomitant poverty. Since then, however, China has dynamically transformed into an economic powerhouse – a factory floor for global manufacturing. And here lies the answer to this population conundrum: Shrinking population in China is a problem now!
According to the data released by the Chinese government last week, China's population contracted by circa 850,000 people in 2022; with 9.56 million births against 10.41 million deaths, it was the first time in more than half a century that deaths outnumbered births in China. The initial thought would be to blame it on the pandemic. But that would be a blinkered assumption without gauging the stunted birth rate. It was the sixth consecutive year that the number of births fell, down from 10.6 million in 2021, according to the National Bureau of Statistics. Many demographers and statisticians warned for years about a population decline on the cards, albeit much later in this decade. This presage was why the government reposed its one-child policy in 2016 and extended the limit to three children in 2021. Local governments offered tax rebates and outright cash handouts to couples having children. The source of anxiety was partly social and partly economic – or maybe socioeconomic is the correct juxtaposition.
China is a rising economic power, the world's second-largest economy, and the strongest contender to dethrone American supremacy. But in listing all the superlatives, we sometimes forget that China is still a developing economy. Despite its phenomenal evolution from endemic poverty, its average population still earns less than the average earnings in advanced economies. And the shrinking population is a two-pronged issue that could constrict China, like other leading developing economies, into a middle-income trap.
Just by simple inference, we can judge that a declining population is also an aging population. Impressive modernity in China's healthcare system has led to an increase in life expectancy. Meanwhile, a decades-long hiatus in birth-conducive policies and changed mores of young Chinese couples, often antipathetic to having children altogether, have led to a sharp decline in births. A combination of these factors has invited a conspicuous outcome: Shrinkage in China's working-age population. In fact, China's working-age population has been in decline since 2015; according to a government spokesman, it could fall to roughly 700 million (approximately 23%) by 2050. This factor would be particularly problematic for China, which has long been a competitive labor market for manufacturing heavyweights like Apple and Microsoft. But moreover, a bulging elderly population amidst falling tax receipts would pose a challenge to government finances, especially given the comparably underdeveloped social safety net programs in China. Therefore, either taxes ought to be raised sharply or state pensions to old-age dependents would hit the skids – a spartan policy dilemma either way.
We can draw apt comparisons from Japan – the world's third largest economy – which has notoriously suffered from a lopsided aging population and accompanying anemic economic growth since the asset bubble burst of the 1990s. I mean, China's real estate market does look like a financial crisis just waiting to happen. But post-boom Japan has tried virtually every bizarre economic strategy – from negative interest rates to yield curve control – yet has failed to spark demand-led inflation. Strangely, however, China has sustained its bustling economy on prohibitive rates of investment rather than consumer demand, which has remained relatively lukewarm due to policymakers' reluctance to pass the complete scope of economic growth to households. Nonetheless, a contracting labor force would perhaps accelerate the exodus of manufacturing from China unless the government finds alternatives to sustain China's unrivaled productivity levels.
We could blame China's 'zero Covid' policy for strangling economic growth. It is no surprise that China's economy grew by a modest 3% in 2022, its slowest rate in nearly four decades, barring 2020. Intermittent lockdowns and pedantic mass testing regimes cast a pall over economic activities. And higher interest rates imposed by the Federal Reserve and other central banks have dampened global demand and diluted appetite for Chinese imports. According to government officials, year-on-year Chinese exports fell by 9.9% in December. While an economic turnaround is widely expected later this year, a falling working-age population; a skyward old-age dependency ratio; and the ongoing trade tussle with the United States could cost China many more decades to supersede the American edge. However, China has been an iridescent success story, an economic miracle of sorts. And therefore, if the Chinese Communist Party (CCP) could somehow prioritize economy over national security; social reforms over governmental control; and collaboration over confrontation, I reckon China can again defy the odds and achieve its dream.
Nepal-China Relations and Belt and Road Initiative
China appears to be more "functional" in Nepal recently. A new administration led by leader Pushpa Kamal Dahal has acted on the same pitch initially also. The Rasuwagadhi border crossing, which had been blocked for three years, has been reopened for two-way trade, and the much-anticipated Gyorong-Kathmandu train project's final survey has also begun as of January 1, 2023. The second phase of the 10-lane ring road project from Kalanki to Chabhil is anticipated to start soon as well. All these accumulatively demonstrate the current nature of friendship between them and the profound Belt and Road Initiative is the key rostrum for the current complexion of the relationship between them. Hence, the trends are indicating a greater form of cooperation even in the regional domain as well.
Meanwhile, China and Nepal have inked a six-point agreement to strengthen bilateral collaboration and exchanges on governance, legislation, and supervisory practices, in line with Beijing's Belt and Road Initiative (BRI). On September 12, 2022, in Kathmandu's federal parliament building, Agni Prasad Sapkota, Speaker of the Parliament, and Li Zhanshu, Chairman of the Standing Committee of the Chinese National People's Congress, signed the agreement. According to the agreement, the nations would exchange information about each other's legislative, oversight, and governance activities. Five years after BRI's founding, on May 12, 2017, Nepal formally joined the process. Nine projects – the upgrading of the Rasuwagadhi-Kathmandu road, the construction of the Kimathanka-Hile road, the construction of the road from Dipayal to the Chinese border, the Tokha-Bidur Road, the Galchhi-Rasuwagadhi-Kerung400kv transmission line, the Kerung-Kathmandu rail, the 762MW Tamor Hydroelectricity Project, the 426MW Phuket Karnali were on the to do list. However, more than any other nation, China invested US$188 million in Nepal during the 2020–21 fiscal year. During KP Sharma Oli's visit to Beijing in 2016, Nepal and China also ratified a transit transport agreement for commerce with other parties.
However, amidst the current global tension and the changing rapport of international politics, China remains as a key investor in Nepal. Besides, the recent activities from the Nepal administration showed a shift in policy domain from the previous regime which in some cases was rigid to Chinese projects. Meanwhile, the BRI becomes more eminent in the strategic, political and economic domain of the status quo. Against such backdrop, the next sections will discuss current trends of the BRI in Nepal.
Nine Projects: Token of Continuation of the Initiative
Nepal put forward nine potential projects to be undertaken under the BRI at the beginning of 2019. These included setting up a technical institution in Nepal, building new highways, tunnels, and hydroelectricity dams, as well as conducting a feasibility assessment for a trans-Himalayan railway that would connect Jilong/Keyrung, a Chinese port of entry, with Kathmandu. This enhanced the significance of the project which will direct to more prosperous China- Nepal relations.
Nepal, the "Pillar"
Hou Yanqi, the Chinese ambassador to Nepal, stated in April 2022 that Nepal was one of the BRI's most significant pillars and that projects were still moving forward despite the "speed of pragmatic collaboration" slowing down because of the coronavirus pandemic and Nepal's changing political climate.
Transit Through China: Better Connectivity and Trade
Kathmandu protocol agreement with Beijing, Nepal will import and export goods from a third country through China through Tianjin, Shenzhen, Lianyungang and Zhanjiang seaports and land ports of Lanzhou, Lhasa and Shigatse. They will also get the facility of transporting goods through six dedicated transit points of the two countries. It will boost the trade for improved connectivity.
Extended Cooperation in Domains Except for BRI
In addition to the BRI projects, China is currently making significant investments in Nepal's infrastructure, including ring road expansion, dry ports at the border crossings of Larcha and Syabrubesi, the establishment of China Study Centers, a new international airport in Pokhara, and optical fiber cable connectivity from Kathmandu to the Chinese border.
Energy Exploration: New Domain of Cooperation
China is also looking into the prospect of discovering gas and oil deposits in Nepal and is building a border river crossing at Hilsa, Humla. It will open a new domain of cooperation based on mutual interest.
Poverty Reduction and Generating Newer Income Sources
Currently, roughly six Chinese airlines offer regular flights to Nepal. Nepal has the fastest-growing Chinese tourist industry. Nepal granted China access to choose 16 Himalayan regions that border China to develop as part of a program to fight poverty.
Security: Bringing Peace
Joint military drills between China and Nepal are also a new development in security cooperation. It will bring peace in the region since the image of Nepal is very clean.
Increased Diplomatic Connectivity
The BRI appears to be one of the three priority pillars for the Chinese government's organizing principles of foreign policy, along with the Global Development Initiatives and the Global Security Initiatives, in terms of developing successful international relations rather than just an economic endeavor. It will bring a fresh start in the diplomatic domain of both countries and the future prospects of ties in the diplomatic arena can be discussed robustly.
No More Landlockedness
Under BRI and the Trans-Himalayan Multi-dimensional Connectivity Network, which will transform Nepal from a landlocked country to a land-linked one, there are multiple road, sea, and corridor networks throughout the world. It will boost the relationship to a great extent while there will be a surge in the arena of export and import.
Regional Connectivity
The extension of the Qingzang railway from Tibet to Nepal and the border with India is among the most significant BRI projects. Three routes are being considered for this railway. The first would connect Shigatse to Kathmandu via Kerung and continue on to Pokhara and Lumbini before reaching the Indian border. The second would run from Shigatse to the Burang border and connect Humla and Darchula districts in Nepal with Pithoragdh, Uttarakhand, while the third would link Shigatse to the Yandong border of Sikkim, India.
As China and India have no trade disputes with one another, India would gain from this project as well after trading through this route. In comparison to other industrialized parts of the world, South Asia could see an increase in commerce and investment if this project is carried out on a win-win basis between China and Nepal.
Challenges
Additionally, loans are typically provided on commercial terms through the Silk Road Fund and the Asian Infrastructure Investment Bank (AIIB), both of which are led by China (SRF). Due to project site clearance delays and the nation's political instability, along with its comparatively short repayment time, Nepal's big projects have raised concerns that they may not get off the ground.
Besides, three primary issues with China are of particular concern to the Nepalese government. First, instead of commercial loans, the nation favors grants and lenient loans from China. Second, it wants the interest rate and repayment period to be comparable to those of multilateral funding organizations like the Asian Development Bank and the World Bank. Thirdly, it thinks that bid competitions ought to be allowed for the BRI projects. But the Chinese authorities are not responding on the same page.
The Inception of a Recommenced Cooperation
Pradeep Gawali, Foreign Minister in the KP Sharma Oli's government, said that from the perspective of Nepal, the BRI projects were the way to be connected to the trans-Himalayan multipurpose connectivity network. Nepal had been able to select the nine projects included in the BRI with great success. However, Chinese authority said on December 26 that it looks forward to cooperating with the new government to advance projects under the ambitious Belt and Road Initiative, a day after the Maoist party chairman Pushpa Kamal Dahal alias Prachanda was named as Nepal's new prime minister (BRI). China aims to develop initiatives under the Belt and Road collaboration, according to Mao Ning, the official spokesperson for the Chinese foreign ministry, who congratulated Prachanda on his appointment. Beijing claims that as a longtime ally and neighbor of Nepal, China cherishes Nepali relations very highly. China is prepared to collaborate with the new Nepalese administration to broaden and deepen friendly relations and cooperation on all fronts, pursue high-quality Belt and Road cooperation, strategic cooperative alliance marked by enduring friendship for growth and prosperity new impetus, and bring more benefits to peoples from both sides.
Hence, it is evident that China's policy toward Nepal is generally stable and uncomplicated, and the two countries' bilateral relations have been cordial and shaped by Nepal's strategy of balancing the divergent impact of China and its southern neighbor. Through BRI projects, Nepal could gain better connectivity relations with its northern neighbors, but in order to do so, Nepal must enhance its negotiations with China.
Territorial Rise of China: It's Impact on International Borders
The rise of China has had a significant impact on the international order and the way countries interact with one another. One of the main areas where this has been felt is in the realm of international borders. China has long had disputes with its neighbours over the demarcation of its borders. In recent years, it has become more assertive in advancing its territorial claims, particularly in the South China Sea. This has led to tensions and military standoffs with other countries in the region, such as the Philippines, Vietnam, and Japan.
China's territorial claims have also been met with pushback and condemnation from the international community. Many countries and international organizations, such as the United States, the European Union, and the United Nations, have criticized China for its territorial expansion and militarization of disputed islands in the South China Sea. In addition to its territorial disputes, China's rise has also led to increased competition and tensions with other major powers, such as the United States, over issues related to trade, technology, and influence in various regions around the world. Overall, the rise of China has led to a re-evaluation of the existing international borders and the way countries interact with one another, and has the potential to reshape the international order in the coming years.
Focus of the Study:
The territorial rise of China and its assertive actions in advancing its territorial claims have been seen by many countries as a threat to their own sovereignty and security. This is particularly true for countries in the Asia-Pacific region, who have territorial disputes with China over islands, reefs and waters in the South China Sea. The territorial disputes have led to increased military activity and a build-up of armed forces in the region, raising concerns about the potential for military conflict. The disputes have also led to economic disruption and have hindered freedom of navigation and overflight in the region.
China's territorial claims in the South China Sea have also been met with pushback and condemnation from the international community. Many countries, including the United States, have called for China to abide by international law and respect the sovereignty of other countries in the region. The territorial disputes and assertiveness of China also have a broader impact on the global order. The strong opposition from other countries has led to the formation of alliances and partnerships between countries to counterbalance China's rising power. In addition, China's territorial expansion can also be seen as an attempt to gain control over the resources in the disputed areas, such as fisheries, oil, and gas reserves, which can be a major concern for the countries in the region that are dependent on these resources. This can also lead to economic disruption, as they can impede freedom of navigation and overflight in the region. This can disrupt the flow of goods and resources, and can negatively impact the global economy. China's territorial rise and assertiveness in advancing its territorial claims have been seen as a threat to the sovereignty and security of other countries in the region and have the potential to destabilize the regional and global order.
Tensions and military standoffs between China and other countries in the region, such as the Philippines, Vietnam, and Japan, are primarily due to territorial disputes over islands, reefs, and waters in the South China Sea. China claims a large portion of the South China Sea as its territorial waters, including islands and reefs that are also claimed by other countries in the region. China and the Philippines have long-standing disputes over the Spratly and Scarborough islands, with both countries claiming sovereignty over the islands and their surrounding waters. China's construction of military facilities on the disputed islands has led to a military standoff between the two countries and condemnation from the international community. Vietnam and China also have territorial disputes in the South China Sea, primarily over the Paracel and Spratly islands. China's assertive actions in the region, such as oil and gas exploration and the building of military facilities on disputed islands, have led to tensions and military standoffs between the two countries. Similarly, China and Japan have a dispute over the Senkaku (Diaoyu) islands, which are uninhabited but are believed to be rich in natural resources. China's increasing maritime activities in the area and its claim over the islands have led to tensions and military standoffs between the two countries, raising concerns about the potential for military conflict and escalating tensions between China and other countries in the region such as the Philippines, Vietnam and Japan.
In terms of trade, China's rapid economic growth has made it a major player in the global economy, and it is now the world's largest trading nation. However, its trade practices and economic policies have been a source of tension and disagreement with other major powers, particularly the United States. For example, the US has criticized China for its trade surplus, currency manipulation, and intellectual property theft. These tensions led to a trade war between the two countries, with tariffs and trade restrictions being imposed on each other's goods, which affected the global economy. In terms of technology, China's rapid technological advancements, particularly in areas such as 5G, artificial intelligence, and semiconductors have been a source of concern for other major powers, including the United States. The US has accused China of stealing intellectual property and engaging in forced technology transfer, and has imposed restrictions on Chinese companies such as Huawei in order to limit their access to American technology. In terms of influence, China's rise has led to increased competition with other major powers for influence in various regions around the world. For example, China's Belt and Road Initiative, a massive infrastructure and investment program, has been viewed by some countries as a way for China to expand its economic and political influence in Asia, Europe, and Africa. This has led to concerns about China's increasing global influence and its potential to challenge the existing international order. China's rise as a major economic and military power has led to increased competition and tensions with other major powers, particularly the United States, over issues related to trade, technology, and influence in various regions around the world. These tensions have the potential to disrupt the existing global order and have a significant impact on the global economy.
Conclusion:
The solution to the territorial rise of China and its assertive actions in advancing its territorial claims is a complex and multifaceted issue. There is no one-size-fits-all solution, and a variety of approaches may be necessary to address the problem. One approach is to seek a diplomatic solution to the territorial disputes. This can involve negotiations and diplomatic efforts to resolve disputes peacefully and through international legal mechanisms, such as the United Nations Convention on the Law of the Sea (UNCLOS). Another approach is to strengthen regional security and military cooperation between countries in the region to counterbalance China's rising power. This can involve increasing military exercises, sharing intelligence, and building a regional security architecture to manage disputes and prevent conflicts.
Economic measures such as trade sanctions, tariffs, and investment restrictions can also be used to pressure China to change its behaviour. However, this approach carries the risk of economic disruption, and it is also not guaranteed to change China's behaviour. Another alternative solution would be to involve China in multilateral organizations and global governance systems, encouraging them to play a constructive role in maintaining international peace and security, and promoting economic cooperation, this would help in tackling China's territorial rise of borders, by making them a responsible stakeholder in the international community.
Ultimately, a comprehensive and coordinated approach, involving a combination of diplomatic, economic, and military measures, is likely to be most effective in addressing the territorial rise of China and its assertive actions in advancing its territorial claims. It's important to understand that this is a complex issue that requires a nuanced approach and cooperation among the international community.