EU and Iran Inevitable Choice: De-Securitization of Relation
Iran's deal with great powers in the framework of 5+1 negotiations (or 3+3 as European partners prefer to name it!), leads to Joint Comprehensive Plan of Action (JCPOA). Both sides seem to be committed to the plan so far; Iran to reduce its nuclear double use technologies and the west to remove international sanctions for that regard. But US election outcome brought a threat to the agreement. Trump since election's campaign criticized the deal as the worst in the history of the United State. Forgetting how true this claim can be, concerning current trends in the Middle East, he is up to not extend the US partnership in the agreement anymore in the next step.
This happens in the circumstance which Europeans consider the agreement one of the biggest achievements of their approach toward managing global peace and security in order to settle the challenges with dialogue. This stand is normal for pro-EU actors after some severe damages to EU structure like BRIXIT or far right movements' successes in some domestic elections which remind us the problem of democracy where it was born.
On the other hand some European states had deep good economic and industrial ties with Iran before imposing extensive international sanctions by United Nations Security Council on Iran for its nuclear project in 2010. Therefore Europeans tried to redesign economic contracts with Iran and at the meantime keep US in the deal. German, British and some other's high officials visited Tehran. The last one was French foreign minister Le Drian diplomatic visit which all are rare event in European-Iranian relations. Announcement of French president Macron plan for an official voyage to Tehran comes to absolutely unique occasion during last four decades which we used to see Tehran's isolation by western leaders despite mentioned trade connections.
Not like extremists in the US, mostly European civic pioneers believe that with deepen relations with Iran, they can improve democracy and social society in Iranian alive and dynamic community.  Therefore this can serve western global values as well. In spite of Iranian authority demonstrates modest motivation to promote and support this capacity. Does this case show a weakness point in European agenda which has to forget some basic norms it was established for?
But Iranian wise politicians consider the gaps between EU and US. Even though they cooperate with each other in the world's securitized issues but Europeans are gradually coming out of Americans military shadow. Some plans for establishment of a European military organization embedded in EU not NATO is an evidence. English depart also accelerates this trend. Whereas other competitions in economic and trade fields are severely considerable in two sides of Atlantic.
With no doubt EU has not a unique spirit. New members in particular from eastern part are more interested in business affairs comparing to founders in the west which civic values are still important. Therefore individual members are capable to have different approach in relation with a rich energy state like Iran whiles their bosses in EU trying to teach them lessons of liberal democracy!
Iran's Rise
After about four decades past from the Islamic revolution, Iran is going to regain its historical place in the region as a leader. Although reemergence of ancient Persian Empire after long term deprivation and current international political system seems not viable, but acting as a regional hegemony is lowest desire. Both world's great powers and average states in the Middle East (e.g. US and Saudi Arabia) are concerns about Iranians ambitions and have declared that, beside practical measures in counter. But Iran is trying to reduce tensions by de-securitizing the relations in particular with the west explaining that: "this is our "breathing space" and reasonably normal for a power in our size!". But here are some other facts which must be respected by critics.
Since the Islamic revolution in 1979, European-Iranian relations have fluctuated. US embassy crisis, Iran-Iraq 8 years' war, Salman Roshdi's book case, Mykonos court in Germany, Nuclear and Missile file beside human rights problem and some other events during last 4 decades severely damaged bilateral relations. In better word EU-Iran relations followed an action-reaction model instead of initiative productive approach which could serve both side's interests.
Question is: For a world actor like EU and regional one like Iran, in spite of differences, a productive approach in relations is promising which maximizes achievable interests for both sides?
In some realistic perspective, analyzers believe that two sides' different ideologies and norms make it difficult to be cooperative partners. But more social security approach proposes an alternative method. In this practical approach, de-securitization of relations is a solution. Most of available affairs are mainly politically oriented and are not security issues at all. Therefore establishment of productive relations is possible. Particularly when we remember in recent decades they had deep good economic relations even after revolution. In this context spillover of Functionalism agenda -which is an interesting approach in EU's enlargement process – is also applicable.
Roots of Current Situation
Iranian Islamic republic had some essential principles which have been inflexible since the revolution. But various administrations in power -each for period of eight years- had different domestic and foreign policies. Like a spectrum, one based its strategy against west (by conservatives) and another one rather more pro-western at least in case of Europe (by reformists), and it is observable that both trends have their supports in the entire community of Iran. So, could Europeans take a strategy to strengthen one serving their own interests?
Indeed Iran's strategic situation in the Middle East between Persian Gulf and Caspian Sea and being the leader of Shie' Muslims, besides Iranian's challenge with US and Israel, made Iran a crucial actor for EU. Keeping in mind energy resources and Iran's big economic and trading market capacities never allowed Europe to put this vital state out of EU's main agenda in the region, if not the world. Iranians also tried to divide US and Europe from the beginning. Europeans kept their strategic economic and political relations and even did not followed unilateral US sanctions imposed on Iran for US's Embassy hostage in Tehran although they remain alarmed. Till the recent Nuclear file (non proliferation policy which normally EU sees itself more committed) announced by UN Security Council's resolution, could unify EU and US against Iran.
But we know EU has some internal security challenges in globalized world which Iran can play more efficient role even if being a bad actor. Iran as a regional power and leader for a large branch of Muslims and also active neighboring with countries which almost all are in domestic terrible (e.g. Afghanistan, Iraq, Syria, etc); with its energy and trade capacity can be a helpful partner for EU in the Middle East more than many others. Rooted terrorism in the Middle East, migrants and refugees flood, Energy resources (Iran has one the largest stocks in the world), and trade market capacities, environment and last but not the least drug smuggling road (which Iran is first in the world for fighting with Opium planted in Afghanistan) are of both sides main concerns.
More importantly Iran is not anymore same decades ago actor in the world politics. 1979's revolution brought new young extremist politicians on power. They were against west oriented and pro Muslim community. But imposed war by  Saddam as representative of majority of Arab tyrant states (to prevent export of revolutionary waves) and many years challenge with some neighbors (in particular KSA or UAE and the rest!) made these currently matured politicians more realistic which are considering national interest in higher priority. They are pursuing practical ways to play viable role and gaining respectable position, while not violating revolution's principles. New young generation as surveys show, is also less anti-western people despite continued propaganda and antagonism.
An opportunity for Europe is that Iran does not like to work with the US officially[1] and correspondingly US administration tries to keep and introduce Iran as a threat for liberal world. Thus with Iran's leverage, EU can be more active actor in the Middle East; that is important for EU to prevent US unilateralism in the world politics. Internal security concerns and migrations challenge, rising of far right movements -which complains Union's weak performance- and various other social and economic challenges are threatening European integration future. However Union's practical capacity in the world politics highlighted among pan-Europeans and Iran could be for one more time the Victory Bridge[2].
Although for an actor like Iran, working with individual European states is more beneficial. Since most of critics against itself are not really in Union's smaller states domestic interest, but they seems more EU's general normative concern. Nevertheless in this context, these two actors can establish a regime for cooperation which benefits both sides. De-securitization of relation and focusing on mutual interests in the region with development of economic and trade capacities can shape better future.
Historically, they [EU-Iran] transferred from "critical dialogues" in the first decade of Islamic revolution (1980's) to "constructive dialogue" in the second decade(1990's) which synchronized with the proposal of the idea of "dialogue among civilizations" by Iranian reformist president, leads to recent nuclear talks and settlement (2010's) by E3+3 in 2015. As mentioned earlier, if EU plays a more observable positive role with Iran, this will support reformists to achieve sets in domestic administration and it helps growth of democratic society easier and faster.
It seems today, is the time for long-term connections to de-securitize bilateral relation in order to be supportive partners for common interests in the region. It can assist Iran be a more productive actor in the region respecting more EU and world's normative order and either being an asset for EU to deal with home challenges.
Conclusion and future Perspective
Iranian-European relation in spite of periodic fluctuation had a module during recent four decades and it inspired by both sides interests and benefits of cooperation and coordination. Although Iran had a more ideological approach and Europe had more economic priorities. Regarding Iran's capabilities to influence processes of affairs in the Middle East and even beyond, American approach was quiet aggressive and made barriers in the course in particular by securitization the situation around Iran. It happens both in regional and international levels and also in case by case striking (like recent nuclear file).
Therefore, in order to keep the enthusiasm of Iran-EU connections alive, de-securitization of relation is essential in spite of US will. It is clear that both sides do also prefer this trend but till EU cannot get rid of American military shadow, European efforts to reduce Iranian threat perception should be continued since Iran has much fewer tools to enhance this agenda in public environment regarding the importance of media influence in the west.
Construction of this basement will spill over to other sub-fields which can develop bilateral connections. Respecting Iranian community potentials this will lead to improve Iran's behavior in the framework of European values which by confrontation strategy by the west will reinforce conservatives in Iran and moving in counter way. For a recent US administration which tries to weaken European Union integration, rethinking the relations with a complicated actor like Iran in such a way will be great chance for pan-Europeans.
All in all, reminding the facts of collapse in western community in face of Iran, hence keeping in mind current real chaos in the Middle East and western Asia; US exit from nuclear deal (JCPOA) can divide US-EU more in coming years and encourage Europeans to have their own strategy toward world's challenges.
[1] To be as one of Islamic revolution's columns; this introduced USA as an Imperialist state beside Israel as an occupier regime dominates an Islamic state.
[2] Like during Second World War in 1943 for British-Russian joint operations connecting south-north in winning the great battle.
Palestine Ends All Agreements with Israel and the United States
On May 19, Mahmoud Abbas, President of the Palestinian National Authority (PNA), declared an end to all agreements, including security agreements, with Israel and the United States. On May 22, Palestinian security forces withdrew from the East Jerusalem area.
The reason for this decision was Israel's claims to annex about 30 per cent of the territories in the West Bank, also known as Judea and Samaria. This was announced by Prime Minister Benjamin Netanyahu on May 10 during the presentation of his government to the Knesset. According to him, the time has come to apply Israeli law to these territories and "write another glorified chapter in the history of Zionism."
It should be noted that the territories mentioned are the Palestinian territories in West Bank captured by Israel during the six-day war of 1967. The United Nations defines these territories as occupied. According to UN General Assembly Resolution No. 181, they are "the area of the proposed Arab State."
Israel considers these territories disputed. In violation of the Geneva Conventions, banning to move the civilian population into the occupied territory, to date, Israel has created about 140 settlements in West Bank with approximately 500,000 people living there. From the point of view of international law, they are not part of Israel. Another 200,000 Israelis moved to the occupied East Jerusalem.
The vote on extending Israeli sovereignty to the occupied Palestinian territories may take place on July 1. In this effort, Israel is actively supported by the United States, as the annexation of territories in West Bank is part of the so-called "deal of the century" formally unveiled by Donald Trump on January 28, 2020. He is convinced that the establishment of Israeli sovereignty over territories in West Bank is fully consistent with his personal peace plan for Israel and the Palestinians. Secretary of State Mike Pompeo says that annexing territories in West Bank is "ultimately Israel's decision to make," and the U.S. Ambassador to Israel David Friedman, the main supporter of Israeli settlements, is confident that Washington will recognize this move.
Netanyahu's plan is not widely supported by the Israeli society. If the majority of Israeli Knesset members are ready to support it, a rather significant group of former senior military and special services officers are against it. For instance, 220 retired Israeli generals and admirals (including Gadi Shamni, a retired general in the Israel Defense Forces; Tamir Pardo, former Director of the Mossad; and Ami Ayalon, former director of the Shin Bet, Israel's secret service) made a collective statement, warning that the annexation would threaten Israel's peace treaties with Egypt and Jordan, anger allies in the Gulf and undermine the Palestinian authorities collaborating with Israel on important security issues. The generals were supported by 149 prominent American-Jewish leaders and 11 members of the U.S. Congress.
Judging by opinion polls, a significant part of Israeli society is of the same opinion. Many Israeli human rights organizations, including such respectable ones as B'Tselem and Yesh Din, have spoken out against the proposed annexation.
Egypt, a major regional player and mediator between Israel and Hamas, is coordinating with Israel in its fight against ISIS and al-Qaeda in Sinai. The annexation of the West Bank can spark negative reactions from the Egyptian population, which will force President Abdel Fattah el-Sisi to reconsider relations with Israel.
The situation with Jordan is more complicated, with a significant number of Palestinians living there. They will get involved if Israel begins to implement its plans. This will lead to even greater radicalization and will inevitably provoke mass protests. The Kingdom of Jordan, facing difficult economic problems exacerbated by the coronavirus pandemic, will be confronted with enormous challenges. Amman is well aware of this.
For many years, the Jordan-Israel border was the safest border for Tel Aviv. The situation may change after July 1, as warned of by Jordan's King Abdullah II. On May 15, in an interview with the German magazine Der Spiegel, Abdullah II warned that if Israel really does move to change the borders, it would set off a massive conflict with Jordan.
It is unlikely that this time the Gulf monarchies, collaborating with Israel against Iran in recent years, won't get involved (for example, Saudi Arabia, exchanging intelligence with Israeli intelligence services). They have known about Netanyahu's plans for West Bank for a long time, now the public in these countries will probably have a negative reaction to the annexation and require actions from the authorities.
The United Nations and the European Union cautioned against the West Bank annexation. Their representatives, in particular, Nickolay Mladenov, UN Special Coordinator for the Middle East Peace Process, warned that this would be a devastating blow to the two-State solution for resolving the Palestinian-Israeli conflict, would slam the door on fresh negotiations and threaten efforts to advance regional and international peace.
According to Josep Borrell, High Representative of the European Union, Brussels does not recognize Israeli sovereignty over the occupied West Bank. However, this is his personal opinion and not the official position of the EU. The Union does not have a single position on what needs to be done now. Some EU member states, such as Hungary and Austria, believe that this is not the right time for such statements. Ireland, Norway, and Luxembourg, on the contrary, believe that it is necessary to make a statement and take measures against Israel if it does not abandon its plans.
France and Germany expressed their disagreement with Netanyahu's intentions to extend Israeli sovereignty to Jewish settlements in West Bank. They called on the Israeli authorities to refrain from any unilateral measures that would lead to the annexation of all or part of the Palestinian territories. Given that Borrell's statement is personal, and the demarches by Paris and Berlin are more like wasting breath, it is unlikely that the EU will move from words to some decisive action against Israel, like imposing sanctions. Moreover, the United States will not allow this.
Turkey, as expected, harshly criticized Netanyahu's intentions. Ankara warned that the country would always stand by the brotherly Palestinian people.
The Church expressed its utmost concern. On May 7, the Patriarchs and Heads of the Holy Land Churches published a statement on Israeli unilateral annexation plans, "which would bring about the loss of any remaining hope for the success of the peace process." Church leaders urged the Palestine Liberation Organization, which they called "the sole legitimate representative of the Palestinian people," to resolve all internal and factional conflicts so it could present a united front "dedicated to achieving peace and the building of a viable state that is founded upon pluralism and democratic values." They also called on the UN, the United States, Russia, and the European Union to respond to annexation plans.
The League of Arab States is also making attempts to increase the efforts to oppose Netanyahu's plans. The Arab League condemned Israel, saying that the implementation of plans to annex any part of the Palestinian territories would "represent a new war crime" against the Palestinians. In late April, in the Arab League Council online extraordinary meeting at the ministerial level, under the chairmanship of Egypt, a joint statement was made to support the Palestinians and Jordan, rejecting the Israeli unilateral moves.
An ambiguous position was taken by Canada. When the people of Crimea decided to join the Russian Federation following to the results of the referendum, official Ottawa was restless about the alleged Russian annexation and not only joined the economic and political sanctions of the West against Moscow and certain Russian politicians and entrepreneurs, but also sent its military instructors and started to provide material and technical support to the Ukrainian army. The country, thus, became directly involved in the civil war in Donbass. Now the Canadian government is abstaining from making public statements condemning Netanyahu's intentions, let alone imposing practical sanctions.
There is little time left until the moment of truth on July 1. Much depends on how the international community and the Arab world behave. The complicit silence in the face of the situation, as was the case with Israel's recent annexation of the Golan Heights, might bring about unexpected consequences for the entire Middle East. Palestinian Foreign Minister Riyad al-Maliki cautioned against the annexation, saying it would "end the two-state solution" and will "turn the battle from a political one to an endless religious war."
Judging by the statement of Mahmoud Abbas, there is still hope. According to him, Palestinians are ready to return to the negotiating table with Israel, but with the mediation of a third party.
Some experts believe that under the prevailing conditions, the Middle East Quartet – the United Nations, the United States, Russia, and the European Union, could serve as a mediator. However, there are some factors that can obstruct such work.
The European Union is divided at this point. Its members should first decide what they want to achieve and develop an action strategy.
Prior to the U.S. presidential election, the current administration will not refuse the well-publicized "deal of the century." It is part of the election campaign of Donald Trump, who is extremely interested in the lack of international consensus on measures to influence Israel. In addition, the American President probably takes into account the fact that the Arab world is now focused on internal problems and paralyzed by the coronavirus pandemic.
Russia emphasized its willingness, together with other participants of the Middle East Quartet, to encourage talks between Israel and Palestine and "to continue to facilitate the resumption of the peace process via direct dialogue between Israelis and Palestinians within a generally recognized international legal framework." On May 22, by the initiative of the Palestinian side, Mikhail Bogdanov, Deputy Foreign Minister and Special Presidential Representative for the Middle East and Africa, had a telephone conversation with Hussein al-Sheikh, Fatah Central Committee member, who informed Mr Bogdanov about the latest decisions by the Palestinian leadership regarding relations with Israel. Russia reaffirmed its unwavering commitment to supporting the legitimate rights of the Palestinian people to self-determination, including the establishment of an independent state within the 1967 lines with its capital in East Jerusalem, living peacefully and maintaining neighborly relations with Israel. The Special Presidential Representative of the Russian Federation pointed out that the proposal by Russia's leadership to hold a face-to-face meeting between President of Palestine Mahmoud Abbas and Prime Minister of Israel Benjamin Netanyahu in Moscow without any preconditions remained on the table.
At the same time, If Palestine is ready for negotiations, Benjamin Netanyahu might not be. In Israel, many of his political opponents believe that discussions around the annexation of part of the West Bank and COVID-19 are the only way for him to stay in politics and evade prosecution for corruption and breach of trust, at least for the next few months. And the Prime Minister is unlikely to refuse it.
From our partner RIAC
Prospects of normalization grim in Libya
Analysts say that Libya is one of the most important crisis to watch for in 2020 because of the involvement of Russia and Turkey. More importantly, the plight of the Libyans after almost 10 years of civil war cannot be ignored.
Jens Stoltenberg, head of NATO military alliance recently said in an interview that Turkey remains an important ally and NATO is ready to support GNA increasing the possibility of Russia and NATO locking horns.
Eight years after Libyan leader Colonel Muammar Gaddafi eliminated his country's weapons of mass destruction the colonel found himself on the wrong side of the gun, when he was overthrown and killed in 2011 submerging the country in a civil war.
NATO members led by Britain and France supported the so-called revolution by airstrikes – then watched as the country sank into chaos. Barrack Obama said leaving Libya without a plan after Gaddafi was the "biggest mistake" of his presidency.
There are fears that the global Covid-19 pandemic could devastate the war-torn Libya, where a decade long conflict has ravaged key infrastructure and created dire medical shortages.
Today the country is divided into two factions backed by foreign powers struggling to put the country together.
On the one side, there is the UN-recognized Government of National Accord (GNA) under Prime Minister Fayez Mustafa al-Sarraj in Tripoli supported by Turkey, Qatar, and Italy. Turkey has deployed Syrian mercenaries.
Tripoli has been under siege by Libyan National Army (LNA) headed by Khalifa Haftar, who started his offensive on Tripoli in April 2019. The offensive was launched while UN Secretary-General Antonio Guterres arrived in Tripoli to prepare for a peace conference.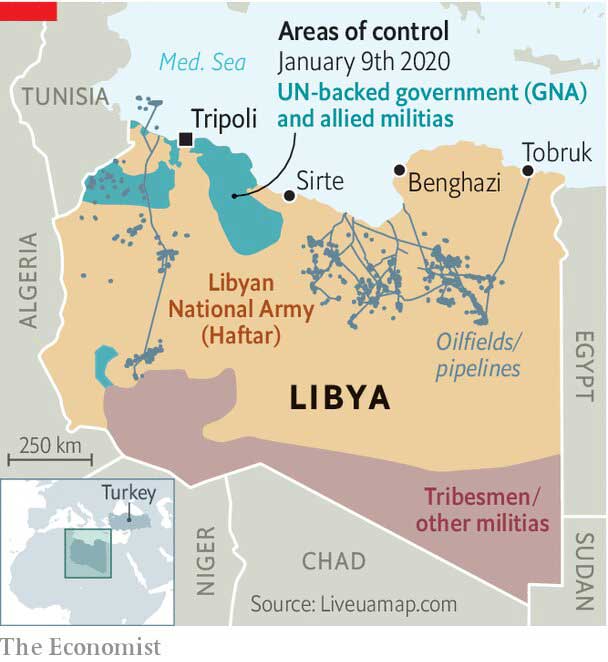 Unsuccessful in taking Tripoli, Haftar has laid a siege on the capital city for the last four months.
The 76-year-old Libyan-born commander Haftar is supported by Russia, Egypt, France, Jordan, the United Arab Emirates, and to a lesser extent Israel. Russia has sent mercenaries.
The Wall Street reported that prior to his April offensive on Tripoli, Haftar was in Riyadh where Saudis gave him tens of millions of dollars.
In his dominion, Haftar is known as "the marshal", and is the military ruler of eastern Libya, with Benghazi as his stronghold. He has promised to build a stable, democratic, and secular Libya but the regions in his control are without any law and order and corruption abounds.
There were several summits by international community to put an end to the Libyan strife before Covid-19 pandemic sidelined the Libyan crisis.
The last summit was called the Berlin Conference was held on January 19. Haftar and al-Sarraj didn't even meet face to face and the summit failed to yield results.
China has remained neutral in this conflict. Under the Gaddafi regime, China engaged in various infrastructure activities with 35,000 Chinese laborers working across 50 projects, ranging from residential and railway construction to telecommunications and hydropower ventures. The year leading to Gaddafi's overthrow, Libya was providing three percent of China's crude oil supply, constituting roughly 150,000 barrels a day. All of China's top state oil firms – CNPC, Sinopec Group, and CNOOC – had had standing infrastructure projects in Libya.
In the outbreak of protests in 2011, China sought to preserve economic ties with Libya and rejected the NATO-led military intervention. China abstained at the UN Security Council vote to authorize military intervention.
In late 2015, the GNA emerged as the new political authority, the product of negotiations brokered by the United Nations and backed by China.
Although many Chinese projects were suspended in Libya and bilateral trade decreased by 57 percent, China's neutrality paved the way for Beijing to stand in good stead with GNA for years to come.
Immigrants crisis
Home to an estimated 654,000 migrants – more than 48,000 of them registered asylum seekers or refugees – many of them cramped conditions with little access to healthcare amidst the pandemic. An outbreak can be catastrophic.
Many live on transfers from friends and family and UNHCR handouts. With work hard to find many hope to proceed with their journey to Europe. Smugglers have put hundreds and thousands of them in boats and sent them across the Mediterranean to Italy.
UNHCR has been evacuating some of the most vulnerable refugees until airspace was shut in early April.
On May 13, WHO issued a joint statement on Libya emphasizing that the entire population of the country, especially some 400,000 Libyans that have been displaced – about half of them within the past year, since the attack on Tripoli — are at risk of Covid-19 pandemic.
The statement reported everyday challenges that humanitarian missions and workers face to carry on with their mission. The UN verified 113 cases of grave violations, including killing and maiming of children, attacks on schools, and health facilities.
The report points out that as of May 13, there were 64 confirmed cases of Covid-19, including three deaths, in different parts of the country. This shows transmission of the disease is taking place and the risk of further escalation of outbreak is very high.
The report talks about food security and latest assessments show that most cities are facing shortages of basic food items coupled with an increase in prices, urging all parties to protect the water supply facilities that have been deliberately targeted.
"We look forward with anticipation to the pledged financial support to the Humanitarian Response Plan for Libya, as announced by the GNA," WHO statement said.
Oil production
Oil reserves in Libya are the largest in Africa with 46.4 billion barrels as of 2010. Much of Libya's oil wealth is located in the east but the revenues are channeled through Tripoli-based state oil firm National Oil Corporation (NOC), which says it serves the whole country and stays out of its factional conflicts.
Prior to the 2011 Libyan civil war, Libya produced over 1.5 million barrels a day. As a result of a blockade of export terminals by LNA by February of this year oil production dropped to 200,000 barrels a day reports Bloomberg. NOC said the North African state's current level of production is at 91,221 barrels per day as of March 17.
In order to choke GNA from the crucial crude export revenue, the LNA seized Libya's export terminals and ports in the east in mid-January. The blockade has cost Libya some $560 million, Petroleum Economist reported in January.
According to NOC, the blockade has plunged production from around 1.2 million barrels a day, and added losses had surpassed four billion dollars by April 15.
Conflict wages
In the last couple of weeks, significant developments have been happening in the Libyan civil war.
In an interview with Italian daily La Repubblica, Jens Stoltenberg, head of NATO military alliance said that Turkey remains an important ally and NATO is ready to support GNA. He stressed NATO is supporting UN's efforts for a peaceful solutions to conflicts both in Libya and Syria.
Meanwhile, the independent English language Tripoli-based Libyan Express reported that Haftar launched a rocket attack Thursday on Tripoli, hitting the Central Hospital on other downtown areas.
Tripoli Central Hospital and some civilian areas were targeted. GNA's Health Ministry said 14 civilians were injured, adding that the hospital will not be able to serve people due to the attack pointing out what a massive setback was amid the outbreak of Coronavirus.
Libyan military forces said Monday that the Libyan army struck forces loyal to Haftar in Al-Watiya airbase in the southwest of Tripoli during the government-led Operation Volcano of Rage.
LNA has intensified attacks on civilians since the beginning of May as GNA made substantial military progress in the offensive in the western part of Tripoli. Armed drones provided by Turkey conducted effective attacks against the LNA.
Libyan Interior Minister Fathi Bashaghe has accused Haftar's forces had used chemical weapons on the Salah Al-Deen front, south of Tripoli. The accusations were confirmed by Canadian journalist Amru Saleheddine, who found several government soldiers with symptoms to those of epilepsy, usually caused by nerve gas.
The conflict in Libya is backed by foreign actors with different objectives and priorities. Any emerging power configuration will be fragile unless the external actors come to a shared understanding.
From our partner Tehran Times
Internationalization of Higher Education in the GCC Countries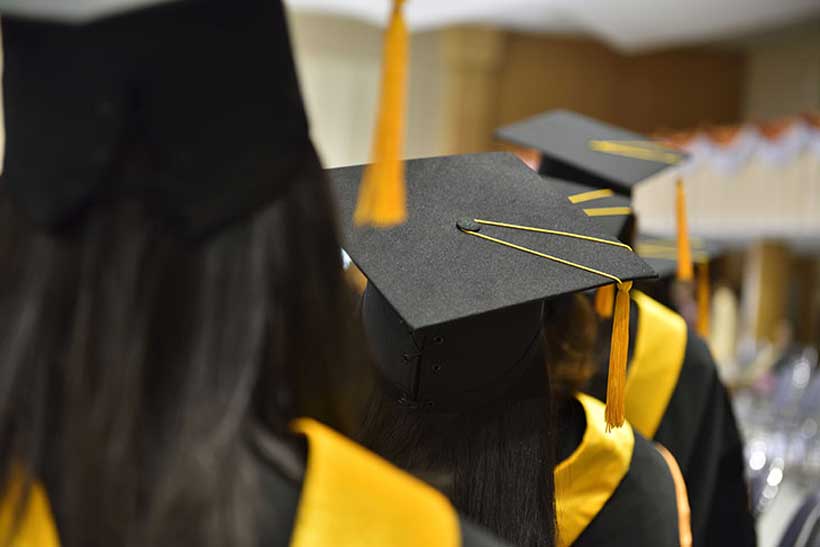 Education is an important area of social life, shaping the intellectual and cultural state of society. In the context of globalization, the challenges of time give rise to new trends in it, one of which is internationalization. This process has already swept the whole world, including Arab countries. Some of them, especially the Gulf states, nowadays are actively competing with other exporters of educational services in the world market.
The development paths of higher education in the Arab Gulf countries were analyzed in a scientific article «Internationalization and the Changing Paradigm of Higher Education in the GCC Countries», as well as measures were taken to improve the quality of education and its regional integration. The author of the scientific work is Julie Vardhan, Assistant Professor at the School of Business, Manipal University. The work is based on an analysis of 167 university sites of the countries of the region and some scientific works devoted to the internationalization of higher education, integration, and demographic processes in the GCC countries. The analysis of Julie Vardhan is comprehensive. In addition to university sites, issues related to the history of the internationalization of education were analyzed, as well as data reflecting demographic trends in the GCC countries. These data allow to see the general picture of how the internationalization of higher education is developing in the Arab States of the Gulf.
According to the author's definition, internationalization is the process of integration of international components into the country's higher education system. Although universities have always developed international cooperation, globalization has created a new context for internationalization. Over the past decades, the number of educational institutions and students studying in them has sharply increased in the region.
Julie Vardhan divides the countries that compete among themselves in the educational services market into four groups. The first group includes the USA, UK, and Australia. In these countries are the best universities in the world, and English is their native language. The second group consists of Germany and France. German and French universities are trying to attract students from neighbouring countries, as well as those countries with which established strong sociocultural and historical ties. The third group includes Japan, Canada, and New Zealand. They attract from 75 thousand to 115 thousand international students per year. The fourth group consists of Malaysia, Singapore, and China. These countries have recently recognized the importance of global education, and now they are spending resources on the development of higher education to compete effectively in the global educational services market. According to the author, the GCC countries are also included in this group.
The main goal of the Gulf Cooperation Council is to develop integration processes and establish cooperation, including in the field of education. At the same time, the GCC countries face some problems associated with the development of advanced technologies. Recently, governments of member states have begun to pay more attention to the development of human capital to ensure sustainable economic growth. Educational and labour migration of knowledge workers directly affects the development of the country's economy, and the Arab Gulf states are just interested in creating a knowledge economy.
For studying the electronic resources of educational institutions, the author used the method of content analysis. In particular, Julie Vardhan ascertained whether internationalization was mentioned on the university's website by searching for the keywords «international», «global», «international partnerships», «international collaboration», «world-renowned faculty» and «diverse students, multicultural». Only one category is used in the study, in which the words mentioned above and phrases are combined, and it is the «phenomenon of internationalization». As part of the study, 167 university websites of the GCC countries were analyzed. Site analysis was limited to their English versions.
The author made a table that shows the growing trend in the number of universities in the region. Until the 1990s in most GCC countries, there were only one or two state universities. Since the early 2000s, a significant increase concerning the number of both state and private universities has been observed. This boost, according to Julie Vardhan, cannot be explained only by population growth. The focus on the development of human capital played a significant role in increasing the number of universities in the country of the region.
Most GCC countries have public and private institutions that establish partnerships with foreign universities. Besides, some international universities create their branches in the countries of the region. Among the 167 universities examined in this study, 103 educational institutions are private, 70 of them have established partnerships with foreign universities, or are their affiliates. In each of them, internationalization manifests itself in different ways. For example, Saudis often go abroad as part of academic mobility programs. At the same time, many students from other countries come to Saudi Arabia to study the basics of Islam at local universities. Thus, within the framework of internationalization, there are both import and export of education. The UAE and Qatar are states with a considerable number of branches of foreign universities, and the universities of Oman and Kuwait offer many double-degree programs.
One of the reasons for the growing demand for educational services from private universities and those universities that have established partnerships with educational institutions from other countries is the increasing number of youth. Another reason is that the Gulf Arab governments support internationalization and educational integration with other countries and foreign universities. Julie Vardhan outlines the following approaches to the internationalization of higher education, which are used by the governments of GCC member states. The first approach is the implementation of neoliberal reforms aimed at increasing the accessibility of higher education while compensating for the costs of consumers and the private sector. The second approach is to make changes to the curriculum to meet international standards. For example, Saudi Arabia, over the past years, has been trying to develop secular education, actively uses English to educate students, and also adopts the American system of education. The third approach is the establishment of extensive partnerships with foreign universities, affecting the international recognition of the prestige of education in the GCC countries.
The author acknowledges that the study has flaws. There is limited potential for the content analysis method. Julie Vardhan points out that the ability to analyze the content of Internet resources is limited by changing the nature of the data source. The content and structure of web pages can change quite quickly after the content analysis. She also notes that researchers should develop their coding scheme for the content analysis of university sites.
Despite some problems (for example, the commodification of education and the transformation of national identity), significant progress has been achieved in the internationalization of higher education in the GCC region in a short time. The region has great potential for further internationalization. The results of the study by Julie Vardhan help to trace the prospects for the internationalization of education in the framework of regional integration of learning. This work is of great scientific interest to anyone interested in the internationalization of higher education in the Gulf countries.
Studying several aspects of the internationalization of education at once prevented the author from concentrating on the electronic internationalization of university Internet resources. The methodology for researching university sites is not spelt out, and it does not specify how exactly the individual stages of content analysis should be implemented. Julie Vardhan believes that researchers should develop their coding scheme, which is the basis of the methodology. It is advisable to create universal and convenient tools for everyone to analyze the content of university sites so that every researcher of the internationalization of higher education can make the maximum contribution to their study. The question remains what difficulties the universities of the Arab countries of the region face in such internationalization. In this context, it is interesting to analyze which state initiatives in the field have been successful, and which experiences have not.
From our partner RIAC