EU and Iran Inevitable Choice: De-Securitization of Relation
Iran's deal with great powers in the framework of 5+1 negotiations (or 3+3 as European partners prefer to name it!), leads to Joint Comprehensive Plan of Action (JCPOA). Both sides seem to be committed to the plan so far; Iran to reduce its nuclear double use technologies and the west to remove international sanctions for that regard. But US election outcome brought a threat to the agreement. Trump since election's campaign criticized the deal as the worst in the history of the United State. Forgetting how true this claim can be, concerning current trends in the Middle East, he is up to not extend the US partnership in the agreement anymore in the next step.
This happens in the circumstance which Europeans consider the agreement one of the biggest achievements of their approach toward managing global peace and security in order to settle the challenges with dialogue. This stand is normal for pro-EU actors after some severe damages to EU structure like BRIXIT or far right movements' successes in some domestic elections which remind us the problem of democracy where it was born.
On the other hand some European states had deep good economic and industrial ties with Iran before imposing extensive international sanctions by United Nations Security Council on Iran for its nuclear project in 2010. Therefore Europeans tried to redesign economic contracts with Iran and at the meantime keep US in the deal. German, British and some other's high officials visited Tehran. The last one was French foreign minister Le Drian diplomatic visit which all are rare event in European-Iranian relations. Announcement of French president Macron plan for an official voyage to Tehran comes to absolutely unique occasion during last four decades which we used to see Tehran's isolation by western leaders despite mentioned trade connections.
Not like extremists in the US, mostly European civic pioneers believe that with deepen relations with Iran, they can improve democracy and social society in Iranian alive and dynamic community.  Therefore this can serve western global values as well. In spite of Iranian authority demonstrates modest motivation to promote and support this capacity. Does this case show a weakness point in European agenda which has to forget some basic norms it was established for?
But Iranian wise politicians consider the gaps between EU and US. Even though they cooperate with each other in the world's securitized issues but Europeans are gradually coming out of Americans military shadow. Some plans for establishment of a European military organization embedded in EU not NATO is an evidence. English depart also accelerates this trend. Whereas other competitions in economic and trade fields are severely considerable in two sides of Atlantic.
With no doubt EU has not a unique spirit. New members in particular from eastern part are more interested in business affairs comparing to founders in the west which civic values are still important. Therefore individual members are capable to have different approach in relation with a rich energy state like Iran whiles their bosses in EU trying to teach them lessons of liberal democracy!
Iran's Rise
After about four decades past from the Islamic revolution, Iran is going to regain its historical place in the region as a leader. Although reemergence of ancient Persian Empire after long term deprivation and current international political system seems not viable, but acting as a regional hegemony is lowest desire. Both world's great powers and average states in the Middle East (e.g. US and Saudi Arabia) are concerns about Iranians ambitions and have declared that, beside practical measures in counter. But Iran is trying to reduce tensions by de-securitizing the relations in particular with the west explaining that: "this is our "breathing space" and reasonably normal for a power in our size!". But here are some other facts which must be respected by critics.
Since the Islamic revolution in 1979, European-Iranian relations have fluctuated. US embassy crisis, Iran-Iraq 8 years' war, Salman Roshdi's book case, Mykonos court in Germany, Nuclear and Missile file beside human rights problem and some other events during last 4 decades severely damaged bilateral relations. In better word EU-Iran relations followed an action-reaction model instead of initiative productive approach which could serve both side's interests.
Question is: For a world actor like EU and regional one like Iran, in spite of differences, a productive approach in relations is promising which maximizes achievable interests for both sides?
In some realistic perspective, analyzers believe that two sides' different ideologies and norms make it difficult to be cooperative partners. But more social security approach proposes an alternative method. In this practical approach, de-securitization of relations is a solution. Most of available affairs are mainly politically oriented and are not security issues at all. Therefore establishment of productive relations is possible. Particularly when we remember in recent decades they had deep good economic relations even after revolution. In this context spillover of Functionalism agenda -which is an interesting approach in EU's enlargement process – is also applicable.
Roots of Current Situation
Iranian Islamic republic had some essential principles which have been inflexible since the revolution. But various administrations in power -each for period of eight years- had different domestic and foreign policies. Like a spectrum, one based its strategy against west (by conservatives) and another one rather more pro-western at least in case of Europe (by reformists), and it is observable that both trends have their supports in the entire community of Iran. So, could Europeans take a strategy to strengthen one serving their own interests?
Indeed Iran's strategic situation in the Middle East between Persian Gulf and Caspian Sea and being the leader of Shie' Muslims, besides Iranian's challenge with US and Israel, made Iran a crucial actor for EU. Keeping in mind energy resources and Iran's big economic and trading market capacities never allowed Europe to put this vital state out of EU's main agenda in the region, if not the world. Iranians also tried to divide US and Europe from the beginning. Europeans kept their strategic economic and political relations and even did not followed unilateral US sanctions imposed on Iran for US's Embassy hostage in Tehran although they remain alarmed. Till the recent Nuclear file (non proliferation policy which normally EU sees itself more committed) announced by UN Security Council's resolution, could unify EU and US against Iran.
But we know EU has some internal security challenges in globalized world which Iran can play more efficient role even if being a bad actor. Iran as a regional power and leader for a large branch of Muslims and also active neighboring with countries which almost all are in domestic terrible (e.g. Afghanistan, Iraq, Syria, etc); with its energy and trade capacity can be a helpful partner for EU in the Middle East more than many others. Rooted terrorism in the Middle East, migrants and refugees flood, Energy resources (Iran has one the largest stocks in the world), and trade market capacities, environment and last but not the least drug smuggling road (which Iran is first in the world for fighting with Opium planted in Afghanistan) are of both sides main concerns.
More importantly Iran is not anymore same decades ago actor in the world politics. 1979's revolution brought new young extremist politicians on power. They were against west oriented and pro Muslim community. But imposed war by  Saddam as representative of majority of Arab tyrant states (to prevent export of revolutionary waves) and many years challenge with some neighbors (in particular KSA or UAE and the rest!) made these currently matured politicians more realistic which are considering national interest in higher priority. They are pursuing practical ways to play viable role and gaining respectable position, while not violating revolution's principles. New young generation as surveys show, is also less anti-western people despite continued propaganda and antagonism.
An opportunity for Europe is that Iran does not like to work with the US officially[1] and correspondingly US administration tries to keep and introduce Iran as a threat for liberal world. Thus with Iran's leverage, EU can be more active actor in the Middle East; that is important for EU to prevent US unilateralism in the world politics. Internal security concerns and migrations challenge, rising of far right movements -which complains Union's weak performance- and various other social and economic challenges are threatening European integration future. However Union's practical capacity in the world politics highlighted among pan-Europeans and Iran could be for one more time the Victory Bridge[2].
Although for an actor like Iran, working with individual European states is more beneficial. Since most of critics against itself are not really in Union's smaller states domestic interest, but they seems more EU's general normative concern. Nevertheless in this context, these two actors can establish a regime for cooperation which benefits both sides. De-securitization of relation and focusing on mutual interests in the region with development of economic and trade capacities can shape better future.
Historically, they [EU-Iran] transferred from "critical dialogues" in the first decade of Islamic revolution (1980's) to "constructive dialogue" in the second decade(1990's) which synchronized with the proposal of the idea of "dialogue among civilizations" by Iranian reformist president, leads to recent nuclear talks and settlement (2010's) by E3+3 in 2015. As mentioned earlier, if EU plays a more observable positive role with Iran, this will support reformists to achieve sets in domestic administration and it helps growth of democratic society easier and faster.
It seems today, is the time for long-term connections to de-securitize bilateral relation in order to be supportive partners for common interests in the region. It can assist Iran be a more productive actor in the region respecting more EU and world's normative order and either being an asset for EU to deal with home challenges.
Conclusion and future Perspective
Iranian-European relation in spite of periodic fluctuation had a module during recent four decades and it inspired by both sides interests and benefits of cooperation and coordination. Although Iran had a more ideological approach and Europe had more economic priorities. Regarding Iran's capabilities to influence processes of affairs in the Middle East and even beyond, American approach was quiet aggressive and made barriers in the course in particular by securitization the situation around Iran. It happens both in regional and international levels and also in case by case striking (like recent nuclear file).
Therefore, in order to keep the enthusiasm of Iran-EU connections alive, de-securitization of relation is essential in spite of US will. It is clear that both sides do also prefer this trend but till EU cannot get rid of American military shadow, European efforts to reduce Iranian threat perception should be continued since Iran has much fewer tools to enhance this agenda in public environment regarding the importance of media influence in the west.
Construction of this basement will spill over to other sub-fields which can develop bilateral connections. Respecting Iranian community potentials this will lead to improve Iran's behavior in the framework of European values which by confrontation strategy by the west will reinforce conservatives in Iran and moving in counter way. For a recent US administration which tries to weaken European Union integration, rethinking the relations with a complicated actor like Iran in such a way will be great chance for pan-Europeans.
All in all, reminding the facts of collapse in western community in face of Iran, hence keeping in mind current real chaos in the Middle East and western Asia; US exit from nuclear deal (JCPOA) can divide US-EU more in coming years and encourage Europeans to have their own strategy toward world's challenges.
[1] To be as one of Islamic revolution's columns; this introduced USA as an Imperialist state beside Israel as an occupier regime dominates an Islamic state.
[2] Like during Second World War in 1943 for British-Russian joint operations connecting south-north in winning the great battle.
Saudi crown prince shifts into high gear on multiple fronts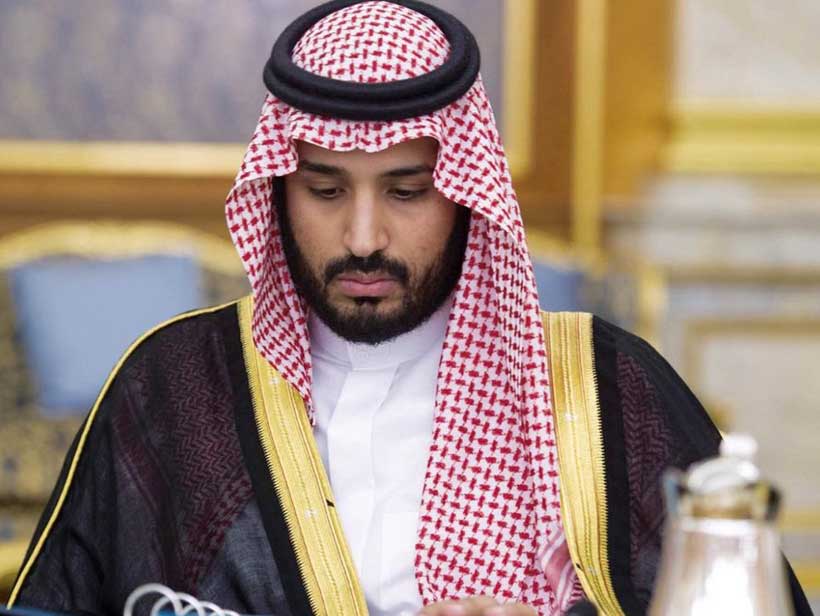 Saudi Crown Prince Mohammed bin Salman is simultaneously speed dating and playing on multiple diplomatic, religious, and economic chessboards.
The latest feather in his crown, his appointment as prime minister, aims to ensure that he can continue to do so with as little collateral damage as possible.
The appointment shields him from legal proceedings in the United States, France, and potentially elsewhere, including the International Criminal Court in the Hague, in which plaintiffs assert that Mr. Bin Salman was responsible for the 2018 killing of Saudi journalist Jamal Khashoggi in the Saudi consulate in Istanbul.
As a head of government, Mr. Bin Salman enjoys sovereign immunity, a status he could not claim as heir-apparent.
While the legal manoeuvre is certain to succeed, it is unlikely to significantly improve his image tarnished by the killing and his domestic crackdown on dissent that in recent weeks produced outlandish sentences to decades in prison for little more than a tweet.
Reputational issues have not stopped Mr. Bin Salman from shifting into high gear as he pushes ahead with efforts to diversify Saudi Arabia's oil-dependent economy; replace regional competitors like the United Arab Emirates and Qatar as the center of gravity at the intersection of Asia, Africa, and Europe; demonstrate his diplomatic clout and relevance beyond oil to the international community; and position himself and the kingdom as the beacon of a moderate, albeit an autocratic, form of Islam.
Mr. Bin Salman's multi-pronged dash has produced mixed results.
In his latest foray onto the international stage, Mr. Bin Salman sought to display his diplomatic skills and relevance to the international community by securing the release by Russia of ten foreign nationals captured while fighting for Ukraine. The foreigners' release was part of a Ukrainian-Russian prisoner swap negotiated by Turkey.
Although Saudi Foreign Minister Faisal bin Farhan al Saud rejected as "very cynical" assertions that Mr. Bin Salman was seeking to shore up his image by associating himself with the swap, it seems likely that Russian President Vladimir Putin was happy to give him a helping hand.
In a similar vein, people close to Mr. Bin Salman see mileage in asserting that the crown prince's lifting of a ban on women's driving and enhancement of women's rights and professional opportunities is what inspired women-led protests in Iran that have entered their third week as well as Iran's recent relaxing of its prohibition on women attending men's soccer matches.
Ali Shihabi, an analyst who often echoes official Saudi thinking, claimed in a tweet that "Saudi reforms for women have had a big impact on the world of Islam. As the previous upholder of ultra orthodoxy #MBS's dramatic changes have sent a powerful signal that has undermined Uber conservatives across the region like the Mullahs in Iran." Mr. Shihabi was referring to Mr. Bin Salman by his initials.
The nationwide protests were sparked by the death of a young woman while in the custody of Iran's morality police. The police had arrested 22-year-old Mahsa Amini for what authorities described as sporting an "improper" hijab.
By contrast, Mr. Bin Salman's economic diversification efforts appear to be producing more unambiguous results. For example, the Saudi industry and mineral resources ministry issued over 500 industrial licenses in the first six months of this year, primarily in the food, steel, and chemicals sectors.
The ministry reported that the number of factories that commenced operations doubled, from 303 to 721. Buoyed by massive oil export revenues, Mr. Bin Salman hopes to brand a 'Made in Saudi' label as part of his non-oil export drive.
Even so, foreign investment in manufacturing has been slow to take off, particularly in Mr. Bin Salman's, at times, futuristic mega projects like his US$500 billion city of Neom on the Red Sea. New Jersey-based Lucid Group broke the mold when it announced in February that it would build its first overseas electrical vehicle production facility in the kingdom.
More controversial are plans for a beach in Neom scheduled to open next year that envision a wine bar, a separate cocktail bar, and a bar for "champagne and desserts" in a country that bans alcohol.
The plans seem out of sync with religious sentiment among a significant segment of Gulf youth if a recent opinion poll is to be believed,
Forty-one per cent of young Gulf Arabs, including Saudis, said religion was the most important element of their identity, with nationality, family and/or tribe, Arab heritage, and gender lagging far behind.
More than half of those surveyed, 56 per cent, said their country's legal system should be based on the Shariah or Islamic law. Seventy per cent expressed concern about the loss of traditional values and culture.
In contrast to economics, the going in turning the kingdom into a sports and esports hub has been rougher.
In his latest move, Mr. Bin Salman launched a US$38 billion "National Gaming and Esports Strategy" to make Saudi Arabia an esports leader by 2030. The budget includes US$13 billion for the acquisition of "a leading game publisher." The kingdom has already invested in Capcom, Nexon, Nintendo, ESL Gaming, SNK, and Embracer Group.
In addition, Saudi music entertainment company MDLBEAST saw a business opportunity in the 2022 Qatar World Cup that would also help project the once secretive kingdom as a forward-looking modern state. MDLBEAST has invited 56 top international and regional performers to entertain soccer fans on a custom-built stage in Doha during the 28 days of the tournament.
On an even grander scale, Saudi Arabia and Egypt, two of the world's more notorious human rights violators, together with Greece, are considering bidding to host the 2030 World Cup –a move that sounds like an invitation to a perfect public relations fiasco, if Qatar's experience is an indicator.
The potential bid did not stop soccer icon Cristiano Ronaldo from dashing initial Saudi hopes to attract a superstar to the kingdom's top football league when he turned down a US$258 million offer to play for Al Hilal, one of Saudi Arabia's top clubs.
Similarly, Saudi Arabia's endeavour to bankroll Liv Golf, a challenger to PGA Tour, the organizer of North America's main professional men's golf tournaments, has turned into a public relations fiasco amid allegations that the kingdom was seeking to launder its reputation.
A refusal by major broadcasters to secure the rights to air the League's tours exemplifies its problems.
Religion has proven to be the arena in which Saudi Arabia may have scored its most prominent public relations fete.
The Muslim World League, Mr. Bin Salman's primary vehicle to garner religious soft power and propagate an autocratic version of Islam that is socially liberal but demands absolute obedience to the ruler, achieved a public relations coup when it forged an unlikely alliance with Nahdlatul Ulama. Nahdlatul Ulama.
Nahdlatul Ulama is arguably the world's only mass movement propagating a genuinely moderate and pluralistic form of Islam.
Moreover, as the world's largest Muslim civil society movement in the world's most populous Muslim-majority country and democracy, Nahdlatul Ulama's words and actions have an impact.
As a result, the League counted its blessings when Nahdlatul Ulama' recognised it as a non-governmental organization rather than a de facto extension of Mr. Bin Salman's rule.
The recognition opens doors for the League, which has so far traded on Saudi Arabia's custodianship of Mecca and Medina, Islam's two holiest cities; lofty statements and conferences that produced little, if any, real change; and funding of emergency and development aid in various parts of the world.
It allowed Nahdlatul Ulama to invite the League, a major promoter of Saudi ultra-conservatism before Mr. Bin Salman's rise, to co-organize the newly established Religion 20 (R20), a summit of religious leaders under the auspices of the Group of 20 that brings together the world's largest economies.
The first R20 summit, scheduled for early November in Bali, is part of the run-up to the meeting of G20 leaders later that month hosted by Indonesia, the group's chairman for the year. The R20, the G20's latest official engagement group, aims to "position religion as a source of solutions rather than problems across the globe."
The limits of Saudi tolerance were evident last month when authorities arrested a pilgrim to Mecca for dedicating his pilgrimage to Britain's Queen Elizabeth, a non-Muslim who had just died.
Nahdlatul's outreach to the League is part of a bold and risky strategy. However, Nahdlatul Ulama believes that engagement creates an opportunity to persuade the League to embrace a more genuine and holistic vision of moderate Islam rather than one that is self-serving.
That may be a long shot, but it also may be a way of launching Saudi Arabia on a path that would help it repair its badly tarnished image. That is if Mr. Bin Salman pairs genuine religious moderation and pluralism with a rollback of domestic repression and greater political pluralism. So far, that appears to be one thing the crown prince is unwilling to consider.
Iraq and the 'Blind Gordian Knot'
After its occupation by the United States in 2003, Iraq fell into the double trap of the United States and Iran and became an insoluble problem. Similar to the legendary 'Gordian' knot, which Gordias, the king of Phrygia, tied so tightly that it was said that no one could untie it; Until 'Alexander the Great' came and cut it in half with one stroke of the sword and the knot was opened.
The trap that America set for Iraq was the constitution that it drafted for this country after the occupation. In this constitution, America removed Iraq's Arab identity and imposed a two-thirds majority to elect the president, paving the way for the use of a 'suspended one-third'.
At the same time, he set the conditions for amending this article and all the articles of the first chapter of the constitution so difficult that it was practically impossible to amend it. This constitution divided the power between Shiites, Sunnis, and Kurds, as a result of which, the Iraqi society was subject to chaos and fragmentation, and the army that was created based on it collapsed in front of ISIS in Mosul. Now let's skip the destructive role that Nouri al-Maliki had as the prime minister in this story.
But the trap that the Islamic Republic of Iran set for Iraq was that it formed armed groups affiliated with the Quds Force and gave them legitimacy under the umbrella of 'The Popular Mobilization Forces, which resulted in the monopoly of power in the hands of the Shiites.
So far, all efforts to free Iraq from this double trap have failed. The popular revolution of 2019 in Baghdad, Karbala, and other southern cities did not reach anywhere with its anti-Iranian slogans, nor did the government of Mustafa al-Kazemi solve the problem with its patriotic government project, nor did the recent efforts of the Sadr movement under the leadership of prominent cleric Moqtada Sadr bear fruit.
The Sadr movement, which won the majority in the elections, tried to form a national majority government in an agreement with the coalition of the Sunni ruling party and the Kurdistan Democratic Party, but the coordination framework was dependent on Iran, using the one-third weapon, defeated the efforts of the Sadr movement.
In Iraq, there is no 'Alexander the Great' who will rise up and open the blind Gordian knot with one stroke of the sword and save Iraq from the crisis. No random event occurs. Now, the land between the two rivers is caught in deep-rooted and growing corruption and has lost its way among various Arab, Iranian, Eastern, and Western trends. Even Moqtada's plan for the formation of a national government, which was put forward recently with the slogan 'Neither East, nor West", is also facing many difficulties and obstacles.
Of course, expecting the formation of a democratic system with the management of armed sectarian parties that advance politics based on religious fatwas and the force of destructive war missiles and drones is a futile thing, and talking about a national government in which power is in the hands of religious parties affiliated with the neighboring religious government is gossip and superstition.
Apart from that, according to the current laws of Iraq, the main power is in the hands of the Prime Minister and the Council of Ministers, and the powers of the President are limited and few, as a result, Shiite parties and organizations, especially their larger organizations, get more privileges, and the main power is exclusive to the Shiite community.
In addition, the organization that will be called the largest and the majority based on the political Ijtihad of the Supreme Court of Iraq will actually be the same organization that the Islamic Republic of Iran creates within the Iraqi parliament, not the organization that will receive the most votes in the elections. As we saw in the last parliamentary elections, the Sadr movement won the majority of votes and tried to form a majority government in an agreement with the Sunni ruling coalition and the Kurdistan Democratic Party, but the groups affiliated with the Islamic Republic of Iran stood against it under the name of the coordination framework. And they made his efforts fruitless.
It is for this reason that it has been almost a year since the Iraqi parliamentary elections were held, but the parliament has so far been unable to form a government and elect a new president.
Of course, this is the nature of totalitarian systems. Although the Iraqi system is a democratic system according to the constitution, in reality, the ruling system in Iraq is a totalitarian system. Just like the ruling systems in the Soviet Union and China, where power rotates among the leaders of the Communist Party; Both the rulers were members of the Communist Party, and the political opponents were imprisoned or executed. Because in Iraq, all the pillars of political power are in the hands of the Shiites; Both the factions that are actually in power are the Shiites, and the factions that lead political struggles and protests as opponents are Shia parties. Even the revolution of 2019 was actually a revolution of the new generation of Shiites who had risen against the influence of Iran and America and their supporters.
The fact is that with this situation, Iraq will never be able to free itself from the American-Iranian double trap and untie the blind Gordian knot. Rather, it can only do so when all the Iraqi national and patriotic parties and groups come together under the umbrella of a democratic, national, independent, non-sectarian coalition that is not dependent on foreign countries, and form a strong national government that, while being independent, is in touch with the outside world and establish good relations with the Islamic Republic of Iran, Arab countries, and Eastern and Western countries.
The bottom line is, when the minds that have produced destructive thoughts cannot produce liberating thoughts, Iraq needs those thinkers and new political figures who will establish a correct, solid, and independent political system in Iraq. The current situation is rooted in the incorrect political structure, the foundation of which was laid in 2003. But it is a pity that only a clear understanding of the crisis is not enough to solve it.
The end of political Islam in Iran
Nothing in Iran will be the same again. The uprising of the majority of big and small cities in Iran after the killing of Mahsa Amini by the "Morality Police" of the Islamic Republic of Iran has a new social structure. Because in the contemporary history of Iran, we have not witnessed such social forces that have been strongly influenced by the women's movement.
The social structure of the uprising
During the era of Reza Shah Pahlavi, women were allowed to study in law and medical schools, or during the era of Mohammad Reza Shah Pahlavi, women were organized to implement the White Revolution ideology as soldiers. This means that at that time, women were "allowed" and "organized", but all these freedoms were given to women based on men's power, state power, and non-democratic methods, and the women's movement did not play an active role in these actions. For this reason, Mohammad Reza Shah Pahlavi said in one of his interviews: Women are schemes and evil, women have not even had first-class scientists throughout history, women may be equal to men before the law but they have not had the same abilities as men. They are not, women have not even produced a Michelangelo, Johann Sebastian Bach, or a good cook. It was not only Mohammad Reza Shah who had a misogynist view, but Ayatollah Khomeini, the leader of the Islamic Revolution of Iran, was against giving women the right to vote and considered the entry of women into the National Assembly, municipality, and administrations as a cause of paralysis in the affairs of the country and government. In a letter to Mohammad Reza Shah Pahlavi, he requested the abolition of women's right to vote.
It can be said that the Iranian revolution (1979) was one of the biggest revolutionary movements that was completely "made" by a mass social movement in the history of the 20th century, and women played a very active and prominent role in it. But the women in that revolutionary movement not only for themselves and the issues of women's rights but under the framework of Islamic and communist parties and groups such as the Tudeh Party of Iran, Organization of Iranian People's Fedai Guerrillas, People's Mojahedin Organization of Iran, and Muslim People's Republic Party tried to solve the problems of Iranian women. That is, in that mass revolutionary movement, various communist, Islamic and guerilla ideologies were higher, more important, and more preferable than the women themselves, and women tried to find their answers with the help of these revolutionary ideologies to solve the general problems of the country and women's issues.
But in recent developments, women have not been "allowed" through the reforms of the Pahlavi government, nor have they been "organized" through the ideologies of the revolutionary parties before and after the victory of the Iranian revolution. Rather, in the strict sense of the word, they have become the locomotive of the revolutionary upsurge of contemporary Iran and have given "allowed" and "organization" to other social and ethnic forces in the geography of Iran. From now on, women in Iran are the creators of social and revolutionary changes based on the women's movement.
Discourse analysis of the uprising
After the June 2009 presidential election and the protest against election fraud, large protests started in other cities, especially in Tehran. In that rebellion, we witnessed the loss of the unity of the elites, the crisis of legitimacy, and the crisis of the efficiency of the Islamic Republic regime. After those protests, the Shiite Islamist ideology of the Islamic Republic faced illegitimacy and the unity of the elites of the ruling class was lost. On the other hand, the government faced a crisis of inefficiency after those incidents and could not meet the crisis economic, cultural, political, and civil liberties, and women's demands. Therefore, in the demonstrations of 2018, tens of thousands of people rose up against economic policies, high prices, and unemployment, and with the spread of these protests, the ideological foundations and legitimacy of the regime were protested by the demonstrators. With a 50% increase in the price of gasoline in 2019 and a 35% inflation, unemployment and an increase in the price of basic goods and food, a new wave of protests in many cities of Iran faced the government of Hassan Rouhani with a major social and economic crisis. In those protests, women played an active role and chanted against the mandatory hijab.
Contrary to all these widespread protests and social riots in Iran's contemporary history, in the recent revolutionary uprising, the cause of the uprising is the murder of Mahsa Amini, the defense of women's rights, and opposition to the mandatory hijab. The overwhelming majority of Iranian women have declared their separation with the slogan of "women, life, freedom" from the movement of reformers, monarchists of the Pahlavi regime, the People's Mojahedin Organization of Iran, fundamentalists of the Islamic Republic, utopias and communist, Islamist, totalitarian, anti-woman, and false ideologies.
It is very important in the recent revolutionary uprising, the cooperation of Turks men and women in the cities of Iran with the protests. Because the Turk social-political movement did not declare solidarity with the protesters of other cities of Iran due to the neglect of the right to education in the mother tongue, the right to self-determination, and the realization of economic, political, cultural, and environmental rights in the uprisings of 2009, 2018 and 2019. The slogan of "freedom, justice, and national government" of the Turks of different cities of Iran, also shows the existence of different and yet common demands of the majority of ethnic groups living in Iran.