Spring 2018 EU Economic Forecast: Expansion to continue amid new risks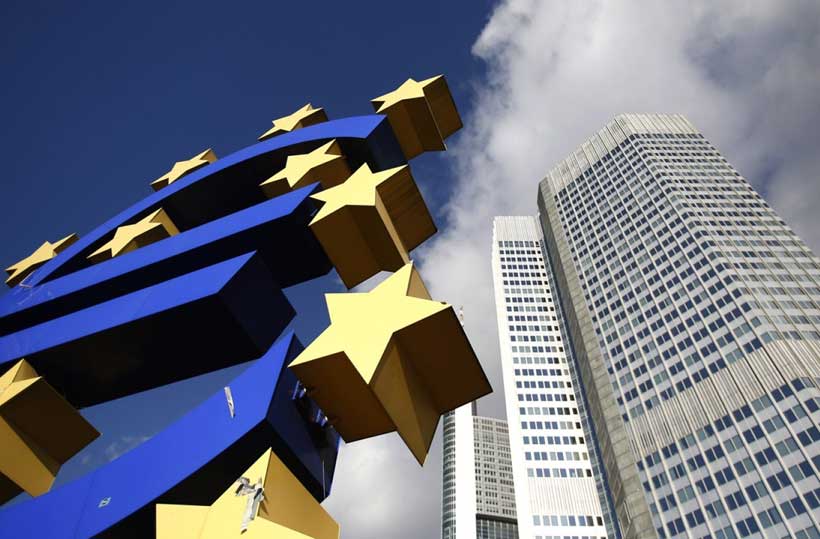 Growth rates for the EU and the euro area beat expectations in 2017 to reach a 10-year high at 2.4%. Growth is set to remain strong in 2018 and ease only slightly in 2019, with growth of 2.3% and 2.0% respectively in both the EU and the euro area.
Private consumption remains strong, while exports and investment have increased. Unemployment continues to fall and is now around pre-crisis levels. However, the economy is more exposed to external risk factors, which have strengthened and become more negative.
Robust growth is facilitating a further reduction in government deficit and debt levels and an improvement in labour market conditions. The aggregate deficit for the euro area is now less than 1% of GDP and is forecast to fall under 3% in all euro area Member States this year.
Valdis Dombrovskis, Vice-President for the Euro and Social Dialogue, also in charge of Financial Stability, Financial Services and Capital Markets Union, said:"The economic expansion in Europe is set to continue at a solid pace this year and next, supporting further job creation. However, we also see increased risks on the horizon. This is why we should use the current good times to make our economies more resilient. This means building fiscal buffers, reforming our economies to foster productivity and investment, and making our growth model more inclusive. It also means strengthening the foundations of our Economic and Monetary Union."
Pierre Moscovici, Commissioner for Economic and Financial Affairs, Taxation and Customs, said: "Europe continues to enjoy robust growth, which has helped drive unemployment to a ten-year low. Investment is rising and public finances are improving, with the deficit in the euro area set to drop to just 0.7% of GDP this year. The biggest risk to this rosy outlook is protectionism, which must not become the new normal: that would only hurt those of our citizens we most need to protect."
Growth to remain strong, but pace to ease slightly
In 2017, real GDP growth reached 2.4% in the EU and in the euro area as the economy moved into higher gear. Growth was supported by high consumer and business confidence, stronger global growth, low financing costs, healthier private sector balance sheets and brighter labour market conditions. While short-term indicators suggest a cooling of activity in early 2018, this looks likely to be partly temporary.
The pace of growth is expected to remain robust on the back of sustained consumption and strong exports and investment. Both the EU and the euro area are forecast to grow by 2.3% this year. Growth in both areas is projected to ease to 2.0% in 2019 as bottlenecks become more apparent in some countries and sectors, monetary policy is adjusted to circumstances and global trade growth calms somewhat.
With employment at a record high, some labour markets are getting tight
Unemployment continues to fall and is now around pre-crisis levels. In the EU, unemployment is set to continue to decline, from 7.6% in 2017 to 7.1% in 2018 and 6.7% in 2019. Unemployment in the euro area is forecast to fall from 9.1% in 2017 to 8.4% in 2018 and 7.9% in 2019.
The number of people in work in the euro area is now at its highest since the introduction of the euro, but some labour-market slack remains in the euro area. While in certain Member States unemployment is still high, in others, job vacancies are already getting harder to fill.
Inflation to rise slowly, as underlying pressures strengthen
Consumer price inflation weakened in the first quarter of this year, but is expected to pick up slightly in the coming quarters, partly due to oil prices that have recently increased. Underlying price pressures are also building as a result of tighter labour markets and faster wage growth in many Member States. Overall, inflation in the euro area is forecast to remain the same in 2018 as in 2017 at 1.5% and then rise to 1.6% in 2019. In the EU, the same pattern is expected, but with inflation forecast to continue at 1.7% this year before rising to 1.8% in 2019.
Public finances improving, with no deficits over 3% of GDP
The aggregate euro area government budget deficit and public debt both fell as percentages of GDP in 2017, helped by strong economic growth and low interest rates. With Member States' budgets benefitting from the effects of improving labour market conditions, including through lower social benefit payments, 2018 is set to be the first year since the start of the Economic and Monetary Union in which all governments manage budget deficits of less than 3% of GDP, as referred to in the Treaty.
The aggregate general government deficit of the euro area is now forecast to fall to 0.7% of GDP in 2018 and 0.6% in 2019. In the EU, the aggregate deficit is forecast to be at 0.8% in 2018 and 2019. The euro area's debt-to-GDP ratio is forecast to fall to 84.1% in 2019, with declines projected for almost all Member States.
Risks to the outlook have increased and become more negative
Overall, the risks to the forecast have risen and are now tilted to the downside. In Europe, recent indicators have reduced the likelihood that growth in Europe might turn out stronger than expected in the near term. Externally, the financial market volatility experienced in recent months is likely to become a more permanent feature in the future, which will add to uncertainty. Pro-cyclical fiscal stimulus in the US is expected to boost short-term growth, but to raise the risk of overheating and the possibility that US interest rates rise faster than currently assumed. Also, an escalation of trade protectionism presents an unambiguously negative risk to the global economic outlook. These risks are interrelated. Due to its openness, the euro area would be particularly vulnerable to their materialisation.
For the United Kingdom, a purely technical assumption for 2019
To allow for a comparison over time, the projections for the EU for 2019 contained in the forecast consist of projections for all 28 Member States, including the United Kingdom.
Given the ongoing negotiations on the terms of the United Kingdom's withdrawal from the EU, the Commission's projections for the time after Brexit are based on a purely technical assumption of status quo in terms of trading relations between the EU27 and the UK. This is for forecasting purposes only and has no bearing on the talks underway in the context of the Article 50 process.
Background
This forecast is based on a set of technical assumptions concerning exchange rates, interest rates and commodity prices with a cut-off date of 23 April. For all other incoming data, including assumptions about government policies, this forecast takes into consideration information up until and including 23 April. Unless policies are credibly announced and specified in adequate detail, the projections assume no policy changes.
This year, the European Commission has reverted to publishing two comprehensive forecasts (spring and autumn) and two interim forecasts (winter and summer) each year, instead of the three comprehensive forecasts in winter, spring and autumn that it has produced each year since 2012. The interim forecasts cover annual and quarterly GDP and inflation for the current year and following years for all Member States and the euro area, as well as EU aggregates. This change is a return to the Commission's previous pattern of forecasts and brings the Commission's forecast schedule back into line with those of other institutions (e.g. the European Central Bank, International Monetary Fund, Organisation for Economic Co-operation and Development).
Côte d'Ivoire: Robust growth under the looming threat of climate change impacts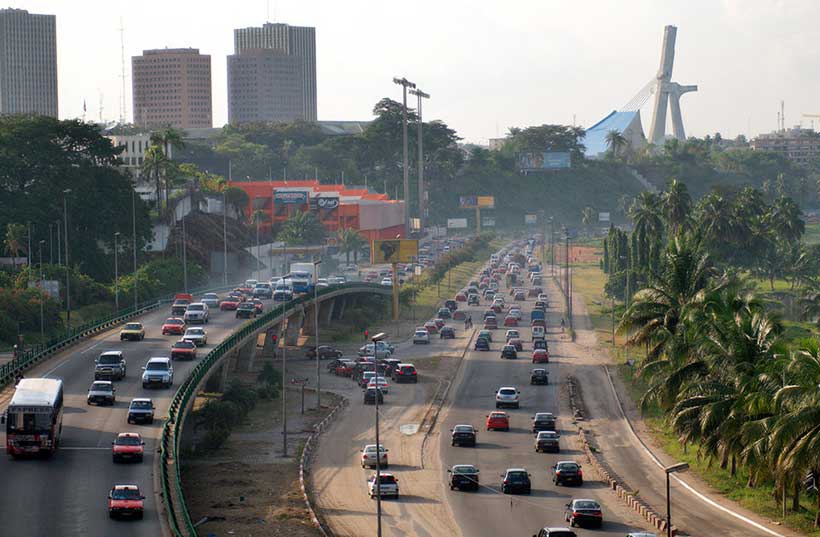 According to the Economic Update for Côte d'Ivoire, published today, the short- and medium-term outlook for the Ivorian economy remains positive. The economy is expected to maintain a steady trajectory, with GDP growth of 7 to 7.5% in the coming years. Titled "So Tomorrow Never Dies: Côte d'Ivoire and Climate Change," the report highlights the urgent need to implement measures to ensure that climate change impacts do not imperil this economic progress and plunge millions of Ivorians into poverty.
"The solid performance of the Ivorian economy, which registered growth of almost 8% in 2017, is essentially due to the agricultural sector, which experienced positive climate conditions. The economy also benefited from a period of calm after the political and social instability of the first half of 2017 and from more favorable conditions on international markets," said Jacques Morisset, Program Leader for Côte d'Ivoire and Lead Author of the report. "The Government also successfully managed its accounts, with a lower-than-expected deficit of 4.2% of GDP, while continuing its ambitious investment policy, partly financed by a judicious debt policy on financial markets."
However, the report notes that private sector activity slowed in 2017 compared with 2016 and especially 2015, which may curb the pace of growth of the Ivorian economy in the coming years. Against the backdrop of fiscal adjustment projected for 2018 and 2019, it is critical that the private sector remain dynamic and become the main driver of growth. This is particularly important in light of the uncertainty associated with the upcoming elections in 2020, which could prompt investors to adopt a wait-and-see approach.
As economic growth in Côte d'Ivoire relies in part on use of its natural resource base, the authors of the report devote a chapter to the impact of climate change on the economy. They raise an alarming point: the stock of natural resources is believed to have diminished by 26% between 1990 and 2014. Several visible phenomena attest to this degradation, such as deforestation, the depletion of water reserves, and coastal erosion. According to the Intergovernmental Panel on Climate Change (IPCC), climate change could reduce GDP across Africa by 2% to 4% by 2040 and by 10% to 25% by 2100. For Côte d'Ivoire, this would correspond to a loss of some CFAF 380 billion to 770 billion in 2040.
"This report sounds an alarm in order to spark a rapid and collective wake-up call," said Pierre Laporte, World Bank Country Director for Côte d'Ivoire. "Combating climate change will require prompt decisions and must become a priority for the country to maintain accelerated and sustainable growth over time."
The report pays special attention to coastal erosion and to the cocoa sector, which represents one third of the country's exports and directly affects over 5 million people. With 566 km of coast, Côte d'Ivoire now boasts a coastal population of almost 7.5 million people, who produce close to 80% of the national GDP. Two thirds of this coast is affected by coastal erosion, with severe consequences for the communities and the country's economy.
The Ivorian Government, which is already aware of this challenge and has prepared a strategy to confront it, must expedite its implementation. This would have the two-fold effect of developing a "green" economy and creating new jobs.
A future of work based on sustainable production and employment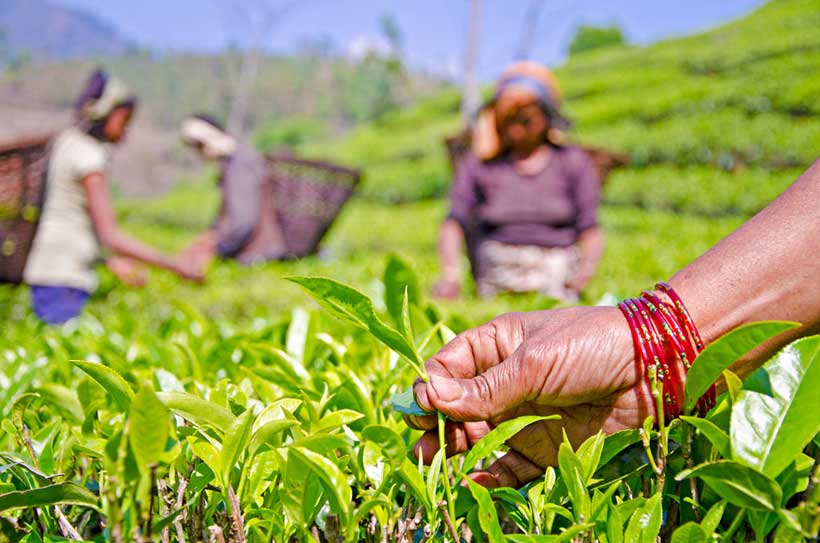 On the first Saturday of July each year, the international community celebrates the International Day of Cooperatives. This year's theme, Sustainable consumption and production of goods and services is timely, as the ILO works towards a future of work that is based on sustainable production and employment models.
As head of the ILO's Cooperative Unit, I have witnessed firsthand the positive impact of cooperatives' commitment to sustainable consumption and production.
In Northern Sri Lanka, for instance, after years of civil war, I saw how cooperatives helped build the resilience of local communities.
A rapid assessment at the start of the ILO's Local Empowerment through Economic Development project (LEED) indicated that cooperatives were the only "stable" structures present in Northern Sri Lanka before, during, and after the conflict. Since 2010, the project has been supporting agriculture and fishery cooperatives by securing fair trade certification for their products and helping them establish market links.
I've also listened to inspiring stories from other parts of the world of how cooperatives have joined forces to contribute to sustainable consumption, production and decent work – often through cooperative-to-cooperative trade.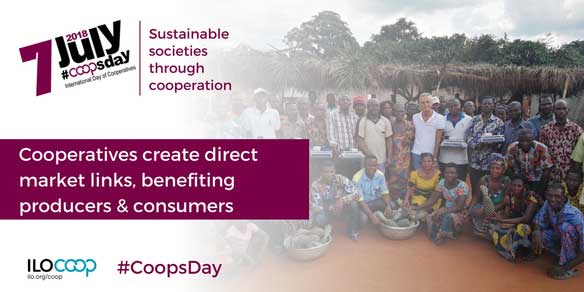 Some of these stories were shared at a recent meeting in Geneva of cooperative and ethical trade movements.
We heard how Kenyan producer cooperatives' coffee has found its way on the shelves of Coop Denmark and how biological pineapples from a Togolese youth cooperative are being sold in retail cooperatives across Italy. We heard how consumer cooperatives in East Asia have developed organic and ecolabel products, while educating their members about the working conditions of producers and workers, as well as on reducing food waste and plastic consumption. We also shared ILO experiences in supporting constituents in the field.
The emerging consensus from the meeting was that cooperative-to-cooperative trade can help lower the costs of trade, while ensuring fairer prices and better incomes for cooperative members and their communities. Opportunities exist not only in agricultural supply chains, but also in ready-made garments and other sectors.
Cooperatives at both ends of the supply chain have been joining forces to shorten value chains, improve product traceability and adopt environmentally-friendly practices. At the ILO we have been working with our constituents to improve the social and environmental footprint of cooperatives around the world.
As the ILO continues to promote a future of work that is based on sustainable production and employment models, a priority for us in the coming years is to facilitate the development of linkages between ILO constituents and cooperatives. The aim is to encourage joint action towards responsible production and consumption practices, the advancement of green and circular economies and the promotion of decent work across supply chains.
Source: ILO
Mongolia's Growth Prospects Remain Positive but More Efficient Public Investment Needed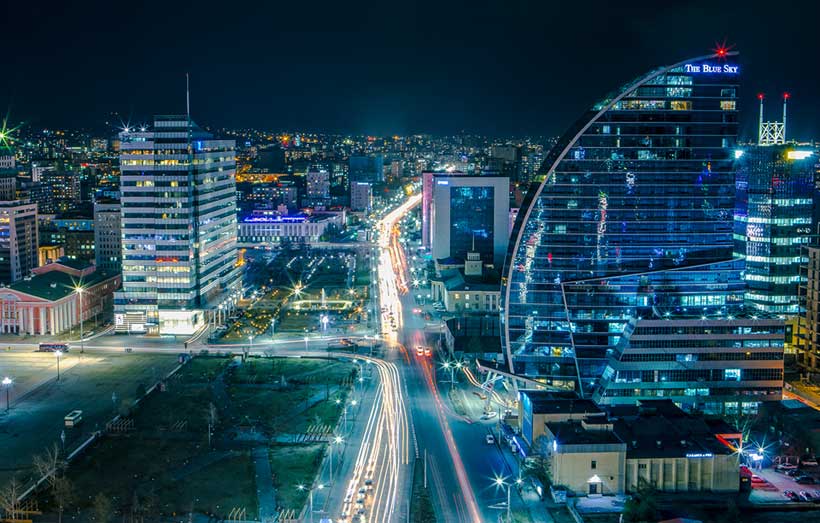 Mongolia's economic performance has improved dramatically with GDP growth increasing from 1.2 percent in 2016 to 5.1 percent in 2017 and 6.1 percent in the first quarter of 2018. While short- and medium-term economic prospects remain positive, Mongolia faces core structural vulnerabilities that hinder its potential, according to Mongolia Economic Update, the latest World Bank report on Mongolia's economy launched here today. The report also highlights the importance of improving efficiency of its public investment programs given extensive consequences from the overambitious and unrealistic investment programs implemented in the past.
"Last year was a good year for Mongolia with favorable commodities prices and the successful implementation of the government's economic recovery program," said Dr. Jean-Pascal N. Nganou, World Bank Senior Economist for Mongolia and Team Leader of the report. "This resulted in improved fiscal and external balances, triggering a slight decline of the country's public debt."
The recovery is expected to accelerate with a GDP growth rate averaging more than 6 percent between 2019 and 2020, driven by large foreign direct investments in mining. Other than agriculture, which was severely affected by harsh weather conditions during the winter, most major sectors including manufacturing, trade, and transport are expected to expand significantly. On the back of increasing exports and higher commodity prices, economic growth will continue to have a strong positive impact on government revenue, contributing to the reduction of the fiscal deficit.
The unemployment rate dropped to 7.3 percent in the last quarter of 2017, compared to 8.6 percent a year earlier. Still, it increased to 9.7 percent in the first quarter of this year, reflecting Mongolia's highly seasonal employment patterns due to difficult working conditions in the winter, especially in construction, agriculture, and mining.
The report highlights possible short- and medium-term risks including political risks, regional instability, climate shocks, and natural disasters. The most critical risk identified is a sudden relaxation of the government's commitment to full implementation of its economic adjustment program supported by development partners.
In addition, the economy remains vulnerable to fluctuations in global commodity prices and a productivity gap. The best long-term protection against these two vulnerabilities is the diversification of the Mongolian economy.
"To create a strong buffer against economic vulnerabilities, the government and donors should give a high priority to economic diversification that helps counter the ups and downs of the mining sector. Investing in human capital and strengthening the country's institutions are the best way to support diversification, together with sound investments in crucial infrastructure," said James Anderson, World Bank Country Manager for Mongolia.
The report takes a closer look at public investment programs implemented over the past five years, which surged until 2015, contributing to large increases in public finance deficits and the public debt. Mongolia needs to review and reshape its public investment policies and decision-making processes to improve efficiency of public spending, including clear project selection and prioritization criteria, as well as proper maintenance of existing assets.