Nearly two-thirds of global workforce in the 'informal' economy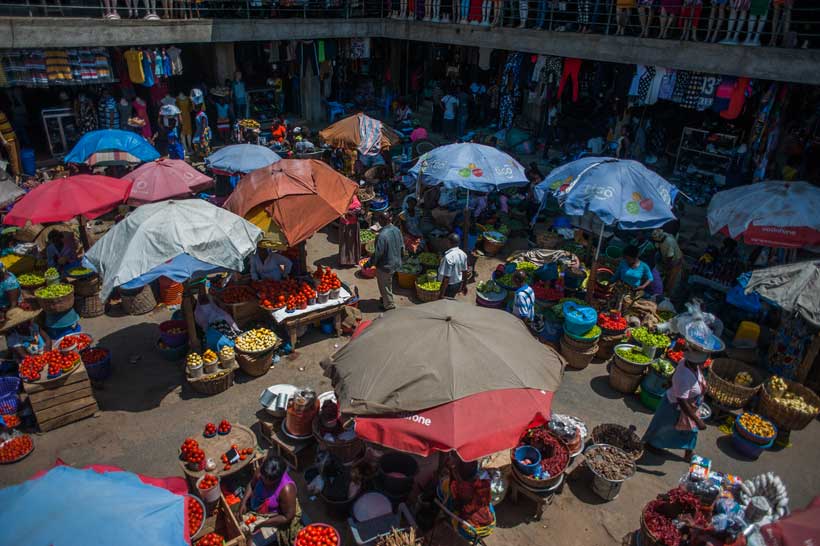 More than 61 per cent of the world's employed population – two billion people – earn their livelihoods in the informal sector, the United Nations labour agency said on Monday, stressing that a transition to the formal economy is critical to ensure rights' protection and decent working conditions.
"The high incidence of informality in all its forms has multiple adverse consequences for workers, enterprises and societies and is a major challenge for the realization of decent work for all," said Rafael Diez de Medina, the Director of the Department of Statistics at the UN International Labour Organization (ILO).
The findings are revealed in ILO's latest report, Women and men in the informal economy: A statistical picture. The study also provides comparable estimates on the size of the informal economy and a statistical profile of the sector, using criteria from more than 100 countries.
"Having managed to measure this important dimension, now included in the Sustainable Development Goals (SDGs) indicators framework, this can be seen as an excellent step towards acting on it, particularly thanks to more available comparable data from countries," added Mr. Diez de Medina.
The geographic distribution of employment in the informal sector presents a striking picture.
In Africa, 85.8 per cent of employment is informal. The proportion is 68.2 per cent in Asia and the Pacific, 68.6 per cent in the Arab States, 40 per cent in the Americas, and just over 25 per cent in Europe and Central Asia.
In all, 93 per cent of the world's informal employment is in emerging and developing countries.
The report also found that informal employment is a greater source of jobs for men (63 per cent) than for women (58.1 per cent).
"Out of the two billion workers in informal employment worldwide, just over 740 million are women," said ILO, noting that they are mostly in informal employment in most low- and lower-middle income countries and are more often found to be the most vulnerable.
Factors affecting level of informality
Education is a major factor affecting the level of informality, the study has shown, noting that as the level of education increases, the level of informality decreases.
"People who have completed secondary and tertiary education are less likely to be in informal employment compared to workers who have either no education or completed primary education," said ILO.
In addition, people living in rural areas are almost twice as likely to be in informal employment as those in urban areas, it added.
According to Florence Bonnet, one of the authors of the report, data on these issues are crucial to design effective policies.
"For hundreds of millions of workers, informality means a lack of social protection, rights at work and decent working conditions, and for enterprises it means low productivity and lack of access to finance," she said.
Green Infrastructure Development Key to Boost Recovery Along the BRI
The Belt and Road Initiative (BRI) presents a significant opportunity to build out low-carbon infrastructure in emerging and developing economies throughout the world. A new insight report from the World Economic Forum, "Advancing the Green Development of the Belt and Road Initiative: Harnessing Finance and Technology to Scale Up Low-Carbon Infrastructure," illustrates the green potential of this new development paradigm. It also highlights the 'Vision 2023' action plan of the Green Investment Principles of the Belt and Road, jointly developed within the World Economic Forum's Climate Action Platform.
Emerging and developing economies face rising demand for energy and mobility as they grow, industrialise and urbanise. Today's infrastructure investment decisions will lock in emissions trajectories for decades and could make or break the world's ability to achieve the Paris Agreement objective of limiting global temperature rise to well below 2°C.
"The Belt and Road Initiative offers a new development paradigm through investment in green infrastructure that avoids the irreversible carbon lock-in effect on global climate change," said Antonia Gawel, Head of the Climate Action Platform, World Economic Forum. "Collaborative action from public and private stakeholders will be needed to facilitate bankable green infrastructure projects, supported by international standards and forward-looking climate policies. The private sector is especially important for infrastructure construction, bridging the investment gap and scaling up promising green technologies."
"By accelerating the buildout of low-carbon infrastructure, the Belt and Road Initiative can play a leading role in decoupling economic development from emissions growth for emerging and developing economies," said Raymund Chao, Asia Pacific Chairman, China Chairman and Chief Executive Officer, PwC. "To capitalise on the increasing global appetite for green assets, the financial sector will play a vital role in channelling investment flows towards green energy and transportation projects."
The Green Investment Principles (GIP) for the Belt and Road was launched in 2018 to accelerate green BRI investments. Membership has recently expanded to 41 signatories and 12 supporters from 15 countries and regions, holding or managing combined assets in excess of $49 trillion and providing significant funding to BRI projects.
"This insight report uses a number of vivid cases on low-carbon technologies, financial instruments, and policy measures to showcase how the effective combination of such approaches can facilitate the green development of the Belt and Road Initiative. Multilateral cooperation platforms such as Belt and Road Initiative International Green Development Coalition (BRIGC) and the Green Investment Principles for the Belt and Road play an important role in sharing best practices and fostering international cooperation on green development with countries that benefit from the Belt and Road Initiative," Li Yonghong, Deputy Director General of the Foreign Environmental Cooperation Center, Ministry of Ecology and Environment, People's Republic of China.
"This insight report offers an important contribution to low-carbon development in diverse countries along the Belt and Road. It signals that financial institutions and enterprises are taking action now to incorporate environment and climate risks into their investment portfolios to avoid transition risks and improve outcomes for sustainable economies and societies. "said Rebecca Ivey, Chief Representative Officer, Greater China, World Economic Forum
"Since the launch of the GIP, our member institutions have invested extensively in green projects in emerging market economies. However, greater efforts are needed to help these economies achieve their climate goals. This report provides a fresh perspective of how green and sustainable finance can facilitate the wide application of low-carbon technologies in emerging markets and developing economies. The GIP will continue to expand its reach and actively support the climate transition activities of the EMDEs," said Dr. Ma Jun, Chairman of Green Finance Committee of the China Society for Finance and Banking.
The report uses case studies to highlight the financial sector players, financial instruments, low-carbon technologies and conducive local policies and can and need to come together in advancing the green development of the Belt and Road Initiative.
JinkoSolar expands its South-East Asia solar photovoltaic module supply chain
Silk Road Fund invests in renewable power assets across Africa and the Middle East
Huaneng finances and builds Europe's largest battery storage project
Santiago's innovative PPP financing structure to electrify its bus fleet
Kazakhstan advances its transition from fossil fuels to green energy
Asian Infrastructure Investment Bank (AIIB) helps investors manage climate and other ESG risks
Above all, this report sets the premise for a global infrastructure development strategy and calls for further action to protect our planet and build a sustainable tomorrow."
COVID-19 pandemic stalls global economic recovery
The UN's key report on the global economy, released on Thursday, shows that the rapid spread of the Omicron COVID-19 variant has put the brakes on a rapid recovery, counteracting signs of solid growth at the end of last year.
The 2022 World Economic Situation and Prospects (WESP) report, produced by the UN Department of Economic and Social Affairs (DESA), cites a cocktail of problems that are slowing down the economy, namely new waves of COVID-19 infections, persistent labour market and lingering supply-chain challenges, and rising inflationary pressures.
The slowdown is expected to carry on into next year. After an encouraging expansion of 5.5 per cent in 2021 — driven by strong consumer spending and some uptake in investment, with trade in goods surpassing pre-pandemic levels — global output is projected to grow by only 4.0 per cent in 2022 and 3.5 per cent in 2023.
'Close the inequality gap'
Commenting on the launch of the report, António Guterres, the UN Secretary-General, declared that, with WESP calling for better targeted and coordinated policy and financial measures, it is time to close the inequality gaps within and among countries. "If we work in solidarity – as one human family – we can make 2022 a true year of recovery for people and economies alike", he said.
Liu Zhenmin, Under-Secretary-General of the United Nations Department of Economic and Social Affairs, drew attention to the importance of a coordinated, sustained global approach to containing COVID-19 that includes universal access to vaccines, and warned that, without it, "the pandemic will continue to pose the greatest risk to an inclusive and sustainable recovery of the world economy".
The report predicts that developing countries will take a greater long-term hit that wealthier nations. Africa and Latin America and the Caribbean are projected to see significantly lower growth, compared to pre-pandemic projections, leading to more poverty and less progress on sustainable development and climate action.
The number of people living in extreme poverty is projected to remain well-above pre-pandemic levels, with poverty projected to increase further in the most vulnerable economies: in Africa, the absolute number of people living in poverty is projected to rise through 2023. In contrast, the economies of richer countries are expected to almost fully recover by next year.
Safety nets
The special financial measures put in place by many governments since the pandemic – such as bailouts, improved social protection and job support – should, says the report, stay in place to ensure a strong recovery.
However, in light of rising inflation, several central banks have begun to unwind their extraordinary monetary response to the crisis.
Many low-income developing countries, are facing unsustainable external debt burdens, amid sharp interest rate rises.
Additional borrowing during the pandemic and increasing debt-servicing costs, have put many of them on the verge of a debt crisis. These countries are in urgent need of further and coordinated international support for debt relief, the report notes.
Jobs, slow to re-appear
Employment levels are projected to remain well-below pre-pandemic levels during the next two years, and possibly beyond. Labour force participation in the United States and Europe remain at historically low levels, as many who lost jobs or left the labour market during the pandemic, have not yet returned.
These shortages in developed economies are adding to other pressures, such as inflation, and supply-chain challenges.
At the same time, employment growth in developing countries remains weak, amid lower vaccination progress and limited stimulus spending. Africa, Latin America and the Caribbean, and Western Asia, are projected to see a slow recovery of jobs. In many countries, the pace of job creation is not enough to offset the earlier employment losses.
The WESP was released two days after the latest World Bank's Global Economic Prospects report, which drew similar conclusions, predicting that, given the rapid spread of the Omicron variant, the COVID-19 pandemic will continue to disrupt economic activity in the near term.
Moroccan Economic Growth Could Accelerate with the Full Implementation of Reforms
In order to achieve broad-based growth and job creation, the sustained implementation of a multifaceted and ambitious reform agenda will be essential, according to the World Bank's Morocco Economic Monitor, January 2022: From Recovery to Acceleration.
The report analyzes the growth performance of the Moroccan economy over past decades. Thus far, fixed capital accumulation has been the main driver of growth, with limited productivity gains and an insufficient contribution of labor despite a favorable demographic situation.
The report presents simulations on the impact of various policy options on economic growth in Morocco. According to these simulations, the sustained implementation of a broad-based reform agenda, which raises human capital, economic participation and the productivity of firms, will be crucial to meet the ambitious growth objectives set by the New Development Model. Such an agenda will foster the unlocking of Morocco´s productivity potential, enable the youth and women to access the labor market and improve the educational profile of workers.
"Going forward, the Moroccan economy will need to diversify its sources of growth to continue creating jobs and reducing poverty," said Jesko Hentschel, World Bank Maghreb Country Director. "As envisaged by the New Development Model, this may require the implementation of broad-based reforms effort to stimulate private investment, boost innovation, include women in the labor force and increase human capital."
The report also analyzes the performance of the Moroccan economy in 2021 which showed a projected growth rate of 5.3%. An unusually strong performance of Morocco's agricultural sector, a temporary slowdown in the pandemic, the revival of external demand for industrial and agricultural exports, and supportive macroeconomic policies are the main drivers of a marked but uneven recovery from the COVID-19 crisis.
The ongoing recovery is beginning to revert the social impact of the pandemic. This year's rebound in agricultural production led to a rapid fall in unemployment in rural areas, but in urban areas, labor market indicators only began to improve in the third quarter of 2021. After peaking at an estimated 6.4 percent in 2020, poverty rates may not return to 2019 levels until 2023 despite the effects of the government's cash transfer programs initiated during lockdown.
A robust recovery in public revenues is enabling the government to reduce its budget deficit, and the authorities have relied mostly on domestic markets to cover their financing needs. However, rising energy prices and collapsing tourism revenues have exceeded the additional inflows generated by the strong performance of manufacturing exports and workers' remittances, leading to an increase in the country's current account deficit.
An expansionary monetary policy and liquidity support provided by the Central Bank have helped Morocco's financial sector to weather the storm, but the rate of non-performing loans remains high and could still increase. The management of macro-financial vulnerabilities will be essential for a sustainable recovery, the report said.
Looking forward, and following bumper harvests in 2021, agricultural production is expected to taper off, contributing to a slowing of GDP growth to 3.2% in 2022, after which a gradual acceleration is expected.