Israel's Legislature Votes War Against Syria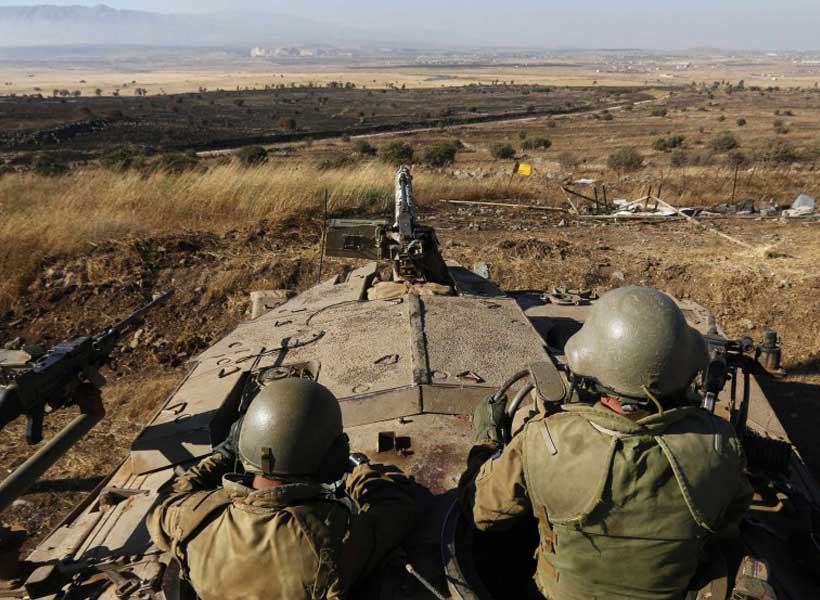 The key decision now will be made by Israel's Prime Minister, Benjamin Netanyahu.
On May 1st, Al Masdar News headlined "Netanyahu is granted the ability to wage war without the Knesset", and reported that Israel's Knesset or legislature had voted late on Monday night April 30th, to hand entirely to the far-right Prime Minister Benjamin Netanyahu and to his extremely far-right Minister of Defense Avigdor Liberman the decision as to whether or when to invade any country — the main actual target is Syria, but Iran and Lebanon are also in Israel's gunsights.
Israel's newspaper Haaretz reported about this on April 30th, while explaining that this legislation was "transferring responsibility for declaring war from the full cabinet to the smaller security cabinet. The joint committee of the Foreign Affairs and Defense Committee and the Constitution, Law and Justice Committee rejected his request but it was later voted for by the Knesset plenum."
The real change that the new law introduces is to transfer Israel's war-making decisions away from both the Knesset and the less-invasion-prone members of Israel's Cabinet, to only the two most invasion-seeking officials: Netanyahu and Liberman — in other words, actually, to Netanyahu alone.
On April 17th, Zero Hedge bannered "Trump Is Assembling An Arab Army To Replace US Troops In Syria" and reported that U.S. President Donald Trump was trying to arrange a Sunni Arab army from Saudi Arabia, Qatar, Egypt and UAE to invade Syria so that U.S. allies will take over the country — or at least the areas that now are controlled by U.S.-allied forces in Syria. Israel might participate in the invasion, but Trump's team knows that for Syrians to be controlled by Jews would be a nonstarter, whereas a significant percentage (though still only a minority) of Syrians would be willing to be ruled by Saudi Arabia and other Sunni-led regimes. Trump then would withdraw American forces, because Syrians would be almost as opposed to an imposed Christian regime as to an imposed Jewish one. Placing Syria under the effective control by the Saud family would be still placing it effectively under the control of the U.S. regime, though only indirectly, via the Saudi-selected stand-ins.
Consequently, the Knesset vote on Monday, to place Israel's invasion-decision totally under the control of Netanyahu and Liberman, without participation from the Knesset nor from other members of Netanyahu's Cabinet, opens the door to an invasion anytime that Netanyahu, Trump, and whatever Sunni Arab leaders that Trump can muster, decide to do it. This is a gateway opened, to facilitate such an invasion. whenever those leaders might agree on the date to do it.
Greater Implications of the Iran-China Deal on India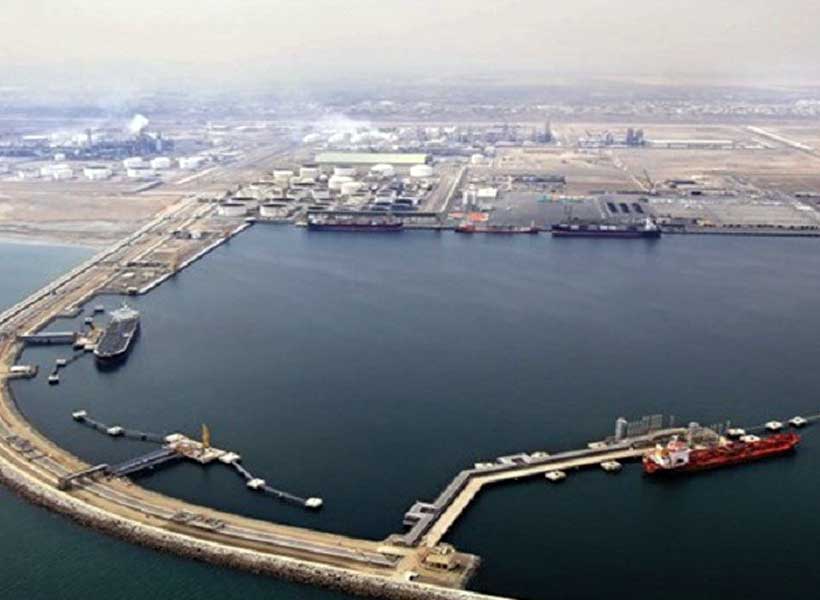 Authors: Dhritiman Banerjee and Subarna Mustari*
India entered as a stakeholder in the development of Iran's Chabahar port in 2016 as part of an India- Afghanistan- Iran trilateral agreement on Establishment of International Transport and Transit Corridor. A landmark strategic victory for India, this agreement not only connected New Delhi with Kabul but also provided India a link to Eurasia through the International North-South Transport Corridor (INSTC). Additionally, it sought to challenge China's investment in the Gwadar Port in Pakistan as part of China-Pakistan Economic Corridor (CPEC). Indian involvement in the Chabahar- Zahedan Railway project therefore has far-reaching implications for New-Delhi's interests in the Asian geopolitical scenario. However, after Iran's signing of a landmark investment deal with China earlier this year, we aim to analyze the implications of the deal on India in this article.
The Middle East is particularly important to India because of its vast energy resources. Stephen P. Cohen feels that five factors steer India's policy in the Middle East namely:
1. Energy Security: India is very reliant on Oil and Gas resources from the Middle East and therefore relations with most of the major suppliers including Iran, the UAE, Saudi Arabia and Iraq are strategically important to India. And India does not want to become a victim to a sudden increase in Oil and Gas prices or a temporary embargo of these resources as the pipeline from Central Asia to India via Iran, Afghanistan and Pakistan is not likely to materialize soon.
2. The Muslim Factor: Although a secular democratic State, India has a very high Muslim population who resonate with countries in the Middle East which brings out the relation between India's foreign and economic policy on the one hand and domestic politics on the other. This linkage has particularly increased in importance after the passing of the controversial Citizenship Amendment Act (CAA) by the Modi Government which is thought to be discriminatory against Muslims and has provoked sharp criticism from the international community.
3. The Kashmir Factor: For Indian foreign policy it is of paramount importance that the Middle Eastern States do not interfere in Kashmir or support Pakistan regarding the issue. Therefore it conducts a "sophisticated balance of power diplomacy" in order to contain the spread of Pakistani influence regarding Kashmir and to keep the Kashmir issue out of all discussions.
4. The Israel Factor: India's recent cultivation of strategic relations with Israel has led to important advancements in the technology, intelligence, and military sectors as well as important leverage in the US but many analysts in India are still skeptical about cultivating close relations with Tel Aviv. Eventually it can be said that a balance between Tel Aviv and Tehran will become an important factor in Indian Foreign Policy.
5. The Non-Proliferation Factor: Because of India's strategic relations with the US, India does not want to violate American non-proliferation goals in the region. But Indian strategists have had a long history of skepticism regarding American non-proliferation strategies and tactics with skepticism. In fact the Indian leadership was at the forefront in the development of the theoretical case against the Non-Proliferation Treaty (NPT) and the global non-proliferation regime. In fact, most of the arguments developed by India are now used by Iran and North Korea to justify their opposition to the NPT and therefore India must find a solution to this paradox in the near future as although its record of horizontal proliferation has been very good, it has been an example for States regarding vertical proliferation.
China's offer to invest $400 billion in Iranian oil and gas sectors over 25 years tokening a comprehensive trade and military partnership between the two nations is undoubtedly far more beneficial to Iran than India's promise of a $150 million investment scheme over 10 years. This deal is mutually beneficial for both China and Iran and the Iranian economy reeling under sanctions will get a much needed lifeline. Similarly, China is facing international criticism over its aggressive political and military strategies that include attempts at hegemonizing the South China Sea (SCS) at the cost of the other littoral States, passing a new security law to strengthen its control over Hong Kong and engaging in a border standoff with India in Ladakh. This deal therefore allows China a strategic leverage in the Middle East. China's strategic decision for such an investment into Iran comes at a notable time – immediately following the Sino-Indian Border Clash of June 2020. Iran's decision to choose a more lucrative deal from a more lucrative regional partner facing the same extra-regional opponent – the United States – intersects directly with India's vested security interests in Iran against both China and Pakistan. Furthermore, India's relations with the United States puts both India and Iran in a very complicated situation with Iran at greater risk of allowing more Chinese presence than India in the region, given the former's bigger investment and the mutual threat of the United States.
India, compared to China, not only has far less to offer economically to neutral yet strategic prospective allies (Iraq, Iran, and other Gulf nations) in countering China in the West Indian Ocean Region (IOR), but its alliance with the extra-regional United States has compromised Iran's faith in India as concrete ally. With such a timely investment, China has in one stroke obtained a highly strategic regional ally against the United States in securing its energy concerns, and simultaneously taken the battle directly to Iran where India is attempting to undermine China's String of Pearls (SOP) strategy (Gwadar Port, Pakistan) through the Chabahar Port.
Furthermore, India's recent history of erratic dealings in the middle-east, and compliance with the US's policies in Asia has dipped the region's confidence in India as a reliable regional partner. China's already expanding foothold in the middle-east and Africa, and stronger deliverance makes it a better prospective partner for Arab nations who see China as such. In fact, in recent years China's influence has grown in the region through an increase in economic investment. Between 2005 and 2019, China has invested over $55 billion in the region according to the AEI's China Global Investments tracker. Between 2004 and 2014, China also gave financial assistance of $42.8 billion to the region according to Aid Data Research lab. Also for many States in the Middle East, China is their most reliable trade and strategic partner as well as a key source of technology and armed drones. Therefore, it can be claimed that while Iran and China have patterned their foreign policies in such a way that it regionally benefits them against extra-regional influences; India's current foreign policy narrative accounts to a degree of dependency on extra-regional powers that limits its regional interests of security against its two biggest border rivals – China and Pakistan. Secondly, India's engagement with the United Sates in the maritime arena remains limited in the eastern side of the Indian Ocean at a time when India needs to increase a collaborative presence on the western side – which, given the unfavorable economic effects of the pandemic and wishful economic management of the Indian Government, leaves room only for clever diplomacy on India's part. Therefore, Indian dealings in the middle-east and in the West IOR have to be strategically designed with not just extra-regional allies which share the same apprehensions of Chinese presence; but also look to secure greater strategic partnerships with East Asian nations like South Korea and Japan to balance its over-dependence on the United States for energy and geopolitically diversify its defense against China's SOP doctrine.
India, apart from expedient solidification of its energy, trade, and security interests in the middle-east, has to double-down on its Act East Policy especially with Indonesia and Malaysia. In fact, in this regard it can be said that relations with these two countries, particularly with Indonesia, will be of paramount importance to India. This will help cement India's claim of a rules based maritime order in the Indo-Pacific in order to check Chinese attempts to hegemonize the region. In this regard, the link between the Andaman and Nicobar Islands and the Aceh Province in Indonesia will cement maritime ties between the two countries and help to check Chinese advances near the strait of Malacca through the SOP strategy. However, a major restriction to such collaborations in this regard, would be the persecution of Muslims under the Modi government in India and the religious radicalism prevailing in the country. Another more viable option available to India is the QUAD group consisting of India, US, Australia and Japan. India can use this grouping to not only uphold its claim of a rules based maritime order but also gain a foothold in the SCS region and pose a challenge to China through close alliances with the QUAD and ASEAN (Association of South East Asian Nations). Therefore, to conclude, it can be said that a new Cold War maybe brewing between India and China which might set to define the very nature of Asian geopolitics in the near future.
* Subarna Mustari is an undergraduate student of Political Science at Bethune College, Kolkata. Her interests lie in Political Science and International Relations as well as in history of war, colonialism and philosophy. She has recently published for Modern Diplomacy.
How to make the Lebanese succumb to U.S.?
The scenario has two dimensions and is quite simple: prove Hezbollah to be the main element paving the way for the explosion and make the way for a country with some financial and logistical resources to save the day.
The vital information about the leading cause of the Tuesday massive explosion in Beirut released a few hours later: a cargo containing more than 2,700 tons of highly explosive material, triggered by a small fire, resulted in the third most powerful blast in the world since WW II's Hiroshima. It's not officially confirmed whether or not it was the third massive explosion. More importantly, the cargo had been sitting in the port for over six years. A diplomatic source told the Tehran Times that an eastern European country sent this cargo to be used by Syria's opposition groups in the war against Bashar Assad's government.
The critical question is: who is responsible for the cargo to be stuck in the port for so long? There are different answers to this question. Reliable data proves that the Lebanese government at the time seized the cargo for customs reasons. But media outlets that have been fighting against the Resistance Front for quite a long time (inside and outside the region) now spread unconfirmed information suggesting an arms depot that belongs to Hezbollah made the blast so powerful. This implants an idea deep inside the brains of the Lebanese: Beirut's disastrous incident is somehow related to Hezbollah.
On the other side, the country will soon need significant help from other countries to reconstruct itself, which will give countries like the U.S. and Saudi Arabia a golden opportunity to complete their puzzle in the region and serve the interests of Israel in a better way. Whether the U.S. would step forward for help directly, or send another country from Europe or West Asia as a representative, the main precondition to rebuild the infrastructure will probably be disarmament of Hezbollah. Regarding the harsh conditions caused by the biting sanctions, it can be hard to convince the Lebanese to resist against the condition to disarm Hezbollah.
Countries like Iran, Iraq, and Syria must RUSH to help Lebanon, now.
From our partner Tehran Times
Beijing's strategic 25-year partnership with Tehran
Beijing is in the final stages of approving the 25-year $400 billion economic and security deal with Tehran dubbed Sino-Iranian Comprehensive Strategic Partnership. The media reports that the agreement incorporates massive Chinese investment in Iran's infrastructure envisions closer defense and intelligence sharing and guaranteed Iranian oil for China.
The partnership was in process since 2016 when China's Xi Jinping proposed it during his visit to Tehran. However, the proposal managed to remain low on the media radars and resurfaced when President Hassan Rouhani's cabinet approved it in June. Chinese and Iranian officials confirmed that it is a document which is labeled "final version" and dated June 2020.
According to the Indian business newspaper, the Financial Express, China is to invest $120 billion for upgrading Iran's transport infrastructure, beginning with the 2,300-km road that will link Tehran with Urumqi in China's Xinjiang province. This road will be dovetailed with the Urumqi-Gwadar link developed under the China Pakistan Economic Corridor under the "New Silk Road." The road link will provide connectivity with Kazakhstan, Kyrgyzstan, Uzbekistan, and Turkmenistan and thereafter via Turkey into Europe.
The timing of such a deal amid the immoral and crippling "maximum pressure" economic sanctions could not have been better for the Islamic Republic. For the downward slope in China-U.S. relations, the deal will further deteriorate the bilateral ties between the two largest economies of the world, and another round of trade war between the two countries is expected.
The rising geopolitical tensions between the U.S. and China are likely to hurt both sides and the global economy. In uncertain times people hedge on gold to protect personal savings. In the last week of July, gold price broke a record, reaching an all-time high of $1,921 an ounce.
China's new digital currency e-RMB could play an important role to bolster the Sino-Iranian pact as it would bypass American financial systems, and eventually reduce the power of the dollar. The move towards digital money has gained momentum globally amid the Covid-19 pandemic.
The U.S. dollar is the most powerful and influential currency in the current financial market. In 2019, the U.S. greenback made up nearly 90 percent of all international transactions and 60 percent of all foreign exchange reserves. The supremacy of the U.S. dollar gives U.S. economic sanctions their strength, making it nearly impossible for sanctioned nations such as Iran and North Korea to conduct international business.
Chabahar Free Trade Zone
Reported to be over three trillion dollars, China has the world's largest foreign exchange reserves. Some analysts argue that China is using the FOREX reserves to stretch its muscles and redraw the Asian map. It has used these reserves to invest in infrastructure projects in Africa and Asia mainly. Sri Lanka's Hambantota port was leased to China for 99 years after months of negotiations between China and South Asian island country the Lankan government handed over the port and 15,000 acres of land around it.
The transfer gave China control of territory just a few hundred kilometers off India's shores and a strategic foothold along a critical commercial and military waterway.
Pakistan owes China at least $10 billion in debt for the construction of Gwadar Port, which is leased to the Chinese government through 2059. Transit trade to Afghanistan via Gwadar port began on July 19 with a consignment of bulk cargo from the United Arab Emirates (UAE). With its 600-km coastline, Gwadar is a key deep seaport currently operated by China to gain direct access to the Indian Ocean in line with its $64-billion Pakistan-China Economic Corridor (CPEC) megaproject.
The future of the port of Chabahar, which was in part India's response to Gwadar port, hangs in the balance as the massive Iran-China deal incorporates infrastructure projects including airports, railways, and free trade zones.
The prospect that India could lose out on the rail line project connecting the port of Chabahar to the Afghan border city of Zahedan due to apparent delays to invest has raised questions about the foreign priorities of New Delhi.
The Indian Ocean port of Chabahar consists of two separate ports named Shahid Kalantari and Shahid Beheshti, each containing five berths. Iran awarded the development of this port to India, which committed $500 million to build two new berths in this port.
In 2016, India, Iran, and Afghanistan signed an agreement to establish transit and transport corridor using the Chabahar port linking the region to Central Asia and further west. The port will complement China in its Belt and Road Initiative for trade and travel links from China to Asia, Africa, and Europe.
In January 2017, seven agreements valued at over $3 billion were signed by Iranian, Indian, Omani, Chinese, and South Korean investors during a conference to promote investment opportunities and sustainable development in Mokran coastal area in the Chabahar Free Trade Zone (CFTZ).
India sent its first consignment of wheat to Afghanistan through the port in 2017. In June, Afghanistan sent three transit consignments to India via the Chabahar port. Afghanistan's first transit of goods to China was shipped through the port in mid-July.
Indian private industry firms, with the presence of Rashtriya Chemicals and Fertilizers and Gujrat State Chemical and Fertilizers, looked at the establishment of urea and ammonia plant in CFTZ, then Indian Ambassador, Saurabh Kumar told the Tehran Times in 2017, adding that the Indian private sector would be the main investor in CFTZ.
National Aluminum Company of Indian (NALCO) and Iran Mines and Mining Industries Development and Renovation Organization (IMIDRO) signed an agreement for an aluminum smelter plant in CFTZ.
Kumar added that the two countries were negotiating on important agreements on Preferential Trade Agreement (PTA), double taxation avoidance, and bilateral investment agreement (BIT). Representatives from Iran and India held a new round of negotiations on PTA in mid-February.
Head of Iran's Trade Promotion Organization (TPO) Hamid Zadboum and the present Indian Ambassador to Tehran Gaddam Dharmendra met early July to discuss the expansion of trade ties.
The second round of preferential trade agreement was to meet this week, It reported EurAsian Times, adding that the Iranian foreign ministry spokesperson has clarified their "balanced foreign policy" and that it is not favoring Beijing at the cost of Delhi.
Although India has traditionally maintained good ties with Iran, despite the waiver which Chabahar port got from the U.S. sanctions regime, India has been criticized for delays in investing in Iran's only seaport. Moreover, India has fully complied with the unilateral U.S. sanctions and has suspended its energy imports from Iran. Figures released by the Chinese officials show that although Iranian crude deliveries to China were never suspended but reached a 20-year low in March 2020.
Analysts see U.S. President Donald Trump's recent visit to India and his friendship with Indian Prime Minister Narendra Modi as a way for the U.S. to contain China's influence in the region. As well, the waiver that Chahbahar port got from the sanctions was another sign of Washington's efforts to contain Beijing.
India recently clashed with China in the Himalayas, and the bilateral relations are not at an all-time high, and the Chabahar port can be another venue for conflicting interests. Having good relations with India and China, Iran would prefer a situation whereby both countries could simultaneously benefit from the multi-modal development of the transport infrastructure at the Chabahar port.
Through such bilateral cooperation, the Chabahar port project could bring China and India closer. Recall the "Peace Pipeline" for transportation of natural gas from Iran to Pakistan to India? Unfortunately, the lack of political will prevented this project from implementation.
What happens to the development of the Chabahar port if the Majlis approves the Iran-China strategic 25-year strategic agreement remains a matter of speculation at the moment. The implication of this 25-year strategic deal with China doesn't necessarily mean deterioration of Tehran-New Delhi bilateral relations. On the contrary, it could shape up a new beginning for Beijing-New Delhi ties.
From our partner Tehran Times