Rising Power of India's influence on China in regional politics
Ancient civilizations, India and China have remained in close proximity since millennia. The relationship between these two states has been moving like a pendulum i.e. they swing irregularly from the stage of conflict to mutual cooperation. During past years countries in Asia whether on continental landmass or island off the Asian mainland have been influenced or affected by one or both the countries i.e. China or India at some stage.
Geography is one of the important factor considered in International anarchic system which if used advantageously by the states can be considered constructive in acquiring the status of key factor in International system because by increasing alliances and adopting military capabilities and strategies a state has the possibility to grow its relative power and influence in the system. Geopolitics plays very important role in India's quest to emerge as a regional and global power, according to realism, it could be used by a state to increase its diplomatic relations and seek more power in an anarchic system. Realism also suggests that the primary goal which each state have is its survival and this geopolitical climate provides a state to achieve survival, power and relative advantage over neighboring states. The position in which India is located in the region of South Asia is between two nuclearized states and its relation with these states is key for its survival and maximizing power in regional politics. The twenty-first century has however witnessed that India is acquiring the status of rising power and it is formulating its foreign policy in such a way to meet the International as well as regional challenges. By looking at the traditional policy which India has focused on during past decades that was of non-alignment i.e. Alignments were avoided by India. But for now, it has expanded its strategic vision and acquired the policy of poly- alignment, i.e. instead of avoiding its alliance with other states it now seeks to get itself aligned with some or each state. This shift from non-alignment to poly-alignment could, however, have a deep impact on China in the regional politics.
India, however, is also trying to increase its economic power in order to counter China so as to gain the status of the dominant hegemonic power of South Asia. As a state develops itself economically or militarily it could also increase its power. In an International system, power is an important factor because if a state acquires power then according to realism it can ensure its survivability in an International system as power could be defined as the ability of a state to influence others to do what they would not have otherwise. It has been observed that Prime Minister Narendra Modi is doing continuous efforts to increase India's economic power. This would get it in a position for competing economically with other states especially China. Some scholars also suggest that GDP is an important factor which signifies the power that state possess. The economic strength can be seen through GDP and it could also reveal that how wealth could be utilized i.e. by building up military and technological capabilities by a state to gain its influence. Similarly, it could be seen that this economic power can be utilized by India to influence China though China is regarded as the biggest economy but it could also be analyzed that India could surpass China because it is the fastest growing economy in recent years. By seeing the GDP rate of India during years 2016-2017 and comparing it with China it could be seen that it has increased efficiently, it has grown approximately 7.6% whereas China lags to 6.7%. So GDP is important factor for understanding of regional competitiveness and relative power between states, because it could be observed that when China began to expand economic power much attention was given to it and it was able to influence others states through its power now similar approach is being used by India to influence China as well to get itself the status of emerging power by expanding its economic and military power.
As a rising power alongside China, India nevertheless is seeking to increase its capabilities whether naval, air force or missile. In pursuit of the status of regional rising power India has been involved in increasing its defense budget and it orders for fighter jets, naval frigates, and artillery. It has been observed that it is the largest importer of arms since 2010. India's military with the passage of time is gradually improving against China. China in the region of South Asia's traditional strategy did not pay much attention towards the competition between India and Pakistan due to presence of nuclear weapons, but in recent years India has started to modernize its capabilities of nuclear weapons i.e. the development of long-range ballistic missiles, the development of multiple independently targetable re-entry vehicles (or MIRVs) on ballistic missiles, submarine-based nuclear weapons, missile defense systems, and outer space capabilities which had however made a fearful situation for China to narrow down the nuclear gap between them and China however is also influenced that this development may give rise to instability in the region. India's navy has also been modernized and it has acquired the position of 5th largest navy since 2009 and 4th largest Air force and it has also been estimated that this position might get better till 2022, because the Indian ocean region has been seen as the important factor for Sino-India competition as China's presence is increasing in Indian Ocean it is creating greater tensions for India so it has been argued that India is involved in nuclearization of Indian Ocean in order to have an impact on China and contain its influence as both states are dependent on Indian Oceans for their energy resources that are transported via it. These all factors collectively can put India in a position where it can influence China in regional politics as well as over Tibet issue. India can also change its policy towards China accordingly and it can use realist policy and coerce China to side with her rather than her traditional rivals, to maximize its power and gain more dominancy in the region.
Whether Pakistan's membership in the IAEA Board of Governors is a major diplomatic achievement?
Pakistan has once again been elected a member of the IAEA Board of Governors (BoG) for the next two years on September 20, 2018. The Board of Governors of the IAEA is one of its policy making organs. The BoG not only examines the financial statements, it also makes recommendations for the IAEA budget. It finalizes the membership applications, accepts safeguard agreements and contributes in the safety standard publications. The approval of Director General of the IAEA with the approval of General Conference is also the responsibility of the Board. Pakistan has been chosen 19 times to the Board in the past and has played an important role in the formulation of the agency's policies and programmes. It also has the honor of chairing the Board thrice in 1962, 1986 and 2010.
A prominent Pakistani nuclear expert Dr. Naeem Salikin his book "Nuclear Pakistan Seeking Security and Stability" writes that Pakistan's cooperation with the agency has been reciprocal. In other words it not only benefitted from the agency but also Pakistan's nuclear expertise and its human resources proved to be invaluable contribution to the agency. Pakistani scientists and engineers have contributed to the IAEA work in numerous fields including in the area of nuclear safety and security. It also hosted nuclear safety and security workshops with the cooperation of IAEA on the regional level. Pakistan has been beneficiary of the IAEA assistance and its nuclear establishment is fully committed to increasing this cooperation in various fields ranging from nuclear power development to that of agriculture, medicine and livestock. Pakistan's Country Program Framework (CPF) 2014-2019 provides assistance in the wide range of areas as nuclear safety and security, nuclear power development, industrial application, human health under the technical cooperation program of the IAEA.
Since the inception of Pakistan's nuclear weapons it has faced allegations and hostilities which have not been faced by any other nuclear state in the world. Although, the formation of the NSG in 1974 was the result of Indian violation of peaceful use of nuclear material for military purposes but the irony is that now the founders of NSG are advocating India for the membership of NSG. China is the only state which understands that India is not the only country but Pakistan is also capable of producing highly enriched uranium and plutonium for civil and military purposes and it can easily assist developing states in advancing their nuclear infrastructures and technology. All nuclear power plants of Pakistan are under the IAEA safeguards while the US is extending exceptional treatment to India by letting it keep its eight reactors out of IAEA safeguards that are producing fissile material in large quantities, and intentionally ignoring this.
In this regard, Pakistan advocates a non-discriminatory approach towards the non-NPT nuclear weapons states for their entry into the NSG. Nevertheless, it is the prime time for Pakistan to fight its case through the IAEA as it is going to formulate policies of IAEA for future. It should also try to introduce the policies which treat all nuclear states equally because discriminatory behaviors and policies undermine the credibility of the non-proliferation regimes.
In a nutshell, Pakistan has been facing enormous amount of propaganda regarding its nuclear safety and security and the amount of literature projecting Pakistan's perspective is inadequate and small. Therefore, it's imperative that Pakistan projects its perspective concerning its nuclear safety and security. Pakistan has been in full compliance with the agency regime for over fifty years now. Pakistan's cooperative and positive behavior towards the promotion of peaceful uses of nuclear technology and non-proliferation regimes requires equal treatment. Keeping in view the stringent nuclear safety and security record of Pakistan and its advanced nuclear fuel cycle capability, it should be considered eligible to be provided the nuclear fuel cycle services under the IAEA safeguards. Pakistan can make its membership in BOG a major diplomatic achievement by advocating its perspective with full determination.
Can India Balance Between Beijing and Washington?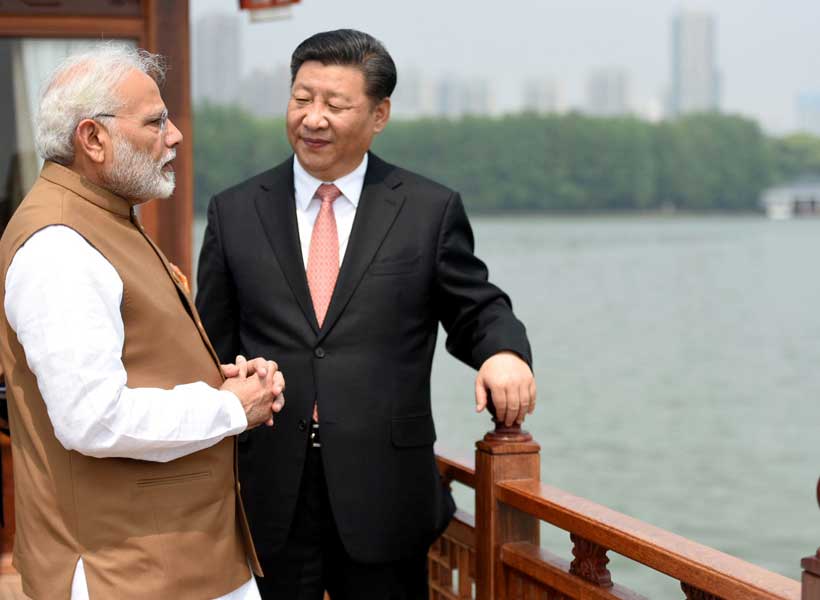 On October 10, 2018, a Senior Chinese Diplomat in India underscored the need for New Delhi and Beijing to work jointly, in order to counter the policy of trade protectionism, being promoted by US President, Donald Trump.
It would be pertinent to point out, that US  had imposed tariffs estimated at 200 Billion USD in September 2018, Beijing imposed tariffs on 60 Billion USD of US imports as a retaliatory measure, and US threatened to impose further tariffs. Interestingly, US trade deficit vis-à-vis China reached 34.1 Billion USD for the month of September (in August 2018, it was 31 Billion USD). Critics of Trump point to this increasing trade deficit vis-à-vis China as a reiteration of the fact, that Trump's economic policies are not working.
Ji Rong, Spokesperson of the Chinese Embassy in India said that tariffs will be detrimental for both India and China and given the fact that both are engines of economic growth it is important for both to work together.
The Chinese diplomat's statement came at an interesting time. US President, Donald Trump on October 2, also referred to India as 'tariff king'. Even though the India-US strategic relationship has witnessed a significant upswing, yet the US President has repeatedly referred to India imposing high tariffs on US exports to India (specifically Harley Davidson motorcyles).
It also came days after, after India signed a deal with Russia (October 5, 2018) for the purchase of 5 S-400 Air Defence system, during the visit of Russian President Vladimir Putin. The Chinese envoy's statement also came days before India attended the China dominated Shanghai Cooperation Organization (SCO). Significantly, India and China also began a joint training programme for Afghan Diplomats on October 15, 2018 (which would last till October 26, 2018).
Trilateral cooperation between India, China and Afghanistan was one of the main thrust areas of the Wuhan Summit, between Chinese President, Xi Jinping, and Indian PM, Narendra Modi, and this is one of the key initiatives in this direction.
There are a number of factors, which have resulted in New Delhi and Beijing seeking to reset their relationship. The first is difference between New Delhi and Washington on economic ties between the former and Iran and Russia. Washington has given mixed signals with regard to granting India exemptions from Countering America Through Sanctions Act (CAATSA).
US ambiguity on providing waivers to India
While sections of the US establishment, especially Jim Mattis, Defence Secretary and Secretary of State, Michael Pompeo have been fervently backing a waiver to India, there are those who oppose any sort of waiver even to India. NSA John Bolton has been warning US allies like India, that there will be no exemption or waiver from US sanctions targeting Iran's oil sector. On October 4th, Bolton while briefing the press said:
"This is not the Obama administration … is my message to them (the importers),
Trump himself has not been clear on providing India a waiver, when asked about this issue, he said India would  know soon about the US decision (Trump has the authority to provide a Presidential waiver to India from the deal with Russia). A State Department Spokesperson also stated, that the US was carefully watching S-400 agreement with Russia, as well as India's decision to import oil from Iran, and such steps were 'not helpful'. With the US President being excessively transactionalist, it is tough to predict his final decision, and with growing differences between him and Mattis, one of the ardent advocates of waivers for India, it remains to be seen as to which camp will prevail.
US protectionism and New Delhi's discomfort
Differences between Washington and New Delhi don't end on the latter's economic ties with Tehran and Moscow. India has on numerous occasions stated, that while strengthening strategic ties with the US, it was concerned about the Trump administration's economic policies. This was clearly evident from the Indian Foreign Minister Sushma Swaraj's speech at the SCO Meet (October 12, 2018) held at Dushanbe, Tajikistan where she pitched for an open global trading order. Said Swaraj:
"We have all benefited from globalization. We must further develop our trade and investment cooperation. We support an open, stable international trade regime based on centrality of the World Trade Organization,"
Even if one to look beyond Trump's unpredictability, there is scope for synergies between New Delhi and Beijing in terms of economic sphere and some crucial connectivity projects.
Economic Opportunities
For long, trade has been skewed in favour of China, and this is a growing concern for India. Trade deficit between India and China has risen from 51.1 Billion USD in 2016-2017 to 62.9 Billion in 2017-2018 (a rise of over 20 percent).
The imposition of US tariffs has opened up opportunities for China importing certain commodities from India. This includes commodities like soybeans and rapeseed meal. In a seminar held at the Indian embassy in Beijing in September 2018, this issue was discussed and one on one meetings between potential importers (China) and sellers (India) was held. India urged China to remove the ban which had imposed on the import of rape meal seeds in 2011.
Connectivity and Afghanistan
Another area where there is immense scope for cooperation between India and China is big ticket connectivity projects. During his India visit, Uzbekistan President, Shavkat Mirziyoyev invited India to participate in a rail project connecting Uzbekistan and Afghanistan.
Afghanistan has welcomed this proposal, saying that this would strengthen cooperation between China and India in Afghanistan. India-China cooperation on this project is very much in sync with the China-India Plus Model proposed by China at the BRICS Summit in July 2018.
India and China can also work jointly for capacity building in Afghanistan. New Delhi has already been involved in providing assistance to Afghanistan in institution building and disaster management, and if Beijing and New Delhi join hands this could make for a fruitful partnership. The India-China joint training program for Afghan diplomats is a significant move in this direction. India and China can also look at joint scholarships to Afghan students where they can spend part of their time in China and the remaining time in India.
Both India and New Delhi for any meaningful cooperation in Afghanistan can not be risk averse, and will have to shed their hesitation. Beijing for instance has opted for a very limited 'capacity building' , where it will work with India in Afghanistan. While Kabul had expected that both sides will invest in a significant infrastructure project, Beijing with an eye on its ally Islamabad's sensitivities opted for a low profile project.
Conclusion
New Delhi should not be too predictable in it's dealings with Washington DC, and has to do a fine balancing act between Beijing and Washington DC. While on certain strategic issues are synergies between India and the US, on crucial economic and geo-political issues, there are serious differences, and India's ties with Beijing are crucial in this context. New Delhi and Beijing should seek to expand economic ties, and the latter should give more market access to Indian goods. Apart from this, both countries should work closely on connectivity projects. If both sides build trust, the sky is the limit but it will require pragmatism from both sides. Beijing should not allow the Pakistani deep state to dictate it's links with India (especially in the context of cooperation in Afghanistan). New Delhi on its part, should not make any one issue a sticking point in its complex but very important relationship with Beijing.
The "Neo-Cold War" in the Indian Ocean Region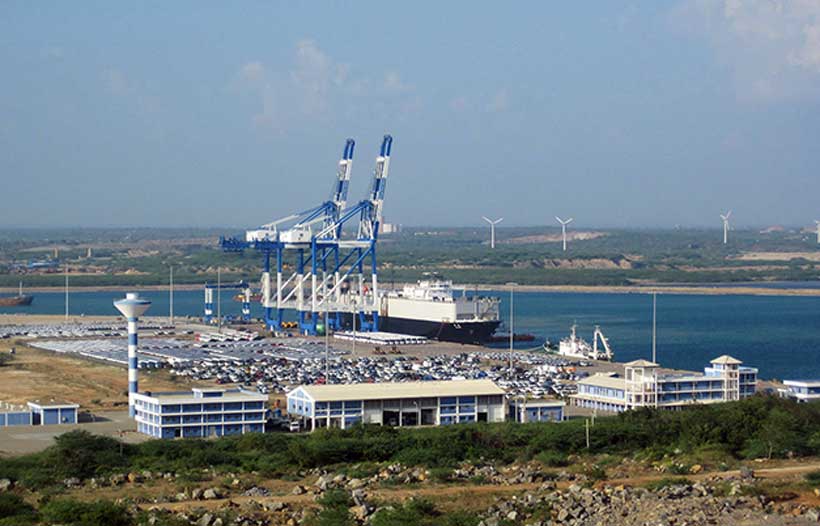 Addressing an event last week at London's Oxford University, Sri Lankan Prime Minister Ranil Wickremesinghe said some people are seeing "imaginary Chinese Naval bases in Sri Lanka. Whereas the Hambantota Port (in southern Sri Lanka) is a commercial joint venture between our Ports Authority and China Merchants – a company listed in the Hong Kong Stock Exchange."
Prime Minister Wickremesinghe has denied US' claims that China might build a "forward military base" at Sri Lanka's Hambantota port which has been leased out to Beijing by Colombo. Sri Lanka failed to pay a Chinese loan of $1.4 billion and had to lease the China-developed port to Beijing for 99 years. Both New Delhi and Washington had in the past expressed concerns that Beijing could use the harbor for military purposes.
The USA, China, and India are the major powers playing their key role in the "Neo-Cold War" in Central Asian landmass and the strategic sea lanes of the world in the Indian Ocean where 90% of the world trade is being transported everyday including oil. It is this extension of the shadowy Cold War race that can be viewed as the reason for the recent comment made by the US Vice President Mike Pence that China is using "debt diplomacy" to expand its global footprint and Hambantota "may soon become a forward military base for China's expanding navy".
According to some analysts, the deep-water port, which is near a main shipping route between Asia and Europe, is likely to play a major role in China's Belt and Road Initiative.
In his book "Monsoon" Robert D. Kaplan (2010), a senior fellow at the Centre for a New American Security notes the following:
[…] the Indian Ocean will turn into the heart of a new geopolitical map, shifting from a unilateral world power to multilateral power cooperation. This transition is caused by the changing economic and military conditions of the USA, China and India. The Indian Ocean will play a big role in the 21st century's confrontation for geopolitical power. The greater Indian Ocean region covers an arc of Islam, from the Sahara Desert to the Indonesian archipelago. Its western reaches include Somalia, Yemen, Iran, and Pakistan — constituting a network of dynamic trade as well as a network of global terrorism, piracy, and drug trafficking […]
Two third of the global maritime trade passes through a handful of relatively narrow shipping lanes, among which five geographic "chokepoints" or narrow channels that are gateway to and from Indian ocean: (1) Strait of Hormuz (2) Bab el-Mandab Passage (3) Palk Strait (4) Malacca and Singapore Straits and (5) Sunda Strait.
While Lutz Kleveman (2003), argues that the Central Asia is increasingly becoming the most important geostrategic region for the future commodities, Michael Richardson (2004) on the other hand explains that the global economy depends on the free flow of shipping through the strategic international straits, waterways, and canals in the Indian Ocean.
According to the US Energy Information Administration (EIA)  report published in 2017, "world chokepoints for maritime transit of oil are a critical part of global energy security. About 63% of the world's oil production moves on maritime routes. The Strait of Hormuz and the Strait of Malacca are the world's most important strategic chokepoints by volume of oil transit" (p.1). These channels are critically important to the world trade because so much of it passes through them. For instance, half of the world's oil production is moved by tankers through these maritime routes. The blockage of a chokepoint, even for a day, can lead to substantial increases in total energy costs and thus these chokepoints are critical part of global energy security.  Hence, whoever control these chockpoints, waterways, and sea routes in the Indian Ocean maritime domain will reshape the region as an emerging global power.
In a recent analysis of globalization and its impact on Central Asia and Indian Ocean region, researcher Daniel Alphonsus (2015), notes that the twists and turns of political, economic and military turbulence were significant to all great players' grand strategies:
(1) the One Belt, One Road (OBOR), China's anticipated strategy to increase connectivity and trade between Eurasian nations, a part of which is the future Maritime Silk Road (MSR), aimed at furthering collaboration between south east Asia, Oceania and East Africa; (2) Project Mausam, India's struggle to reconnect with its ancient trading partners along the Indian Ocean, broadly viewed as its answer to the MSR; and (3) the Indo-Pacific Economic Corridor, the USA's effort to better connect south and south east Asian nations. (p.3)
India the superpower of the subcontinent, has long feared China's role in building outposts around its periphery. In a recent essay, an Indian commentator Brahma Chellaney wrote that the fusion of China's economic and military interests "risk turning Sri Lanka into India's Cuba" – a reference to how the Soviet Union courted Fidel Castro's Cuba right on the United States' doorstep. Located at the Indian Ocean's crossroads gives Sri Lanka the strategic and economic weight in both MSR and Project Mausam plans. MSR highlights Sri Lanka's position on the east-west sea route, while Project Mausam's aim to create an "Indian Ocean World" places Sri Lanka at the center of the twenty-first century's defining economic, strategic and institutional frameworks. Furthermore, alongside the MSR, China is building an energy pipeline through Pakistan to secure Arabian petroleum, which is a measure intended to bypass the Indian Ocean and the Strait of Malacca altogether.
A recent study done by a panel of experts and reported by the New York Times reveal that how the power has increasingly shifted towards China from the traditional US led world order in the past five years among small nation states in the region. The critical role played by the strategic sea ports China has been building in the rims of Indian Ocean including Port of Gwadar in Pakistan, Port of Hambantota in Sri Lanka, Port of Kyaukpyu in Myanmar and Port of Chittagong in Bangladesh clearly validates the argument that how these small states are being used as proxies in this power projection.
This ongoing political, economic and military rivalry between these global powers who are seeking sphere of influence in one of the world's most important geostrategic regions is the beginning of a "Neo-Cold War" that Joseph Troupe refers as the post-Soviet era geopolitical conflict resulting from the multipolar New world order.