Rising Power of India's influence on China in regional politics
Ancient civilizations, India and China have remained in close proximity since millennia. The relationship between these two states has been moving like a pendulum i.e. they swing irregularly from the stage of conflict to mutual cooperation. During past years countries in Asia whether on continental landmass or island off the Asian mainland have been influenced or affected by one or both the countries i.e. China or India at some stage.
Geography is one of the important factor considered in International anarchic system which if used advantageously by the states can be considered constructive in acquiring the status of key factor in International system because by increasing alliances and adopting military capabilities and strategies a state has the possibility to grow its relative power and influence in the system. Geopolitics plays very important role in India's quest to emerge as a regional and global power, according to realism, it could be used by a state to increase its diplomatic relations and seek more power in an anarchic system. Realism also suggests that the primary goal which each state have is its survival and this geopolitical climate provides a state to achieve survival, power and relative advantage over neighboring states. The position in which India is located in the region of South Asia is between two nuclearized states and its relation with these states is key for its survival and maximizing power in regional politics. The twenty-first century has however witnessed that India is acquiring the status of rising power and it is formulating its foreign policy in such a way to meet the International as well as regional challenges. By looking at the traditional policy which India has focused on during past decades that was of non-alignment i.e. Alignments were avoided by India. But for now, it has expanded its strategic vision and acquired the policy of poly- alignment, i.e. instead of avoiding its alliance with other states it now seeks to get itself aligned with some or each state. This shift from non-alignment to poly-alignment could, however, have a deep impact on China in the regional politics.
India, however, is also trying to increase its economic power in order to counter China so as to gain the status of the dominant hegemonic power of South Asia. As a state develops itself economically or militarily it could also increase its power. In an International system, power is an important factor because if a state acquires power then according to realism it can ensure its survivability in an International system as power could be defined as the ability of a state to influence others to do what they would not have otherwise. It has been observed that Prime Minister Narendra Modi is doing continuous efforts to increase India's economic power. This would get it in a position for competing economically with other states especially China. Some scholars also suggest that GDP is an important factor which signifies the power that state possess. The economic strength can be seen through GDP and it could also reveal that how wealth could be utilized i.e. by building up military and technological capabilities by a state to gain its influence. Similarly, it could be seen that this economic power can be utilized by India to influence China though China is regarded as the biggest economy but it could also be analyzed that India could surpass China because it is the fastest growing economy in recent years. By seeing the GDP rate of India during years 2016-2017 and comparing it with China it could be seen that it has increased efficiently, it has grown approximately 7.6% whereas China lags to 6.7%. So GDP is important factor for understanding of regional competitiveness and relative power between states, because it could be observed that when China began to expand economic power much attention was given to it and it was able to influence others states through its power now similar approach is being used by India to influence China as well to get itself the status of emerging power by expanding its economic and military power.
As a rising power alongside China, India nevertheless is seeking to increase its capabilities whether naval, air force or missile. In pursuit of the status of regional rising power India has been involved in increasing its defense budget and it orders for fighter jets, naval frigates, and artillery. It has been observed that it is the largest importer of arms since 2010. India's military with the passage of time is gradually improving against China. China in the region of South Asia's traditional strategy did not pay much attention towards the competition between India and Pakistan due to presence of nuclear weapons, but in recent years India has started to modernize its capabilities of nuclear weapons i.e. the development of long-range ballistic missiles, the development of multiple independently targetable re-entry vehicles (or MIRVs) on ballistic missiles, submarine-based nuclear weapons, missile defense systems, and outer space capabilities which had however made a fearful situation for China to narrow down the nuclear gap between them and China however is also influenced that this development may give rise to instability in the region. India's navy has also been modernized and it has acquired the position of 5th largest navy since 2009 and 4th largest Air force and it has also been estimated that this position might get better till 2022, because the Indian ocean region has been seen as the important factor for Sino-India competition as China's presence is increasing in Indian Ocean it is creating greater tensions for India so it has been argued that India is involved in nuclearization of Indian Ocean in order to have an impact on China and contain its influence as both states are dependent on Indian Oceans for their energy resources that are transported via it. These all factors collectively can put India in a position where it can influence China in regional politics as well as over Tibet issue. India can also change its policy towards China accordingly and it can use realist policy and coerce China to side with her rather than her traditional rivals, to maximize its power and gain more dominancy in the region.
COVID-19 in India: The bright and the dark sides
Many fortresses have collapsed and the invisible enemy has entered everywhere. Indians are at the doorsteps of one of the biggest threats looming. Indian government along with the state governments have announced a 21-days lockdown and requested all the citizens to stay at home, however, few of the essential services like groceries, pharmacies are open.
It's not easy for any country to let its economy stand-still and bear losses every single minute but India took that decision ultimately to protect hundreds of thousands of lives. A stand-still economy has bought days of despair and paralysed commerce across various key sectors throughout the nation but ultimately it will be protecting the bread-earners of the society.
Listening to Prime Minister Modi's speech about the lockdown, he rightly said when countries like Italy which ranks next to none in health facilities cannot manage with the Pandemic, Indian infrastructure and population will have a great fall of the time.
What will Lockdown do?
It is for the first time in history that such a huge mass of 1.3 Billion has been asked to self-quarantine themselves. This may not completely stop the virus from spreading but slows down the rate it was expected to create havoc. It will help flatten the curve and break the chain which is most important at this stage and that is what all other countries which have lockdown are trying to do.
If we look at the figures, of the first 100 to 1,000 cases in Italy and the United States then we will find it took seven days in Italy to reach 1,000 cases with a rate of increase between 37%-90%, and Ten days in the United States to reach the first 1,000 cases with a rate of increase between 31%-58%. Whereas in India, it took 16 days to reach 1,000 cases with a rate of increase between 10%-29%.
Moreover, after this big disaster, a country with a massive economy like the United States didn't ask for a complete lockdown in their second-largest state New York till 25,000 positive cases and 250 deaths. By a lockdown, India still a step ahead of the first world countries.
What Indian government is doing other than lockdown?
Meanwhile trying to set up isolation wards to increase their capacity, Indian railway has turned its train coaches into hospitals and have asked their manufacturing units to make beds etc. to fight the problem.
India has also started private testing for this which will reduce the pressure on government hospital where testing is free for the public. Private testing cost (4,500 Rupees/$60) may seem very high to people but currently, the testing kits are exported and thus costing heavily. But by approving Indian companies to prepare locally which is estimated to be in the market from two to three weeks the cost will be reduced.
However, The cost is still low if we compare the cost of private testing labs with the UK which costs 375 pounds and the United States labs which costs anywhere between $900-$3700.
India even brought its people back and providing hotel etc. to people where they could not. These cases would have been less if people took government advice of home quarantine seriously.
The Ugly Side
It will be wrong to compare India with First world nations which have the advance infrastructure and abilities. As per the healthcare capacity, India till now has dealt with the crisis pretty well.
Despite being one of the major economies, India still struggling with third world issues, for instance, 70% of Indian lives in rural areas or slums where they do not have options to self-isolate themselves into a pristine environment. Rather, they live amidst the fear of contamination by their neighbour or the people they're sharing public toilets with.
Another issue is the healthcare facilities, which is not same in both urban and rural India, in small villages, or small cities far away from the commercial hustle may barely have a hi-tech hospital with isolation facilities. Which is another migraine for the government and local administration, as recently after the lockdown was announced many of the labourers and migrant workers moved back to their villages amidst chaos and panic to starve in big cities due to lack of their daily wages.
Governments on both the state and central level announced free food and requested house-owners to waive the rents for migrant workers. However, in a tech-haven like India, an ugly reality shows that a section of people and government are still not on the same digital-virtual-page.
Another similar story popped-out from the heart of the nation – New Delhi, where police found a group of around 2,000 people were hiding inside a mausoleum, out of them, many tested positive with COVID19. Moreover, many of the same group have travelled to different states and few of them have been tested positive. It is said, many non-Indians are found inside the group who may be one of the potential carriers of the deadly virus. Though it's all about time which will tell where these migrations will take the toll of Coronavirus impact in India
Indeed the bigger problem is not the rural working labour population of India, a bigger threat came out of the incoming overseas crowd. Many Indians have found hiding their overseas travel information, including celebrities who tested positive later and met many people after their arrival. It is an arrogance, where NOT the government but so-called 'educated and ignorant Indians' to be blamed for.
How to fight this Pandemic
First of all, it is not only the government's fight all the Indians are the foot soldier to this war against Corona. As the Prime Minister said, it's a 21-day war and the best medicine is self-isolation.
Government is doing its part. But if we are comparing the response with the American or European governments, then its fault on our side, globalisation comes with a price and an open democracy like India are always at the receiving end of such prices. Indians need to drop their obsession with the Western media certifications. Media is one of the most responsible pillars for this fight against the pandemic and it need to act accordingly.
It's a global problem and we all need to step up to fight this, religious organisations and corporations should come in front and equip the foot soldiers at the time of the pandemic. Those volunteers inside the non-government organisation who are distributing food owe us applauses.
From our partner International Affairs
Coronavirus, Critical Geographies and Geospatial Revolution: Redefining Epidemiology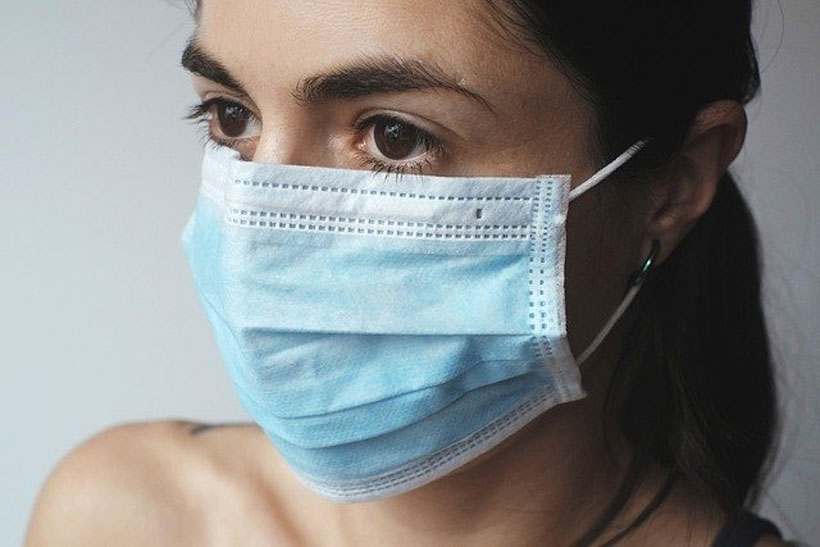 The subject of Geography has often been understood and considered as the Gazetteer with names of countries and information about them but this stream of knowledge has turned out to be the most important addition to our meaning and metaphors of our daily life from driving a car to identifying the critical hotspots/clusters of any disaster . 'Space' forms the kernel and core of geographical knowledge thus encompassing the phenomenon of body politic and social fabric in its entirety. In contemporary times with emerging paradigms of 'space episteme', this intersection and contestation of topos with the active political space in the public discourse has been righty epitomized by Edward Soja as "spatial turn" of this century. World has changed drastically in the spheres of climate, production, consumption and behavioural patterns with the imbalances and negative feedbacks being observed in the environment which prompted some scientists to propose present epoch as "Anthropocene"Geography studies this changing interaction of environment with the human responses in its comprehensive theoretical and scientific mechanism and subsequently modelling the impacts and patterns of this dynamic trend .Diffusion of diseases and the related outbreaks have also been modelled and the pathways tracked thus helping the world and regional health agencies framing policies an strategies for mitigating the impact and spread of diseases. As currently world has been in the grip of deadly and sporadic pandemic disease named by WHO as COVID-19 and the virus as severe acute respiratory syndrome coronavirus 2 (SARS-CoV-2) by International Committee on Taxonomy of Viruses,geographical knowledge coupled with temporality of the incidence and spatial prevalence of this global health threat has proved to be the guiding light amidst the dark frontiers of novel epidemiological characters of this outbreak
Geospatial Science and Public Knowledge
In this age of big data, the need of "Big Geospatial Data" becomes equally important given the complexities and dynamic nature of bio-physical and social interfaces. In the same vein geospatial knowledge has helped in the real time information delivery and public understanding of Coronavirus spread around the world. Most of the geospatial data platforms have been in the forefront currently for the data visualization, monitoring and concurrently its reach to the common people at any place of world and any time. WHO has provided the situational dashboard updated every 15 minutes providing a real time perspective for officials and users with easy-to-view visual interface using Geographical Information System  (GIS Science)  on region and case wise spread.
(WHO Novel COVID-19 Situation Visualization)
The enhanced and sophisticated real time information can be viewed through Environmental Systems Research Institute (ESRI) . ESRI Disaster Response Program and ESRI'S ArcGIS Hub including the in-depth information from various operational dashboards with interactive data view providing key understanding and monitoring of global and feature datasets related of the virus and public knowledge.
ESRI ArcGIS Hub
The another platform were the expert epidemiological analysis of COVID-19 hyphenated with the public health analytics has been maintained by Center for Systems Science and Engineering at Johns Hopkins University (JHU) with its own GIS operational setup mapping the similar trajectory in real time. Below is the snapshot of the site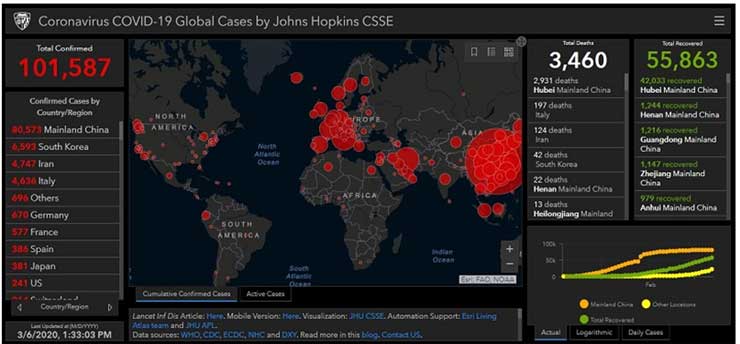 Center for Systems Science and Engineering at Johns Hopkins University (JHU)
In India MapmyIndia Maps and Move app enabling users to locate, view and reach testing labs nearby and subsequent isolation and treatment facilities. Users can have the first-hand account of the facilities and can add reviews of the centres there and helping other users with updated and critical knowledge regarding the conditions and status of quarantine and isolation facilities MapmyIndia resources are designed for early detection and isolation of infected persons which are crucial in respect of spread of this disease
With the use of this metadata and imagery creating a robust GIS and comprehensive geo-databases in an analysis-ready format thus opening a new path for redefining epidemiological studies in concert with the pathways and vector based differentiations across the world. With the use of data mining and machine learning algorithms like Python and Anaconda with the integration of geographical knowledge, it can help us in the accurate and reliable prediction of threats and stresses whether related to health or environment. Google Earth Engine uses this algorithm based geographical and environmental variables for predicting and subsequently providing the effective management strategies for the better and sustainable bio-physical and social environment.
Critical Geographies and Coronavirus
There has been an overarching 'complexity turn' within the geographical studies and it forms the essential pivot when it comes to the health landscape of any region as put forward by Anthony Gatrell .This has turned out to be the potential paradigm for social sciences having transformed much of physical and biological sciences with dissolution of binary divides whether media/socio-cultural, structure/agency, institutional/individual, environment/social etc..There is an immediate need to move beyond the traditional epistemes of geographical analysis and to explore further the added value of critical geographies for our research in health inequalities, disease ecology, and spatial diffusion. Many examples of critical geographies can be cited from the fact that institutions, organisation and governments have undermined the character and configurations of 'geography' when it comes to health infrastructure and individual healthcare facilities thus coronavirus has laid bare the response and system of approach of countries around the world. There are widespread inequalities when it comes to the healthcare geographies around the world, thus arising a need for global and uniform approach of healthcare governance in consonance with the changing contours of political and economic landscapes around the world. Critical geographies deconstructs the hegemonic geographies of the world in the lens of radical perspective and the consequent geo-economic and geopolitical undercurrents which is needed for the current disarrayed healthcare system of the world .At last keep resisting the virus and the injustices around your geographies.
The Myth and Reality of Social Distancing in India: Challenges to fight COVID 19
"Social distancing"—The Way out :A nasty and deadliest Spanish flu that started spreading around the world infecting and killing over 50 million of world's population during world war I, was contained to a large extent by following measures now known as "social distancing". This social distancing may be understood as creating a safety net by maintaining physical distance between two or more people so as to prevent or control or 'flatten the curve' of the transmission process of virus/flu. In the wake of uncertainty looming over safe and effective measures to eliminate pandemic COVID 19 which is the biggest, trickiest and deadliest war on humanity ever, many countries across the world are now implementing measures like "social distancing" in form of prohibiting mass gatherings, restricting entry to public spaces, shutting down schools, colleges and in some places a total lockdown is enforced by keeping people stay indoors.
India's Strategy against COVID: However, in an unequal social system that thrives on stratification of class and communities, differentiation of labour, status and capital, social distancing may not be a successful strategy to get by. In an unequal stratified system like India, social distancing turns out to be a 'privilege' available only to the upper-class well-off Indians. For people at the lower strata, social distancing stands unbearable, as more than fighting a disease, they fight against hunger, wage and shelter in their daily lives. This may magnify their miseries and distress substantially. In the midst of21 days nation-wide lockdown in the largest democracy of the world, India has just witnessed how it has been tumbling not only in executing its strategy of social distancing to fight the growing coronavirus pandemic, it also has failed larger chunk of its mass–around 85% of this constitutes the informal workers— mostly migrated ones, who are the worst hit in absence of a contingency plan to fight and survive this situation.
In line with following global strategy of enforcing strict lock downs, Prime Minister Narendra Modi on 24th March 2020 had announced a 21 days lockdown to contain the spread of COVID 19. A 'Janta Curfew' was initiated two days before on 22nd March to prepare Indians to fight the long battle against coronavirus outbreak. As the lock down continues, a total of 1251 COVID-19 cases (including 49 foreign nationals) have been reported in 27 states/union territories in India as on 30th March 2020(Source: Ministry of Health & Family Welfare (MoHFW).
The Ground Reality: While the infected numbers do not project a grim picture compared to other countries that are struggling to contain the virus, concerns growing in India, as nearly 85% of India's population (roughly 120 million) appears to be stranded without basic security of food, wage and shelter. Migrant workers forms majority of this population, who work in construction sites, drive taxis, work in restaurants, staff factories, work in saloon, houses etc. thus often employed in low paid hazardous jobs. This informal workforce is also deprived of any social security benefits including paid leave etc. and they thrive on low wages. As such, they succumb to inevitable cycle of poverty, hunger and death as the city shuts down. COVID 19 pandemic is setting up similar ground for these people. In absence of availability of basic needs walking home for hundred miles remains an only option left for them. They prefer to leave the city, they have lived for all their lives as it no longer shelters them and feeds them; itno longer brings hope of surviving poverty, hunger and their daily mundane needs—the city of dreams turns hostile and deeply inhospitable. As they set forth, many of them are stranded in big cities or stuck midway and are struggling to keep themselves safe and healthy. On 28th March, Saturday tens of thousands of workers flocked at various city-bus stations in efforts to reach home. In Anand ViharInter-state bus terminal, New Delhi, several migrant workers including women stood in a long 3 km queue for hours carrying their baggage with kids in hope of returning to their relatives and families in different parts of the country. "For two days the ration guys were not giving us any food, we were hungry for two days. So, we decided, 'let us go to our parents'," said Raju, a 24-year old migrant worker walking from Noida, a satellite town of Delhi, to Agra, nearly 200 km away. As such, this mass exodus becomes a potential blow to India's coronavirus containment strategy as it presents a miserable scenario awaited in coming days. As on 30th March 2020 the situation got worsened further killing around 20 lives.
As other countries across the world havei nitiated measures to support their citizens, voices from civil society in India already mounting up pressure on the government to provide immediate cover of social security measures including cash transfers for daily wagers, informal sectors and migrant labourers particularly women who have little social and community support and therefore remain most vulnerable.
Existing Measures:
As ground reality remains challenging, diverse measures are taken by the Central and state governments to control the mass exodus of daily-waged workers. To fight against this deadliest pandemic, Indian government extended its support to protect the poor people hit by this lock down, by unveiling $22.6bn stimulus plan. The plan seeks to provide direct cash transfers and food security measures, thus offering relief to millions of people at this critical juncture. Further, the centre decided to provide three meals a day to more than 100,000 people living in 1500 shelter homes for the urban homeless across the country. There are directives given to all the states and union territories to use State Disaster Response Fund (SDRF)to make arrangements for temporary accommodation, food distribution, clothing and medical facilities to the downtrodden ones particularly the migrant labourers. Some Indian states like Uttar Pradesh, Kerala, Delhi have speeded up their initiatives to meet the basic needs of migrant workers by scaling up monetary assistance and providing ration facilities to the homeless.
However, panic continues and migrant workers still on their way back home because of two more reasons: First: the lock down triggered a wave of panic making hundred thousand of homeless workers frightened and terrified in absence of any administrative assistance and coordination from government machinery. Second: with the expensive private healthcare and insufficient and unavailability of public health care facilities, the fear psychosis persists amongst these migrant workers making them non-complicit of 'social distancing'.
The Anticipated Calamity and Lessons: Considering the gamut of India's population and its diverse nature including these migrant population, immediate steps are required to provide a contingency plan for the migrant workers—who form the backbone of India's economy. Failing to respond quickly to address this problem may lead to a worst situation that may further claim deaths of millions. As tens of thousands of migrants are in limbo and are not distancing themselves from others–they are prone to get infected quickly and in large numbers. After days of journey and returning to their villages, they may carry the symptoms of corona virus and may spread it among other communities, resulting into the dangerous III phase in which the pandemic advances towards community transmission across the country. Although the number of COVID 19 cases are still low in India as compared to other countries, experts have already warned against community spread as they think this may result into increased need for health facilities and India is yet to be equipped to facilitate and strengthen its health care sector. The existing measures like 'Janata Curfew', 'Social distancing' '21 days lock-down' that India has opted for, may possibly protect its upper class people who could afford to stay inside home, however, the same is a fallacy for people at the lower strata because of the precarious life they live in. A calamity like COVID 19 may be taken as an experience to introspect upon a combination of development agenda, a contingency plan and management of strategies that India should keep as a stand by formula to mitigate any future crisis like this.