Kim and Moon for a Nuclear Free Korea: Too good to be true?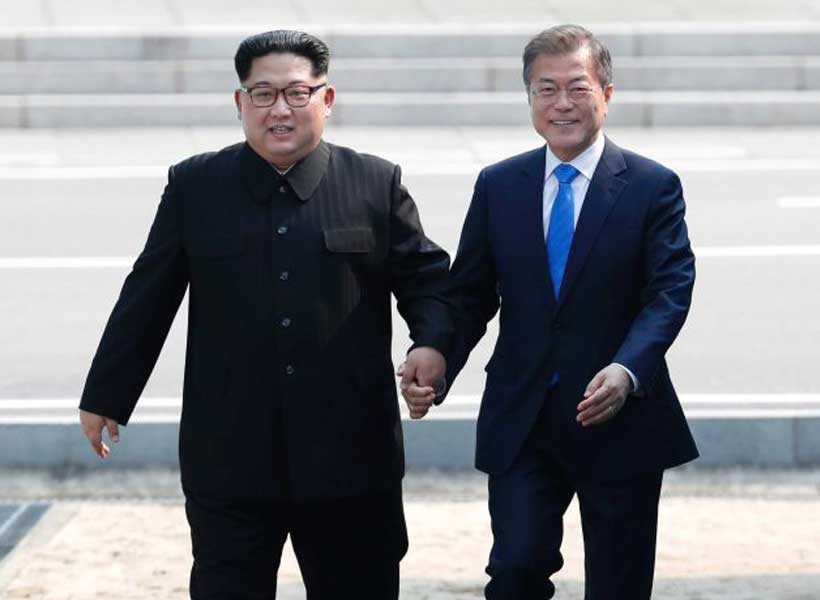 Every event of Korean leaders' summit on 27 April 2018 has been covered extensively by the media highlighting their pledge to end their six decades of hostility. Airing their rhetoric about commitment to peace and "complete" denuclearization of Korean peninsula and eventually achieve unification, looks too good, but too quick, to be true.
In a scripted ceremony Kim Jong-un did become the first North Korean leader to walk across the demarcation line to South Korea since the Korean War of 1953 vintage. Korean War was halted by an armistice signed in 1953, but did not formally end through any permanent peace agreement. The declaration by the both Koreas to work together for a "nuclear-free Korea", disarmament, as well as officially ending the war at Panmunjom in 2018 is a historical event, which may outwardly amuse population both sides, but it needs careful decoding.
How and Why the Event happened as per Expected Script?
South Korea was under maximum pressure due to war clouds over its territory because of hard line taken by North Korea and US. Kim's adventurism with no noticeable control by China and Russia, a war of words and incremental sanctions by US and UN were making things worse in Korean Peninsula. With mountain collapsing at the nuclear site and fear of radiations continues to add to the risk to nearby areas. Under immense pressure South Korea was able to set the stage for Kim –Trump meet, which is possible only if this summit went off well on scripted lines. Under domestic pressure due to hard hitting sanctions, and nuclear test related dangers, Kim was also mentally prepared to follow the peace narrative.
Will this Inter-Korean Peace Initiative Work?
The United States, China and Russia welcomed the agreement as their first response. The criticism indicates that the document promises mutual disarmament "in a phased manner" to build trust, lacks any roadmap/ timelines for implementation. It does not meet US expectation of "complete, verifiable and irreversible" dismantling of North Korea's nuclear weapons. Any real promise regarding dismantling of missiles and nuclear weapons was missing, and Kim's image of being nuclear powered dictator has remained intact. Irrespective of skeptics, this summit has set the tone for the Trump –Kim Summit, although some more diplomatic efforts will have to follow.
Beyond the Optics
There are some difficulties, which make some ideas of the Summit impractical. Let me highlight some of them.
While everyone will like to see the peace and prosperity of Koreans but Neither China nor US will be keen for unified Korea. This will also invite internal opposition in South Korea also. China will not like a democratic unified Korea, balancing between US and China, whereas US will not like its foothold in Korea going away so easily.
When North Korea threatened US and Japan, the issue expanded beyond bilateral limits of North and South Korea, hence cannot be settled by them bilaterally. Any permanent solution has to be acceptable to US, China, Japan and Russia.
When Armistice was signed in 1953, US and China representatives were present. The same is a must for lasting peace.
Expecting Kim to give away the only leverage he has in terms of posing nuclear and missile threat to US, something which has forced President Trump to meet him, sounds unrealistic.
This event is a good beginning which has a face saving option for all parties unless a hard line is adopted by someone. The US and Japan are unlikely to be moved by optics and will be keen in eradication of threat to them, hence may not remove or soften sanctions, which Kim may be eyeing for by such niceties with South Korea.
China-Taiwan Peace Trade Relations Amid Political Tension
The conflict between China and Taiwan that has been going on for a long time began when the civil war between the communist parties and nationalist parties divided China's territory and separated Taiwan from The Chinese mainland in 1945. Taiwan's decision to establish its own government has complicated its relations with China, which still considers Taiwan as part of the territory that must be reunified. Even though Taiwan has been recognized as a sovereign nation by the United Nations and some countries in the world since 1971, China has expressed its desire for reunification with Taiwan to this day. (Qingli, 2022) Taiwan, which rejects China's wishes, is trying to maintain its autonomy and independence by strengthening military cooperation with The United States. Taiwan's close relationship with the United States has invited China's anger and stated ready for war with Taiwan in any time. China is even increasing its military agenda in the Taiwan Strait and flying its warplanes over Taiwan territory. This has fueled the possibility of war between the two countries which until now have continued to increase their military budget and military training.
However, the threat of war between the two countries did not stop their trade activities between China and Taiwan. On the contrary, China is still the most important export partner which control 38.8% of Taiwan's total exports in 2022, far above the United States which only reaches 15.7% of Taiwan's total exports (Ma, 2023). Not only that, China and Taiwan depend on each other in semiconductor products where China depends on semiconductor products from Taiwan and Taiwan depends on the broad reach of China's electronic market which uses semiconductors from Taiwan that has good quality and affordable prices. The trade relations between the two countries seem peaceful even though political and military tensions continue to escalate. This condition has been created since trade relations between Taiwan and China were regulated under the ECFA (Economic Cooperation Framework Agreement) which guarantees the security of trade relations between the two countries in all conditions.
What is an Economic Cooperation Framework Agreement?
ECFA or known as the Cross-Straits Economic Cooperation Framework Agreement is a form of China-Taiwan Free Trade Agreement, which was signed on June 29, 2010, in Chongqing. This agreement is the most important bilateral trade pact between China and Taiwan because it is the first agreement made after nearly two decades of sovereignty disputes between the two countries hindering their trade relations. In this agreement, the two countries agreed to create fair economic relations by gradually reducing and eliminating trade and investment barriers to each other. This agreement has agreed to reduce tariff barriers on 539 Taiwanese products to China and 267 Chinese products to Taiwan with total benefits that both countries promise.
During the signing process, a preliminary discussion on ECFA began in 2008 that continued with four rounds of preliminary talks in 2009. After both countries agreed to establish the ECFA, discussions on the substance and framework of the agreement were held for the first time on January 26, 2010, in Beijing between the Taiwanese government represented by Kao Koong-lian, general secretary and vice chairman of the Straits Exchange Foundation (SEF) and the Chinese government represented by Zheng Lizhong, Vice President of the Association for Relations Across the Taiwan Straits (ARATS). Discussions regarding the substance and framework of the ECFA agreement were carried out by SEF-ARATS representing Taiwan and China for 5 rounds of discussions. The final agreement of the 5 rounds was then approved on July 2, 2010, and came into effect on September 12, 2010. (Jianmin, 2011)
ECFA consists of 16 articles, 5 chapters, and 5 annexes. The first chapter is about general principles which consists of two articles, the first article is about objective and the second article is about cooperation measure which discusses the principles that must be obeyed by the two countries. The second chapter is about Trade and Investment which consists of 3 articles that discuss the rules of trade in goods, services, and investment. The third chapter is about economic cooperation which consists of 1 article that discusses the expansion of the area of economic cooperation that will expand the benefits of this agreement. The fourth chapter is about Early Harvest which consists of 2 articles that discuss the early harvest program of trade in goods and trade in services as a form of implementation of this agreement. The fifth chapter concerns other provisions consisting of eight articles concerning exceptions, dispute settlement, Institutional arrangements, documentation formats, annexes and subsequent agreements, entry into force, and termination. (Elleman, 2022)
How ECFA Guarantees China and Taiwan Mutual Benefit on Trade?
ECFA as an agreement amidst the sovereignty dispute between China and Taiwan is included in hard legislation. This can be seen from the substance and framework of the ECFA that meets the three dimensions of hard legislation.(Abbott et al., 2000) The first dimension is an obligation, the clarity of the provisions regarding the types of goods, services, and investments that receive reduced tariff barriers has been attached in Annex 1. Not only that, the provisions regarding the principles that must be obeyed by the two countries are also clearly stated in Article 2 and the exceptions are in Article 9.
The second dimension is Precision, a clear diction regarding the agreement between the two countries in the ECFA as seen from the use of the words "have agreed (article 2-8), shall engage (article 10), shall establish (article 11), shall cease to apply (article 7)) and others. The use of the sentence shall in law implies an obligation for an action without permissiveness so as to minimize the possibility of violation (Legal Information Institute, 2021).
The third dimension is delegation, China and Taiwan establish the Cross-Straits Economic Cooperation Committee which is a representation of the two countries to resolve disputes that may occur regarding trade and investment relations under the ECFA. Of the 22 agreements formed by China and Taiwan from 1990-2010, ECFA was the initial agreement that placed their economic relations under a legal framework (Hsieh, 2011). The clarity of provisions, diction, and dispute settlement that apply in the ECFA has reduced the possibility of violations or deviations from the agreement that has been formed. So that economic cooperation carried out under ECFA does not experience obstacles or disturbances due to the heating up of China-Taiwan political relations.
Not only that, establishing cooperation under ECFA has become a consideration that provides cost reduction in economic and political terms for the two countries if it is compared to the choice not to cooperate. By cooperating under ECFA, Taiwan and China come through economic growth from the export-import of goods, services, and technology investments made by the two countries. Through the Early Harvest Program (EHP) in ECFA, Taiwan experienced a surplus from sales of its machine tools that reached 61.9%, while China benefited from better and cheaper technology transfer from Taiwan (Heo & Cho, 2012). In addition, increased trade and investment activities between the two countries have created interdependence which also has an impact on increasing stability and peace between the two countries where Taiwan can reduce tensions that can trigger Chinese military attacks and China itself gains space for controlling Taiwan without having to incur military costs and bear the consequences of conflict due to the lack of communication space that must build mutual trust.
These two things then underlie economic cooperation between China and Taiwan under the ECFA agreement which can guarantee the creation of fair trade even though there has been a prolonged conflict of sovereignty since 1945 to this day.
Mongolia To Strengthen Transparency Through Constitutional Reforms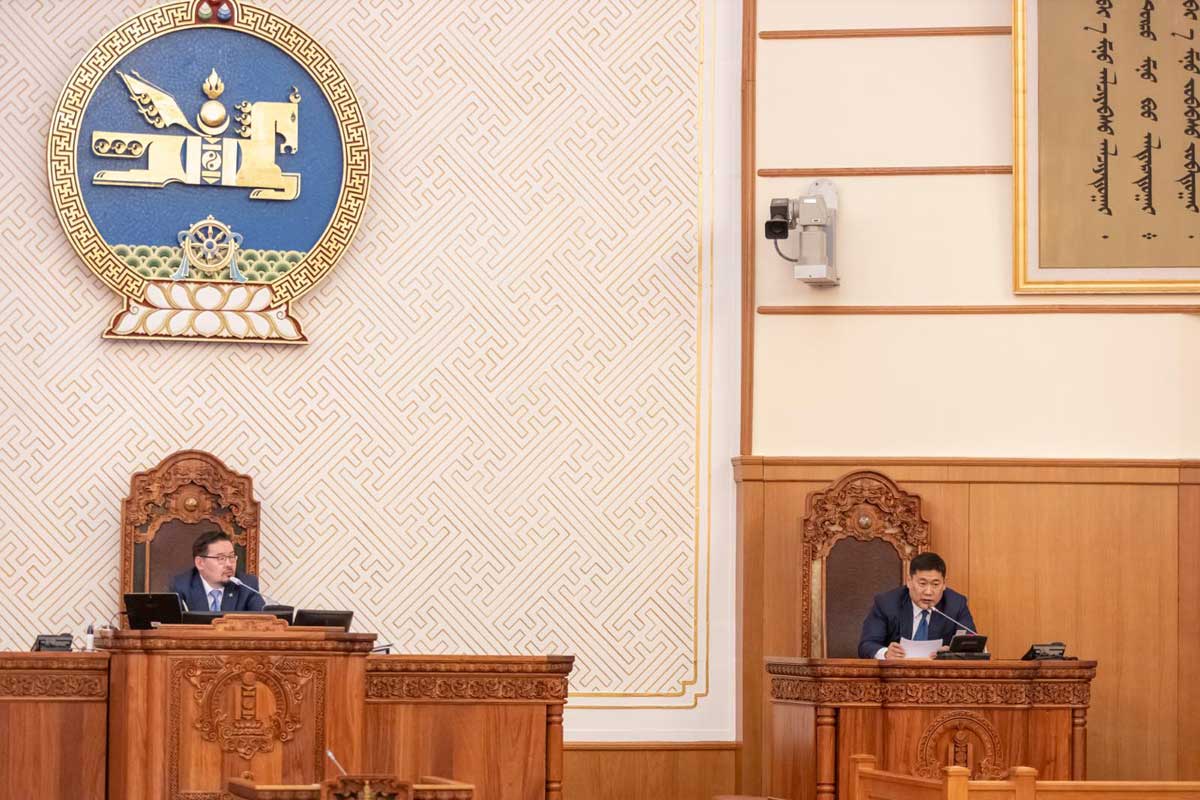 The Government of Mongolia has this week made efforts to strengthen the governance of its legislature and increase transparency by passing into law a number of changes to the country's constitution. The country hopes to create more opportunities for civil society representation by moving to a mixed electoral system.
Representatives in the country's parliament, the State Great Khural, debated and approved reforms that will increase the number of members in the parliament from 76 to 126, with nearly 40% of the MPs now being elected through proportional representation. The Government is also shortly due to introduce separate proposals that will increase the representation of women in the parliament. All these changes are set to be in place in time for the next set of general elections in 2024.
Mongolia's political system is centred on the sharing of executive power between the Prime Minister as the head of government, and an elected President. The country's Constitution was adopted in 1992, with amendments made in 1999, 2000, 2019, and 2022. Recent changes have focused on securing political stability in the country, through for example limiting the maximum term of the presidency from two four-year terms to one six-year term, and amending the number of parliamentarians who can hold ministerial positions.
The increase in the size of the State Great Khural will address the rise in the number of voters represented by each parliamentarian, which has increased from 27,000 in 1992 to 44,000 today. Alongside the move towards a more proportional electoral system, the reforms are designed to bring parliamentarians closer to the people they are elected to serve by enhancing the scrutiny given to new laws.
A separate amendment to the country's constitution creates a role for Mongolia's Constitutional Court in reaching a final decision on citizen petitions alleging breaches of civil rights and freedoms, including equal rights between men and women, freedom of thought, speech, and peaceful assembly.
Commenting on the proposed changes to the constitution, Mongolia's Prime Minister, L. Oyun-Erdene, said:
"I strongly support these proposed changes to Mongolia's Constitution. They represent a further step for our country in the direction of a more inclusive and democratic future. Through increasing the representation in our parliament and broadening input into the law-making process, we will be better placed to meet current challenges and ensure that we continue to make progress towards our Vision 2050 goals, improving the livelihoods of people across Mongolia."
Taiwan's International Status: "A Country Within a Country"
In California, a recent meeting was held between the President of Taiwan, Tsai Ing-wen, and the U.S. House Speaker, Mr. Kevin McCarthy, which holds political significance. This aforementioned meeting facilitated a negative shift in the bilateral relations between China and Taiwan. The latent hostilities between China and Taiwan possess the potential to escalate into full-scale armed conflict at any given juncture.
The proposal
The incongruent dynamic existing between China and Taiwan has persisted since 1949, when Taiwan made the conscious decision to separate from mainland China.
From 1949 onwards, China and Taiwan have been embroiled in a geopolitical imbroglio pertaining to their respective territorial integrity and claims of sovereignty. The Chinese government asserts that Taiwan is an integral component of its sovereign geography. On the contrary, Taiwan is assertive of its autonomy as a distinct, self-governing entity that operates independently and is no longer subject to Chinese jurisdiction.
The discordant relationship between the two sides which has escalated over the preceding biennium, potentially heightening the likelihood of military confrontation.
Over the course of the past two years, there have been several instances in which China has deployed the Chinese People's Liberation Army (PLA) to conduct military maneuvers in close proximity to Taiwan. The aforementioned initiative was aimed at preventing any activities fueled by Taiwan that could have been construed as provocative and potentially encroach on China's claims of rightful control over Taiwan's sovereignty and territorial boundaries
The persistent geopolitical tensions between China and Taiwan since 1949 can be attributed to diverging opinions regarding the formal recognition of Taiwan, in particular, the contentious matter of Taiwan's sovereignty. Tensions will continue Between China and Taiwan until Taiwan becomes independent or recognizes its self-identification as a constituent part of China.
Since 1949, the China has exerted persistent pressure upon Taiwan to acquiesce to the notion of reunification or the incorporation of Taiwan into the mainland territory of China. Nevertheless, it appears that Taiwan's internal political circumstance and dynamics persist in maintaining its political choices and ideology as a democratic and self-governing entity.
The prolonged inability of both parties to develop a more extensive and adaptable resolution or methodology to address the matter implies that the aspiration to "normalize" relations between China and Taiwan continues to exist solely within the realm of rhetoric.
In order to achieve the objective of unification under the the idea of the "One China Principle" or One China Policy and to surmount the political divergence concerning Taiwan's official position, has engendered several propositions by China aimed at resolving this issue. A proposed approach adopt the implementation of a "one country, two systems" protocol akin to that employed in Hong Kong and Macau.
The Chinese government has expressed that the policy is exceedingly permissive and capable of surmounting the distinct system variances that exist between the mainland region of China and Taiwan.
The proposal of "special administrative region" attributed to Taiwan enables the continued preservation of its economic, social, and security system that they have built so far, while attenuating or obviating any undue influence or interference by China. Nonetheless, the aforementioned proposal appears to be insufficient in instigating political transformation in Taiwan, given the persistent refusal of Taiwanese individuals and governmental officials to endorse unification and uphold their desire for independence.
In view of China, safeguarding Taiwan and accomplishing the complete unification of the country is not solely a matter of fulfilling its constitutional obligations, but also serves the purpose of preserving its stature as a dominant and revered nation on the global stage.
In contrast, Taiwan persistently endeavors to establish diplomatic and cross-strait relations through a range of diverse strategies and approaches with multiple nations across the globe. The clear objective is to secure the hearts and compassion of the global populace. Taiwan undertook this action with the aim of restoring its position in the global arena and paving the way for its eventual recognition as a self-governing entity with full political autonomy.
"Country within a country"
Again, the China-Taiwan issue is rooted in a territorial and sovereignty perspectives. In the global arena, China maintains a comparatively advantageous position. China, is a prominent participant in the United Nations, the most extensive intergovernmental organization encompassing numerous states worldwide, Positioning itself as a powerful participant in the direction and reflection of global politics. Furthermore, China belongs to "the distinguished" member of UN Security Council's five permanent members, which has so far strong and great influence on world politics.
On the other hand, the international position held by Taiwan is considerably intricate. The question regarding the statehood of Taiwan remains a matter of unsettled dispute, given the absence of any universally recognized body empowered to render definitive judgments regarding the status of a nation-state.
Since the adoption of Resolution A/RES/2758 by the UN General Assembly on October 25, 1971, Taiwan has lost its international "stage". This is because the resolution affirms China as the sole legitimate representative of China to the United Nations and consequentially nullifies Taiwan's membership from the organization.
It is a well-documented reality that numerous nations have forged informal diplomatic ties with Taiwan, particularly in the realm of trade and investment. The United States, for instance, has solidified such relations through the Taiwan Relations Act. To the present day, a limited number of 22 nations have formally acknowledged and established official diplomatic intercourse with Taiwan. A notable aspect is that the majority of these nations lack any substantial sway or significant leverage on the international political sphere. Specifically, countries of comparatively small size in the African and Latin American regions, namely Haiti, Belize, and Tuvalu.
Taiwan has indeed met the three constitutive elements or absolute requisites deemed necessary for a country as exemplified by the 1933 Montevideo Convention. These components include the presence of a defined territorial boundary, a functioning populace, and a duly constituted government. However, Taiwan lacks a crucial element in its diplomatic status, namely the recognition from the international community through a declarative act.
The restricted global acknowledgement of Taiwan undoubtedly carries considerable political and legal ramifications. Recognition is widely regarded as the key component in modern international politics that has the potential to enhance the legitimacy and sovereignty of a given state.
Taiwan faces formidable challenges in achieving recognition. In order to attain successful governance, Taiwan must display adeptness in efficiently managing both internal and external political dynamics. Otherwise, the current state of affairs will persist, leading to Taiwan's classification as a "subnational entity" Or "A country within a country".
Ultimately, the resolution of the China and Taiwan conflict proves to be a formidable challenge. In order to mitigate potential future crises and uphold regional and international stability, it is necessary for China and Taiwan to refrain from engaging in provocative actions. It is imperative to adopt a cooperative approach through negotiations and concessions that are all-encompassing and pertinent, in order to attain a sustainable resolution that caters to the interests of both China and Taiwan's populace of 23 million, while acknowledging and adapting to their respective challenges and circumstances.