How to Survive in a Trench Warfare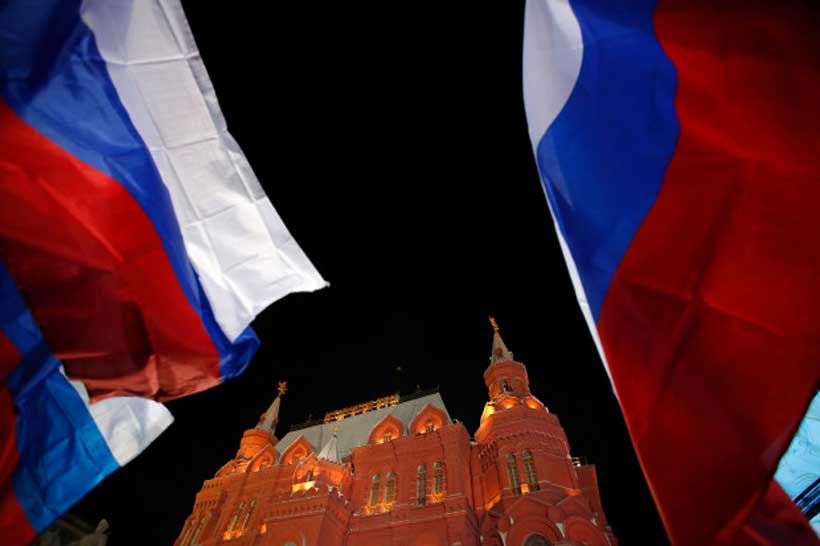 Surveys suggest that most Russian people view the country's foreign policy as successful and, indeed, something to be proud of. This opinion is shared, in differing measures, by all social strata, from the destitute to the political and business elite. Even many of those who have been extremely critical of the economic and social situation in the country have heaped praise on the Kremlin's international achievements over the past few years. Two achievements in particular appear to be a source of pride for Russian society: the "reinstatement of national sovereignty" and the "re-emergence of Russia as a great power."
Indeed, if we are to interpret sovereignty as independence, i.e. a country's right to determine its relations with global political players free from restrictions and free from the control of other countries and international organizations, then few powers can compete with Russia. Likewise, there is hardly another country on the planet which, while possessing material resources comparable to those of Russia, could afford such an ambitious and broad foreign political agenda. In this sense, Russia has truly managed to outdo itself – to the amazement of its foreign partners and to the shame of numerous experts.
Such breakthroughs, however, are always fraught with risks and sometimes end in tears. The ordinary Russian may not care all that much about this, but the Kremlin should be worried. The Russian leadership's incessant fixation on protecting Russia's sovereignty, and the irrational fear of losing that sovereignty overnight, indicate a measure of uncertainty.
For most countries, sovereignty is an asset that can and should be exploited. For Russia, it is more of an icon to be worshipped.
This is exactly the reason why the price of Russia's sovereignty is so very high: like in the times of Emperor Alexander III, the country's only true allies are its army and its navy (plus its Aerospace Forces, the latest addition in the past 150 years).
Russia's influence on the international arena, which has been increasing in recent times, is not that straightforward either. Moscow does have considerable potential to influence events both regionally and globally. However, this influence is exerted primarily in the political and military spheres. Russia's impact on economic, social, financial and technology processes is negligible and does not exceed the statistical margin in many important and rapidly developing areas. The situation is reminiscent of a Soviet-era joke, which goes like this: Mongolia is the most independent country in the world, because virtually nothing depends on it.
As soon as the focus of global politics starts shifting to non-military dimensions, Russia's influence will inevitably begin to decline. For example: when the civil war in Syria finally comes to an end and economic revival becomes the key objective of the ravaged country, Moscow's importance to Damascus will begin to shrink, regardless of who will have come to power in Syria. The Syrian leadership will start turning towards other partners – those capable of offering large-scale economic assistance programmes, investments, new social practices and cutting-edge technologies.
As has repeatedly been the case in the past, even if Russia wins the war in Syria, it may still lose in terms of bringing peace to the country.
It may be true that, for the most part, Russia's foreign policy, which is characterized by the choice of political and military solutions, an extremely centralized decision-making process, and unique traditions of "classic" diplomacy and foreign policy intelligence, is congruent with current international needs. However, these current needs will not last forever, nor even long enough. It is quite possible that we will soon enter a new era of global politics, when a country's might will be assessed using totally different criteria.
Let us suppose, however, that this current moment will last for several more years, or even decades, and political and military solutions will continue to prevail for a certain period of time. Will this secure Russia's current status and clout? Unfortunately, it will not. It would appear that this time around, the Kremlin's geopolitical opponents are serious in their attempts to depreciate its international assets and drive it into a corner. And, seeing as the combined resources of Moscow's opponents are far greater than those of Russia – not only in terms of economics, finance and technology, but also in terms of military technology – it will be increasingly difficult for Russia to counter the external pressure.
Whatever the case, the next six-year cycle of Russia's foreign policy does not promise any easy victories. The previous six years could be likened to a breakneck cavalry charge against a complacent (read: poorly prepared) enemy. This new cycle will most likely resemble a drawn-out trench warfare, with either side periodically trying to break through the enemy defences and impose a peace on its own terms.
In a protracted conflict, it is usually the side with the stronger rear that fairs the best. Russia thus faces the vital issue of selecting a development strategy, primarily with regard to its economy. Moscow could go with its habitual pattern of mobilizing the economy, just like the USSR did during World War II. Back then, Nazi Germany had virtually all the economic resources of Europe at its disposal, which significantly exceeded the Soviet Union's economic potential. Nevertheless, the USSR managed to create a defence industry that was, on the whole, superior to that of Germany, thanks to a more consistent, encompassing and, ultimately, more effective economic mobilization.
It is hardly possible to build a workable mobilization economy today, however. Not only because it would take an enormous toll on the quality of life of the Russian population. And not even because, unlike back in the 1940s, Russia must now compete against the entire Western world, rather than just Germany. The main reason is the extremely complicated nature of modern economic relations; modern technology chains are globalized, and contemporary Russian society differs radically from the Soviet society of the 1940s. An all-to-arms model might still be useful for creating a successful equivalent of Henry Ford's automobile plant, but not of Silicon Valley.
An alternative route would involve profound structural reforms of the Russian economy, accelerated economic diversification, a dramatic increase in investment in human capital, the strengthening of institutions, an overhaul of the state administration system, a technological leap and the development of entrepreneurial and social initiatives.
What would the benefits of this be to Russia's foreign policy?
To begin with, the effect of sanctions against Russia would drop dramatically. Targeting thousands of small and medium-sized businesses is far more difficult than taking out a dozen major private companies and state-run corporations in one go. Entirely new opportunities will emerge for circumventing the sanctions, mitigating their negative consequences and strengthening the country's actual economic sovereignty, rather than its imaginary sovereignty.
More importantly, implementing structural reforms and achieving above-worldwide-average growth rates would help Russia to finally reverse the ongoing trend towards a reduction of its share in the global economy. Even the political and psychological effect of such an achievement would be a boon: Russia would finally see a perspective that has been beyond the horizon for the past decade. It would also give those in the West who consider the anti-Russian sanctions to be senseless and even harmful new and convincing arguments.
To paraphrase Russian philosopher Konstantin Leontiev, creating an economy of "blossoming complexity" would provide Russia's foreign policy with new opportunities in relations with its closest neighbours, who are for the most part unwilling to accept the Russian economic model as something to be imitated. It is highly unlikely that any of these neighbouring countries will be eager to replicate a mobilization economy model should Russia embrace one, meaning that any integration processes within the former USSR would inevitably stall.
A "blossoming complexity" would improve the situation no end by creating multiple opportunities for the implementation of integration processes. Russia's leadership of the former Soviet republics would be determined not only by Moscow's readiness to guarantee their security or provide them with inexpensive hydrocarbons, but also by the appeal of its socioeconomic model. This, in turn, means that the "blossoming complexity" would serve as an alternative to any "colour revolutions" in the region.
Finally, the "blossoming complexity" of Russia's economy would significantly expand the toolkit of Russia's foreign policy. Russia would stop acting exclusively as a global firefighter rushing from one hotbed to the next. It would acquire the different, no less demanding roles of a global builder, engineer, teacher and doctor.
If this happens, every Russian citizen will have so many more reasons to be proud of Russia's foreign policy, and even to directly contribute to that policy.
First published in our partner RIAC
St. Petersburg International Economic Forum 2018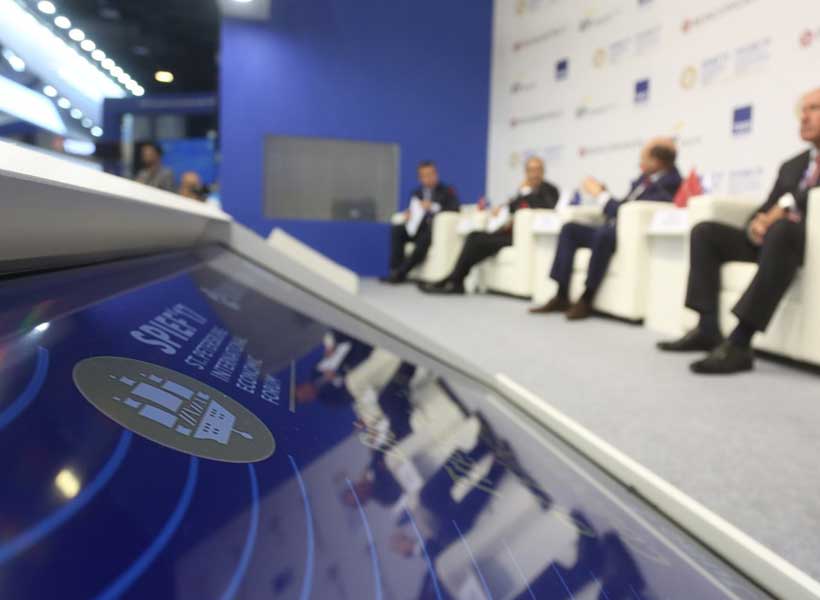 The St. Petersburg International Economic Forum 2018, one of the annual international platforms that brings together political, industry and business leaders to discuss the most pressing issues affecting global economics, development and finance, will take place on May 24 to 26 in St. Petersburg.
Ahead of the forum, the official website of the President of the Russian Federation has published his welcome greetings to participants, organisers and guests. In his greetings, Putin expressed his confidence that ideas and initiatives to be developed during the forum would facilitate the recovery and growth of the world economy.
"By harnessing the wealth of scientific and technological potential which is rapidly expanding in digital and other areas today, we can improve quality of life and boost stable and harmonious development in all nations and across the world as a whole," he stressed in his message.
"And it is crucial that we strive towards increasing mutual trust, promoting wide-ranging integration processes, realising large-scale and promising projects. Russia is always open to this kind of partnership and cooperation," Putin said.
According to RosCongress, the event organiser, about 15,000 guests from more than 140 countries expected to participate in the forum. France, China, India and Japan as guests of the forum will have their own exhibition pavilions on site, which will house a presentation area and a business space for delegations and representatives to interact with business partners from other countries.
Delegations from Germany, Switzerland, Sweden, Greece, Italy, India, Saudi Arabia, Qatar, Israel, Vietnam, USA, Canada, African countries and others will participate in various business events. BRICS member states (Brazil, India, China and South Africa) have been prominently represented there.
For foreign participants, including Africans, the forum is very useful for networking and discussing business strategies, and serves as an important study platform for deepening knowledge about the economy and possible ways of transacting business in Russia.
Series of official speeches and panel discussions will undoubtedly dominate the three-day event. The special sessions on business and investment opportunities will include the "Russia – Africa Business Dialogue" that has generated increasing interests among Russian and African businesses, international companies, African governments and institutions.
According to Anton Kobyakov, Adviser to the President of the Russian Federation and Executive Secretary of the SPIEF Organising Committee, the upcoming forum will hold two special celebrations marking the occasions related to the continent: Africa Day and the 55th anniversary of the African Union.
"Economic cooperation between Russia and Africa has been developing rapidly during recent years. We have seen a positive dynamic in trade with Ethiopia, Cameroon, Angola, Sudan, Zimbabwe and other countries", says Kobyakov. "I strongly believe that Russian-African cooperation at SPIEF, Russia's largest forum will stimulate trade and economic ties, as well as investment activity."
Kobyakov further disclosed that during the event, experts will share best practices and discuss new opportunities for implementing joint projects in the BRICS countries. Sergey Katyrin, the President of the Chamber of Commerce and Industry of the Russian Federation, will moderate the session.
"The paramount task for BRICS is to continue strengthening efforts aimed at solving international issues in the spirit of unity, mutual understanding and trust. The prospects for cooperation and joint efforts of the BRICS member states will be discussed at the SPIEF 2018. I am confident that this will give momentum to further development of a fruitful dialogue on key world issues," Kobyakov says.
Over the past few years, Russian authorities have made relentless efforts toward raising Russia's political influence and economic cooperation in some African countries. Thus, discussions at the forthcoming forum will undoubtedly focus on reviewing the past and the present as well as proposing practical and the most effective ways to facilitate investment activities and that might include promising areas such as infrastructure, energy and many other sectors in Africa.
On her part, Alexandra Arkhangelskaya, a Senior Researcher at the Institute of African Studies and a Senior Lecturer at the Moscow High School of Economics said in an interview with me that Russia and Africa needed each other – "Russia is a vast market not only for African minerals, but for various other goods and products produced by African countries."
Currently, the signs for Russian-African relations are impressive – declarations of intentions have been made, important bilateral agreements signed – now it remains to be seen how these intentions and agreements will be implemented in practice, she pointed out in the interview.
The revival of Russia-African relations have be enhanced in all fields. Obstacles to the broadening of Russian-Africa relations have be addressed more vigorously. These include, in particular, the lack of knowledge or information in Russia about the situation in Africa, and vice versa, suggested Arkhangelskaya.
"What seems to irk the Russians, in particular, is that very few initiatives go beyond the symbolism, pomp and circumstance of high level opening moves. It is also still not clear how South Africa sees Russia's willingness (and intention) to step up its role in Africa, especially with China becoming more visible and assertive on the continent," said Professor Gerrit Olivier from the Department of Political Science, University of Pretoria, in South Africa.
Today, Russian influence in Africa, despite efforts towards resuscitation, remains marginal. Given its global status, Russia has to be more active in Africa, as Western Europe, the European Union, America and China are, but Russia is partially absent and playing a negligible role, according to the views of the retired  diplomat who served previously as South African Ambassador to the Russian Federation.
"Russia, of course, is not satisfied with this state of affairs. At present diplomacy dominates its approach: plethora of agreements entered into with South Africa and various other states in Africa, official visits from Moscow proliferate apace, but the outcomes remain hardly discernible," he said.
"The Kremlin has revived its interest on the African continent and it will be realistic to expect that the spade work it is putting in now will at some stage show more tangible results," Professor Olivier wrote in an email query from Pretoria, South Africa.
Last June 2017, the African representatives including heads of state, deputy president, ministers or their deputies, entrepreneurs and diplomats came to the St. Petersburg forum from Angola, Algeria, Burundi, Egypt, Gabon, Guinea, Morocco, Mozambique, Namibia, South Africa and Zimbabwe.
Social protection for Filipino workers in the Russian Federation
The Philippines and Russia get closer to signing an agreement that would protect Filipino workers in the Russian Federation. As the number of migrant Filipino workers increases, Moscow and Manila are busy negotiating a bilateral labour agreement that could allow thousands more overseas workers into various sectors of the Russian economy.
On May 15, formal discussions were held by Foreign Minister Sergey Lavrov with Philippines' Secretary of Foreign Affairs Alan Peter Cayetano in Moscow.
Sergey Lavrov noted: "We are interested in ensuring that Filipino workers, who work in the Russian Federation, are socially protected. Many of them were here through private companies, often without the necessary licenses."
"All this does not provide social protection for Filipino citizens working in the Russian Federation. With the conclusion of the agreement, the beginning of preparation of which we have agreed today, we will solve these issues. We have such agreements with a number of other countries, including ASEAN member States," he promisingly added.
Earlier, a Regional Migration Specialist at the International Labour Organisation (ILO)'s Regional Office for Asia-Pacific in Bangkok (Thailand), explained in an interview with me that a comprehensive labour agreement between Russia and the Philippines could be positive, if it established procedures and standards for the recruitment, employment and subsequent return of migrant workers.
According to the Philippines Overseas Employment Administration (POEA), Russia officially registered nearly 15, 000. Consequently, such an agreement (could) guarantee the labour rights of migrant workers and eliminate or limit recruitment costs. It will further provide Filipino workers with access to emerging labour market there.
The Federal Migration Service (FMS) office in Moscow has also explained that "official" Filipino workers are entering the country on tourist or business visas, assisted by middlemen and local licensed agencies that often act as migrants' direct employers and channel them straight into labour market.
The Philippine government has been negotiating for better regulations and working conditions for its citizens for the past several years with little or no conclusive results.
In March 2012, for instance, the then Philippine Secretary of Foreign Affairs, Albert Del Rosario held an official discussion in Moscow with Minister Sergey Lavrov on the possibility of sealing a bilateral labour agreement.
Besides, a string of events and conferences over the years have highlighted renewed interests in developing the market of overseas Filipino workers, who are believed to be one of many solutions to Russia's human resource needs.
Many experts believe that economic modernisation in Russia depends heavily on skilled foreign labour, limited to certain specific sectors like domestic work, finance, and construction.
The fact that Russia willingly entered into the negotiations implies not only that it has an urgent need for the services of foreign workers but also that it is fully aware of the benefits of such an agreement.
Experts have pointed to the Philippine government's success in deploying its workforce abroad, in many foreign countries. About 10 percent of The Philippines' population of 90 million people works abroad, with regular remittances accounting for up to 25 percent of the country's gross domestic product (GDP).
Some estimates put the total contribution to the Philippine economy by specialists working abroad at $50 billion last year.
The Philippine Overseas Labour Office in Rome (Italy), explained to me that the Philippine government has an official policy of deploying Filipino workers only to countries that guarantee protection and promotion of their rights, welfare and interests.
Under a recently enacted law, the Philippine government banned its nationals from seeking employment in countries that do not guarantee the rights and welfare of foreign workers, or whose local labour and social legislation does not cover migrant workers.
Quite recent, the Philippines government and the Kuwaiti government signed an agreement on the recruitment, use and protection of Filipino workers after a diplomatic row over abuse and inhuman treatment of working Filipinos.
It therefore implies that The Philippines and Russian authorities have to work on effective ways to establish and improve the bilateral legal framework for mutual benefit for both countries. *This special report from Kester Kenn Klomegah, an independent researcher and policy consultant, in Moscow.
The Russian strategy towards North Africa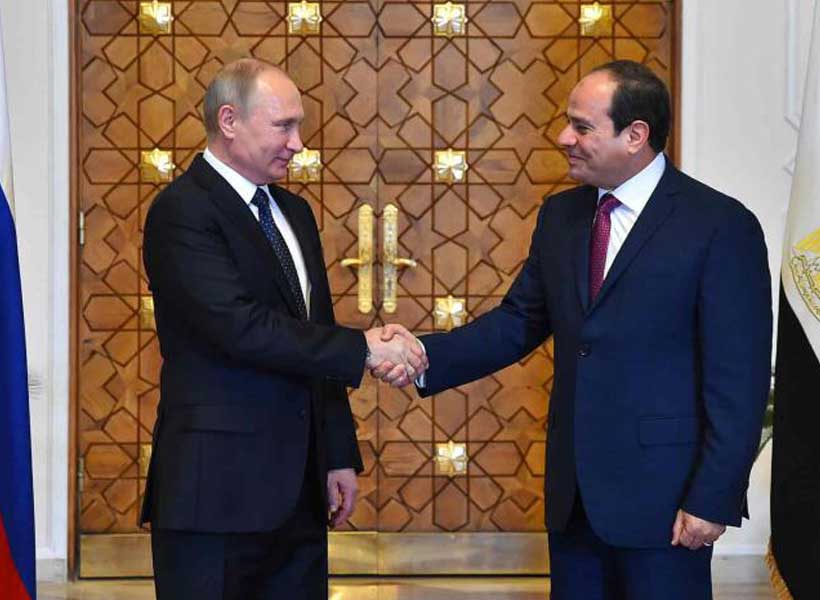 As John Mearsheimer quote "The ideal situation for any state is to experience sharp economic growth while its rivals' economies grow slowly or hardly at all". Russia paves the way to tighten its economic and military cooperation's with Egypt as one of the main North African allies so far.
Russian keen interest in Africa, particularly North Africa, began in the 18th century, with benefits and incentives in the Mediterranean bowl as part of an expansion strategy that was based on economic, political and military estimation.
Africa changed between east and west in terms of alliances which helped form its, economic, cultural, political and militarily balance. Like now, after changes in the status of relationships among alliances, and after structures of the region shifted with a picture that is different to the previous one that had seen over the era of the alliances of the former Soviet Union during the Cold War, Russia is back again after the removal of the Americans. This time, Russia came to the region with the notion of regional rivalry, after a long time, which could make it a key actor until the US resets its position. Russia has put all its power and influence on playing a role in which it would take back its position in North Africa towards enlarging and deepening the economic and investment cooperation as well mutual relations that back to the 1960s.
Due to this, Russia has taken many steps that show its mutual incentive and awareness in North Africa with the main interest in Egypt. This came after the decline of Egyptian-American relations, so Russia and Egypt signed many political agreements, including one of the important agreement which is modernized Egyptian air defense system. This step is advised a Russian warning to the Americans that it is on its way to subjoin one of its significant allies in the region, which used to experienced strategic and military cooperation depend on mutual interests. American vessels used to be the first one when crossing the Suez Canal and could use its air zone in interchange for annual military aid equivalent to $1.3 billion in 2013, which America froze in protest upon the displace of the first democratic regime in Egypt that came after the January 25th Revolution and the coup d'état against legitimacy.
The objective of Russian return to the region is not incomparably limited to economic arbitrations; there are mainly arms contracts, security exchange in fighting terrorism and upgrading trade process. Other than Egypt, there are also other promising destinations which began with diplomatic visits, such as Morocco and Algeria. The significant aspect of returning of Russia to North Africa at this time is the lack of any ideological agenda in the new agreements and cooperation plans.
Currently, Russia embarks to Egypt; the foremost step reaches several targets. Basically, Egypt is seen as geo-strategic access and convenient gateway through Africa, and sub-Saharan Africa where the natural resources wealth of uranium, gold, oil and maritime exist. These natural resources might be a rational reason for future dispute between Russia and America, especially after US withdrawal from North Africa, but only after having strengthened its presence in sub-Saharan Africa and safeguards Maritime roads for Gulf oil through the region.
As long as the two superpowers competing, North Africa is the free land of future investment that requires an agreement between the Russia and America, especially as other powers, such as China, are present and access Africa from its center. China was involved and engaged in exploring and manufacturing Sudan's oil, before the division of the state of South Sudan in 2011. Today China is growing its activities after most oil fields became part of South Sudan. In addition to the new state, China has other markets in central Africa and the east. It only collaborates and participates in economic and trade sectors and infrastructure construction in Sudan.
The Russian president Putin embark to Cairo last Monday after a concise and unpublished visit to a Russian military air base in Syria. The air base has offered the main ledge for the air campaign Russia has undertaken since September 2015 under the backing of Syrian President Basher Assad.
Egypt's constantly close ties with Russia get back to the 1950s and 1960s when Egypt became a close Russian ally at the height of the cold war. Therefore, Egypt changed sides in the 1970s under the late President Anwar Sadat, who replaced Moscow with Washington as his country's chief economic and military backer following the signing of a U.S.-fund peace treaty with Israel in 1979. Egypt has since become an important successor of American. aid. Under el-Sisi, Egypt has been able to sustain close relations with both Russia and the United States.
In term of Military Cooperation, Sisi and Putin also tackled about Syria and mutual rejection of U.S. President Donald Trump's decision to recognize Jerusalem as the capital of Israel, a move that has sparked protests across the region and from European capitals as well. The high-level Russian visit comes after the U.S. government in August decided to deny Egypt $95.7 million in aid and to delay another $195 million because of its full failure to make progress on human rights and democratic norms.
Russia started a military operation to back and support Syrian President Bashar al-Assad in September 2015, and there are clues Moscow is keen to enlarge its military existence in the region.
To sum, Russia chose Egypt for its geopolitical and strategically partner combining three continents. Therefore, let's see how Russia could maintain its presence in the region showing off its ability to promote economic interests, especially with African partners. So will Africa be for Russia alone?