Whistleblower protection: EU Commission sets new, EU-wide rules
Recent scandals such as Dieselgate, Luxleaks, the Panama Papers or the ongoing Cambridge Analytica revelations show that whistleblowers can play an important role in uncovering unlawful activities that damage the public interest and the welfare of our citizens and society.
Today's proposal will guarantee a high level of protection for whistleblowers who report breaches of EU law by setting new, EU-wide standards. The new law will establish safe channels for reporting both within an organisation and to public authorities. It will also protect whistleblowers against dismissal, demotion and other forms of retaliation and require national authorities to inform citizens and provide training for public authorities on how to deal with whistleblowers.
First Vice-President Frans Timmermans said: "Many recent scandals may never have come to light if insiders hadn't had the courage to speak out. But those who did took enormous risks. So if we better protect whistleblowers, we can better detect and prevent harm to the public interest such as fraud, corruption, corporate tax avoidance or damage to people's health and the environment. There should be no punishment for doing the right thing. In addition, today's proposals also protect those who act as sources for investigative journalists, helping to ensure that freedom of expression and freedom of the media are defended in Europe."
Věra Jourová, Commissioner for Justice, Consumers and Gender Equality added: "The new whistleblowers' protection rules will be a game changer. In the globalised world where the temptation to maximise profit sometimes at the expense of the law is real we need to support people who are ready to take the risk to uncover serious violations of EU law. We owe it to the honest people of Europe.
Whistleblowers can help to detect, investigate and sanction abuses of EU law. They also play an important role in enabling journalists and the free press to play their fundamental role in our democracies. That is why whistleblowers need proper protection against intimidation and/or retaliation.Citizenswho uncover illegal activities should not be punished as a consequence of their action. But in reality, many of them pay for their action with their jobs, their reputation or even their health: 36% of workers who reported misconduct experienced retaliation(2016 Global Business Ethics Survey). Protecting whistleblowers will also help safeguard freedom of expression and media freedom, and is essential to protect the rule of law and democracy in Europe.
Protection for a wide range of EU law breaches
Today's proposal ensures EU-wide protection for blowing the whistle on breaches of EU legislation in the fields of public procurement; financial services, money laundering and terrorist financing; product safety; transport safety; environmental protection; nuclear safety; food and feed safety, animal health andwelfare; public health; consumer protection; privacy, data protection and security of network and information systems. It also applies to breaches of EU competition rules, violations and abuse of corporate tax rules and damage to the EU's financial interests. The Commission encourages Member States to go beyond this minimum standard and establish comprehensive frameworks for whistleblower protection based on the same principles.
Clear Mechanisms and Obligations for Employers
All companies with more than 50 employees or with an annual turnover of over €10 million will have to set up an internal procedure to handle whistleblowers' reports. All state, regional administrations and municipalities with over 10,000 inhabitants will also be covered by the new law.
The protection mechanisms will have to set up must include:
Clear reporting channels, within and outside of the organisation, ensuring confidentiality;
A three tier reporting system of:
Internal reporting channels;
Reporting to competent authorities – if internal channels do not work or could not reasonably be expected to work (for example where the use of internal channels could jeopardise the effectiveness of investigative actions by the authorities responsible);
Public/media reporting – if no appropriate action is taken after reporting through other channels, or in case of imminent or clear danger to the public interest or irreversible damage;
Feedback obligations for authorities and companies, who will have to respond and follow-up to the whistleblowers' reports within 3 months for internal reporting channels;
Prevention of retaliation and effective protection: all forms of retaliation are forbidden and should be sanctioned. If a whistleblower suffers retaliation, he or she should have access to free advice and adequate remedies (for example measures to stop workplace harassment or prevent dismissal). The burden of proof will be reversed in such cases, so that the person or organisation must prove that they are not acting in retaliation against the whistleblower. Whistleblowers will also be protected in judicial proceedings, in particular through an exemption from liability for disclosing the information.
Effective Safeguards
The proposal protects responsible whistleblowing genuinely intended to safeguard the public interest. It therefore includes safeguards to discourage malicious or abusive reports and prevent unjustified reputational damage. Those affected by a whistleblower's report will fully enjoy the presumption of innocence, the right to an effective remedy, a fair trial, and the right of defence.
Background
Protection given to whistleblowers across the EU is currently fragmented and uneven. Only 10 EU Member States currently ensure that whistleblowers are fully protected. In the remaining countries, the protection granted is partial and only applies to specific sectors or categories of employee.
The Commission's proposal builds on the 2014 Council of Europe Recommendation on Protection of Whistleblowers, which recommends that "member states have in place a normative, institutional and judicial framework to protect individuals who, in the context of their work based relationship, report or disclose information on threats or harm to the public interest" and sets out principles to guide states when introducing or reviewing such frameworks.
The Council encouraged the Commission to explore the possibility of future EU action in its Conclusions on Tax Transparency of 11 October 2016. Civil society organisations and trade unions have consistently called for EU-wide legislation to protect whistleblowers acting in the public interest.
The Commission committed to take action to protect whistleblowers, as journalist sources, at the second Annual Colloquium on Fundamental Rights in November 2016, which was on the theme of 'Media Pluralism and Democracy'.
Strengthening whistleblower protection also gives effect to the Commission's commitment to put a stronger focus on enforcement of EU law, as set out in its 2016 Communication on EU Law: Better Results through Better Application
Geopolitics of Montenegrin Serbs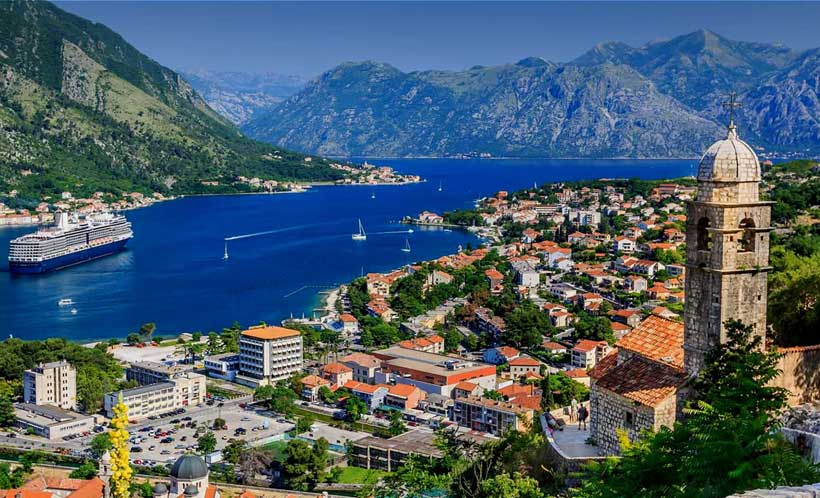 In Montenegro, since 1945 and the beginning of the rule of the Yugoslav Communists, the process of assimilation of Serbs into Montenegrins is implemented. But, in this process, it is important to highlight the geopolitical turning point in 1997, when the current regime began to implement openly anti-Serb policy. Because under communism, although almost everyone had to declare themselves nationally as Montenegrins, they were nonetheless Montenegrins who were in the Serbian/Slavic cultural and historical circle. However, since 1997, the current government in Montenegro has started the project of independent Montenegro, with the ultimate goal that ethnic Montenegrins no longer belong to the Serbian/Slavic cultural and historical circle. No less important is the task of keeping the number of Serbs in Montenegro at the level of statistical error. The entire policy of the ruling party in Montenegro comes down to the fact that Serbia, and now Russia, are external enemies, while Serbs in Montenegro are internal enemies.
However, it turned out that Serbs were a harder nut than expected, so the assimilation process did not go as quickly as expected. Although the independence referendum was held in 2006, the current government has failed to impose a Montenegrin identity on Serbs. And if all post-war censuses from 1948 to 2011 were fictitious and did not reflect the real situation, and on such census in 2011 there were "too many" Serbs. According to the US Central Intelligence Agency (CIA), 42.9 percent of Montenegrin people speak Serbian, and another two percent speak Serbo-Croatian, while Montenegrin speak 37 percent. Also interesting is the survey of CEDEM agency, which is close to the ruling party, according to which 46.6 percent of respondents believe that in Montenegro should only exist Serbian Orthodox Church, while only 4.9 percent believe that there should be only the Montenegrin Orthodox church
The final assimilation phase
The main objective of the current government is not only to build new generations through a purely Montenegrin identity, but through an anti-Serb identity. This process cannot be performed overnight, it takes time. In accordance with that, there was a Serbian writer expulsion from school textbooks, the introduction of two new characters, which even president of Montenegro Milo Djukanovic does not use.
Revision of history, recognition of Kosovo, the presence of a Montenegrin officer at the celebration of the Croatian military operation "Storm" (which carried out the largest ethnic cleansing since World War II), Montenegro's entry into NATO and open attack on the Serbian Orthodox Church, clearly indicate that the authorities are entering to the final phase of Serb assimilation. The system of work of the Democratic Party of Socialists and its political partners is simple. Authorities carry out assimilation, and encourages Serbs to emigrate. Serbs who cannot withstand social pressure are forced to leave Montenegro. However, those who are unable to leave Montenegro are forced to assimilate and become national Montenegrins. The Montenegrin national project is implemented primarily through economic pressure, that is the main lever for the assimilation of Serbs. And besides, there is strong pressure in the media, education system, cultural institutions… And as time goes regime is becoming more violent.
Warning of US hawk
Why Milo Djukanovic and Democratic Party of Socialists have Western support, explains openly one of the main American hawks for the Balkan – Daniel Serwer. In his statements, Serwer clearly states that there is no good opposition in Montenegro, because the opposition in Montenegro is not pro-NATO and pro-European, and it is not for an independent Montenegro.
"There is now no room for President Milo Djukanovic to step down because opposition forces in Montenegro are not only questioning NATO membership and joining the EU, but also Montenegrin independence. Government changeability is necessary and I would like to see it, better sooner rather than later. I also told that directly to the president, "explains Server.
Serwer also added that any change in government must offer an alternative.
"That is my point: without serious opposition, which is not tied to Moscow, it will be impossible for Djukanovic or his party to leave power. But that day should come. No one should stay in power forever. It's been a long time, though recognition must be given to the President for leaving office several times, "he stated.
Serwer "explained" that creating a serious opposition that is not influenced by the Kremlin is a long process.
"I do not think that the process of creating a pro-European opposition should wait for membership in the European Union. Already then, Montenegro should be a serious democracy. Of course, this process of creating opposition forces that will not rely on Moscow will take years. The time to begin this process is now. It is important to emphasize that those who oppose (Montenegrin) independence and NATO membership cannot form that serious pro-European opposition," stated Server.
The Machine can work without Djukanovic
However, the process of creating a pro-NATO and pro-European opposition has already begun, and gives excellent results. Political party Democratic Montenegro is today the strongest opposition party in Montenegro. And things will only get worse for Serbs and pro-Russian parties unless their policies, which have been catastrophic so far, change. At present, the main focus of the ruling party – apart from winning the next parliamentary elections – is the census, which will be held in 2021. The Government's goal is to make ethnic Montenegrins a majority nation, with less than 20 percent of Serbs. That is why the activity of the Montenegrin institutions, which is visibly intensified, will in future only be more brutal.
The striking brigade for the implementation of this plan is administration under Government control, that does strong economic pressure on Serbs. In addition to strong economic pressure, there is also media pressure in which an open revision of history is performed. However, some analysts think that it is enough that Milo Djukanovic leave the power, and that the Serbs after that will once again be the majority in Montenegro. But, they are wrong! Because, we could see that even when Djukanovic was withdrawing, the anti-Serb machine was working excellent. The reason for this is that the seat of the anti-Serb machine is not in Montenegro, but outside. Behind the anti-Serb machine in Montenegro are liberals from the West. It is reasonable to suspect that the forthcoming census will be adjusted by the Government of Montenegro according to their interests, intentions and goals. Recent data on the number of Serbs working in Montenegrin institutions – presented by journalist Gojko Raicevic – was just another confirmation of discrimination against Serbs in that country. According to a document published by the Ministry of Human and Minority Rights in 2015, it is clear that Serbs have been expelled from the Montenegrin system. Without a doubt, now the situation is even worse.
In light of the above, an urgent change in Serbian politics in Montenegro is needed. If Serbs want to survive in Montenegro, it is necessary to pursue a Serb policy, not a civic one. It is simply unbelievable that Serbs who make up a third of Montenegro's population do not have a serious national party. How is it possible that New Serbian Democracy, a party that was founded to fight for Serbian interests in Montenegro, becomes part of civic party Democratic Front?! And now it can be seen that New Serbian Democracy is more concerned with the summer tourist season in Montenegro than about the position and rights of Serbs in Montenegro. The conclusion is clear, If there is no will and desire in New Serbian Democracy to return to the policy of protecting Serbian national interests, then it is necessary to form a new Serbian party, with strong infrastructure. A party that would predominantly work on the protection of Serbian national interests in Montenegro. And that means the establishment of new pillars of Serbian politics in Montenegro.
Five pillars of new Serbian Policy in Montenegro
1. The presence in every government of Montenegro. The New Serbian Democracy, which is now pursuing civic policies within the Democratic Front, is not interested to become a part of Montenegrin government as long as the Democratic Party of Socialists is in Government. Therefore, Serbs are the only ethnic group in Montenegro that is not represented in the Government of Montenegro. This needs to be changed, as Serbs must be part of the Government of Montenegro. Serbs need to take care of their interest only, which is why equal representation of Serbs in the institutions of Montenegro is needed. In principle, that means three to four ministries in the Government of Montenegro, as well as the position of Deputy Prime Minister of Montenegro, would belong to the Serbs. And in the future, support for that Serbian party would only increase. Because in that case, the Serbs would no longer be forced to vote for the Democratic Party of Socialists, but since the institutions of the system would be opened to them, they could decide for themselves who they would vote for. So that Serbian party would in future probably be the strongest political party in Montenegro.
2. Equal media representation. This is primarily related to the fact that the first or second Program of Radio Television of Montenegro broadcasts contents in Cyrillic and to have shows about Serbian history, art, culture…
3. Lifting of sanctions against Russia, and the establishment of strong cooperation with the institutions of Russia. There is no doubt that in Montenegrin government pro-Montenegrin option will oppose to cooperation with Russia, but Serb representatives in the Montenegrin government could, within their competencies, establish strong cooperation with the institutions of the Russian state.
4. Work on the formation of pro-Serbian and pro-Russian television that would have national frequency. Considering that Montenegro is a small country with a population of about 600,000, it would not require much money to set up such a television.
5. Formation of historical and economic region, which would also have partial autonomy. The municipalities of Niksic, Pljevlja, Zabljak, Pluzine, Savnik and Herceg Novi can thus constitute the economic region of Old Herzegovina. Such a region, which is also a historical region (Old Herzegovina belonged to Montenegro after the Berlin Congress) is important because it would make political balance. Old Herzegovina is predominantly populated by Orthodox Christians and is not pro-Montenegrin and pro-NATO oriented., but pro-Serbian and pro-Russian. In that region, the pro-Serb and pro-Russian parties would have power. More autonomy is also needed in places where Serbs are the majority population. Recently, the city municipality of Tuzi (predominantly Albanian-populated) became an independent municipality, having separated from Podgorica (the capital of Montenegro). At the same time, the pro-Serb settlement Zlatica (which is almost twice the size of Tuzi) does not even have the status of a city municipality. Perhaps the example of Zlatica and Tuzi is the best indicator of the disastrous policy of Serb political representatives in Montenegro. Because unlike Albanian political representatives who are predominantly concerned with Albanian national interests, Serb political representatives do almost nothing that is in Serbian national interest.
Only with such a policy can Serbs in Montenegro survive, and expect to be the main political factor in Montenegro again. What is important to point out is that as much as Serbian influence in Montenegro strengthens, so much will strengthen Russian influence in Montenegro. That is why Russia should more strongly and directly support the improvement of the position of Serbs in Montenegro.
From our partner International Affairs
Serbia bracing up for "difficult autumn"
Serbia is preparing for a "difficult autumn" as it tries to resolve the Kosovo problem, President Aleksandar Vucic said following a visit to the United States. He described the discussions he had had in Washington as "extremely important," all the more so amid the continuing disagreements over the situation in Kosovo.
"A difficult autumn awaits us, a difficult winter awaits us. First and foremost because of Kosovo," Vucic said. Pledging continued fight for Serbia and the ethnic Serbs living in Kosovo, he still admitted that Serbia is too small to influence the policies of a "giant" like the United States. Aleksandar Vucic, Kosovo leader Hashim Thaci, French President Emmanuel Macron, German Chancellor Angela Merkel and possibly a senior member of the Trump administration are expected to meet in Paris later this month to discuss the situation in Kosovo. The participants are expected to agree a list of measures to normalize relations between Belgrade and Pristina, including provisions for redrawing Kosovo borders and the transfer of the country's Serb-populated northern regions to Serbian control. The Serbian opposition strongly rejects the idea of signing such an agreement with Pristina under the auspices of the European Union and the United States.
President Vucic may still be forced to go for it as "the lesser evil," which may require a certain degree of pragmatism on Russia's part. According to the new Russian ambassador in Belgrade, Alexander Botsan-Harchenko, who formerly represented Russia in the mediating "troika" overseeing the Kosovo status talks, Moscow "supports and encourages everything regarding the initiative role of Belgrade. If some decisions are made, and if Serbia asks Russia to join a certain group of states, then we can (why not) go for it. But at the same time, our position and our commitment to Resolution 1244 must be taken into account. There is no other option for us and, I think, for Serbia either. We are now ready to contribute to the resumption of dialogue. "
Serbia's other option is refusal to continue negotiations with Kosovo and, therefore, to see its application for EU membership suspended. This is a possibility many in Europe and the US are fully aware of.
"The Serbian point of view is that Russia defended its position on Kosovo in the UN and opposed NATO bombings," former US ambassador to Belgrade, William Montgomery, said, adding that, according to opinion polls, Russia still tops the list of countries Serbians like most.
He described the EU's position on Serbia's membership in the bloc as short-sighted and a strategic mistake, emphasizing that the European Union will bear responsibility for the consequences of its failure to do more to bring Serbia into the bloc.
Serbian officials are equally aware of the complexity of the situation. In an interview with the Belgrade-based newspaper Vecernje novosti, diplomat Zoran Milivojevic expects a clash of "big power" interests in the Balkan region: "Serbia clearly occupies an important place in this standoff and will continue doing so since the West has not yet abandoned its interests in this region. Because Serbia plays such a decisive role in the Balkans, it will be the primary target of Western pressure."
If Serbia rejects a deal with Kosovo, thus complicating its relations with Brussels, it will inevitably have to generally revise its foreign policy priorities and start to actively build up across-the-board cooperation with Russia and other global "centers of power" outside the Euro-Atlantic camp. This also implies closer trade and other economic ties with Russia and its Eurasian allies.
One such cooperation format is the Eurasian Economic Union (EAEU), which can offer Belgrade a serious trade and economic alternative to European integration, while simultaneously allowing Serbia to serve as a "bridge" in the economic (and, therefore, political) relations between Russia and the West.
Meanwhile, Belgrade is already taking concrete steps in this direction. On August 15, Serbia officially joined the Asian Infrastructure Investment Bank (AIIB) as its 73rd member with the country's finance minister Sinisa Mali describing this as an important event, which offers Serbia access to easy loans to finance the implementation of priority projects.
In addition to members from the Asia-Pacific region, the Beijing-headquartered AIIB, which has been operating since 2016, also has among its members such leading European countries as Britain, Germany, France, Italy, the Netherlands and Spain.
In October, Serbia may sign an even more economically and politically significant agreement on a free trade zone with EAEU member-countries. According Russia's envoy in Belgrade, Alexander Botsan-Kharchenko, such an agreement is expected to be inked on October 25.
"This is a significant event, which has naturally attracted a lot of media attention. The EAEU is an effective integration project that meets modern requirements. For Belgrade, the implementation of the document will mark a completely new stage of presence in Eurasia, with an access to a market of over 182 million consumers and a combined GDP exceeding $1.9 trillion," Botsan-Kharchenko emphasized, adding that "Serbia may eventually become a bridge between the EU and the EAEU."
Established on the basis of the Customs Union and the Common Economic Space, the Eurasian Economic Union has been in business since January 1, 2015 and currently includes Armenia, Belarus, Kazakhstan, Russia and Kyrgyzstan, with Moldova having an observer status.
During the August 2019 meeting by the Eurasian Intergovernmental Council Russia's Prime Minister Dmitry Medvedev emphasized the need to speed up the preparation of agreements on the EAEU free trade zone with Serbia and Singapore. He also called for expediting the implementation of integration processes within the EAEU itself.
"Negotiations on free trade are successfully underway with Singapore, Israel, Egypt, and an interim agreement on a free trade zone with Iran, an agreement on trade and economic cooperation with China will soon be launched. This gives our goods certain advantages in these countries' markets," Medvedev said. He emphasized that the EAEU also seeks to expand the number of its foreign partners, including through regional organizations such as ASEAN.
"We strongly support such activities. I think that it is necessary to expedite the procedures that are necessary to sign agreements on a free trade zone with Serbia and Singapore," Medvedev added.
In addition to the EAEU, Serbia has spent the past few years trying to participate more actively in other integration projects outside the Euro-Atlantic area. Since 2013, it has had an observer status at the Parliamentary Assembly of the Collective Security Treaty Organization, and, according to various reports, is now mulling the prospect of its gradual "connection" to the structures of the Shanghai Cooperation Organization. Increased US and EU pressure on Belgrade concerning the issue of Kosovo recognition will obviously give an additional boost to the abovementioned trend, which objectively meets the interests of the Russian Federation.
From our partner International Affairs
President Macron's plans and ambitions: Realism or rhetoric?
In the run-up to the G7 Summit in Biarritz, French media reports focused on the global political and diplomatic plans of President Emmanuel Macron. Journalists say that for President Macron the G7 summit presented a unique opportunity "to return France its historical role of a " mediator "in global conflicts and to contribute to outlining a new geopolitical agenda". How realistic are such ambitions?
France acquired the tradition of demonstrating its sovereign and special international status in the times of Charles de Gaulle. Paris also succeeded in securing effective mediation in various conflicts under Francois Mitterrand and Nicolas Sarkozy. Playing into Paris' hands is the nuclear arsenal, the status of a permanent member of the UN Security Council, and one of the leading roles in the global arms market. France's mediation efforts have won perhaps the greatest trust among the Western powers. In the past, France was able to speak on behalf of united Europe, while Macron has repeatedly signalled his determination to consolidate the EU foreign policy.
The EU itself has long been showing a "tendency to strengthen its role as a major player in global crisis management." But in order to expand diplomatic and humanitarian mediation efforts under the patronage of the EU one should follow the current format of making foreign policy decisions within the community, which requires the consensus among all the participants. Thus, to guarantee the agenda and the role claimed by President Macron it is essential to reconsider foreign policy priorities and probably reform the institutions of united Europe. It is also necessary to consolidate and coordinate the increasingly "mosaic" and diverse interests of member states, which are regularly at odds with one another even on issues that are declared by the EU leadership as being of top priority for all member countries. A long-term geopolitical strategy continues to play a significant role too, as a result of which the development of a pan-European foreign policy turns into a frantic search for the "lowest common denominator".
In the meantime, Macron's "mediation" on a number of priority issues has been mostly about defending the interests of France. The second half of last year was marked by relations between the two "locomotives" of the EU – France and Germany – hitting a new level. However, the beginning of February this year saw serious disagreements between the two parties. As it turned out, the interests of Paris and Berlin clash. Regarding the construction of the Nord Stream-2 gas pipeline, France managed to impose on Germany "the format that the German government wanted to avoid." On the issue of transatlantic trade, the French position blocked the start of negotiations with the US, which was fraught with the introduction of duties against German-made products, in the first place. The EU members managed to overcome this discord only by mid-April. Finally, this summer, after a fierce backstage fight, in which Macron took center-stage, a "compromise" was reached in favor of France. The posts of presidents of the European Commission and the European Central Bank went to candidates who are politically dependent on Paris. This so-called realpolitik inevitably raises the question of whether Macron with his geopolitical ambitions might push Europe to an even greater internal split? In this regard, there have been suspicions that the French president wants to turn the EU countries into an instrument of Paris's foreign policy agenda.
Some experts believe that Macron's ambitions are great beyond description, that "his horizon is the future balance of strength in the world." They talk about his determination to "go beyond European and Atlantic solidarity and return to the concept of multipolarity and multilateralism". The Champs Elysees seeks to maintain a regular dialogue even with powers whose interests run counter to Western ones; and even with countries that oppose the allies of France. At the same time, Macron is committed to NATO and "is seeking to rely on the concerted effort of the North Atlantic Alliance" in a hope to give the organization a "new impetus". In addition, Macron's foreign policy follows clear "ideological principles," which make his supporters look to him with double hope, while opponents see him as the main obstacle to effective diplomacy. All this restricts his "independence" and the possibility of new agreements.
Finally, many analysts say that Macron's foreign policy is characterized by controversy. A few days ago he said that he wanted to turn France into a "power of equilibrium." But just a year ago, he demonstrated strong support for the German idea of transforming the entire European Union into a balancer, "balancing" the international situation. What is closer to Macron, the "individual leadership" of France or the "sovereignty of Europe"? Over the previous two years, being at the top of power, he has significantly changed his views on the transatlantic model of globalism and signaled the need to give a new role to Europe, to "strengthen" its position in the new alignment of forces. A year ago, Macron urged the EU to "guarantee its own security", since such powers as China and the United States hardly see Europe as an equal force. And if the Europeans fail to quickly change this state of things, then "we are in for a bleak future" . On August 27 this year, as he spoke at a meeting of ambassadors, Macron stated: "we are witnessing the end of Western hegemony in the world," … "new powers are coming to the fore", primarily Russia and China." In this regard, it is important to understand what is behind the frequent change in rhetoric of the current French leader, adaptability of a far-seeing strategist or a time-serving pragmatism of a politician whose major concern is the next elections.
Meanwhile, the mediatory efforts undertaken by Macron while getting ready and holding the G-7 summit were also filled with striking discrepancies. The participants failed to work out a "model" on the Iranian dossier, although the media had reported a statement by the French president on reaching an agreement on "joint communication" on maintaining a nuclear deal with Tehran. However, it soon became clear that Paris is in no position to influence the United States. In the Russian direction, Macron yet again tried to "entice" Moscow by the narrative about "Europe from Lisbon to Vladivostok." However, Russia remembers that a little over a year ago Macron spoke as confidently about it as being "non-Europe", thereby suggesting conflicting trends in international relations – the "Big Seven" is more and more like a relic of the past", and a return to this past in its "current format makes no sense".
What inspires some optimism is the fact that Macron seems to understand that Russia is not the country that can be "excluded from all parties." The broader its cooperation with Moscow, the fewer problems the West will face. Addressing the French ambassadors during a meeting mentioned above, the French president made it clear "that France needs to reconsider and build new relations with Russia." But one of the many puzzles he has to solve along the way is the "paradoxical situation" that has developed to date, "when the same countries within NATO and the European Union support opposite political platforms regarding Russia." As part of the NATO agenda, Europeans are pursuing a policy that combines a "systematic (military-political) deterrence of Russia" with the need to maintain dialogue, despite the fact that all formal options for such a dialogue are frozen. As part of its own agenda, the European Union, whose 22 members are also members of NATO, terminated a "systematic political dialogue" with Moscow, based on the Partnership and Cooperation Agreement, in 2014. At the same time, there are statements about the expediency of selective cooperation – in issues that meet the interests of the EU. "How is it possible to develop selective cooperation without political dialogue? How is this possible without coordination of mutual interests?" – an expert from the Institute of Europe of the Russian Academy of Sciences asks.
Meanwhile, the world is in acute need for "global legal standards", and not only for the regulation of traditional "conflict-use of force" challenges. Issues such as climate change, threats to destabilize cyberspace, attacks on informational reality, cross-border social disasters, pandemics cannot be handled effectively at the level of individual states. More and more issues enter "the world level". And if we are to address them, we need the appropriate "world order", the harmonization of universal norms so that national governments could work together to "secure effective global governance".
Russia welcomes and is actively participating in transforming international relations in the direction of "multilateral diplomacy", "collective efforts at the level of the international community and the regions." However, are the West as a whole, and France, in particular, ready for "restraint and compliance with the international law and order", for "working in an open format", and for abandoning the "ideology-dominated foreign policy"? Are they ready that the new model of diplomacy will be "complex and multifaceted," sometimes fitting badly if at all into any previous formats in terms of the approaches that will be adopted by all participants. For example, in the case of the "Big Seven," Moscow suggests looking at the situation from a broader perspective and discuss the prospects for the Group's modernization not only through the return of Russia, but also through expansion to include India and China. This transformation into the "Big Ten" may become "a powerful phenomenon in global politics that would change directions, approaches and formats".
Emmanuel Macron is thus to provide the answers to a large number of difficult questions: to what extent can France be independent in determining its foreign policy? Also, is it possible to effectively play the role of an "intermediary power", while remaining bound by the "strict obligations to other players"? And wouldn't it be possible for France, in that case, to find itself squeezed between the "hammer" of the everyday realities of modern international politics and the "anvil" of the maxim, which they say belongs to the French, that genuine realists "demand the impossible"?
From our partner International Affairs