Country Forecast: Turkey, Erdogan and Where Policy Leads
With its 81 provinces and a population of nearly 80 million inhabitants, Turkey continues its state of emergency imposed under President Tayyip Recep Erdoğan after a planned coup in July, 2016. The attempted overthrow of Mr. Erdogan, by a faction of the Turkish Army, was said to be blamed for the putsch.  Though failed, the violence predetermined how Turkey would proceed via Erdogan in the future to prevent further upheavals seen that July. Today, the outcomes of governmental acts have long-term consequences to democratic principles particularly freedom to protest and protect speech, basic tenets of a freely elected and democratic society. Using its emergency powers does question the country's leadership role in the eastern region of Europe and global image to the outside world. Its stability as a NATO member as well as its prospects joining the EU too comes into question. In addition, extending a state of emergency has a parallel affect regarding foreign investments within an unstable environment, i.e. companies and or countries pulling out from Turkey.
While Erdoğan insists he remains committed to the goal of eventual membership in the EU, he has made clear that he does not intend to let that objective interfere with other priorities, namely, the pursuit of expanded political power at home and what he deems to be Turkey's national interests abroad. Erdogan feels the state of emergency is needed to deal with ongoing security threats; and, while the President doesn't seem bothered image wise by a potential extension, this type of instability may negatively impact foreign capital inflows further fracturing new investment opportunities from the outside.
Erdogan's government re-structure through a referendum back in June, 2017 will change the constitution from a parliamentary style to a presidential form of government consolidating more power to this president in 2018. It abolishes the office of the prime minister while decreasing the powers of Turkey's parliament. These moves coupled with a more authoritarian disposition from Mr. Erdogan has fractured the nationalistic bloc causing consternation amongst political parties ultimately setting up Meral Aksenar, former interior minister, to challenge the AKP/Erdogan in the 2019 elections(now there's a chance snap elections will take place this summer). This may have more implications to new investment strategies, and; yes, political instability will continue to develop and unfortunately flourish due to Erdogan's attempt to reign in critics.
A potential extension of state of emergency for the seventh time erodes government transparency and confidence, and the Turkish government's rule of law. Since an extension will soon be discussed in Ankara, the question of political stability and policy initiatives promoting economic growth invariably are linked to upticks of foreign investments and portfolios to the nation. While stability versus instability is a main topic of discussion, Turkey's GDP has grown over 7 per cent in 2017 making the nation an attractive investment center. Not bad for a country with all the volatility described.
Policies Relevant to Investing Strategies and Market Opportunities
Political instability can dampen the attractiveness for direct investment while the need for enhanced security, the issue of domestic uncertainty, and populist spending measures, too, may generate financial market volatility affecting capital inflows. Yet, Turkey, with its strong domestic market and growing economy, remains an attractive point to foreign investors. For instance, over the past year, FDI increased over 50 per cent where both European, Asian and Middle Eastern countries have become key to Turkey's success as an investment hub.
These successes may be attributed to central government policies. One in particular is The Turkish Commercialization Code(TCC). Enacted in 2012, the code enables foreign investors to decide whether to partner or not to partner with Turkish businesses with respect to new ventures in the country.Also of interest to those companies and countries viewing Turkey as an investment center is the opportunity to obtain Turkish citizenship and its combined benefits, such as the access to all Schengen Zone countries. On that note, Turkey has signed bilateral agreements with other countries for the protection of foreign investments.  One in particular is Japan, which in recent years has invested over $200,000,000 in Turkey in the automotive, consumer electronics, energy and food sectors. As an aside, compared with other countries, Japan did not withdraw or disinvest from Turkey after the attempted coup nor did they remove funding regarding risks related to terror, open borders, and Erdogan's crack down on dissidents.  Despite the risks involved, Turkey remains attractive to countries wanting to tap into its market of nearly 80 million people. In addition, along with household spending, the country's economy has grown giving fodder to Japan's foresight to remain a player in investing and commercial development, job and wage creation.
Bilateral agreements steady the course in future investment opportunities. Japan is a perfect example to how and why these agreements help sow new commercial relations where both countries benefit from these activities.
Tax incentives to entice new business development, both externally and internally, include generous tax breaks, tax reductions and exemptions from import duties to Turkish businesses. These initiatives, for instance, have helped incentivize domestic defense projects within the country which is trying to increase home-grown defense programs such as building unmanned aerial drones, a defense linchpin that many in the Turkish military and civilian leadership see as essential in fighting asymmetric battles against countries like Syria or Iraq.
Regarding economic relations, Free Trade Agreements (FTAs) mark poignant milestones between Turkey and other nations looking to develop new markets in each other's countries. For example, both the Erdogan regime and nations like Singapore, Algeria, and Serbia to name a few, have benefited through mutual investments. In Algeria, for instance, both countries signed a number of agreements particularly related to the petrochemical sector. Algeria's state-owned energy company SONATRACH and Turkey's Rönesans and Bayegan energy firms agreed on a $1 billion investment. Cooperation on agriculture too was signed between the agriculture ministers of the two countries to continue the notion of bilateral investments.
Economic Conditions
Turkey's economy will be influenced by consumers being a bit more cautious than the previous several years. Compared to last year, consumer credit slowdowns are expected to determine Turkey's economic outlook for 2018-2020.  2017 saw debt fueled spending. Ensuing years not so much buying via credit; in addition to a slow down credit wise, account deficits and inflation pose downside risks to growth. Yet, Turkey remains one of the world's top 20 economies due to steady growth and pragmatic fiscal policies.
Yet a dichotomy exists: political risk and monetary policies have impeded the Turkish economy particularly in reference to high inflation rates which hover close to 10.50 per cent. As of January, 2018, inflation did not come down to single digits and remained at 10.2 percent.
Central governments budget balance last year saw TL 47.4 BN or $13BN+ deficit projection. With respect to GDP growth, it is expected to be .80 percent end of Q2/18. In general GDP growth is projected to trend around 1.00 percent in ensuing years.
While business investments will help the country develop new markets for its people, unemployment is still projected to be between 9.9 percent to 10.2 percent in 2018. Gaining the upper hand to overcome high unemployment will take a continuing recovery and new measures to lower the unemployed and create new jobs. Job growth in the country will be driven by the industrial, services and construction sectors.
The Turkish lira, which has struggled in recent months on political concerns as well as worrying inflation has lost over five percent of its value against the dollar since January. This may portend to what Turkey and Erdogan, specifically, are facing in the future.
Looming Large: The Middle East Braces for Fallout of US–China Divide
China would like the world to believe that the Middle East and North Africa region does not rank high on its totem pole despite its energy dependence, significant investment and strategic relationships with the region. In many ways, China is not being deceptive. With relations with the United States rapidly deteriorating, China's primary focus is on what it views as its main battleground: the Asia–Pacific. China is nonetheless realising that remaining aloof in the Middle East may not be sustainable.
In assessing the importance of the Middle East and North Africa region to China, the glass seems both half full and half empty with regard to what it will take for China to secure its interests. In the final analysis, however, the glass is likely to prove to be half full. If so, that will have significant consequences for Chinese policy towards and engagement in the region.
Indeed, measured by Chinese policy outputs such as white papers or level of investment as a percentage of total Chinese overseas investment, the Middle East and North Africa region does not emerge as a priority on Beijing's agenda even if virtually all of it is packaged as building blocks of its Belt and Road Initiative (BRI).
It was only in 2016 that China published its first and only Middle East-related white paper, devoted to the Arab states rather than the region as a whole. Apart from rehashing China's long-standing foreign policy principles, the paper highlighted opportunities for win-win cooperation in areas ranging from energy, trade and infrastructure, but also technology, nuclear development, and space.[1]
Investment figures tell a similar story. Of the US$2 trillion in Chinese overseas investment between 2005 and 2019, a mere US$198 billion or under 5 per cent went to the Middle East and North Africa.[2]
The region is unlikely to climb Beijing's totem pole any time soon, given the dramatic decrease in Chinese foreign investment in the last four years to about 30 per cent of what it was in 2016[3] and expectations that Middle Eastern and North African economies will significantly contract as a result of the coronavirus pandemic and sharp downturn in energy markets.[4]
Half Full Rather Than Half Empty
What turns the glass half full is the fact that the Middle East fulfils almost half of China's energy needs.[5] Moreover, some of China's investments, particularly in ports and adjacent industrial parks in the Gulf, Egypt and the eastern Mediterranean,[6] are strategically important. What was once primarily a Belt and Road "string of pearls" linking Indian Ocean ports has evolved into a network that stretches from Djibouti in east Africa through Oman's port of Duqm and the United Arab Emirates' Jebel Ali port into a near dominant position in the eastern Mediterranean and onwards into the Indo–Pacific.
China already exerts influence in the eastern Mediterranean region through its involvement in ports in Greece, Turkey, Israel and Egypt. It has expressed interest in the Lebanese port of Tripoli and may well seek access to the Russian-controlled ports of Tartus and Latakia if and when it gets involved in the reconstruction of war-ravaged Syria. This was one reason that the Trump administration warned the Israelis that China's engagement in Haifa, where they have built their own pier, could jeopardise continued use of the port by the US Sixth Fleet.[7]
Asserting the importance of the Middle East, Niu Xinchun, director of Middle East Studies at China Institutes of Contemporary International Relations (CICIR), wrote back in 2017: "The politics and security of the Middle East [are] inextricably related to China. This is the first time in history that China has possessed political, economic and security interests in the Middle East simultaneously."[8] CICIR is widely viewed as China's most influential think tank.
More recently, however, Niu has taken what seems like an antipodal position, maintaining that the Middle East does not feature prominently in China's strategic calculations. In a webinar in May 2020, he said: "For China, the Middle East is always on the very distant backburner of China's strategic global strategies … Covid-19, combined with the oil price crisis, will dramatically change the Middle East. [This] will change China's investment model in the Middle East."[9] Niu emphasised that China considers the Asia–Pacific rather than the Middle East as its primary battleground for differences with the United States.
This shift was part of a game of shadow boxing to subtly warn the Gulf, and particularly Saudi Arabia, to dial down tension with Iran to a point where it can be managed and does not spin out of control.
To ensure that its message is not lost on the region, China could well ensure that its future investments contribute to job creation, a key priority for Middle Eastern states struggling to come to grips with the economic crisis as a result of the pandemic and the sharp fall in oil demand and prices. Middle East political economy scholar Karen Young noted that Chinese investment has so far focused on a small number of locations and had not significantly generated jobs.[10]
Subtle Messaging
Subtle Chinese messaging was also at the core of China's public response to Iranian leaks that it was close to signing a 25-year partnership with the Islamic republic that would lead to a whopping US$400 billion investment to develop the country's oil, gas and transportation sectors.
China limited itself to a non-committal on-the-record reaction and low-key semi-official commentary. Foreign Ministry spokesman Zhao Lijian, a "wolf warrior" or exponent of China's newly adopted more assertive and aggressive approach towards diplomacy, was exceptionally diplomatic in his comment. "China and Iran enjoy traditional friendship, and the two sides have been in communication on the development of bilateral relations. We stand ready to work with Iran to steadily advance practical cooperation", Zhao said.[11]
Writing in the Shanghai Observer, a secondary Communist party newspaper, Middle East scholar Fan Hongda was less guarded. Fan argued that the agreement, though nowhere close to implementation, highlighted "an important moment of development" at a time that US–Chinese tensions allowed Beijing to pay less heed to American policies. In saying so, Fan was echoing China's warning that the United States was putting much at risk by retching up tensions between the world's two largest economies and could push China to the point where it no longer regards the potential cost of countering US policy as too high.[12]
Diplomacy with "Chinese Characteristics"
Nonetheless, China's evasiveness on the Iran agreement constituted a recognition that the success of its Belt and Road initiative and its ability to avoid being sucked uncontrollably into the Middle East's myriad conflicts depends on a security environment that reduces tension to manageable proportions and ensures that disputes do not spin out of control.
"Beijing has indeed become more concerned about the stability of Middle Eastern regimes. Its growing regional interests combined with its BRI ambitions underscore that Middle East stability, particularly in the Persian Gulf, is now a matter of strategic concern for China," said Mordechai Chaziza, an expert on China–Middle East relations.[13]
Reflecting what appears to be a shift in China's approach to regional security, Chinese scholars Sun Degang and Wu Sike described the Middle East in a recently published article as a "key region in big power diplomacy with Chinese characteristics in a new era". Sun and Wu suggested that Chinese characteristics would involve "seeking common ground while reserving differences", a formula that implies conflict management rather than conflict resolution. The scholars said Chinese engagement in Middle Eastern security would seek to build an inclusive and shared regional collective security mechanism based on fairness, justice, multilateralism, comprehensive governance and the containment of differences.[14]
A Blunt Rebuke
But China's conflict management diplomacy may not go down well with the Gulf Arabs, notably Saudi Arabia, judging by what for Saudi media was a blunt and rare recent critique of the People's Republic. In a game of shadow-boxing in which intellectuals and journalists front for officials who prefer the luxury of plausible deniability, Saudi Arabia responded bluntly in a column authored by Baria Alamuddin, a Lebanese journalist who regularly writes columns for Saudi media.
Alamuddin warned that China was being lured to financially bankrupt Lebanon by Hizballah, the Iranian-backed Lebanese Shi'a militia. She suggested in a column published by Arab News, the kingdom's primary English-language newspaper, that Hizballah's seduction of China was occurring against the backdrop of a potential massive 25-year cooperation agreement between the People's Republic and Iran. "Chinese business and investment are welcome, but Beijing has a record of partnering with avaricious African and Asian elites willing to sell out their sovereignty. Chinese diplomacy is ruthless, mercantile and self-interested, with none of the West's lip service to human rights, rule of law or cultural interchange", Alamuddin charged.[15] She quoted a Middle East expert from a conservative US think tank as warning that "vultures from Beijing are circling, eyeing tasty infrastructure assets like ports and airports as well as soft power influence through Lebanon's universities."[16]
Abandoning Saudi official and media support for some of the worst manifestations of Chinese autocratic behaviour, including the brutal crackdown on Turkic Muslims in Xinjiang and the repression of democratic expression and dissident, Alamuddin did not mince words.
Alamuddin went on to assert that "witnessing how dissident voices have been mercilessly throttled in Hong Kong, Tibet and Xinjiang, Lebanese citizens are justifiably fearful that their freedoms and culture would be crushed under heavy-handed, authoritarian Chinese and Iranian dominance, amid the miserable, monolithic atmosphere Hizballah seeks to impose."[17]
A Hair in the Soup
Further complicating Chinese efforts to nudge the Middle East towards some degree of stabilisation are China's technology and military sales with no constraints on their use or regard for the potential geopolitical fallout. The sales include drone and ballistic missile technology as well as the building blocks for a civilian nuclear programme for Saudi Arabia, which would significantly enhance the kingdom's ability to develop nuclear weapons should it decide to do so at some point in future.
These sales have fuelled fears, for different reasons, in Jerusalem and Tehran of a new regional arms race in the region.[18] Israel's concerns are heightened by the Trump administration's efforts to limit Israeli dealings with China that involve sensitive technologies while remaining silent about Chinese military assistance to Saudi Arabia.[19]
Washington's indifference may be set to change, assuming that the recent rejection by the US Embassy in Abu Dhabi of an offer by the UAE to donate hundreds of Covid-19 test kits for screening of its staff was a shot across the Gulf's bow. A US official said the tests were rejected because they were either Chinese-made or involved BGI Genomics, a Chinese company active in the Gulf, which raised concerns about patient privacy.[20]
The American snub was designed to put a dent in China's "Silk Road" health diplomacy centred on its experience with the pandemic and predominance in the manufacturing of personal protective and medical equipment as well as pharmaceutics.
A Major Battlefield
Digital and satellite technology in which Chinese telecommunications giant Huawei's 5G cellular technology rollout is but one component seems set to be a major battlefield. US officials have warned that the inclusion of Huawei in Gulf networks could jeopardise sensitive communications, particularly given the multiple US bases in the region, including the US Fifth Fleet in Bahrain and the forward headquarters of the US military's Central Command, or Centcom, in Qatar.[21]
US Assistant Secretary of State for Near Eastern Affairs David Schenker said the United States had advised its Middle Eastern partners in the region to take "a careful look at investment, major contracts and infrastructure projects." He warned that certain engagements with China could "come at the expense of the region's prosperity, stability, fiscal viability and longstanding relationship with the United States."
Schenker cautioned further that agreements with Huawei meant that "basically all the information and your data is going to Huawei, property of the Chinese Communist Party". The same, he said, was true for Chinese health technology. "When you take a Covid kit from a Chinese genomics company, your DNA is property of the Chinese Communist Party, and all the implications that go with that."[22]
The rollout of China's BeiDou Satellite Navigation System (BDS), which competes with the United States' Global Positioning System (GPS), Russia's GLONASS and Europe's Galileo,[23] sets the stage for battle, with countries like Saudi Arabia, the UAE, Egypt and Turkey having signed up for what is known as China's Digital Silk Road Initiative.[24] So far, Pakistan is the only country known to have been granted access to BeiDou's military applications, which provide more precise guidance for missiles, ships and aircraft.[25]
Promoting "the development of the digital service sector, such as cross-border ecommerce, smart cities, telemedicine, and internet finance (and) … technological progress including computing, big data, Internet of Things, artificial intelligence, blockchain, and quantum computing," the initiative will enable China to enhance its regional influence and leverage in economics as well as security.[26] China's state-owned international broadcaster, China Global Television Network (CGTN), implicitly anticipated US resistance to its Middle Eastern partners being roped into a Chinese digital world when it declared that "a navigation system is like a gold key of your home that should be kept only in your own hands, not others."[27]
The successful launch in July of a mission to Mars, the Arab world's first interplanetary initiative, suggested that the UAE was seeking to balance its engagement with the United States and China in an effort not to get caught in the growing divergence between the two powers. The mission, dubbed Hope Probe, was coordinated with US rather than Chinese institutions, including the University of Colorado Boulder's Laboratory for Atmospheric and Space Physics and NASA's Mars Exploration Program Analysis Group (MEPAG). It launched from Japan's Tanegashima Space Center.[28]
You Can Run, But You Can't Hide
A continuously deteriorating relationship between the United States and China is a worst-case scenario for Middle Eastern states. It would progressively reduce their ability to walk a fine line between the two major powers. That would be particularly true if US efforts to force its partners to limit their ties to the People's Republic compel China into defiance by adopting a more geopolitically assertive posture in the region.
Ironically, the US desire to recalibrate its engagement with the Middle East and a realisation on the part of Saudi Arabia and Iran that their interests are best served by a reduction of tension rooted in an arrangement based on a non-aggression agreement could serve as a catalyst for a new Gulf security architecture. This could involve embedding the US defence umbrella, geared to protect Gulf states against Iran, into a multilateral structure that would include rather than exclude Iran and involve Russia, China and India.
A more multilateral security arrangement potentially could reduce pressure on the Gulf states to pick sides between the United States and China and would include China in ways that it can manage its greater engagement without being drawn into the region's conflicts in ways that frustrated the United States for decades.
None of the parties are at a point where they are willing to publicly entertain the possibility of such a collective security architecture. Even if they were, negotiating a new arrangement is likely to be a tedious and tortuous process. Nonetheless, such a multilateral security architecture would ultimately serve all parties' interests and may be the only way of reducing tension between Saudi Arabia and Iran and managing their differences, which would in turn help China secure its energy and economic interests in the region. This reality enhances the likelihood that the glass is half full in terms of China ultimately participating in such a multilateral security arrangement, rather than half empty, with China refraining from participation.
Author's note: This article first appeared in Middle East Insights of the National University of Singapore's Middle East Institute
End Notes
[1] Ministry of Foreign Affairs, People's Republic of China, "China's Arab Policy Paper", 13 January 2016, https://www.fmprc.gov.cn/mfa_eng/zxxx_662805/t1331683.shtml#:~:text=Since%20the%20establishment%20of%20diplomatic,fields%20has%20been%20constantly%20deepened.&text=The%20Chinese%20government%20has%20issued,development%20of%20China%2DArab%20relations.
[2] American Enterprise Institute, "China Global Investment Tracker", https://www.aei.org/china-global-investment-tracker/.
[3] Agatha Kratz speaking on "China and the Mediterranean Region in and Beyond the Pandemic, German Marshal Fund", 3 July 2020, https://www.gmfus.org/events/china-and-mediterranean-region-and-beyond-pandemic.
[4] James M Dorsey, "Turning Gulf Security Upside Down", Insight 238, Middle East Institute Singapore,  6 July 2020, https://mei.nus.edu.sg/publication/insight-238-turning-gulf-security-upside-down/.
[5] Michal Meidan, "China's Energy Security at 70", The Oxford Institute for Energy Studies, October 2019, https://www.oxfordenergy.org/wpcms/wp-content/uploads/2019/10/Chinas-energy-security-at-70.pdf.
[6] James M Dorsey, "Syria lures but will China bite?", The Turbulent World of Middle East Soccer, 12 June 2020, https://mideastsoccer.blogspot.com/2020/06/syria-lures-but-will-china-bite.html.
[7] Dorsey, "Syria lures but will China bite?"
[8] Niu Xinchun, "China's Middle East Strategy under the 'Belt and Road' Initiative", Foreign Affairs Review 04/2017.
[9] Niu Xinchun speaking on "How are China's Relations with the Middle East Evolving During the COVID-19 Pandemic?", Chatham House, 19 May 2019, https://www.facebook.com/watch/?v=2721841274725780.
[10] Karen Young, "The false logic of a China–US choice in the Middle East", Al-Monitor, 30 June 2020, https://www.al-monitor.com/pulse/originals/2020/06/false-logic-china-us-choice-mideast-economic-political-power.html.
[11] Ministry of Foreign Affairs, People's Republic of China, Foreign Ministry Spokesperson Zhao Lijian's Regular Press Conference on 6 July 2020,  https://www.fmprc.gov.cn/mfa_eng/xwfw_665399/s2510_665401/2511_665403/t1795337.shtml.
[12] "Iran announced a 25-year comprehensive cooperation plan with China. Can China–Iran relations get closer?", Shanghai Observer, 20 June 2020, (观察家 | 伊朗宣布与华25年全面合作计划,中伊关系能否进一步走近?)https://www.shobserver.com/news/detail?id=264494.
[13] Mordechai Chaziza, "Religious and Cultural Obstacles to China's BRI in the Middle East", The Begin-Sadat Center for Strategic Studies, 12 June 2020, https://besacenter.org/perspectives-papers/china-middle-east-obstacles/.
[14] Sun Degang and Wu Sike, "China's Participation in Middle East Security Affairs in the New Er: -Ideas and Practice Exploration" (中东研究】孙德刚 吴思科:新时代中国参与中东安全事务-理念主张与实践探索), Shanghai International Studies University, July 2020.
[15] Baria Alamuddin, "Chinese and Iranian vultures circling over Beirut", Arab News, 2 August 2020, https://www.arabnews.com/node/1713456.
[16] Danielle Pletka, "Lebanon on the Bbrink", American Enterprise Institute, 9 May 2020, https://www.aei.org/op-eds/lebanon-on-the-brink/.
[17] Baria Alamuddin, "Chinese and Iranian vultures circling over Beirut".
[18] Phil Mattingly, Zachary Cohen and Jeremy Herb, "US intel shows Saudi Arabia escalated its missile program with help from China", CNN, 5 June 2020, https://edition.cnn.com/2019/06/05/politics/us-intelligence-saudi-arabia-ballistic-missile-china/index.html.
[19] Mattingly, Cohen and Herb, "US intel"; Timothy Gardner, "US approved secret nuclear power work for Saudi Arabia", Reuters, 28 March 2019, https://www.reuters.com/article/us-usa-saudi-nuclear/us-approved-secret-nuclear-power-work-for-saudi-arabia-idUSKCN1R82MG.
[20] Interview with author, 8 June 2020.
[21] Interview with author, 10 July 2020.
[22] Middle East Institute, "Shifting Dynamics and US Priorities in the Middle East: A Conversation with David Schenker", 4 June 2020, https://www.mei.edu/events/shifting-dynamics-and-us-priorities-middle-east-conversation-david-schenker.
[23] Ben Westcott, "China's GPS rival Beidou is now fully operational after final satellite launched", CNN Business, 24 June 2020, https://edition.cnn.com/2020/06/24/tech/china-beidou-satellite-gps-intl-hnk/index.html.
[24] Belt and Road News, "China's Global Digital Silk Road is arriving in the Middle East", 16 September 2019, https://www.beltandroad.news/2019/09/16/chinas-global-digital-silk-road-is-arriving-in-the-middle-east/.
[25] Maria Abi-Habib, "China's 'Belt and Road' Plan in Pakistan takes a military turn", The New York Times, 19 December 2018, https://www.nytimes.com/2018/12/19/world/asia/pakistan-china-belt-road-military.html.
[26] Huang Yong, "Construction of digital Silk Road lights up BRI cooperation", People's Daily, 24 April 2019, http://en.people.cn/n3/2019/0424/c90000-9571418.html.
[27] Kristin Huang, "China's answer to GPS complete as final BeiDou satellite launches", South China Morning Post, 23 June 2020, https://www.scmp.com/news/china/science/article/3090186/chinas-global-aspirations-lift-beidou-satellite-launches-orbit?utm_source=Twitter&utm_medium=share_widget&utm_campaign=3090186.
[28] Jesse Yeung, "The UAE has successfully launched the Arab world's first Mars mission", CNN, 21 July 2020, https://edition.cnn.com/2020/07/19/middleeast/uae-mars-hope-launch-intl-hnk-scn-scli/index.html.
JCPOA Implementation Amid a Tug of War between Rhetoric and Facts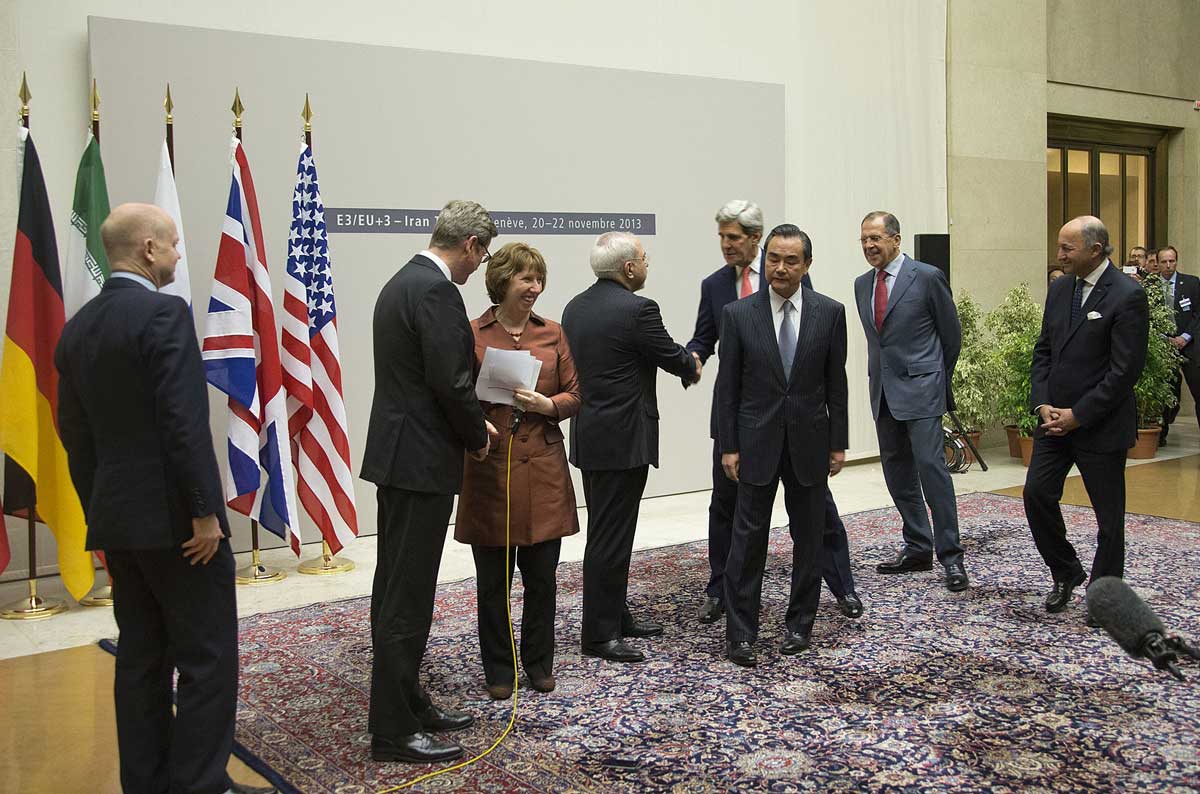 The man behind the insurrection at home and disarray abroad!
A few days before the fifth anniversary of Implementation Day of the JCPOA on 16 January 2021, U.S. House handed Trump a second impeachment. What is important in this regard is the fact that Trump was basically indicted by the U.S. legislature for violating the rule of law. The Article of Impeachment clearly states that the president is impeached for high crimes and misdemeanors and the president stands accused of violating the Constitution of the United States. According to the Article of Impeachment he remains a threat to national security, democracy and the constitution. The truth is, Trump has been a threat not only to U.S. national security, but an abominable menace against international peace and security all along; what Iran has clearly understood and signaled to the world since the early days of this outgoing -or the soon-to-be-removed- Trump administration, the international community only secretly admitted and quietly wished for change.
Although the establishment in the United States put a stop to Trump, his unbridled bullying on the international scene persisted for the full duration of his term with little or no practical opposition at all. By his sheer disregard for all established principles and institutions Trump threw the anarchical nature of international relations in stark relief and all the U.S. traditional allies in Europe under the bus as well! Though Trump is now history in the U.S., some worrying signs in the past weeks suggest proper lessons have not been learned by some Europeans and Trumpism towards Iran might persist for quite a while.
Post-Trump JCPOA
The post-election developments in the U.S. were the source of considerable consternation among the European leaders; therefore, the impeachment was saluted in Europe as they could finally breathe a sigh of relief. Although the impeachment and power transition occur nationally in the U.S., it has nonetheless huge global ramifications. Jo Biden promised in Munich Security Conference of 2019 that they would be back! They are back now. The U.S. president-elect put out words that he would return to the nuclear deal with Iran provided that Iran returns to compliance. In this regard there are a few elements that require prompt attention.
First and foremost, Iran was the victim in the past two years; the victim of an unrestrained bully who made no secret of his disdain for the longest established principles of international conduct, chief among which pacta sunt servanda. Thus, any attempt to twist the facts and portray Iran as the actor who undermines the diplomatic process is grossly irresponsible and highly provocative. Second, unlike the Trump administration's whimsical and unpredictable conduct, all the reversible steps undertaken by the Iranian side have been communicated in a transparent manner to all parties. Third, for every step there has been the element of predictability and nothing came as a surprise so as to ensure good faith throughout the process. Fourth, the reversible steps taken by Iran in the past year, much to the dismay of Europeans, were the inevitable result of Europeans' inaction and non-performance of commitments which deprived Iran of billions of dollars and prevented the normalization of trade and economic relations specifically during the last year when the Covid-19 outbreak inflicted a huge human cost on Iran. Last but not least, the IAEA monitors every step of the way and has mounted one of the most rigorous monitoring and verification regimes in the Islamic Republic of Iran. This all means that the "concerns", regardless of the scale of their intensity, as expressed by the European parties to the deal in their statements of 6 and 11 January, are only a reflection of the discursively constructed culture against Iran's nuclear program.
With the IAEA in Iran enjoying full access under the Additional Protocol for now, and considering Iran's status as an NPT member state, it is difficult to understand European's "deep regrets" and their "repeated calls" to "reverse all action that are inconsistent with Iran's JCPOA commitments". It is also impossible not see the hypocrisy of it all; for instance, a regional ally of Europe, while sitting atop a vast nuclear arsenal, openly boasts their nuclear weapon capacities and asserts that they do not need to explain themselves on their nuclear warheads simply because they are not NPT member states. Moreover, there are other regional allies of Europe who are NPT member states, yet they have not even signed the Comprehensive Safeguards Agreement, let alone the Additional Protocol.
All through the past two years, Iran has pursued a measured nuclear diplomacy and avoided any action that might hint at provocation or escalation in the nuclear field. The term reversible has been purposefully chosen by Iran in description of its reduced commitments and if Europeans want to see a reversal of actions, they know what Iran expects; it is nothing more than the EU/E3 commitments expressly spelled out in the JCPOA.
Recent postures by the EU and the E3 do not help mainly because they portray Iran as the main culprit of the current nuclear standoff whereas it is only defending its natural interests in a matter of high security stakes. Such statements also ignore one very important fact, or at least tone it down significantly and that is the destructive role that the U.S. withdrawal played in the post 8 May 2018 drama.
A tug of war between rhetoric and facts
One might ask why it has been the case that Iran's nuclear program is conceived of as a proliferation threat! To find the answer, we should take stock of the security context of the early 2000's when discursive constructs of threat significantly outweighed factual analyses and calculations of the Bush administration. Iraq is a vivid example of such disregard for facts where Bush's blind insistence on the existence of weapons of mass destruction in Saddam's arsenal, based on flawed cherry-picked intelligence despite all internationally verified evidence to the contrary, led to the U.S. invasion of Iraq the scourge of which is still fresh in the region.
It is a peculiar fact that Discourse shapes realities in foreign policy, and it has often been the case that discursive constructs play a far more effective role than substantial facts. The U.S. administration back in early 2000's paid no heed neither to the IAEA expertise, not to words of warning by American senior politicians. At the time of Operation Iraqi Freedom, Bush's claims were unconfirmed and to this day, not a trace of weapons of mass destruction has been found in Iraq. It was maybe for good reason that William Burns, recently tapped by President-elect Biden to lead the C.I.A. laments not "tak[ing] a hard stand against war altogether" and recounts the build-up to Iraq war and failure in mounting and effective opposition to it as his "biggest professional regret".
In that light, it is safe to assert that Iran's nuclear crisis was the direct product of such securitized foreign policy discourse which portrayed Iran's nuclear program as a proliferation threat. Such frame of mind has poisoned everything related to Iran and its non-proliferation policies. From foreign policy circles to intelligence communities, from think thanks to centers of academic excellence, from press to media the rhetorical and constructed notion of "Iran as a proliferation threat" permeates debates and what seems to
be taken for granted is that whatever Iran does, even within the confines of the Comprehensive Safeguards Agreement and the Additional Protocol, is inevitably linked to weaponization efforts! This construct has become an open wound that the U.S. and others in the region find easy to poke anytime their powerful lobbies deem it necessary to further their regional agenda of aggression and war mongering.
A return to the facts
In my capacity as ambassador, and so far as Covid-related restrictive measures would allow, I have been trying hard to accentuate the factual element in Iran's nuclear program to European diplomats. The IAEA is present in Iran and its inspectors have access under the Additional Protocol to the places they might deem worthy of inspection. All nuclear activities in Iran are declared to the Agency and unfold before the eyes of IAEA inspectors. Besides, in sharp contrast to what the U.S. did on 8 May 2018, in the past two years Iran has had a transparent, verifiable and predictable and reversible course of action in its nuclear program. Let's be clear, though, Iran agreed on a provisional basis to take confidence- building measures as stipulated under the JCPOA. You cannot build confidence forever, neither can such measures be taken for granted!
In the end, I would like to invite the European parties to the JCPOA to play a constructive role and acknowledge the fact that Iran was the victim of Trump administration's policies in the past two and a half years. Secondly, I call upon the EU/E3 not to be part of this securitized discourse on Iran and not to tug at the rhetoric end of this discursive war and take the public opinion and its impact into serious consideration. Pursuing a policy of sanctions and coercion failed in the past and it is doomed to fail in the future as well. Finally, with the upcoming U.S. administration and the talks here or there in Washington about a prospective Biden administration return to the JCPOA it is important to build on this momentum rather than to create obstacles to the diplomatic process.
Prohibition of importing reliable vaccines to Iran
On January 8, 2021, in a televised speech, the Iranian regime's supreme leader Ali Khamenei announced a ban on importing American, British, and French vaccines. He said, "If the Americans had been able to produce the vaccine, this coronavirus scandal would not have occurred in their country, killing about 4,000 people per day. At the same time, they are basically distrusted, and sometimes these vaccines are meant to be tested on other nations."
Officially, the regime puts the coronavirus death toll at 60,000. But, the head of the Tehran City Council, for example, has warned that the regime's statistics only cover the Behesht Zahra Cemetery in Tehran. The Iranian opposition, the National Council of Resistance of Iran (NCRI), has announced that the number of deaths in only half of Iran's cities is at least 200,000 based on hospital and morgue statistics. Therefore, a major catastrophe is unfolding in Iran but it is being intentionally covered up.
The whole world is ordering, obtaining, and freely inoculating the public with reliable and World Health Organization-approved vaccines. "80 countries have provided 7 billion doses of Pfizer vaccine to the public free of charge," said the State-run Jahan-e-Sanat newspaper on December 22, 2020. But, according to Khamenei, "If Pfizer can make the vaccine, why do they want to give it to us?"
Khamenei pulls back the curtains
Khamenei has been behind the "excuses of the regime leaders for refusing to buy the COVID-19 vaccine" and the "delay in buying it" (Jahan-e-Sanat – December 17, 2020). According to Zafar Ghandi, the head of the Medical Council, "the cost of providing the (foreign) COVID-19 vaccine in Iran is less than $200 million, and this is not a number that (the government) cannot provide." So, why is Khamenei opposed to importing reliable vaccines?
Khamenei's objectives
The ban imposed by Khamenei shows that it is of strategic importance to him. The Iranian regime had previously adopted a herd immunity strategy. The Iranian Immunology Association warned Hassan Rouhani that 70 percent of the population would be infected with this strategy, leaving between one and two million dead. The regime calculates that if they can keep the Iranian people preoccupied with the COVID-19 pandemic, their focus will be shifted away from other significant daily concerns, thereby preventing another uprising.
Herd immunity
As long as COVID-19 continues to impact the population, then the poor, who make up more than 70% of society, can no longer resort to mass protests and articulate their demands. According to the regime, these protests, such as the November 2019 uprising, could lead to the regime's overthrow. Khamenei considered the coronavirus a blessing and said that the regime should turn it into an opportunity for Tehran.
Wave of executions and repression
On December 31, 2020, the Deputy Police Chief, Qassem Rezaei, issued an order to the forces under his command, asking them to break the legs and arms of people they arrest. He made these remarks deliberately in public and on air in order to intimidate the population.
In the second week of December alone, 12 people were executed in Iranian prisons after several years of imprisonment. On December 31, three Sunnis were executed in the city of Mashhad. On January 3, three Baluchis were executed after enduring years of imprisonment. In an appalling act that violates all international standards, Mohammad Hassan Rezaei, who was 16 at the time of committing his alleged crime, was executed on December 31. The Iranian regime is one of the few remaining executioners of juveniles in the world.
These hasty executions are meant to control and intimidate the society. The regime, which thought it could contain it with COVID-19, is now using executions to counter the Iranian people's demands.
"The volcano of the hungry "
One regime expert had previously said that "one should be afraid when the volcano of the hungry is no longer silent." In recent months and weeks, young people attacked hundreds of IRGC or Basij and torture centers seeking to overthrow the status quo. Attacks on courts that issue death sentences or ordered the demolition of residences of poor people are among the sites attacked by insurgent youth. The burning of portraits of Khamenei and eliminated Qods Force commander Qassem Soleimani in various cities symbolizes insurgent youth's anger at oppression. It sends a clear message to Khamenei and the Iranian regime that the people want democratic change.
So, will Khamenei survive the eruption of the "volcano of the hungry" despite using COVID-19 and executions to curb potential uprisings? Only time will tell.