ADB to Help Improve Water Governance, Develop Regional Urban Investment Plan for Mongolia
The Asian Development Bank (ADB) has agreed to provide two technical assistance (TA) grants totaling $2.5 million to help the Government of Mongolia strengthen water governance at the river basin level and prepare a development investment program for aimag and soum centers in the country.
The agreements were signed by Batkhuu Idesh, Director General of the Development Financing Department of the Ministry of Finance, and Yolanda Fernandez Lommen, ADB Country Director for Mongolia, at a ceremony in Ulaanbaatar. First Secretary Hiroshi Fukasawa from the Embassy of Japan in Mongolia witnessed the event. Representatives from the Ministry of Environment and Tourism and the Ministry of Construction and Urban Development also participated.
"Mongolia's future development rests heavily on how it manages its resources and achieve sustainable development driven by a multisector economy and ecological balance," said Ms. Fernandez Lommen. "Both projects are aligned with ADB's Country Partnership Strategy for Mongolia, which supports the government's efforts to foster inclusive growth, improve people's access to services, and strengthen environmental sustainability."
The $1 million water governance TA grant aims to improve the effectiveness and sustainability of investments in the water sector and infrastructure in the country to provide socioeconomic benefits. The project will assess the current status of water governance standards, provide policy recommendations for legislative and institutional reforms, and develop and update management plans for river basins. It will strengthen and build capacity among government agencies, and assess the potential scaleup and replication of water security approaches for river basins.
The regional development TA grant for the aimag and soum centers is worth $1.5 million. It will help the government develop an investment program to improve basic urban services and promote the local economy in selected aimag capitals and soum centers. The program will focus on regional urban clusters that have the potential to build a more resilient and diversified economy to deliver inclusive and sustainable growth. The TA will support the preparation of the investment program, such as the formulation of economic and urban development strategies, feasibility studies, and measures that will enhance aid effectiveness and project readiness.
The two projects are funded by the Japan Fund for Poverty Reduction. Over the past 19 years, the fund has supported projects in Mongolia in poverty alleviation, community development, improving livelihoods, and safeguarding the environment.
Ambitious Reforms for Stronger Economic Growth in Ukraine
Economic growth in Ukraine picked up to 3.6 percent in the first half of 2019 and 4.2 percent in the third quarter driven by a strong agricultural harvest and consumption growth from higher wages, remittances, and a resumption of consumer lending, according to the World Bank's latest Ukraine Economic Update. At the same time, investment growth has not yet picked up to levels needed for stronger and sustained economic growth.
"Delivering on the ambitious reform agenda of the new government to boost investment and economic growth will help create jobs and improve living standards," said Satu Kahkonen, World Bank Country Director for Belarus, Moldova and Ukraine. "The key reforms include establishing a transparent and efficient agricultural land market, demonopolizing the gas sector through ownership unbundling of Naftogas, and increasing the efficiency of bank lending to the private sector by reducing non-performing loans in state-owned banks."
If the key reforms move forward expeditiously, economic growth is projected at 3.6 percent in 2019, 3.7 percent in 2020, and 4.2 percent in 2021.
Sound fiscal and monetary management, including efforts to keep current public expenditures under control, are helping reduce public debt, inflation, and interest rates in 2019. Public and publicly guaranteed debt is projected to decline to 52 percent in 2019 from a peak of 81 percent in 2016. Inflation declined to 6.5 percent in October 2019 from 9.8 percent at end-2018, which has allowed the National Bank of Ukraine to reduce the key policy rate to 15.5 percent in October from 18 percent in April.
Continuing the prudent fiscal management going forward by addressing expenditure pressures from wages and social benefits will be important to further reduce inflation and interest rates and support stronger economic growth and higher living standards.
It will also be important to mobilize adequate external financing to meet significant public debt repayments in 2019-2021.
Establishing a land market for agricultural growth
According to the World Bank's Special Focus Note, lifting the moratorium on agricultural land sales and establishing a transparent and efficient market for agricultural land has the potential to boost economic growth in Ukraine by 0.5 to 1.5 percent per year over a 5-year period.
Ukraine has the largest endowment of arable land in Europe, but agricultural productivity in Ukraine is a fraction of that in other European countries.
The moratorium on agriculture land sales is a major impediment to attracting investment and unlocking productivity in agriculture. The moratorium undermines the security of land tenure and incentives to undertake productivity enhancing investments such as irrigation, move into higher value-added crops, and adopt new technologies.
"The Draft Land Turnover Law passed the first reading in Rada last week in an important breakthrough," said Faruk Khan, World Bank Lead Economist for Belarus, Moldova, and Ukraine. "Enactment of the land turnover law, along with complementary legislation needed to safeguard transparency and efficiency, will be a major milestone in strengthening Ukraine's growth prospects going forward.
Access to financing for small, credit-constrained farmers will be important to enable them to participate in the market and improve their productivity. Financing instruments should be effective and sustainable, which means targeting them to small farmers and designing them in a manner that provides incentives to improve productivity and adopt higher value-added crops and new technologies, at an affordable fiscal cost.
US pardons for accused war criminals, contrary to international law
A presidential pardon for two United States soldiers accused of war crimes, and a sentence reduction for a third, "run against the letter and the spirit of international law which requires accountability for such violations", the United Nations human rights wing said on Tuesday.
"While pardons exist in international law, and can properly address issues of injustice or unfairness", Rupert Colville, Spokesperson for the UN High Commissioner for Human Rights (OHCHR), told reporters at a regular press briefing in Geneva that these cases showed no circumstances to suggest anything other than "simply voiding the otherwise proper process of law in the cases".
"These pardons send a disturbing signal to military forces all around the world", he added.
The accused
According to news reports, Lieutenant Clint Lorance was tried and convicted for ordering the shooting of Afghanistan civilians in 2013 and handed down a 20-year prison sentence. Last Friday, he was given a full pardon.
Major Mathew Golsteyn was charged with executing an unarmed Afghan man who was a suspected Taliban bombmaker in 2010. He was scheduled to be tried in February.
And Chief Petty Officer Edward Gallagher was charged with murdering a captive in Iraq. He was acquitted but received a demotion for posing with the corpse for a photograph. President Trump on Friday vowed to restore his rank.
"These three cases involve serious violations of international humanitarian law, both proven and alleged, including the shooting of a group of civilians and execution of a captured member of an armed group", said Mr. Colville.
Some US news outlets applauded President Donald Trump's reprieves, while others saw them as a sign of disregard for the decisions of military juries as well as for the judicial process itself.
"International Humanitarian Law establishes the obligation to investigate violations and prosecute war crimes", reminded Mr. Colville.
He pointed out that by investigating the allegations, and initiating and completing criminal proceedings, the US military justice system had been in compliance with international law.
Underscoring that "victims of gross human rights violations and serious violations of international humanitarian law have the right to a remedy", Mr. Colville maintained that the pardon terminating further criminal proceedings in the case of Major Mathew Golsteyn, was "particularly troubling".
He elaborated that remedies include equal and effective access to justice, the right to the truth, and to see perpetrators serve punishments proportionate to the seriousness of their conduct, "rather than see them absolved of responsibility".
Rwanda: EU provides €10.3 million for life-saving refugee support measures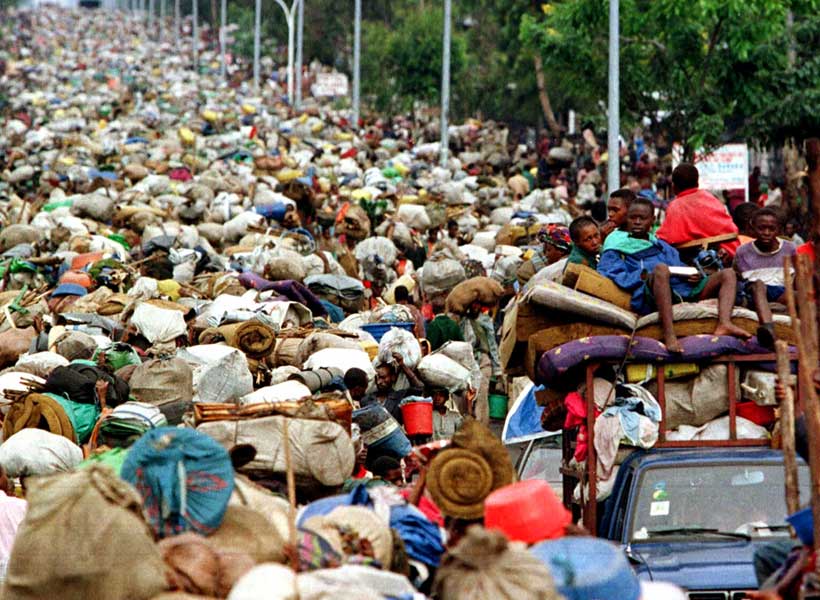 During his visit to Rwanda, Commissioner for International Cooperation and Development Neven Mimica has announced a €10.3 million support package to the UNHCR's Emergency Transit Mechanism (ETM) in Rwanda, which provides a life-saving avenue out of Libya for people in need of international protection, with a view to their further resettlement. The funding is provided through the Emergency Trust Fund for Africa. This initiative builds on the example of the ETM Niger, through which more than 2,900 refugees and asylum seekers have been evacuated out of Libya since 2017.
High Representative/Vice-President Federica Mogherini said: "The Emergency Transit Mechanism in Rwanda is a vital life-saving measure to bring people in need of international protection out of Libya. It is an important sign of African solidarity and of partnership with the European Union. It broadens the support to the most vulnerable people held in Libyan detention centres that need to be closed urgently."
Commissioner Mimica said: "This project will support efforts of the Government of Rwanda to receive and provide protection to about 1,500 refugees and asylum-seekers who are currently being held in detention centres in Libya. Such a remarkable and powerful proof of African solidarity should be further encouraged, replicated and supported."
Background
The UNHCR has evacuated more than 4,250 refugees and asylum-seekers out of Libya to other countries since 2017.
However, around 4,700 people are currently estimated to be held in dire conditions inside detention centres in the country. They urgently need to be moved to safety and to be provided with protection, lifesaving assistance, and durable solutions.
Following the escalation in and around Tripoli, namely the July air strike on a migrant detention centre, the EU continues to support the vital work of the Gathering and Departure Facility on location.
The EU is also supporting the UNHCR's increased efforts to transfer to Tripoli the most vulnerable people in need of international protection from conflict areas where they are at risk, pending their evacuation outside of Libya.