World Bank: Commodity prices to rise more than expected in 2018
Oil prices are forecast to average $65 a barrel over 2018, up from an average of $53 a barrel in 2017, on strong demand from consumers and restraint by oil producers, while metals prices are expected to rise 9 percent this year, also on a pickup in demand and supply constraints, the World Bank said on Tuesday.
Prices for energy commodities – which include oil, natural gas, and coal — are forecast to jump 20 percent in 2018, a 16 percentage point upward revision from October's outlook, the World Bank said in its April Commodity Markets Outlook. The metals index is expected to rise as an 9 percent drop in iron ore prices is offset by increases in all base metals prices, led by nickel, which is forecast to rise 30 percent.
Agricultural commodities, including food commodities and raw materials, are anticipated to see a price rise of over 2 percent this year on diminished planting prospects. Weather disruptions are expected to be minimal.
"Accelerating global growth and rising demand are important factors behind broad-based price increases for most commodities and the forecast of higher commodities prices ahead," said Shantayanan Devarajan, World Bank Senior Director for Development Economics and acting Chief Economist. "At the same time, policy actions currently under discussion add uncertainty to the outlook."
Oil prices are expected to average $65/bbl over 2019 as well. Although prices are projected to decline from April 2018 levels, they should be supported by continued production restraint by OPEC and non-OPEC producers and strong demand. Upside risks to the forecast include constraints to U.S. shale oil output, geopolitical risks in several producing countries, and concerns the United States may not waive sanctions against Iran.  Downside risks include weaker compliance with the oil producers' agreement to restrain output or outright termination of the accord, rising output from Libya and Nigeria, and a quicker-than-expected rise in shale oil output.
"Oil prices have more than doubled since bottoming in early 2016, as the large overhang of inventories has been reduced significantly." said John Baffes, Senior Economist and lead author of the Commodity Markets Outlook. "Strong oil demand and greater compliance by the OPEC and non-OPEC producers with their agreed output pledges helped tip the market into deficit."
Upside risks to the metals price forecast include more robust global demand than expected. Supply could be held back by slow incorporation of new capacity, trade sanctions against metals exporters, and policy actions in China. Downside risks include slower-than-expected growth in major emerging markets, the restart of idle capacity, and an easing of pollution-related policies in China. Precious metals are expected to climb 3 percent this year in anticipation of U.S. interest rate increases and higher inflation expectations.
Grains and oils and meal prices are expected to rise in 2018, mostly due to lower planting intentions.  The mild La Niña cycle that extended into the early part of the year only affected banana production in Central America and soybean production in Argentina and did not impact global markets for those crops substantially. The possible introduction by China of countervailing duties in response to U.S. tariff increases could impact the soybean market.
A special focus section examines the changed landscape for oil-exporting economies after the 2014 oil price collapse. The oil price plunge eroded oil-related revenues, forcing abrupt cuts in government spending that accentuated the slowdown in private sector activity in many regions. Income inequality and political instability also weakened the ability of some oil-exporting economies to weather low oil prices.
"Oil exporters with flexible currency regimes, relatively large fiscal buffers, and more diversified economies have fared better than others since the oil price collapse," said Ayhan Kose, director of World Bank's Development Economics Prospects Group. "However, most oil exporters still face significant fiscal challenges in the face of revenue prospects that have weakened since 2014."
Sweden: Invest in skills and the digital economy to bolster the recovery from COVID-19
Sweden's economy is on the road to recovery from the shock of the COVID-19 crisis, yet risks remain. Moving ahead with a labour reform to facilitate adaptation in a fast-changing economic environment, and investing in digital skills and infrastructure, will be crucial to revive employment and build a sustainable recovery, according to the latest OECD Economic Survey of Sweden.
The pandemic triggered a severe recession in Sweden, despite mild distancing measures and swift government action to protect people and businesses. GDP fell by less than in many other European economies in 2020, thanks to reinforced short-time work, compensation to firms for lost revenue and measures to prop up the financial system, but unemployment still rose sharply. Solid public finances provided room for further stimulus in 2021 to buttress the recovery.
The Survey recommends maintaining targeted support to people and firms until the pandemic subsides, then focusing on strengthening vocational training and skills and increasing investment in areas like high-speed internet and low-carbon transport. Addressing regional inequality, which is low but rising, should also be a priority as the recovery takes hold.
The Survey shows that Sweden has been among the most resilient OECD countries in the face of a historic shock. Yet, like other economies, it faces challenges from demographic changes and the shift to green, digital economies. Investments in education and training, and labour reforms along the lines negotiated by the social partners, will support job creation and strengthen economic resilience. Building on Sweden's leadership in digital innovation and diffusion will also be key for driving productivity.
After a 3% contraction in 2020, interrupting several years of growth, the Survey projects a rebound in activity with 3.9% growth in 2021 and 3.4% in 2022 as industrial production resumes and exports recover. The recovery in world trade is bolstering the Swedish economy, however the country remains vulnerable to potential disruptions in global value chains.
The pandemic has aggravated a mismatch in Sweden's job market, with unfilled vacancies for highly qualified workers coinciding with high unemployment for low-skilled workers and immigrants. The public employment service needs strengthening to provide better support to jobseekers, including immigrants and women, and labour policies should strike the right balance between supporting businesses and workers and supporting transitions away from declining businesses towards growing sectors.
A rising share of youths and older people in the population, especially in remote areas, is affecting the finances of local governments, which provide the bulk of welfare services. Strengthening local government budgets and ensuring equal welfare provision across the country will require providing tax income to poorer regions more efficiently and raising the economic growth potential across regions through investments in innovation. Improving coordination between government entities and reinforcing the role of universities in local economic networks would help achieve that aim.
Fewer women than men will regain work during COVID-19 recovery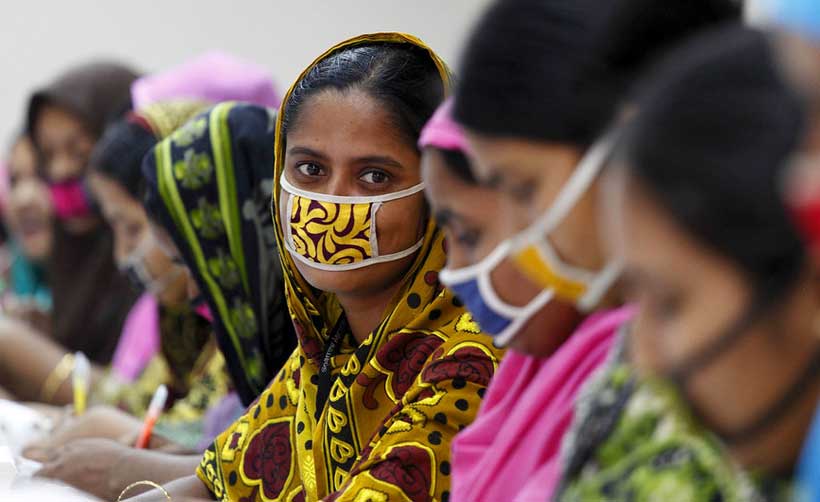 Fewer women will regain jobs lost to the COVID-19 pandemic during the recovery period, than men, according to a new study released on Monday by the UN's labour agency.
In Building Forward Fairer: Women's rights to work and at work at the core of the COVID-19 recovery, the International Labour Organization (ILO) highlights that between 2019 and 2020, women's employment declined by 4.2 per cent globally, representing 54 million jobs, while men suffered a three per cent decline, or 60 million jobs.
This means that there will be 13 million fewer women in employment this year compared to 2019, but the number of men in work will likely recover to levels seen two years ago.
This means that only 43 per cent of the world's working-age women will be employed in 2021, compared to 69 per cent of their male counterparts.
The ILO paper suggests that women have seen disproportionate job and income losses because they are over-represented in the sectors hit hardest by lockdowns, such as accommodation, food services and manufacturing.
Regional differences
Not all regions have been affected in the same way. For example, the study revealed that women's employment was hit hardest in the Americas, falling by more than nine per cent.
This was followed by the Arab States at just over four per cent, then Asia-Pacific at 3.8 per cent, Europe at 2.5 per cent and Central Asia at 1.9 per cent.
In Africa, men's employment dropped by just 0.1 per cent between 2019 and 2020, while women's employment decreased by 1.9 per cent.
Mitigation efforts
Throughout the pandemic, women faired considerably better in countries that took measures to prevent them from losing their jobs and allowed them to get back into the workforce as early as possible.
In Chile and Colombia, for example, wage subsidies were applied to new hires, with higher subsidy rates for women.
And Colombia and Senegal were among those nations which created or strengthened support for women entrepreneurs.
Meanwhile, in Mexico and Kenya quotas were established to guarantee that women benefited from public employment programmes.
Building forward
To address these imbalances, gender-responsive strategies must be at the core of recovery efforts, says the agency.
It is essential to invest in the care economy because the health, social work and education sectors are important job generators, especially for women, according to ILO.
Moreover, care leave policies and flexible working arrangements can also encourage a more even division of work at home between women and men.
The current gender gap can also be tackled by working towards universal access to comprehensive, adequate and sustainable social protection.
Promoting equal pay for work of equal value is also a potentially decisive and important step.
Domestic violence and work-related gender-based violence and harassment has worsened during the pandemic – further undermining women's ability to be in the workforce – and the report highlights the need to eliminate the scourge immediately.
Promoting women's participation in decision-making bodies, and more effective social dialogue, would also make a major difference, said ILO.
Global electricity demand is growing faster than renewables
Renewables are expanding quickly but not enough to satisfy a strong rebound in global electricity demand this year, resulting in a sharp rise in the use of coal power that risks pushing carbon dioxide emissions from the electricity sector to record levels next year, says a new report from the International Energy Agency.

After falling by about 1% in 2020 due to the impacts of the Covid-19 pandemic, global electricity demand is set to grow by close to 5% in 2021 and 4% in 2022 – driven by the global economic recovery – according to the latest edition of the IEA's semi-annual Electricity Market Report released today. The majority of the increase in electricity demand is expected to come from the Asia Pacific region, primarily China and India.

Based on current policy settings and economic trends, electricity generation from renewables – including hydropower, wind and solar PV – is on track to grow strongly around the world over the next two years – by 8% in 2021 and by more than 6% in 2022. But even with this strong growth, renewables will only be able to meet around half the projected increase in global electricity demand over those two years, according to the new IEA report.
Fossil fuel-based electricity generation is set to cover 45% of additional demand in 2021 and 40% in 2022, with nuclear power accounting for the rest. As a result, carbon emissions from the electricity sector – which fell in both 2019 and 2020 – are forecast to increase by 3.5% in 2021 and by 2.5% in 2022, which would take them to an all-time high.

Renewable growth has exceeded demand growth in only two years: 2019 and 2020. But in those cases, it was largely due to exceptionally slow or declining demand, suggesting that renewables outpacing the rest of the electricity sector is not yet the new normal.

"Renewable power is growing impressively in many parts of the world, but it still isn't where it needs to be to put us on a path to reaching net-zero emissions by mid-century," said Keisuke Sadamori, the IEA Director of Energy Markets and Security. "As economies rebound, we've seen a surge in electricity generation from fossil fuels. To shift to a sustainable trajectory, we need to massively step up investment in clean energy technologies – especially renewables and energy efficiency."

In the pathway set out in IEA's recent Roadmap to Net Zero by 2050, nearly three-quarters of global emissions reductions between 2020 and 2025 take place in the electricity sector. To achieve this decline, the pathway calls for coal-fired electricity generation to fall by more than 6% a year.

However, coal-fired electricity generation is set to increase by almost 5% this year and by a further 3% in 2022, potentially reaching an all-time high, according to the Electricity Market Report. Gas-fired generation, which declined 2% in 2020, is expected to increase by 1% in 2021 and by nearly 2% in 2022. The growth of gas lags that of coal because it plays a smaller role in the fast-growing economies in the Asia Pacific region and it faces competition from renewables in Europe and North America.

Since the IEA's last Electricity Market Report in December 2020, extreme cold, heat and drought have caused serious strains and disruptions to electricity systems across the globe – in countries ranging from the United States and Mexico to China and Iraq. In response, the IEA is establishing an Electricity Security Event Scale to track and classify major power outages, based on the duration of the disruption and the number of affected customers. The Texas power crisis in February, where millions of customers were without power for up to four days because of icy weather, was assigned the most severe rating on this scale.