IEA holds high-level workshop on the future of electricity
The future of electricity will be the "fuel" focus of the next World Energy Outlook, the International Energy Agency's flagship publication, to be released in mid-November.   
As part of an agency-wide effort on this WEO electricity focus, the IEA hosted a high-level workshop in Paris on Tuesday, bringing together decision makers and leading experts from around the world to provide strategic guidance on the analysis and share their experience. The workshop marked a high point in the IEA's "Year of Electricity," examining various aspects of the transformation of the electricity sector this year.
The workshop was attended by representatives from 75 organisations, covering a wide range from government, industry, utilities, manufacturers, downstream, consulting, industry associations, research and academia. It also included a broad regional coverage, with participants representing more than 40 countries, from the IEA family and beyond.
The future looks bright for electricity, which is set to grow at twice the rate of overall energy demand to 2040. In 2016, total power sector investment surpassed that of oil and gas for the first time, propelled by renewables, mostly solar and wind. Meanwhile 1.1 billion people still lack access to electricity globally, new demand is coming from electric mobility, digitalization, cooling and heating.
And the nature of electricity supply is undergoing a major transition, from a century-old foundation of dispatchable fossil fuels to ever cheaper variable renewables, with related market reforms underway. The power sector is responsible for close to 40% of energy-related greenhouse-gas emissions, 60% of coal use and 36% of natural gas use. Understanding changes in the power sector is therefore essential to analysing progress towards environmental goals and understanding global energy trends.
The objectives of the WEO's focus on electricity will include:
– Assessing the long-term outlook for electricity demand, with insights on traditional and new sources of demand growth such as electric vehicles, digitalization, cooling and energy access in developing countries, and the emerging need for responsive demand.
– Providing in-depth analysis of the speed of the transition underway in electricity supply – highlighting global issues and regional perspectives – based on the latest market data, technology developments and government policies.
– Investigating the implications on electricity security, environmental protection and economic development, with insights on market designs.
– Exploring key uncertainties, resulting from the pace of deployment for new technologies, market and policy developments, and changing consumer preferences.
In addition, this year's WEO will also have a focus on oil and gas producing economies.
May confirmed as warmest on record, CO2 levels hit new high despite COVID economic slowdown
Last month was the warmest May on record and carbon dioxide levels also hit a new high despite the economic slowdown from COVID-19, the World Meteorological Organization (WMO) said on Friday, in an urgent appeal for Member States to renew their efforts to tackle climate threats.
"Governments are going to invest in recovery, and there's an opportunity to tackle the climate as part of the recovery programme", said WMO Secretary-General Petteri Taalas.
Opportunities ahead
He added that if this course of action was taken, "there was an opportunity to start bending the curve (on emissions) in the coming five years".
The appeal coincides with World Environment Day, celebrated annually on 5 June, and a warning that warmer temperatures and higher greenhouse gas concentrations will have a major impact on biodiversity, socio-economic development and human well-being.
Echoing the call that it is time to grow back greener and build back better for people and the planet, UN Secretary-General António Guterres said that Nature was "sending us a clear message: we are harming the natural world – to our own detriment. Habitat degradation and biodiversity loss are accelerating."
Climate and coronavirus
"Climate disruption is getting worse. Fires, floods, droughts and superstorms are more frequent and damaging," said the UN chief. "Oceans are heating and acidifying, destroying coral ecosystems. And now, a new coronavirus is raging, undermining health and livelihoods. To care for humanity, we must care for nature."
Any industrial and economic slowdown from COVID-19 is no substitute for sustained, coordinated action to reduce greenhouse gas emissions, Mr Taalas explained.
This is because gases such as carbon dioxide and methane last in the atmosphere for hundreds of years, so any short-term effects seen during lockdown is not expected to have a long-term benefit.
'Global solidarity' needed, to find affordable, accessible COVID-19 vaccine
In the race to end the coronavirus pandemic, the UN chief reminded a virtual medical conference on Thursday that "a vaccine, by itself, is not enough".
"We need global solidarity to ensure that every person, everywhere, has access", Secretary-General António Guterres said in a video message to the Global Vaccine Summit, convened to find and fund collective solutions for COVID-19-related vaccines and to strengthen routine immunization commitments and resources for other preventable diseases.
COVID-19, the greatest public health crisis of the generation, has skyrocketed vaccines to the top of the global agenda.
'Lifesaving miracle'
As "the most important public health intervention in history", Mr. Guterres credited the "lifesaving miracle" of vaccinations, for saving tens of millions of lives each year, eradicating smallpox and preventing outbreaks of diseases like measles, rubella and tetanus.
He maintained that a COVID-19 vaccine must be seen as "a global public good – a people's vaccine".
The UN chief lauded the "incredible work" of GAVI, the vaccine alliance, and its partners in allowing people of all ages and income levels throughout the world to access vaccines.
"The United Nations is proud to be part of this effort towards universal health coverage", he upheld, reiterating its commitment to being part of the next phase, "because there is still much work to do".
Against the backdrop of 20 million children missing their full complement of vaccines and one-in-five having received no vaccines at all, Mr. Guterres pointed out that under the shadow of COVID-19, "their plight is even more desperate".
He painted a picture of halted immunization campaigns and broadening gaps in global vaccine delivery.
Three commitments required
The Secretary-General appealed for three main commitments, beginning with finding safe ways to continue delivering vaccinations, "even as COVID-19 spreads".
Secondly, he asked that vaccine-delivery networks be used to deliver a range of other primary health services.
And finally, when the COVID-19 vaccine does become available, that it reaches everyone.
"Disease know no borders", concluded the UN chief, "that is why a fully funded GAVI will be critical to ensure we continue to progress towards the Sustainable Development Goals (SDGs)".
World leaders chime in
Chaired by the United Kingdom, leaders from around the world outlined their latest thinking during the summit, on the need for, and progress towards, an equitable vaccine
"Vaccines work, and 86 per cent of the world's children have been reached by routine immunization", said Canadian Prime Minister Justin Trudeau. "In the midst of a global pandemic it has never been more important to build capacity to respond to disease outbreaks and work with organizations to deliver vaccines".
The King of Jordan, Abdullah bin Al Hussein, called guaranteed equal access "not only the moral and just approach, it is also in the interest of the entire international community… It is our responsibility as an international community to make sure the most vulnerable are not left behind".
Egypt's President, Abdel Fattah al-Sisi, maintained that it was "pivotal" not to allow the pandemic to affect the importance of fighting other infectious diseases or "to exert collective efforts to resume immunization campaigns against vaccine-preventable diseases".
Ethiopia President, Sahle-Work Zewde, underscored the importance of inoculations by saying that her country had boosted routine immunization from 30 per cent in 2000, to 72 per cent today, spelling out that "since 2018, 1.1 million girls have been spared from the scourge of cervical cancer due to the introduction of the HPV vaccine".
Chancellor Angela Merkel stressed Germany's continued support, saying, "We want to increase the chance for more than 300 million young people to have a healthy life. We are talking about 300 million individual lives – not just a number."
Asian countries urged to honour right to freedom of expression, over pandemic fear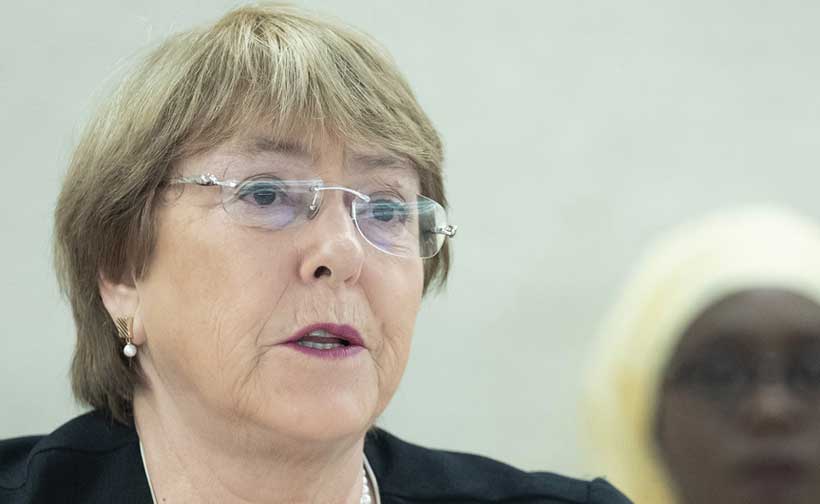 A dozen countries in the Asia-Pacific region have seen an alarming clampdown on freedom of expression during the COVID-19 crisis, UN High Commissioner for Human Rights Michelle Bachelet said on Wednesday.
In her appeal to authorities that any action they take to stop the spread of false information should adhere to the principles of legality, necessity, proportionality, Ms. Bachelet said that "in these times of great uncertainty", citizens had a right to voice their concerns.
Opinions must be heard
"Medical professionals, journalists, human rights defenders and the general public must be allowed to express opinions on vitally important topics of public interest, such as the provision of health care and the handling of the health and socio-economic crisis, and the distribution of relief items," she said.
From Bangladesh to Vietnam and from Myanmar to the Philippines, the High Commissioner detailed how people had been fined, arrested or attacked for allegedly spreading misinformation online about COVID-19 or for criticizing their Government's response.
In Cambodia, Ms Bachelet noted that UN Human Rights Office (OHCHR) had documented multiple arrests – including that of a 14-year-old girl – for public comments and social media posts about the pandemic.
"A number have been charged with spreading so-called 'fake news' or 'false information', alleged incitement to commit a felony, and for allegedly plotting against the Government," the High Commissioner said.
According to the UN human rights office, 14 individuals remain in detention, including 10 associated with the Cambodia National Rescue Party (CNRP), the main opposition party that was dissolved in 2017.
Countries already have 'fake news' laws
More generally, the High Commissioner noted that many of the countries she highlighted already had laws to stop alleged "fake news" and online media that raised human rights concerns.
This legislation had also been used in other contexts to deter legitimate speech, especially public debate, criticism of government policy and suppress freedom of expression, she added.
In Myanmar, the Kayin State Court had convicted and sentenced to two years' imprisonment the chief editor of the Dae Pyaw News Agency, on charges of wrongly publishing an article stating that one person died from the virus, the High Commissioner said.
He was arrested, charged, tried, and convicted in under one week after being accused of making a "statement that could cause or incite public fear or mutiny".
While recognising the need to restrict misinformation or disinformation to protect public health – or incitement of hatred towards minority groups – this should not result in censorship, either purposeful or unintentional, Ms. Bachelet insisted.
"While Governments may have a legitimate interest in controlling the spread of misinformation in a volatile and sensitive context, this must be proportionate and protect freedom of expression", she said.