US: No Restitution to Syria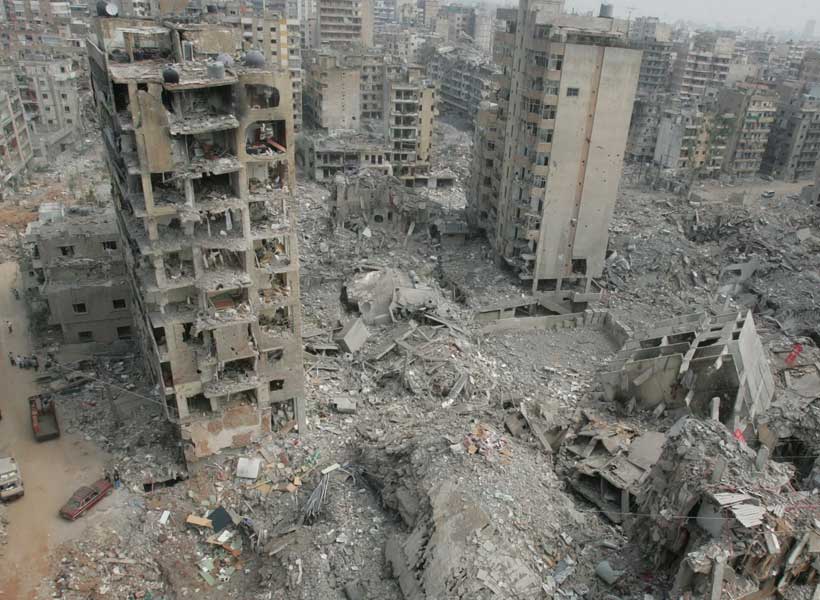 On April 22nd, an anonymous U.S. "Senior Administration Official" told a press conference in Toronto, that the only possible circumstance under which the U.S. Government will agree to pay anything for the harms (bombings of infrastructure etc.) it's doing to Syria, would be if Syria will agree to cede, to U.S. control, a portion of its land:
QUESTION: When you say no reconstruction money for areas that are under Assad's control, there is some reconstruction money that's currently frozen or under question for areas that are not under Assad's control?
MODERATOR: That's stabilization, which is different from reconstruction, just to clarify.
"Stabilization" is the solidification of control by the U.S. Government, via its proxies ('rebels' trained by U.S. and financed by the Sauds) who are fighting to overthrow Syria's Government; and the U.S. won't pay any reconstruction unless it's "stabilizing" that particular part of Syria. If America's 7-year-long effort at regime-change in Syria turns out to be a total failure (grabbing no part of its territory), then the U.S. won't pay even a cent for restoration of Syria from its 7-year-long war to control that country via installing there rulers who will be doing the bidding of the royal Saud family, Saudi Arabia's owners, who have been America's direct agent all along in Syria to ultimately take over its Government. (America's other main ally demanding regime-change in Syria is Israel, which is a Jewish theocracy; and, of course, no predominantly Muslim nation would accept being ruled by Jews of any sort — nor by any Christians. Consequently, the U.S. has been using the fundamentalist Sunni owners of Saudi Arabia — the Saud family (the world's richest family) — as its agent to fund Syria's 'rebels', and to select which of the 'rebels' constitute, at the U.N.-sponsored peace talks for Syria, the 'opposition' who are negotiating against Syria's elected Government to rule the country.) The other participants, along with the Sauds who own Saudi Arabia, are the Thanis who own Qatar, and the six royal families who own United Arab Emirates — all likewise being fundamentalist Sunnis. Syria's Government is committedly secularist and opposed to Sharia (Islamic) law. By installing a Sunni Sharia law government, the Sauds would take effective control over Syria — the U.S. would conquer that land.
On March 16th, the Washington Post bannered "Trump wants to get the U.S. out of Syria's war, so he asked the Saudi king for $4 billion" and reported that "In a December phone call with Saudi Arabia's King Salman, President Trump had an idea he thought could hasten a U.S. exit from Syria: Ask the king for $4 billion. By the end of the call, according to U.S. officials, the president believed he had a deal. The White House wants money from the kingdom and other nations to help rebuild and stabilize the parts of Syria that the U.S. military and its local allies have liberated from the Islamic State." The U.S., in actual fact, had ignored ISIS in Syria until Russia on 30 September 2015, at Syria's request, started bombing it and other jihadists there. After that, opposing ISIS became America's excuse for its earlier and continuing demand that "Assad must go," and America's objective then became bombing and totally destroying ISIS's Syrian headquarters in Raqqa so as for America and its allies to gain access to Syria's oil-producing region. The U.S. had never bombed any of ISIS's oil tanker trucks in Syria until it started doing that on 17 November 2015, after Russia had on September 30th begun its bombings in Syria. Ever since 1949, America's real target in Syria has been to replace Syria's Government, and this goes back long before ISIS even existed, anywhere; and Barack Obama had entered office in 2009 hoping to be the U.S. President who would achieve that decades-long U.S. and Saud and Israel objective. So, for the U.S. Government, Syria is to be conquered, never to be restituted unless and until, and only to the extent that, it is conquered.
On April 16th, the Wall Street Journal headlined "U.S. Seeks Arab Force and Funding for Syria: Under plan, troops would replace American military contingent after ISIS defeat and help secure country's north; proposal faces challenges." This report said that, "The initiative comes as the administration has asked Saudi Arabia, Qatar and the United Arab Emirates to contribute billions of dollars to help restore northern Syria. It wants Arab nations to send troops as well, officials said." The article closed: "Saudi Arabia and the U.A.E. have helped pay the stipends for the Syrian fighters the U.S. is supporting, American officials say. Administration officials are calculating Arab nations will respond more favorably to a request from Mr. Trump, who already has asked Saudi Arabia to contribute $4 billion to restore former Islamic State-held areas of Syria."
America's plan also includes taking control over the dams that supply water to the rest of Syria; so, the goal remains strangulation of Syria's Government, even if outright conquest of it remains beyond reach.
On 10 June 2017, a meeting was held in Syria's northeastern city of Qamishli, which borders Turkey, and where Syrian tribal leaders met with America's allies and with U.S. Colonel John Dorrian (shown here holding a press briefing on a different occasion), at which, according to the Turkish newspaper reporting the event, "Representatives agreed on a pipeline route. Radical decisions were made regarding the extraction, processing and marketing of the underground wealth of the Haseke, Raqqah and Deir ez Zor regions, which hold 95 percent of Syrian oil and natural gas' potential." However, as of yet, Trump hasn't been able to achieve the type of deal that he is aiming for. On April 18th, that same Turkish newspaper bannered "US to build Arab force in NE Syria as part of new ploy: The US is seeking to amass an Arab force in northeastern Syria comprised of funding and troops from Egypt, Saudi Arabia, Qatar and the UAE." So, perhaps there will be a portion of Syria that the U.S. will "stabilize" or even, just maybe, restitute for damages done in the effort to conquer it.
Whitney Webb has provided an excellent comprehensive view on which Syrian assets the U.S. Government is hoping to win.
The reconstruction costs to restore Syria were initially roughly estimated at $250 billion, but Syria's Government now estimates it at around twice that figure.
Why is Melih Bulu Seen as a Pro-AKP "Trustee" Rector?
The new year started under the shadow of social tensions triggered by Melih Bulu's appointment to the rectorate of Bosphorus University by President Recep Tayyip Erdoğan. Professor Melih Bulu had founded the Sarıyer district organization of the incumbent AK Party in 2002. Bulu who in 2015 became a candidate for being a deputy from AK Party could not gain nomination to run in the elections. Bulu also worked as a rector in two private universities before: İstinye University and Haliç University.
On December 31 2020, Bulu was the rectorate of Haliç University. The abrupt appointment of Bulu as the rector to Turkey's most prestigious university prompted a major outrage since the move was regarded as a direct interruption of academic freedom.
Melih Bulu's appointment to the rectorate of Bosphorus University caused a large unrest among Bosphorus students, graduates and scholars. In addition, people coming from different sectors of society who are critical of Erdoğan administration have also joined the "anti-Bulu" protest campaign on social media. After Bulu's appointment, Bosphorus University students protested the appointment on social media by using the hashtag #KayyumRektörİstemiyoruz ("We don't want a trustee rector"). For a couple of days, students of Bosphorus University have been making protests calling Bulu to resign. However Bulu posted an announcement on his Twitter account saying that he will embrace everyone and he is very excited and happy for his new duty.
After Bulu's appointment, not just his political identity affiliated with AK Party was put under debate but also his academic background was put under scrutiny as well. Allegations of plagiarism against him broke out especially on Twitter. Bulu defined these allegations as "slander" and argued that this was the literature survey part of his PhD thesis and said, "I did not write some parts between quotation marks. We did not have something written available. There were different citation rules but I put it in the bibliography section."
According to the Global Academic Freedom Index Turkey has only 9.7 points out of 100 and it is in the rank of 135 out of 144 countries. Turkey is in the similar level with Syria and Turkmenistan.
In previous weeks, journalist Cüneyt Özdemir hosted Bulu in his live Youtube programme and in live broadcast, Bulu saluted the students from the window of his office at rectorate building while the students yelled asking for his resign and this act of Bulu caused surprises and ironies on social media. Amid this environment, on January 5, a group of Bosphorus University academics staged a peaceful protest by standing with their backs to the rectorate building during the handover ceremony for Bulu. The academics of Bosphorus University made a public statement underlining that this appointment is a practice introduced for the first time after the 1980s military tutelage.
Their full statement is as follows:
"'We don't accept, we don't give up!'
On January 1, 2021 at midnight, an academic outside Bogazici University community was appointed as rector, which is a practice introduced for the first time after the 1980s military tutelage.
This is yet another case of many ongoing anti-democratic practices since 2016, aiming at abolishing rectorial elections. We do not accept it as it clearly violates academic freedom and scientific autonomy as well as the democratic values of our university. We refuse to compromise the principles the University Senate officially stated in 2012:
1. To enhance scientific research and social development, it is indispensable that universities be free from any pressure or influence from a person or an institution and not be used as a political tool.
2. For academic freedom, it is imperative that decision-making processes be delegated to democratically elected academic administrators and boards. All academic administrators including the Rector, Deans, Directors of Institute, Directors of Schools and Department Heads can be appointed only after being elected by the university community.
3. As universities are autonomous constitutional establishments, it is vital that university instructors and/or university boards decide on academic programs and research policies, which is an essential prerequisite for scientific freedom and creativity.
We strictly adhere to the principles above and we pledge to follow them up with all the other members of our university community."
On the other hand, police forces detained more than 20 university students in home raids after the protests against the appointment of Bulu. In the mainstream pro-government media actors' coverage of these events, it is argued that the detained people are not students, but they are members of illegal organizations whereas Canan Kaftancıoğlu, the Republican People's Party's current provincial president in Istanbul rejected this and argued that they are students.
According to Althusser (1971), the modern state keeps the authority and control through two main systems: Repressive State Apparatuses & Ideological State Apparatuses. One of areas concerning the ideological state apparatuses is known as education. In this regard, Erdoğan's appointment of Bulu can be seen as a step of using ideological state apparatuses.
Morocco Increases Pressure on Hezbollah by Arresting One of its Alleged Financiers
At a time when global attention is focused on the fight against the pandemic and the global effort to vaccinate populations, terrorist organizations and organized crime are trying to take advantage of the situation to carry out operations to finance their operations. In this context, Morocco's announcement of the arrest of an alleged international con man linked to Hezbollah is considered a success for the Moroccan security services.
According to an official statement relayed by the Moroccan Official Agency, a suspect was arrested last Wednesday by the National Brigade of the Judicial Police (BNPJ). The 57-year-old Lebanese national is linked to the Hezbollah movement, an organization supported by Iran and considered as a terrorist group by the United States, the Netherlands and the United Kingdom. During the search conducted by the Moroccan police force, following intelligence and investigative work carried out by the Directorate General of Territorial Surveillance (DGST), investigators found European passports – French and Italian – as well as identity documents listed in the Interpol database as stolen. The suspect was taken into custody and brought before the King's Prosecutor in order to continue the investigation, in partnership with Interpol and the countries involved in the alleged identity document thefts.
U.S. Recognition of Moroccan Sovereignty over Western Sahara
Moroccan authorities believed the suspect used these false identities to present himself as holding important roles in multinational corporations to defraud victims with promises of juicy deals and quick profit. While it is unclear at this stage of the investigation whether the international swindler intended to raise funds for Hezbollah, the arrest comes at a particularly crucial time for Morocco, following the recognition by the United States of America of Moroccan sovereignty over the disputed territory of Western Sahara on December the 10th, and the resumption of diplomatic relations with Israël. After this recognition, The US announced a 3 billion dollars investment plan to help Morocco boost its economy and development, as well as the opening of a regional office of its "Prosper Africa" initiative. Moreover, this Sunday, the Assistant Secretary of State for Near Eastern Affairs David Schenker came to Western Sahara on the 9th of January to inaugurate a U.S. consulate in the coastal city of Dakhla, alongside the Moroccan minister for foreign affairs, Nasser Bourita.
Morocco Broke off diplomatic relations with Iran in 2018
Since 2018, Morocco has vigorously denounced Hezbollah's alleged links with the Polisario Front separatist movement, and broke diplomatic relations with Tehran in the process, as explained by the Think-Tank Atlantic Council . Although both Iran and Hezbollah immediately refuted Morocco's accusations regarding the organization's alleged links with the Polisario Front, Rabat continued to increase its pressure and has since taken substantive action to curb the actions of the organization's agents. In March 2017, Kingdom arrested at the Casablanca airport Kassem Tajjedine, described by the Americans as the main financier of the organization. The latter was wanted for fraud, money laundering, and financing of terrorist activity, according to Reuters. Tajjedine was extradited to the US where he was sentenced to five years in Prison, and was released on July 2020 as part of a secret US-Iran deal.
Morocco is considered a stable country in North Africa, both on the political and economic level, as well as an important Hub for doing business in Africa and Europe. Over the last twenty years, the Kingdom had a steady growth rate of its GDP at around 4% and built top-class infrastructures, including the largest African port in Tangiers, 2000 Miles of Highway, a High-Speed train between Tangiers and Rabat, and the largest solar station of Africa in the south of the country.
Egypt's search for a fig leaf: It's not the Handball World Championship
Hosting major sports tournaments can confer prestige on a country, but in the case of Egypt, the 2021 Handball World Championship will do little to repair its relations with the US, Italy and states in the Gulf, argues James M. Dorsey in this analysis.
***
Egyptian general-turned president Abdel Fattah Al-Sisi sees the 2021 men's handball world championship in Cairo and Alexandria as an opportunity to put his best foot forward at a time when Egypt's relations with its closest regional and global partners are encountering substantial headwinds.
Successful hosting of the championship, the first to involve 32 rather than 24 competing teams, would also serve to counter criticism of the government's handling of the coronavirus pandemic. Egyptian health minister Hala Zayed recently admitted that many more Egyptians contracted the virus than the government has so far reported. A successful hosting would further put a crown in the feather of Egyptian-born International Handball Federation (IHF) president Hassan Moustafa.
Egypt has put strict pandemic-related precautionary heath measures in place for the tournament from the moment teams, officials, and journalists arrive at Cairo International Airport. The measures apply to training, lodging and media arrangements as well as the transport to and from hotels and the championship's four designated match venues. Egypt is determined to ensure that the championship does not turn into a spreader of Covid-19.
That concern prompted the IHF and Egyptian authorities at the last minute to shelve a plan to allow fans into the four venues that include the Cairo Stadium Sports Hall, the New Capital Sports Hall in Egypt's newly built desert capital east of Cairo, the Dr Hassan Moustafa Sports Hall in Giza, and the Borg Al Arab Sports Hall in Alexandria.
The IHF said the decision was taken "considering the current COVID-19 situation as well as concerns that have been raised, amongst others by the players themselves."
Critics charge that Egypt is hosting the tournament even though it seems unable to meet the basic requirements of medical personnel who are on the frontline of the fight against the pandemic.
Doctors and nurses have protested against the high number of infections in their ranks because they lack access to sufficient personnel protection equipment and are threatened with imprisonment if they fail to report to work despite the risk to their lives.
Symptomatic for Mr. Al-Sisi's brutal crackdown on any kind of criticism, several doctors have been arrested on terrorism charges for voicing their grievances.

Putting aside the fact that the impact of a handball tournament pales when compared to the prestige of hosting a mega-event like the World Cup or the Olympic Games, the handball tournament is unlikely to provide much of a fig leaf for Mr. Al-Sisi's hardhanded repression of anyone voicing an opinion but his sycophantic supporters.
That is particularly true for the incoming administration of US President-elect Joe Biden that has not only promised to emphasize human rights in its foreign policy but also needs to do so in its bid to repair America's image and restore its credibility, severely damaged by four years of Donald J. Trump, widely viewed as an authoritarian who undermined foundations of democracy.
Similarly, the tournament will not change perceptions in Italy and much of Europe that hold Mr. Al-Sisi's intelligence service and law enforcement responsible for the kidnapping, torture and killing of Giulio Regeni.
A 28-year-old postgraduate student at Cambridge University, Mr. Regeni had been researching Egypt's independent unions before he went missing in late January 2016. His body was found in a ditch so badly mutilated that his mother could only identify her son by the tip of his nose. He reportedly had sustained a broken neck, wrist, toes, fingers, and teeth before his death, while initials were carved into his severely burned and bruised skin.
Relations between Egypt and Italy last month deteriorated further when Egypt's public prosecution closed its investigation into Mr. Regeni's murder, rejecting Italian prosecutors' findings that accused four Egyptian security officials of responsibility for his death.

Mr. Al-Sisi's abominable human rights record may not be of concern to the United Arab Emirates and Saudi Arabia but equally the tournament will do little to repair cracks in his relationship with the two Gulf states, his main financial backers.
In a move that will not have gone unnoticed in Gulf capitals, Egypt anointed the newly opened, Qatari-owned St. Regis hotel on the banks of the Nile River in Cairo as one of the tournament's key logistics nodes, including its media center.
Qatari Finance Minister Ali Sharif al-Emadi landed in Cairo last week to inaugurate the hotel hours after a Gulf Cooperation Council (GCC) summit lifted a 3.5-year long Saudi-UAE led economic and diplomatic boycott of Qatar, in which Egypt as well as Bahrain participated. Mr. Al-Emadi was the first Qatari Cabinet official to visit Egypt since the boycott was imposed in 2017.
Showcasing the hotel was meant to counter-intuitively signal to Saudi Arabia and the UAE Egypt's concern that reconciliation with Qatar involved far too many concessions, including dropping demands for the closure of Qatar's state-funded, freewheeling Al Jazeera television network and a halt to support of political groups like the Muslim Brotherhood.
Egypt was forced to reluctantly agree to lifting the boycott even though it accepted continued Qatari investment and Qatari gas supplies over the last 3.5 years.
Egypt also felt sidelined by the UAE and Bahrain's establishment of diplomatic relations with Israel. The move deprived Egypt of its role as Israel's primary official diplomatic conduit to the Arab world at a moment that the Al-Sisi regime is seeking to put its best foot forward in anticipation of Mr. Biden taking office.
Mr. Al-Sisi's concerns are compounded by Emirati support for Ethiopia with which he is at odds over the construction of a dam on the Nile that threatens Egypt's water supply; the UAE's growing influence in neighboring Sudan; plans to link the UAE and Israel through a pipeline that would compete with Egypt in selling gas to Europe; and Emirati interest in the port of Haifa that could create an alternative to the Suez Canal.
All of this could undermine Egypt's position as a key pillar of US Middle East policy and persuade the US to further shift the focal point of its broader Middle East and North Africa policy to the Gulf.
Mr. Al-Sisi has sought to pre-empt an incoming Biden administration by releasing prisoners, highlighting his good relations with Egyptian Christians, and hiring US lobbying firms to plead his case to the Biden camp as well as Capitol Hill.
Hosting a handball world championship is a minor maneuver in the mountain that Mr. Al-Sisi is trying to move, particularly one that Mr. Trump tarnished by describing the Egyptian leader as "my favorite dictator." That is a label a handball tournament is unlikely to alter.
Author's note: This article first appeared on Play the Game