Financial Inclusion on the Rise, But Gaps Remain
Financial inclusion is on the rise globally, accelerated by mobile phones and the internet, but gains have been uneven across countries. A new World Bank report on the use of financial services also finds that men remain more likely than women to have an account.
Globally, 69 percent of adults – 3.8 billion people – now have an account at a bank or mobile money provider, a crucial step in escaping poverty.  This is up from 62 percent in 2014 and just 51 percent in 2011. From 2014 to 2017, 515 million adults obtained an account, and 1.2 billion have done so since 2011, according to the Global Findex database. While in some economies account ownership has surged, progress has been slower elsewhere, often held back by large disparities between men and women and between the rich and poor. The gap between men and women in developing economies remains unchanged since 2011, at 9 percentage points.
The Global Findex, a wide-ranging data set on how people in 144 economies use financial services, was produced by the World Bank with funding from the Bill & Melinda Gates Foundation and in collaboration with Gallup, Inc.
"In the past few years, we have seen great strides around the world in connecting people to formal financial services," World Bank Group President Jim Yong Kim said. "Financial inclusion allows people to save for family needs, borrow to support a business, or build a cushion against an emergency. Having access to financial services is a critical step towards reducing both poverty and inequality, and new data on mobile phone ownership and internet access show unprecedented opportunities to use technology to achieve universal financial inclusion."
Download The Global Findex Database 2017: Measuring Financial Inclusion and the Fintech Revolution
There has been a significant increase in the use of mobile phones and the internet to conduct financial transactions. Between 2014 and 2017, this has contributed to a rise in the share of account owners sending or receiving payments digitally from 67 percent to 76 percent globally, and in the developing world from 57 percent to 70 percent.
 "The Global Findex shows great progress for financial access–and also great opportunities for policymakers and the private sector to increase usage and to expand inclusion among women, farmers and the poor," H.M. Queen Máxima of the Netherlands, the United Nations Secretary-General's Special Advocate for Inclusive Finance for Development, said. "Digital financial services were the key to our recent progress and will continue to be essential as we seek to achieve universal financial inclusion."
Globally, 1.7 billion adults remain unbanked, yet two-thirds of them own a mobile phone that could help them access financial services. Digital technology could take advantage of existing cash transactions to bring people into the financial system, the report finds. For example, paying government wages, pensions, and social benefits directly into accounts could bring formal financial services to up to 100 million more adults globally, including 95 million in developing economies. There are other opportunities to increase account ownership and use through digital payments: more than 200 million unbanked adults who work in the private sector are paid in cash only, as are more than 200 million who receive agricultural payments.
"We already know a lot about how to make sure women have equal access to financial services that can change their lives," Melinda Gates, Co-Chair of the Bill & Melinda Gates Foundation, said. "When the government deposits social welfare payments or other subsidies directly into women's digital bank accounts, the impact is amazing. Women gain decision-making power in their homes, and with more financial tools at their disposal they invest in their families' prosperity and help drive broad economic growth."
This edition of the Global Findex database includes updated indicators on access to and use of formal and informal financial services.  It adds data on the use of financial technology, including mobile phones and the internet to conduct financial transactions, and is based on over 150,000 interviews around the world. The database has been published every three years since 2011.
"The Global Findex database has become a mainstay of global efforts to promote financial inclusion," World Bank Development Research Group Director Asli Demirgüç-Kunt said. "The data offer a wealth of information for development practitioners, policymakers and scholars, and are helping track progress toward the World Bank Group goal of Universal Financial Access by 2020 and the United Nations Sustainable Development Goals."
Regional Overviews
In Sub-Saharan Africa, mobile money drove financial inclusion. While the share of adults with a financial institution account remained flat, the share with a mobile money account almost doubled, to 21 percent. Since 2014, mobile money accounts have spread from East Africa to West Africa and beyond. The region is home to all eight economies where 20 percent or more of adults use only a mobile money account: Burkina Faso, Côte d'Ivoire, Gabon, Kenya, Senegal, Tanzania, Uganda, and Zimbabwe. Opportunities abound to increase account ownership: up to 95 million unbanked adults in the region receive cash payments for agricultural products, and roughly 65 million save using semiformal methods.
In East Asia and the Pacific, the use of digital financial transactions grew even as account ownership stagnated. Today, 71 percent of adults have an account, little changed from 2014. An exception is Indonesia, where the share with an account rose by 13 percentage points to 49 percent. Gender inequality is low: men and women are equally likely to have an account in Cambodia, Indonesia, Myanmar, and Vietnam. Digital financial transactions have accelerated especially in China, where the share of account owners using the internet to pay bills or buy things more than doubled—to 57 percent. Digital technology could be leveraged to further increase account use: 405 million account owners in the region pay utility bills in cash, though 95 percent of them have a mobile phone.
In Europe and Central Asia, account ownership rose from 58 percent of adults in 2014 to 65 percent in 2017. Digital government payments of wages, pensions, and social benefits helped drive that increase. Among those with an account, 17 percent opened their first one to receive government payments. The share of adults making or receiving digital payments jumped by 14 percentage points to 60 percent. Digitizing all public pension payments could reduce the number of unbanked adults by up to 20 million.
In Latin America and the Caribbean, wide access to digital technology could enable rapid growth in financial technology use: 55 percent of adults own a mobile phone and have access to the internet, 15 percentage points more than the developing world average. Since 2014, the share of adults making or receiving digital payments has risen by about 8 percentage points or more in such economies as Bolivia, Brazil, Colombia, Haiti, and Peru. About 20 percent adults with an account use mobile or the internet to make a transaction through an account in Argentina, Brazil, and Costa Rica. By digitizing cash wage payments, businesses could expand account ownership to up to 30 million unbanked adults—almost 90 percent of whom have a mobile phone.
In the Middle East and North Africa, opportunities to increase financial inclusion are particularly strong among women. Today 52 percent of men but only 35 percent of women have an account, the largest gender gap of any region. Relatively high mobile phone ownership offers an avenue for expanding financial inclusion: among the unbanked, 86 percent of men and 75 percent of women have a mobile phone. Up to 20 million unbanked adults in the region send or receive domestic remittances using cash or an over-the-counter service, including 7 million in the Arab Republic of Egypt.
In South Asia, the share of adults with an account rose by 23 percentage points, to 70 percent. Progress was driven by India, where a government policy to increase financial inclusion through biometric identification pushed the share with an account up to 80 percent, with big gains among women and poorer adults. Excluding India, regional account ownership still rose by 12 percentage points—but men often benefited more than women. In Bangladesh, the share with an account rose by 10 percentage points among women while nearly doubling among men. Regionwide, digitizing payments for agricultural products could reduce the number of unbanked adults by roughly 40 million.
Study Finds Ways To Boost Intra-African Trade and Build Resilience
On 1 January 2021, the African Union launched the Africa Continental Free Trade Area (AfCFTA), the world's biggest free trade area and Africa's most ambitious and recent effort to liberalize trade. The World Economic Forum's Connecting Countries and Cities for Regional Value Chain Integration – Operationalizing the African Continental Free Trade Area (AfCFTA) released today analyses the impact that COVID-19 has had on Africa's supply chains.
Developed by the World Economic Forum's Regional Action Group for Africa in partnership with Deloitte, the report provides policy advice for accelerating the expansion of regional value chains in emerging manufacturing economies such as the automotive industry.
The paper is part of a series investigating five ways to drive economic recovery and build resilience in the context of the AfCFTA Agreement, namely:
New financing models for rapid recovery
Unlocking manufacturing to mitigate global supply chain risks
Leveraging integration and regional value chains
Revitalizing infrastructure and connectivity
Scaling up digital transformation and inclusive innovation
"The African Continental Free Trade Area holds immense potential for the social and economic development of Africa. Renewing the rules of trading will facilitate better cooperation to boost growth, reduce poverty and broaden economic inclusion," said Børge Brende, President of the World Economic Forum. "This timely report of the Regional Action Group for Africa presents detailed insights and recommendations on how to advance public-private collaboration on regional integration, with a view of deepening and strengthening regional value chains."
"It is perhaps the most ambitious free trade project since the creation of the World Trade Organization itself. Actively promoting trade liberalization to encourage new areas of growth is a pragmatic response to the reduction in global trade due to the COVID-19 pandemic and will position Africa as an enhanced destination for investment from multinationals", said Martyn Davies, Managing Director of Emerging Markets at Deloitte Africa. "Although the continent can do little to counter the global forces inclining towards deglobalization, it can embrace a self-supportive regionalism through enhanced intra-African trade."
Insufficient and inert inter-linkages between African economies have exacerbated the impact of the COVID-19 pandemic on the continent's supply chains. Yet, from local production of essential products to improving port and customs efficiencies – often flagged as a challenge in Africa – the response to the pandemic illustrated how meaningful impact is created through collaborative efforts. Successfully implemented, current efforts by the African Union will stimulate trade as well as deepen and create new regional value chains in Africa. Lessons learned should be applied to improving production capabilities in other industries so that economic and trade benefits can be realized.
The paper places emphasis on the automotive sector as a case study as advances in that industry have the potential to set the tone and pace for other sectors to mobilize and create stronger integrated regional value chains. The industry is on the cusp of an evolution, with advances in electric and autonomous vehicles and transformations in mobility, but as Africa builds its automotive industry, it should focus on development that promotes innovation and drives adoptions that will be sustainable for the growth and development of the sector.
Health, Jobs and Environment Top Personal Risk List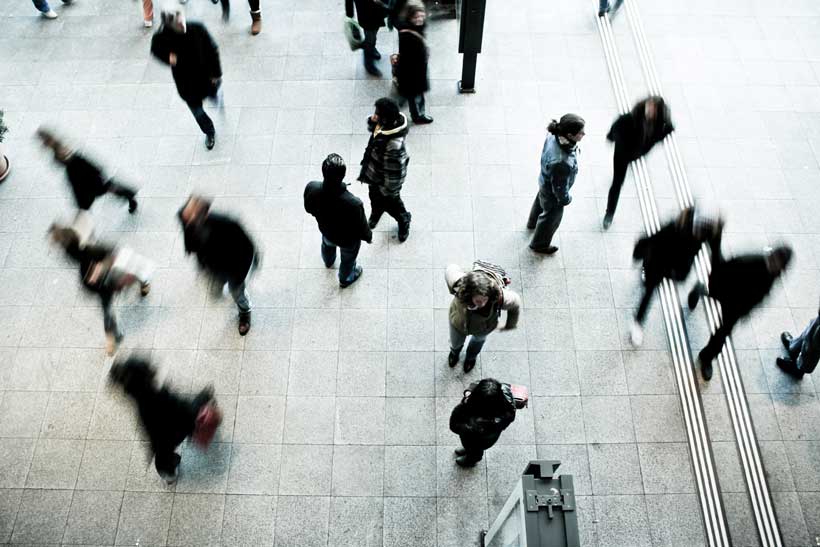 A new World Economic Forum/Ipsos survey found most adults are optimistic about accessing technology, digital tools and training in the next 12 months, but have serious concerns about the state of the climate, job market and global health. These findings ahead of the Davos Agenda week highlight the importance of leaders across the public and private sectors coming together to address the changes needed in a crucial year ahead.
According to the survey, the percentage of those expecting the availability of digital tools and technology to improve in 2021 exceeds the percentage of those who think it will get worse across geographies. This is most of all the case in Saudi Arabia (by 57 points), Peru (55 points), and India (48 points). Italy is the only country where, while the proportion of optimists is greater than that of pessimists by 3 points, the difference is not statistically significant.
Significantly larger proportions of people expect opportunities for training and education to improve in 2021 than to get worse in 12 countries — most of all in Saudi Arabia (by 45 points), Peru (44 points), Mexico (36 points), and China (36 points).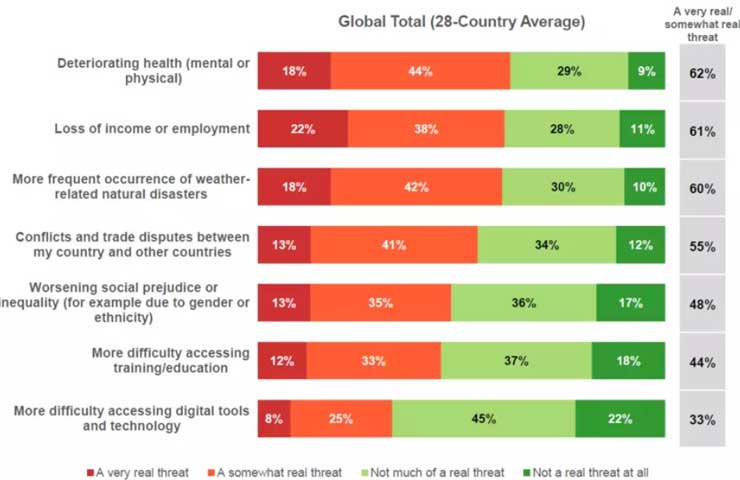 Image: IPSOS/World Economic Forum
However, there are global concerns with deteriorating health, loss of income or employment, and more frequent weather-related natural disasters – each perceived as a real threat by three out of five adults across the world.
Pessimists outnumber optimists on the other five issues measured: The pace of climate change (by 20 points); Employment opportunities (by 15 points); General health conditions (by 5 points); Inequality (by 4 points), and Relations between one's country and other countries (by 2 points).
Expected Change in 2021 Image: IPSOS/World Economic Forum
The pandemic has accelerated systemic changes that were apparent before its inception. The fault lines that emerged in 2020 now appear as critical crossroads in 2021. The Davos Agenda will help leaders choose innovative and bold solutions to stem the pandemic and drive a robust recovery over the next year.

In regards to the Davos Agenda, Professor Klaus Schwab, Founder and Executive Chairman of the World Economic Forum said: "In the context of the COVID-19 pandemic, the need to reset priorities and the urgency to reform systems have been growing stronger around the world. Rebuilding trust and increasing global cooperation are crucial to fostering innovative and bold solutions to stem the pandemic and drive a robust recovery. This unique meeting will be an opportunity for leaders to outline their vision and address the most important issues of our time, such as the need to accelerate job creation and to protect the environment."
Key Trends Shaping the Global Economy in 2021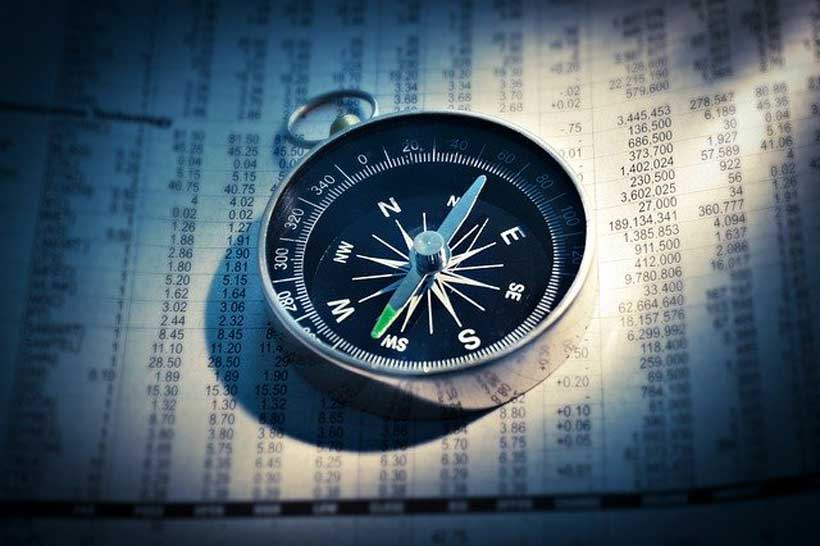 Accelerating inequality, remote work and greater tech market dominance are among the pandemic's emerging trends that are likely here to stay for some years. Beyond managing the pandemic and vaccine rollout, these trends could shape a new era of fiscal, monetary and competition policy, as well as bigger government. Deglobalization is seen as the least likely of current trends to continue in the longer term; particularly as international coordination is key to resolving global challenges such as vaccine manufacturing and distribution. These are some of the findings of the World Economic Forum's Chief Economists Outlook, published today.
The latest edition of the Forum's Chief Economists Outlook is the outcome of consultations with leading chief economists from the public and private sectors. The report outlines the global economic outlook and lays out the priorities for policy-makers and business leaders to chart a post-pandemic recovery agenda that is fair, inclusive and sustainable.
Chief economists are impressed at the speed and scale of fiscal policy measures taken in the wake of the pandemic. However, as the global vaccination campaign picks up pace, they see the second half of 2021 as the optimal time to begin transitioning from general emergency spending to more targeted spending on future growth sectors. A majority suggest that taking action to pay down the significant national debts accumulated in the past year can wait until 2024 or beyond.
With central bank financing of public debt through quantitative easing now at the core of monetary policy in response to the crisis, chief economists believe this could lead to less central bank independence over time. Many also suggested that central banks should be pursuing environmental objectives directly through their asset purchases, which would represent a significant departure from past practice.
Most chief economists expect a brighter outlook as the vaccine helps accelerate the recovery, and as a new US administration contributes to tackling short-and long-term challenges, both domestically and globally, through revived multilateral institutions. However, most of those surveyed see virus mutations as the biggest risk for 2021, slowing efforts to contain the pandemic and leading to new lockdowns. Another concern relates to poorly calibrated policy responses that risk failing to differentiate between the deep structural impact of the pandemic on some sectors and the temporary halting of activity in other sectors.
"This report makes clear that precisely calibrated and coordinated fiscal, monetary and competition policy hold the key to global economic recovery and transformation. As the roll-out of vaccines picks up pace, there won't be a better time for governments to work together and invest in a fair transition to a greener, more inclusive economy," says Saadia Zahidi, Manging Director at the World Economic Forum.