Building a Climate-Resilient South Asia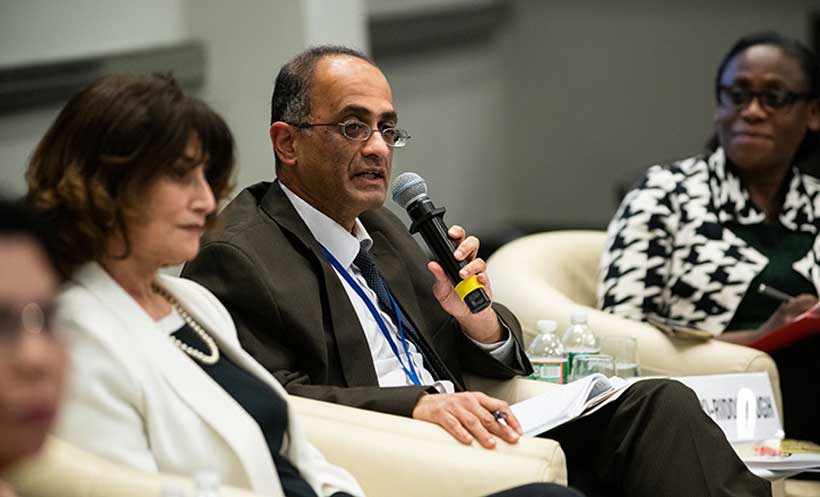 Last summer's monsoon hit South Asia particularly hard and left nearly 1,400 people dead and displaced millions of others.
In the last sixty years, such weather extremes have become more common in the subcontinent and, without urgent action to limit carbon emissions, their impact on communities will likely get worse.
In addition to these extremes, average weather patterns are also changing with each year turning out to be warmer than the previous year and monsoon rainfall patterns are getting more and more erratic.
Eight hundred million South Asians to be exact – or half the region's population—are at risk to see their standards of living and incomes decline as rising temperatures and more erratic rainfalls will cut down crop yields, make water more scare, and push more people away from their homes to seek safer places.
This worst-case scenario and relevant adaptation strategies underpin the upcoming report South Asia's Hotspots, whose main findings were presented yesterday at a panel on building climate change resilience in South Asia at the World Bank Spring Meetings.
Its main author, World Bank Lead Economist Muthukumara Mani detailed how specific geographic areas across South Asia or "hotspots" which –until now—were relatively immune to climate change threats could be badly affected by 2050.
Most hotspots, Mani remarked, are located inland, already poor, have fewer roads and are isolated from main economic centers. And with many residents subsisting on farming, higher incidences of droughts or floods combined with extreme heat could further drive down their fragile wellbeing and force more people into poverty.
And while other manifestations of climate change such as sea level rise or natural disasters and their impact on economies have been well documented, less is known of the long-term effects of higher temperatures and unpredictable rainfalls on local communities.
It's urgent to develop this understanding as most countries in South Asia have already passed their optimal temperature tipping points, beyond which standards of living and consumption are only expected to drop irreversibly.
To build resilience, the report recommends that South Asian countries better prioritize their financial resources where they're most needed and target the most vulnerable individuals and families.
Mani noted that diversifying jobs beyond agriculture, investing in education and skills, and improving access to electricity can ease the expected decline in living standards caused by long-term climate impacts. Such actions, he argued, must be tailored to address the specific climate impacts and local conditions found in South Asia's hotspots.
In the end, the cost of inaction—that is, if carbon emissions continue unabated—could be huge as countries with severe hotspots, Mani concluded, would see income in these areas drop by 14.4 percent in Bangladesh, 9.8 percent in India, and 10 percent in Sri Lanka by 2050.
Following the presentation, government, civil society, and academia elaborated on concrete climate actions and adaptation strategies to build a more resilient South Asia.
The panel included Ms. Mahmuda Begum, additional Secretary in World Bank Wing at Economic Relations Division at the Bangladesh's Ministry of Finance, Ms. Aisha Khan, Executive Director for Civil Society Coalition for Climate Change (CSCCC) and CEO of Mountain and Glacier Organization (MGPO) in Pakistan, Mr. Anand Patwardhan,  Professor of Public Policy at the University of Maryland, USA, and Ms. Jaime Madrigano associate policy researcher at the RAND Corporation, USA. Ms. Idah Pswarayi-Riddihough, Country Director for Sri Lanka and the Maldives in the South Asia Region, World Bank Group moderated the discussion.
Noting that Pakistan's soaring population coupled with shrinking arable lands present a challenge to the country's environment sustainability and food security, Aisha Khan emphasized that building climate resilience should go hand in hand with better –that is, more open and inclusive—governance. Involving civil society, including women-run organizations, will bring greater accountability to climate change policies that will later impact the entire population. And that sense of co-ownership and shared responsibility, Khan added, is critical to civil society.
Such collaborations are key to building strategic climate resilience and, to be successful in the long term, should extend to partnership between countries. Water presents such an opportunity. "We in South Asia are the third pole…with the densest glaciers outside polar regions in the world," she said. "Water being a common problem for all of us, we need to do more work together."
When it was his turn to speak, Anand Patwardhan noted that the conversation about climate resilience would have to go beyond risks and be reframed around opportunities to further advance the development agenda. In India, large national programs such as Smart Cities or Swachh Bharat projects are two examples of how climate action can help achieve greater development outcomes. In South Asia, Patwardhan later remarked, a lot of infrastructure still needs to be put into place. There lies an opportunity to invest in natural infrastructure [that benefits both the economy and the environment] and ecosystem adaptation to advance resilience across the region.
Floods in Europe, Turkey, China and India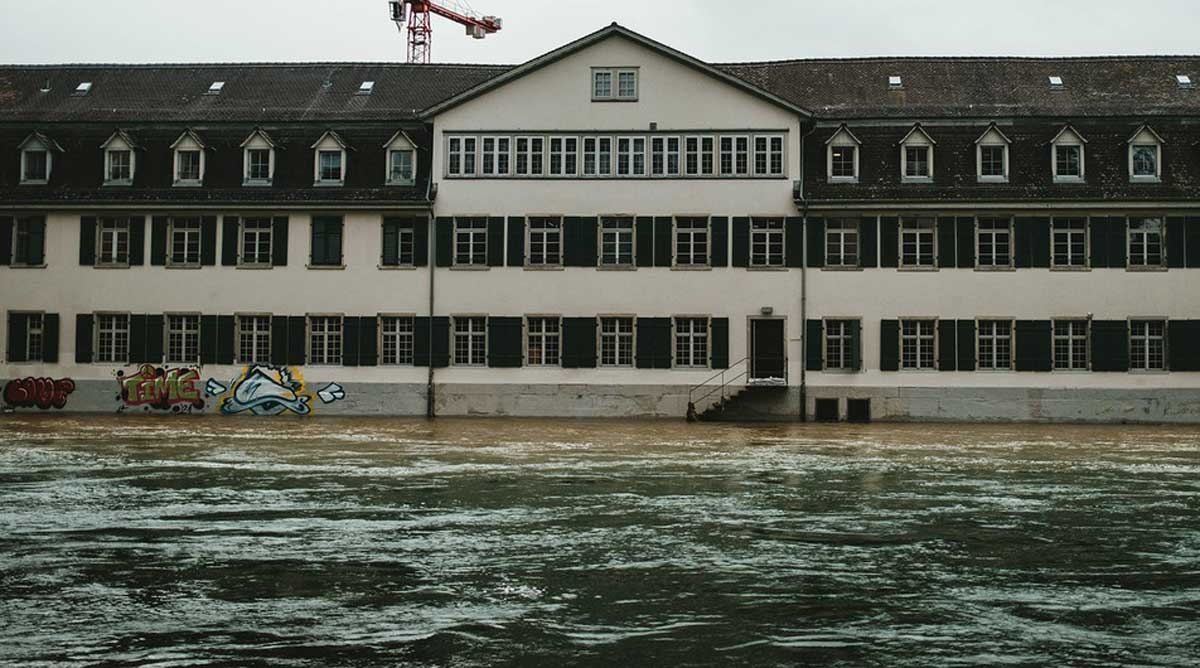 The residents of Erfurt in Thuringia, where Martin Luther lived and studied, had never seen anything like it. The main street became a raging river washing away parked cars and anything else besides that emerged from flooded first floors.
The flooding in northwest Germany and Belgium as the gentle meandering Ahr River transformed into a torrent, overflowing its banks and devastating this wine producing region stunned Angela Merkel by the extent of damage in the towns and valleys. Close by in Schuld nearly half of the houses are completely destroyed, many simply disappeared, washed away, and the rest suffered serious damage.
West of Cologne, the Erft River submerged streets and houses in Blessem. The sides of a gravel pit gave way as it filled with water and parts of a castle and several houses collapsed into the huge hole. Southwest of Cologne in the Eifel region, the charming old-world tower of Ban Munstereifel was inundated and the charming pedestrian mall lined with centuries old buildings was ripped up by the waters.
The story was repeated in Liege, Belgium's third largest city, as the Meuse River spilled over its banks and into the city turning the streets into rushing waters and carrying away cars, furniture and unfortunately, people. The river had risen by about 10 feet in one day. Almost all of Belgium was under flood alert as other rivers rose. By the time it was over at least 20 had died, many were missing and the prime minister had declared a day of mourning.
Across the channel, a fierce storm flooded West London and affected subway tunnels bringing transport to a stop. Again, roads turned into rivers as a month's rain fell in one day. Affecting large portions of southern England, it flooded rail lines even in Southampton.
Earlier in the month, tropical storm Elsa flooded subways in parts of New York. Meanwhile, torrential rains have flooded subways in Zhengzhou, the capital of Henan province, trapping passengers.
The rains have battered the Chinese province for almost a week. Home to more than 99 million, the region has suffered an estimated $190 million of damage. At least 33 people are feared dead, 12 in the Zhengzhou subway when it was flooded. Terrified survivors on Line 5 report water slowly rising up to their necks as they stood on the seats. Dams have burst, reservoirs have overflowed as have rivers, affecting almost a half billion people according to People's Daily.
Catastrophic floods in Artvin Province in Turkey, this week repeat the story. Cars washed away down streets turned into torrents when the cities of Artvin and Arhavi were inundated. Also this week in India the monsoon season in Maharashtra has brought extremely heavy rains with flooding.
The terms being used for these floods are 'once-in-a-lifetime' or 'once-in-a-thousand-year events. But the coincidence of so many of these across the globe begs the question of whether the climate crisis has altered the norm. Will another of these 'thousand-year' events hit us next year or decade? Time will tell. Our hearts go out to the people who are suffering… those who have lost loved ones and those who have lost what they owned and their peace of mind.
Climate change could spark floods in world's largest desert lake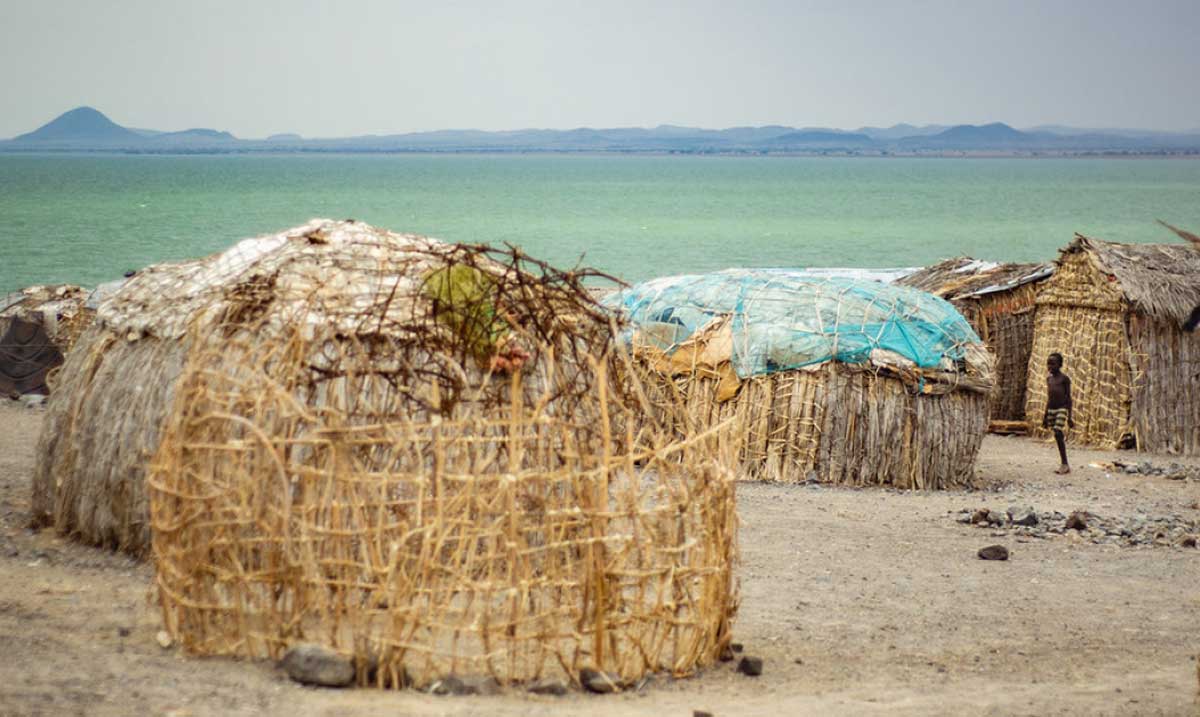 For years it appeared as though Lake Turkana, which sits in an arid part of northern Kenya, was drying up.
Its main river inflows had been muffled by dams and many feared water levels were poised to drop by two-thirds, causing the lake to cleave into two smaller bodies of water. It was, one report said, an African "Aral Sea disaster in the making" – where only 10 per cent remains of the original sea.
But a new study from the United Nations Environment Programme (UNEP) predicts a far wetter future for Lake Turkana – and possibly a more perilous one for the 15 million people who live on its shores.
The report found that over the next 20 years, climate change could likely lead to heavier rains over Lake Turkana's river inflows, which would raise water levels in the lake itself and increase the likelihood of severe flooding.
The study urged officials in Kenya and Ethiopia, which both border Lake Turkana, to prepare for a future in which once-rare floods, such as those that hit the region in 2019 and 2020, are regular occurrences.
"Many people think that climate change is a problem for the future," says Frank Turyatunga, Deputy Head of UNEP's Africa Office. "But as Lake Turkana shows, it's happening now and it's already forcing people to adapt to new conditions."
Lake Turkana, the world's largest desert lake, is part of the Omo-Turkana basin, which stretches into four countries: Ethiopia, Kenya, South Sudan and Uganda. The basin is home to many rare plants and animals.
Since 1988, Ethiopia has built a series of hydroelectric dams on its main tributary, the Omo River, leading to predictions of Lake Turkana's demise.
Climate projections
Using sophisticated water resources modelling and climate change scenario analysis, the new UNEP report found that up to eight human settlements around the lake could be inundated by flooding periodically. While severe, abrupt flooding has been rare, climate change projections foresee this becoming more regular and impacting more people if adaptation measures are not put in place.
The report called for improved international cooperation and adaptation measures, including reforestation, agroforestry and avoiding construction in areas at risk of flooding.
"In the last two years, rising water levels in Lake Turkana have damaged pastureland, inundated buildings and forced people to flee their homes," says Tito Ochieng, Director of Water in Kenya's Turkana County. "But there is still a mindset in Kenya that lake water levels are constantly falling, which makes planning difficult."
The study also found evidence of rising water levels in the eight lakes that line Kenya's Rift Valley. Severe flooding in those lakes in 2019 and 2020 damaged homes and infrastructure – and even reportedly led to a spike in deadly crocodile attacks.
Africa stands out disproportionately as the most vulnerable region in the world to climate change. This vulnerability is driven by the prevailing low levels of socioeconomic growth in the continent. While climate change is global, the poor are disproportionately vulnerable to its effects.
UNEP's climate change work in Africa supports countries to implement their climate action commitments – Nationally Determined Contributions (NDCs) – to meet food security, create income and opportunities for youth, and economic expansion.
Regional cooperation
The report was part of a wider project designed to accelerate cooperation in the border areas between Ethiopia, Kenya and Somalia.
The project also developed an open-source information portal on the basin, based in part on satellite imagery. It contains data on land cover, water quality and soil moisture, and examines the various climate change scenarios.
The report follows the launch of the UN Decade on Ecosystem Restoration 2021-2030, a global push to revive natural spaces. It is also part of UNEP's wider work to monitor and restore freshwater ecosystems worldwide, supporting Sustainable Development Goal 6.
Six things you can do to bring back mangroves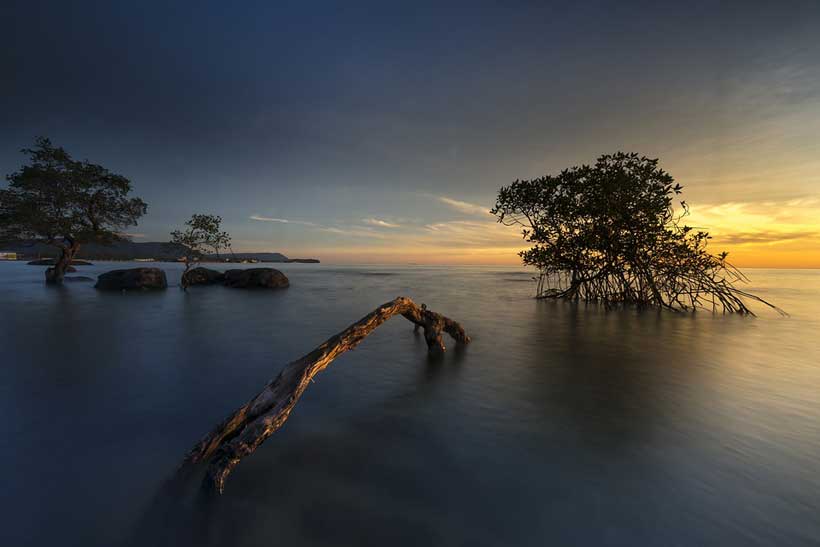 Don't be fooled by their modest appearance: mangroves are important players in some of the greatest challenges facing the world today. They provide a defense between land and sea, absorb carbon, contribute to economic and food security, and are home to some of the most rare and colourful species.
But mangroves are disappearing at an accelerating rate.In some areas of the Western Indian Ocean region – one of the two most important global mangrove hotspots, together with Southeast Asia – more than 80 per cent of mangroves have already been lost.
The United Nations (UN) Decade on Ecosystem Restoration is a global rallying cry to change our relationship with nature – from degradation to restoration. Here are six things you can do to start bringing back mangroves today.
1. Understand the importance of mangroves.
Only with healthy ecosystems can we enhance people's livelihoods, counteract climate change, and stop the collapse of biodiversity.
UNEP research shows that mangrove ecosystems underpin global and local economies, by supporting fisheries, providing other food sources and protecting coastlines. In fact, every hectare of mangrove forest represents an estimated US$33–57,000 per year.
They're also important protectors – sheltering land and coastal communities from storms, tsunamis, rising sea levels and erosion. And with the world at risk of a temperature rise of over 3°C this century, mangroves are also an invaluable ally in the race to adapt. They extract up to five times more carbon from the atmosphere than forests on land, and protecting mangroves is 1000 times less expensive, per kilometer, than building seawalls.
Learn more about mangrove ecosystems in this short video; and their role in climate change adaptation in this animation.
2. Understand what is driving their loss.
Home to forty per cent of the world's population, coastlines are among the most densely-populated areas on Earth. Consequent development of coastlines – clearing mangrove forests to create space for buildings, and to farm fish and shrimp – is the main driver of mangrove loss. Worldwide, this has caused the loss of 20 per cent of mangrove ecosystems.
Pollution also plays a role. Because they form a protective line between coasts and ocean, mangroves are effectively a "plastic trap". When plastic bags and litter cover roots and sediment layers, it can starve mangroves of oxygen; and can harm sea animals.
3. Make sustainable choices.
The choices we make are a powerful way to express our values and to affect consumption and demand. Ask questions about the food you consume; choose foods that are sustainably sourced; say no to single-use plastic and reduce consumption in general.
Learn more about what you can do through the UN Environment Programme (UNEP) Clean Seas campaign, and see examples of restoration supportive choices in the Ecosystem Restoration Playbook.
4. Learn how restoration works.
Before planting new mangroves, it is important to understand the cause of forest degradation or disappearance. In the case of pollution, over-harvesting or other causes that can be eliminated, mangroves can recover naturally.
When recovery requires human intervention, it is important to follow key steps, like involving local communities, selecting native seedlings and establishing a functioning nursery. To learn more, see UNEP's Guidelines on Mangrove Ecosystem Restoration, which elaborate each step of the process.
5. Be an advocate and an activist.
Whoever you are, wherever you are, you can begin to take action today. Discuss the importance of mangroves with your friends, family, colleagues and networks. Share information, images and ideas that inspire you.
If you're not sure where to start, find inspiration in what others are doing. In Kenya and Madagascar, communities have recognized the contribution of mangroves to their own livelihoods and are actively participating in carbon monitoring, reforestation and education to prevent exploitation and ensure the livelihoods of future generations.
To get ideas about actions that could be right for you, play this game; and go to the UN Decade for Ecosystem Restoration Implementers Hub to find out how others are taking the lead in this work.
6. Make some noise.
Despite the scale of the challenge, there are solutions; and some governments are already taking action. Cuba, Haiti, Puerto Rico and the Dominican Republic have prioritized mangrove restoration through the Caribbean Biological Corridor initiative; and in Cuba, mangrove forests still cover 70 per cent of the coastline. Pakistan has committed to planting 10 billion trees by 2023 in an initiative led by Prime Minister Imran Khan and supported by UNEP, and millions – if not billions – of these trees will be mangroves. Restoration pledges from other countries can be found here.