Sri Lanka: From My Eyes and Experiences
Sri Lanka, an island country in south Asian, located to the southwest of the Bay of Bengal and to the southeast of the Arabian Sea, has been interestingly attracting Russian tourists over the two decades. The tourism industry, apart from tea exports, is very important as it brings revenue to the national budget. The economic changes seen as a huge opportunity for promoting tourism business in Russia.
As middle class Russians are travelling for their vacations in Asian countries, so also the business is all year round booming. The main reason for this scenario is the growth in incomes and the tendency in increase of vacationers during the past years. Simply, the overall economic changes in Russia positively affect the outbound travelling. According to my point of view, overall economic development in Russia will continue creating a lot of opportunities for expanding the tourism industry.
For the time of my stay here, Russian tourist traffic to Sri Lanka has increased more than 10 times. Exotic destinations are becoming more and more popular among Russians and Sri Lanka is one of the most attractive Asian countries. Of course, it seems that the global instability and financial crisis affected all economic spheres and, to some extent, tourism as well.
Despite this situation, people still make their choices more carefully and seriously, and give their preference to the countries they have never been before. Sri Lanka is a developing destination on the Russian travel market and I can say that there is a great future ahead.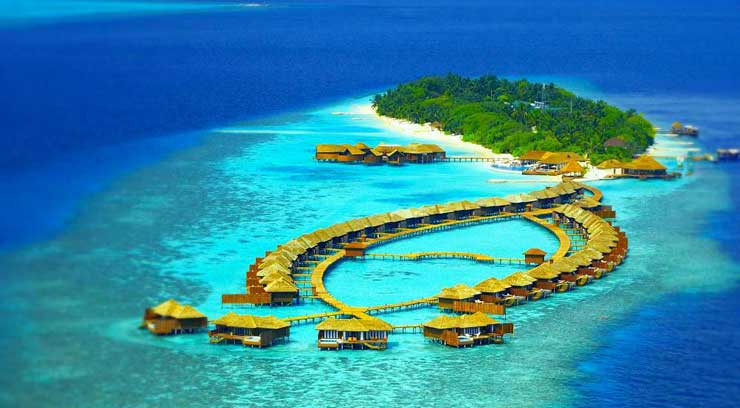 Stability and strength are the best indicator at the present difficult times and this give us a power to express optimism about the future in Sri Lankan tourism sphere. The number of Russian tourists travelling to Sri Lanka is increasing year by year, and in leaps and bounds.  In 2017, the growth was about 10% in spite of the crisis.  Experts at the Russian Tourism Agency told me that the figure for first quarter of 2018, for instance, is not so impressive but attributed to the policy of Russian tour operators and air companies.
Personally, I have every reason to say that Sri Lanka is a small miracle. Nearly all Russians who have visited the island talked about the natural beauty of Sri Lanka. There are three main reasons that make the country a very popular destination among foreign and Russian vacationers.
First is that there is summer all year round. An average temperature is about 26-30 degrees Celcius (and there is no raining season) which attracts travellers the whole year round. In some seasons, rain might start suddenly in any part of the Island and stops short as well. You are able to see the climate changes from tropical on the coastline of the Indian Ocean until the temperate in highland of the island where some frost observed at night.
Second reason for its popularity is that Sri Lanka has splendid nature and rich cultural heritage. Travellers who enjoy a cognitive tourism are able to see historical heritage, museums, ancient cities, Buddhist temples and national dance show. Numerous national parks, mountain peaks, waterfalls, rain forests and jungles with an infinite number of animals and nature variety attract nature-lovers. For adventure tourism, Sri Lanka offers climbing to the mountains peaks, rafting, diving surfing and other kind of water sport.
Third reason of Sri Lanka's attractiveness is the local hospitality and friendliness of Sri Lankan people. Sri Lankan hotels provide a well-known Asian service and comfortable accommodation. People smile right from the bottom of their hearts.
The government's key policy on tourism promotion and strategies that have adopted to sell the country's tourism destinations has pushed potential tourists to choose Sri Lanka. My interaction with Sri Lankan diaspora, the idea to set up a tourism department at the embassy began in 2008, and it was so because the diplomatic officials have seen a great opportunities in expanding tourism for Sri Lanka.
The Embassy of Sri Lanka in the Russian Federation takes an active part in promoting the country on the Russian travel market. Over the ten years, I have seen them participate in workshops for travel agents and talk about Sri Lanka to the managers of travel companies. The officials communicate with journalists with great pleasure and contribute to make for their farm trips around Sri Lanka as well.
The government officials organize and support direct flights to Sri Lanka. There are two direct flights organized by Aeroflot airlines from Moscow and airlines from St. Petersburg. In interview discussions with a few Sri Lanka officials, they told me that they have given all kinds of support for those flights and tried to minimize ticket's rate by the reducing handling costs in Sri Lanka airport.
Sri Lanka regularly participates in Moscow International Travel and Tourism exhibitions in March and Leisure exhibitions in September. During these business events, officials arrange regular meetings with leadership of tour operators for discussing vital problems and help with solutions. The main objective is to support the integration of all members of the travel market.
Further, officials give assistance to Sri Lankan hotels in attracting Russian speaking staff and Russian translation of hotels information. Quite recently, I have noticed that audio guides issued in Russian language including virtual excursions to places of interest in Sri Lanka.
Sri Lanka tourism industry seeks investors worldwide to invest in the tourism industry. There are attractive schemes to facilitate investors for the tourism infrastructure projects in Sri Lanka. Interested Russian investors could invest in those projects. There is high perspectives about the economic sphere in cooperation with Russia. The most important is to have an agreement signed in the field of tourism between Russia and Sri Lanka.
Why Myrtle Beach is the perfect fall vacation for families
When it comes to vacation planning, millennial families with young children have the edge over school-aged families — no strict school schedules to obey!
Take advantage of this flexibility while you can, and plan your escape to Myrtle Beach. This oceanside city along the beautiful South Carolina coastline features just about everything families with young children are looking for: family fun, engaging and interactive attractions, delicious food and relaxing places to chill out. Bonus: Now that school is in session, you'll escape the summer crowds.
To help you plan, here are some of the things that await in Myrtle Beach.
Budget-friendly fun: As promised in the name, Myrtle Beach is the place to make oceanside memories: building sand castles, hunting for seashells and delighting in their giggles as the waves lap their little toes. As it turns out, fall is one of the best times of year to have that beach vacation without breaking the bank. Look for deep discounts and special lodging packages at hotels and resorts. While you search for fun things to do, be on the lookout for exclusive fall promotions. For example, Visit Myrtle Beach is offering a complimentary children's beach photo session, which will create the perfect keepsake for your getaway.
Beautiful "summer" weather: Even if you feel a nip in the air in your region, the fall weather in South Carolina is still ideal for exploring wide open spaces and enjoying outdoor activities. Brookgreen Gardens features the Lowcountry Zoo, which houses animals in spaces as close to their natural habitat as possible. You'll definitely want to get way up high and see the beaches and water stretch off into forever from atop the SkyWheel, a 200-foot Ferris wheel that's right on the beach.
Enriching fun: Myrtle Beach has plenty of kid-friendly places to interact and build new connections to this wide, wonderful world. Kids can get an up-close look at the colorful fish and other sea creatures at Ripley's Aquarium. After hearing stories about farm life in their favorite picture books, they can see the real thing at the L.W. Paul Living History Farm. Finally, WonderWorks Science Center has more than 100 hands-on exhibits that are designed to both thrill and teach children a thing or two about science.
Peaceful pursuits: While you're enjoying all this family time (and seeing the smiles on those little faces), be sure to make time for the grownups to enjoy themselves, too, with solo outings at some point in the trip. All around Myrtle Beach you'll find lots of options to chill and recharge, whether it's a well-deserved spa treatment or discovering your new favorite wine at a tasting. We'll lose the thought with this vision of heaven: You and your family relaxing along the seashore seashore. No one's cranky, no one's hungry, just … aaaaaaah!
For more ideas and inspiration to plan your fall family vacation to Myrtle Beach, visit www.visitmyrtlebeach.com.
5 insider tips to plan an unforgettable African vacation
When you get lost in wanderlust, do you find yourself dreaming of Africa? This exotic continent is on many people's travel bucket lists, but planning a trip can be intimidating. If you are ready to stop dreaming and start planning an unforgettable African adventure, here are some simple tips to help you get the most out of your trip.
1. Make time for research
When deciding where to go and what to do, consult online resources and guidebooks to get a sense for what interests you most. For example, many African safari destinations have the Big Five — lions, elephants, rhino, leopard and buffalo — but more rare species like the endangered mountain gorilla are only found in a few countries, including Uganda. Uganda also offers some of the most diverse cultural experiences on the African continent, drawing visitors from around the world.
With 10 distinct national parks, Uganda gives you the chance to explore myriad landscapes and natural habitats, each with its own impressive characteristics and wild inhabitants. Most people only have time to visit three or four parks in Uganda, so it's important to get a feel for which one may be right for you. Book a boat safari on the Nile in Murchison Falls National Park, or head out on a game drive in Kidepo Valley National Park to see elephants, giraffes, lions and more with your own two eyes. Learn more about these and other unique Ugandan experiences at www.visituganda.com.
2. Prioritize must-do activities
When you start your research, you'll quickly find there are countless things to see and do. That's why it's important to create a bucket list for your trip. Once you know the things you don't want to leave without accomplishing, you can start putting together an itinerary.
How about the thrill of encountering mountain gorillas in their natural habitat, tracking chimps through dense forest or catching a glimpse of the powerful tree-climbing lions? Birding opportunities are also rich considering more than half of Africa's bird species can be found in Uganda.
3. Consult a trusted travel professional
Especially if you're traveling to a foreign country for the first time, a travel expert can provide customized insight you won't find by doing it solo. Plus, they can help craft the ideal itinerary by suggesting activities or VIP services you may not know about.
For example, maybe kayaking Uganda's Lake Bunyonyi wasn't on your radar. Travel agents and tour operators can tell you why it should be. Want to upgrade your gorilla tracking experience? Travel professionals can arrange educational sessions with organizations like the Gorilla Doctors and their jungle veterinarians. They can help you book a rafting trip on the White Nile in Jinja, Uganda's adventure capital, or arrange a visit to Ziwa Rhino Sanctuary. All these activities and more are made easier when you consult a trusted travel professional.
4. Go beyond wildlife
From the snow-capped peaks of the Rwenzori Mountains to the savannah of Queen Elizabeth National Park and the lush banks of the Nile, Uganda's beautiful landscapes differ dramatically throughout the country. Wildlife flourishes, but there is so much more to explore than Mother Nature's delights. The people that make this land their home are the true heart of Uganda.
To make your trip feel complete, incorporate cultural activities into your itinerary. For example, hike to the top of a mountain near Kidepo Valley National Park and visit the Ik people, a centuries-old community maintaining their traditional way of life. Another opportunity is the Batwa Experience where you can explore Uganda's forest with its original inhabitants. Finally, don't forget to spend a day in the capital city of Kampala, to see what modern life is like for the people of Uganda.
5. Open your mind and take it all in
An African safari is unlike any travel experience you'll ever have. From mind-blowing wildlife encounters to outdoor adventures and immersive cultural experiences, Uganda has plenty to offer every type of travel personality. Keep an open mind and open heart and the things you'll experience will change you forever.
Climate Week to New York City
Mayor de Blasio and NYC & Company—New York City's official destination marketing organization—announced today that they will welcome Climate Week to New York City from September 24-30, 2018. Organized by The Climate Group, an international non-profit organization, Climate Week NYC will gather international leaders from across the public, private and government sectors to showcase and discuss global climate action in New York City, with support from NYC & Company.
"We are honored to again welcome The Climate Group and Climate Week NYC for the 10th year," said Mayor Bill de Blasio. "Here in New York, we're taking bold action on climate. Through our ground breaking OneNYC strategy and our ambitious 1.5˚C Plan, we've committed our city to hit the highest goals of the Paris climate agreement. We're divesting from fossil fuels, mandating that our largest buildings cut their emissions, and investing in electric vehicles. Through investments in resiliency and sustainability, we are building a fairer city for all."
"Climate Week NYC is the largest climate week in the world and as one of the key summits in the international calendar—which runs alongside the United Nations General Assembly—has been driving climate action forward since its launch in 2009," said Helen Clarkson, CEO of The Climate Group. "We are thrilled to be hosting our 10th Climate Week NYC and to appear on the world's stage, to continue to advance climate action to the top of the global agenda."
"Our goal is to leverage the City's significant and growing sustainability efforts to position the destination as 'the capital city of a responsible world," said Fred Dixon, President & CEO of NYC & Company. "From our most iconic parks becoming permanently car-free, plans for Jacob K. Javits Convention Center to house one of the City's largest rooftop farms, and many of our leading hotels embracing the City's Carbon Challenge, events such as Climate Week NYC are the perfect platform to engage our City and the world to demonstrate their pledge to better protect the planet."
Approximately 10,000 people from over 40 countries are expected to attend 150 events—including panel discussions, concerts, exhibitions and seminars. An opening ceremony on September 24—featuring key speakers and dignitaries including Patricia Espinosa, Executive Secretary of the United Nations Framework Convention on Climate Change, Edmund G Brown, Governor of California, and President Jovenel Moïse of Haiti—is planned for The Times Center in Manhattan.
Along with Climate Week NYC, New York City has recently attracted high-profile, large-scale events including WorldPride in 2019. These monumental events will help fuel record breaking visitation numbers. In 2017, there were a 62.8 million visitors.
"New York City is thrilled to host the 10th annual Climate Week to showcase the climate leadership happening all across the five boroughs," said Daniel Zarrilli, NYC's Senior Director of Climate Policy and Programs and Chief Resilience Officer. "In the absence of federal leadership in Washington, cities all across the country are stepping up their ambition to achieve the Paris Agreement. Here in NYC, we are accelerating our GHG reductions, adapting our city, and divesting from fossil fuels as part of our comprehensive OneNYC strategy.  Congratulations to the Climate Group for building an effective and successful platform for climate action over the last decade and we look forward to the next 10 years of partnership."
"From protecting our coastlines, buildings, and infrastructure to making our neighborhoods safer and more vibrant, New York City is dedicated to confronting climate change head-on and protecting our city and its citizens from the associated threats," said Jainey Bavishi, Director of the Mayor's Office of Recovery and Resiliency. "Climate Week NYC brings together some of the most brilliant innovators around the world to do just that."
"Climate change is here and this moment requires decisive, ambitious, and collaborative action," said Mark Chambers, Director of the Mayor's Office of Sustainability. "Climate Week NYC is an opportunity to inspire and embolden us all to deliver necessary solutions."
"As the Ranking Democratic Member on the State Senate Committee on Energy and Telecommunications, I am excited to celebrate Climate Week NYC. This is a great initiative and effective way to engage all stakeholders as we work to protect the environment," said Senator Kevin Parker.
A New Generation of Sustainable Hotels
New York City's evolving hotel scene is embracing eco-conscious design and practices. Overall, 19 properties are currently committed to the NYC Carbon Challenge. 1 Hotel Brooklyn Bridge opened in 2017 as part of the eco-friendly 1 Hotels brand. The Grand Hyatt New York and The Peninsula New York have vowed to shrink their carbon footprints through upgrades like high-efficiency boilers and LED lighting. The Pierre participates in EarthCheck, a program which measures the property's impact on the environment, and boutique Crosby Street Hotel was awarded the City's first LEED Gold Certified building.
Park Preservation and Honoring Horticulture
As of June 2018, Central Park—the world's most iconic greenspace, which welcomes more than 42 million visitors yearly—joined Brooklyn's Prospect Park in becoming entirely car-free. Suspended above the City streets, The High Line—an abandoned elevated rail line transformed into a horticultural oasis—opened its first section in 2009 as a habitat for birds, insects and humans seeking respite. At Battery Park City, horticulturists manage the neighborhood's park without pesticides and engage in large-scale composting.
This summer, New York City welcomed new green spaces at Hunter's Point South in Long Island City, Domino Park in Williamsburg, and Pier 3 at Brooklyn Bridge Park.
Green Roofs and Urban Farms
The Jacob K. Javits Convention Center is currently home to a 6.75-acre green roof, completed in 2014, which attracts wildlife, provides insulation that cuts the building's energy use by 26 percent, and absorbs storm water. The Javits Center's latest initiative is to cultivate a nearly 1 acre rooftop farm on the roof of the expansion, with the intention to grow produce to serve delegates.
Atop Brooklyn's Barclays Center—famed for its sporting events and concerts—is a 3-acre green roof with another sloping over its subway entrance. Brooklyn Grange keeps bees in over 30 naturally-managed, rooftop hives citywide and operates the world's two largest rooftop soil farms in Long Island City, Queens and the Brooklyn Navy Yard.
New to the Bronx, The New York Botanical Garden introduced Edible Academy this spring. The three-acre campus features a green roof, demonstration kitchen, technology lab, teaching greenhouse, solar pavilion, vegetable gardens, teaching and performance spaces and more.
Established in 2012 to help feed, inspire, and educate the local community, Snug Harbor's 2.5-acre Heritage Farm on Staten Island produces fresh fruits and vegetables in an environmentally sustainable manner. In 2017 Heritage Farm staff worked with over 100 volunteers and educated over 2,280 children on sustainable farming, food sources, and plant biology.
Roosevelt and Governor's Island
Roosevelt Island is home to Cornell Tech's in-progress campus, featuring cutting-edge green buildings the "net-zero" Bloomberg Center and "The House", the world's largest LEED-Platinum passive house structure. On Governors Island, eco highlights include an urban farm with resident goats, a composting center and the Billion Oyster Project, an ecosystem restoration and education initiative which has already planted 25 million oysters of a 2035 goal of one billion oysters, to create waterway filtration in New York Harbor.
City's Top Attractions LEED The Way
The City's LEED buildings are models of sustainable urban architecture. In 2009, the Empire State Building underwent a green-focused retrofit of the iconic 1931 skyscraper while One World Trade Center was constructed as one of the world's tallest LEED-certified buildings. At Hudson Yards—the largest private real estate development in the history of the US—14 acres of gardens and public spaces, rainwater-collection infrastructure to reuse 10 million gallons per year and an on-site hyper-efficient power plant are leading green features. Of note, the first completed building in the emerging neighborhood, 10 Hudson Yards, is LEED Platinum certified.
Brooklyn's Children's Museum earned a Silver LEED certification after it was built in 2008 for solar-generated electric power, recycled rubber flooring and geothermal heating and cooling, while the venue also teaches children about ecology through hands-on exhibits. The Whitney Museum of American Art is also LEED Gold certified for its energy-saving measures, recycled materials used in construction, and green roof which is home to two beehives.
Shining examples of the NYC theater industry's commitment to sustainability include the creation of The Broadway Green Alliance.