Sri Lanka, an island country in south Asian, located to the southwest of the Bay of Bengal and to the southeast of the Arabian Sea, has been interestingly attracting Russian tourists over the two decades. The tourism industry, apart from tea exports, is very important as it brings revenue to the national budget. The economic changes seen as a huge opportunity for promoting tourism business in Russia.
As middle class Russians are travelling for their vacations in Asian countries, so also the business is all year round booming. The main reason for this scenario is the growth in incomes and the tendency in increase of vacationers during the past years. Simply, the overall economic changes in Russia positively affect the outbound travelling. According to my point of view, overall economic development in Russia will continue creating a lot of opportunities for expanding the tourism industry.
For the time of my stay here, Russian tourist traffic to Sri Lanka has increased more than 10 times. Exotic destinations are becoming more and more popular among Russians and Sri Lanka is one of the most attractive Asian countries. Of course, it seems that the global instability and financial crisis affected all economic spheres and, to some extent, tourism as well.
Despite this situation, people still make their choices more carefully and seriously, and give their preference to the countries they have never been before. Sri Lanka is a developing destination on the Russian travel market and I can say that there is a great future ahead.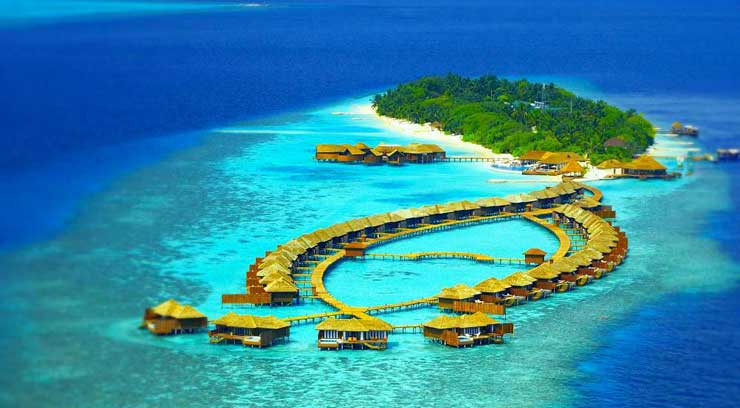 Stability and strength are the best indicator at the present difficult times and this give us a power to express optimism about the future in Sri Lankan tourism sphere. The number of Russian tourists travelling to Sri Lanka is increasing year by year, and in leaps and bounds.  In 2017, the growth was about 10% in spite of the crisis.  Experts at the Russian Tourism Agency told me that the figure for first quarter of 2018, for instance, is not so impressive but attributed to the policy of Russian tour operators and air companies.
Personally, I have every reason to say that Sri Lanka is a small miracle. Nearly all Russians who have visited the island talked about the natural beauty of Sri Lanka. There are three main reasons that make the country a very popular destination among foreign and Russian vacationers.
First is that there is summer all year round. An average temperature is about 26-30 degrees Celcius (and there is no raining season) which attracts travellers the whole year round. In some seasons, rain might start suddenly in any part of the Island and stops short as well. You are able to see the climate changes from tropical on the coastline of the Indian Ocean until the temperate in highland of the island where some frost observed at night.
Second reason for its popularity is that Sri Lanka has splendid nature and rich cultural heritage. Travellers who enjoy a cognitive tourism are able to see historical heritage, museums, ancient cities, Buddhist temples and national dance show. Numerous national parks, mountain peaks, waterfalls, rain forests and jungles with an infinite number of animals and nature variety attract nature-lovers. For adventure tourism, Sri Lanka offers climbing to the mountains peaks, rafting, diving surfing and other kind of water sport.
Third reason of Sri Lanka's attractiveness is the local hospitality and friendliness of Sri Lankan people. Sri Lankan hotels provide a well-known Asian service and comfortable accommodation. People smile right from the bottom of their hearts.
The government's key policy on tourism promotion and strategies that have adopted to sell the country's tourism destinations has pushed potential tourists to choose Sri Lanka. My interaction with Sri Lankan diaspora, the idea to set up a tourism department at the embassy began in 2008, and it was so because the diplomatic officials have seen a great opportunities in expanding tourism for Sri Lanka.
The Embassy of Sri Lanka in the Russian Federation takes an active part in promoting the country on the Russian travel market. Over the ten years, I have seen them participate in workshops for travel agents and talk about Sri Lanka to the managers of travel companies. The officials communicate with journalists with great pleasure and contribute to make for their farm trips around Sri Lanka as well.
The government officials organize and support direct flights to Sri Lanka. There are two direct flights organized by Aeroflot airlines from Moscow and airlines from St. Petersburg. In interview discussions with a few Sri Lanka officials, they told me that they have given all kinds of support for those flights and tried to minimize ticket's rate by the reducing handling costs in Sri Lanka airport.
Sri Lanka regularly participates in Moscow International Travel and Tourism exhibitions in March and Leisure exhibitions in September. During these business events, officials arrange regular meetings with leadership of tour operators for discussing vital problems and help with solutions. The main objective is to support the integration of all members of the travel market.
Further, officials give assistance to Sri Lankan hotels in attracting Russian speaking staff and Russian translation of hotels information. Quite recently, I have noticed that audio guides issued in Russian language including virtual excursions to places of interest in Sri Lanka.
Sri Lanka tourism industry seeks investors worldwide to invest in the tourism industry. There are attractive schemes to facilitate investors for the tourism infrastructure projects in Sri Lanka. Interested Russian investors could invest in those projects. There is high perspectives about the economic sphere in cooperation with Russia. The most important is to have an agreement signed in the field of tourism between Russia and Sri Lanka.