UN Environment designates Chinese idol Wang Junkai as National Goodwill Ambassador
Singer and Actor Wang Junkai, or Karry Wang, best known for his leading role in the box office blockbuster film Miracles of the Namiya General Store and the hit single "KarryOn" was designated as UN Environment Goodwill Ambassador today in a ceremony in Beijing.
In his role as goodwill ambassador, Wang will connect with China's youth on some of the most urgent
environment issues of their generation, including pollution, air quality, wildlife protection, ecosystems, and more.
As a young actor and singer, I greatly appreciate UN Environment giving me this opportunity to be National Goodwill Ambassador. We youth have the responsibility to protect our environment and secure our future, and I am looking forward to learn from and work with the UN family on key environmental issues. Youth are no longer merely onlookers when it comes to environmental action, nor should they be. I will spare no effort to do everything I can to take care of our earth, and I invite everyone to join me in generating a wave of positive action.
It's inspiring to hear a strong and determined voice of Chinese youth on environmental issues. When young people set their mind to change, incredible things can be accomplished," said Erik Solheim, head of UN Environment. "We're very excited to work with Wang Junkai to create even more awareness about environmental issues and, more importantly, the solutions to these challenges."
The 18-year old performer is a superstar of the highest ranks in Asia. Known for his leading role in the film Namiya General Store, top roles in various TV series – among which "Finding Soul" and "Qingyun Zhi " – and solo music career, he has amassed more than 40 million followers on Weibo, the Chinese version of Twitter. Both in China and the rest of South-East Asia, Wang has been one of the leaders of the online conversation on the environment.
In 2016, Wang widely shared the #wildforlife Campaign, reaching 400 million viewers. A year later, he publicly spoke out on the urgent need to protect endangered wildlife, naming them the "superstars of the planet."
Beyond drawing attention to wildlife, he called upon his followers to pledge to reduce their e-waste, with the hashtag #beatpollution. Within 24 hours, his post was retweeted by 1.67 million times and more than 400,000 followers signed the pledges.
Restore sexual, reproductive health rights lost during COVID, rights expert urges
Sexual and reproductive health rights, are human rights, the independent UN expert on the right to health reminded Member States in the General Assembly on Wednesday, saying that it was essential to restore services in the field, that have been eroded during the COVID-19 pandemic
"Millions of women globally had limited or no access to maternal and new-born healthcare, some 14 million women lost access to contraception, and specialized services for victims of gender-based violence became inaccessible, when they were needed most", said Dr. Tlaleng Mofokeng.
The Special Rapporteur pointed out that lockdowns, movement restrictions and diversion of funds due to COVID-19 have "jeopardized access to essential sexual and reproductive health services".
In presenting her report on the effect of the pandemic on physical and mental health services, she also spoke of "new measures and laws in place across regions, further restricting access to safe abortion, a component of sexual and reproductive services encompassed in the right to health".
Reversing a legacy
As part of the right to health, the UN expert called on States to move beyond the COVID-19 pandemic to rebuild and strengthen health systems for advancing sexual and reproductive health rights for all.
"Governments must remove obstacles and ensure full access to quality services, including maternal health care, contraception and abortion services, screening for reproductive cancers and comprehensive sexual education", she said.
However, Dr. Mofokeng noted that many obstacles continue to stand between individuals and their exercise of their rights to health, rooted in patriarchy and colonialism, and others in structural and systemic inequalities.
"Patriarchal oppression is universal, permeates all societies and is at the very origin of the erosion of autonomy and the control of girls and women's bodies and sexuality to the detriment of their enjoyment of sexual and reproductive rights", she spelled out.
"Colonialism has permeated patriarchy across regions and its legacy continues today through laws, policies and practices that deny or restrict sexual and reproductive rights and criminalize gender diverse identities and consensual adult same-sex acts", added the Special Rapporteur.
Rooted in law
She reminded governments that sexual and reproductive health rights are rooted in binding human rights treaties, jurisprudence, and consensus outcome documents of international conferences.
"I call on States to respect and protect key principles of autonomy, bodily integrity, dignity and well-being of individuals, especially in relation to sexual and reproductive health rights", she said.
"I pledge to engage with States and all relevant actors to uphold the right of everyone to the enjoyment of the highest attainable standard of physical and mental health".
North Macedonia's Growth Projected Higher, but Economy Still Faces Risks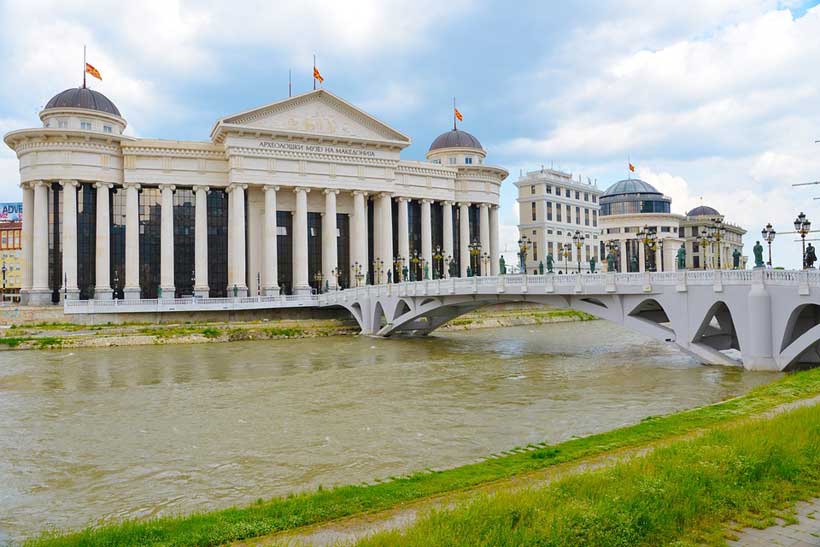 The Western Balkans region is rebounding from the COVID-19-induced recession of 2020, thanks to a faster-than-expected recovery in 2021, says the latest edition of the Western Balkans Regular Economic Report, Greening the Recovery.
The outlook for the region has improved significantly, with GDP growth now projected to reach 5.9 percent in 2021, after a 3.1 percent contraction in 2020. Growth in the region is projected at 4.1 percent in 2022 and 3.8 percent in 2023.
The poverty rate for the region is projected to resume its pre-pandemic downward trend and fall by around 1 percentage point to 20.3 percent, close to its 2019 level.
The regionwide recovery is due to strength in both domestic and external demand. A sharp rebound in domestic consumption and in travel across Europe helped boost remittances as well as tourism inflows during the 2021 peak summer season. A strong recovery in advanced economies also provided a boost to demand for the region's exports.
For North Macedonia, this translates into a growth projection of 4.6 percent for 2021, much higher than the forecast in spring. "This positive outlook is still surrounded by downside risks, with the pace of immunization low and supply chains still disrupted, while financial conditions have started tightening," said Massimiliano Paolucci, World Bank Country Manager for North Macedonia and Kosovo.
However, the recovery remains fragile. Early warning signals from the labor market call for close policy attention. Job losses from the recession and its aftermath have disproportionately affected women and youth, which may set back efforts to raise the region's perennially low rates of labor force participation. Youth unemployment rose to 37.7 percent in 2021, up 5.4 percentage points from June 2020, further worsening youth employment prospects.
"As the Western Balkans countries look to a post-pandemic future, their policy approach will need to focus on addressing key impediments to job creation and economic transformation, including green transition," said Linda Van Gelder, World Bank Regional Director for the Western Balkans. "All six countries would benefit from reforms in the business environment, governance, and digitalization, which would contribute to growth and close the gap with EU countries."
The report also looks at the macro-fiscal challenges and drivers of greening the region's growth. The Western Balkans now find themselves at a key decision point regarding the impending green transition.
Global strides toward climate action are causing fundamental changes in society. Consumer and investor preferences are shifting, green technologies and new business models are disrupting more markets, and green policies are reshaping economic landscapes. As such, greening a country's economy is becoming a decisive factor in international competitiveness and the ability to attract international finance and investments.
The Western Balkans are no exception. Still characterized by a development model tilted toward familiar brown industries, moving toward a green growth pathway is far from easy, especially in the short term. Yet, the green transition offers significant opportunities for the Western Balkans – including closer integration into Euro-centric global value chains and access to significant EU resources to help fund a green transition.
Effectively managing this green transition, including the many policy tradeoffs, will need to be a core focus of policy attention for the Western Balkans in the years ahead.
Rush for new profits posing threat to human rights
The finance industry's demand for new sources of capital worldwide to satisfy investors, is having a serious negative impact on the enjoyment of human rights, a group of UN-appointed independent rights experts have warned.
Among the rights at risk from increasing speculation in the financial markets by hedge funds and other investment funds, are the right to safe drinking water and sanitation, food, adequate housing, development, and a healthy and sustainable environment, among others. 
Exploiting the marginalized
In a statement, the independent Special Rapporteurs and other experts, expressed their concern over the gradual encroachment of financial speculators into new areas of the economy, putting human rights at risk.
They highlighted in particular, trading in areas essential for the enjoyment of human rights of marginalized, indigenous peoples, Afro-descendant and peasant communities, persons with disabilities and persons living with Albinism, as well as those living in areas of conflict.
The experts also pointed out that so-called financialisation – the growth in new financial instruments since the 1980s managed by new financial services – has a disproportionate impact on the enjoyment of their rights by women and girls, who are systematically victims of discrimination. The impact on older people was also highlighted.
Effect on housing
According to a former Special Rapporteur on adequate housing, in recent years massive amounts of global capital have been invested in housing as a commodity, as security for financial instruments that are traded on global markets, and as a means of accumulating wealth.
However, when the 2008 global financial crisis hit, many houses suddenly lost much of their value, and individuals and families were made homeless overnight.
The expert also pointed out that in the Global South, informal settlements in Southern cities are regularly demolished for luxury housing and commercial development intended for the wealthiest groups of the population.
This process of financialisation of assets, has only been reinforced during the COVID-19 pandemic, the expert said.
'Speculative food bubble'
In agricultural markets, the experts described how the same big international banks responsible for the global financial crisis, invested billions of dollars in food futures, generating an increase in the prices of raw materials such as wheat, corn and soybean, which doubled and even tripled in a few months, creating a new speculative food bubble.
According to the World Bank, between 130 and 150 million more people were pushed into extreme poverty and hunger, mainly in low-income countries depending on food imports to feed their populations.
The experts highlighted how the financialisation of housing and food has exacerbated inequalities and exclusion, disproportionately affecting heavily indebted households and those on low incomes.
Applying speculative logic in these areas violates the human rights of people in poverty, exacerbates gender inequality and aggravates the vulnerability of marginalized communities, they said.
Commodifying nature
The growing monetization and commodification of ecosystem services, such as carbon storage, were also noted by the experts.
They warned that it threatens the sustainability of ecosystems, marginalizes natural and cultural values that have no apparent economic value, and weakens the control of indigenous peoples and local communities over their territories.
The right to pollute and destroy nature is gradually being legitimized and commercialized, they said.
They also pointed out that addressing the climate emergency often ignores both the impacts on people in poverty, and undermines the human rights and livelihoods of the poorest.
The eviction of indigenous peoples from forests or the replacement of complex old-growth forests with monocultures of fast-growing non-native tree species was highlighted as an example of this.
Treating housing, food, or the environment, as assets to be traded by hedge funds and other financial actors in financial derivatives markets, represents a direct attack on people's exercise and enjoyment of human rights such as the right to housing, to food, to a healthy environment, or to drinking water and sanitation, the experts stated.