Report: Powerful New Policy Options to Scale Up Renewables
A new report by the International Renewable Energy Agency (IRENA), the International Energy Agency (IEA), and the Renewable Energy Policy Network for the 21st Century (REN21), Renewable Energy Policies in a Time of Transition, is an unprecedented collaboration that sheds new light on the policy barriers to increased deployment of renewables and provides a range of options for policymakers to scale-up their ambitions.
Since 2012, renewable energy has accounted for more than half of capacity additions in the global power sector. In 2017 alone a record-breaking 167 GW of renewables capacity was added worldwide. 146 million people are now served by off-grid renewable power, and many small island developing states are advancing rapidly towards targets of 100% renewables.
One of the main rationales behind the call for a higher share of renewables in the energy mix is the urgent threat posed by climate change. Of the 194 parties to the United Nations Framework Convention on Climate Change 145 referred to renewable energy in their nationally determined contributions (NDCs), and 109 included quantified renewable energy targets. Air pollution is also a pressing issue, with an estimated 7.3 million premature deaths per year attributable to household and outdoor air pollution. Energy security is another influencing factor, with small island states particularly affected by security issues and resilience in the face of natural disasters. Finally, countries looking to expand energy access in rural areas are increasingly turning to renewables as the most cost-effective, cleanest and most secure option.
But the pace of the energy transition needs to be substantially accelerated to meet decarbonisation and sustainable development objectives. As outlined in IRENA's recently-released Global Energy Transformation: A Roadmap to 2050, to achieve the two-degree goal of the Paris target, the share of renewables in the primary global energy supply must increase from 15% today to 65% by 2050. Gains in the electricity sector must be matched in end-use sectors such as heating and transportation, which together account for 80% of global energy consumption.
Renewable Energy Policies in a Time of Transition provides policymakers with a comprehensive understanding of the diverse policy options to support an accelerated development of renewables across sectors, technologies, country contexts, energy market structures, and policy objectives, to scale up renewable energy deployment. An updated joint classification of renewable energy policies to illustrate the latest policy developments around the world.
Key areas of focus:
Heating and Cooling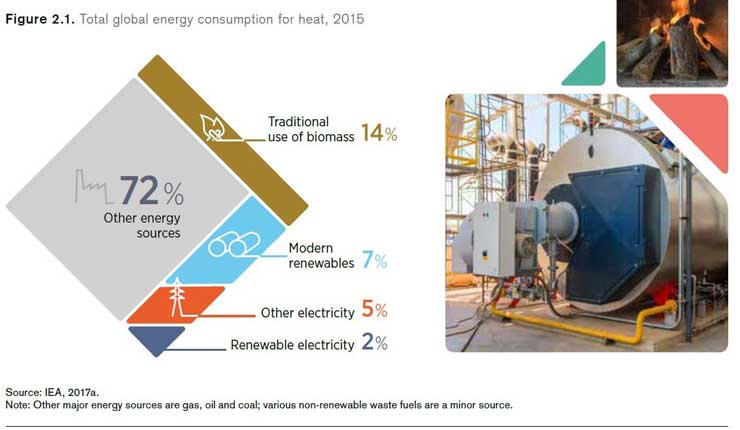 Heating accounted for over 50% of total final energy consumption in 2015, with over 70% of that met by fossil fuels. To increase the use of renewables, a range of policy instruments are required. These include mandates and obligations, which can offer greater certainty of increased deployment; building codes, which implicitly support renewable heating and cooling from renewables by setting energy performance requirements; renewable heat and energy efficiency policies that are closely aligned to leverage synergies and accelerate the pace of transition; fiscal and financial incentives, which reduce the capital costs of renewables; and carbon or energy taxes, which provide important price signals and reduce externalities.
Transport
Transport is the second largest energy end‑use sector, accounting for 29% of total final energy consumption in 2015, and 64.7% of world oil consumption. With the exception of biofuels, there is little practical experience of fostering renewables in transport. Policies and planning should help overcome the immaturity or high cost of certain technologies, inadequate energy infrastructure, sustainability considerations and slow acceptance among users as new technologies and systems are introduced. They should also build improved understanding between decision makers in the energy and transport sectors, so as to enable integrated planning and policy design. Removal of fossil fuel subsidies is also essential, especially in shipping and aviation.
Power sector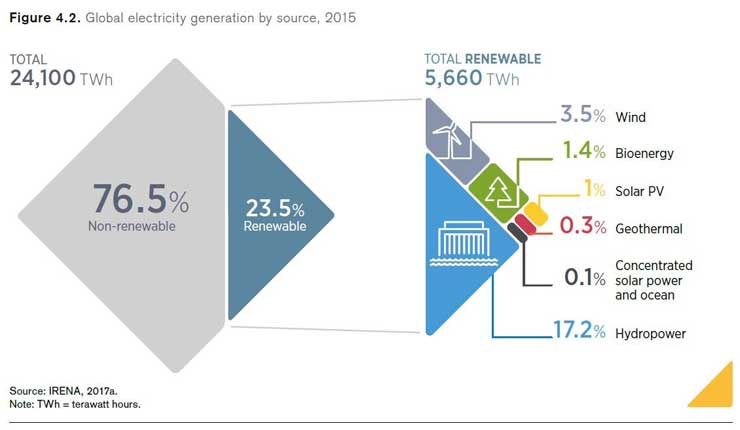 Although the power sector consumed only about a fifth of total final energy consumption in 2015, it has received the most attention in terms of renewable energy support policy. Investments in the sector are largely driven by regulatory policies such as quotas and obligations and pricing instruments, supported by fiscal and financial incentives. Quotas and mandates cascade targets down to electricity producers and consumers, but require a robust framework to monitor and penalize non-compliance. Administratively set pricing policies (like feed-in tariffs and premiums) need to continuously adapt to changing market conditions and the falling cost of technology. Auctions are being increasingly adopted, given their ability for real-price discovery, and have resulted in a five-fold price reduction between 2010 and 2016, though auction design is crucial.
System integration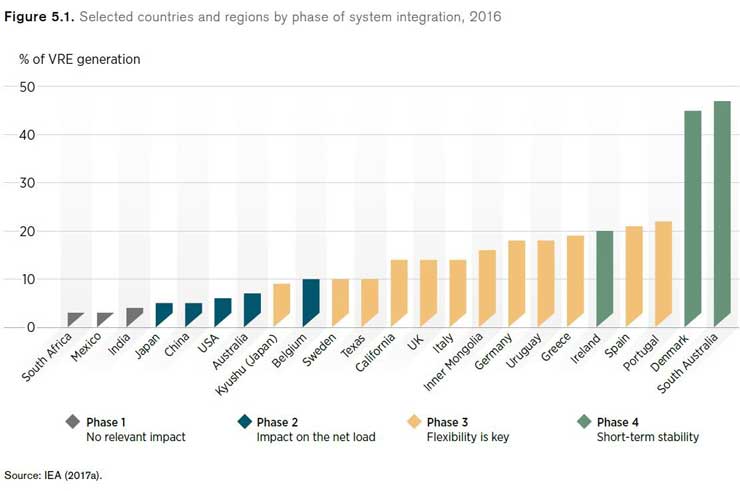 A number of countries and regions are reaching high penetrations of VRE in their power systems, and implementing policies to facilitate their system integration. Strategies for system integration of renewables are crucial to minimise negative impacts, maximize benefits and improve the cost effectiveness of the power system. As VRE shares grow in the power system, so do the challenges of system integration.
A wide range of policies have been adopted to support the growth of renewable energy around the world. The nature of those policies in a given country depends on the maturity of the sector, the particularities of the market segment, and wider socio-economic conditions. As this report shows, as deployment of renewable energy has grown and the sector has matured, policies must adapt and become more sophisticated to ensure the smooth integration of renewables into the wider energy system – including the end-use sectors – and a cost-effective and sustainable energy transition.
How U.S.-China trade deal is going to impact Iranian oil exports?
U.S., and China are going to sign a trade deal, which is expected to ease the tensions between the two economic rivals and push the global economy out of recession and bring markets back to life.
The deal, which is labeled as the "Phase 1 trade deal", is going to be signed by U.S. President Donald Trump and China's Vice Premier Liu He, at the White House.
Despite the undeniable positive impact of the deal on the global markets, the consequences of this deal for the Iranian oil market could be a little complicated. Since, on one side, the increase in oil prices as the result of the trade deal would benefit the Iranian oil industry like all others, but on the other side, it could force China to take some reassuring actions in order to show its determination for ending the trade war.
That means, under U.S. pressures, and to cement the agreement with the Americans, China could probably cut or even end its oil imports from Iran.
The U.S.-China-Iran triangle
Tensions between the U.S. and Iran have been escalating in recent weeks after the U.S. assassinated the top Iranian General Qassem Soleimani in an airstrike, and Iran answered with an attack on U.S. military bases in Iraq.
Following Iran's revenge, Washington imposed new sanctions on the Iranian metal sector and some of the country's senior officials.
The Trump administration has also intensified the pressure on Iranian allies, like China, for reducing their economic transactions with the Islamic republic and follow the Americans' lead in isolating Iran.
China, however, so far, has been resisting such pressures and despite the U.S. threats and imposing penalties on Chinese tanker companies dealing with Iranian oil, the country has continued to import oil from the Islamic Republic.
Now with the U.S. and China on the verge of signing the significant agreement, the Trump administration is using this deal as leverage to make the Chinese side bend to their wills in cutting ties with Iran.
Earlier on Sunday, U.S. Secretary of the Treasury, Steven Mnuchin, told Fox News that "The United States is working closely with China to have it cut off altogether imports of Iranian crude oil."
Possible deal outcomes
As I mentioned earlier, despite the U.S. sanctions, China still remains Iran's top oil customer, and the idea of the Asian country cutting ties with Iran would be a huge blow to the Iranian oil industry and economy in general.
However, despite all the hype around the trade deal between the U.S. and China, many believe that this deal is just the first step toward a possible truce and the two sides have a long way ahead for reaching a complete alliance.
As reported by Reuters, Myron Brilliant, the U.S. Chamber of Commerce's Executive Vice President said on Monday that the Phase 1 trade deal "stops the bleeding" but does not end the trade war.
So it is very unlikely that China would lose one of its biggest trade partners in the Middle East region over a deal which is not even very promising.
Considering the fact that, so far, Washington has done everything in its power to cut off Iran's oil exports to zero, but it hasn't succeeded in this regard, under the current circumstances too, it is unlikely that its pressure on China will lead to a disruption of the country's oil exports.
Therefore, the trade agreement could also have a bright side for the Iranian oil industry. That is to say, a proper trade deal could benefit the global economy and leads it out of recession and thereby alleviate the dark prospect of oil demand.
The trade deal could act as a stimulus for demand growth and, by removing the biggest obstacle to the rising of oil prices over the past year, push the oil prices to higher levels, and consequently boost Iran's oil revenues.
From our partner Tehran Times
TANAP Is Inaugurated: What Southern Gas Corridor Promises To The Europe And Stakeholders?
Ever since the creation of mankind, human beings have always been in search of energy. Several conflicts and wars happened over energy resources for many centuries. Depletion of energy resources is the most important challenge that the major powers are struggling for. Energy policy is a big issue for almost any country in the world which is dependent on external resources. Energy consumption in the EU is more than any other region in the world while being poor in terms of energy sources. Implementation of renewable alternative energy projects requires proper and expensive infrastructure, which not all of the states are capable of it in an economic context. Therefore, alternatives and new routes in the traditional energy sources are vital priorities for the EU.
Since the last gas dispute with Russia, the EU has started to build effective policies to bring energy sources safely to the internal market by efficient transportation. Thus, the EU is trying to reduce energy dependency level on Russia by using geographical proximity advantage to the energy centres. In this sense, the Caspian region offers more stable and secured energy flow considering the fact that the Southern Gas Corridor (SGC) project is designed for this purpose between the region and the EU. Therefore, the EU is providing substantial support for the reconstruction and development of the infrastructure of gas pipelines, which passes from transit countries such as Georgia and Turkey and brings energy resources to Europe. There are several important reasons that the EU took into consideration while implementing SGC. Firstly, the 2006 and 2009 gas dispute showed that Ukraine is not a reliable transit country anymore. Instead, Turkey can be the more optimal alternative route as it has a desire to become a regional power. Secondly, Azerbaijan offers more stable and secured energy supply by using its foreign energy relations experience from 1994. Also, Azerbaijan is more interested in to cooperate with the West in energy relations rather than sticking into one direction and using intermediary actors. Because having reliable and effective transportation networks for easy access to the world market is essential for economic development and security of Azerbaijan due to its geographical location as a landlocked state. Thirdly and most important factor is security. In the modern era, the prior direction of the states' foreign policy is the solution of the security problem. Eastern part of the EU, especially CEE countries, are highly dependent on Russian gas, which makes them go under both political and economic pressures from time to time. Therefore, the principal direction of the EU is to ensure energy security as well as the national security of the Member States by diversifying their economic trade partners. Energy security can be described either additional category of the national security or a category which is based on the synthesis of economic and political security. Thus, as the energy security has both economic and political implications, the EU makes great efforts to protect its borders from any threat by addressing to the issue in two ways; international aspect which is targeted to provide reliable, cost-effective and low-risk energy imports to the domestic warehouses, and local aspect which is intended to establish uninterrupted supply of energy with affordable price for the population and industrial workers (consumers).
TANAP AND AZERBAIJAN-EU ENERGY RELATIONS
In 2011 Azerbaijan and the EU signed a joint declaration on the Southern Gas Corridor. SGC was more an optimal and promising version of the Nabucco pipeline project. The direction of the project was also crucial for Europe because the Trans Adriatic Pipeline (TAP) and Trans-Anatolian gas pipeline (TANAP) in the SGC will deliver Azerbaijani gas to the South of Europe. Thus, this pipeline both will meet the gas needs of these regions and diminish Europe's energy dependence on Russia slightly. Unlike Nabucco, the SGC is a more promising and strategic start to bring gas resources from the Caspian Sea, Middle East, and Central Asia. The primary purpose of this project is to diversify energy routes by using completely new and alternative directions. The geopolitical significance of the TAP project is quite high in terms of diversifying energy sources. Although the main direction of the TAP project is Italy and Greece at initial stage, the pipeline can supply Azerbaijani gas to several European countries, such as Austria, Central Europe region, Bulgaria, Balkan countries, Southern Croatia, Albania, Montenegro, Bosnia and Herzegovina as well as United Kingdom, Germany, France and Switzerland.
The project was announced on November 17 2011 at the Third Black Sea Energy and Economic Forum held in Istanbul and following this a memorandum of understanding was signed between Azerbaijan and Turkey on December 26 2011. The opening ceremony of TANAP was held on November 30, 2019, in Ipsala of Turkey's Edirne province. Ipsala is located near the Turkey-Greece border, and TANAP is connected to the TAP, which will bring Azerbaijani gas to European region directly. TANAP is the largest and central segment of SGC and has strategic importance for both Azerbaijan and Turkey. First and foremost, Azerbaijan will be able to transfer its natural resources directly into the European market for the first time in history. Second, by joining this project, Turkey reaffirms its position in the regional security by becoming a reliable regional energy hub. Third, European states support the energy supply from the Caspian Sea to the European market and by providing economic and political support. Thus, SGC is a multinational natural gas pipeline supported by the European Commission and financed by the World Bank, European Bank for Reconstruction and Development, and Asian Infrastructure Investment Bank. Despite the US has not invested and will not get any commercial benefit from the project, Washington supports TANAP due to its promotion of diversification of energy supplies.
The EU is making significant efforts to diversify its energy supply and deliver Caspian gas to Europe without Russian intervention. On the other hand, procedures between the EU and Azerbaijan show that Azerbaijan is interested in independent cooperation with the EU. Although the Nabucco project failed, with the choice of TAP and TANAP projects, Azerbaijan proved its pragmatic partnership and its aim to increase revenues. At the same time, from its independence, the absence of internal conflicts in Azerbaijan, continuous promotion of peace, active involvement in international missions resulted in a robust, durable and stable economy and political system. In fact,as long as Azerbaijan is interested in delivering energy to the West by supporting transit projects, the EU does not face any difficulties in the region.
In order to describe the big picture, as presented by the EU Commission prior to the global financial crisis and alternative energy routes, it is essential to note that volume and cost are not the only elements at stake in the SGC.It has crucial geopolitical consequences. Building East-West transportation corridor passing through South Caucasus to connect Europe to Asia offers to establish new infrastructures, railways, highways and pipelines, new job opportunities, security as well as different transport facilities. This corridor sits right at the intersection of both politics and economics. In terms of economics, it creates new chances for the regional countries to connect to global markets and to stimulate economic development by fostering integration with the global economy. On the other hand, politically, it enhances the strength of sovereignty of both sides by opening new supply routes. Because the creation of transit corridors requires diversified access to the international arena considering the fact that being dependent on a single route may emerge potential blockade by the exporter.
Azerbaijan is one of the main actors of this corridor and can supply gas to the European market by improving European energy security and without creating additional geopolitical tension. Azerbaijan has experienced energy trade with Europe by implementing the BTC pipeline. Alternative supplies remain its significance by building affordable and relatively more feasible projects with necessary investments. Azerbaijan, in this picture, emerges as the most reliable supplier and trade partner with a clear understanding of supply, demand and transit routes. Therefore, the initiative of SGC, TANAP and TAP together with the EU aims to hinder Russia's dominance in the European gas market. To put it briefly; SGC offers more benefits rather than its predecessors due to several reasons:
Energy resources in the Caspian Basin are important for the EU, and the geographical location of Azerbaijan makes it ideal and more optimal point for the transportation of these resources;
SGC is not long-distance route as Nabucco, therefore, it is affordable in terms of costs;
SGC will create competitive prices in the energy market, especially for Southern Europe at the first stage, and later for CEE countries;
SGC will strengthen Turkey's position as a transit country, and enhance the EU-Azerbaijan relations.
In the future, it is planned to give life to the Trans-Caspian energy pipeline by connecting to the SGC. In this context, the legal status of the Caspian Sea defines the strategies of the five Caspian littoral states. Convention on the Legal Status of the Caspian Sea gave a ground that the other countries cannot intervene in the projects unless they are official partners. It means that by signing this convention, the five Caspian littoral states can build their energy strategies and policies independently. Thus, if the Trans-Caspian project is to be implemented in the future, it will be able to transport gas to Europe from other regions. The central part of this route will be the Southern Gas Corridor. Thus, Azerbaijan will also play a role in the region as a bridge to connect Europe with Asia, becoming a transit country. This means more investment, stronger infrastructure and well-built East-West relations.
TURKEY IS THE 'KEY FOR THE ENERGY'
Turkey has limited natural resources which makes it dependent on external energy sources. As energy demand and dependency rate on external sources is increasing, energy issues have increased their weight by becoming the determinant of the dynamic of Turkish foreign policy gradually. The main objective of Turkey's energy policy is to provide energy promptly to ensure economic growth as well as sufficient, reliable, competitive prices. Turkey imports its 98% energy demand from its energy-rich neighbours such as Russia, Iran, Azerbaijan thanks to its geographical location. On the other hand, Turkey is the vast market for these exporter countries. Therefore, the TANAP project has specific importance and means more than an energy project for Turkey. TANAP will not only diversify energy routes but also will contribute to the security of supply. Turkey considers this pipeline as an important project with its economic dimension because it will lead to the development of economic and political relations between Turkey and regional states. TANAP will improve the effectiveness of Turkey in the region as well as its position in the global energy projects. Another critical point is that Turkey aims to become an energy centre as Austrian Baumgarten if manages to involve as much as energy directions. This is important for the EU as well because by turning into an energy hub, Turkey can ensure Europe's energy security and provide securitization of energy supply and formation of a market structure in which gas competes gas. Since TANAP offers regional prosperity and security, Turkey takes a critical role in every point of the value chain extending from producer to final consumer.
Since the dissolution of USSR, the Azerbaijan-Turkey axis has brought positive trends both in the political and economic fields. For instance, despite several issues and obstacles at the end of XX century, Azerbaijan and Turkey managed to implement the Baku-Tbilisi-Ceyhan (oil pipeline), Baku-Tbilisi-Erzurum (gas pipeline), and Baku-Tbilisi-Kars (railway) projects and strengthen their geopolitical benefits in the world arena. Following this, TANAP project Turkey will gain a strategic momentum against Russia in the context of ensuring energy flow, especially to Europe in the near future.
In conclusion, since the restoration of state independence in 1991, the Republic of Azerbaijan has defined the integration and expansion of cooperation with the EU as one of the strategic directions of foreign policy. The economic integration interests of Azerbaijan towards Europe are shaped by geopolitical and geoeconomic position and socio-economic development of the country.The SGC is particularly vital in terms of EU's energy security. The interest of the European countries in this project results in the construction of new infrastructure for the secure supply of energy resources from the Caspian region to Europe.Additionally, TAP and TANAP will have a positive impact on Europe's as well as Turkey's energy economy, while diversifying energy routes because these projects will create competitive prices in energy markets. Also, SGC is considered to be profitable for both the participating countries and companies directly involved in its implementation.
Oil market outlook 2020: It stands between Geopolitics and Geoeconomics
Global energy market is shivering. I saw this coming since last year and I've been sharing about this in my interviews in last few months. Iran and USA escalation would be bad for the global economic outlook. This is a very precarious time for the global markets. The need of the hour is diplomatic brinkmanship which lacks at the moment. Engagement strategy between Iran and USA looks a far fetched dream now.
And if we get oil prices over $100 a barrel, kiss the global economy and equity markets good bye. Global economy will lead into deeper recession Tangible assets like Real estate, gold and silver shine in tempestuous times.
Geopolitical Risk Is Making Impact Across All Asset Classes
1. Geopolitics is always derived from grand strategic objective which is based on the 3/4 variables.
USA Grand Strategic Objectives are
– Containment of China and Russia
– Control fuel based assets
– Control trade and sea routes
 Why
China is going to invest $400 billion in Iran oil and gas sector. If war breaks out, CPEC would suffer and impacts china's global trade
– Control Indian Ocean and few important straits
Markets Are Nervous
If the markets get jittery, USA is to blame for the whole mess. Oil market is already in the BACKWARDATION PHASE I.e (spot price is higher than future price). This is an ominous signal for the market players. Two geo strategic risk happened in less than 4 months.
1. Sept 14 in Aramco field, price went up 14% in one day 2. Jan 3 in Drone attack, price increased by 5.2% in less than 21 hours
History Of Oil Market: Outlier In Prices Possible
The question everyone is asking: what if war starts between Iran and USA, would we see 2008 levels when oil was trading at $147.17 / barrel on July 11-2008?. Premature to say but tensions are running very high and can turn into major conflict. Oil touching 3 digits cannot be ruled out according to market experts based in the energy market.
Oil Market Outlook -2020: Bedlam Is The Only Word
Oil market will remain precarious and in the mainstream media news reporting due to possible production cuts / geopolitical risk are coming into the energy market. I foresee oil prices to be touching around $62 to $90/barrel in 2020.
Premises are simple
1. Dollar to stay weaker
2. Geo political risk
3. Production cuts tantamount to 1-2 million barrel per day
4. Bankruptcies looming.
Scenarios—-Deep Analysis
I have structured two possible scenarios taking into account few variables:
Modeling approach
Price history,
Geography,
Economics,
Probability of events,
Statistics of energy market
Market intelligence report and
Financial implication
SITUATION 1
3 days war between Iran and USA
Price range: 70 to 95
SITUATION 2
7 days or 1 month conflict between the two countries
Price range: $90 to $150/ barrel
In case of war, oil be trading at a premium ranging from $15 to $50/ barrel. Global macroeconomic stability goes into jeopardy. Tough times ahead of us.