Report: Powerful New Policy Options to Scale Up Renewables
A new report by the International Renewable Energy Agency (IRENA), the International Energy Agency (IEA), and the Renewable Energy Policy Network for the 21st Century (REN21), Renewable Energy Policies in a Time of Transition, is an unprecedented collaboration that sheds new light on the policy barriers to increased deployment of renewables and provides a range of options for policymakers to scale-up their ambitions.
Since 2012, renewable energy has accounted for more than half of capacity additions in the global power sector. In 2017 alone a record-breaking 167 GW of renewables capacity was added worldwide. 146 million people are now served by off-grid renewable power, and many small island developing states are advancing rapidly towards targets of 100% renewables.
One of the main rationales behind the call for a higher share of renewables in the energy mix is the urgent threat posed by climate change. Of the 194 parties to the United Nations Framework Convention on Climate Change 145 referred to renewable energy in their nationally determined contributions (NDCs), and 109 included quantified renewable energy targets. Air pollution is also a pressing issue, with an estimated 7.3 million premature deaths per year attributable to household and outdoor air pollution. Energy security is another influencing factor, with small island states particularly affected by security issues and resilience in the face of natural disasters. Finally, countries looking to expand energy access in rural areas are increasingly turning to renewables as the most cost-effective, cleanest and most secure option.
But the pace of the energy transition needs to be substantially accelerated to meet decarbonisation and sustainable development objectives. As outlined in IRENA's recently-released Global Energy Transformation: A Roadmap to 2050, to achieve the two-degree goal of the Paris target, the share of renewables in the primary global energy supply must increase from 15% today to 65% by 2050. Gains in the electricity sector must be matched in end-use sectors such as heating and transportation, which together account for 80% of global energy consumption.
Renewable Energy Policies in a Time of Transition provides policymakers with a comprehensive understanding of the diverse policy options to support an accelerated development of renewables across sectors, technologies, country contexts, energy market structures, and policy objectives, to scale up renewable energy deployment. An updated joint classification of renewable energy policies to illustrate the latest policy developments around the world.
Key areas of focus:
Heating and Cooling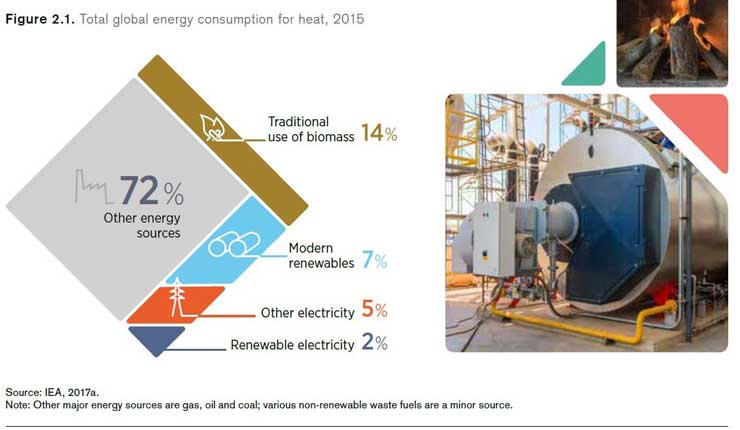 Heating accounted for over 50% of total final energy consumption in 2015, with over 70% of that met by fossil fuels. To increase the use of renewables, a range of policy instruments are required. These include mandates and obligations, which can offer greater certainty of increased deployment; building codes, which implicitly support renewable heating and cooling from renewables by setting energy performance requirements; renewable heat and energy efficiency policies that are closely aligned to leverage synergies and accelerate the pace of transition; fiscal and financial incentives, which reduce the capital costs of renewables; and carbon or energy taxes, which provide important price signals and reduce externalities.
Transport
Transport is the second largest energy end‑use sector, accounting for 29% of total final energy consumption in 2015, and 64.7% of world oil consumption. With the exception of biofuels, there is little practical experience of fostering renewables in transport. Policies and planning should help overcome the immaturity or high cost of certain technologies, inadequate energy infrastructure, sustainability considerations and slow acceptance among users as new technologies and systems are introduced. They should also build improved understanding between decision makers in the energy and transport sectors, so as to enable integrated planning and policy design. Removal of fossil fuel subsidies is also essential, especially in shipping and aviation.
Power sector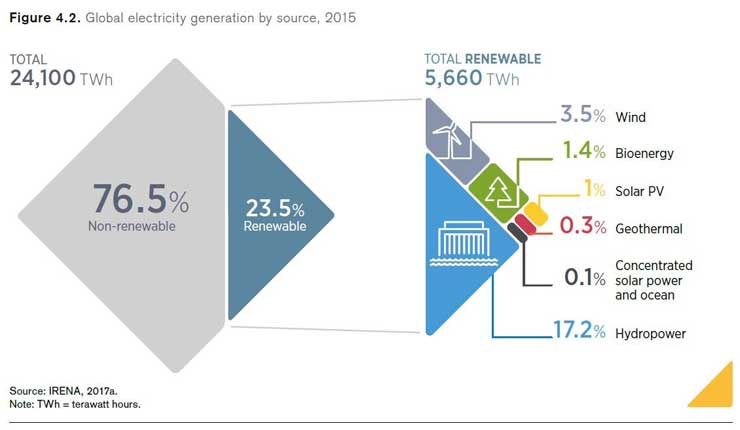 Although the power sector consumed only about a fifth of total final energy consumption in 2015, it has received the most attention in terms of renewable energy support policy. Investments in the sector are largely driven by regulatory policies such as quotas and obligations and pricing instruments, supported by fiscal and financial incentives. Quotas and mandates cascade targets down to electricity producers and consumers, but require a robust framework to monitor and penalize non-compliance. Administratively set pricing policies (like feed-in tariffs and premiums) need to continuously adapt to changing market conditions and the falling cost of technology. Auctions are being increasingly adopted, given their ability for real-price discovery, and have resulted in a five-fold price reduction between 2010 and 2016, though auction design is crucial.
System integration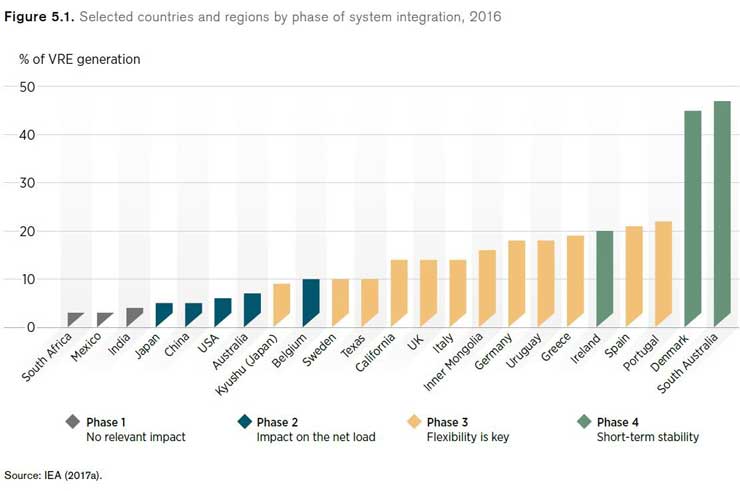 A number of countries and regions are reaching high penetrations of VRE in their power systems, and implementing policies to facilitate their system integration. Strategies for system integration of renewables are crucial to minimise negative impacts, maximize benefits and improve the cost effectiveness of the power system. As VRE shares grow in the power system, so do the challenges of system integration.
A wide range of policies have been adopted to support the growth of renewable energy around the world. The nature of those policies in a given country depends on the maturity of the sector, the particularities of the market segment, and wider socio-economic conditions. As this report shows, as deployment of renewable energy has grown and the sector has matured, policies must adapt and become more sophisticated to ensure the smooth integration of renewables into the wider energy system – including the end-use sectors – and a cost-effective and sustainable energy transition.
African Countries Embarking on Nuclear Technologies Must Adopt the IAEA Approach Framework
With energy for both domestic and industrial use still in deep deficit, a number of African countries are looking to install nuclear plants as part of the energy mix. But the two principal setbacks encountered are (i) getting through the pre-installation technical stages or processes, (ii) identifying sources of finance for the construction and (iii) dealing with nuclear waste and employment of well-trained staff.
The International Atomic Energy Agency (IAEA) sets the principles and conditions for the facilities of a major nuclear power programme and for the choice of construction sites to att the technical aspects aimed at ensuring nuclear safety.
It sets requirements for controlling dangerous release of radioactive materials, in case of an unexpected catastrophic incident or crisis, for instance an attack of any kind from or against the plant, targeting the reactors, risky fuel storage and any other critical sabotage on the infrastructure.
The Chernobyl disaster in Ukraine and Fukushima in Japan, remind the world of the human and environmental costs of nuclear power accidents. Millions of people are still suffering from radiation and radiation related diseases till today.
Records show many African countries opting for building nuclear plants in order to find long-shelf solutions to chronic power shortages. Several agreements with Russia has not materialised primarily due to lack of funds. With training our research shows that since 2010 hundreds of students from Algeria, Ghana, Egypt, Zambia, Kenya, Nigeria, Tanzania, Uganda, Ethiopia and South Africa have received nuclear and related education at leading Russian educational institutions.
Adopting nuclear energy is a long process. Here is an example from Ghana. Under Nana Addo Dankwa Akufo-Addo's administration, the roadmap of the nuclear power programme was planned to commence construction by 2023 and inject nuclear energy into the grip by 2030. Last May, Ghana completed phase two of nuclear power infrastructure development. As part of efforts to become a climate-resilient and zero-carbon energy country, Ghana has completed Phase II of the Nuclear Power Project, which includes the approval of a site for a nuclear power facility.
Deputy Energy Minister, Andrew Kofi Egyapa Mercer, announced this during a symposium on nuclear power infrastructure development. "We have currently received approval for the acquisition of our preferred and backup nuclear to host Ghana's first nuclear power plant. And meeting our energy demand is necessary to sustain our industrial and economic growth, which is required for a middle-income economy," he stated.
Mercer noted that the world is shifting to greener energy sources, and nuclear power is expected to be a significant source of energy. As a result, Ghana cannot afford to be left out of the global drive for energy security. "The world is migrating to cleaner sources of energy and nuclear is envisaged to be a critical source of energy. Ghana can therefore not be left out in this global search for energy security," he added.
In 2022, President Akufo-Addo integrated nuclear technology into the country's power generation mix. The president explained that this was consistent with the global collective commitment to the long-term availability of power and the peaceful use of nuclear energy for the benefit of society, to accelerate industrialization, and to push economic progress.
The Director of the Nuclear Power Institute, Professor Seth Kofi Debrah, says developing an attitude of consistency will aid in the nuclear plant process to become successful. The long term plan was evident when Ghana began its nuclear energy journey in the 1960's until it was truncated. Ghana is anticipated to completely switch to nuclear energy by the year 2070, however, this will cost $581 billion.
Ghana's nuclear programme has justified the need for alternate baseload power for industrialisation, limited hydro sources, postulated decline of gas, tariff reduction for industries, desalination, employment creation and climate change commitments.
Prof. Debrah said four candidate sites were initially selected for the construction of the nuclear power plant and after further studies by Ghanaian researchers, the team ranked the sites to settle on the first and the second being a backup. "We need approval report from the regulator by the end of Phase II. We also want to have a site evaluation report for construction permit at the end of Phase II. Construction will start at the end of Phase II," he said.
Prof. Debrah said the team was working on a report on the preferred vendors and was hopeful that the report would be completed and submitted for consideration by Cabinet. It was necessary for the country to add nuclear energy to its energy portfolio to become a baseload energy source to support massive industrialisation in the wake of the dwindling traditional energy sources.
As of 2021, hydro accounted for 38 percent of the country's energy generation portfolio whiles thermal accounted for 60 per cent (making it the baseload). Solar and biomass contributed 1 per cent each to the energy mix. Experts have raised concerns about the cost of power from thermal sources and there are fears that electricity prices may continue to go up if the country did not adopt cheaper energy sources. It is estimated that 40 per cent of the production cost of industries goes into electricity tariffs.
South Africa could not pursue its nuclear power simply because of the opacity in the deals signed by the former President Jacob Zuma with Russia. There is only one nuclear power plant on the entire African continent, namely, Koeberg nuclear power station in South Africa. Commissioned in 1984, Koeberg provides nearly 2,000 megawatts, which is about 5% of installed electricity generation in South Africa.
The South Africa $76 billion deal with the Russians to build a nuclear power plant collapsed along with the Government of Jacob Zuma that negotiated the deal in secrecy, in fact when such corporate projects have to be discussed by the parliament and necessarily have to pass through international tendering process. Russia and South Africa concluded an intergovernmental agreement on strategic partnership in the nuclear sphere in 2014. The agreement provided in particular for construction of up to eight NPP power units.
Rwanda's annual budget stands at US$3 billion while the construction of the nuclear power plant would cost not less than US$9 billion which is equivalent to Rwanda's entire gross domestic product. Talks are underway on the construction of a nuclear power plant in Burundi, Ethiopia, Ghana, Mozambique, Nigeria, Tanzania and Zambia.
Shadreck Luwita, Zambian Ambassador to the Russian Federation, informed that the processes of design, feasibility study and approvals regarding the project have almost been concluded. The site of the project is yet to be designated as it is equally a process and it is envisaged that construction should commence, in earnest, not later than the second half of 2018.
In addition, he affirmed that the Russians envisaged technology transfer in the development of this massive project by way of manpower development capacity. For now, there are only a few Zambian nationals, who are studying nuclear science in one of the Russian universities in Moscow.
The Zambian Government hopes that upon commissioning of this project, excess power generated from this plant could be made available for export to neighbouring countries under the Southern African Development Community Power Pool framework arrangement.
In the case of Egypt, the agreement was signed in 2015, and it was only in 2022 that Russia granted a load of $25 billion for the four plants. The total cost of construction is fixed at $30 billion. El-Dabaa is the first nuclear power plant in Egypt and the first major project of Rosatom in Africa. After several years of delay, however, Rosatom began laying the concretes for the El Dabaa units. According to the project estimates by Rosatom, construction of all four NPP units is planned for completion by 2028-2029.
Many other African countries are already working on joining the atomic club in one form or another, whether it be the construction of a Nuclear Power Plant or a research reactor or the development of nuclear infrastructure or the training of professional personnel. Russia has agreements with Algeria (2014), Ghana (2015), Egypt (2015), Ethiopia (2019), Republic of Congo (2019), Nigeria (2012, 2016), Rwanda (2018), South Africa (2004), Sudan (2017), Tunisia (2016), Uganda (2019) and Zambia (2016). Memoranda of Understanding (MOUs) were signed with Kenya in 2016 and Morocco in 2017.
A nuclear power program is a complex undertaking that requires meticulous planning, preparation, and investment in time, institutions, and human resources. The development of such a program does not happen overnight and can take several years to implement. All countries, which embark on the path towards the peaceful use of nuclear technologies, do so by adopting the IAEA Milestone Approach framework.
In conclusion, African countries considering adding nuclear power to the energy mix to enhance economic development and provide a stable and affordable supply of electricity for the people must have the necessary funds and be ready to pass through step-by-step technical procedures. Alternatively, the renewable energy potential is enormous in Africa. Grand Inga are the world's largest proposed hydropower scheme.
It is a grand vision to develop a continent-wide power system. Grand Inga 3, expected to have an electricity-generating capacity of about 40,000 megawatts – which is nearly twice as much as the 20 largest nuclear power stations. Another great resources is the Grand Ethiopian Renaissance Dam on the Blue Nile River in Ethiopia under construction since 2011. Researchers and Experts strongly believe and further estimate that the cost of building nuclear power does not make any sense, when compared to the cost of building renewables or other sources of energy, by pulling all those financial resources together in the continent, to solve energy shortages across Africa.
Strategic Partnership Opportunities among ASEAN countries towards Renewable Energy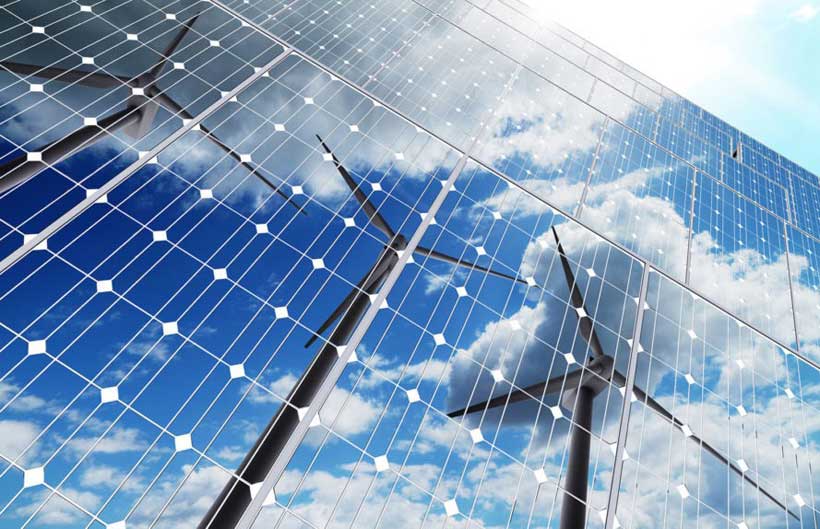 Quoting from Singapore's Prime Minister, Lee Hsien Loong, during his plenary speech at the 42nd ASEAN Summit in Labuan Bajo (Wednesday, May 10, 2023), which promotes other ASEAN countries to have a joint power grid (based on an article published by Channel News Asia). This statement is highlighted after the success made by the Lao PDR-Thailand-Malaysia-Singapore project in supplying renewable energy. In recent years, the importance of renewable energy has become increasingly apparent as countries worldwide seek to reduce their carbon footprint and address the impacts of climate change. The ASEAN region, comprising ten Southeast Asian countries, is no exception towards the movement. As a region with a rapidly growing energy demand, ASEAN countries are looking to renewable energy as a critical solution to address their energy needs while mitigating climate change by shifting towards renewable energy. In this context, strategic partnership opportunities among ASEAN countries can be crucial in accelerating the Sustainable Energy Transitions Initiative.
Renewable Energy Opportunities in the ASEAN Region
The ASEAN region has diverse renewable energy resources, including solar, wind, hydro, geothermal, and biomass. According to the International Renewable Energy Agency (IRENA) in 2018, wind energy is potentially growing in the Philippines, Indonesia and Vietnam because the wind speeds are between six to seven metres per second. On the other hand, IRENA and ACE (2016) highlighted geothermal potential in Indonesia and the Philippines. Besides, Indonesia, the Philippines and Singapore also have opportunities to explore ocean energy since the geography position is an archipelago (ASEAN RESP, 2016).
However, despite the potential of these resources, the region still relies heavily on fossil fuels, particularly coal, to meet its energy needs. According to the study "The ASEAN Climate and Energy Paradox" by I.Overland, H. F. Sagbakken, H. Chan, M. Merdekawati, B.Suryadi, N. A. Utama & R. Vakulchuk, the energy demand from fossil fuels between 2000 to 2018 resulted to 85% while the share of renewable energy in the energy mix remained. This reliance on fossil fuels contributes to climate change and exposes the region to energy security risks and price volatility. As a result, there is a growing recognition among ASEAN countries that renewable energy can play a critical role in reducing dependence on fossil fuels and achieving sustainable energy systems.
Countries Strategic Partnership
ASEAN countries can accelerate the deployment of renewable energy technologies and overcome common challenges. Some countries have already made significant progress in developing their renewable energy sectors, while others are still in the early stages of deployment. By working together, countries can learn from each other's experiences and leverage their strengths to achieve renewable energy goals.
The unprecedented COVID-19 pandemic has highlighted the importance of resilience and sustainability in the energy sector. The pandemic has disrupted energy supply chains, and more demand for renewable energy will rise in 2020. The key players in the energy sector should form more strategic partnerships to encourage energy trading in response to the high demand for electricity across the region in the future.
As a result, strategic partnerships among ASEAN countries can help accelerate the transition to renewable energy and create a more resilient energy system that can withstand future shocks. In February 2023, the Electricity Generating Authority of Thailand (EGAT) and Tenaga Nasional Berhad (TNB) entered into a Memorandum of Understanding (MoU) to conduct a feasibility study to enhance the interconnection of the power grid between Peninsular Malaysia and Thailand.
Benefits of Building Strategic Alliance
The development of regional energy infrastructure can significantly impact regional energy infrastructure development. Establishing interconnectors and cross-border electricity trading can enable ASEAN countries to share renewable energy resources and optimise their use. This can address the issue of intermittency, which is a common challenge for renewable energy sources. Through diversification of renewable energy sources and sharing resources, ASEAN countries can create a more stable and resilient energy system by diversifying renewable energy sources and sharing resources.
In addition to sharing knowledge and infrastructure, strategic partnerships create opportunities for joint investments in renewable energy projects. By pooling their resources and expertise, ASEAN countries can undertake more significant and complex projects which require more work executions and upskill their employees through tacit knowledge. Most of the electricity firms in the ASEAN region are state-owned companies and require endless government support. For instance, governments can collaborate to develop large-scale renewable energy projects, requiring substantial capital investment and technical expertise. Joint assets can attract private sector investment and reduce the financial risks associated with renewable energy projects.
A strategic partnership can promote the adoption of policies and regulations that support the growth of renewable energy. ASEAN countries can develop common standards and rules for deploying renewable energy technologies, such as feed-in tariffs and tax credits. ASEAN countries can create a more predictable and stable policy environment for renewable energy investment.
Future of Renewable Energy
Other than the potential benefits of strategic partnerships, ASEAN countries may need to construct more institutional mechanisms to facilitate regional cooperation on renewable energy. There are existing platforms for cooperation among ASEAN countries, such as the ASEAN Centre for Energy and the ASEAN Power Grid. These platforms are more targeted initiatives. ASEAN countries shall also focus on renewable energy and facilitate collaboration among relevant stakeholders, including government agencies, industry players, and civil society organisations.
One notable initiative is the recent launch of the ASEAN Catalytic Green Finance Facility (ACGF), which aims to mobilise private sector investment for green infrastructure projects in the ASEAN region. The ACGF, which the Asian Development Bank (ADB) supports, will provide loans and technical assistance to project developers and financial institutions to support the development of renewable energy and energy efficiency projects. This initiative is an example of how strategic partnerships between governments and international organisations can help to catalyse private sector investment in renewable energy. According to ADB's website, realising the shortfall of green infrastructure at $100 billion per year, private capital should consider grasping the opportunities to fill the gap to accelerate renewable energy growth.
The development of offshore wind projects requires significant technical and financial resources. Countries can address these challenges through strategic partnerships by pooling resources and expertise to develop large-scale offshore wind projects. For instance, several countries, such as Vietnam, Thailand, and the Philippines, are exploring offshore wind's potential as a key renewable energy source. Based on the article published by Nikkei Asia entitled "Vietnam Offshore Wind Power Sparks Influx of Foreign Investment", during the COP26 United Nations Climate Summit 2021 in Glasgow, the Vietnamese Prime Minister, Pham Minh Chinh mentioned the government's commitment to shifting to renewable energy through the wind power in which accounts for about 5% of energy on a power generation capacity at the moment and the government plan to raise till 30% by 2025 despite the challenges faced.
In conclusion, strategic partnerships among ASEAN countries towards renewable energy have the potential to accelerate the transition to a low-carbon energy future, promote regional energy security, and support sustainable economic development. However, realising this potential requires more institutional coordination, financial resources and inclusive stakeholders' involvement to address the future landscape of renewable energy. By working together and leveraging their strengths, ASEAN countries can create a more sustainable energy future that benefits people and the planet.
Role of Renewable Energy in Mitigating Climate Change as part of Saudi Vision 2030
Growing up in Saudi Arabia between the first and third decade of the 21st century, I, like most others, was aware of the slow yet noticeable changes in the Saudi climate over the years. The curse of climate change became apparent, with rain getting intense and flash floods ravaging coastal cities frequently. I was in Jeddah during the 2009 flash floods and witnessed firsthand the horrors the locals went through, with 122 dead and more than 350 never to be found again. Such a harrowing change in climate in a short span is concerning for the public as well as the policymakers who have begun to look for solutions, particularly in renewable energy.
The kingdom is part of some of the countries that are most vulnerable to climate change. Saudi Arabia has an acute water shortage issue that poses a threat to its people and the environment. Besides water scarcity, the kingdom is also a potential victim of rising sea levels (a 3mm increase per year), with about 210,000 people at risk of flooding by 2050. Temperature rises are also a concern for the Saudis, studies predict an increase between 3 to 4.2 degrees Celsius of daily surface mean temperature in the long run. According to The Climate and Atmosphere Research Center, about 600 million people in the Middle East and North Africa are at risk of heat exhaustion and heart attacks due to heat waves by the start of the next century. Extreme rainfall is also a potentially lethal impact of climate change on Saudi Arabia, as evident by the 2009 and 2018 flash floods. Precipitation in the kingdom is anticipated to increase by around 23%-41% in the long run due to climate change, which only aggravates existing issues.
Since Saudi Arabia depends on oil for its income, any factors affecting it will affect the economy and the people. Due to changes in trends, oil demand is constantly decreasing due to the increased popularity of green energy, causing oil prices to fluctuate since 2014. Studies show that the kingdom must keep about 68% of its oil reserves and 85% of its fossil fuels untouched to keep warming below 1.5 – 2 degrees Celsius. Moreover, the Middle East must abandon 40% of its oil and 60% of its natural gas reserves. Since the kingdom relies on oil for most of its income, such measures will prove detrimental to its economy and ultimately its people.
Therefore, in 2016, the kingdom announced plans for Vision 2030, which aimed to curtail many of the issues surrounding climate change using renewable energies. For this purpose, the Saudi Green Initiative was launched in 2016 and aimed to eliminate emissions by 2060. The kingdom plans to invest more than $100 billion into the project to achieve its objectives. However, there is reasonable doubt about these goals, which may sound overly ambitious. As the country continues to receive criticism from the Climate Change Performance Index which gives it an average ranking of 62nd. Therefore, there is considerable risk involved as the country is currently not on track with the Paris Agreement's 1.5-degree Celsius limit.
During the past seven years, Saudi Arabia has invested approximately $400 billion into renewable energy, with plans to invest an additional $30 billion in the next two years. As part of Vision 2030, the government plans to achieve renewable and sustainable energy projects for 9.5 GW of RnSE (Renewable and Sustainable Energy). However, energy demand is projected to rise to 120 GW by 2032, which is much more than what is currently being worked on. The government plans to invest in solar, wind, and hydropower energy to achieve its energy demands and mitigate climate change.
Saudi Arabia has immense potential for solar power, after the government's testing through 46 weather stations across the country. It has a large surface area and lies in the Global Sunbelt. Through solar power, the kingdom plans to generate 42.7 GW of energy. In 2019, the kingdom connected the 300 MW Sakaka power plant, 10 MW Layla al-Aflaj power plant, and 50 MW Waad al-Shamal power plant to the rest of the country. Furthermore, the Saudis have shown interest in seven additional plants in Madinah, Rafha, al-Qurayyat, al-Faisaliah, Rabigh, Jeddah, and Mahd al-Dahab with a combined capacity of 1.52 GW. In 2020, further progress was made by embarking on four more plants with a total capacity of 1,200 MW. The Saudis have made promising progress in solar energy, as evidenced by the kingdom becoming the 6th largest in solar energy generation, with plans to generate a third of their energy from solar power. However, there are large sums of costs associated with solar panels, along with dealing with external factors such as high temperatures, dust, and humidity that reduce efficiency. It can also backfire and damage the environment by causing soil erosion. On the other hand, it has been argued that the benefits outweigh the drawbacks as it is renewable and produces zero air and water pollution, which is why the Saudi government should continue to explore this option with the same momentum they currently maintain as it provides the opportunity to explore other economic policies such as carbon taxes.
The kingdom has also invested in wind energy to generate 16 GW of energy. A $500 million wind project in Daumat al-Jandal was funded by the government in 2017. ARAMCO also installed two 2.75 MW plants in Turaif and Huraymila in 2017 and 2019. Aiming to exploit its wind potential, the kingdom intends to become one the largest wind energy markets in the next half of the century. However, it requires a constant volume of wind, which is projected to decrease in the kingdom. It can damage the environment by harming the land and killing birds. However, this drawback has been explored by researchers and newer models of wind turbines are more efficient at maximizing productivity and minimizing drawbacks. Moreover, the wind farms often add to the scenic beauty which can come in handy for the kingdom that is seeking to make tourism 65% of its GDP by 2030.
The kingdom currently relies on desalination plants to curb its water shortage, producing around 4 MCM per day. It seeks to increase the number to 8.5 MCM per day by 2025 with its 28 distillation plants to achieve climate objectives. The desalination plants can also be used to produce hydropower, particularly the Ras al Khair plant, as well as others such as the ones in Jubail, Khobar, al-Khafji, Jeddah, al-Shuaibah, Yanbu, and al-Shuqaiq. However, the kingdom faces drawbacks in maximizing hydropower production due to its unfriendly landscape for dams and the lack of water bodies. Moreover, the kingdom is a tribal society at heart in its vast deserts which retains the propensity of social conflicts between the government and the locals, as had happened in the Tabuk region between the state and Huwait tribe due to the construction of NEOM and The Line. Therefore, hydropower may not be a viable option for Saudi Arabia, but it is still a viable substitute.
Renewable energy will provide unsurmountable benefits to Saudi Arabia. Studies show that the GCC region can rid itself of almost one gigaton of carbon emissions and save around $87 billion in reserves. Renewable and sustainable energy will also create many jobs for Saudis, estimated to be 80,000 by 2030. It will also preserve the rapidly depleting oil reserves of the country and reduce carbon emissions by almost 3kgs for every m3 of produced water.
There are certain challenges and risks that the Saudis currently face. There is a lack of coordination between different institutions of the state to execute policies and collect data. This causes a gap in accessible knowledge and data, clouding analysis and making it difficult to measure progress. Professionals and academics must be aware of the intensity of climate change and that is not possible without concrete data produced by trustworthy sources such as government institutions. This could also result in the misallocation of funds and resources which hinder further progress as policymakers would have a low-resolution picture of the cost of operations. Therefore, organizations like King Abdulaziz City for Science and Technology (KACST), King Abdullah University of Science and Technology (KAUST), King Abdullah Petroleum Studies and Research Center (KAPSARC), King Abdullah City for Atomic and Renewable Energy (KACARE), and others, must increase collaboration, coordination, and integration to make data more readily available both to the government and the public. Moreover, it is not possible to counter climate change solely through national programs, neighboring countries in the Middle East also need to cooperate with the Saudis to collectively deal with the issue, however, that is not always possible due to domestic issues such as civil wars, terrorism, natural disasters, and so on. These issues will jeopardize any efforts toward a sustainable future and further worsen the impact of climate change in the Middle East.