Human Footprint Devastating Wildlife: An Article For Earth Day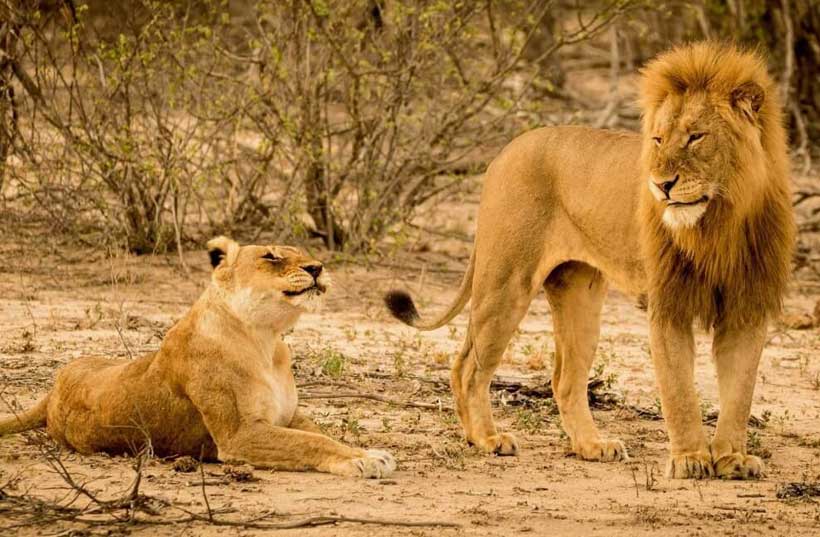 Animals can be beautiful; they can be sleek, graceful, powerful, or just plain adorable, even cuddly.   A field of wild flowers chanced upon can take your breath away.  Wordsworth so moved by 'a host of golden daffodils' put pen to paper, and we are richer for his poem.  And tourists in their thousands visit coral reefs for their stunning beauty and sea life.  So it is distressing when scientists confirm our gut feelings about the human footprint on this natural environment.
Few people know that March 3 was World Wildlife Day, or this coming Sunday (April 22) is Earth Day — perhaps Trump sucking up all the media oxygen is responsible.  The fact remains, world wildlife is under serious threat, and in ways we can't even imagine — not forgetting the eventual disaster due to climate change, unless the world wakes up.
Not so long ago Science, the voice of AAAS America's largest science body, published three papers describing the harmful, even devastating, impact of modern human presence.
The first is a mammoth global study spanning the four major continents and New Zealand.  Authored by over one hundred scientists, it follows the movements of 57 mammalian species through the GPS-tracking of 803 individuals.  It finds a strong negative effect of the human footprint on animal movement.
The scientists develop a human footprint index (HFI) comprising multiple aspects of human influence:  built environment, croplands, pastures, nighttime lights, roads, waterways, railroads, population density, etc.  On the animal side, they note and separate the effects of resource availability and body mass on vagility (migration distances) — larger species travel further as do carnivores.
They then compute animal movement as the distance between subsequent GPS locations over nine time scales ranging from one hour to 10 days.  At each time scale and for each individual, they calculate the median (middle range) and longest distance movements. These procedures point to the thoroughness of their research.
Overall the findings indicate a decline in movement of mammals in high HFI areas ranging on average from one-half to one-third of their movement levels in areas without human presence.  For example, the median displacement of carnivores over the 10 day period in high HFI areas was only about half when compared to zero impact regions.  And the long distance movement over the same period in HFI areas was down to a third, averaging 6.6 km versus 21.5 km.  The impact on feeding and breeding then is clearly severe.
The authors note the consequences for ecosystem function globally, the effects being critical for wildlife conservation and also in the spread of disease.  In the latter aspect, the authors warn that "reduced vagility may go beyond ecosystem functioning to directly affect human well-being."  In their understated words it means dangers of animal extinction and human epidemics.
Most of us always assume all bees are good.  Apparently not, as a couple of scientists explain.  So as we reach for that honey jar … ; it all depends on where it came from. That is the contention of the second piece which assesses the impact of managed honey bees on wild bees and other pollinators.
Pointing to the rapid global growth in managed bee colonies and the attention devoted to them, the authors believe this focus reduces efforts to preserve wild pollinators so necessary for wild plants and flowers.  In fact, high densities of such bees worsen the decline of these wild pollinators, and have also been linked to the spread of disease via shared wild flowers.  Long term this is a worsening threat to wild plants and flowers, many facing extinction.
The authors identify managed honeybees and their honey production and pollination of commercial crops as an agricultural issue, not an ecological one.  They advocate restriction of managed honey beehives in protected-ecological areas to reduce their harmful effects  noting that half of all European wild bees are threatened with extinction.
The theme for Earth Day is End Plastic Pollution.  If one ever wondered what can happen to a plastic bag discarded carelessly, the following research has a surprising and worrying answer.
This third Science article looks at plastic waste entering the oceans, often through catchment areas into rivers feeding into the ocean.  It assesses the influence of such waste on disease in reef-building corals.  The authors survey 159 coral reefs in the Asia-Pacific, a region containing 55.5 percent of global reefs and 73 percent of the human population living within 50 km of a coast — about a quarter billion people.
An estimated 4.8 to 12.7 million metric tons of plastic waste pollutes the oceans each year.  A model based on a high end figure of 8 million estimates that more than a quarter of this is pouring in from just 10 rivers, eight in Asia.  Of these the Yangtze alone dumps 1.5 million metric tons each year.  The river waste is a result of mismanagement and clearly can be reduced given resources and better waste collection and disposal practices.
In the oceans, microbes hitch a ride on the plastic, living longer and increasing their chances of landing on an unfortunate host.  The authors have measured plastic items per 100 square meters.  The count can vary from a low of 0.4 in Australia to a high of 25.6 in Indonesia.  Size of human population in coastal regions, good management or mismanagement of plastic waste disposal are all factors in the amount of waste entering the water.
The authors estimate 80 percent of marine plastic debris originates from land, thus offering a possibility of significant reduction through better waste management.  They develop a prediction model showing that by 2025 the waste will almost double in low-income countries like Myanmar but will edge up just 1 percent in Australia.  In total, they estimate a colossal 11.1 billion plastic items entangled on reefs across the Asia-Pacific region and expect the number to increase 40 percent by 2025 without stronger waste management intervention.
The study results are striking.  The likelihood of disease rises from 4 percent in areas free of plastic to an average of 89 percent when the coral has such debris.  Another issue is coral structural complexity which underpins micro-habitats for reef-reliant organisms.  Unfortunately, the study finds that plastic debris is up to 8 times more likely to affect reefs with greater structural complexity.  This lack of habitat can devastate fisheries through a drop in productivity by a factor of three.  Thus public awareness here could be a critical factor.
The parrots in the local pet store are almost always at risk.  It is human encroachment the owner tells us.  Forests are cut down, reducing habitat and food sources, and diminishing parrot populations.  Farmers plant crops in the cleared areas.  The parrots may or may not eat these but are perceived as a threat and often killed, further endangering them.
Once upon a time, millions of rhinos roamed across Africa and Asia; now about 30,000 survive, and many species are extinct or about to be.  Sudan, the last male northern white rhino lived at Ol Pejeta Conservancy in Kenya together with his daughter Najin and granddaughter Fatu.  He was 45, equivalent to 90 in human age, and quite infirm.  Earlier this year, when his condition deteriorated to the extent he was unable to stand, the vets decided to euthanize.  Hope lies with in vitro fertilization, and in the genetic material the vets collected from him.  At some future date, it might be possibly to use this to create an embryo with stem cell technology.
The engaging, lovable and cuddly koala is in danger from environmental effects.  its unusual diet of eucalyptus leaves carry a toxin it can usually handle, but increased CO2 levels reduce nutrition and eating more leads to ingesting more poison.  Add to this the Australian drought drying the leaves, leaving little moisture and resulting in kidney damage.
The human footprint also threatens the snow leopard, most closely related to the tiger not its namesake.  Ranging across the high mountain areas of central Asia, China and Mongolia, and revered in Kyrgyzstan, it has become a victim of human-wildlife conflict.  The herders whose livelihood depends on their sheep, goats and yaks do not take kindly to raiding snow leopards.  But their natural prey, the wild ungulates are suffering sharp declines due to competition with domestic herds.  Yet this animal is an example of what a concerted effort to save a species can accomplish.  Its status has been upgraded from 'endangered' to 'vulnerable'.
Altogether, these studies and cases convey a stark warning.  They show that environmental degradation is the promise of a dismal future in which mammalian wildlife is scarce, wild pollinators and consequently wild flowers and plants are sparse, and beautiful coral reefs succumb to plastic waste-borne bacteria depleting reef-supported fisheries.  This is our legacy unless we take a step back to reassess human wants for their impact on the environment.
Author's note:  A version of this article appeared in Common Dreams
Climatic refugees: Natural calamities and migration flows
The London-based Institute of Economics and Peace has presented a Report with a profound insight into environmental dangers that threaten countries and territories and could jeopardize socio-economic stability worldwide. According to the Report, "in 2050 the living space of more than one billion people may turn out under threat". This could be the result of climatic changes, "hurricanes, floods, deficit of water and food". "Many residential areas will no longer be habitable"
In the estimates of the authors of the Report, climate changes affect the rate and direction of movement of masses of people in at least two ways. Firstly,  the more profound they are, the stronger the impact of natural disasters on the living environment will be. Secondly, these processes will depend on the extent of the climate change – caused destabilization in the sphere of food security, on whether they will restrict or close access to fresh water and food for a significant number of people.
In turn, the dynamics and geography of migration have an immediate impact on the structure of the population in countries and regions. Meanwhile, in terms of politics,  demography plays a major role in determining the level of  stability and ascertaining the historical prospects for political regimes. It produces a tangible influence on social policy, geopolitical potential, and domestic electoral processes.
Poor countries with a growing population will run the risk of plunging into "political instability and violence". A decrease in the number of employable residents will likely have a negative impact on the rates of the economic growth "in mainly developed and in some developing countries".  Cross-border migration will become an ever more important factor in political processes. Maximum population growth is expected over the next 20-30 years in Africa, which is home to most poor and unstable countries. Under a negative scenario, this will trigger a new wave of global migration "of unprecedented scale" which will provoke blatant interference in the affairs of the region on the part of foreign powers.
According to the Report, such countries as India and China are more than others likely to experience shortages of fresh water. While Pakistan, Iran, Kenya, Mozambique and Madagascar are facing "a combination of threats which they find ever more challenging". In the estimates of the authors of the research, Pakistan, Ethiopia and Iran are countries where "a slight deterioration" of the environmental situation, along with natural calamities, can produce a significant number of migrants.
In general, the authors of the Report predict that the most acute shortage of social and economic resources, which has been caused by negative climatic changes, will take place, in decreasing order, in countries of Africa,  South Sahara, the Middle East, North Africa,  and South  Asia. 17 of 28 countries that are most affected by the  deficit of essential resources are located in "black" Africa, another 4 – in Maghreb and in the Middle East.
Citing the given trends, the authors of the Report predict the formation of "powerful migration flows which may first affect European countries, which are believed to be relatively resistant to crisis". "Ever since 2015 we have observed how a relatively small number of migrants may provoke large-scale political unrest and disorder", – chief of the research Steve Killelea said in an interview with dpa.
Undoubtedly, a dramatic rise in the  number of climatic refugees and forced migrants may be envisaged in case there is an unfortunate combination of a population growth, on the one hand, and an increase in territories suffering from shortages of water resources, on the other. As history shows, the political instability caused by an ever growing deficit of fresh water may put into question the long-term plans of socio-economic development of entire regions and even continents.
Regions which will see climate change – caused conflicts in the next few years  include territories south of Russian borders. For example, the number of territories in Central Asia, Iran, Afghanistan, and Turkey which suffer from low precipitation rises year after year. In this way, "climatic refugees" are becoming a potential threat to stability and security of the Russian Federation.
The environmental issues which are frequently overlooked by observers  but which can send people fleeing comprise so-called "heatwaves" – periods of abnormally hot weather. Meanwhile, these problems are already causing "superfluous" mortality in many regions, including the developed countries. According to The Economist, the heatwave that hit Europe in 2003 killed about 70,000 people. This issue will acquire still more urgency as yearly temperatures continue to rise and urbanization proceeds at fast pace.
A dramatic increase in the number of climatic refugees can also evoke an increase in the level of the World Ocean. Under a forecast made by the Institute of Economics and Peace, coastal territories in China, Bangladesh, India, Vietnam, Indonesia and Thailand are at a particular risk over the next 30 years. Estimates presented in the Report maintain that water levels in the World Ocean may rise by more than 2 meters by 2100. As a result, territories populated by at least 200 million people will face the danger of flooding.
Cross-border migration, which was caused, among other things, by ecology-related factors, is contributing to the strengthening of "extreme" political forces.  Poor nations with a growing population are particularly exposed to violence and political instability. Trends of this kind tend to lead to revision of political agenda. This means a new stage of regulating social and economic processes on the part of the state. In addition, according to Professor Rubinsky of the French Research Center of the Institute of Europe of the Russian Academy of Sciences, «mass migration is becoming a target, and at times, an instrument of the foreign policy of a whole range of countries».
Climatic changes lead to ever more cross-border and internal migration and may contribute to the strengthening of separatist movements in many regions of the world, including Europe. Disintegration of countries into smaller territorial entities stimulates conflicts and encourages intervention from foreign powers. In the long run, the natural need for expanding international cooperation for settling global problems will go hand in hand with the equally natural growth of nationalism and isolationism.
The issue of climatic refugees has been recognized at the international level. Formally, the UN Convention on the status of refugees does not  embrace people who flee their homes because of the deterioration of the climate. Nevertheless,  the Executive Committee of the Agency of the UN High Commissioner for Refugees has passed a decision to expand the Agency's mandate "to include commitments regarding refugees who cannot return to their countries because of climatic changes". UN Secretary General Antonio Guterres in person is rendering substantial assistance to the victims of environmental disasters.
However, there is no international system of a long-term assistance for refugees and migrants, including climatic, to help them move and adapt to their new place of residence. The policy of countries and territories that most climatic migrants strive for is fairly controversial. In the first place, due to the growing public discontent over "an influx of migrants" in the past decades.
"The European Union boasts one of the most elaborated systems of migration policy, which has no analogues elsewhere». One of the most remarkable achievements of the EU is the European Commission – suggested «mechanism of using an emergency trust fund to ensure stability and assistance in connection with the problem of migrants and refugees in Africa». But, as we know, this does little to solve the problems of Europe, which stem from migrants and public discontent over their growing numbers.
For this reason, it is easy to understand why some European countries refuse to support the UN Pact on Migration, which was signed in December 2018. More than two million refugees that arrived on the European continent after 2013 caused serious upheavals on the political scene of leading countries of Europe. They even put into question the mere existence of the EU in its present format. As a result, most EU countries are involved in an intense political battle with Brussels for regaining their sovereignty in regulating migration flows.
In the USA, a country which has always received millions of migrants, immigration issues had acquired so much urgency by 2016 that they became a top point on the agenda of the presidential election campaign. However, like in previous years, emotions took upper hand ousting the attempts to produce a balanced and comprehensive solution. At present, the opponents are criticizing the Trump administration for the draconian migration policy, which is depriving America of thousands of highly qualified immigrants.  They point to Canada, which, they say, is much more open to migrants, though on the basis of fairly tough criteria.
Until recently, a particular approach to this issue was demonstrated by Japan, which makes considerable contributions to the funds of the Agency of the UN High Commissioner for Refugees but does not receive migrants. In recent years, public opinion has become more tolerant towards refugees and forces migrants. Tokyo has been examining the experience of Australia, which is ready to receive a large number of immigrants as long as the process is well-organized. Meanwhile, Canberra's tough policy regarding the "illegals", who are sent to detention camps in difficult-of-access areas in New Guinea and Nauru, вis facing ever more reprimands from the international community.
On the whole, as it appears, climatic changes which trigger degradation of the environment and socio-political conflicts will produce an ever more significant, and, at times, decisive, influence on migration processes. This, in turn, will cause political, social, economic and geopolitical problems.
Degradation of the environment leads to socio-political conflicts while military operations or long-lasting public unrest can easily inflict damage on ecosystems. There is thus a vicious circle. Given the situation, the international community will sooner or later have to focus on political, economic and social measures which could help the humanity to better adapt to the changing natural environment.
However, judging by the current state of affairs, the world's leading countries are highly unlikely to step up their coordination on migration issue in the years to come.  As the 2010s experience shows, the migration issue will be resolved by every recipient nation progressively, "one at a time". For many ordinary voters the problem of migration "seems obvious and relevant" but they hardly know of the many aspects associated with it. For this reason, only "simple", tactical in essence and consequences solutions, enjoy most support. The main challenge of the present-day migration will still be a search for a balance between humanistic issues and global security in the context of changes of the climate. The importance of this context is bound to increase over time.  
From our partner International Affairs
Blessing In Disguise: The Lockdown-Effect On Environment
Authors: Deepanjali Jain and Prateek Khandelwal*
From one Wuhanese to over 4 million humans, the coronavirus has shackled pillars and institutions of our civilisation. The pandemic has socially distanced humans and spread fear which could be gauged from any nook and corner of the world. Though it seems, nature can finally breathe after decades, the signatures of which were visible from space.
As the factories and vehicle closed, dirty brown pollution belts shrunk over industrial centres in the country within days after lockdown. After decades of relentless exploitation, the human footprint on the earth has lightened. The persistent denial by the industrialist got an answer that climate change is real and that it is a reflection of human 'exploitation'. The overexploitation of nature is fuelled by human greed, where consumption increases production and vice-versa. This vicious cycle depletes the natural ability of environment, which can be sensed in the lockdown months, to balance itself and so disrupts ecology.
COVID-19 is not only a pandemic; it reflects a broader trend that more planetary crisis is scheduled for upcoming years. While we muddle through each new crisis, with the current economic model, then the repercussions will eventually exceed the capacity of financial institutions to respond. Indeed, the "corona crisis" has already done so. For just climate transition, new economic reforms should have a blueprint for "planned degrowth" that emphasizes on the wellbeing of people over profit margins.
The initial move towards this is assuring the incentives that governments are announcing across the globe are not exhausted on bailing out corporations. Instead, the funds should be allocated to decentralised renewable energy production to implement the 'Green' New Deal and create meaningful jobs for 'the Great Depression' post-COVID-19. Along with this, the state should enact on the provision of social welfare such as universal healthcare and free education for all vulnerable populations.
Though set for 2025, by G7 and many European countries, elimination of perverse fossil-fuel subsidies can be done amid the recent oil-price plunge. It is the appropriate moment to deploy renewable energy technologies, which are now globally accessible without any economic barrier and phase out age-old fossil fuel.
A shift from exploitative industry setup to regenerative industries is immediately feasible. Also, it would allow us to sequester carbon emission spread by the current economic framework at a rate that is ample to reverse the ongoing climate crisis. This will have a positive impact on the environment and improve global wellbeing; also, it would turn to be an economically profit-enhancing model.
Though defined with differences and demarcated with boundaries, the planet with various species, nations, and geopolitical issues are ultimately interconnected. COVID-19 narrated that crisis does not observe national or even physical borders; the same is the case with climate change, biodiversity loss, and other environmental problem. Collective actions to curb these from becoming a full-blown crisis can only help in managing these issues. The current rescue plan for battling COVID-19 could usher these changes, as we are getting accustomed to the lifestyle and economic pattern that minimise consuming.
With the idea of sticking with this development structure, Governments can succeed in curbing the Corona epidemic. But we should move a step ahead to do a greater good for society and nature. The use of science can be moulded to construct an economy that will not mitigate the threats of climate change, biodiversity loss, pandemics and other challenges. A green economy should be laid down that has a preamble of nature-based solutions and is geared toward the public good.
Obviously, the circumstances are not ideal, but the rapid reflex actions and response to the virus of mutual aid also illustrates that human society is capable of controlling and working collectively in the face of a grave pandemic. The phase of development which humans are at, they are entrepreneurial and capable to begin again perfectly. If we learn from our failures and embrace this moment of upheaval as an opportunity to invest in shared prosperity, planetary health, and green economy, we can build a brighter future than the one we are heading towards. We have long since exceeded our natural limits; it is time to try something new.
*Prateek Khandelwal is a 2nd Year student pursuing B.B.A., LL.B. (Hons.) from Chanakya National Law University, Patna.
How video games are joining the fight to save the planet
As bush fires were raging across Australia in December 2019, players of Space Ape video games reached out to the company and asked what they could do to help. The London-based firm quickly put an in-game purchase into several of its mobile titles, with all proceeds going to either a wildlife or humanitarian charity working in the area.
In just four days the company raised $120,000.
"That just speaks to how much people want to do good," said Deborah Mensah-Bonsu, former Head of Content at Space Ape Games, who now runs her own consultancy focused on using games for social impact.
Now, the video game industry is poised to roll up its sleeves and do even more for the planet. In August 2020, some of the biggest names in mobile gaming unveiled a series of environmentally themed missions and messages that will be integrated into popular titles, such as Angry Birds 2, Golf Clash and Subway Surfers. The additions will encourage players to do things like combat climate change or protect endangered wolves. The initiative is part of a push by the United Nations Environment Programme (UNEP) to work with game developers to raise awareness about pressing environmental issues.
"Video gaming is one of the biggest communication mediums on the planet," says Sam Barratt, Chief of Education and Advocacy with UNEP. "We aim to support the industry to encourage gamers to be educated, inspired and activated around the wider environmental agenda, and so far it seems to be working."
Globally, 2.6 billion people play video games and a growing number are taking an interest in the environment and conservation. A 2019 UNEP report, Playing for the Planet, found that video games could engage billions to contribute to solutions to social and environmental challenges.
The video game industry has yearly revenues of $140 billion—more than Hollywood, Bollywood and recorded music sales combined. In 2017, 666 million people watched other people play games on YouTube and Twitch – more than the combined audience of HBO, ESPN and Netflix. According to the UNEP report, channelling even a small portion of that attention and the industry's revenues towards the planet would create tremendous impact in the real world.
Playing for the Planet
Space Ape is one of 25 members of UNEP's Playing for the Planet Alliance, an initiative that aims to harness the power of gaming to encourage action on climate change. The project, which launched in 2019, has reached more than 970 million players. In joining the alliance, game companies make commitments, ranging from integrating green activations into games to reducing their emissions to supporting the global environmental agenda.
The alliance held a Green Game Jam earlier this year which saw 11 mobile game companies compete to add a sustainability element to one of their existing games, a so-called "green nudge." The objectives included asking players to make personal commitments, like skipping meat on Mondays or biking to work, or designing green environments, solar panels or electric cars into games.
Space Ape, whose game Transformers: Earth Wars contains environmental themes in the original storyline, picked renewable energy. For the updated release, it brought both good and evil Transformers together to find a new technology to harvest Earth's energy resources more sustainably.
Mensah-Bonsu says that the company also wanted to give players a call to action, so it asked them to take a pledge to switch their lightbulbs from incandescents to LEDs.
California-based Pixelberry Studios focused on climate change in its title "Choices." The game centres on a young woman who returns to her coastal hometown where there has been a large fish die-off. The girl's younger sister is convinced the die-off is connected to climate change, despite skepticism from local politicians and business owners. The player's role is to help their young sister rally others and raise awareness about climate change.
Saran Walker, one of the writers at Pixelberry, said the team had read dozens of articles about younger generations experiencing anxiety around climate change. (A recent survey of millennials — 30,000 individuals under the age of 30 from 186 countries confirmed this — finding that climate change and destruction of nature were the most critical issues for them.)
"We were all really inspired by Greta Thunberg's story," Walker said, referring to the young Swedish environmental activist. "Anyone at the company who has kids is thinking about what kind of world are they going to leave to their children. We wanted to show people that they can actually do a lot as an individual."
A shift in the industry
The gaming industry is also considering how it can become carbon neutral, or in some cases carbon positive – a welcome move for a sector that has been scrutinized for its environmental footprint. Currently, 50 million tons of electronic waste is generated annually, with that number projected to reach 120 million tons by 2050.
Supercell, which makes mobile titles, recently committed to going entirely carbon neutral and offsetting the carbon dioxide used by players when playing their games. Rovio and Space Ape aim to take similar action.
The Playing for the Planet Alliance will share guidance with its members on how to decarbonize, with Sony leading a working group that includes other console makers. The alliance will help devise a new carbon calculator for the industry, develop fresh guidance on offsetting and forge new collective commitments around the restoration of forest landscapes, which help absorb carbon emissions.
"When we set out on this journey we wanted to help others in the industry too," said Mensah-Bonsu. "If we all do our part, we can make a change in the world."